Likely, you already know how high the costs of healthcare are in the United States. Because of this, travel insurance is essential for anyone thinking about visiting the states since a simple emergency room visit can cost upwards of $1,200 USD.
But if you're a U.S. citizen, thinking about moving to the United States, or live there already, then this is even more important. The health system is pretty difficult to understand and leaves many people scratching their heads.
So, I put together this brief explanation of what you need to know to guarantee you can access healthcare in the U.S. without going bankrupt (whether that's through Obamacare or through Obamacare alternatives).
Note: the focus of this article is on figuring out the U.S. healthcare system if you're from another country (whether you're Indian, Brazilian, Mexican, Chinese, or from anywhere else!). However, the info here can also be used for American citizens looking for healthcare as well!
(Want to skip ahead to the websites for finding health insurance? Just click here)
How do health insurance plans work in the United States?
The healthcare system in the United States is different from the system of any other developed country in the world.
In simple terms, there's no public health system. So, the relationship between patient/doctor or patient/hospital is more of a business relationship and comes at very high costs. Just to give you an idea, medical bills are the #1 cause of bankruptcy in the United States!
Another difference is that there basically aren't health plans, just health insurance. This is because medicine is practiced from a curative, not preventative standpoint. In other words, insurance will (mostly) just cover expenses from actual health problems. Routine checkups and other preventative measures are not necessarily covered and often have to be paid for separately.
Before Obamacare, options for health insurance in the U.S. were one of the following: getting health insurance from your employer, buying your own health insurance policy (although you would often wouldn't be accepted for a policy if you had any "pre-existing conditions"), or getting help from the government.
But the thing is that only people with very low incomes or those older than 65 were eligible to receive help, through benefits called Medicaid and Medicare. So, a large portion of the U.S. population had no health insurance coverage and couldn't afford healthcare.
Although it wasn't perfect, the 2010 Patient Protection and Affordable Care Act (or "Obamacare") changed this situation in many ways (benefitting some, but not everyone).
 What changed in the U.S. healthcare system after Obamacare?
Unlike some people believe, Obamacare did not create a network of universal healthcare in the country. But it did increase access to health care and offered protection to health insurance buyers.
Before the Affordable Care Act, there was a large part of the population who earned salaries above the maximum limit to receive Medicaid, but who didn't earn enough to pay for healthcare. This group was completely unprotected from the high costs of American healthcare.
In this sense, one of the biggest changes was something called the MarketplaceSM (also called "Exchange"), a virtual governmental platform that lets you compare and buy health insurance with government subsidies, based on your family's annual income.
To search for and purchase Obamacare insurance through these websites, you need to sign up annually during a specific period set by the government (in general, this begins in November of each year).To check the deadlines and dates to sign up for Obamacare, just go to this website. On the website, you can also check if you're eligible to receive government subsidies or help in the form of tax credits.
Who can apply for Obamacare? Can Green Card holders apply for Obamacare?
The Affordable Care Act platform works for people who are permanent residents of the United States (AKA green card holders) as well as any U.S. citizen. But you do still need to sign up during the set periods. Outside of these periods, signing up is only possible in specific cases like job loss, marriage, or the birth of a child.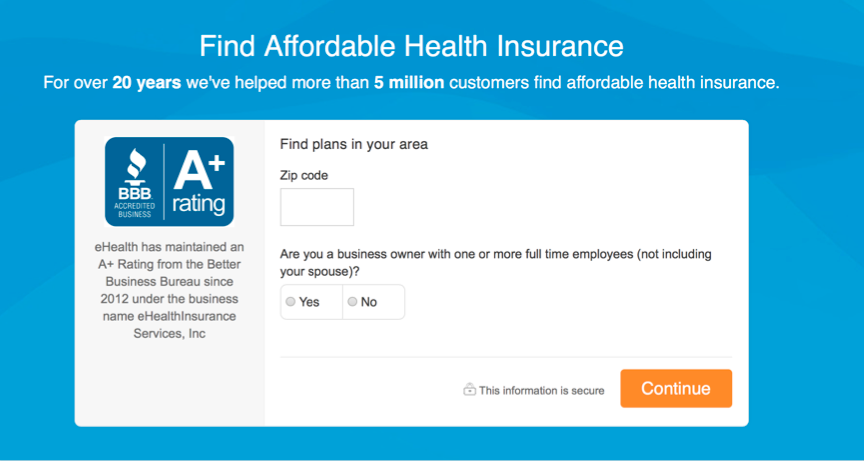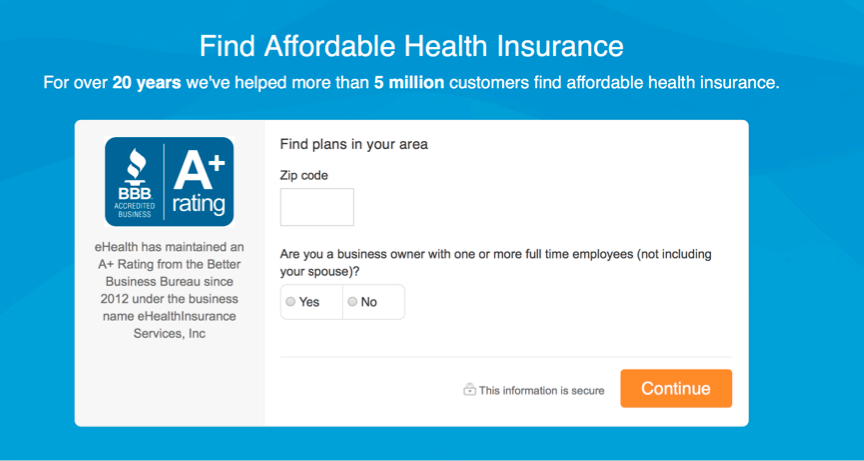 If I miss the deadline to apply for Obamacare and I don't have health insurance through my employer, do I have to pay a fine?
Not for much longer since the fine for not having health insurance in the United States was eliminated by Trump. In other words, you no longer have to pay a fine while doing your tax return if you had no medical coverage the previous year (although, when filing taxes in 2019 for the year 2018, you'll still have to pay the fine!).
Either way, like I said in the beginning, not having any type of medical insurance in the U.S. is financial suicide! So, my best suggestion is that you get a health insurance plan on your own if you miss the deadline to sign up for Obamacare.
So if you need to sign up on your own for a health insurance in the United States? Then this article is here to give you the best health insurance alternatives to Obamacare.
Obamacare? Private health insurance plans? Insurance through my employer? Expat insurance? Travel insurance?
Which do I need?
One thing to keep in mind is that the health insurance websites I'll recommend below are for American citizens or permanent residents (green card holders).
If you're just working in the United States temporarily as an expat (on an H-2B or an H1-B visa): you don't need to opt into Obamacare or a private American health insurance plan (especially because these are quite expensive). For better plans, I recommend you take a look at my article with the 3 Best International Health Insurance Plans for Expats & Immigrants in the United States.
If you're a student in the United States on a J-1 or F-1 visa: you can get a cheap student insurance plan instead of Obamacare or a traditional U.S. health insurance policy. My article here might help – The 3 Best & Cheapest Health Insurance for International Students and Study Abroad in the United States.
The 3 Best Websites to Search for, Compare and Buy Cheap Health Insurance in the United States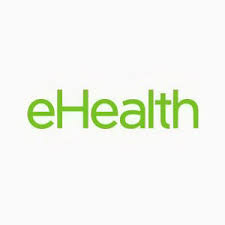 eHealthInsurance is another online platform in the United States where you can search for and compare different health insurers. The website also has some very comprehensive explanations about the American health system if you want to understand it more.
What makes eHealthInsurance different is that you can get "Medicare Advantage Plans" and "Short Term Health Insurances" through it.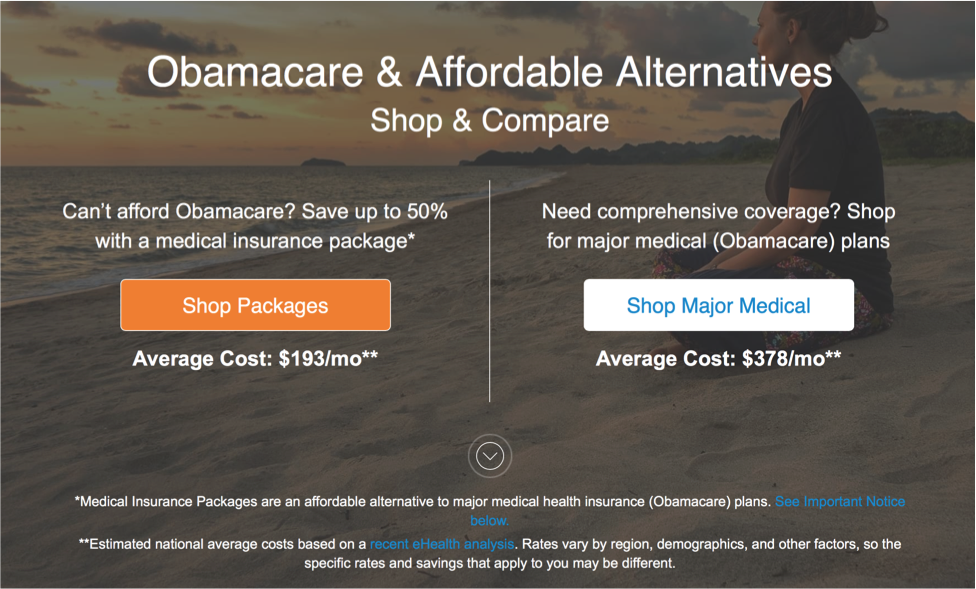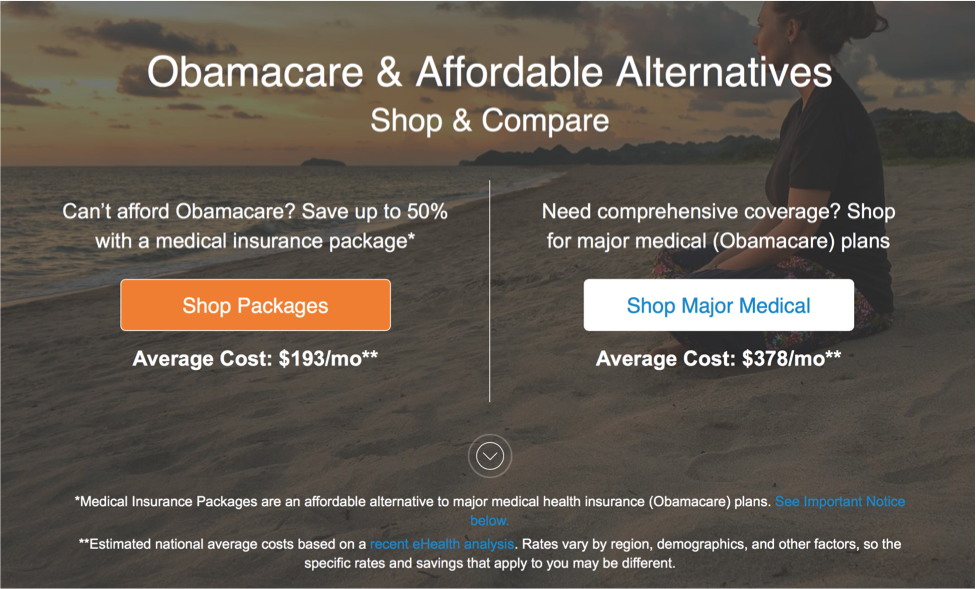 What are Medicare Advantage Plans?
Medicare is a health insurance offered by the U.S. government for citizens 65 years or older who suffer from specific conditions, like ALS. You also need to have been a resident of the U.S. for at least 5 years to qualify.
Although it covers various hospital expenses, it doesn't guarantee totally free healthcare access. To learn more about what's included in the coverage, go to this website.
Medicare Advantage Plans are health insurance from private companies that also have other benefits like coverage for dental, eye check-ups, wellness programs, and prescription drugs. These private companies are required to offer, at a minimum, all the benefits of Medicare. But they can include more, as well.
The amount of coverage for these plans is much greater than that of non-Medicare-approved plans and assures wide access to care institutions, appointments, and may even include discounts on medications.
However, only people who are entitled to Medicare (part A and part B) can get Medicare Advantage Plans.
What is Short Term Health Insurance? Why choose Short Term Health Insurance over normal long-term coverage?
Short Term Health Insurance plans are good for anyone who wants to take advantage of Affordable Care benefits, but missed the enrollment period or is between jobs.
So, getting temporary health insurance for this period may be more affordable. Acceptance into these plans are much quicker and you can be covered in as little as 24 hours after purchase. And unlike long-term health insurance, you can also cancel these plans at any time without having to pay a fine.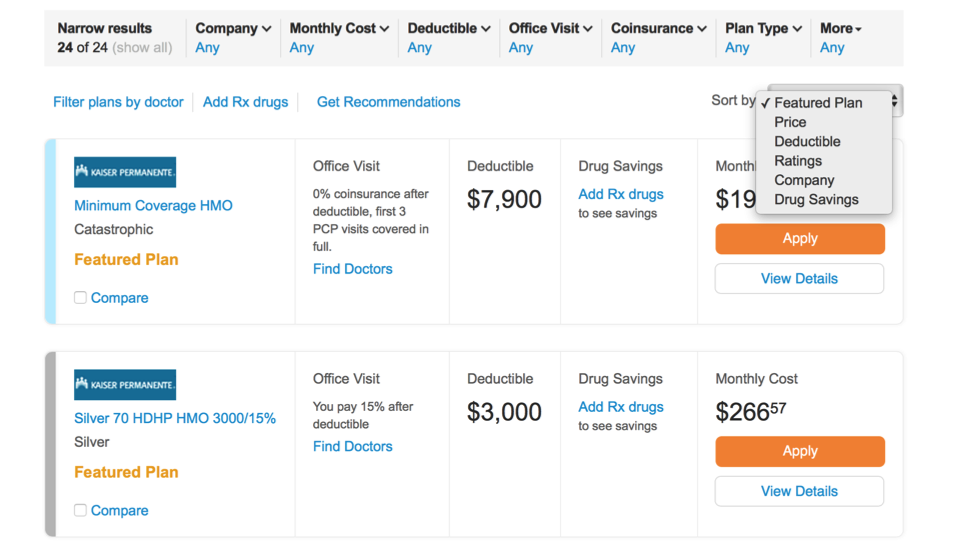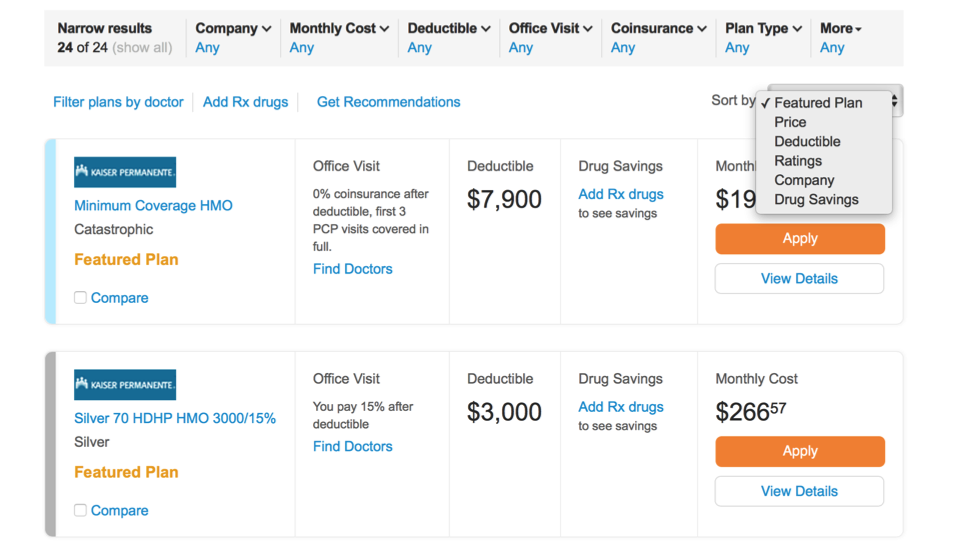 But it is important to consider a few details. Primarily, that the maximum coverage is 360 days. And that these plans are exempt from some of the requirements established by the Affordable Care Act.
This means that:
Because of these reasons, it's important to be very careful when taking out American Short Term Health Insurance to make sure it covers what you need.
How do you use eHealthInsurance?
Just head to the website and choose the type of coverage you want to get: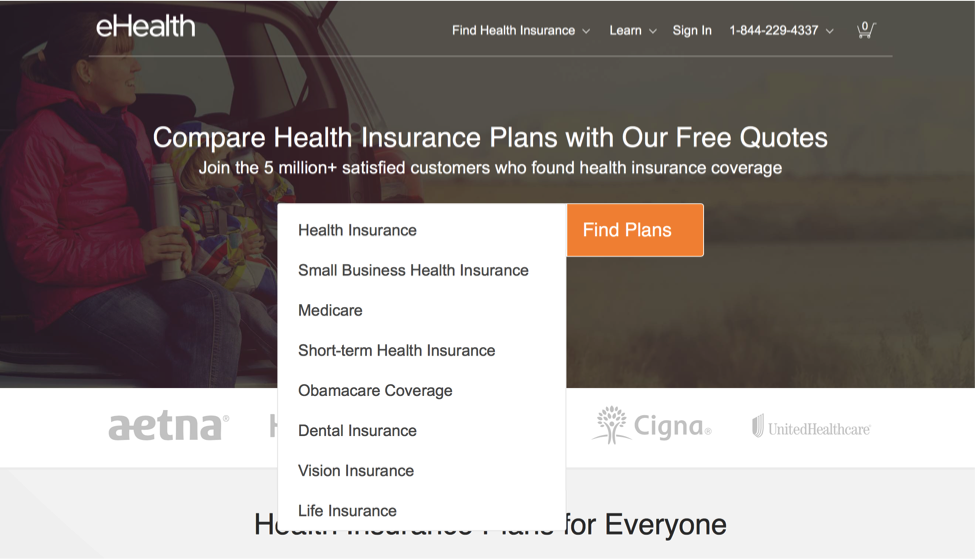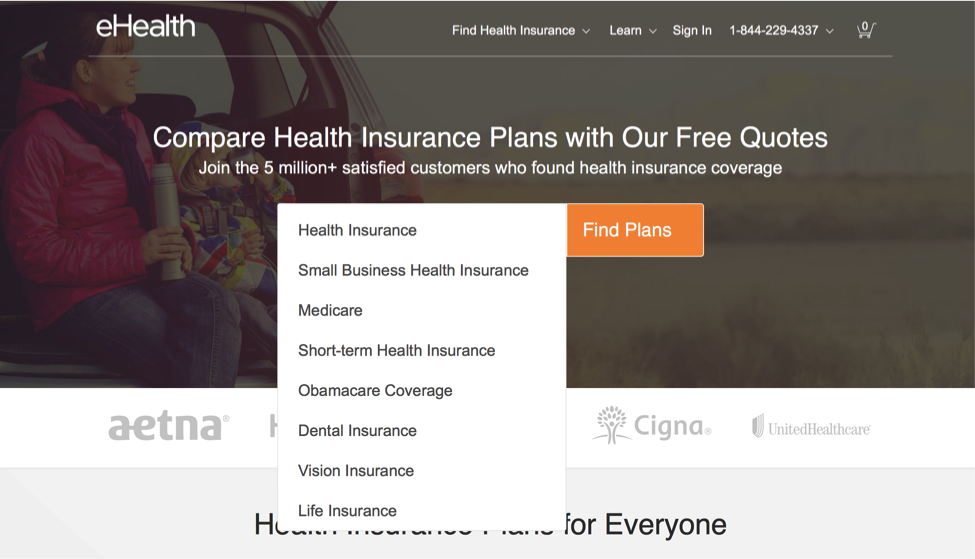 Then, you'll be directed to a second page. If you want to buy "standard" health insurance, this page will give you two options: get an Obamacare-approved insurance plan, or get a cheaper alternative that eHealthInsurance calls "packages."
These "packages" are not recognized by the Affordable Care Act as health insurance because they are products and policies from different insurers. So, with these, there is no guarantee that the 10 minimum benefits promised by Obamacare will be included.
For this reason, it's really important that you carefully read the conditions of the package if you decide to purchase it instead of standard insurance.
And even if these packages may be 50% cheaper, it's still usually recommended that you get an insurance approved by Obamacare so the coverage is better.
If you want a temporary solution, then short-term insurance may be a better option than the packages. Either way, you'll want to do some in-depth research before making your decision.
If you choose insurance that's approved by the Affordable Care Act, you'll be redirected to another page to fill out a form so the website can recommend the best types of insurance for you.
After filling out the form, eHealthInsurance will give you all the available options and you can view them by price, coverage, reviews, and more.
   2. Agile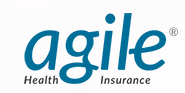 Agile is a platform specifically for people who want short-term insurance, Health Benefit Indemnity Insurances, and Supplemental Health Products.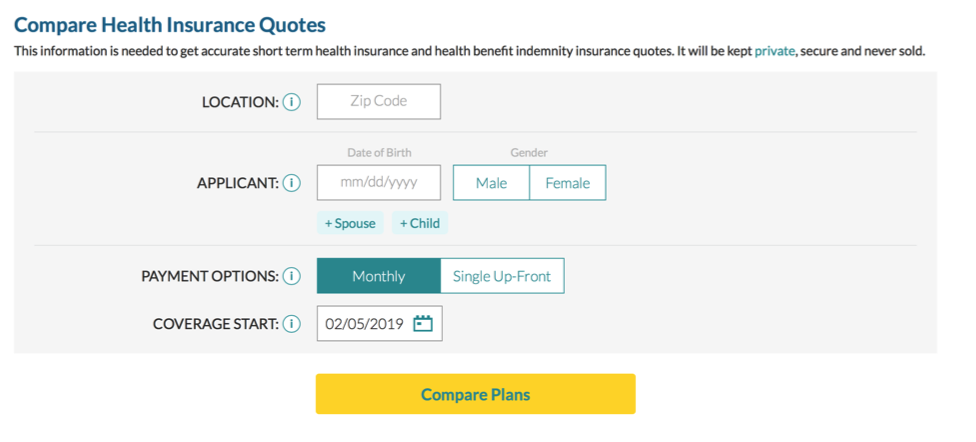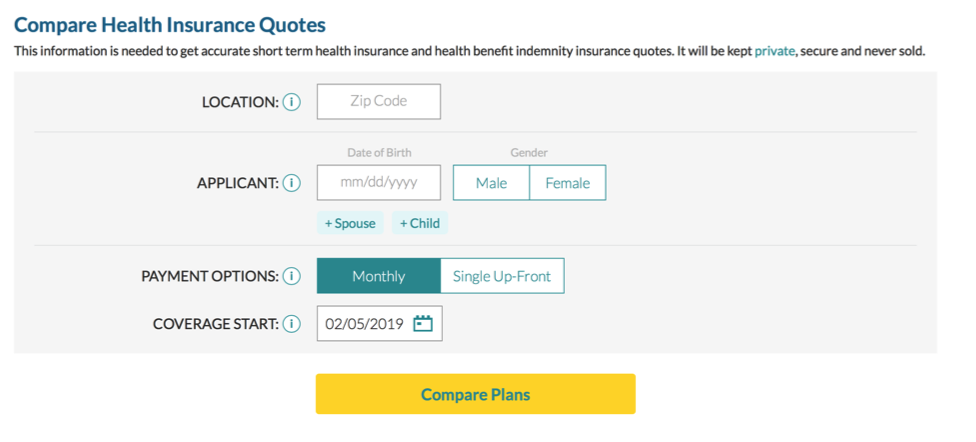 What are Health Benefit Indemnity Insurances?
These are health insurers that work with "First Dollar" coverage. This means that you pay a monthly fee to the insurance and, if you have to cover a medical expense, the insurance company will pay you a predetermined value.
The big difference is that this type of insurance covers your expenses without you having to pay a deductible first. Beyond this, your insurer will pay the amount directly to you and not to the health service provider (your doctor, the hospital, etc.). So, you'll need to pay your medical expenses out of pocket first and then get reimbursed by your insurance.
This type of insurance is not included in the Affordable Care Act, so it doesn't guarantee the minimum coverage required by Obamacare and isn't available in all states. So, it's worth checking first if this is even available to you in your state.
Health Benefit Indemnity Insurances may be a good plan for those who don't need extensive medical coverage, are in a transition between health plans, or are looking for flexibility and the "first dollar" benefits of paying directly.
If you want to learn more about this type of insurance, head here.
What are Supplemental Health Products?
These are add-ons that you can buy to supplement your health or Indemnity insurance. The most common ones are covered for: dental, eye, and complementary medical insurance (coverage in case of accidents, serious illnesses, etc.)
How do you use the Agile platform?
Just go to the website and click "Quote & Save Today."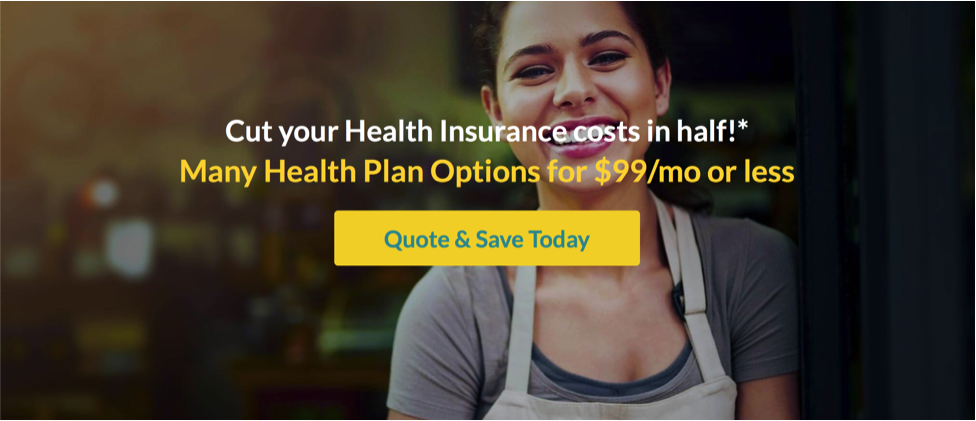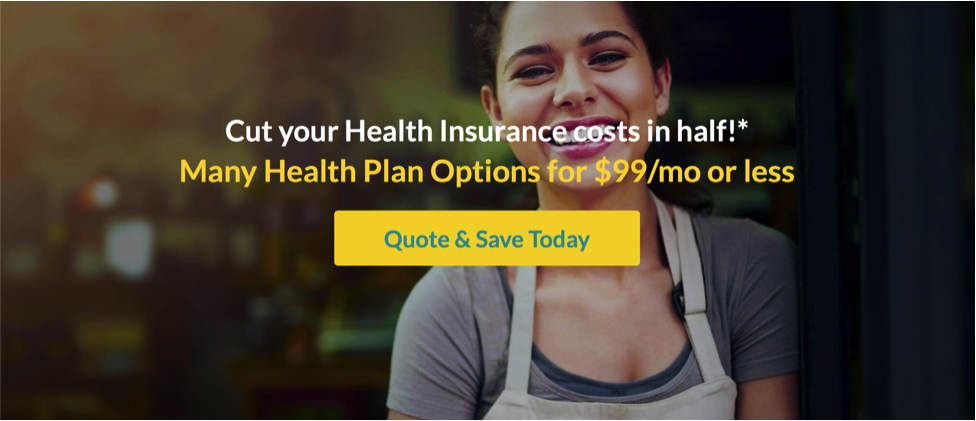 Then, you'll be redirected to a second page to fill out some basic info: your location, birthdate, gender, date to begin coverage, and payment options (either monthly or single up-front).
The website will then look for the best options for you. After comparing the different plans, you can choose whichever one you like.
The entire process is online and, if you meet all the requirements, you can have your health insurance approved instantly and you can start to use the benefits within 24 hours.
Agile is a great option if you're looking for temporary health insurance solutions in the United States. But it is important to remember that since these types of insurances are not covered by the Affordable Care Act, you want to read through the coverage and conditions carefully.
   3. Joany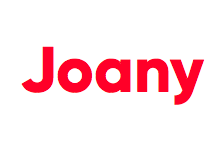 I do not recommend Joany anymore due to some sketchy behavior. 
Joany is a website that's similar to the Marketplace of the Affordable Care Act (Obamacare). On the Joany's website, you can compare all (and yes, we mean all) the options for health insurance in the United States and choose what's best for you and for your family.
You just need to answer a few questions online and then they'll give you the best options for health insurance in the United States.
The website is pretty self-explanatory. Just click on one of the "Sign Me Up" buttons.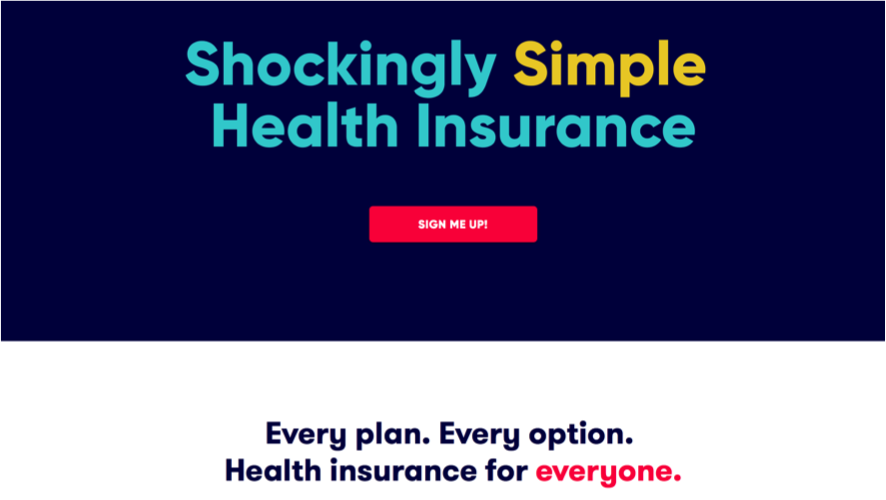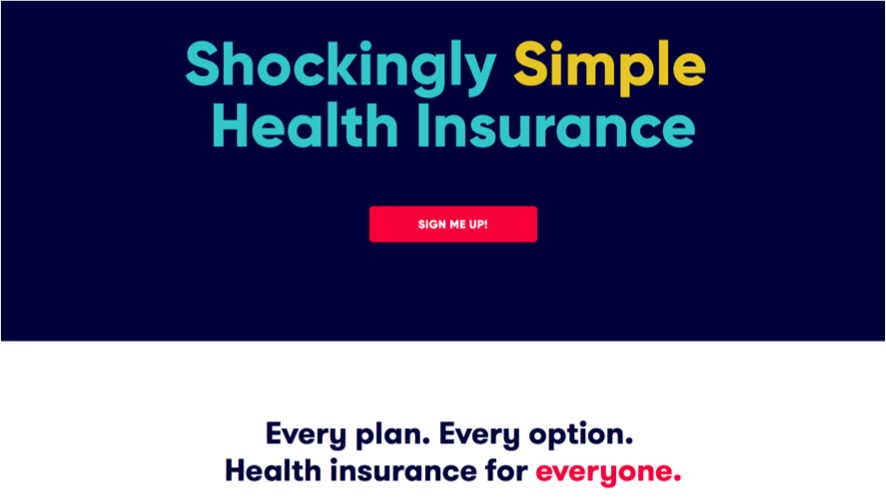 Then, you'll have to respond to a few basic questions: your zip code, how many people need to be covered by your insurance and their ages, commonly-taken medications, how frequently you visit the doctor, your short medical history, and your annual salary.
In a few seconds, the site will give you the best option based on your responses.
If you don't like the first option the website gives you, just click "I want to see more options" and you'll be redirected to a page with a table of other insurance policies.
The website's algorithm will consider the amount of coverage for things like appointments with general doctors or specialists, emergencies, tests, care for mental health, inpatient care, as well as the deductible amount and the out-of-pocket maximum.


The insurance policies will also be classified by the standards established by the Affordable Care Act: Bronze, Silver, Gold, or Platinum.
The most basic plans are classified as "Catastrophic," since they have the most basic coverage, and have lower monthly prices but much higher deductibles. These aim of these plans are to protect you from worst-case (or "catastrophic" scenarios, like accidents. You can only be insured under these types of plans if you're under 30 years old.
You can learn more about the different insurance categories here.
Once you've chosen an insurance policy, you can purchase it online. But for now, it's not possible to use a credit card, just check (at least for your first month).
Ah, and using Joany is 100% free.
Don't be uninsured in the U.S!
Having health insurance in the U.S. is essential.
But what to do if you can't afford health insurance?
If your salary is very low and you're below the poverty line, you might be able to get help from Medicaid. To learn more, you'll need to talk with someone at the office responsible for your state. Here is a list of contacts for each state.
One more thing to keep in mind: although some health insurance plans are cheap, these cheap plans will often end up costing you more than the expensive plans if you actually need to try to use their benefits.
So, no matter what plan you choose, just make sure you do your research so you're covered whether you get sick, have an accident, or just need a general check-up.
And as I mentioned above, I have a lot of other articles about insurance of all types (all of which you can click to learn more about): travel insurance, insurance for sports and adventurous activities, insurance for international students & study abroad, and insurance for expats and immigrants.
So if you have any questions about insurance (or travel and living abroad) at all, just let me know in the comments area below and I'll get back to you!
Planning your next trip?
Then don't forget travel insurance! You don't want to get stuck paying a ton of money and ruining your trip if you get sick or have an accident without travel insurance. WorldNomads is ideal for adventurous travelers, backpackers, or anyone looking to be protected during their trip. They cover almost every single activity you can image! Plus, you can have a 5% discount with the coupon code comfort5.
Already reserved your hotel or hostel? If not, we recommend Booking.com. They have a huge selection of hotels and hostels all over the world. Plus, in most cases, you can cancel your reservation up to a few days before the check-in date without any costs! 
Still haven't booked your plane ticket and want to save big? Take a look at Kayak and Momondo. They are flight aggregator that combine several other ticket search websites to make it easier for you to compare prices and make sure you are getting the best deal. 
And finally, will you need to rent a car during your trip? Then check out Rentalcar.com to search and compare car rental companies from all over the world in a single website. Then, you can find the cheapest price for the best car!