Ever dreamed of living abroad? Read the article for 10 ways you can make that happen (includes options like: studying, working, volunteering, getting special visas, etc.). Includes a list of pros and cons for each option and gives you links to apply. For all ages, nationalities, and education levels.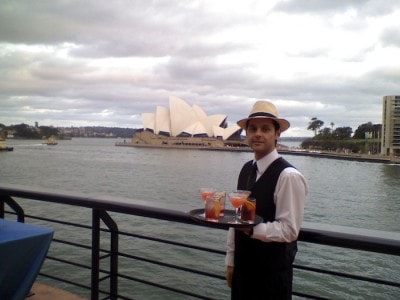 Living abroad is one of the most eye-opening experiences that you can do for yourself. It allows you to be challenged in new settings and work through problems you wouldn't encounter at home so you can develop and grow as a person.
Seriously, if you're given the chance to do it; do it. Any problems you might encounter while abroad are not worse than the regret and forever "what ifs" you'll have if you don't go for it. 
For many people, though, they wonder how they can possibly live abroad when they don't even have enough money to visit another country. 
I've been lucky in that I've had the amazing opportunity to live in more than a dozen countries, working a variety of different jobs ranging from ski and snowboard instructor to waiter to divemaster. Or, if I wasn't able to work in a place, I found ways to live there while spending almost nothing such as working in hostels in exchange for accommodation. 
So, I've created this article here with a large list of all of the options possible and imaginable to give yourself the chance to live in another country and have your life changed for the better as mine was. 
The first part of the list will give options for working and making money while abroad and the second part suggests ways of experiencing life overseas for little to no money. Hopefully, you'll find one or more options that'll work for you.
PS: If you still aren't convinced that traveling and living abroad are good for you, then be sure to take a look at my article with 11 Reasons Why You Should Travel or Live Abroad. I bet I can convince you 

So, here we go…
Ways to live abroad while making money
 

 1. Live in another country on a student visa to be able to work at the same time
This is a very common way to have the chance to live abroad. Many countries allow foreign students to work legally during their studies.
In this case, there are two types of schools: universities and technical schools. Here, you can study any topic you like, including the language of the country you are in.
In the majority of cases, the student can only work part-time, around 20 hours a week. In my experience in Australia, this is usually more than sufficient to pay the cost of the studies (for instance, tourism at a technical school), to live, pay for your student housing, and still enjoy.
Or, perhaps, depending on how much you want to work and spend, you can even cover your initial investment. Even if it's been years since you've graduated, don't let that stop you from going back to school because there's no age limit!
Here are several countries where you can legally work while studying:
Australia

New Zealand

Canada

Ireland

United States

Germany

France

Spain

…and many more
The requirements vary by nationality, so check online to see where you can legally while studying.
And what types of jobs can I hope to do there?
Well, to be honest, it won't be something very glamorous. In the majority of cases, you'll end up doing what people consider to be "lowly" positions, something that doesn't need a lot of qualifications.
In some places, this doesn't mean that you won't earn enough money to eat. In my case, working in Australia as an event waiter, I earned a reasonably good salary. You can look for positions such as:
Waiter

Hotel cleaning

General cleaning

Construction

Kitchen helper

Set up and take down for events

Babysitter

Fruit picker

Supermarket or restaurant cashier

Bag packer

Deliveryman

Shelf stocker in a supermarket

Tutor (for English is the most common… but maybe you can find something for your native language as well)

Jobs at the school you will be studying at (look online or ask at your school's job office… often they have jobs as receptionists or in on-campus restaurants/stores)
It's also possible that you'll be able to find a position in the same field you were working in back home. For example, if you are a yoga instructor back home there's nothing stopping you from doing the same while you are studying abroad…
Here is a small list of websites from agencies that can help you. But I also suggest you look for exchange study agencies in your home country:
    – Goabroad
    – Ciee.org
    – Afsusa
Pros:
Relatively easy way to get a (student) visa

Can work legally on your visa (in some places)

Can use this as an excuse to study another language

You can get paid quite well in some countries

Get to see student life in another country

No age limit
Cons:
You still have to pay to go to school

May struggle to find courses in the language of your choice (in this case, taking a beginner's course to learn the country's language is your best bet)

May have to work in an unpleasant job
International Student Health Insurance Tip:
The student agency that will help you with your trip will probably offer you student insurance (mandatory in most countries in the world). However, this can be quite expensive. So I suggest taking a look at my page with the 3 Best and Cheapest Health Insurance for International Students and Studying Abroad to compare prices.
There I offer 3 medical insurance options that cover student visas in most countries and F1, J1 visas in the United States and Schengen visas in Europe. In the same article, I give more details and answer questions about health insurance for international students.
So be sure to compare student insurance prices before you buy to see which one is the best deal and whether they are cheaper than the insurance offered by your agency, school, college, or university. 
   2.

Volunteer work through

HelpStay
Founded in 2014, HelpStay is a platform that connects people who want to volunteer with hosts and social projects in over 100 countries around the world, including farms, artistic retreat centers, hostels, ranches, and schools.
Here, helpers can exchange work for accommodation based on their personal skills, as information about the type of service to be provided can be viewed and it is possible to contact the person who posted the vacancy directly.
To sign up as a volunteer, you need to become a member on the site, which will give you the opportunity to connect with over 1500 projects or families that will host you during your exchange. It's worth noting that travel opportunities are unlimited once you become a member!
Pros
Opportunity to choose from over 100 countries to live in

You can select the service that best suits your skills

Guaranteed safety for the volunteer and host through the platform's criteria and user reviews

Learn and share experiences
Cons
You need to pay an annual fee to access the site's hosts

It's up to the host to accept or reject your request to become a volunteer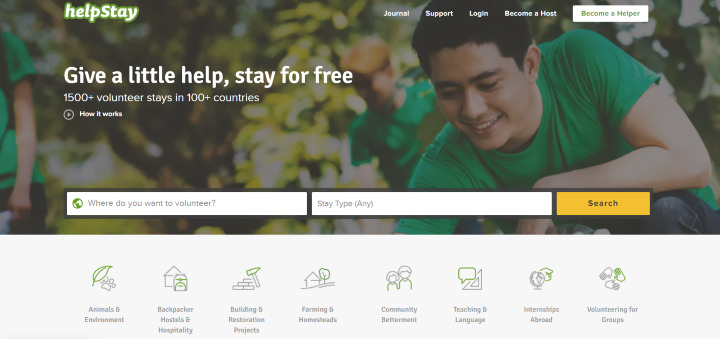 3. Do a work exchange abroad during your summer holidays in university
This is a great system where you can work abroad during your university holidays in places like hotels, ski resorts, and amusement parks. The primary destination to work is the United States but you can also go to other countries like France and Ireland.
To participate, you have to be a university student in your home country, have an intermediate level of the language of the country you are going to, and be willing to spend at least 3 months of your holidays working. You also have to be between 18 to 25 years old. To be honest, I never did this program but I've met many people who've done it and loved it.
You will have to make an initial investment which, truthfully, may not pay for itself at the end. However, this will still probably be one of the cheapest ways for you to spend 3 months abroad practicing another language, making money, and having fun with like-minded people.
Pros:
Open to several nationalities

You can work legally

You can make money

You can practice a second language

You can meet lots of exciting people!
You get to experience a new culture
Everything (flight, accommodation, etc.) will be arranged for you by the program (although you do have to pay)
Cons:
You have to be a university student

There is an age limit (18-25)

The program isn't cheap (and what you earn may not cover the cost)

The countries you can apply for are limited

There may be a minimum language requirement
   4. Apply for a Working Holiday Visa
One option that many still don't seem to know about is the "Working Holiday Visa." A Working Holiday Visa is a residence permit that allows travelers to work in a specific country and fund their travels.
With this visa, you can have the experience of living abroad without suffering from the hassle of finding someone to sponsor a work visa before you come or paying for expensive study abroad programs.
This is a great option for those who don't want to invest much money in an exchange and just want to work without spending time studying. It's also a great way to live in another country for a year and have a "taste" of life abroad.
However, this visa doesn't stop you from studying or just traveling around the country if you want to. It's a visa for a year (usually) that lets you do almost everything!
The places you can get a working holiday visa depend on your nationality… take a look here to see what your options are:
Pros:
Not much start-up cost (just have to pay for the visa)

Can do what you want on the visa… don't just have to work!

There can be a lot of options depending on your citizenship

If you do work, it gives you something to add to your CV
Cons:
There is an age limit (ranges from country to country, but usually not over 30-35)

You may not be able to find a job in the country that you have the visa for

Some countries may have restrictions on working hours, etc.
 

 5. Find a job that will sponsor your work visa
Basically, it's not impossible to find a job abroad. It's not easy, but it's not impossible. Plus, with your work with IT, you chances of being an expatriate working abroad are even greater. Normally, there are two ways:
   a) The company that you work at in your home country sends you to work in one of their foreign branches.
This is the easiest way if it's available because your company will handle all of the bureaucracy and paperwork needed to get you abroad. Besides this, your job will already be guaranteed.
   b) You find a job abroad independently.
Obviously, this is much more difficult than the above as you have to search for the job alone. The most important thing is finding a job in a company that will sponsor your visa. This is never easy but it is possible, especially if your job is in an area with great demand around the world. Here are some jobs where you can usually get a sponsored work visa:
Often, you have to be a native speaker but not always. The qualifications and benefits range from country to country and job to job. You can search for jobs worldwide on Eslcafe or Italki.
Main places that hire foreigners to teach English:
Japan

South Korea

Taiwan

Spain

China

Czech Republic

The Middle East

… and many more!
There are many websites to search for au pair positions where you work as a babysitter and live with a foreign family. For some companies, there is an age limit and there may be an initial cost to get a placement. Otherwise, you can try searching independently.
Here are some websites to search on:
    – Aupair
Snowsports (ski and snowboard) instructor
Find out more details on our page about how to become a ski and snowboard instructor.
Healthcare professionals (nurses, doctors etc..)
You might need to do some exams to match the same standards but healthcare professionals are always in demand around the world
Divemaster or diving instructor
Once again, you can read more on our page about becoming a Divemaster Trainee and being paid to dive around the world.
IT (Information Technology)
With the high demand for those with IT qualifications, if you are a good professional in the field, it's relatively easy to find a job in another country that will pay for your visa.
You can search for jobs here: Computerjobs
TIP: Search for regional unions that your home country is a part of
If you are from Brazil (or any country in South America), that are members of Mercosul and Unasul, you could legally work throughout the continent quite easily and often visa-free.
It's the same situation for those living in EU-member countries or have an EU passport. You can legally live in work in any other EU country without a work visa.
Some websites to find jobs overseas:
    – Forbes
Pros:
Work legally so no fears of deportation, fines, or being banned from a country

Could be doing something within your main career field

Your employer will deal with the paperwork/visa issues

You will arrive in the country with a stable job and visa in hand
Cons:
May not be able to find employment or someone to sponsor your visa

Limited options based on your field/experience

   
 

 6. Try to get a second citizenship 
Okay, I know that this isn't easy for the majority of the people on the planet…but for some people, it's easier than you. And often people don't even realize that it's a possibility! For example, a friend of mine spent years of traveling on a Brazilian passport before he realized he was eligible to apply for a Portuguese citizenship…. which of course made traveling much easier!
Basically, there are 3 ways to get another citizenship:
   a)  Through your family
In this case, you'll need to have a parent, grandparent, or even great-grandparent that has citizenship from another country. In the case of Brazilians, for example, the most common are Portuguese, Italian, or German.
Each country has different rules about how to get citizenship from your relatives. I recommend you search on the website of the consulate for the corresponding country to see if it's a possibility and how to go about doing it.
Of course, this is a difficult, slow, and relatively expensive (though not more expensive than paying for an exchange) process. But if you are from a developing country and get a second passport from a developed country (The United States, EU, Canada, etc.) you can open lots of doors.
But you will need a lot of strength and organization to deal with all the paperwork. Unfortunately, I've met people who can get a second passport but gave up before starting because they thought it was too much work. Well, if it was easy, everyone would do it….
   b)  Through a residence permit and then citizenship by length of your residency
If you spend a long time living legally in a foreign country, often you get a residence permit and even citizenship. Every country has different rules so check out the immigration website of the country you are interested in. However, this does mean that you will have to find a way to be living and working in the country legally beforehand.
   c)  Through marriage
This also depends on each country but even if you can't get citizenship, if you are married you will at least have permission to live and work in the country of your love… 

Pros: 
You can live and work legally

You can have the same benefits (and duties) as other citizens of that nation

May be able to get into new countries visa-free (especially if from a developing country)
Cons:
For many people, it's impossible depending on their circumstances

It can be expensive

There's a lot of paperwork involved

It can take a lot of time
Do you already have a European citizenship (Italian, Portuguese, German, Spanish, etc..)? Or you can you get one?
If so, then you are also a citizen of the European Union (or will be one) as well. And that gives you A TON of privileges! To know what the benefits are, just take a look at our article 21 Reasons Why Being Part of the European Union is Awesome!
    

7. Find "under the table work"
I neither encourage nor discourage this although I have met many people who find work illegally on a tourist visa and have had no problems.
However, it is important to know what the consequences are if you are caught. You could be imprisoned (unlikely, though possible), have to pay a fine, be deported, or possibly not be allowed to return to the country of the offense.
But just so you know your options, the jobs that you can here are more or less the same as the jobs listed for the students in the first item:
Waiter

Hotel cleaning

General cleaning

Construction

Kitchen helper

Set up and take down for events

Babysitter

Fruit picker

Supermarket or restaurant cashier

Bag packer

Deliveryman

Shelf stocker in a supermarket

Tour guide (work for Free Walking Tours for tips, it can be much more profitable than you'd think!)

Private Tutor for a language
Pros:
More freedom in selection

Can find job on arrival

No contract… can leave if want

No start-up costs (besides the trip itself)
Cons:
No set contract so employer could take advantage of you

Punishment if caught

Can be stressful to arrive at a new place without a job

No job benefits (health care, sick days, etc)
 

 8. Skilled/Qualified Immigration
There are some countries where there is a lack of professionals in certain fields and the government has developed programs to bring over skilled/qualified immigrants. In this program, if you are accepted, you can get a residence visa and live and work legally. The idea is that you'll live there long term and contribute to the country.
Like many of the processes above, it's not easy but I have met many people who this has worked for. It works on a point system with different categories and the more points you have, the higher your chances of being accepted.
And what are the categories that give you more points? 
A university degree

Work experience in your field

A field in an area of demand

Speaking the local language (for example, if you go to Australia you'll need to take the TOEFL or IELTS to prove your level)

Being younger

And other characteristics….
This doesn't mean that you won't be accepted if you don't have one of the items above. As I said, it's about the accumulation of points and you'll need a different minimum of points to be considered for every country. I recommend that you visit the website of the consulate or embassy of your country of choice to see if what the steps are and the requirements.
Some countries with skilled/qualified immigration are:
Australia

New Zealand

Canada (you can also apply directly to the province of Quebec)

Apparently, the United States will also start a skilled immigration program. To know more, just take a look here.
Pros:
The jobs in the new country are usually professional and high-paying (since you are a skilled worker)

You will be able to work legally

You are not just an expat in the country, you are a permanent resident

You can apply for citizenship (after a few years)
Cons:
You need to have specific, in-demand skills to be accepted

It's a long, hard process

There's a preference for younger people
   8.5) Work as a (paid) volunteer for the United Nations or the European Union 
These are two "new" options that I hadn't researched before and think are pretty interesting!! 
   a) How to volunteer for the United Nations (the UN) 
The UN has spots for volunteers from around the world for their missions worldwide. There are many opportunities for humanitarian volunteering and the UN will pay you a stipend of about $1,500 per month for your help depending on where you serve, beyond any initial costs to start up. 
Learn more here: UNV
   b) How to volunteer for the European Union (EU) 
This option is ideal for you if you are a citizen of one of the 28 member states of the European Union. The EU's program is similar to the UN's but they pay for everything: flights to wherever you are going to be, accommodation, health insurance, and an extra stipend of 420 euros per month. 
And if you ask me, this is just another reason why the European Union is awesome! 
Learn more here: Eu Aid Volunteers
   

9. Become a digital nomad (become location independent)
Digital nomads seem to be the new "trend" around the world. Basically, these people work from home through their computers so they don't need to go to an office. And if you don't need to go to an office, what's stopping you from living in any city or country around the world?
In addition, many people work autonomously offering their services over the Internet. Architects, designers, copywriters, computer professionals, photo and video editors, these are just some of the professions that get a variety of services online as freelancers.
A good way to get these jobs is to create an account on a digital services platform, such as Fiverr. Through this platform, you can advertise your services to people all over the world and profit securely from freelance jobs from wherever you are.
So, these days it's normal to go to a beach in Thailand and see people working in front of the sea on their computers thousands of miles from their home country… in what they call their "office"!
Obviously, not all types of jobs can be executed from a distance, but the list of those that can is growing…
Webmaster

Blogger

Translator

Write

Photographer

Online tutor

IT technician
Jobs like these, you are able to make money while working and traveling around the world at the same time. Obviously, you still have to be very dedicated and disciplined so you don't spend the whole day just traveling. You have to work on your computer.
At the end of the day, instead of dealing with the traffic and pollution of Los Angeles, you will be passing through the streets of Budapest or the trails of the Caucasus Mountains.
Believe me, there are small hotels, hostels, pensions, and other ways of living around the world where you will spend a fraction of the cost of a month of living in a big city back home. You can read more about finding cheap accommodation while you work here.
Not only is being a digital nomad trendy, but it's also well-suited for a pandemic world. More business owners are now realizing that working from home is not only a possibility, but it's also the best way to keep their employees safe. That means organizations around the world are now willing to offer remote work vs office jobs, which can create all kinds of opportunities for you to live wherever you want while staying gainfully employed.
Working as a freelancer has always allowed for telecommuting, as you have total control over where, when, and how you work. But you might also be able to snag a full-time or part-time job that offers benefits, paid time off, and other perks while you work remotely. While the pandemic has been devastating in many ways, it's actually had a positive impact on what we think of as acceptable work practices. Working from home (or from anywhere in the world) was once a misunderstood rarity. Now, it's becoming more of the norm — and business owners are realizing that they can save money and improve productivity by expanding their horizons beyond the conventional office.
Whether you work for yourself or you find an employer who offers more flexibility to align with your digital nomadic lifestyle, the location-independent workforce is only going to grow — so why not join in?
Pros:
You are completely location independent… you can live where you want!

You choose your own hours

You are your own boss

Can take days off when you like (sort of)

Immense feeling of freedom
Cons:
You need to have an online job that you can actually make money at

You need to be somewhere with internet

Depending on the job, you may end up working far more than full-time (like this blog, for example… you'd be surprised by how much time we spend on it!)

You need to be extremely organized, disciplined, and be able to figure things out yourself (no more boss telling you what to do)
Ways to live abroad (cheaply or almost free) without making money
   

10. Travel with Free Accommodation
So, perhaps you can't find a job to earn money abroad. Perhaps you can't even find a job in exchange for accommodation and food. Fortunately, it's really not that hard to find places to sleep for free around the world.
There are several websites where you can find people who are willing to put up people to sleep for free simply because they want to help or meet people from different countries.
Websites where you can arrange free accommodation:
In this website, you exchange houses with someone and they live in your house for while you live in their house for a set period of time:
    – Stay4free
In these sites below, you can stay in houses for free around the world while the owners are traveling as long as you take care of their house or their pets:
While Couchsurfing is better for short-term accommodation, it doesn't hurt to take a peek. You can read more about how Couchsurfing works on this page:
Pros:
Options available all over the world for all lengths of time

Can live like a local while still having your own space

Have your own kitchen and laundry (something that you may not find at all hostels)
Cons:
Might not be able to find what you want when you want it

You will be responsible for taking care of the house and pets if that's the agreement

Can't leave when you want to…. you made a commitment to the house owners
 

 11. Volunteer abroad in exchange for food and accommodation
This is a great option that, while you won't make any money, will allow you to work for a few hours a day in exchange for accommodation and food.
You don't have to pay an agency beforehand. All you have to do is search on one of the websites made for this service, find a country where you'd like to work and see the available options.
And in what places can I be a volunteer?
There are many but they normally are:
Hotels

Farms

Bars

Schools

Restaurants

Hostel (you can read more on my page about how to work in a hostel)
And what type of jobs would I do?
The jobs are normally simple, but if you have a specific ability, you can definitely use it. Here are some potential areas:
Reception

Cleaning

Farming

Art

Teaching

Digital marketing

Kitchen help

Events

Languages (like editing and translating)

Tourism
You can find positions in most areas of the world. Here are some sites to search for these opportunities:
    – Workaway
    – Worldpackers (Using the OUT10 coupon you get $10 off and 3 extra months on any plan.)
    – Helpx
These sites are very different from those volunteer "programs" where you pay (usually a lot) to participate in the program and work as a volunteer. Instead, you just pay a small amount for access to the host's contact information (around $20-30 for two years) and all of the agreements (hours of work, accommodation, etc.) are arranged directly through your "employer" without a third party. You can, however, search the potential positions before paying.
Working in exchange for a place to sleep and food is a great way to learn about life in another country while spending little to no money. Since you are not receiving money, you can do this legally with your tourist visa. The minimum time with a single host is about two weeks and the maximum… as long as your visa lasts!
At best, your host might even arrange a paid position for you in the future if they really like you!
Pros:
It's (almost) free!

You can go almost anywhere

You don't need to have special skills

Not a contracted position so can leave if you don't get along with your host

No age limit
Cons:
Have to pay fee for to contact the hosts on the websites (about $20-30 USD for 2 years)

Might not know too much about hosts beforehand (although you can usually find reviews)
General tips for moving abroad
These tips will help with any of the options that you've chosen above to begin your new life abroad.
   

a) Save on your flight.
Wherever you are moving, you'll probably need a flight and, normally, people like to save as much money as possible on tickets. Even if you are going abroad through an agency and they try to make you buy the flight they've chosen, research before because often you can find cheaper flights independently than through them.
Here are 16 tips on how to find cheap flights to help you out.
 

 b) Find cheap accommodation until you find a permanent place to live.
When I moved to Australia to study, the agency that I used to sign up for the Australia school suggested I stay in a temporary accommodation that was fairly expensive and far away from the school. I decided to find a hostel by myself and stay there until I found a more permanent place to live. I saved a bunch of money and had a great time at the hostel.
Here are the 6 best and cheapest websites to find and reserve your accommodation. At the end of the article, you can also find a link to get a free $25.00 credit on Airbnb.
   c) Don't forget your international health/travel insurance!!
In many countries that you might want to live in, you'll be obligated to find your own health insurance if it won't be provided by your employer. In the case of my time in Australia, I had to get a specific insurance for students that they gave me.
However, in many cases, a simple travel insurance will be sufficient coverage. Some of these insurances will cover you for a year or even more! Come read all about it in an article where I give the 3 best and cheapest travel insurances in the market that will cover you for almost all countries in the world!
But, if you are living in another country long-term or want a greater coverage (travel insurance mostly just covers medical emergencies), you'll need a proper international health insurance.
Plus, if you need health insurance for immigration purposes (to be accepted as a resident or get a specific residency visa), then what you actually need is an international medical insurance for expatriates and immigrants. 
My article with the 3 Best International Health Insurances for Expats & Immigrants will help you find the right option for you. 

 

 d) Have a plan for the things you'll need to take care of once you arrive in a new country.
Moving to another country isn't easy. There are lots of things you'll have to organize along with having to learn how the new systems work. Saying this, I've prepared an article to help you with your move about the 16 first things you should do when you move to a country or city to make the transition smoother.
   

e) And, finally, scope out the blog here!
I don't mean to brag, but as you've probably noticed, this blog is full of tips so people can save on their trips and travel better and longer.
To learn more about budget travel, you can check out my main page The Art of Backpacking to find out how you can save more day to day and during your trips. If you curious about adventures you can do beyond travel (like Volunteering for the Olympics or becoming a Lifeguard), check out my Out of Your Comfort Zone page.
Conclusion…
Well, this article was very long but I think I've covered all of the existing possibilities to move abroad and restart life in a new country.
And yourself? Can you think of anything that I've missed? Have you lived or are living now in another country and want to add a piece of advice? Or perhaps you disagree with the ideas above? Use the comments area below to leave your message and I'll respond as soon as I can.
And, as always, happy travels and maybe…. happy moving!
Planning your next trip?

Then don't forget travel insurance! You don't want to get stuck paying a ton of money and ruining your trip if you get sick or have an accident without travel insurance. WorldNomads is ideal for adventurous travelers, backpackers, or anyone looking to be protected during their trip. They cover almost every single activity you can image!

Already reserved your hotel or hostel? If not, we recommend Booking.com. They have a huge selection of hotels and hostels all over the world. Plus, in most cases, you can cancel your reservation without any costs up to a few days before the check-in date! 

Still haven't booked your plane ticket and want to save big? Take a look at Momondo. It's a flight aggregator that combines several other ticket search websites to make it easier for you to compare prices and make sure you are getting the best deal. 

And finally, will you need to rent a car during your trip? Then check out Rentalcar.com to search and compare car rental companies from all over the world in a single website. Then, you can find the cheapest price for the best car!
If you want to hear about new articles, check out our latest pictures, and read our newest updates, be sure to follow us here….
…..and subscribe to our newsletter below!