16 easy tips on how to save $$ and get the best deals on plane tickets and airfares. The tips work for any airline or flight (domestic or international)….anywhere in the world! Plus, read about the 5 best websites to search for and find cheap flights. Stop paying more than you should for your flights!
In the majority of cases, your flight will be one of the largest costs of your trip. Therefore, spending a good amount of time researching flights before your trip will ensure that you get a good deal and can then use the money that you save on your flight to travel better and farther. Before the age of the internet, the only way to research flights was by looking at the classifieds in the newspaper or to call or go in person to a tourist agency. It was very difficult to compare prices and options and you were left to the mercy of the smooth-talking tourist agents that offered you a flight that gave them a commission as opposed to the best flight. With the advent of the sacred internet, the consumer became king. We can search several ticket sites at the same time to compare companies, prices, schedules and even check other user's reviews of airline's services. First, I will give some tips on how to find the cheapest and best tickets, especially if you, like a good backpacker, have plenty of time (usually) but not plenty of money. Afterwards, I will discuss which online sites I use to search for flights and why I use them.
So, what are some tips to save money on purchasing flights??
Use several websites for your search.
As I show below, different flight search sites have different characteristics. In using several different sites, you can choose the best thing each site has to offer.
Be flexible in the days you can fly.
This is very important. Different dates to fly can have an incredible discrepancy in the final ticket price. To know which are the best dates to fly, I use the flight search site KAYAK. It is a search engine that is called an aggregator. Or, in other words, it will show you all of the airline companies that make your desired trip (with the exception of low-cost airlines). It also has a resource that I really like in which it is possible to see the options to fly 3 days before and 3 days after your chosen departure and return dates. Or, in other words, it gives you 7 days to choose your departure date as well as 7 days to choose your return date. 7 x 7 = 49 different flight options so you can find the best price!!! To see how much you can save with this, I'll show you an example of a round-trip flight from São Paulo to New York. Let's say that the date you chose to leave was 03/01/2014 and return were 04/04/2014. As you can see below in our ticket search, with these dates our flight costs US$ 1,258.00. But if you change your flight to depart on 03/05/2014 and return on 04/07/2014, your trip will hardly be a day shorter and you'll pay US$ 694.00 for the same trip!! This gives you a discount of US$ 564.00 or, in other words, a saving of 44.83%, at the exchange of moving your trip three days later. The figure below demonstrates the result.


Once you find the cheapest flight with a certain airline on Kayak, I would suggest going to the airline's website to book the flight (if the price is the same), so you know that in case you need to change or cancel the flight, the fees are going to be much lower.
3. Fly in the middle of the low season.
Obviously, buying flight tickets in the middle of the low season, if you can, is much cheaper than buying in high season. You can check online to see when it will be high season in your destination. But in general, it will align with school holidays. Just remember that this will be (usually) in June, July, and August for the Northern hemisphere and December, January, and February for the Southern hemisphere. You'll just have to check. To demonstrate this difference, we can use the example above again as it was purchased in the middle of the low season. To purchase the exact same flight in the middle of high season, like July, for example, when students from both hemispheres are on vacation, the following is the result: The cheapest price is US$ 1,045.00, an increase of US$ 351.00 or 50.57% compared to the first example!!


Another option is to use Momondo which gives you a table with prices for all the days in the month you are looking for. This way, you can see if there is a day close to your choice which would have a better price. The last ticket I bought, a LAN flight from DC to São Paulo, Momondo was the site where I found the best deal, cheaper than LAN's own website!


Fly on Wednesday or Saturday.
This research was done by various travel sites and they have come to the conclusion that these are the cheapest days to fly. So, if you don't have time to keep searching and you want the cheapest, check flights on these days.
Buy tickets early.
The example above was done 4 months early but if you try to buy tickets at the last minute, they'll usually be expensive. This is because airline companies know that you are desperate and, if the flight is relatively full, they will charge you an arm and a leg for a seat!! This is especially true for low-cost airlines (I'll talk more about them below). But if you have the stomach to wait, check out the next tip.
If it's last minute… use miles.
If you are buying a flight last minute, want to avoid paying exorbitant amounts, and have miles (I'll talk about this later on in another article) then this is a great time to use them. If the flight isn't full, then airline companies will let people purchase empty seats with miles. For the airline, it's better to have someone paying with miles than to have an empty seat. And if you have a really strong stomach as well as a bit of luck…..
Last-minute promotions.
You can also wait until the very last minute to buy your ticket (or if you made some last minute travel plans). If the flight is not full, airline companies sometimes have promotions to fill empty flights. The risk here is that, if promotions are not available, you'll either have to cancel your trip or give your first-born to cover the ticket cost. Last-minute promotions are difficult to find with low-cost airlines. With them, don't just count on luck!!
Flights with connections will be cheaper than direct flights.
This is because many people, especially people traveling for business, do not want to lose time (after all, time is money) and will pay more for a direct flight. As the airline companies know this, they raise the price for direct flights. If you don't care about the number of connections, you can find cheaper flights. We can see here, using the same example as above, that a direct flight is more expensive (US$ 1,072.00) than one with connections ($694.00). Check out the figure below.


If you don't enjoy long flights, then take a look at my article with 10 Tips to Survive Long Fights and Maybe Even Enjoy Them!
Be flexible with your destination.
The idea is to always travel to large airports where there are many flights and competition keeps the prices down. Imagine that you want to travel from São Paulo, Brazil to Albany in New York. If you search for a flight with the same dates of the example above, you will see that the cheapest result is US$ 1,229. However, if you fly to New York City on the same dates, the cheapest flight is US$ 694.00. Arriving in New York City, you can take a 3-hour Greyhound bus for US$ 19.00. Altogether, 694 + 19 = 713 dollars in total. Comparing the US$ 1,229.00 flight to Albany, with a savings of US$ 516.00 for a few hours of "discomfort" on a bus…it's easy to see what any good backpacker would choose. This is also true in Europe where it is much cheaper to fly to busy airports, like Frankfurt, Paris, Madrid, Milan, etc. than to smaller cities. Choose which of the large airports is closest to your destination and afterward take a train or bus to your final destination. Do the math and see if this is worth it or not.
10. Use low-cost airlines.
Low-cost airlines are those that sell only the airfare and then you have to pay for everything else like food, entertainment on board, luggage etc… Usually, they have airplanes up to 180 passengers and make only short flights up to 3 hours. Good examples are Ryanair and Vueling in Europe, Virgin America in the U.S. and AirAsia in Malaysia. Many consider Gol as a low-cost airline in Brazil. They can be either a salvation for your trip or one of the greatest pains in the asses you've ever dealt with. They can be a salvation because you really can find very cheap flights. Sometimes, almost free!! Although, you still have to pay taxes and fees. However, at the same time, they can be a pain in the ass if you don't follow ALL of their rules as they will try to charge you for anything they can like if your bag weighs too much or if you do you check-in at the airport instead of online…and a LOT of other rules. Therefore, I'll give some advice about the best way to use low-cost airlines companies.
Buy early!! The earlier you buy, the cheaper it will be (usually). Like I already mentioned, almost free!!;
Pay attention to which airports you will be flying into. These companies tend to fly to secondary airports and not in the city in which you'd like to arrive.
Example: If you fly to Brussels, Belgium with Ryanair, you will actually fly in Charleroi which is 60 km from the center of Brussels. In this case, if the cost of a bus or train ticket between the two cities is high, then it's not worth it to fly here. Same thing if you fly with JetBlue to Los Angeles as you will actually arrive in Long Beach… not the same cities!
Be careful with your baggage. If you are going to check baggage, you will have to pay!! Pay attention to the weight limits because if you are even a gram over they will try to charge you;
Figure out how to check-in. For the majority of low-cost airlines, they expect you to check in online and print off your boarding pass before arriving at the airport. They will charge you about 30 dollars if you arrive at the airport without your check in done and your boarding pass printed!!;
Check the schedule. They close the check-in and baggage drop exactly at the hour they say they will, normally 45 minutes before the flight leaves. Being charming with the attendant won't help you…;
If you

miss

your flight, I'm very sorry, but your money is already gone. You have no rights with these airlines, not even refunds;

In many, the seats don't even recline!! Plus the knee squished with the front seat…;

If you want to change your flight, you will also have to pay large fees. It's all these changing flight fees, cancellation fees, and baggage fees that allow the companies to make money even though their tickets are dirt cheap;
You can forget food, drinks, and entertainment!! If you want any other type of

extra

, you will have to pay!!
As I mentioned before, if you are searching flights on travel sites, many of these won't show options for low-cost airlines. The only one I know that gives all of the options is Skyscanner (Kayak also started to show low-cost airlines giving the final price). That's why I always use it when looking for flights, especially if I am looking for flights in Europe where there are many low-cost airlines.
As there are many fees for low-cost airlines for a very basic flight, also check traditional airline companies because sometimes the prices are nearly the same plus you'll get some extra comfort.
11. Find a map of flight routes and compare it with your travel map.
If you are an organized person and want to take advantage of low-cost airlines, take a look at their route map and try to adapt your itinerary a little to fit them. Example: On a past trip, I was in Kiev, Ukraine and needed to go to Milan, Italy…but all the flights were expensive. After searching, I saw that on Wizzair's route map that I could get a flight from Lviv, also in Ukraine, to Milan. I then just took a very cheap train from Kiev to Lviv and spent a day getting to know the city before my flight to Milan. Of course, this type of thing can only be done with early planning so you can organize the train as well as the extra day in Lviv without messing up your entire itinerary. In short, when you are preparing your trip itinerary and you know that there are specific cities that you need to fly between, have the route map of some of the low-cost airline companies open in your browser (just go to their website and search for "travel map", "route map", "where we fly" etc..) and perhaps you'll find a better deal. Here is Wizzair's route map from Lviv.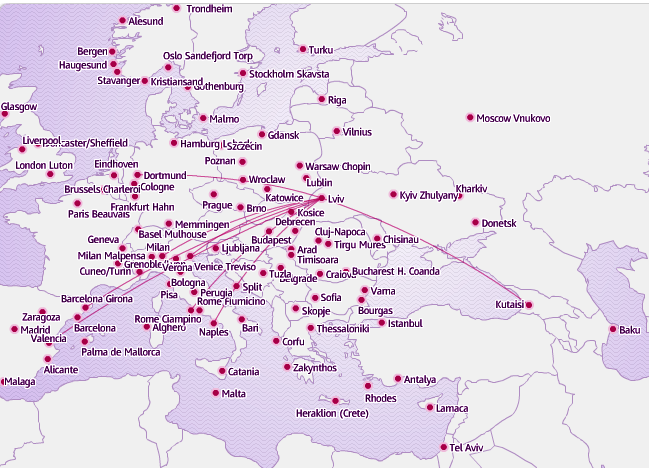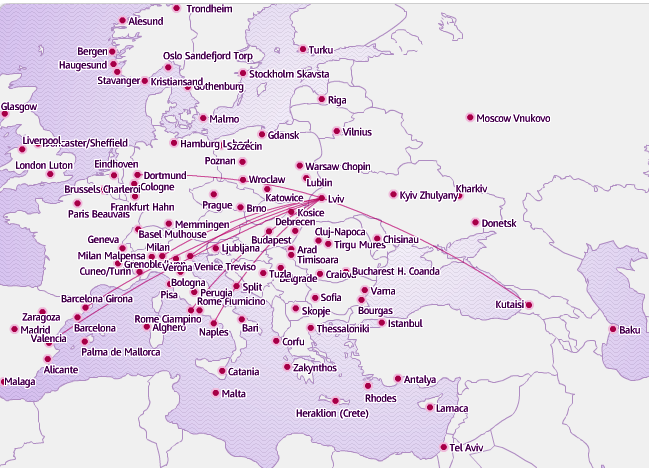 12. Combine different airlines in your trip.
Since the majority of low-cost airlines will only do short flights, you can do long flights, like North America to Madrid in Europe, with traditional airlines and from there, you can use low-cost airlines for the next leg of your trip if this is cheaper than just flying straight to your destination with the same airline.
13. Make use of a "flight passes."
Some airline companies have regional passes that you can use and might be cheaper than buying flights individually. A good example of this is Lan in South America which has flights in several countries. So, if you buy a "Lan" pass, you will be able to fly to several cities in the region more cheaply than if you had purchased each ticket individually. I could just find this offer on their American website but I believe anyone can buy it. To know more, check out this link for Lan and click on "South American Pass" at the last column on the right https://www.lan.com/en_us/ or check with other airlines if they offer similar passes.
13 1/2. Make use of Price Alerts!
This is something that I'm starting to use now. It's quite useful if you have a lot of time to buy your flight ticket. You go to a website such as Skyscanner and make a search. For instance, Seoul to Taipei. It will give you a price, let's say, 423 dollars. Then you go to "Get Prices Alert" and give your email. After that, every day that the price for the same itinerary goes under these 423 dollars, you will receive an email alerting that the priced dropped. When you think the price has reached your goal, you go to skyscanner.net and book it.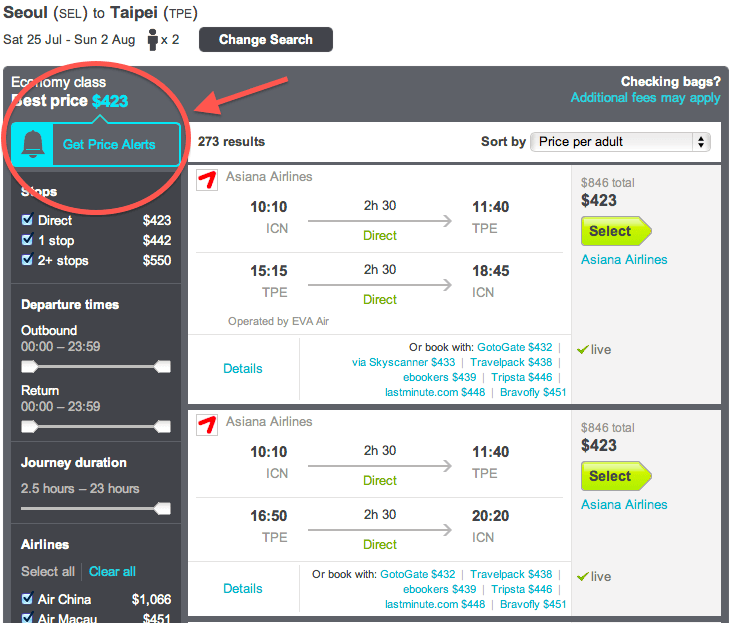 14. Search and buy the same ticket on websites of different countries.
Don't ask me why, but I've saved money doing this a couple of times like when I was in Colombia and searching for a domestic flight. Buying the ticket from the local Avianca Colombia website was much cheaper than buying it from the Avianca Colombia website for Brazilians. Another instance was when I was searching for a flight from Australia to New Zealand and found that the ticket on the Brazilian Lan website was cheaper than the Australian Lan website. There is usually a button at the airline's website where you can choose the country. I've already heard people saying that the tickets on Tam's international website were cheaper than the Brazilian one…same itinerary, same dates!!
To do so, you can use a VPN to "change" your location to anywhere in the world. To know more about VPNs, take a look at our page about the 4 Best VPNs for Travelers.
15. Student flight tickets.
If you are a student, you can sometimes find special prices for your flights A good site to search for student flights is STA Travel (Student Travel Agency). You can buy the ticket directly with them online but, if you do, pay attention to their conditions. At the time of check-in, you will have to prove that you are a student. The best way to do this is to get an ISIC international student card and it's great not just for flights. It gives a bunch of on transportation, museums, and attractions. To get it, check out this link: https://www.isic.org/ It's also good to consult with a specialized agency that can issue special student tickets. However, before going to the agency, check to see what the average prices online are because you never know if the agency will try to overcharge you.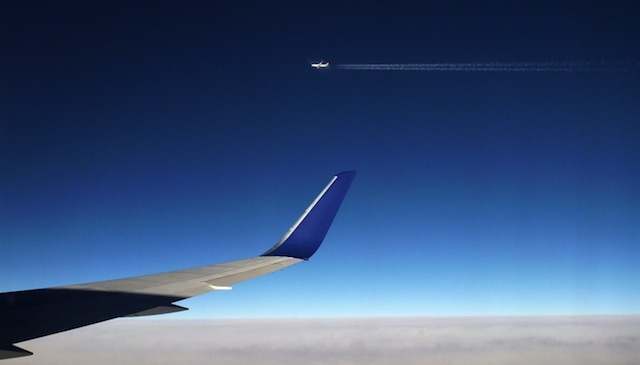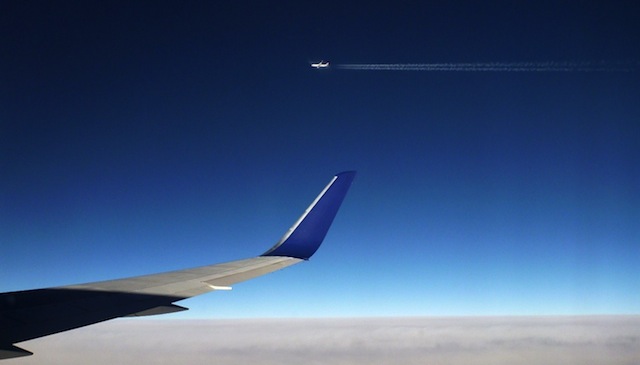 16. Watch out for flight "promotions" that don't show taxes and fees.
This is very common on some international sites to purchase flights (especially in Brazil!!). Every now and then my mom calls me and says: "dear, take a look at this site, there is a super promotion for flights to go to the United States for 450 dollars!!" I don't even need to look at the site and I can already tell her that this price is excluding fees, airport taxes, fuel surcharges, September 11th tax, agency commission, and an abundance of other costs that you don't even know you are paying. Just to see how much the flight would cost in total, I went to the site, went through all the steps and, just before it asked for my payment information, showed that the true cost was actually 1,200 dollars. Plus, the flight was even cheaper on the airline's own website at 1,050 dollars. Personally, I think this is a scam as it eludes many naïve and unsuspecting people who are not paying attention and give their payment information thinking that they are only paying those 450 dollars. So, give preference to those sites that show you the final price during your search!!
The 5 Best Websites to Buy Cheap Flights
I've already mentioned a few and, like I've said, I like to search on several different sites at the same time because each has a characteristic that I like that can offer different results. Therefore, if you search different sites, you can be sure that you are not losing out on any deals and really can find the best price.
In general, this is the first site that I check. This is because it is a generic and aggregate site. Or, in other words, it gives you the flight options for your selected dates for all of the airlines that do that route. The only problem is that they don't show low-cost airlines. Kayak started to show low-cost airlines in its results giving the final price, which is awesome!
They also have that benefit that I discussed above where you can see 49 combinations of possible dates to find the cheapest option.
Momondo is a relatively new search engine for flights and accommodation, but which has become a fad in the world. This is because you can constantly find very cheap flights there. Plus, it gives you in a bar graph, all ticket prices per day for a whole month. This makes it much easier to choose which day to travel to get the best deal. I always have to check for flights at Momondo before buying my ticket.
I like this one because it gives me the flight options for all possible airlines, even low-cost ones!! This is very useful for flights within Europe. It can also give tickets month by month or, in other words, shows which date in a certain month (like leaving in April and returning in June) will be cheapest. However, this feature is not always completely reliable. Lately, I've been finding some cheap flights on Skyscanner that I could not find on any other website.
This is also one of my favorites. If you have already read my pages about accommodation and transportation, you've read about why I use Priceline. Anyways, besides being able to find excellent deals on renting cars in the United States and hotels around the world, sometimes you can also find unbeatable prices on flight tickets. This is because Priceline lets you say how much you want to pay for a flight and then decides to accept it or not. And when it accepts it, the discount is really good. It works like this:
You do a normal search for a flight like, for example, to New York to Paris on 1/19/2014, just one way.

Let us imagine that the cheapest result is 462 dollars. Instead of paying 462 dollars, you decide that you only want to pay 330 dollars (just remember this still isn't including taxes and fees).

The site will test your offer and either accept it or, if it thinks it's too little, it will refuse it. You will then have to wait 24 hours to try a slightly higher offer.
The problem with being able to give such a cheap offer is that you can't choose your airline company. You also can't choose the hours of your flight. You can only choose which airports you want to leave from and arrive into as well as the dates of your flight. o The other problem is that you put in your credit card information at the time of your offer and, if your offer is accepted, your card will be charged immediately. So, if you want to change or cancel your reservation, you will lose money. I like to use Priceline when I have already searched all the other sites, including Priceline and the cheapest ticket I found is the same on all websites. Then, if I want to risk for a cheaper flight with whatever airline, I give my offer, remembering that the result could be a low-cost airline. Because of some major difference between different airlines and their frequent flyer programs, that is not always that I use Priceline to buy my tickets. But for car rentals in the United States and worldwide hotels, Priceline is always my first choice. Check the pics below to see how the "Name Your Own Price" process works.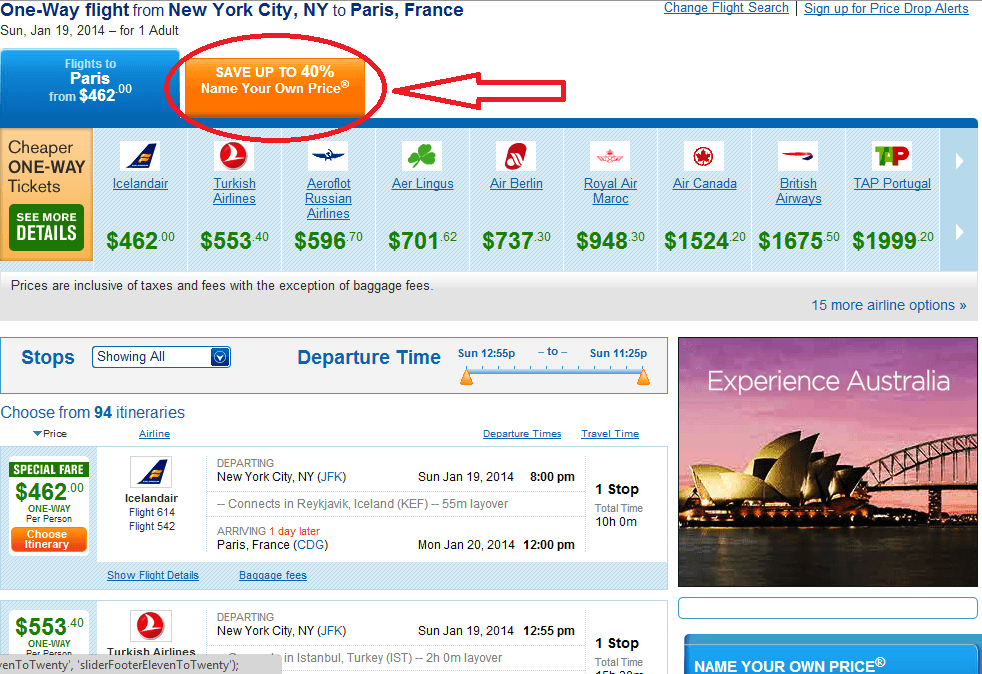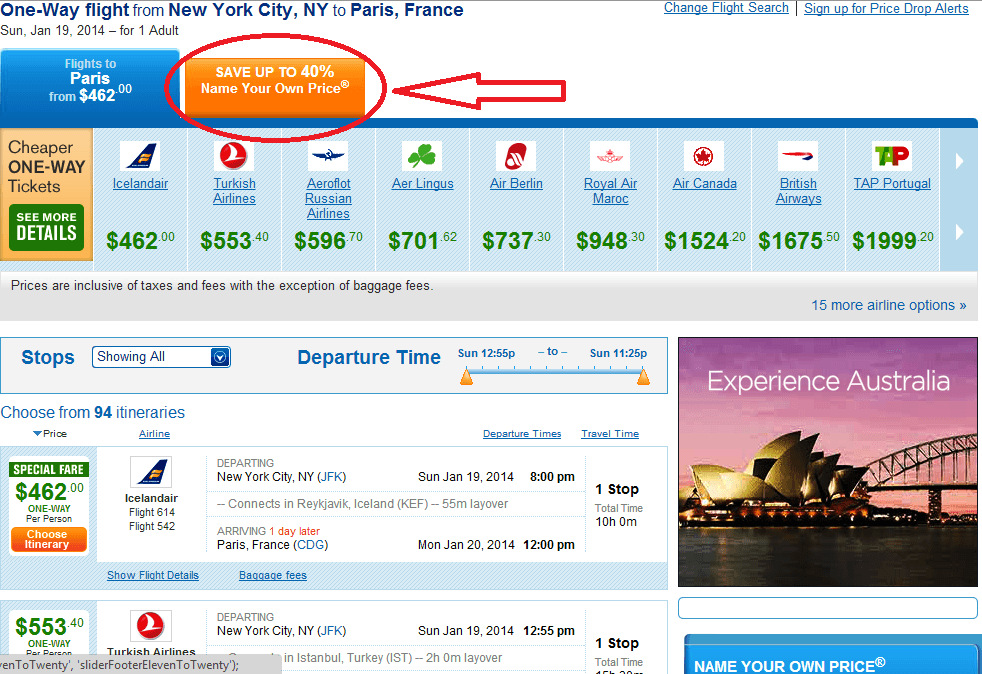 You specify which airports you want or how much you want to pay.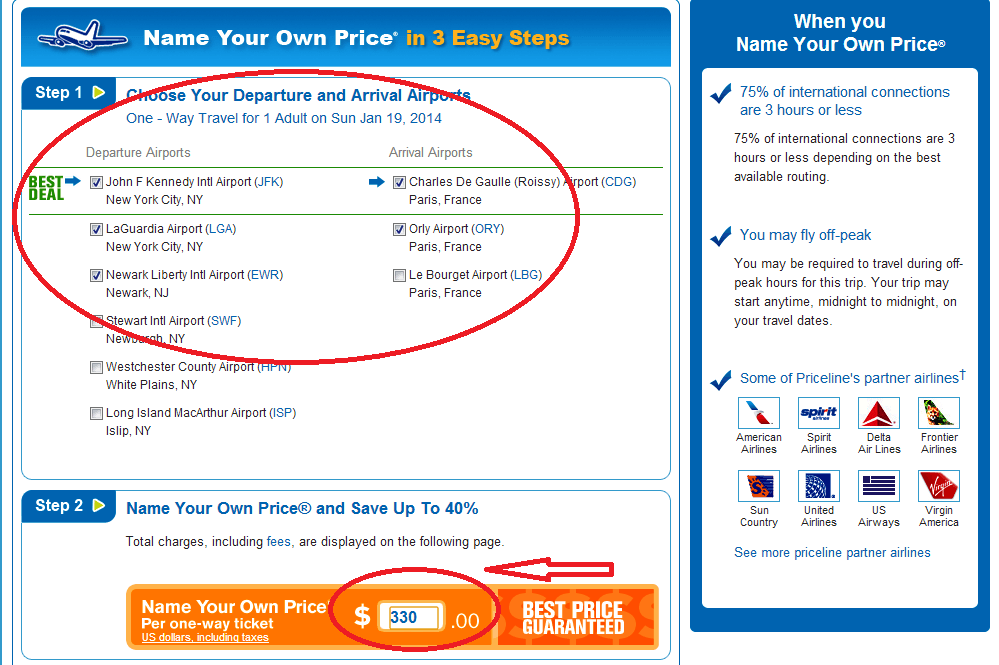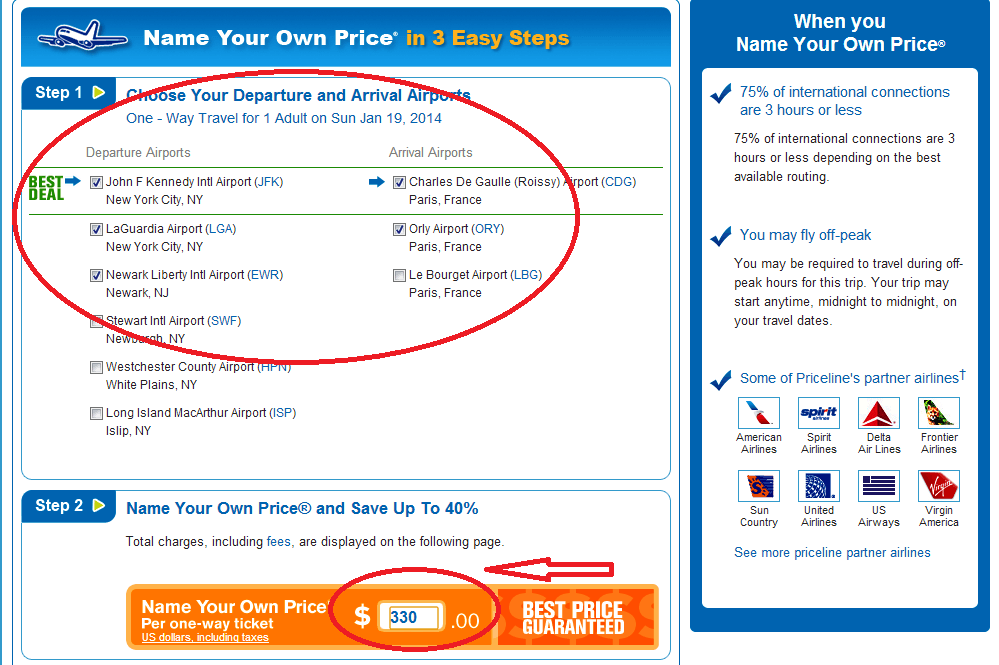 And check if the final price would be less than the best price you had already found on the other websites.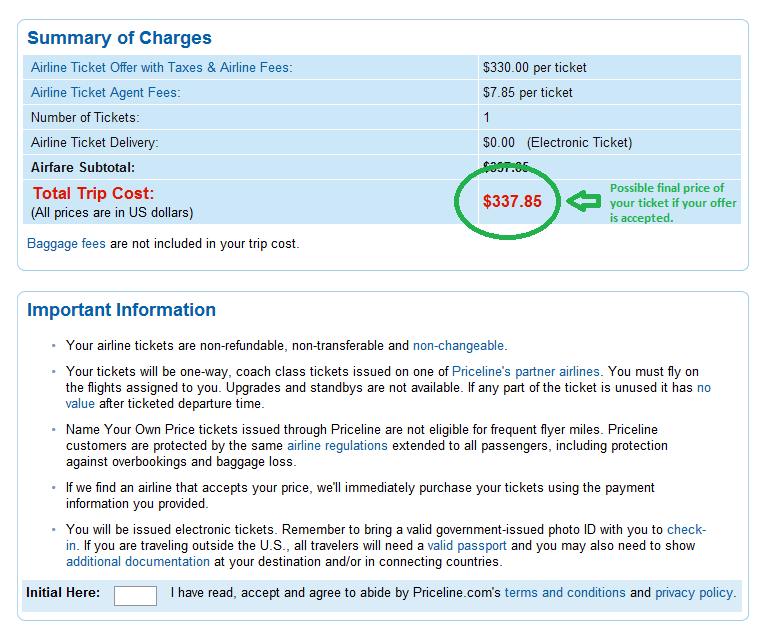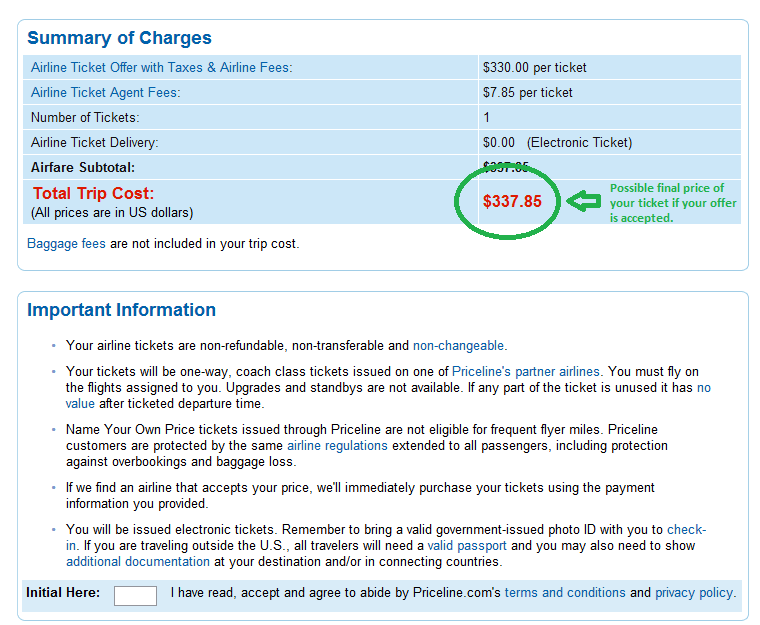 AirWander is another ticket search site that I recommend. One of the things I like most about it is the stopover option, where you can choose long-stay stopovers to add to your trip. Thus, you can travel to 2 or more destinations and saving a lot at the same time! Another cool feature of this site is the World-Tour option, with which it is possible to find cheaper routes through incredible places all over the world. Perfect if you are planning a trip around the world!
I talk more about the best websites to buy cheap flights in my article The 5 Best Websites to Buy Cheap Plane Tickets & Flights -2018
Directly on the airline company's site.
Lastly, if you know what companies do the route you are looking for, also search directly on the airline company's site. You never know if they'll have some deal for whoever purchases directly with their site. For flights inside Brazil, I always search the 4 big ones. If the ticket price is the same, I follow this order of preference:
The 4 Best and Biggest Brazilian Airlines
Avianca:

https://www.avianca.com.br/en

Azul: https://www.voeazul.com.br/en/home
Tam:
Don't forget to sign up for the miles programs so you can travel for free… but I have much more to say about this so we'll save it for next time…
Well, I hope that with this article I've helped you find, get and buy cheap flights.
And you, do you have any other tips on how to save on flights?? Give your testimony in the comments area below and let me know if you have any questions or if anything was unclear in the text and I'll try to help. Happy travels!!
Planning your next trip?

Then don't forget travel insurance! You don't want to get stuck paying a ton of money and ruining your trip if you get sick or have an accident without travel insurance. WorldNomads is ideal for adventurous travelers, backpackers, or anyone looking to be protected during their trip. They cover almost every single activity you can image!

Already reserved your hotel or hostel? If not, we recommend Booking.com. They have a huge selection of hotels and hostels all over the world. Plus, in most cases, you can cancel your reservation up to a few days before the check-in date without any costs!

And finally, will you need to rent a car during your trip? Then check out Rentalcar.com to search and compare car rental companies from all over the world in a single website. Then, you can find the cheapest price for the best car!
And if you want to hear about new articles, check out our latest pictures, and read our newest updates, be sure to follow us here….
…..and subscribe to our newsletter below!