Obviously, deciding what to do will depend a lot on where you are traveling as well as personal preferences. Although many like to plan ahead and decide what they'd like to do ahead of time, there are many who prefer to decide once they arrive. These tips should work for both types of people. If you'd like some more information about the pre-pre planning of a trip (meaning, the planning you will do before deciding which activities to do and which attractions to see), check out my page on how to prepare a travel itinerary.
I'm lost and overwhelmed and I have no clue what to do or what to see.
These ideas here should work for the majority of the fairly well-known cities and places in the world. So, they'll work even if you haven't prepared anything, have no information about the place you are visiting, or just dropped there by parachute. For those "isolated" places that they don't work, you'll just have to check with the locals for ideas. This is the routine I always follow:
Look for the local tourist information center
In many cities around the world, even in the small ones, you can find a tourist information center. Usually, they are at the airport, bus or train station, or ports. Depending on how you arrive, take a look at these four places. If you can't find one there, often there is one in the city center or near the most touristy areas such as parks, the main church or main square, the most popular beach, and so on. Once you find the tourist information center, here are the most important things you should do:
Ask for a map in order to help you move around;

Ask them to show you where your accommodation is on the map so you know how to get back home;

Ask them to show you where the main local attractions are as well advice for what you shouldn't miss;

Ask about the hours are for the attractions. For example, some museums close on Mondays and some other touristic attractions are only open on weekends. This kind of information is really important in order to set your daily itinerary;
Find out how much activities cost to avoid spending money on transportation to get there only to give up because you find out the attraction is too expensive;

How do I get those points with public transportation? Where to take them? How much? Can I pay on the bus or need to have some special pass? Hours of operation?

Ask if there are any activities or sightseeing on the outskirts of town which are worth a day trip.
The hostel's reception
As I said on my page how to choose the right accommodation, every hostel's reception is a potential information center and often a travel agency, too. The good thing about this is that they know that you are a backpacker who is looking to save simply because of the fact that you're staying in a hostel. So, they will not offer you a fancy and expensive tour in an air-conditioned van where you receive champagne at the end. They'll tell you how to do it yourself either on your own or with a much cheaper tour especially for backpackers so you'll have the chance to meet other travelers like yourself and not a bunch of Samsonites.
In addition, the person working at the desk is often a local who will know things that only locals can know. He or she will give you the best tips on budget restaurants, parks, traditional bars, and so on. And since almost every backpacker who comes to the hostel always asks the question "what should I do and see here?" the receptionist is already prepared with the best answer.
Besides that, my favorite thing to do just after checking into the hostel is to drop off my bags and go for a stroll without any specific destination in mind to relax a little bit after the stress we always have when trying to find our accommodation in a totally unknown city or town. I like to look at the locals and try to get a feel for what life is like here. I look at the scenery, bus stops, shops, markets, parks … and I try to pretend, even if only for a moment, that I belong to this place and that I am a part of it all.
2.5 New option: Websites to search for and buy tickets for attractions, tours, excursions, and activities around the world!
The internet is making our lives easier every day. Now you have a bunch of websites where you can see all the attractions available in a certain destination and then buy tickets for these activities online. Usually, you can find some pretty good deals, discounts, and even special features such as skipping the line.
To help you out, I wrote an article with the 3 Best Websites to Book Tours, Tickets, Activities & Attractions Around the World. Check it out!
Free walking tour
Despite being number 3 on the list, this is the activity I cannot miss no matter which city or town I am in in the world. If I only have the chance of doing one single activity in a particular place, it will be a Free Walking Tour. A long time ago, when I first started traveling, this kind of tour did not exist so this is something relatively new. It started a few years ago in the big cities of Europe, eventually spread around the world, and has turned into a worldwide phenomenon!!
Nowadays, most minimally touristic cities or towns in the world have one….sometimes even two or three! This idea is just so good for those who give the tour and for those who participate in it that you will see some "business competition"….. an example is Krakow in Poland where there were two Free Walking Tours "fighting" each other.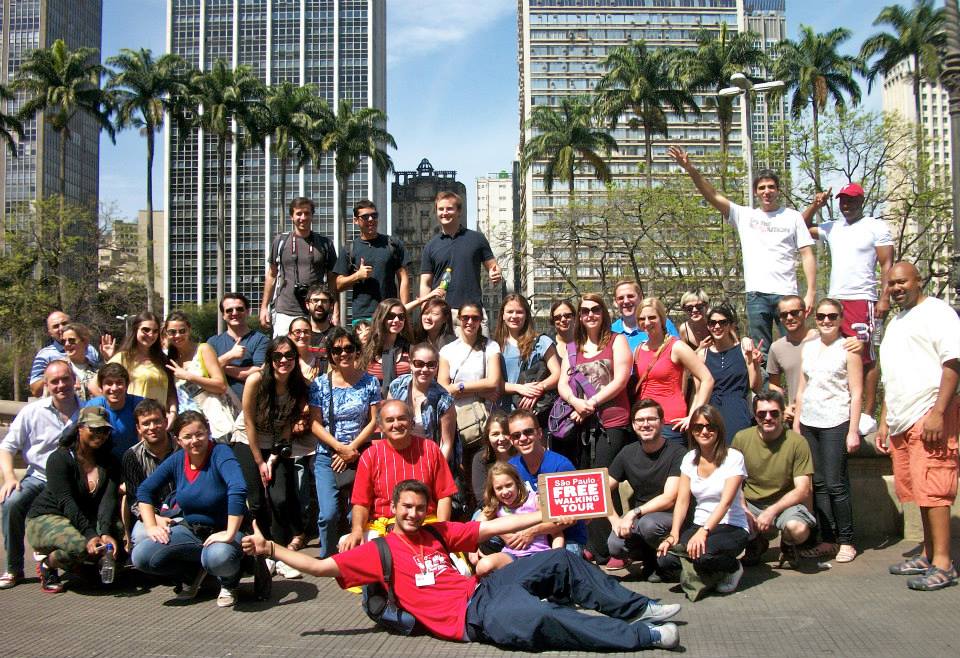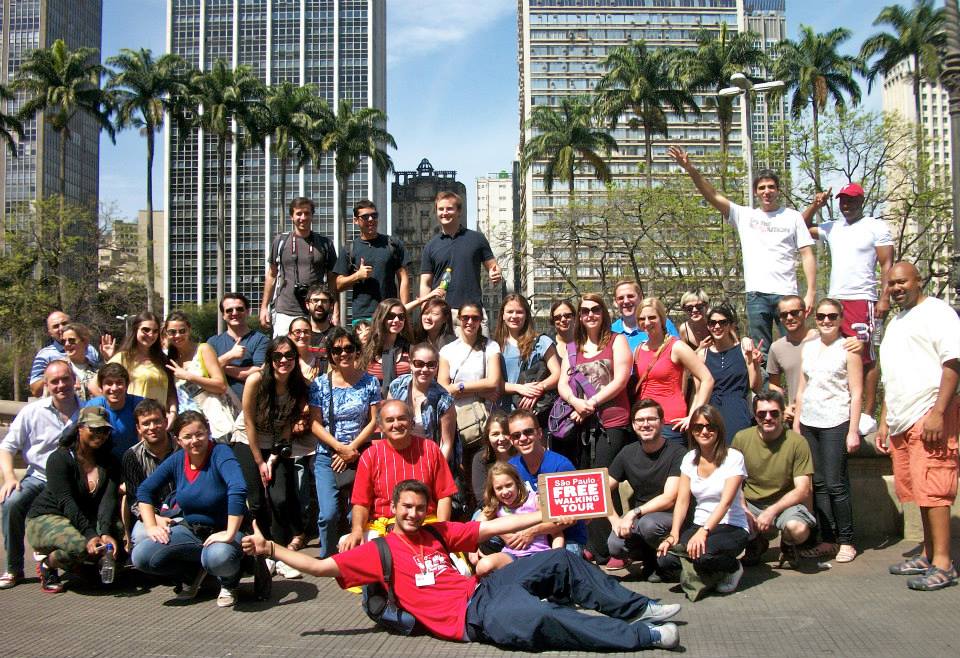 But don't panic!! The FWT (tired of typing, so let's simplify) is not one of those walking tours through the city center, given by a historian who doesn't stop talking, doesn't try to connect with the tourists and tells all those dull historical details from that country and city … like the name of that captain of that battle from that particular year and how many soldiers he had under his command.
Now, don't get me wrong. I love history!! I like to know how the country I'm visiting was formed, what the origin of the local people is, as well as the culture, customs, and everything else. But knowing all the names, dates, numbers, and specific details of the history is just too much. I can read about it later online when I come back home. In this way, the FWT is generally quite different. It is a "young" tour, aimed at backpackers and young travelers. However, young not in the customer base, but in spirit. After all, I've seen people of all types of these tours.
Obviously, the guides will give you an overview of the local history with the most relevant points, but they will also interconnect it with the museums, monuments, buildings, churches and anything else you might happen to walk by… but they will do so in a relaxed and often lighthearted way, with jokes, games, and the group's participation. The guides, who are often locals and know the city better than anyone else, will give you tips on the best (and cheapest) places to eat, have a beer, enjoy clubbing, or whatever else you might like to know (and, believe me, they won't tell you to go to places like the Bulldog coffeeshop in Amsterdam… which is nothing but a tourist trap for those poor souls who did not do the local FWT).
They will also be honest and criticize a restaurant, museum, or other tourist activity if they feel it is not worth it. Furthermore, the FWT is a great way to meet other backpackers and travelers, something that is crucial if you're traveling solo and wants to meet some people to have company. Since you'll usually spend around two hours or so walking around a city during the tour, you will have enough time between "stops" to make conversation with other travelers. After all, while everyone is there to learn about the place, many are also there to make friends and maybe find travel partners.
You have two whole hours!! Just start by asking them which hostel they are staying in, what their travel plans are, or which other activities they would like to do in that city. Often, at the end of the tour, the guide or sometimes just the travelers organize to go for a coffee, eat something, or have a beer somewhere…. another opportunity to socialize!! I've met a lot of people, travel partners and future hosts this way (people with whom I've stayed once I went to their home country).
How do I find information about FWT in the city I'm visiting??
You can start by asking at your hostel's reception or at a tourist office. Or, if you prefer, there are some websites that try to put together all the existing FWTs the world.
Here are two examples:
Another place you can find free tours around the world is here: Freetour.com
But since there are always new FWTs coming out, others closing down, and others opening with a different organization, the best way to find out is to Google the following: "the name of the city you are visiting + free walking tour." Mr. Google will take care of finding the website, Facebook page, or TripAdviser link if the city you are looking for has a FTW. So, for example, if you want to check for FTWs in Krakow, Poland, Google "Krakow free walking tour".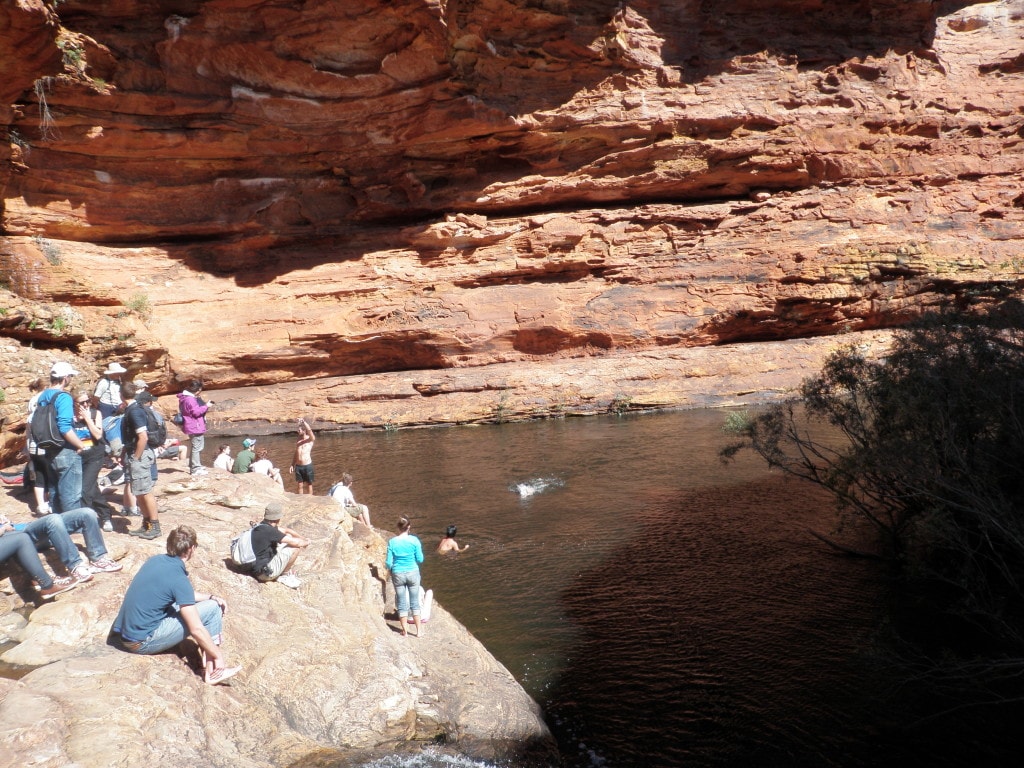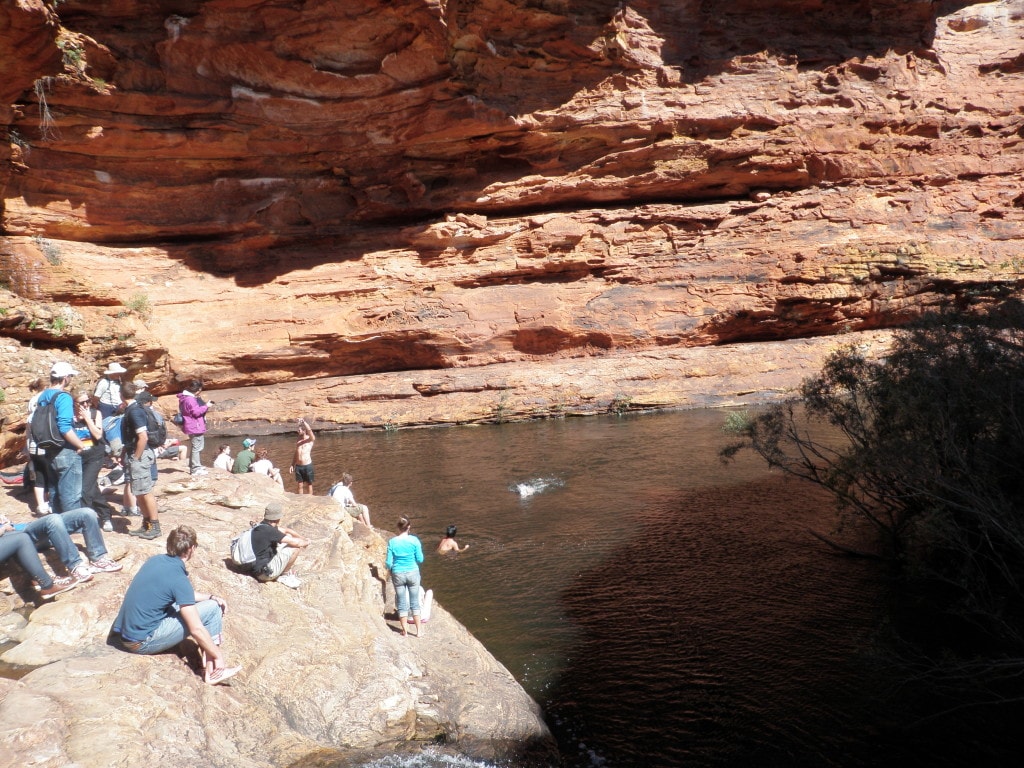 In most big cities, you should also be able to find a FTW in Spanish by googling "tour gratis + nombre de la ciudad + en español." Unfortunately, you might be hard-pressed if you are looking for any other languages.
Another very easy way to find FWT is using Civitatis. This is a super reliable site for booking tours, tours, and excursions that has been on the market for over 10 years. It is possible to find reservations for more than 1,730 destinations around the world, including hundreds of free options.
The website is very intuitive and easy to use, just type in the place where you want to visit and search for "Free tours". Often you will find several options, and if necessary, you can make your reservation very simply on the website itself. All without paying anything! That is, a great way to search for FWTs around the world.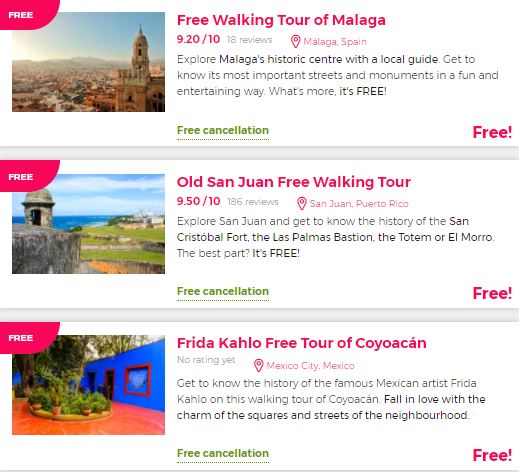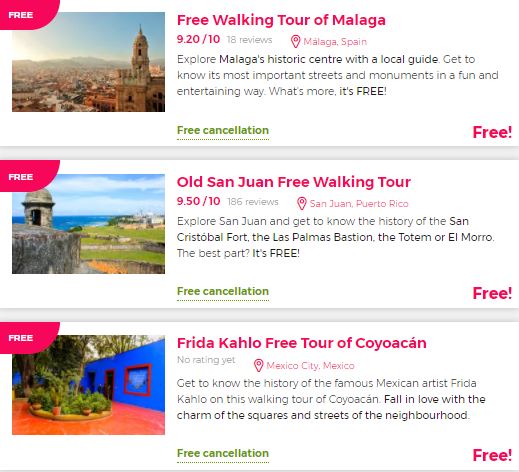 Once I find the link, what should I look for?? Click where it says FREE TOUR and look for information about which days of the week they run as well as what time and where they start. Usually, they start sometime between 11 AM and 2 PM in some easy to find square or tourist site.
For example, after doing a search for Krakow, Poland, I found all the information I needed at this site www.cracowfreewalkingtour.com/ With this site, I found that the meeting place was in front of St Mary's Church, which is a large, brick church with two towers in the central market square. It's impossible not to find it with an explanation like that!! The tours start every day at 10:30 AM and they even have a little map showing where the meeting place is: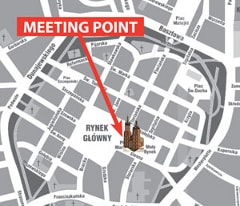 In 98 % of the tours I've done, I didn't need to book before.
The only exception that I remember was in Medellin, Colombia. So don't be afraid…. just go for it!! Even if you arrive before and you can't see anyone else, just stay there and the staff will arrive soon. You will soon see a crowd start gathering and then you will see the guide, who is usually holding a sign or wearing a special shirt, arrive. At the scheduled time, the guide will begin by giving a short introduction and might ask where everyone is from to break the ice.
You will then walk for about 2-3 hours through the main attractions of the city as the guide makes stops for explanations.
Usually, there is also a short break for resting, bathroom, food, coffee, etc., all depending on your guide. I've done tours ranging from only 3 people during the winter in Riga, Latvia to a tour with 30+ people in Amsterdam. There has never been a tour I didn't think was worth doing …. and as I said, it is currently my number one activity anywhere I go that has a FWT available. It is perfect!! A mixture of tourism, history, local knowledge, and a great way to meet other people. At the end of the tour, you can take the guide aside and ask him specific questions about the city, about where specific locations on the map are, about how to get back to your accommodation, etc., …. basically you will have a private guide at your disposal.
So this means I'll get a super cool activity, all for free?? Well, not quite. The tour is certainly free, but the guides and organizers live off the tips they receive from giving tours ….which is actually much better for you because it means that they will strive to give the best tour they possibly can as they know that their salary depends on how much you enjoy their tour.
So, to tip or not to tip??
I ALWAYS TIP. I can't say it's a lot, but I think the guides deserve it as they are doing a great job spreading knowledge around the world and making travelers more conscious about the place they are visiting so they are not just concerned about shopping and statues of people that they don't know the name of.
I've seen some people giving LOT of money, certainly enough for them to hire a private tour for themselves for the whole day. If this is the case, why would anyone bother with FTWs? I believe these people, even if they do have enough money to do something else, prefer the relaxed atmosphere and crowd of a FWT instead of that of an air-conditioned, uptight tour bus. Most likely, these people also know that they are compensating for those that don't tip.
And, to tell the truth, although I've never seen anyone who didn't tip, I'm sure they exist. I believe knowledge should be available and free for whole mankind whether you have money or not. So, give if you can. This way, we can keep supporting this excellent idea of a Free Walking Tour (as well as give our guides something to live off of). If you can't contribute for whatever reason, make sure you thank your guide, take all this knowledge, and then spread it around the world….and enjoy your trips!!
What about you?? Do you have any tips on how to uncover a new city or location during your travels?? Give your testimonial in the comments area below or write me if you still have any questions not clarified in the text and I'll try to help you the best I can. Don't worry, you don't need to identify yourself or put your e-mail to comment.
Happy travels!!
Planning your next trip?

Then don't forget travel insurance! You don't want to get stuck paying a ton of money and ruining your trip if you get sick or have an accident without travel insurance. WorldNomads is ideal for adventurous travelers, backpackers, or anyone looking to be protected during their trip. They cover almost every single activity you can image!

Already reserved your hotel or hostel? If not, we recommend Booking.com. They have a huge selection of hotels and hostels all over the world. Plus, in most cases, you can cancel your reservation without any costs up to a few days before the check-in date!

Still haven't booked your plane ticket and want to save big? Take a look at Momondo. It's a flight aggregator that combines several other ticket search websites to make it easier for you to compare prices and make sure you are getting the best deal.
And finally, will you need to rent a car during your trip? Then check out Rentalcar.com to search and compare car rental companies from all over the world in a single website. Then, you can find the cheapest price for the best car!
If you want to hear about new articles, check out our latest pictures, and read our newest updates, be sure to follow us here….
…..and subscribe to our newsletter below!