Last Updated on by Rodrigo @ OutofYourComfortZone
Hello, fellow globetrotter!
Exploring the world, learning new things, and learning about diverse cultures is vital to every travel experience, isn't it? The same is true for passports, essential goods to carry when traveling abroad. Think about it: we use them every time we travel, yet we know almost nothing about them!
Until today.
Here, I get a grasp of passport trivia for you. You can use them to brighten your travel buddies while waiting in the airport departure queue. Or perhaps as an icebreaker when meeting other travelers?
You never know when some fun facts might help you make new friends!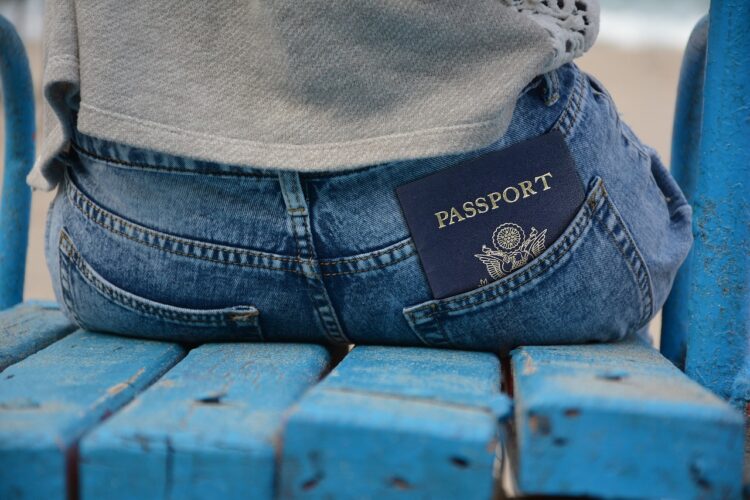 1. The Passport Power
Not all passports are equal.
In fact, some passports allow you to visit more destinations without a prior visa than others. The most powerful ones make traveling all over the world less stressful, becoming the Holy Grail of many travelers!
So, which one is the most desired?
This year, Singapore earned this honor. Singapore passport holders are exempt from visa requirements for 192 of 227 locations! This record is followed by Germany, Italy, and Spain, giving access to 190 countries.
Do not worry; the United States also ranks highly. Its passport is in eighth place, allowing citizens to enter 184 other countries visa-free. So the good news is that only 43 countries in the world require you to obtain a visa.
If you're wondering about the bottom of the list, you can find Afghanistan with its 27-country passport power there.
2. Not All People Need a Passport
Basically, having a passport is suitable for those who want to show the most proper form of identification for important reasons like signing up for an excluded tenancy agreement, for example. So you might think that all people need passports to travel around the globe…
Not really.
But it's also not so easy to get this privilege. It works for only three people in the world: Japan's Emperor Naruhito and Empress Masako and UK's King Charles III. As you can see, blue blood is required!
But how is it possible?
When it comes to Japan, it's simply unsuitable. According to a 1971 ministry document, it is highly inappropriate for the Emperor or Empress to issue a passport or undergo visa procedures as an ordinary citizen. Regarding the UK, the British monarchy explains that "as a British passport is issued in the name of Her Majesty, it is unnecessary for the Queen/King to possess one."
The fun fact? All British licenses are issued in the name of the King, so he doesn't need a driving license, too.
3. A Travel Document Or a Flip Book?
Passports are, of course, official travel documents. But don't be so serious! Some of them can make you smile while you wait for check-in.
Two countries: Finland and Slovenia, decided to turn passports into flipbooks.
Finland is proud of its nature, so the former version of its passport showed drawings of… a moose. A moose was walking when you rapidly flipped the passport's pages. After the redesign, the moose was replaced with a swan that is shown flying. Actually, it's also a covert security feature – smart and funny at once!
Slovenia demonstrated a similar level of creativity. It also shows an animation, but in this case, you watch a cowboy galloping across the side of the pages, just above the pages' numbers.
Such a small but cool detail!
4. The Cradle of Passports
The tricky question: where were passports born? The trick is that *passport* hasn't always had the same meaning.
The earliest reference to passports comes from the Hebrew Bible, dating from 450 BC. However, in those days, passports had nothing to do with identification. Instead, they were requests from one king to another for safe passage for travelers through foreign territory.
In the modern sense, passports were introduced in the XV century in the UK.
The King Henry V of England was the one who invented it, and it states in the 1414 Act of Parliament. The goal was to assist his subjects in visiting foreign lands to prove who they were, so it functioned quite differently than it does now when it helps us enter another country.
Also, in the old days, passports were much less standardized and easier to forge.
Then, the rapid growth of the railroads led to the relaxation of passport requirements. The large number of passengers crossing borders made passport controls too tricky. For security reasons, European governments imposed border passport requirements as late as World War I.
It remained in place after the war, becoming standard practice.
5. Only One Nation Can Smile In a Passport Photo
Generally, it's not allowed to smile in your passport picture. And it has nothing to do with looking serious on your official document! The reason is facial recognition devices.
Nowadays, computers and algorithms are responsible for facial recognition at airports. They can't compare images as we do; instead, they measure the distance between users' facial features, such as pupils, ears, the width of the mouth, and more. A smile is a facial expression that changes that distance, making this process challenging or even impossible for machines.
But there's one nation that actually *can* smile.
The United States.
Smiling on passport pictures is not officially prohibited in the United States. However, the State Department recommends keeping a "neutral facial expression" and a closed mouth.
A slight smile is also allowed for children's photos, as taking a serious picture might be too difficult in this case!
6. Extra Passport Stamps
Passport stamps – symbols of entry into a country and travelers' favorite souvenirs – are becoming relics of the past.
Besides a few special places.
There are some tourist attractions and unique destinations where you can collect extra stamps. Stamps like those have nothing to do with crossing borders, just visiting a location.
● The Galápagos Islands: when visiting Ecuador, you can get bonus stamps for going to the Galápagos Islands themselves, but also when visiting the Rancho El Chato Reserve and the Charles Darvin Research Station.
● Machu Picchu: during your Peru trip, you have a chance for a stamp when entering the Machu Picchu sanctuary.
● Easter Island: it's Chile land, but at the local post office, you can receive an extra fabulous passport stamp with iconic statues.
● Churchill: this city is one of the most unusual places in Canada since it's famous as the Polar Bear Capital of the World. This title is so severe that you can get it stamped at the local post office.
Consider those destinations for your single holidays!
7. Under the UV Light
There's something magical about the UV light. It has the power to reveal things that are hidden from sight. Unsurprisingly, passport designers used this cool feature to make travel documents look like small works of art.
Curious about some examples?
● Canada: the Canadian passport was designed as "a representation of Canada's national identity and values," according to IRCC minister Sean Fraser. UV-lit, it features vivid scenes of children playing in the winter and swimming in the summer, flying owls, and walking bears.
● China: China's passport secret sceneries show famous tourist attractions. You can admire the spectacular Great Wall of China in such vibrant colors!
● Norway: the Norwegian passport focuses on the local natural wonder: the Northern Lights. Under UV light, you can see how the Aurora trails appear on the paper.
● Lebanon: the Lebanese passport showcases iconic landmarks, including Beirut Forest, Beit Eddine Palace, and the history-laden Hasbaya Castle.
8. Calling All Music Lovers!
Most passport designers focus on featuring national symbols.
The national songs count as well.
Thus, here's a tidbit for all music lovers: two countries that put their national songs into passports.
● Philippines: this passport looks overall as a tourist guidebook. It highlights famous landmarks and breathtaking wonders that the country has to offer (and it offers many of them!) Besides, each page covers a sentence from the national anthem. If only you can read Tagalog, you can sing it along when watching images.
● Hungary: no surprise here: Hungarian designers were also charmed by the UV light technique. A blacklight, however, does not reveal landscapes or tourist attractions in this case, but rather the "Szózat" sheet music. The "Szózat" is a national song that serves as a second national anthem in Hungary.
9. The Mummy Is Going Abroad
Clearly, honored kings can obtain a passport even after their death.
Pharaoh Ramses II is the first (and probably the last) mummy who got it. He was one of the greatest pharaohs of Ancient Egypt. In 1974, Ramesses II traveled to France for repairs, and the Egyptian government issued him a passport.
His occupation was "King (deceased)."
In addition, France greeted him with full military splendor fitting a monarch.
10. The Last Forgeable Passport
When discussing cool passport features, one of the most important ones cannot be overlooked.
The security.
Forged passports are the real issue. As a result, the Nicaraguan government took it seriously and created one of the world's least forgeable documents (!). Its passport has as many as 89 separate security features.
Even if it lacks fancy UV images, the high number of "bi-dimensional barcodes," holograms, and watermarks makes it stand out!
—
Author's bio: Karolina Turowska, a writer and travel enthusiast at PhotoAiD. When it comes to writing, she loves bringing dry facts to life. When it comes to traveling, she just loves bikes.
Planning your next trip?

Then don't forget travel insurance! You don't want to get stuck paying a ton of money and ruining your trip if you get sick or have an accident without travel insurance. WorldNomads is ideal for adventurous travelers, backpackers, or anyone looking to be protected during their trip. They cover almost every single activity you can image! Plus, you can have a 5% discount with the coupon code comfort5.

Already reserved your hotel or hostel? If not, we recommend Booking.com. They have a huge selection of hotels and hostels all over the world. Plus, in most cases, you can cancel your reservation without any costs up to a few days before the check-in date!

Still haven't booked your plane ticket and want to save big? Take a look at Momondo. It's a flight aggregator that combines several other ticket search websites to make it easier for you to compare prices and make sure you are getting the best deal.

And finally, will you need to rent a car during your trip? Then check out Rentalcar.com to search and compare car rental companies from all over the world in a single website. Then, you can find the cheapest price for the best car!