Last Updated on by Rodrigo @ OutofYourComfortZone
Exploring Rio de Janeiro, going up to the Christ Redentor statue overlooking the city, walking along the Copacabana boardwalk, and admiring the scenery of "Girl from Ipanema" are all part of one of the most classic trips in Brazil.  
But just a short distance away, you have "the city of smiles" ("a cidade de sorrisos") with plenty of new, beautiful, and fun things for you to enjoy while on your trip: Niteroi. 
Niterói is like a small Rio de Janeiro, though with far more tranquility and safety. Based on my experience visiting, I heard lots of Niteroi locals saying that the tourists don't know this and rarely visit Niteroi's lovely attractions and calm beaches – missing out on lots of cool experiences, including the most beautiful view of Rio! 
On that note, here are 10 top things to do (and why you should visit!) in Niteroi to complement your trip to Rio.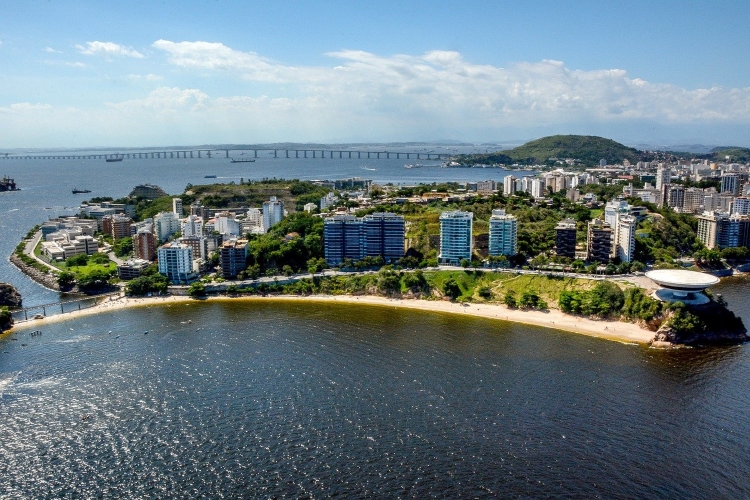 1. Camboinhas Beach ("Praia de Camboinhas") 
As a beach located in the "oceanic part" of Niteroi on the Atlantic Ocean coast, Camboinhas is quiet and private, though normally open to the public. With a boardwalk that hugs the entire beach, it's a great place to exercise with a walk, bike, or run. 
The water here is calm, clean, and clear…and only gets full during high season. During the winter seasons (which doesn't get very cold), the beach remains quiet and empty. 
There isn't a lot of infrastructure here, but there are a few beach stands that rent out chairs and umbrellas and that serve drinks and snacks for you to enjoy in the sun as you admire the beautiful view of the sea and the hills that make up Niteroi. Around the area, there are also some small establishments where you can have lunch or get an ice cream as well! 
I definitely recommend watching the sunset out at sea, right on the horizon 🙂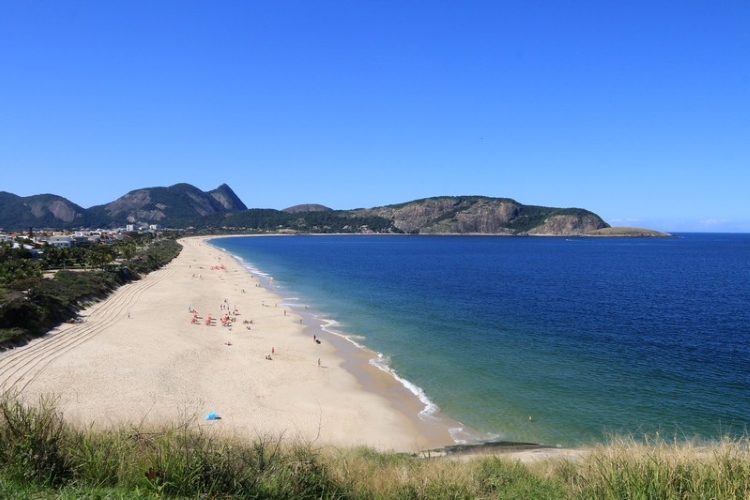 2. Fortress of Santa Cruz da Barra 
Built in 1555 during the Portuguese colonial and imperial period for defense, the Fortress of Santa Cruz da Barra sits on the edge of Guanabara Bay. At the time, this location was very strategic as it was the only possible entrance into the bay, which is shaped like a "hook" with Morro da Urca ("Mount Urca") and the famous Sugarloaf Mountain in front.  
It's one of the main spots in Niteroi,  and will give you a panoramic view of the city of Rio de Janeiro, given that it's the closest point between the two cities. 
A visit to the fort costs R$10 for people aged 22-59 and R$5 for people 21 and under, students, military members
The guided tour is about 90 minutes, and beyond the fort itself you'll also see an arsenal of cannons and the Chapel of Santa Barbara (built in 1612, this is Niteroi's oldest church.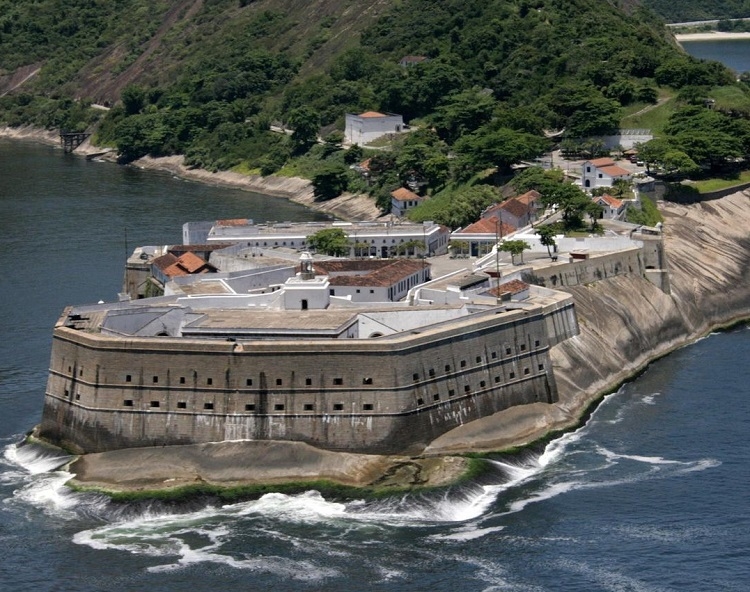 3. Sossego Beach 
One beach past Camboinhas, Sossego Beach is aptly named (in Portuguese, "Sossego" means "quiet" or "peaceful"). 
Since there isn't direct access by car, you'll have to follow a trail (very well marked!) and go down a staircase to get to this small, very calm strip of sand. 
With turquoise-blue water with little to no waves, the Atlantic Ocean lands smoothly at this beach thanks to the protective rocks that surround it. And thanks to the surrounding rainforest, the climate stays fresh so you can enjoy the sun comfortably. 
There are a few stands here where you can rent chairs and umbrellas if you haven't brought your own. They also sell snacks and drinks.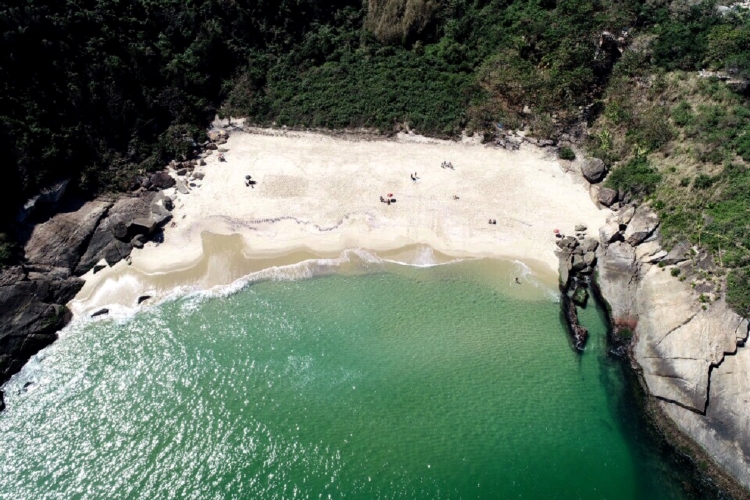 4. Bairro de Jurujuba ("Jurujuba Neighborhood," a fisherman's colony) 
On your way to the Fortress of Santa Cruz, you'll pass this friendly coastal neighborhood that's home to a large community of fishermen that played an important role in the city's history.  
With its many boats, the main street offers a colorful view of a small beach in the Bay of Guanabara (it's not recommended to swim here, however). 
I recommend trying the seafood restaurants here which are some of the best in the region, especially Berbigão Grill and Bicho Papão, which are right next to each other. The "moqueca" (or a Brazilian fish stew) is incredible!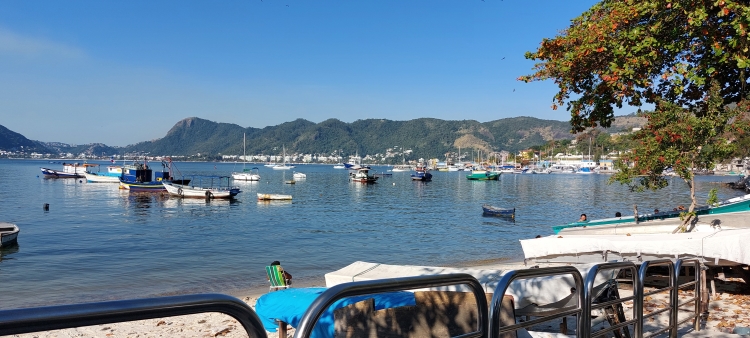 5. Niteroi Contemporary Art Museum (MAC) 
Built in the shape of a spaceship, the MAC was designed by the Brazilian architect Oscar Neimeyer in 1996. Today, it's one of Niteroi's biggest landmarks. The museum has a beautiful view of Rio de Janeiro plus a great fixed exhibition alongside several temporary exhibitions. 
Tickets are R$12.00 for most visitors, though half-priced tickets are available for R$6.00 for students, elderly visitors above 60, low-income youth aged 15-19, and teachers. Entrance is free for children up to 7, public school students, Niteroi locals, visitors with disabilities, municipal public servants, and anyone who arrives at the museum by bike (yes, it's true! Go by bike!).

The entrance is free on Wednesdays.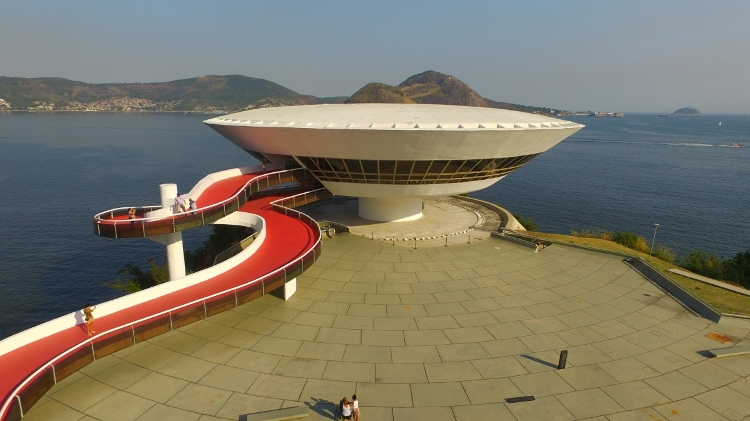 6. São Luiz Fort 
Fort São Luiz sits above the city of Niteroi and has one of the most beautiful views you'll find anywhere of Guanabara Bay, the Rio de Janeiro boardwalk, Corcovado (the mountain that hosts the Crist Redontar statue), Sugarloaf Mountain, and the Serra dos Órgãos mountain range. 
Built in the 18th century to protect Guanabara Bay and the Fortress of Santa Cruz from invasions, and with the 230-meter-high Morro do Pico and protected Atlantic Forest surrounding it, this fort is also called Fort Pico. 
The entrance fee is $R10 and children and elderly visitors get half-priced tickets.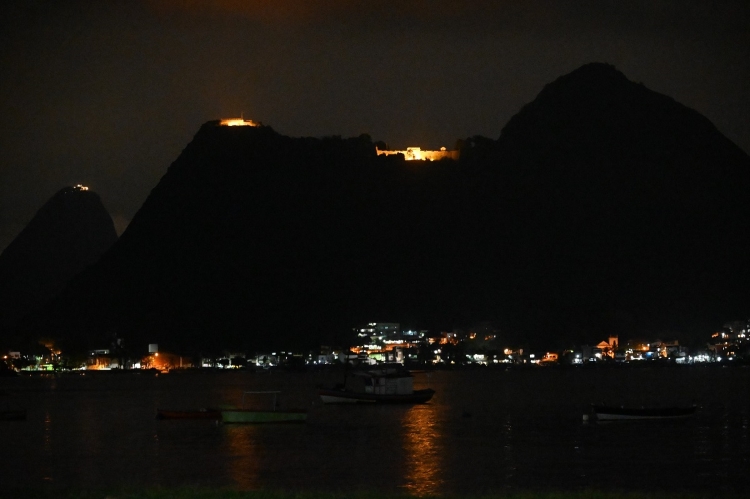 7. Church of São Francisco de Xavier 
The Church of São Francisco de Xavier is a small, 17-century colonial church that was built on a large hill in the São Francisco neighborhood to house the Jesuits and the farmers who passed through the region on their way to the coast. 
With a beautiful forest and view of the sunset, many weddings and baptisms take place here.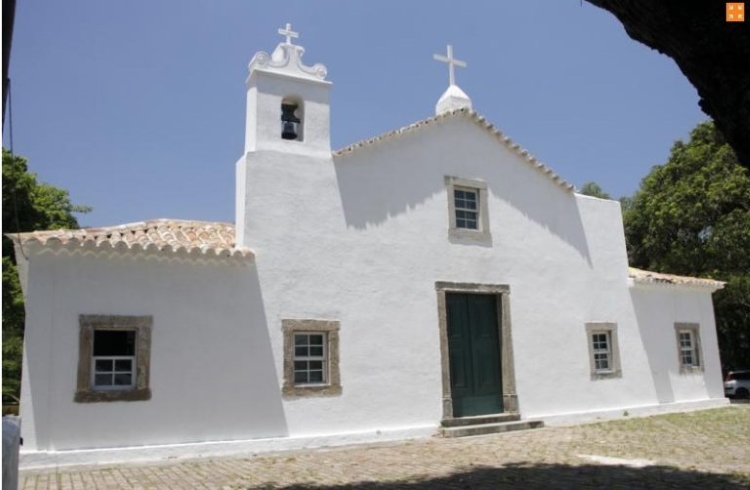 8. Pedra do Elefante Trail ("Elephant Rock Trail") 
If you like to hike, I definitely recommend taking the Pedra do Elefante trail to one of the most famous rock formations in the Niterói and São Gonçalo regions. Also known as Alto do Mourão, from the top you'll find a view that stretches from Niteroi to Marica to the oceanic beaches of Itacoatiara and Itaipuaçu (including the protected Serra da Tiririca State Park) 
The trail/hike takes about an hour and has 412 meters of elevation. The trail starts at the exit of Itacoatiara Beach on Estradada Gilberto Carvalho (Gilberto Carvalho Street). The final flat part of Pedra do Elefante isn't very big, so I recommend you visit during the week to enjoy the view without the crowds.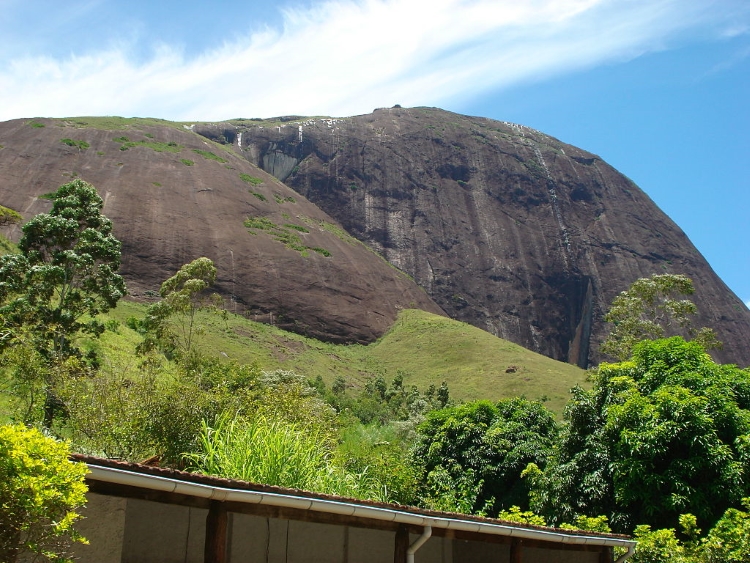 9. Igreja da Boa Viagem ("Church of the Good Trip") 
Also built during the colonial period, this church is located on Boa Viagem Island. It was built in the 16th century to honor Nossa Senhora da Boa Viagem ("Our Lady of Boa Viagem") as she was the patron saint of the sailors who left from this port. From the church, you'll be able to see the classic Portuguese catholic architecture and have a panoramic view of the island. 
In 2022, the city hall completed a project revitalizing the church.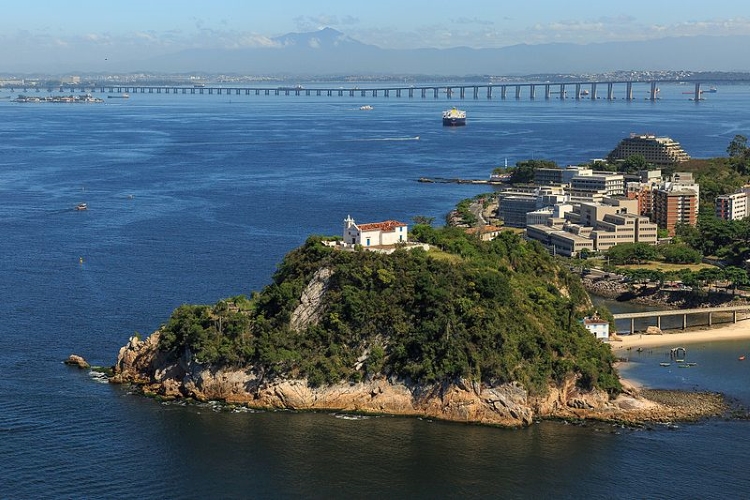 10. Niteroi City Park 
As a hotspot for paragliding and hang gliding, Niteroi's City Park is free to enter and has one of the most beautiful views I've ever seen! Even with cloudy weather, you can see not only the oceanic part of Niteroi, but also Guanabara Bay and all of the main sights of Rio one right after another: the Christ the Redeemer statue, Sugarloaf Mountain, and the entire coastline. 
In the park, you'll also find a lovely cafe, surrounded by Atlantic Forest, where you can get a cold beer with friends during the golden light of the sunset.  
And from the paragliding/hang gliding jumping lanes, you'll also have a view of Niteroi and its turquoise beaches to the left, and Rio de Janeiro to the right. Definitely the most beautiful view of the city!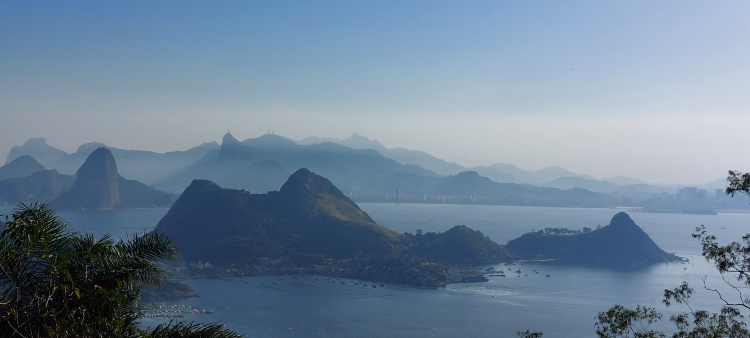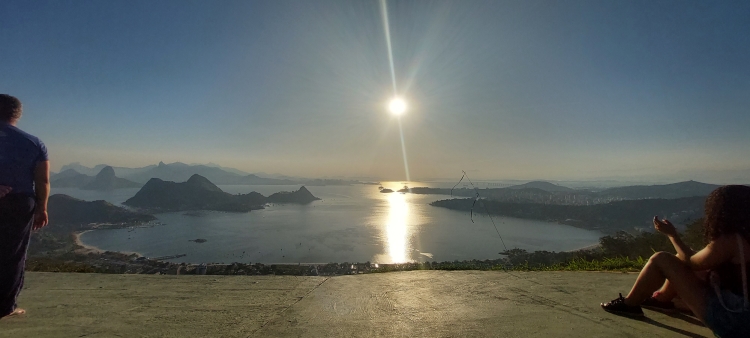 How to get to Niteroi
There are a few buses going from Rio to Niteroi if you want to cross the bridge. That said, the ferry is much nicer and takes under 20 minutes! 
Ferries run regularly, and you can catch one from Rio's Praça XV ferry terminal (not far from Carioca Station on Metro Line 2).  
In sum…
Here are 10 reasons to visit (and the 10 best things to do in) Niterói during your trip to Rio de Janeiro: 
Praia de Camboinhas ("Camboinhas Beach") 

Forte de Santa Cruz da Bárbara

Praia do Sossego ("Sossego Beach") 

Bairro de Jurujuba (Fisherman's Colony)

Museu de Arte Contemporânea de Niterói ("Niterói Contemporary Art Museum" 

Forte de São Luiz

Igreja de São Francisco de Xavier ("São Francisco de Xavier Church")

Trilha da Pedra do Elefante ("Elephant Rock Trail" 

Igreja da Boa Viagem ("Boa Viagem Church") 

Parque da Cidade de Niterói ("Niterói City Park") 
In conclusion… 
Don't limit yourself to the common tourist itineraries during your visit to Brazil, get out of your comfort zone and see something new! 
Brazil has so many natural beauties, historical structures, and city life that are worth visiting. And Niteroi is certainly a place that deserves more visitors to come and enjoy its lovely views. So, I'm certain that you'll enjoy yourself visiting this new place! 
Planning your next trip?

Then don't forget travel insurance! You don't want to get stuck paying a ton of money and ruining your trip if you get sick or have an accident without travel insurance. Our page with The 3 Best and Cheapest Travel Insurance on the Market can help you choose the right plan and will give you some discount coupons for the biggest insurance companies!

 Already reserved your hotel or hostel? If not, our article with The 6 Best and Cheapest Websites to Find & Reserve Accommodation can help you out. You'll also find some promotions and discount codes.

 Still haven't booked your plane ticket and want to save big? Take a look at our page with 16 Tips to Save on Flights where you'll also find the 4 best websites to buy your plane tickets. 

And finally, will you need to rent a car during your trip? Then surely our page with The 5 Best and Cheapest Websites to Compare and Rent Cars Around the World will help you choose the best rental car and find a good deal.