Last Updated on by Rodrigo @ OutofYourComfortZone
Trends have revealed that it is quite a desirable thing to buy a sea view villa in Turkey in recent times. What started out as a purchaser's habit has now grown into an impressive culture among the buyers such that investors are rapidly placing money to acquire sea-view villas in the country. What are the options, and why is everyone crazy about them?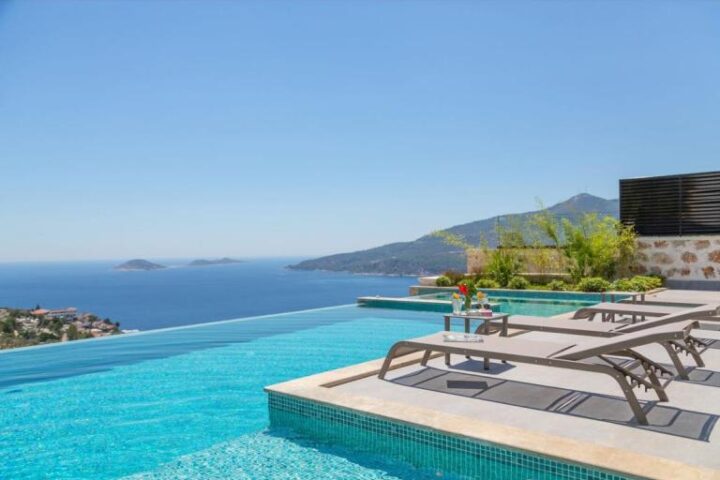 Fun Facts you probably Ignored before now
According to Turk.Estate here is the ten fun facts about buying villas in Turkey:
1. Sea View Villas offer the best Luxury
Flats are a splendid option, and small houses will not cost you as much money as Villas would, but neither will they give you as much comfort. More so, the culture surrounding villas by the sea has existed long enough, such that you are more likely to find a sea-view villa than you would a sea-view flat.
What's rarer are seaside flats. So, while people aim for smaller units and flats to save money, they are likely to resort to villas that offer maximum enjoyment for homeowners.
2. They often cost more than regular villas
A villa will cost you way above $100 000 even in the noblest and most affordable areas of the country. Some of these even cost up to $500 000 as prices are entirely negotiable and often based on how sophisticated the building is.
Regardless of when it is a sea view villa, just know the budget will be higher, and where it is adjoining a sea, well, you know the trick. Sea-view villas are much more expensive. However, they still have the below features:
3. Larger Space
The rooms are larger making more room for families who reside there. Each villa has at least three rooms and may be as large as five rooms, and the square meters of the rooms are often wider than the conventional small house. This means extra space for children to thrive, ample corners for the maid, a wider kitchen for the cook, and an all-inclusive property unit.
4. Flexible Payment Options
Even the rich often benefit from flexible payment agreements, so do not put yourself under pressure to pay for your villa upfront. If you can, it is a great idea, but you can also access more flexible payment schemes and pay in agreed installments split across months or years, which are convenient, often with additional service charges, or you may try out a mortgage agreement or take a property loan.
5. High Demand
To whom much is given, much is indeed anticipated. Villas by the sea are hot-in-town and highly sought after in Turkey in 2023. If you can hustle and get this type of property, you will have earned one of the most valuable property gems, which can easily be resold at any time of the year.
Moreover, for the past few decades, property value has only increased in Turkey and not declined, meaning you are likely to earn more in the future if you pay the price of the properties.
6. Buy-to-Rent Option
As an investor, this is an option to look into. Other than buying to stay in premises, you can actually buy to rent. The method has been an agelong hack where people use rentals to pay back mortgages until it is fully serviced and they own it in a couple of years.
This option is a splendid business idea because it does not need you to be a millionaire/ billionaire before you can engage in it. You literally only need the minimum deposit and processing fee, then the leases will continue to finance the rest of the loan in your favor while you invest in other areas.
7. Buy to Resell Option
Many buyers nowadays eventually sell off their villas after they have made a lot of money from it or after the sales value has increased significantly enough to make an outright sale more profitable.
8. Maintenance Needs
Sea-side properties/villas have high maintenance demands, and it is best that you prepare for them. To get the best out of your unit, you should keep them in great shape because that alone can affect the resale/rental value.
9. Perfecting Your Title
Finally, perfecting your title is no fun and may cost you more than you bargained for, but it is an extreme necessity you should never sweep under the carpet.
Conclusion
By the end of this article, it is hoped that you will have gained knowledge on all of the facets or parts or angles for purchasing villas with sea views in Turkey.
As profitable and ROI moving as they are, they demand more attention, as you should put your house in order before launching. All the best!
Planning your next trip?

Then don't forget travel insurance! You don't want to get stuck paying a ton of money and ruining your trip if you get sick or have an accident without travel insurance. WorldNomads is ideal for adventurous travelers, backpackers, or anyone looking to be protected during their trip. They cover almost every single activity you can image! Plus, you can have a 5% discount with the coupon code comfort5.

Already reserved your hotel or hostel? If not, we recommend Booking.com. They have a huge selection of hotels and hostels all over the world. Plus, in most cases, you can cancel your reservation without any costs up to a few days before the check-in date!

Still haven't booked your plane ticket and want to save big? Take a look at Momondo. It's a flight aggregator that combines several other ticket search websites to make it easier for you to compare prices and make sure you are getting the best deal.

And finally, will you need to rent a car during your trip? Then check out Rentalcar.com to search and compare car rental companies from all over the world in a single website. Then, you can find the cheapest price for the best car!