Last Updated on by Editor
I want to travel, but plane tickets are too expensive!
This is one of the most common excuses I hear people give for not traveling.
And it's true! Plane tickets are usually one of the biggest costs of any trip. But there are definitely things you can do to get a great deal on your flight.
But first, I just want to mention that no, there isn't a magic technique for finding cheap flights.
You're not going to find a plane ticket from the United States to Australia to for $100 in the middle of summer vacation (AKA high travel season) – unless you run into a bug (I'll get to what that means in the bonus tip below).
Yet, with these tips, a bit of effort, and time researching online, you certainly find ways to save some money when you buy your tickets on your next trip.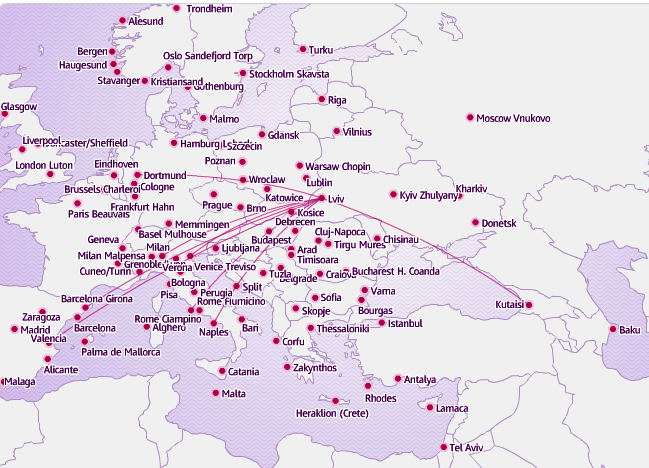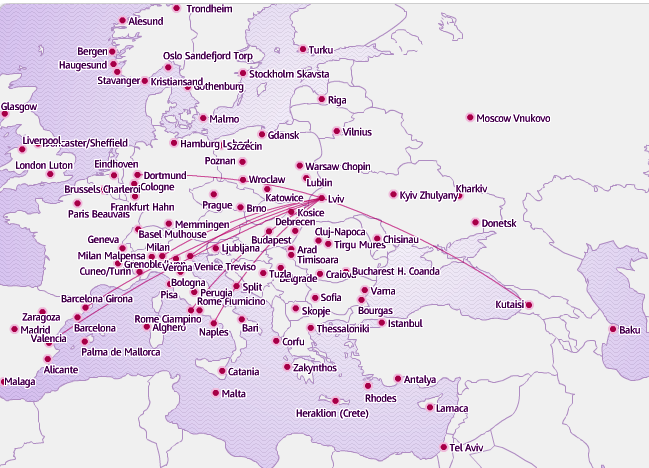 So what do I do to save on flights?
Without further ado, here are the 10 top tips to save money on your plane tickets!
Tip #1: Look for flights that have connections (instead of direct)since they are normally cheaper.
Of course, everyone prefers direct flights, but flights with connections/layovers are usually cheaper since people are willing to pay more for direct flights.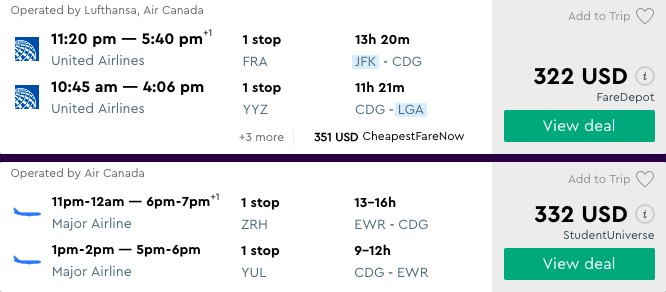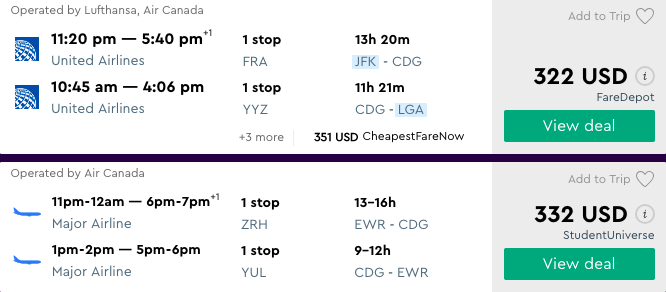 Plus, some airline companies offer the possibility of doing a "stopover," or a free stop for several days in a city where you do your connection.
For example, imagine that you are flying from Rio de Janeiro to Rome and have a connection/stopover in Madrid. Instead of getting off the plane in Madrid and getting on another plane to Italy a few hours later, you can stay several days in the Spanish capital and then continue your trip, without paying anything extra!
My article here gives the 6 best websites to find cheap hotels and hostels around the world.
Flight with stopover


Flight without stopover


Currently, there are several companies that have this benefit available for passengers. Among airlines that often offer stopovers like this, there's Alitalia, Air Europa, TAP Air Portugal, KLM, Air France, Icelandair, Turkish Airlines and Qatar Airways (these last two even offer a free hotel stay in some situations).
Tip #2: Use meta-search websites to find the best prices on plane tickets.
You're probably wondering what the heck a meta-search is, right? We talk in detail about what meta searches are and how they can help you find the best prices for flights in our article here, but in general terms, they are websites like Kayak, Momondo, and Skyscanner that let you check the prices of flights on various websites and travel agencies at the same time.
This helps you find the best prices quicker, more simply, and easier.
Remember to also check international websites to search for flights, not only websites based within your home country (example: if you're from India, don't just look at websites from India).
Tip #3: Search for alternative airports.
Some cities have more than 1 airport or an airport located in neighboring, and flying into these alternative airports can be considerably cheaper than flying to the main one.
London, for example, has 5 airports in the metropolitan area and Heathrow, its main one, usually has the highest fees and airport taxes in Europe.
But the Stansted Airport, though further from the center, usually has cheaper prices and has many options for flights with low-cost airlines.
Kayak, for example, lets you choose the option to search for nearby airports to your destination – for example, if you choose this option while searching for a flight leaving from Florence, Italy, it'll include results for flights leaving from neighboring Pisa and Bologna in the search results.
If you do find a cheap flight with an alternative airport, just make sure to look into the transportation costs of getting to your final destination (via bus, train, etc.). In some cases, the flight might be cheaper than flying into the main city airport, but you might find yourself far enough away from where you want to go that the cost of ground transportation actually makes things more expensive overall (I'm speaking from experience here!).


Tip #4: Read the fare rules/conditions for your ticket.
Obviously, you don't need to read everything (since this is often complicated and quite technical), but make sure you take in the following sections: baggage allowance, changing ticket/cancellation cost, and air ticket reimbursement rules.
The baggage allowance tells you how many bags you can check in and how many you can carry on the plane with you (plus the max weight of each bag). You want to know this ahead of time to ensure your bag is an okay size and to avoid unnecessary costs at the airport.
This is really important because, sometimes, a really cheap flight (especially if with a low-cost airline like Ryanair) ends up costing you more than the same route with a traditional airline since they have really high fees for baggage.
(One more hint about this: if you don't have a bag included, it's almost always cheaper to pay for your bag online after you've purchased your flight instead of paying in-person at the airport.)
The changing ticket/cancellation costs of your ticket, as well as the refund policy, are important to consider in case of unexpected events.
Of course, no one likes to reschedule their holiday or business trip, but if there's any chance that you'll need to move the departure or return dates of your flight, take a look at the costs of these fees and perhaps choose the option with the lowest fees.
Also, take a look at the refund policy since many flight deals are non-refundable. In other words, if you cancel the trip, you lose all your money! But if you get a flexible plane ticket, you pay a slightly higher ticket price, but you'll receive a partial or full refund if needed.
Personally, I almost never take these changing ticket/cancellation fees into account nor get flexible tickets since I don't book plane tickets unless I'm sure I'm going on the trip. But if you have any reason to doubt, this is probably worth looking into.
Tip #5: Travel with low-cost airlines.
Low-cost airlines are airlines that have the cheapest ticket prices because they fly to alternate airports (or the main one, if you're lucky) and have a really simple service (in other words, nothing is included unless you pay extra: baggage, meals, etc.).
If you fly with a low-cost airline, just make sure you see what's included and what you still need to pay for. Some companies will even make you pay to check-in at the airport if you don't check-in online before and print off your boarding pass yourself. And since everything is billed separately, you ticket overall can actually be quite expensive!
And like I said above if you find a really cheap ticket with a low-cost airline but know you'll need to fly with bags, make sure you look into baggage fees to see if it'll really be cheaper to fly with them rather than a traditional airline.
For more info on low-cost airlines and how they work, check tip #10 on my other article 16 Tips to Save on Flights.
Tip #6: Travel with just hand baggage.
Be stingy when packing your bag and pay less for your flight! Currently, one of the biggest costs of a plane ticket is the cost of checking baggage.
So, anytime you're doing a short trip and don't need to take too many changes of clothes, take advantage to travel with just carry on baggage instead of checking your baggage…and then look for plane tickets that don't include checked bags (which are often cheaper than those that do).
Just be careful with the rules for hand baggage!
Each airline company has different rules for bag dimensions and weight, plus many companies are following the trend of making you pay for hand baggage that doesn't fit under the seat in front of you at your feet.
Also, watch out for liquids in your carry on (nothing more than 100 ml/3 oz) and obviously don't bring anything that could be seen as a weapon (needles, forks, scissors, etc…)
Tip #7: Regularly monitor flight prices.
You've probably already come across plenty of blog articles talking about the cheapest days to buy flights – Tuesday night, Sundays under the full moon, Saturdays when it's colder than 70° F.
But all jokes aside….it's just not that simple.
Obviously, there are stats that can show trends, but there's no certain data for this! So, the best way to know when to buy your flight is by monitoring prices (like by using Kayak, for example, to monitor prices & receive updates by email or the app!) and reaching for your wallet when you see a big price drop.


Now, it is worth mentioning that different airline companies in different parts of the world each have a time when they run promotions (for example, in Brazil, promotions are often run on weekends so that business travelers who travel M-F still pay full price).
So, if you can figure out the pattern for your particular airline/location (at night, during the week, or like Ryanair which has promotions constantly), that can guide when you buy.
Tip #8: Divide your plane ticket in 2 parts.
It's safe to say that if you want to go from São Paulo to Budapest and you like at flight prices, you're going to find them pretty expensive.
But what if you try buying a plane ticket to another European capital and then buy another plane ticket from there to Budapest? Did you know that this could bring down the cost of your plane tickets significantly?
This is because airline ticket promotions often don't include all cities in Europe (or whatever region you are flying to), so it might be worth buying a ticket a cheaper city and then flying from there with another airline (potentially a low-cost airline) to get to your final destination.
Budapest is a good example since Wizz Air (a low-cost airline) flies to/from Budapest from/to many cities in Europe and is a company with some of the cheapest flights in Europe, alongside Ryanair.
So, why not fly to an international hub like Frankfurt with Lufthansa, or Rome with Alitalia, and then use Wizz Air to get to Budapest? Just add up the flight tickets to compare!
Often, buying two separate plane tickets is cheaper than just buying one. But make sure you pay attention to the cost of baggage with each flight ticket (which might not make it any cheaper).
Flying with just 1 ticket:


Dividing the ticket in 2 parts:


Nice, you just saved more than $100!
If you choose to go this route, make sure you have plenty of time between your flights. Since you are flying with two different companies on separate tickets, if one of your flights is delayed and makes you miss your other flight, neither airline is under any obligation to reschedule your flight (in other words, you'll have to pay for a new ticket…which sucks).
Tip 9: Buy your plane ticket directly with the airline.
In certain countries (like Brazil, for example), it's often cheaper to buy your plane ticket directly with the airline rather than through an online travel agency. This is because these businesses charge, beyond airport taxes & fees, a service fee or commission on top of the sale of the plane ticket.
These values usually vary from site to site depending on your trip's destination – on international flight tickets, the amounts will usually be higher than domestic plane tickets.
One important note is that some websites "hide" the convenience fees and the airport fees, which I think is just a way to try to fool the customer.
When you come across this, check the price with the airline and compare the final values to see what the boarding fee and the tourist agency commission is.
This is why Momondo is one of my favorite websites – because it lets you compare the prices of all plane tickets online, including if you buy directly through the airline (they also show the final prices with all taxes/fees so you can compare more easily).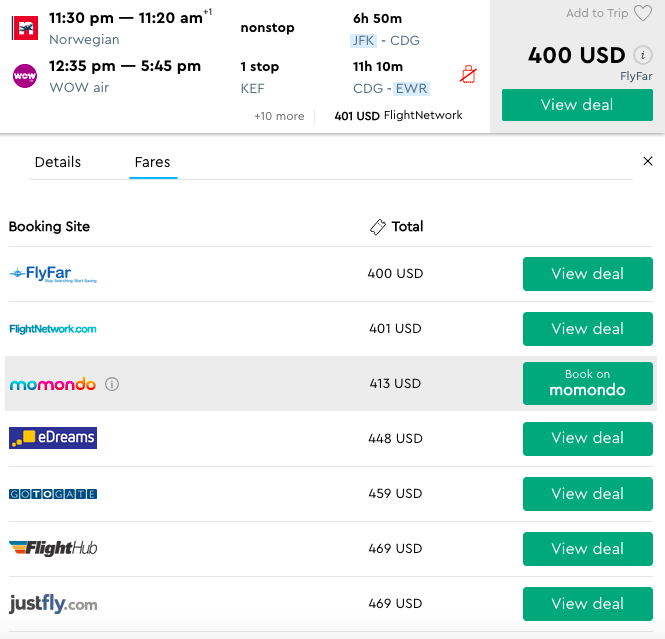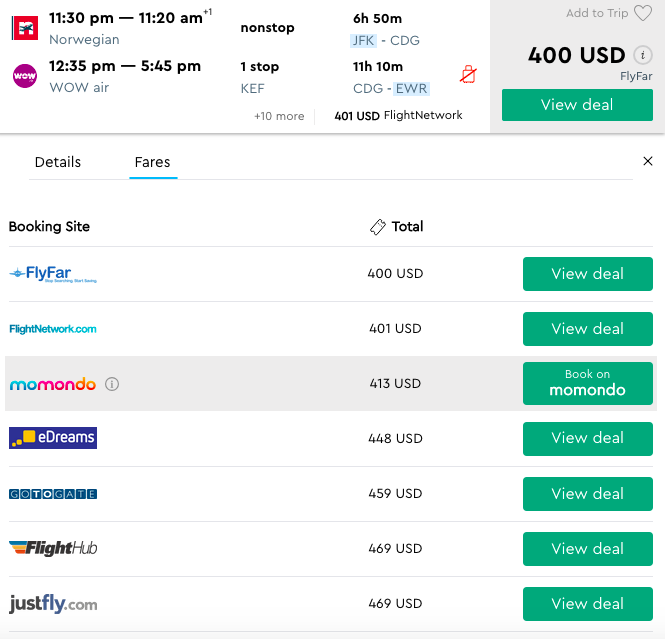 It's also worth mentioning that if you buy your plane ticket by phone or in a physical store for an airline, they'll often charge a service fee. Just buy online to avoid this!
And remember, most of your common international websites for buying plane tickets (like Kayak, Momondo, and Skyscanner) don't charge extra fees or commission. And they sometimes sell tickets for even cheaper than directly with the airline.
If you want to learn more about these 3 websites, check out our article The 3 Best Websites to Buy Cheap Plane Tickets & Flights in 2019.
Tip #10: Don't buy your plane ticket too early, nor too late…
Buying a plane ticket really early doesn't always mean it'll be cheap! And normally buying last-minute plane tickets is quite a bit more expensive – most airlines have abandoned the idea of last-minute flights at lower prices, knowing that someone will be willing to pay more if there's not much time left until departure.
When you search on Kayak, it'll tell you if it's a good time to buy your ticket now or if it's better to wait based on flight price trends.


Some search engines show that buying your plane ticket 60-90 days before departure often has the highest chance of finding a good promotion. But obviously, if you are looking to travel in high season, it's quite possible that promotions and seat availability are quite limited.
Bonus Tip: Get ridiculously cheap plane tickets with plane ticket "bugs"
Before I get into what a flight "bug" is, I need to explain how prices for plane tickets work:
The price is always made up of the fare (which includes things like baggage, fuel, etc.) + embarkation/airport fees (which change depending on the departure/arrival destination)
Prices for international trips are set in Euros or U.S. dollars. So, the exchange rate influences the rate. But whenever the price of these currencies fall, the airline will increase the ticket far to compensate for the fall and not lose money.
Even economy plane tickets have different types, which normally go from promotional to flexible. Each type of ticket has its own fare rules about how many bags are included, how much it costs to change/cancel your ticket, etc…
So, what is a "bug"? "Bugs" are when there is an error in one of these 3 components!
For example, if the conversion rate from USD to your country's currency is wrong, if the composition of the fare is wrong, if the fare rules have changed, or if someone simply forgets to add another 0 to the price in the system. It's hard to believe, but these bugs do happen and the discounts you can get from them are incredible!
But unfortunately, these bugs aren't always that easy to catch.
The best thing I can recommend is that you regularly check (or add yourself to the email alert list) on Scott's Cheap Flights and Secret Flying, two websites that regularly report on these bugs, so you can catch them when they happen.
In conclusion…
As I said at the beginning, there's no magic formula for finding the cheapest plane ticket! But by following the tips above and having a bit of luck, you can save a healthy sum on your flight so you have more to spend on adventures, food, tours, car rentals, and your trip as a whole.
Happy flight shopping & travels!
Planning your next trip?
Then don't forget travel insurance! You don't want to get stuck paying a ton of money and ruining your trip if you get sick or have an accident without travel insurance. WorldNomads is ideal for adventurous travelers, backpackers, or anyone looking to be protected during their trip. They cover almost every single activity you can image!
Already reserved your hotel or hostel? If not, we recommend Booking.com. They have a huge selection of hotels and hostels all over the world. Plus, in most cases, you can cancel your reservation without any costs up to a few days before the check-in date!
And finally, will you need to rent a car during your trip? Then check out Rentalcar.com to search and compare car rental companies from all over the world on a single website. Then, you can find the cheapest price for the best car!