Last Updated on by Editor
To put it bluntly….Svalbard isn't, well, a normal place.
And how could it be?
When locals have to walk around with rifles because of the polar bear threat, deal with the harsh subzero climate of The Arctic, and survive 90 days per year without sunlight, you simply expect things to be a bit different here.
So whether you're considering a trip to Svalbard or are just curious, here are 18 amazing facts about this strange little archipelago at the northernmost tip of the world.
(Psssst! Thinking of visiting Svalbard yourself? Then you'll want to check out my Ultimate Guide to Visiting Svalbard for tips on getting there, accommodation, how to save, the best activities & more).
Longyearbyen (Svalbard's capital on Spitsbergen) is the northernmost city in the world.
As far as places where "real" people (not just scientists & researchers) live, Svalbard is as far north as it gets.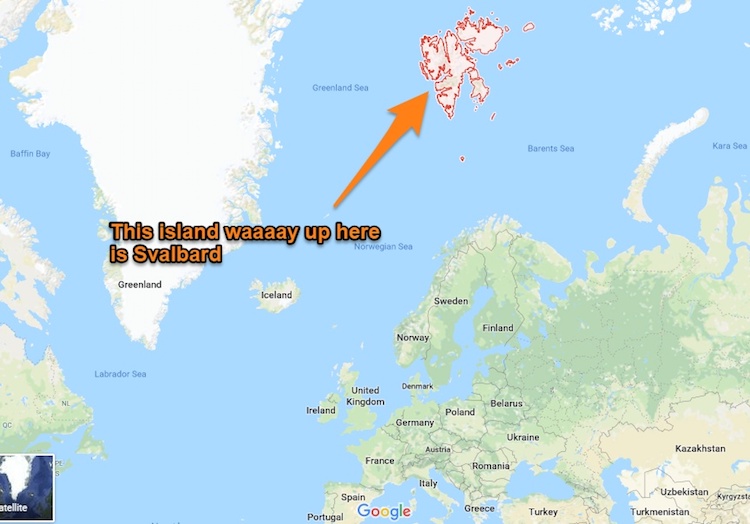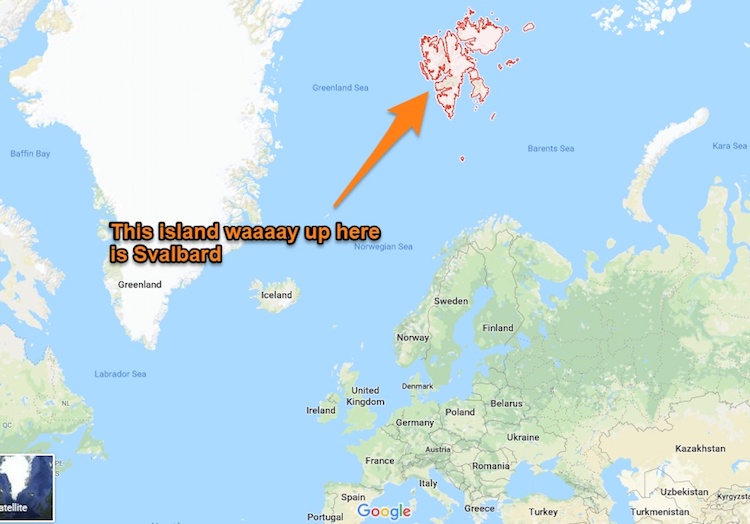 Svalbard is home to the world's northernmost brewery, ATM, grocery store, post office, museum, university, bar, Lenin Statue.. (yes, you read that last one right).
Given that it's so far north and actually has city-ish things, Svalbard gets to claim "home of the world's northernmost…" for basically, well, everything.
(And if you're wondering what the deal with the Lenin statue is? See #14 & #15 below.)
Want to leave town? Then you're legally required to carry a loaded rifle with you.
A 2nd-amendment-lover's dream come true? Maybe.
Although, considering the rifle is to protect you from polar bears and should not be used unless your life is in danger, probably not.
Unless you're in Longyearbyen or another settlement, you're in what's considered a "polar bear risk" zone. So, by law, you (or at least 1 person in your group) need to have a loaded rifle with them.
If you visit Svalbard, you'll most likely organize day excursions and thus explore with an armed guide so you won't need to worry about this. But if you choose to set off independently? Make sure you're prepared to rent a rifle.
(During our trip, we spent 1 day hiking independently in the mountains just outside of Longyearbyen and thus rented a rifle on our own. We don't recommend this unless you've had weapons training or are 100% comfortable with a rifle, but we do talk more about how to rent a rifle in Svalbard in my Ultimate Guide to Visiting Svalbard.)
There are more polar bears in Svalbard than people (and they sometimes break into hotels to steal chocolate!).
Svalbard is famous for its polar bears, and it should be.
While Svalbard's human population is about 2,700, the polar bear population for the archipelago and surrounding sea hovers near 3,000.
Which does mean that locals & visitors sometimes come in contact with polar bears…meaning the law above should definitely be taken seriously if you ever step out beyond these signs.
Occasionally, polar bears even come near the city. If a bear is spotted near the city, Svalbard officials use a helicopter to scare it off (something we saw ourselves during our visit)!
Oh, and as to the polar bears breaking into hotels to steal chocolate? That actually happened and you can read all about it here.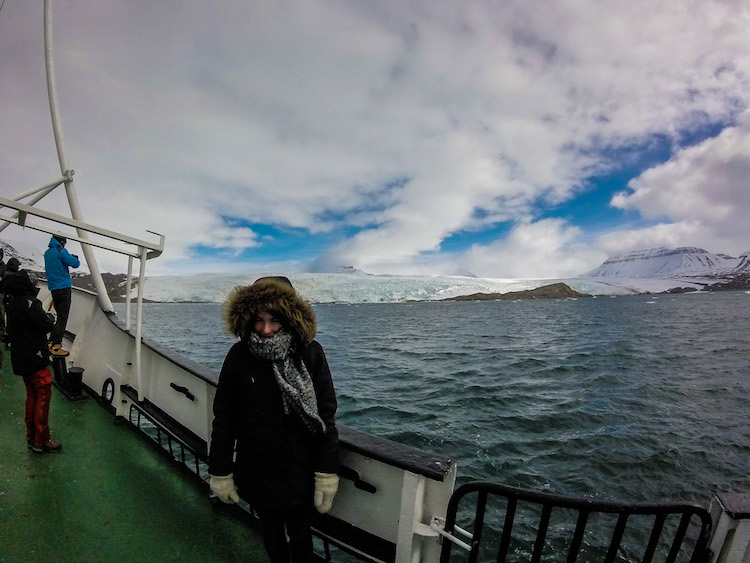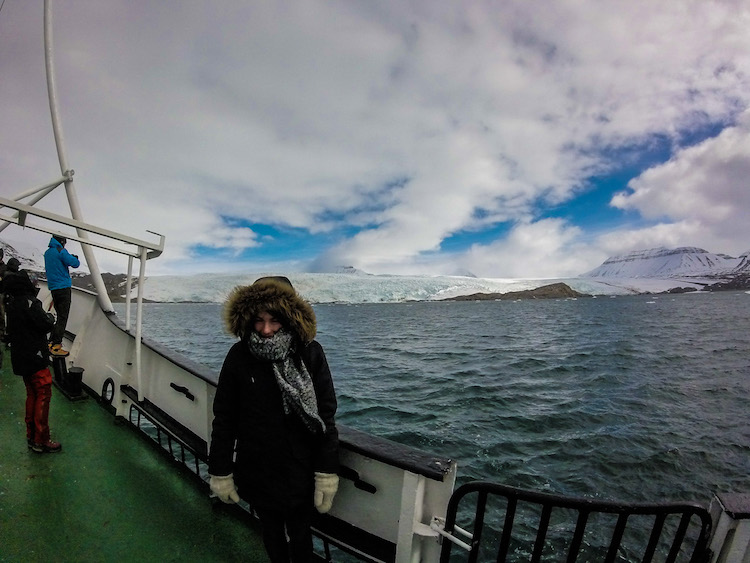 There are more snowmobiles than people in Svalbard.
Outside of the capital city of Longyearbyen and a few of the other small settlements, there aren't really any roads in Svalbard.
This is why many people use snowmobiles as their main form of transportation for most of the year.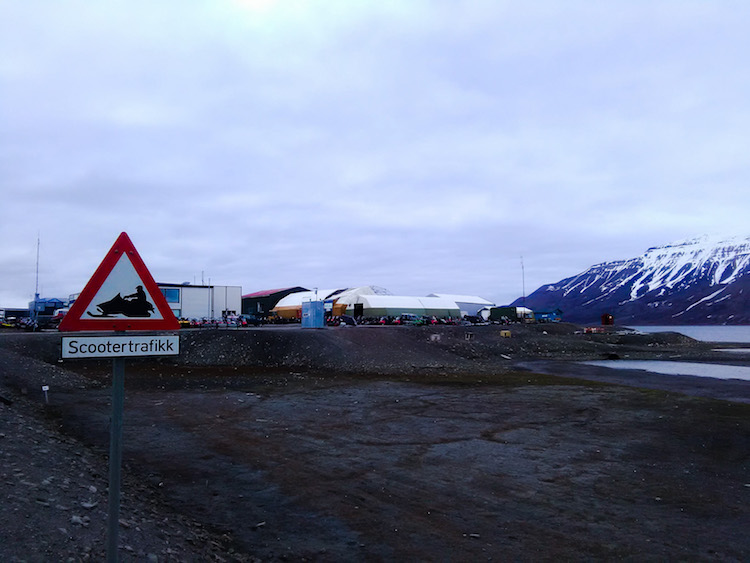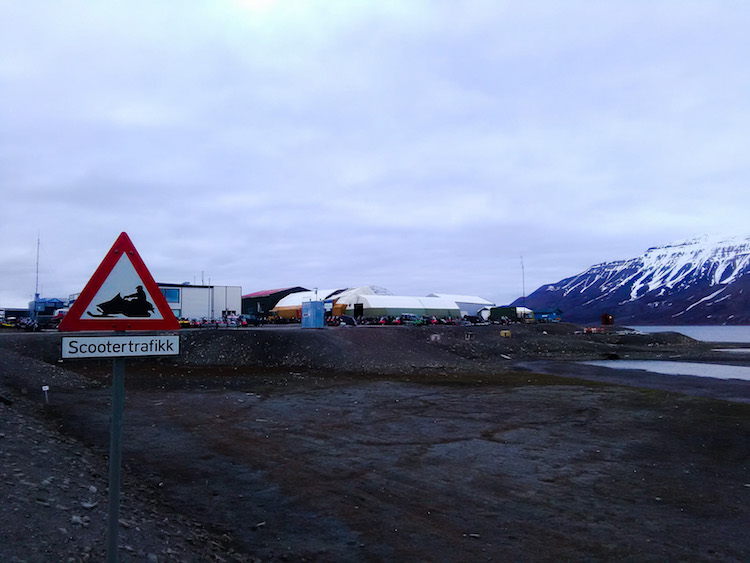 The sun doesn't set for 3 months. It also doesn't rise for 3 months.
From May to July, Svalbard takes the idea of "midnight sun" to the extreme with 24 hours of daily sunlight.
From November to February, the sun in Svalbard stays below the horizon, leaving the islands in darkness for nearly 4 months.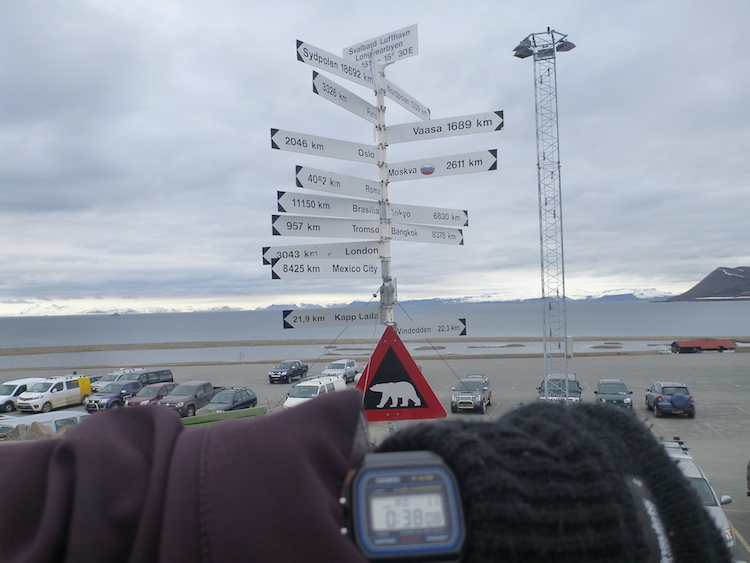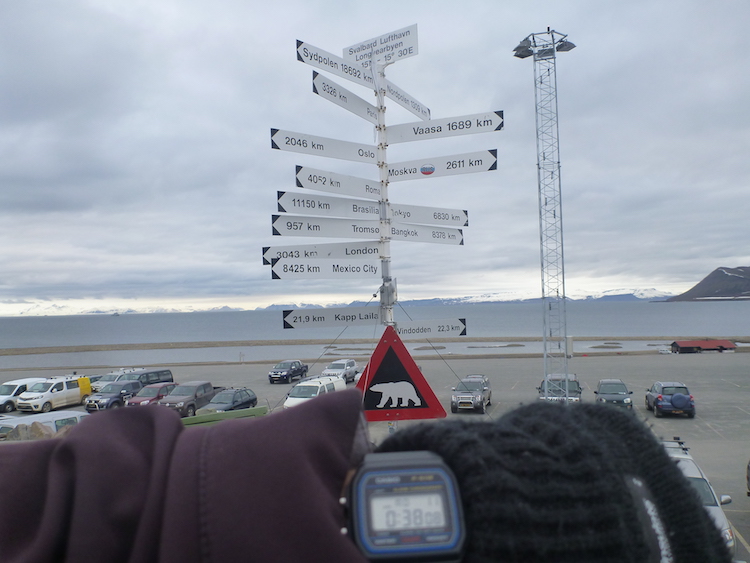 You're not allowed to be born (nor die) in Svalbard.
Svalbard's hospital isn't really equipped for emergencies that may happen while giving birth, so they make people go back to Norway or their home country for delivery (although, there have been a few babies that were "accidentally" born here).
As to dying on Svalbard? Okay, fine – technically you can die on Svalbard. But you can't be buried here! Since the ground is frozen, bodies don't decompose and uh…eventually rise to the surface again. So people of advanced ages can't stay in Svalbard and have to return to Norway.
Yup, it's cold (even in the summer).
Even when we visited in June, the temperature rarely rose about 0 C (33 F).
As to the winter? It's probably better if you just don't think about it.

The ground is permanently frozen, but climate change is hitting Svalbard hard.
Because of the cold and harsh climate, all of Svalbard's ground is permafrost. In other words, the soil is frozen solid (by as much as 100-500 meters deep!) no matter the time of the year.
Since the top layer of permafrost melts a bit each year during the summer, many of the buildings in Longyearbyen are built on wood stilts frozen to the permafrost.
Yet, even the Arctic isn't immune to climate change. Since more permafrost has been melting each year than ever before, there have been avalanches (some of which have caused deaths and destroyed homes) and others fear they can't trust the permafrost to prevent the wood from rotting and breaking anymore.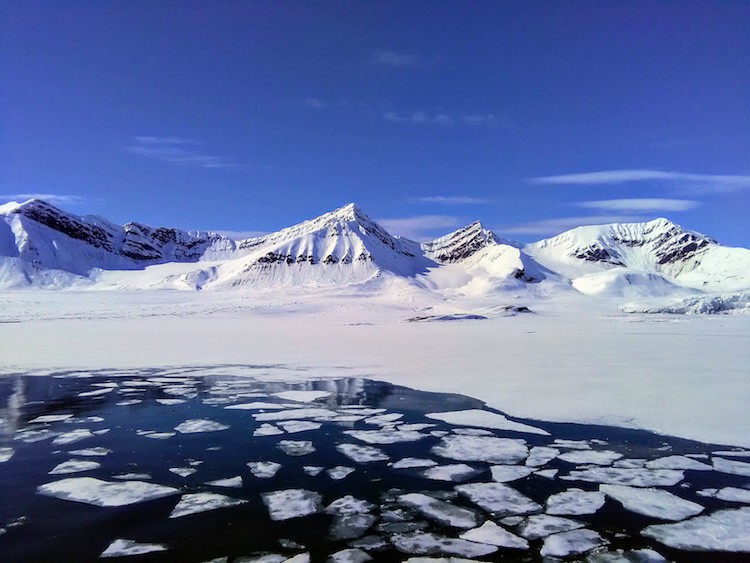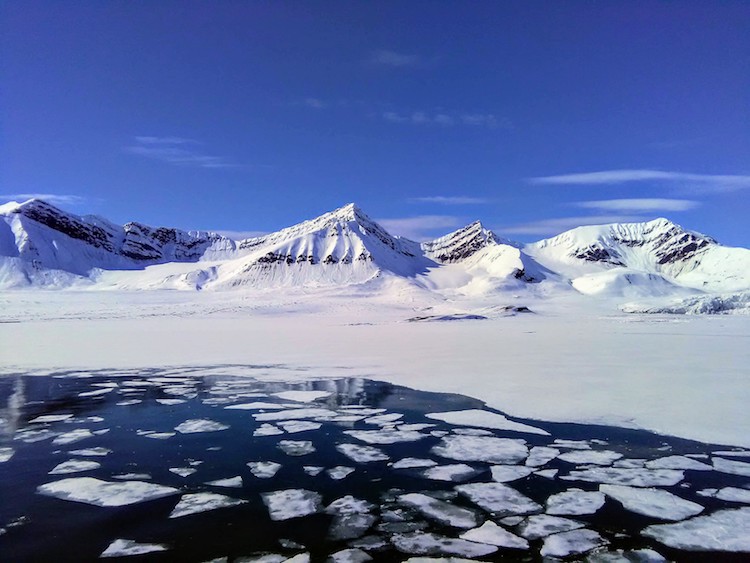 There are no natives in Svalbard, but the current population is made up of people from 50+ countries (and anyone from any country is allowed to live there visa-free).
The first people to inhabit Svalbard were coal miners in the early 20th century.
And although Svalbard's population remains small (only about 2,600 people), it's made up of people from more than 50 countries.
As you might expect, many of Svalbard's inhabitants are Norwegian (given that Svalbard is technically Norwegian). But there are also large groups of Russian, Ukrainian, Thai, Swedish, and German people.
A big reason for this diversity is that people from any nation of the world can come live and work in Svalbard visa-free.
Reindeer wander through the capital city.
These fluffy, short-legged little guys can't be found anywhere else in the world!
And since they don't have any natural predators on Svalbard (for some reason, the polar bears aren't interested in them), you'll often see them confidently strolling through the middle of Longyearbyen.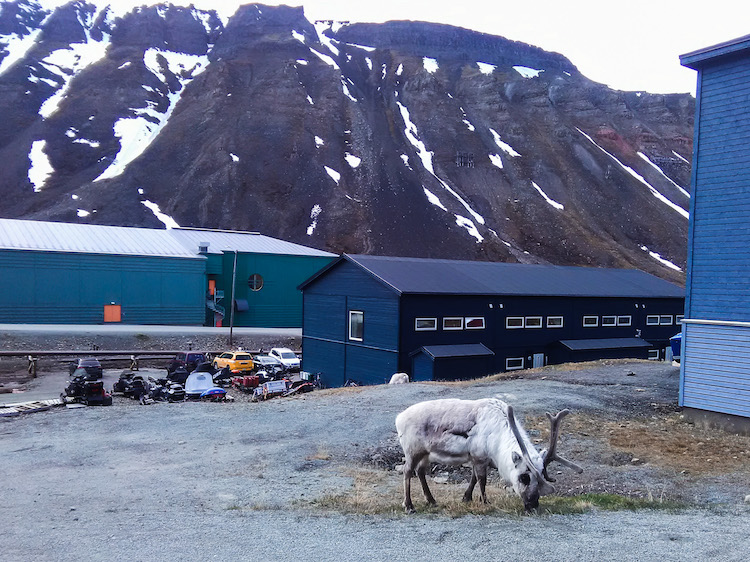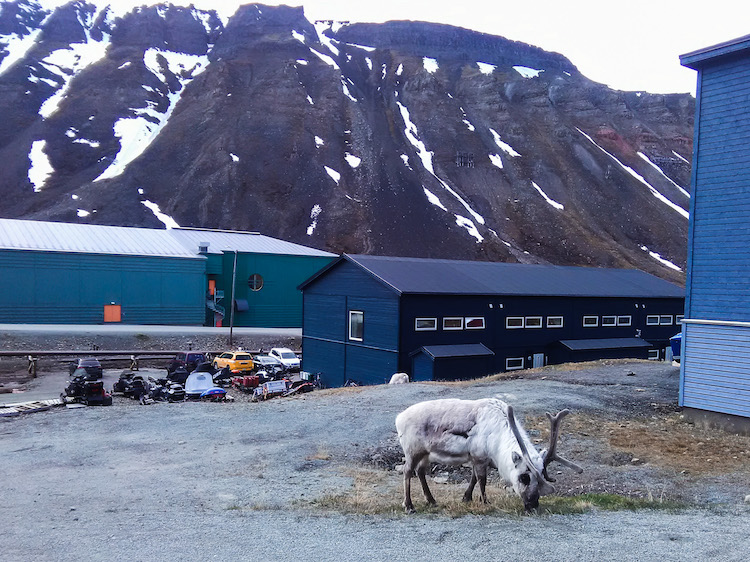 Svalbard is home to the famous "Doomsday Vault" (so if the world ends, you probably want to be here).
The "Global Seed Vault" (fondly called the "Doomsday Vault") is an imposing, bunker-like depository of seeds from around the world.
In other words, if there's some great global catastrophe that destroys our ability to grow food around the globe…the hope is that we'll have a backup thanks to Svalbard's year-round permafrost that keeps the seeds protected, and since Svalbard is so far from everything else (including the potential catastrophe).
Countries from around the world can store their seeds for free. So far, Syria (whose own seed bank and overall agricultural system were destroyed by the civil war) is the only country that has requested a withdrawal of their seeds.
If you want to visit the Global Seed Vault (just from the outside, unfortunately, you can't visit the interior), it is possible to walk there from Longyearbyen if you're willing to rent a rifle. Otherwise, the Longyearbyen and surrounding area tour with SvalbardBuss is a good option to see the Seed Vault as well as some other interesting areas.
Cats are banned from Svalbard…but there's plenty of "polar" dogs!
Svalbard's ecosystem is so delicate that cats aren't allowed.
However, there are plenty of these wonderful "polar" dogs!
These dogs have a lot to do on Svalbard. From serving as family pets to sled dogs to even being used as polar bear protection (apparently, it's possible to rent a dog to take out with you if you're venturing outside of town).
Although Svalbard is technically Norwegian, there are a few Russian mining towns (complete with old Soviet propaganda & even Lenin statues).
The most "populous" of these towns (if you can call 495 people "populous") is Barentsburg, Svalbard's 2nd biggest city.
Although Barentsburg was a mining settlement during the Soviet times, it doesn't feel like much has changed – including the worker murals, the bust of Lenin, and the Cyrillic letters proclaiming "communism is the goal!" in front of multi-colored dorm halls.
(We visited Barentsburg on a boat trip with Henningsen and we can highly recommend it! Our trip included a tour of Barentsburg with a Russian guide, incredible scenery along the way, some beluga whale & blue whale sightings, and grilled lunch overlooking a glacier.)
One of Svalbard's mining towns is completely abandoned (yet looks almost entirely as it did during its Soviet "glory days").
Pyramiden, this once-booming Russian mining town that housed 1,000 residents, is now home to just 9 isolated residents.
Visiting this ghost town is a bizarre experience. From the Lenin statue (yes, there's another), to the now-abandoned community center, cafeteria, and apartment buildings…
(We also visited Pyramiden on a boat trip with Henningsen and we'd recommend it as well. But do keep in mind that, because of the ice conditions in the ocean, it's not always possible to stop to visit the "city.")
Visiting Svalbard gives you the chance to spot all sorts of Arctic animals like polar bears, blue whales, puffins, beluga whales, walruses & arctic fox.
The title says it all!
If you're a fan of wildlife and want to experience some of the most stunning, pristine Arctic landscapes in existence, then you won't want to miss Svalbard.
If you want to visit Svalbard, it's hard to do things independently without a tour.
If you plan to leave Longyearbyen (which you really should – no one comes to Svalbard to stay indoors and skip out on the nature!), you basically need to take daily tours or organized excursions.
Unfortunately, between the safety (in that you can't leave town without a rifle) and the distances between places, there's just not much you can do on your own independently in Svalbard.
In other words, plan some room in your budget for these excursions. They aren't particularly cheap (this is Norway, after all), but having the chance to see one of the most beautiful places on our planet makes it 110% worth it.
(For reference, these were the activities we did during our trip to Svalbard: tour around Longyearbyen & the surrounding area with SvalbardBuss, 1-day boat tour to Barentsburg with Henningsen, 1-day boat tour to Pyramiden with Henningsen, 1-day guided hike & kayak tour with Svalbard Wildlife, and 1 day independent hike with a rented rifle.)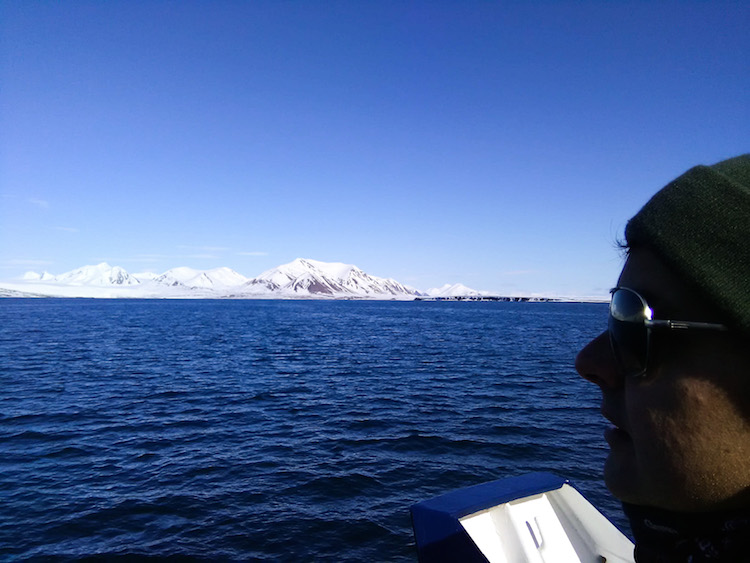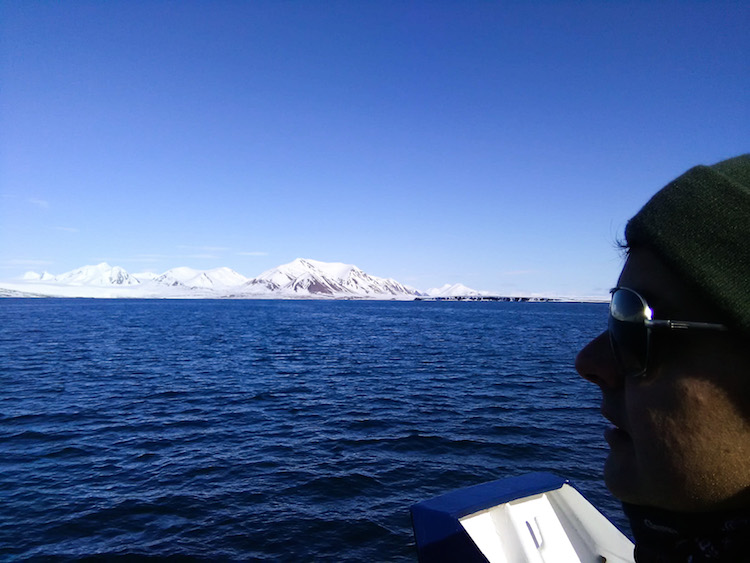 (To learn about these excursions and our thoughts on the companies we went with, check out our Svalbard guide here)
Visiting Svalbard is the easiest & cheapest way to explore the Arctic (and may even be your best "Antarctica" alternative).
As you probably know, visiting anything close to the North Pole is VERY expensive and difficult.
And to the South Pole (Antarctica)? Even more expensive and difficult! (Minimum 5K and several days of seasickness to get there.)
But visiting Svalbard? Surprisingly easy. It's just a direct, 4-hour flight from Oslo, Norway's capital city.
So, if you've ever dreamed of visiting either of our planet's poles without spending a fortune, Svalbard is your best option!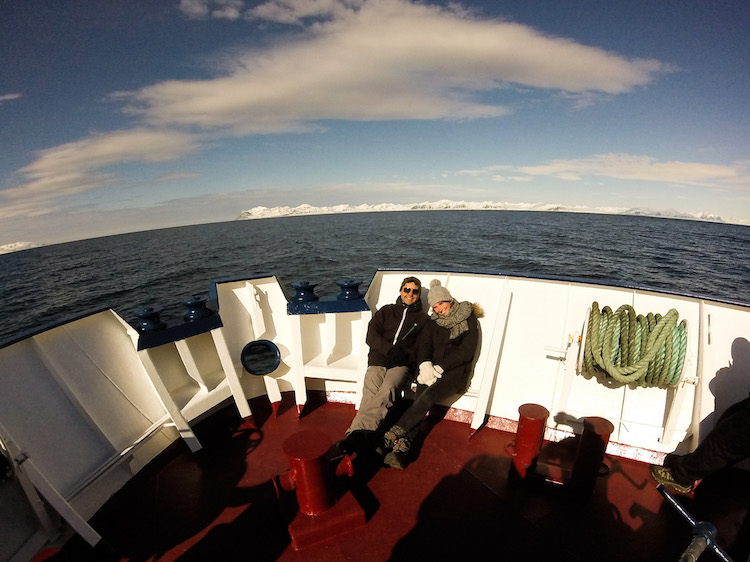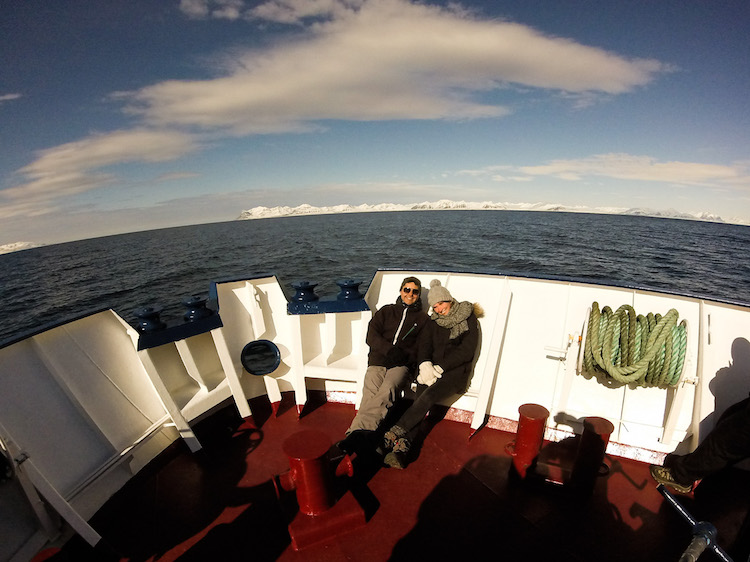 Svalbard Attractions, Tours and Activities
If you are looking for activities to do in Svalbard, I recommend looking at Viator and GetYourGuide. These sites have some very fun options for activities, and the best, several promotions.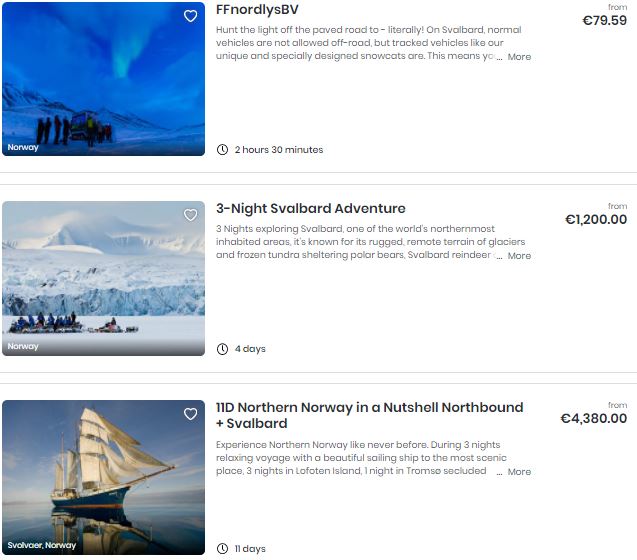 And that's it!
What was the most surprising thing you learned? Would you like to visit Svalbard yourself? Do you have any questions about Svalbard?
Let us know in the comments below and we promise to get back to you!
Planning your next trip?
Then don't forget travel insurance! You don't want to get stuck paying a ton of money and ruining your trip if you get sick or have an accident without travel insurance. WorldNomads is ideal for adventurous travelers, backpackers, or anyone looking to be protected during their trip. They cover almost every single activity you can image! Plus, you can have a 5% discount with the coupon code comfort5.
Already reserved your hotel or hostel? If not, we recommend Booking.com. They have a huge selection of hotels and hostels all over the world. Plus, in most cases, you can cancel your reservation up to a few days before the check-in date without any costs!
Still haven't booked your plane ticket and want to save big? Take a look at Momondo. It's a flight aggregator that combines several other ticket search websites to make it easier for you to compare prices and make sure you are getting the best deal.
And finally, will you need to rent a car during your trip? Then check out Rentalcar.com to search and compare car rental companies from all over the world in a single website. Then, you can find the cheapest price for the best car!
If you want to hear about new articles, check out our latest pictures, and read our newest updates, be sure to follow us here….