Last Updated on by Editor
When people think about South Korea, the first things that often pop into their head are Psy, Korean barbeque, or North Korea. However, there is so much more to South Korea than meets the eye. After being nearly completely destroyed during the Korean War, it has rapidly risen up to become one of the most developed and advanced nations in the world. It's home to big name companies like Samsung (which you can actually visit!), Hyundai, and LG…. and it even has the fastest Internet in the world!
After spending nearly one year teaching English here, I've discovered all sorts of useful facts and quirks that make the country a unique, nearly always interesting, and sometimes challenging place to live. So, without further ado, here's a list of things that I've learned over the past year whether good, bad, or simply "strange":
The stoplights are painfully slow.
Never in my life have I encountered traffic lights that take so long to change. At first, I was confused to see the locals running to catch the green crosswalk light…. but now, however, I run along with them….
Koreans will freak out if you drink the tap water.
Okay, so will a lot of foreigners…. but government sources do say that water is completely 100% safe to drink though, for whatever reason, the locals will still probably raise eyebrows if they see you fill up your cup with tap water. I've been drinking it for nearly a year, though, and I'm still alive to tell the tale…
There are free public restrooms EVERYWHERE.
No matter where you are, it seems that you are never far from a free, clean, public restroom. As having to pay for bathrooms (I'm looking at you, Western Europe!!!!) happens to be something that drives me mad, I appreciate this wholeheartedly.
Things that you do not expect to taste sweet will, in fact, be sweet.
Oh, you think that garlic bread or those chips you just bought are supposed to be salty? Korea will prove you wrong.
Korea is 70% mountains.
So, if you come, it'd really seem like a shame to skip out on them. There's even some mountains that you can hike right in Seoul! Learn more here: https://outofyourcomfortzone.net/how-to-climb-bukhansan-the-closest-mountain-to-seoul-south-korea/.…and here: https://outofyourcomfortzone.net/how-to-get-the-best-view-from-seoul-south-korea/
Hiking is the national pastime (as is buying expensive, name-brand hiking clothing).
It seems that once you hit about the age of 40 or so, it's basically expected that you go to one of Korea's many national parks to hike each and every weekend…. but please, if you do go and want to be properly Korean, don't forget you have to be decked out head-to-toe in these bright, colorful outfits like the ones you'll see in the picture below (let's be real though…while I may joke about the outfits, deep down I'm secretly jealous

).
Likely, number 6 is a heavy influence in this. As someone who loves to hike, this is quite possibly one of the things that I grew to enjoy the most during my time in Korea.
There is a free, English speaking tourist hotline.
It's wonderful and they can help you out with all things from transport schedules, recommendations on what to do, or even on-the-spot translations. If you are in Korea, just dial 1330. If you are abroad, dial +82-2-1330…. or, you can call them for free through Skype from this link here:
You can get all types of food delivered wherever you are.
I've seen people being delivered fried chicken in the park, pizza at the university, and McDonald's (yes, McDonald's and all other fast food places deliver!!) on the beach. If only I could speak Korean to figure out how to do this!
You often get free things along with your purchases.
If it's in a restaurant, they'll usually give it to you and say "service." If it's elsewhere, you'll get all sorts of things ranging from water bottles to dish soap. They seem to be most fond of giving out wet tissue, though.
Korea will be hosting the Winter Olympic Games in 2018.
It will be hosted in Pyeongchang (no, not Pyongyang, the capital of North Korea), a city in the western part of South Korea…. and the Yongpyong Ski Resort is well worth a visit if you're into snowsports!
PS: Did you know that you can volunteer for the Olympics? Find out how here!
For the ladies… short skirts are a-okay while exposing your collarbone too much is risqué.
I mean, I've seen short skirts in the US, but here it's on a whole new level…. even the ones they wear to work can be shockingly short!
Despite this love for showin' leg, they are far more modest when it comes to the upper half. I think I've barely shown my collarbone all year… and now I almost feel scandalous when I do!
Korea is more than just Seoul!
Naturally, when people come to Korea they tend to gravitate towards Seoul. Now, while Seoul itself could probably occupy you for weeks, don't forget to venture away! Climb a mountain, visit an island, check out a smaller city…. there's lots to do!
Basically everywhere you go will be full of people.
Due to its fairly high population density, you'll find yourself surrounded most places you go…. so be prepared for some shoving and some serious invasions of personal space.
Chances are, people in your home country are more concerned about North Korea than the South Koreans are.
Of course, this isn't to say that North Korea and its antics don't ever cross the minds of South Koreans (especially those who had families split up), it's just to say that most people seem rather, well, impassive about its potential threat. For example, when the world started panicking about North Korea's possible H-bomb, the Koreans I asked about it basically just shrugged their shoulders.
Kimchi and rice are truly eaten every day.
Some of my students even told me that they eat these two items for all 3 meals of the day!
They also seem to really like Spam.
You can find it in gift sets around holidays and I've been served it up fried several times for my school lunch.
Korean spiciness is not something to joke about.
I really think Koreans get a kick out of watching foreigners eat spicy Korean food. I'll just say that their idea of "oh, it's just a little spicy" is very different than my idea of "oh, it's just a little spicy"!
Work and school life are intense.
While this is something I could probably talk a lot about, I'll keep it simple.
On top of their normal elementary/middle school, most of my students come to my English school as well as attend several other schools each week for things like math, science…. meaning they are studying basically all day. I mean, I've had 8 year old students tell me that they are stressed!
It also seems that the average workweek consists of upwards of 10, 11, 12+ hour days…. plus pretty minimal paid vacation and sick days. Honestly, one of the other teachers at my school had to stay and teach classes even though he had to go to the bathroom during his classes to vomit.
Koreans can probably outdrink you.
Proof: https://www.blackoutkorea.com/
Koreans love karaoke (AKA: the noraebang).
Possibly influenced by the number 19…. you can even find karaoke rooms on trains!
Confession: Over the course of the year, I've only been to 1 noraebang (in honor of New Year's Eve)…. and I fell asleep.
You will see rolled eyes if you either a) ask if they know Psy or b) start dancing to Gangnam Style.
As this seems to be the extent of many people's knowledge of Korea, I think these are two things Koreans encounter a lot…. especially when abroad.
Psssst: In case you didn't know (and I certainly didn't until I actually came to Korea), Gangnam is one of Seoul's wealthiest and most exclusive neighborhoods.
Korea is incredibly safe.
Korea is, without a doubt, one of the safest (if not the safest) countries I've ever been to. I feel safe walking alone anywhere at night and if you lose your wallet, it's more likely that someone will return it to the police than steal it. Of course, this doesn't mean that you should get careless because things do still happen… but just enjoy the extra feeling of safety because you won't get it in lots of other places around the world!
Where to find tours, activities and attractions in South Korea
Are you looking for activities and tours in South Korea? I recommend you take a look at Tiqets or Civitatis. There you can find and buy tickets, tours and excursions in South Korea at discounted prices.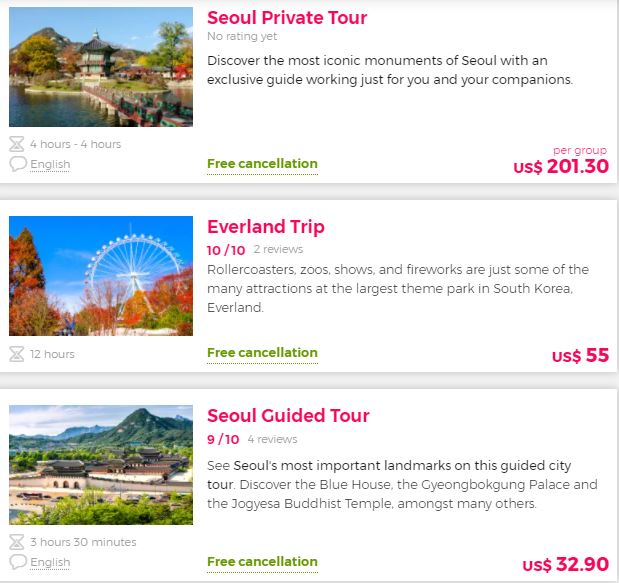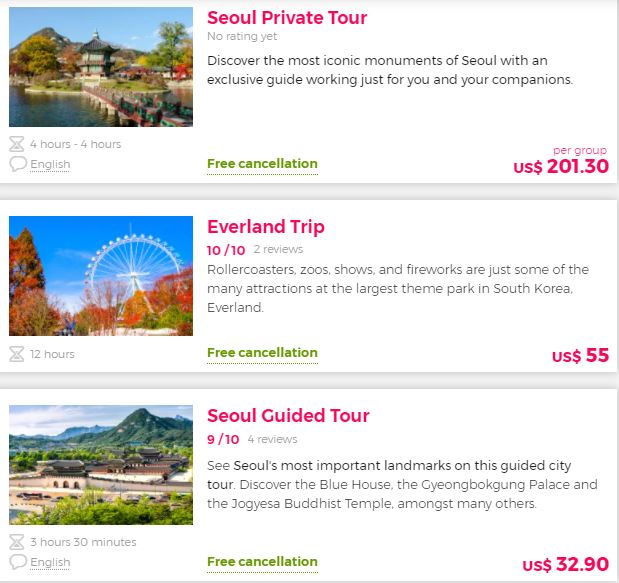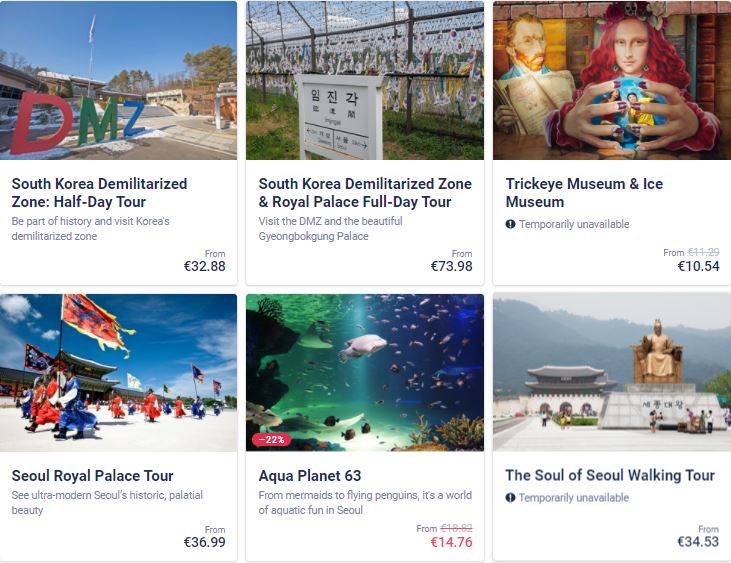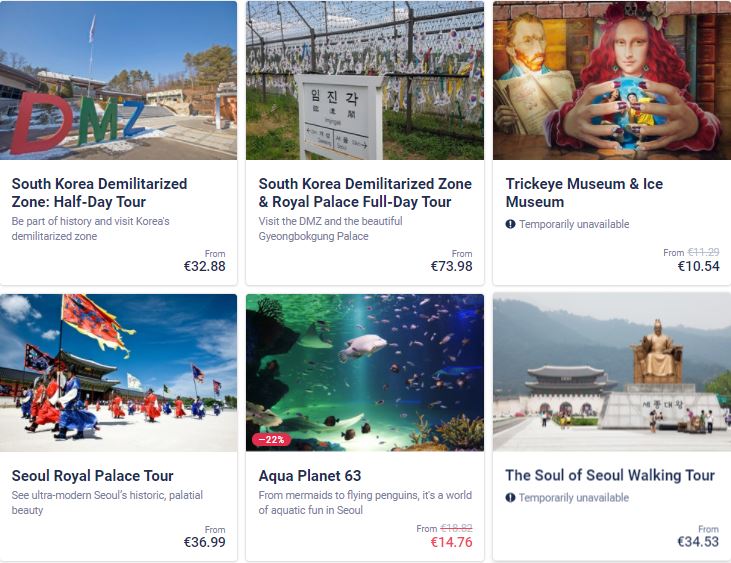 Conclusion…
Fellow English teachers, exchange students, tourists, or (better yet) Koreans themselves…. have I missed anything? Please, feel free to share your additions to the list or submit your stories and experiences of this Asian powerhouse in the comments box below.
*This article was written by the website's contributing editor and author, Nikki Elliott. Nikki is an American who has several big backpacking trips under her belt and is currently teaching English in South Korea. If you wish to contact her about her article, please comment below.
Planning your next trip?

Then don't forget travel insurance! You don't want to get stuck paying a ton of money and ruining your trip if you get sick or have an accident without travel insurance. WorldNomads is ideal for adventurous travelers, backpackers, or anyone looking to be protected during their trip. They cover almost every single activity you can image!

Already reserved your hotel or hostel? If not, we recommend Booking.com. They have a huge selection of hotels and hostels all over the world. Plus, in most cases, you can cancel your reservation without any costs up to a few days before the check-in date!

Still haven't booked your plane ticket and want to save big? Take a look at Momondo. It's a flight aggregator that combines several other ticket search websites to make it easier for you to compare prices and make sure you are getting the best deal.

And finally, will you need to rent a car during your trip? Then check out Rentalcar.com to search and compare car rental companies from all over the world in a single website. Then, you can find the cheapest price for the best car!
If you want to hear about new articles, check out our latest pictures, and read our newest updates, be sure to follow us here….
…..and subscribe to our newsletter below!