Last Updated on by Rodrigo @ OutofYourComfortZone
Many people who live and work overseas regularly send money back to their home country – whether to family or to add it to a bank account, savings account, or investment they have there.
No matter your reason for sending money abroad, it's important to understand your options, how it works, potential fees you might run into, and how long it takes for the money to arrive. Since this can vary quite a bit from company to company, it's worth taking some time to do a bit of research.
The cheapest way to make international money transfers to send funds to your home country – whether the United States, the UK, India, Pakistan, or anywhere else! – will depend on how much you'll be sending as well as any time constraints you need to meet. So to help you choose your best option, I've separated out the 7 best websites to transfer money overseas. I've also created a table comparing them below to show what each one has to offer.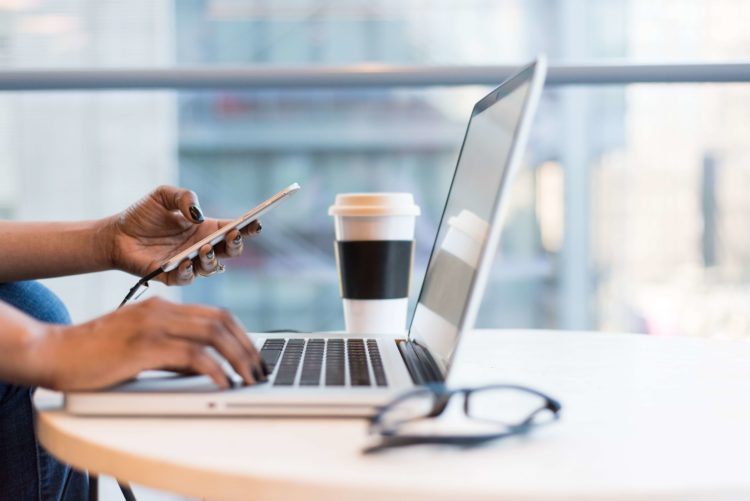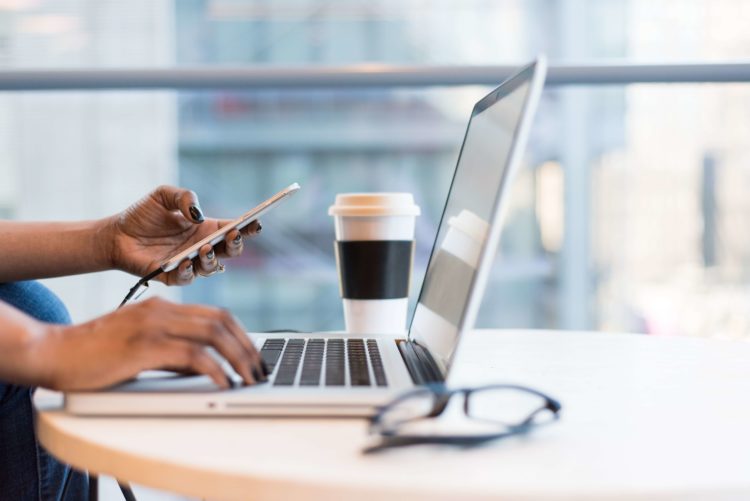 What should I know before transferring money overseas?: 3 steps to take before making your transfer
There are 3 steps you should take before choosing a company to use to send money abroad:
Check the day's exchange rate

Verify the max amount allowed to transfer

Research the fees charged by each company for international money transfers
Here's a bit more about each of those 3 items.
1. Check the day's exchange rate
The first thing you need to do is to check the current exchange rate. This number changes daily and anyone who sends or receives a lot of money abroad needs to keep an eye on it.
If you work abroad and earn in a currency that is stronger than your home country's currency, then your best option is to send money back home when your home country's currency is high compared to the average over the past several months.
You also want to check the current exchange rate to the website you transfer with has a rate as close to this "official rate" as possible so you don't lose money (banks, for example, won't have exchange rates very close to the official….they will have much worse ones).
You can find this information easily by searching "1 [currency you're sending] in [currency of country you're sending it to]." For example, if you're in the United States but need to send money to the UK then you might search…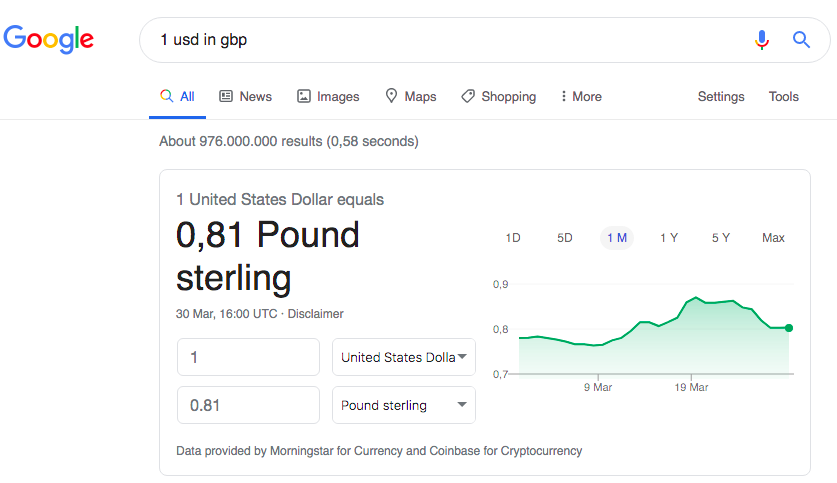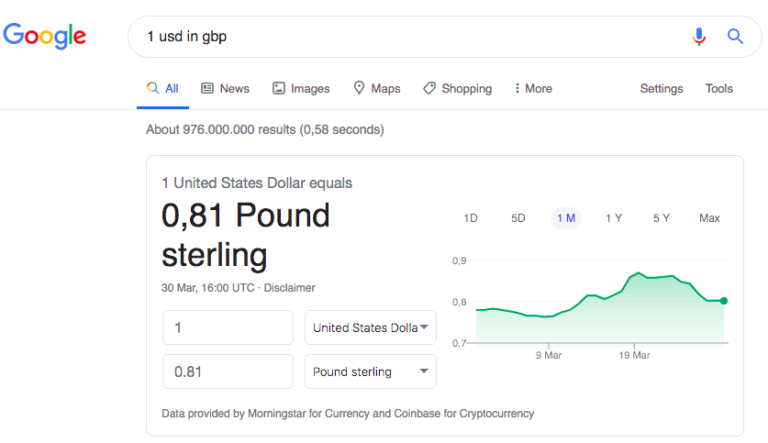 2. Verify the max amount allowed to transfer
The companies below have a limit as to how much you can send daily, monthly, annually, or per transfer. This means that you can only transfer a certain amount and a transfer above that amount will be rejected. This may also mean that you can only make a limited number of transfers per day, week, month, or year. In which case, you'll then have to find an alternative that might not be as good or as cheap to continue making transfers.
So if you often need to send large quantities of money or make transfers frequently, you'll need to verify these limits for each individual company. But thankfully, these limits should be plenty for your average person, especially if you're a student doing a study abroad or anything like that.
I'll give the limits for each of the companies below.
3. Research the fees charged by each company for international money transfers
One of the most important things to consider are the fees charged by each company as this will normally determine which option is the cheapest.
So, before you choose a company for your international money transfer, you need to know what fees each company charges. Some companies have a fixed cost per transfer, others charge a percentage of the amount you send (in which case, the more money you send, the higher the fees).
7 Best Companies for International Money Transfers
Below, you'll find the best companies to send and receive money abroad. I consider these 7 the best since they are generally the cheapest in fees and have the best exchange rates.
I'll explain a bit about how each works, their fees, their timelines, and their limits. This way, you'll be able to choose what makes sense for your transfer. Here are your 7 options:
Wise

CurrencyFair

Xe

World Remit

Remitly

TransferGo
1. Wise (formerly Transferwise)
I'll be honest here – I've yet to find anything cheaper than Wise (formerly Transferwise) for my own transfers. However, their fees do vary from currency to currency, which is why I included the other options below in case they aren't the cheapest option for y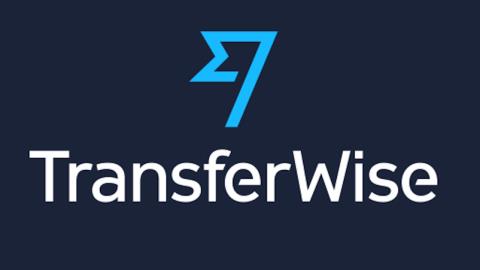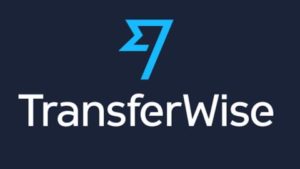 our currency pair. So, I recommend you compare the fees for all the options below before making a final decision.
Wise works with more than 1,200 combinations of currency! And according to their website, doing a transfer with them can be 8 times cheaper than doing it with a traditional bank.
Which brings us to an important point – Wise, and companies like Wise, are NOT banks. That said, Wise is still authorized by the United Kingdom's Financial Conduct Authority (FCA), just as any other bank in the UK is required to be.
Beyond international money transfers, Wise also gives you the option to open up a "borderless multicurrency" account, which you can use to make your transfers happen instantly (for no extra fees). You'll even get a debit card attached to this account which you can use around the world.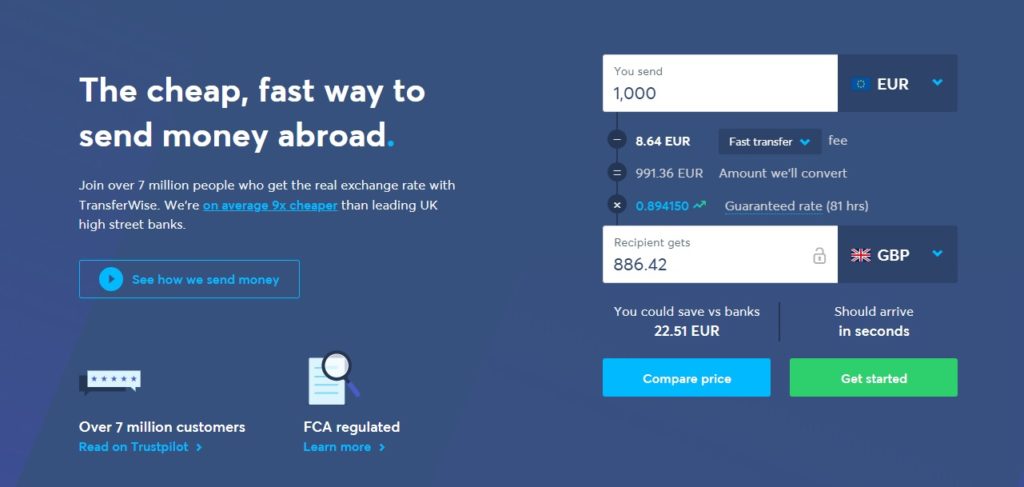 Wise fees and timelines
Wise's fees depend on 2 factors: the amount of money sent and the form of payment.
Since Wise charges a fixed percentage of your total (this exact percentage varies slightly from currency to currency), the fee will be higher the more you send.
You also have to consider your form of payment. This may vary from country to country, but usually the cheapest and most common form is bank transfer. You also have the option to use a credit card to send money overseas by Wise, but I don't recommend this option since the fees are higher.
The timeline for the money transfer to arrive varies from 24 hours to 2 business days.
Wise (formerly Transferwise) international money transfer limits
Wise has one of the highest limits for international transfer limits out there. However, the exact numbers vary from currency to currency.
To learn more about the limits they have for individual currencies, you can go to Wise's page here.
Truly, in my opinion and in my experience sending and receiving money to/from various countries around the world, Wise is one of the cheapest and most practical companies for international money transfers. Ah, and they also work with one of the highest numbers of different currencies….50 different currencies from all around the world!
Today, Xe is known for being the world's most trusted currency authority. They work with many different currencies and don't have extra transfer fees (they just charge a percentage of the total transfer, varying from 0.5-2%).
That said, money transfers with Xe can be a bit more complicated to set up than with the other websites recommended here. And they don't always have the best exchange rates. But it worth a try since they can deal with several different currencies.

Plus, Xe is an excellent website if you just want to get information on the official currency exchange rate of EVERY SINGLE currency in the world….including historical rates on specific dates!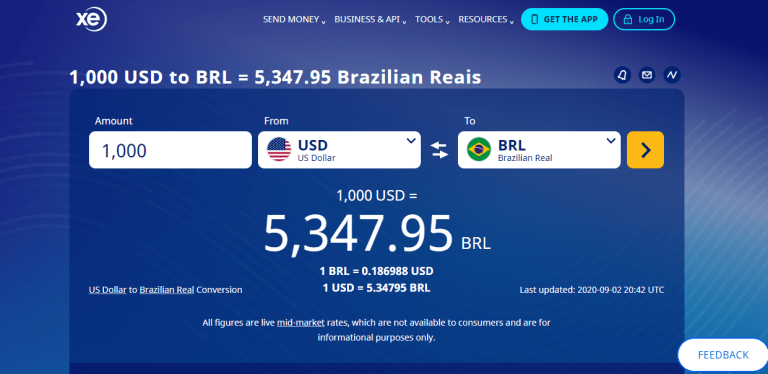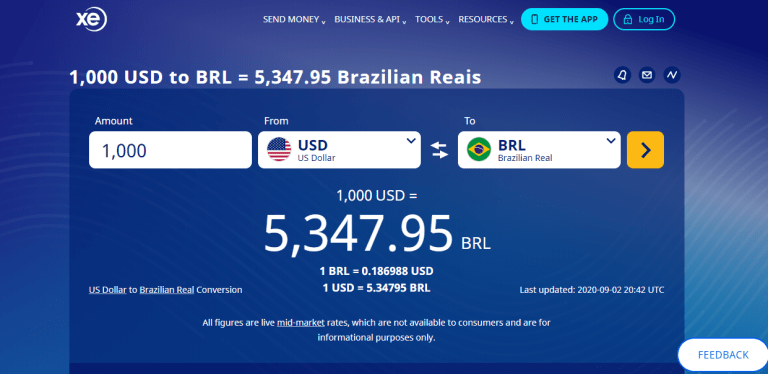 Xe fees and timelines
As I said above, Xe doesn't charge any additional fees on top of their transfers – they just charge a percentage of the amount you send. However, the receiving bank may charge a fee even if Xe doesn't.
In other words, you won't be able to see the total fees you have to pay when you're doing your transfer. Instead, you have to get in touch with the bank that's receiving the international transfer to find out how much they charge.
Beyond this, even if Xe doesn't have fees themselves, their exchange rates aren't always the best on the market (even if they are still better than bank rates).
The amount of time it takes for a transfer done through Xe to arrive is 1-4 business days.
Xe international money transfer limits
Xe has a maximum limit of $500,000 USD per transfer. However, if you need to send more than this (in which case, I'm jealous!), you can simply do multiple transfers. Although, I'd assume sending half a million dollars to another country is plenty!!
CurrencyFair is very similar to Wise and it works the same way. The only major downfall here is that they don't work with as many currencies as Wise does (they only work with about 20 currencies vs the 50 that Wise does).
CurrencyFair has been around for 9 years (and has securely exchanged over 9 billion euros to date!) and is fully licensed and regulated by the Central Bank of Ireland.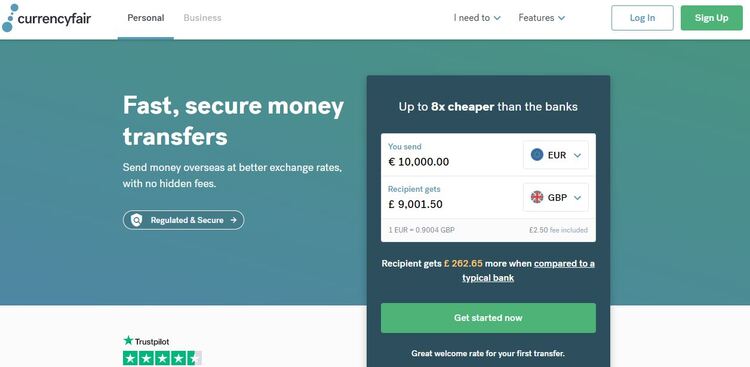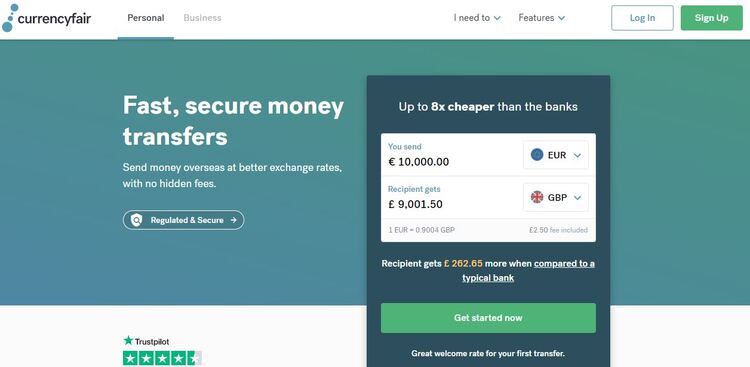 CurrencyFair fees and timelines
As with Wise, you'll get a better exchange rate with CurrencyFair than you'd get with any bank and the fees will also be lower.
Their fees vary based on the currency pair being exchanged, but the average is 0.45% according to their website. Beyond this, there is a €3 transfer fee. You can read more about their pricing here.
The timelines for the transfers to arrive with CurrencyFair are anywhere from 1-5 business days depending on the currency. Express transfers are also possible for an extra cost.
Promotion! You can get a coupon code with CurrencyFair for 3 international transfers Fee Free here!
CurrencyFair international money transfer limits
While some currencies have a minimum transfer limit, unlike other options here, CurrencyFair has no maximum daily transfer limit.
WorldRemit is available in more than 150 countries and works with more than 90 currencies. They have had more than 4 million clients and, with their headquarters in Brussels (European Union capital

), Belgium, are authorized and regulated by the National Bank of Belgium.
The options to pay for your WorldRemit transfer vary from country to country. However, bank transfer is most common with options to pay via credit, debit, or pre-paid card.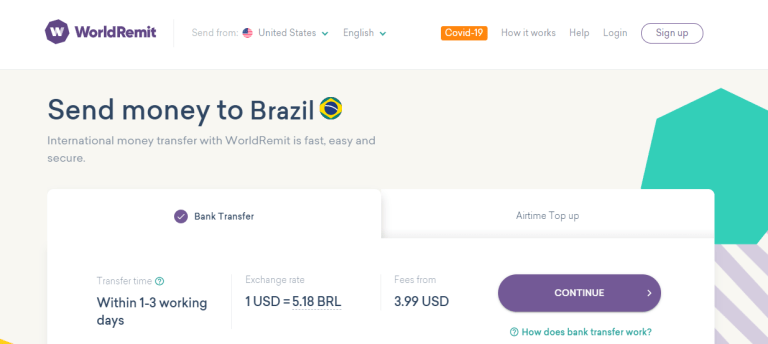 WorldRemit fees and timelines
While the exact fees will be shown to you when you put in the currencies and amounts for your transfers, their average cost per transfer is $3.99 USD.
The company also says that 90% of their transfers are received on the same day. In other words, WorldRemit could be your best option if you need your transfer to go through more quickly than some of the other options!
WorldRemit international money transfer limits
The transfer limit for WorldRemit varies between currencies. But to give an idea, you can send up to 5,000 British pounds, 5,000 US dollars, or 8,000 euros in a single transfer.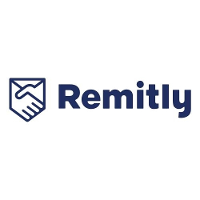 Remitly works differently from the other companies mentioned so far, because it works with a remittance system delivered remotely. This means that the amount you wish to send can arrive in cash directly at the desired address through the delivery system that Remitly provides.
The company also carries out traditional transactions that can be carried out for digital accounts and traditional bank accounts. It is important to note that the website of this company is not as easy to use as the first ones on this list but don't worry, with a little time it is possible to get used to the Remitly system and interface.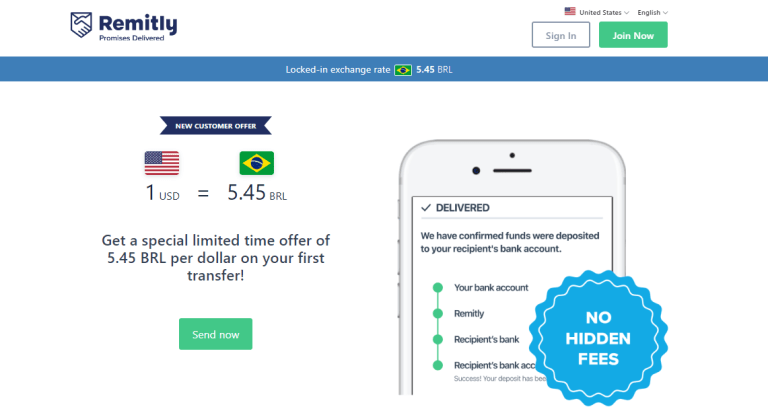 Remitly fees and timelines
Remitly's fees and terms vary widely depending on the amount of money you wish to transfer, the location you are transferring the money from, the type and form of service chosen, among other factors. But for new users, the first U$ 750.00 sent is made free of charge.
Remitly international money transfer limits
Remitly's daily shipping limit is U$ 2,999.00. However, if you submit some documents required for registration, this limit may increase to up to U$ 10,000 daily.

TransferGo is a prominent company in the area of ​​international transfers. It works in a simple and intuitive way and serves people from over 45 countries.
One of the main advantages of using TransferGo is that the transfers made can originate from a bank account, a debit card, and even a credit card.
In addition, different transfer options are available such as the quick option that occurs within 30 minutes after the transaction is initiated. There is also the economic option, which has no fees and occurs within 3 business days.
If you are going to make international transfers with TransferGo, use this coupon: HMSESq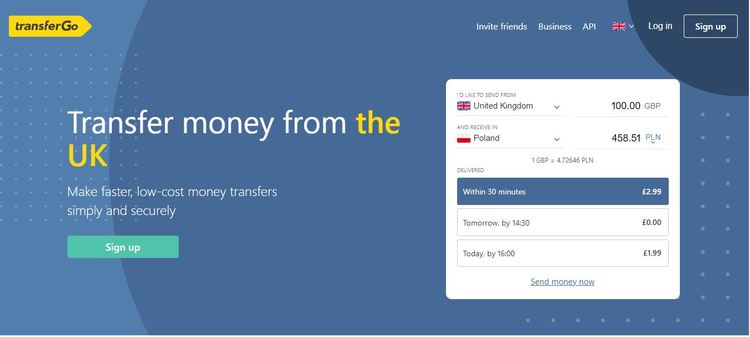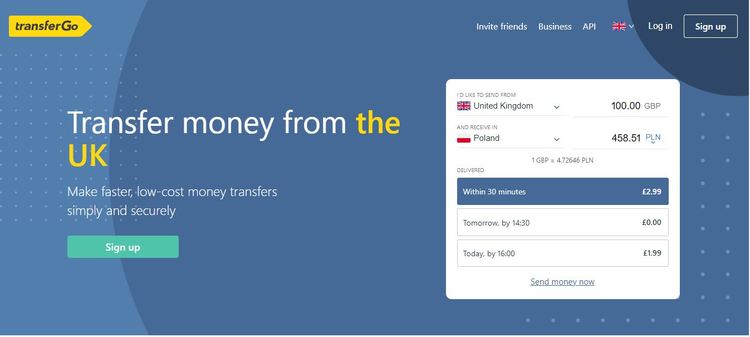 TransferGo fees and timelines
For the TransferGo fast shipping option where the transfer is completed within 30 minutes, the fee charged is £ 2.99. For normal shipping that occurs within 3 business days, no additional fees are charged.
Rates and terms may change depending on the transfer and the place of origin and destination of the transaction.
TransferGo international money transfer limits
There are no daily limits predefined by TransferGo, however each transfer cannot exceed the limit value of U$ 30,000.00.
Oh, and the only issue is that you can only send money from Europe to the rest of the world with TransferGo. You can't send money the US, Canada, Australia, etc…
7. Ria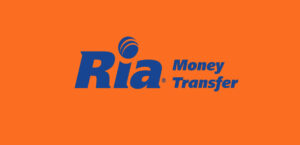 Ria is a worldwide organization that offers money transfer services to individuals around the globe. Founded in 1987, the company's main office is based in the United States and has undergone significant expansion in its international presence.
With a broad selection of services encompassing bank deposits, wire transfers, and bill payments, Ria has a powerful presence in more than 160 countries via its extensive network of over 436,000 agent locations worldwide.
Ria's mission is to provide secure, accessible, and cost-effective money transfer options to people and families who want to transfer money to their loved ones worldwide.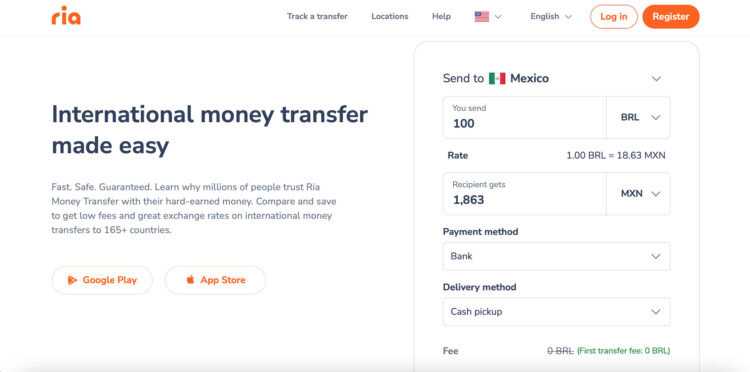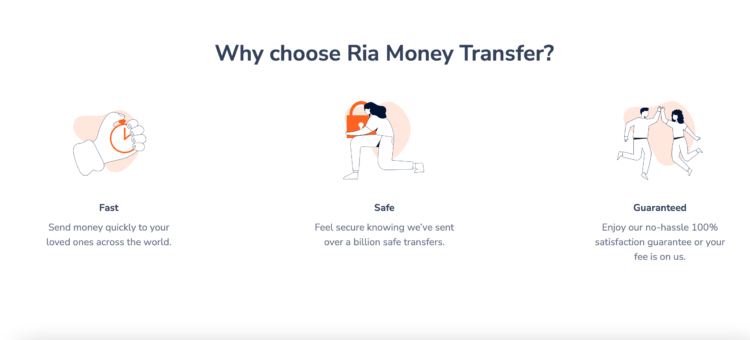 Pros of using Ria for international money transfers:
Ria has a global presence with over 436,000 agent locations worldwide, which makes sending and receiving money more convenient for its customers;

Ria offers a wide range of payment options, including wire transfers, bank deposits and bill payments.
Cons of using Ria for international transfers:
Ria imposes daily and monthly limits on the amount a customer can transfer, which can be an inconvenience for those who need to send large amounts of money;

Ria may charge additional fees, depending on the destination country and the payment method selected by the customer;

Ria may require customers to go through an identity verification process, which can be time consuming and inconvenient.
Other options to send money abroad online
As you can see, there are a lot of options for international money transfers online. So, beyond the 4 I've listed above, there are some other very popular options which aren't necessarily the best choices

Western Union
Unlike the companies above, Western Union also has physical offices that people can go to send money overseas. It currently has offices in over 200 countries and territories around the world.
Western Union is a safe way to send and receive money, including cash. You can send both online and in-person at an agency. The person who will receive the money also has this option.
However, the Western Union fees and the exchange rates are some of the worst ones out there. In other words, I'd try to avoid Western Union if you can!
That said, if it's your only option, then the fees will vary based on your form of payment and the transfer arrival time is 1-4 business days.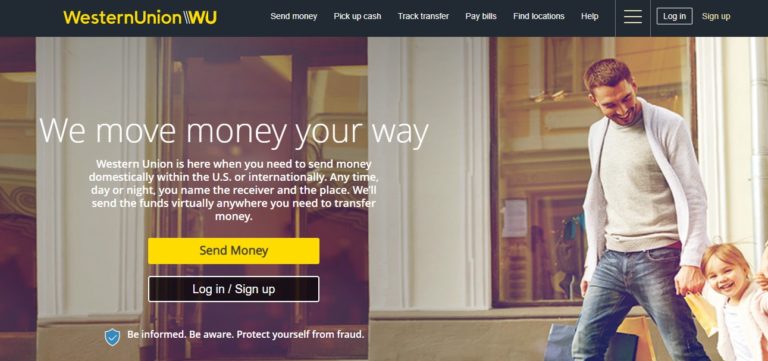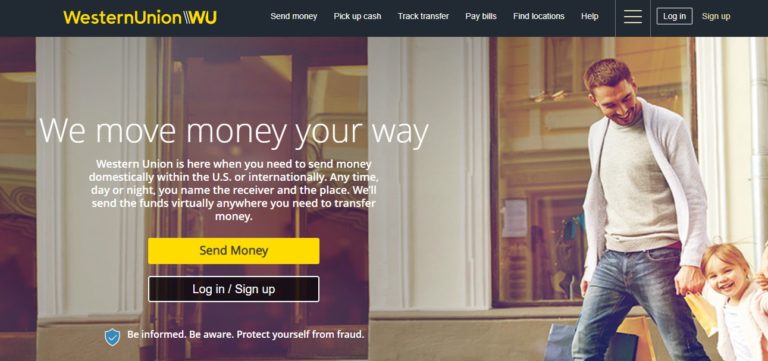 Traditional banks
Traditional banks are also an option for anyone who needs to make an international money transfer. However, they are faaaar from being the cheapest option.
Primarily, because they have the worst fees of any other option, sometimes hitting as high as 11% of your total transfer amount. Beyond the fees, the exchange rate they use is terrible! So, you'll lose money twice thanks to the high fees and the poor conversion rate.
However, it is important to know that, if you really need to, you can send money from an international bank back home. But before you do your transfer, double-check the fees that will be charged and how long it will take for your transfer to arrive.
Personally, I only use traditional banks to send money overseas as an absolutely last resort!
More options for financial products: Online banks usually have a wider range of financial products, such as online savings accounts, loans, credit cards and investments. You can compare and choose the products that best suit your needs and financial goals;
Table comparing the 7 best companies to send money overseas online
Wise
Xe
WorldRemit
CurrencyFair
Remitly
TransferGo
Ria

How many currencies they work with

50

60

Number of currencies not listed, but can send/receive money in 150 countries

20

+60

+45

Ria has a global presence with over 436,000 agent locations worldwide

Fee structure

Percentage of transfer amount

Percentage of transfer amount

Average cost per transfer is $3.99

Average fee of 0.45% of transfer +

€3 transfer fee

Express Fee $5.99 Economy Fee $1.99

2.99£,

1.99£ or

0.99£.

Percentage of transfer amount

Transfer times

24 hours to 2 business days

1-4 business days

90% of transfers received on the same day

1-5 business days depending on currency

Same day or up to 5 days depending on the transfer option

In 30 minutes, 24 hours or 1 day.

1-4 business days

Fees charged by arrival bank

No

Maybe

No

No

No

Maybe

No
In conclusion…
As you can see, there are a lot of options to make international money transfers, whether to your home country or from your home country to wherever you are now.
Since each company has a different fee structure and changes from currency to currency, I recommend getting a quote from each of the companies above to compare the exchange rates and fees and see which one will be the cheapest option for you.
I know that this comparison may take a bit of time…but it's really not a lot since you can do everything online. Not to mention, and you'll be paid for the time you spend comparing by saving money on your transfer overall!
And that's it! Which service do you use for your international transfers? What do you think of the companies above? Any other questions? Leave your comment below and I'll get back to you!

Planning your next trip?
Then don't forget travel insurance! You don't want to get stuck paying a ton of money and ruining your trip if you get sick or have an accident without travel insurance. WorldNomads is ideal for adventurous travelers, backpackers, or anyone looking to be protected during their trip. They cover almost every single activity you can imagine! Plus, you can have a 5% discount with the coupon code comfort5.
Already reserved your hotel or hostel? If not, we recommend Booking.com. They have a huge selection of hotels and hostels all over the world. Plus, in most cases, you can cancel your reservation up to a few days before the check-in date without any costs!
Still haven't booked your plane ticket and want to save big? Take a look at Kayak and Momondo. They are flight aggregators that combine several other ticket search websites to make it easier for you to compare prices and make sure you are getting the best deal.
And finally, will you need to rent a car during your trip? Then check out Rentalcar.com to search and compare car rental companies from all over the world on a single website. Then, you can find the cheapest price for the best car!