Last Updated on by Rodrigo @ OutofYourComfortZone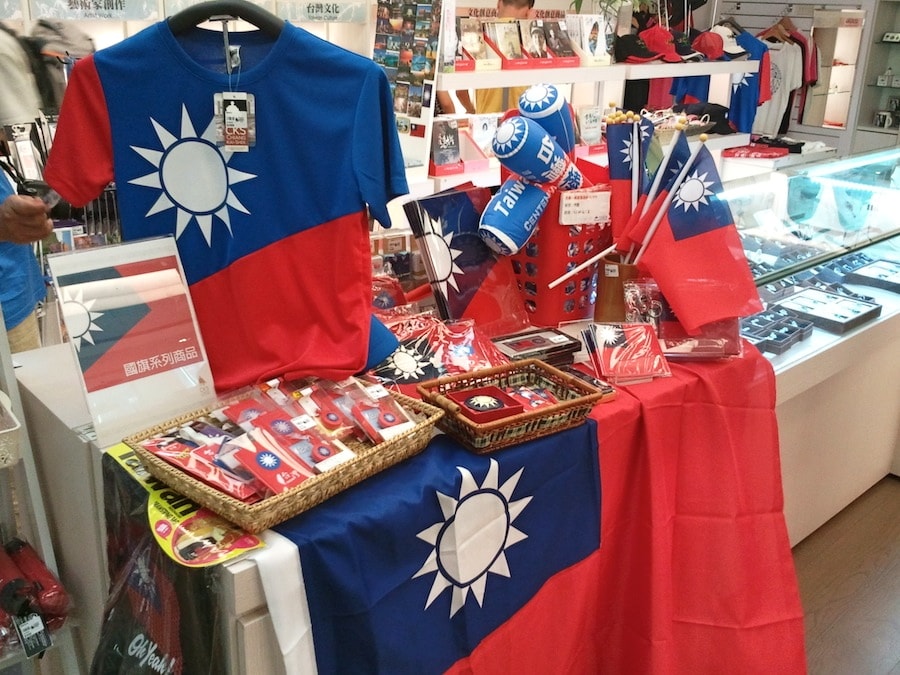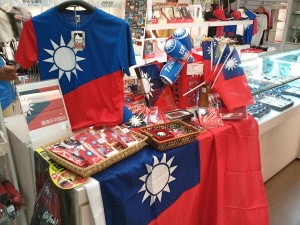 Hello everyone!
If you follow us on Instagram or like us on Facebook, you'll know that we recently spent a week in Taiwan, an island sort-of country not too far from Korea, our new home.
We had a wonderful trip… and it wasn't just because being there meant I got the week off work. Upon arrival, we were greeted by shockingly cheap prices (like full meals for US$2.00 and private rooms in guesthouses for just over US$10 per person) and incredibly friendly people (most of whom, at least those under 30, spoke great English!). We also found ourselves surrounded by beautiful coastline and stunning nature… what more could you possibly ask for on a trip?
However, as is true whenever you travel anywhere new, we did learn some things either through experience or through word-of-mouth upon arrival that we would have been rather useful to know beforehand. So, we are writing them here in the hopes that you'll be more prepared than we were!
Forget your credit card, you're better off using cash
Just like in our article about 2 things you need to know before traveling to Japan, it seems that Taiwan is another country of cash. To be honest, this was something that surprised us quite a lot. Naturally, we expected to use cash when visiting the markets or frequenting small, family-owned establishments, but we ended up barely touching our credit cards (with the exception of purchasing train tickets) for the entire trip!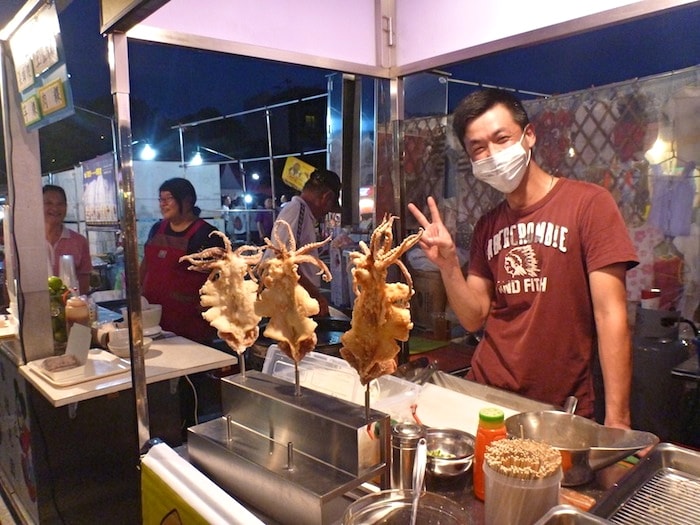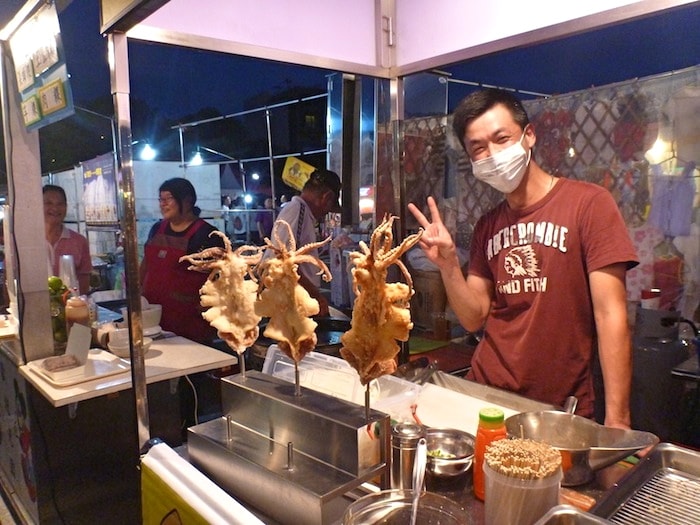 I'm not exaggerating when I say that credit cards don't work there… we couldn't even use them at places like 7/11 or McDonald's (they had the cheapest Mcflurries I've ever seen and couldn't help but fuel my obsession…plus, I was on vacation! #sorrynotsorry). Thankfully, ATMS that allow you to withdraw with an international debit card without extra fees are plentiful.
2.

Book your train tickets 2 days in advance
As Taiwan does not have many tourists and we did most of our train traveling in the middle of the week, we were surprised that, on a couple of occasions, the train that we wanted tickets for was already sold out. The most surprising was when we went to the train station in Hualien on Thursday evening to buy a ticket to return to Taipei sometime Friday morning only that find that trains for the entire day (except for one at around 7:00 AM) were sold out! Fortunately, we were lucky that someone cancelled their tickets the next morning so we could go at a more vacation "appropriate" time.
So, I'm not sure if we were just there during a weird time or what but if I were you, I'd get those tickets in advance just in case.
3.

Rent a scooter!
For whatever reason, we didn't really seem to consider this as an option until the end of our trip… which is really rather unfortunate. Now, I wouldn't recommend this for going between cities, but if you are going to be spending several days in a single city, I think this would be the way to go both for exploring that particular city as well as making your way to day trips in the area.
As you'll probably notice early on, everyone in Taiwan seems to have a scooter! When we were in Tainan, the ancient capital, and trying to figure out what bus to take to get to some temples, not a single Taiwanese person was able to tell us how to take the bus because they said they all rode scooters instead! I'm not exaggerating. Seriously, just look at all of these scooters outside of the Tainan train station: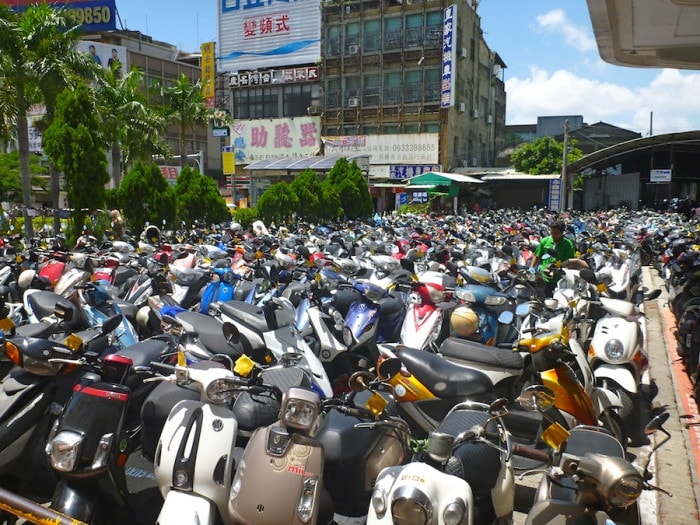 We were initially told that we would need an international driver's license (which neither one of us has) to rent, but the second place we asked let us rent without one. In fact, they didn't even ask to see either of our licenses! So, I'd recommend finding a street that seems to have a lot of scooter rental places (that shouldn't be that hard to do in any Taiwanese city) and ask around…. and don't forget to negotiate! Don't pay over 500 Taiwanese Dollars (≈ 15 USD) per day and if you're renting more than 1 day you can almost certainly get it below this.
Warning: Don't forget to check if your travel insurance covers scooter accidents, it's better to be safe than sorry…. especially because Taiwanese drivers (both those with cars and scooters) are pretty wild. For that reason, I would also perhaps also avoid driving a scooter in large cities unless you are comfortable with this kind of chaos and traffic. Instead, I'd recommend sticking to places with fewer vehicles like along the coast or when visiting the two places that I'm about to talk about next…
*If you have an international driver's license and would like to rent a car, take a look at our page with The 5 Best and Cheapest Websites to Compare and Rent Cars Around the World
4.

Taroko Gorge is incredible… but there's another, far less touristed and just as beautiful destination called Mukumugi Gorge
If you've done any sort of research about things to do in Taiwan, you've certainly read about Taroko Gorge. Outside of Taipei, The Gorge is Taiwan's #2 attraction… and for good reason. With its huge, marble walls curving around you, its rapidly flowing river beneath you, and its myriad amount of waterfalls, caves, and trails surrounding you, it's a place that will certainly leave you in awe of nature's awesome power.
However, if you're interested in getting a bit deeper into Taiwan's nature and actually interacting with it (in Taroko, you can mostly just look), Mukamugi is the place to be. Although it's quite a bit smaller and far less intimidating then Taroko, you may just find that you like it more. After all, just look at all of these incredible places you can actually dip your feet in and swim (something that would probably kill you if you tried to do in many places in Taroko):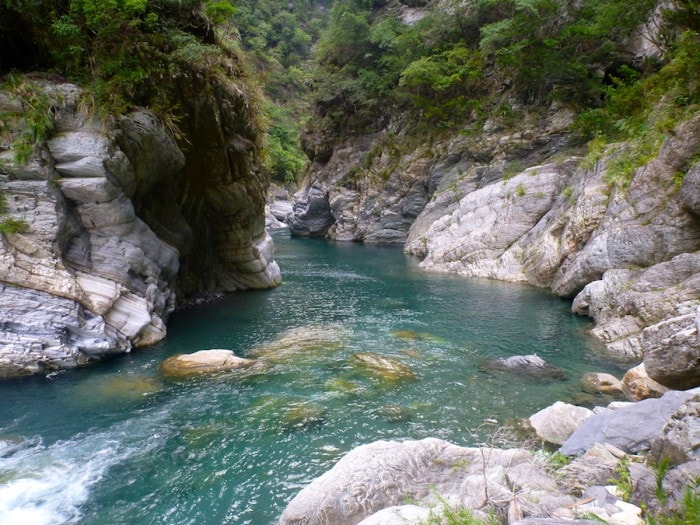 One thing to keep note of, though, is that it's not nearly as commercialized as Taroko. So, you're not going to find things like bathrooms, an information center, or that many places to buy food once you're in. On the flip side, this also means that you'll probably encounter very few, if any, foreign tourists (we only encountered one group of them and they were the ones that told us this place existed in the first place). Plus, it's even closer to Hualien (the city where most people stay to see Taroko) than Taroko itself!
How to get to Mukumugi Gorge
To get there, we decided to rent a scooter and drove there from Hualien (about half an hour). It's relatively straightforward to get there, but I advise you to be smarter than us and get a map of the area from the tourist information center by the train station. You can ask them to give you directions, or you can just follow this lovely map that Rodrigo made here: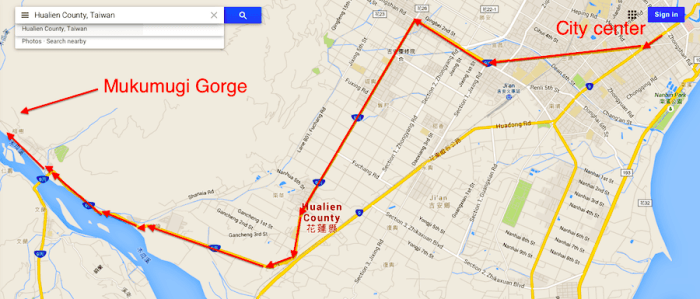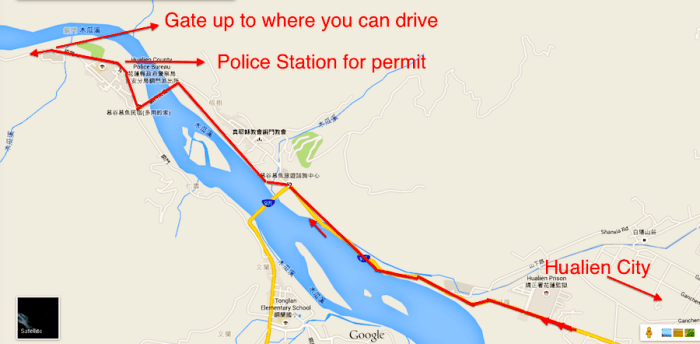 If worst comes to worst, just make sure you have a piece of paper with this name written down in both Chinese and English (you can either copy it here or just ask the hostel / tourist info center to write the Chinese down for you) so you can ask someone if you get lost along the way. Since we didn't bring a map nor do we have Smartphones (stupid, I know), this is what we did. It appeared that everyone knew what Mukamugi was and were therefore able to guide us on our merry way.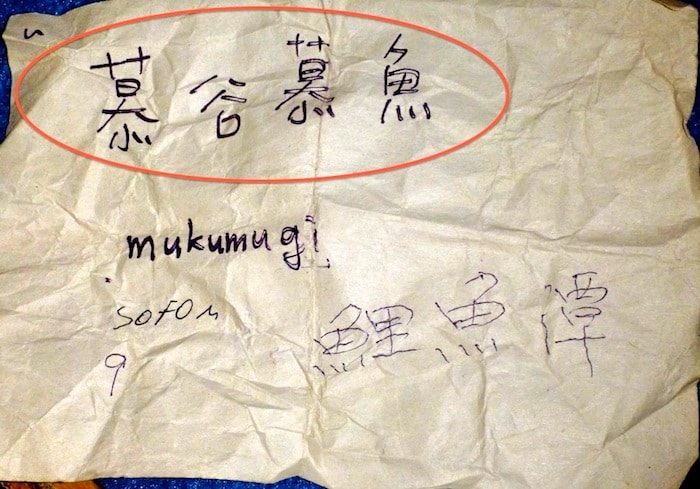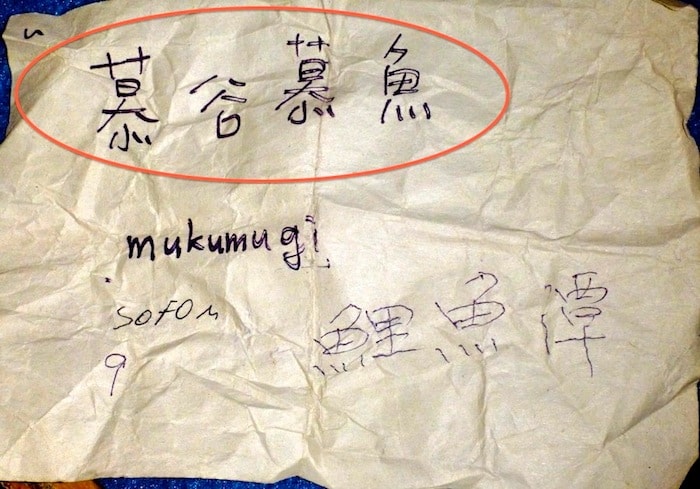 Just two things to remember:
1) You don't need a permit in advance to visit Mukumugi. It's free! You just need to fill up a form at the police station closest to the valley to enter. This is very easy and you will see the police station along the way on your left. You'll probably pass several, so to make sure you got the right one. It's pointed out on the map above:
Basically, you'll just write down your name, phone number, and name of the place where you are staying.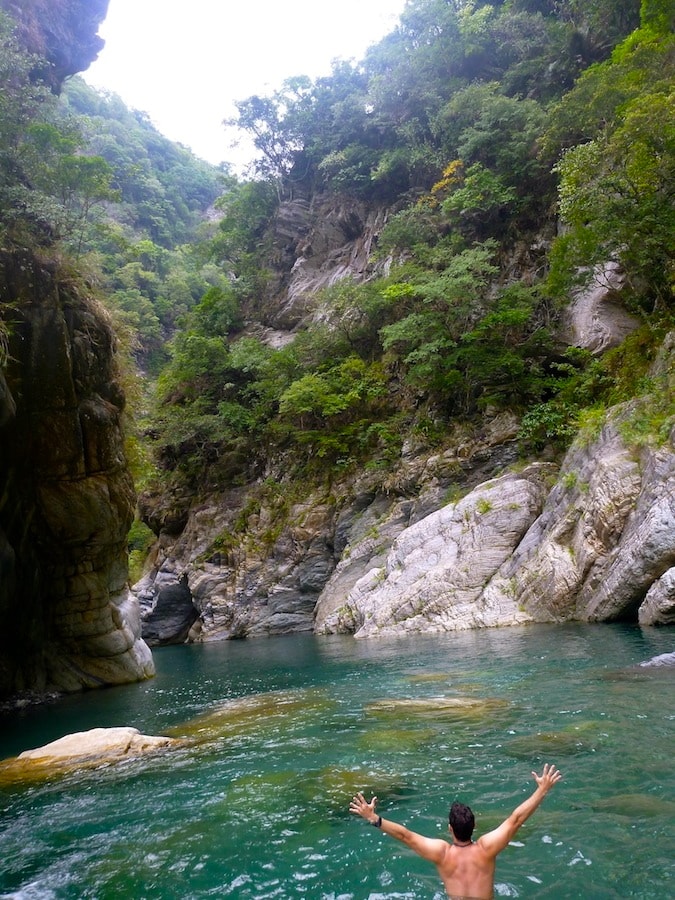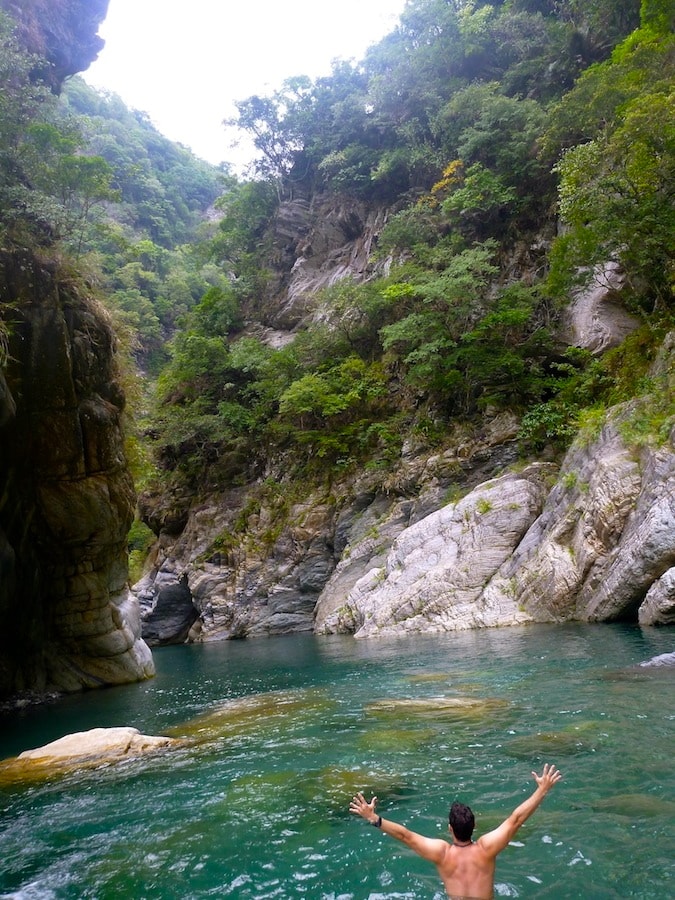 2) It's quite a long walk (at least 30 minutes) from the part where you can park your scooter or car(and, I presume, where taxis would drop you off) to the first pool you can swim at. You see a fairly discrete set of stairs built into the forest on the right that will lead you down to the water. We recommend walking beyond this first pool, though, because the best ones (with the least people) are farther down!
That's it! I hope you enjoyed our tips. Do you have any good advice for Taiwan that we didn't put here? Do you think those we put were good ones? Let us know in the comments area below.
Happy travels!!
*This article was written by the website's contributing editor and author, Nikki Elliott. Nikki is an American who has several big backpacking trips under her belt and is currently teaching English in South Korea. If you wish to contact her about her article, please comment below.
Planning your next trip?

Then don't forget travel insurance! You don't want to get stuck paying a ton of money and ruining your trip if you get sick or have an accident without travel insurance. WorldNomads is ideal for adventurous travelers, backpackers, or anyone looking to be protected during their trip. They cover almost every single activity you can image!

Already reserved your hotel or hostel? If not, we recommend Booking.com. They have a huge selection of hotels and hostels all over the world. Plus, in most cases, you can cancel your reservation without any costs up to a few days before the check-in date!

Still haven't booked your plane ticket and want to save big? Take a look at Momondo. It's a flight aggregator that combines several other ticket search websites to make it easier for you to compare prices and make sure you are getting the best deal.

And finally, will you need to rent a car during your trip? Then check out Rentalcar.com to search and compare car rental companies from all over the world in a single website. Then, you can find the cheapest price for the best car!
If you want to hear about new articles, check out our latest pictures, and read our newest updates, be sure to follow us here….
…..and subscribe to our newsletter below!