Last Updated on by Rodrigo @ OutofYourComfortZone
Costa Rica is the perfect destination for those who love sun, sea and BEACHES! Having not one, but two entire coastlines on both the east and west of the country, there is no shortage of incredible beaches to choose from.
The best part about Costa Rica having so many great beaches is that they all have something totally unique to offer. This means no matter what it is that you are looking for on your vacation, you are guaranteed to find the right beach for you.
Costa Rica is also a destination that has the potential to be pretty expensive. So, if you are on a specific budget, having some knowledge on the different beaches before you go, can really save you some money and time.
So, let's dive into the details of the best beaches in Costa Rica to help you find the perfect one's for you.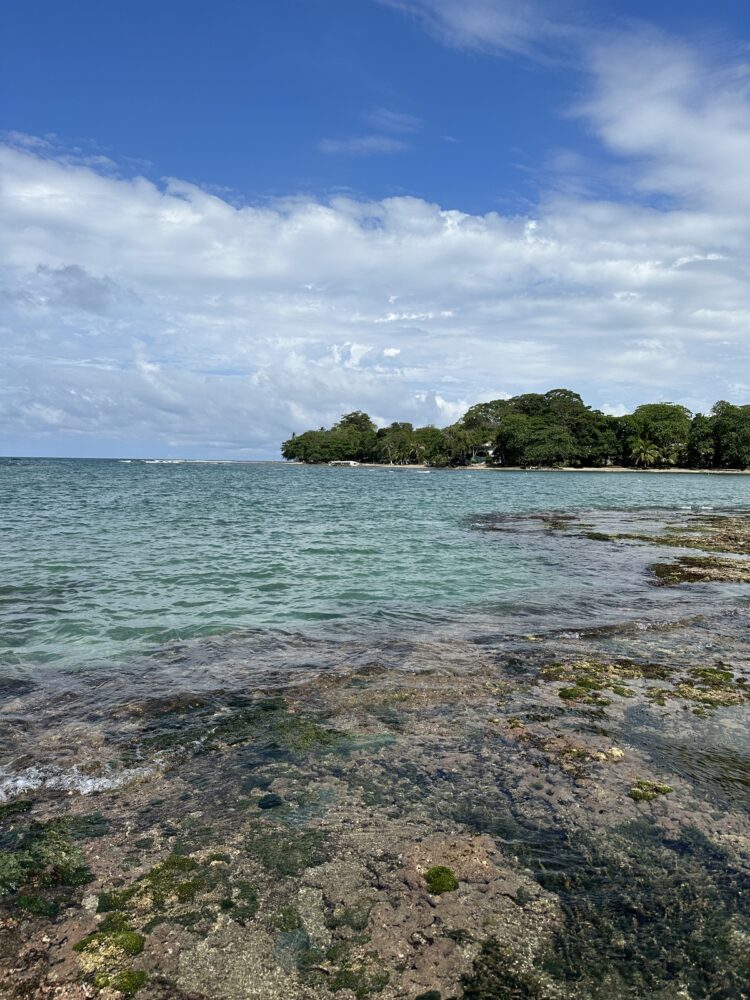 1. Manuel Antonio Beach
Manuel Antonio is particularly special to me as this is where we saw our first sloth in Costa Rica, and not even inside the national park. Allow me to explain… Manuel Antonio has a large stretch of public beach which is free to access and a greta place to relax, swim and even enjoy some water sports if you fancy.
This beach is lined with palm trees and its in these trees we spotted sloths and so many monkeys. In fact the monkey pretty much run the place, which is fun to see. Just remember to keep your belongings close as they do a sweep of the beach looking for a tasty snack.
Manuel Antonio is also home to its own National Park. You can either explore on your own or opt to have a guided tour. We chose to visit independently and arrived as soon as the park opened. This way we go to enjoy the 2 beautiful coves within the park before they filled up with people.
These coves were some of our favourite beaches in all of Costa Rica.
2. Tamarindo Beach
Tamarindo is known to be one of the best surf spots in all of Costa Rica. Its consistent waves and lovely warm waters make it an ideal destination for surfers of all skill levels. Whether you're a seasoned pro or a beginner looking to catch your first wave, Tamarindo offers a variety of beaches to suit all levels.
Luckily for those looking to give surfing a try for the very time, you don't have to go very far at all. Playa Tamarindo is the perfect spot for newbies to take lessons. This area is super easy to access and has some much more relaxed waves.
For the surf pros out there looking for bigger waves the best beaches in the area to head to are Playa Grande, Playa Langosta and Playa Negra.
3. Uvita Beach
Uvita Beach is famous for its unique shape. When seen from the sky this beach takes the shape of a whales tail. Uvita beach is also a protected national park that you do need to pay a small fee to enter.
Once inside the national park you will have access to the vast expanse of golden sandy beach to enjoy. When we visited Uvita we felt as though we had the place all to ourselves. The beach is lined with picturesque palm trees so keep your eyes peeled for the wildlife living among them,
Take some time to wander to the end of the 'whales tail' where it becomes rocky and you can investigate the rock pools for more sea critters.
Uvita is also the best place to jump on a boat and head out to the protected Cano Islands for some of the best snorkelling or Diving.
4. Drake Bay Beach
Drake Bay was our absolute favourite place in all of Costa Rica. It was home to some of the most unspoilt and unvisited beaches. Even the main bay by the town hardly ever had many people on it. So, you always feel like you have your own little private paradise.
The beaches are lovely golden sand and the further you go from the town the more remote the beaches get. You can choose to do the Drake Bay hiking trail, which will take you all along the coast and to several beautiful smaller bays.
Drake Bay is also home to one of the best National Parks in Costa Rica: Corcovado National Park. It is from this beach that you can board a small speed boat to take you deep into the National Park where your chances of seeing wildlife are enormous.
The only thing to keep in mind is that Drake Bay is also the most remote place on this list and takes a little longer and a little more effort to get to, but in my opinion, it is 100% worth it.
5. Santa Teresa Beach
Santa Teresa beach is best known for being a super popular tourist town with a fun boho vibe. Thanks to its long beautiful beach, the town draws in many people and as such is now home to lot of cute boutique hotels, cafes, yoga studios and more.
This is the place to be if you are looking for a good time and good vibes. Come and enjoy a yoga retreat, try some surfing or just spend your days enjoying the sun and the amazing local food.
Santa Teresa is a great place to base yourself if you want to explore some of the smaller neighbouring beaches too, such as Playa Carmen, Manzanilla and Playa hermosa.
While Santa Teresa isn't known for being a party town, its rising popularity brings with it the possibility to party if that is what you are looking for. Their weekly jungle party which is every Saturday night is a huge event that pretty much everyone in town goes to enjoy.
6. Puerto Viejo de Talamanca Beach
Puerto Viejo is a small, quiet and very relaxed beach town on the east coast of the country. This beach town is pretty special as it has both a beautiful pristine white sand beach to the south and a fantastic volcanic black sand beach to the north. Both are just a short 5-minute walk from the centre of town.
Right in the heart of town there are also lots of rock pools which make for some great snorkelling.
From Puerto Viejo it Is also very easy to access Cahuita National Park, one of the cheapest national parks in Costa Rica. This Park is a short bike ride away and is also home to some beautiful white Sandy beaches. Not to mention plenty of cheeky monkeys too.
7. Dominical Beach
Just a short 20-minute drive from Uvita, Dominical is a relatively small beach town with a vast stretch of beautiful sandy beach. Over 4kms of beach in fact. This beach is another great spot for surfers, both experienced and beginners.
Dominical itself is very laid back and not commercialised at all yet, giving it a very authentic and relaxed atmosphere. The town has just about everything you could need for a short and pleasant stay.
One of the great things about Dominical is how easy it is to get a piece of of the beach all to yourself. Just a short stroll from town and you will have the whole place to yourself.
8. Jaco Beach
Last but not least, Jaco Beach is one of the closest and easiest beaches to get to from San Jose. This makes it a great first or last stop on your visit to Costa Rica.
Jaco is unlike many of the other beaches I have mentioned on this list because it is so developed. It is more like a small city with strong Miami Vibes than a small coastal town. With that being said, they may just be exactly what you are looking for.
Jaco is very well known for its party scene, casinos, fast food and high-rise resorts. On the other hand, it is still Costa Rica so naturally the beach is stunning and the surf is great!
Best Beaches in Costa Rica FAQs
To make sure I cover all the bases of the best beaches in Costa Rica, here are some answers to a few more frequently asked questions;
Which side of Costa Rica has the clearest water?
To answer this, we turned to the locals (as well as from our own experience) and the Caribbean or east coast of Costa Rica is a clear winner when it comes to the clearest waters and best beaches.
What is the most swimmable beach in Costa Rica?
I found the small beach coves within Manuel Antonio National Park to be the best beaches for swimming. The idillic coves have very little waves and no real currents, as well as beautiful clear water.
What are the best beaches in Costa Rica for Families?
From the beaches listed in this post the best beaches for families to visit would be Manuel Antonio and Puerto Viejo. They are easy to get to, they are safe beaches and have everything you could need to entertain a family.
What are the best beach resorts in Costa Rica?
Some of the most popular and well rated beach resorts in Costa Rica are The Westin Reserva Conchal All Inclusive Golf Resort & Spa near Tamarindo Beach and Arenas Del Mar Beachfront & Rainforest Resort in Manuel Antonio.
To Sum Up…
What are the Best Beaches in Costa Rica?
Manuel Antonio Beach

Tamarindo Beach

Uvita Beach

Drake Bay Beach

5. Santa Teresa Beach

Puerto Viejo de Talamanca Beach

Dominical Beach

Jaco Beach
Costa Rica truly does have some spectacular beaches and beach towns, as you have seen in this list. My advice for anyone planning to visit Costa Rica is to hire a car and explore the country at your own pace.
Pick the beaches that sound like they have what you are looking for in a vacation and plan to visit a few different ones to get a real feel for the best the country has to offer. Everywhere is so different that you will be sure to find new and fun things to do wherever you go.
Author Bio – Contributed by Callie from Counting Our Footsteps Travel Blog. Callie and her partner Guido are currently full-time backpacking through Central and South America, whilst working on their blog. Callie's love of nature and wildlife is what drives their travels and Costa Rica was a particularly special place for them, thanks to all the incredible encounters they had there. You can follow their travels on Instagram or YouTube
Planning your next trip?

Then don't forget travel insurance! You don't want to get stuck paying a ton of money and ruining your trip if you get sick or have an accident without travel insurance. WorldNomads is ideal for adventurous travelers, backpackers, or anyone looking to be protected during their trip. They cover almost every single activity you can image! Plus, you can have a 5% discount with the coupon code comfort5.

Already reserved your hotel or hostel? If not, we recommend Booking.com. They have a huge selection of hotels and hostels all over the world. Plus, in most cases, you can cancel your reservation without any costs up to a few days before the check-in date!

Still haven't booked your plane ticket and want to save big? Take a look at Momondo. It's a flight aggregator that combines several other ticket search websites to make it easier for you to compare prices and make sure you are getting the best deal.

And finally, will you need to rent a car during your trip? Then check out Rentalcar.com to search and compare car rental companies from all over the world in a single website. Then, you can find the cheapest price for the best car!