Last Updated on by Rodrigo @ OutofYourComfortZone
Brazil is a massive country – the 5th largest in terms of territory and the 6th largest in terms of population. So, it should come as no surprise that each corner of the country holds different cultures, customs, and surprises for travelers. 
And of all the beautiful places that the country has, the state of Minas Gerais is certainly one of the most noteworthy. 
And yet, not nearly enough overseas visitors make it to Minas Gerais as they instead focus on the "big names" like Rio and São Paulo. 
But between the area's natural beauties, historic cities, and welcoming people, it's definitely one of Brazil's best off-the-beaten-path destinations! 
So if you're traveling through Brazil, try to make some time for this stunning region. And as a Brazilian myself, I created the 7-day Minas Gerais itinerary below to help you know exactly what to see and what to do while you're there. 
In the itinerary below, you'll find the main cities and best attractions of Minas Gerais alongside some tips to help you make the most of your visit to this state.  
But first….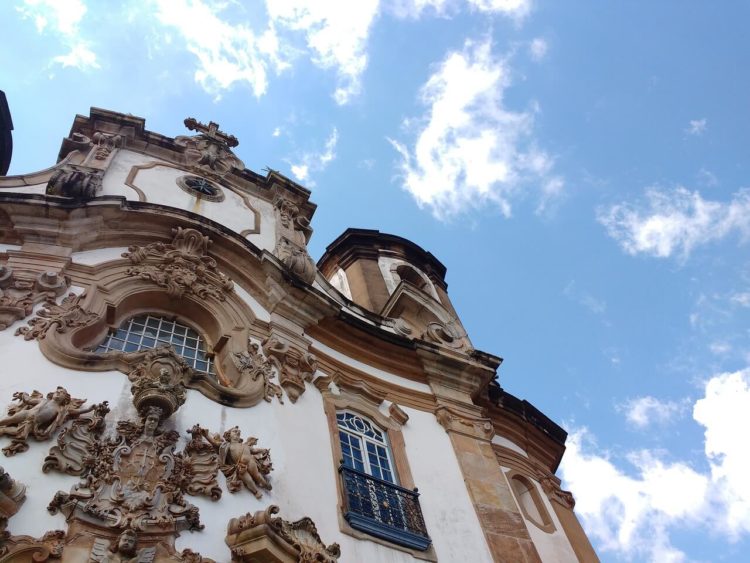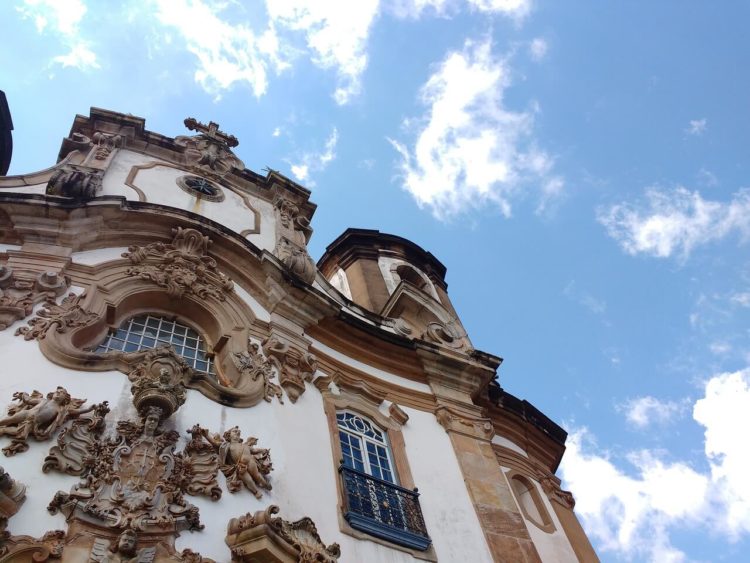 Why visit Minas Gerais, Brazil? 
Before we get to the itinerary, I think it's important to point out a few of the great reasons to visit Minas Gerais (especially because it is so often overlooked). 
For one, it's one of the largest states in Brazil….meaning you'll find a great variety not just geographically, but also culturally. Yet, there are a few factors that you'll find unify the region. Their particular Portuguese accent, their mannerisms, the architecture. 
And I think it's this unified diversity that makes Minas such a unique area of Brazil. 
Of course, there are also many other reasons to visit this state, which I'll talk more about below. They include: 
The historic

colonial

towns of Minas Gerais 

The welcoming people of Minas Gerais

The natural attractions of Minas Gerais 

The Minas-style comfort-food cuisine 
The historic colonial towns of Minas Gerais

 
In my opinion, there's no better way to understand the present than to know the past. And Minas will give you a true outdoor lesson in Brazilian history with its abundance of churches, monuments, mansions, and historic streets across its cities. 
In fact, Minas is famous for these historic colonial towns, a number of which have UNESCO old towns and other UNESCO sites. 
Each of these places you visit will share a bit of my country's history with you from its colonial past to its more recent happenings. 
And after a visit to towns like these, I'm sure that you'll have a deeper understanding of the country you're visiting than if you just visited the big cities or beach towns. 
The welcoming people of Minas Gerais
One of the biggest reasons to follow the 7-day Minas Gerais itinerary below is to have the chance to meet locals as the population of Minas (called "Mineiros"), who are known to be some of the most welcoming people in all of Brazil! 
And there's a reason for it! No matter where you go, even if you run into a language barrier, you'll definitely feel welcome and comfortable during your trip. 
In my opinion, it's the people of a place, not just landscapes and museums, that are an important part of the way you'll feel about a country later on. In other words, this alone can make a trip worth it!    
The natural attractions of Minas Gerais

 
When talking about reasons to visit Minas Gerais, we simply can't skip out on its natural beauties. Across the state of Minas, you can appreciate just about everything: rivers, mountain chains, canyons, waterfalls, caves, and much more. Actually, Minas Gerais has some of the most beautiful waterfalls in the world! 
In other words, a trip to Minas Gerais is great for anyone who likes nature or practicing adventure sports! Actually, in Brazil we often joke that for Minas to be perfect, they'd just need a beach.
That said, you can be sure that all you'll find here will replace the sand and the sea just fine…beyond the rivers and lakes that also help make up for the absence. 
The Minas-style comfort-food cuisine  
Cuisine is very important in Minas, and it'd be almost a sin to not try at least one typical Minas meal while you're there! 
From "feijão tropeiro" (a traditional dish made with beans, bacon, sausage, collard greens, eggs, and manioc flour) to "leitão à pururuca" (a crunchy snack made out of fried pig skin) to the famous "bambá de couve" (a cabbage-based soup), you won't have trouble eating until you can't anymore! 
For breakfast, nothing can top the famous Brazilian "pão de queijo" ("cheese bread") from its place of birth…right in Minas itself! But of course, you can also eat it all afternoon, evening, and night. We don't judge when it comes to pão de queijo 🙂 
And for those with a sweet tooth, Minas Gerais is truly paradise. Homemade milk candies ("doces de leite"), pumpkin dessert ("doces de abóbora," and guava sweets ("goiabadas") are just a few of the examples of what you'll find plenty of here. 
Ah, and for fans of cachaça, a strong Brazilian liquor made from sugarcane, Minas is known for having some for the best in the world. So, how about a trip to a distillery during your trip to Minas?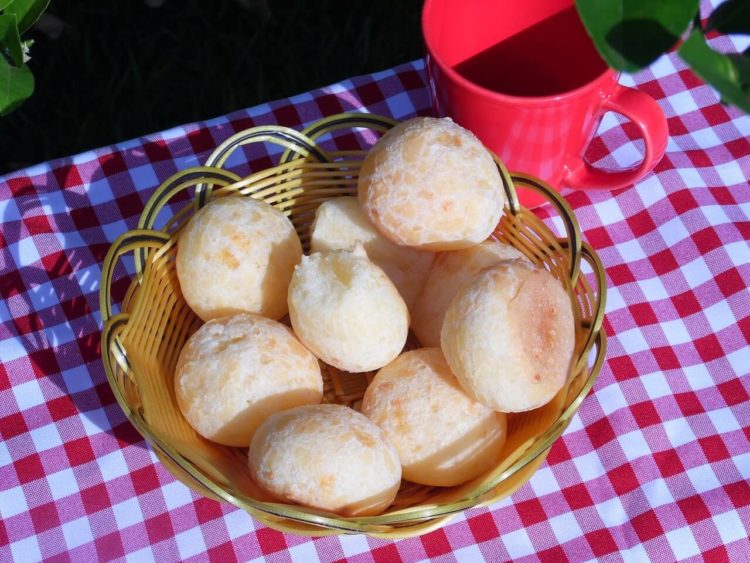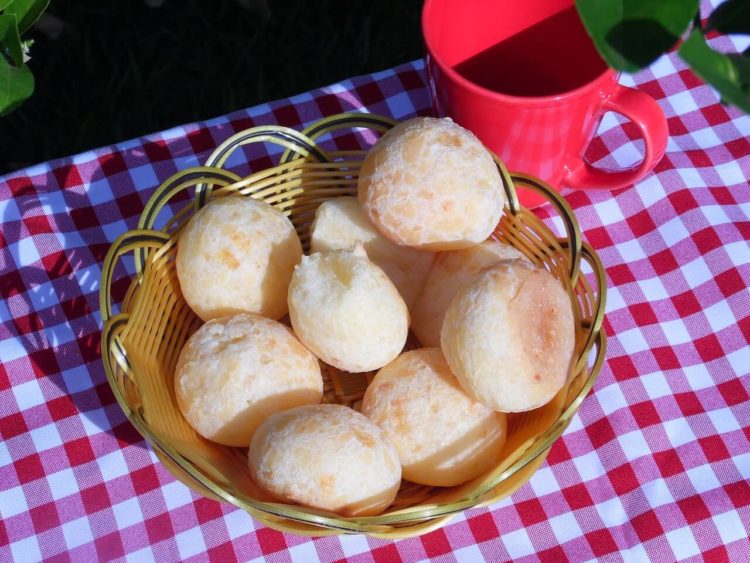 What to do in Minas Gerais:

1-Week Itinerary in Minas Gerais, Brazil
Well, hopefully by now you've been convinced to visit Minas Gerais during your trip to Brazil. 
So now comes the time to share our 7-day Minas Gerais itinerary with you. Throughout the itinerary, I've tried to include the best of what the state has to offer so you can not only make the most of your time, but also have a range of experiences during your trip. 
It's worth keeping mind that this itinerary is just a suggestion, it's not a handbook that you must follow to a tee. In other words, take the itinerary and adapt it however you like! For example, if you like to explore the great outdoors, then give yourself more time for the region's natural beauties. 
And, of course, the order of the cities you visit can also be swapped. Just think of this itinerary as a starting point that you can use to build out your perfect trip in Minas Gerais. 
The 7-day Minas Gerais itinerary below looks something like:

Day 1: São João Del Rei & Tiradentes

Day 2: Ouro Preto

Day 3: Ouro Preto 

Day 4: Belo Horizonte

Day 5: Belo Horizonte

Days 6 & 7: Capitólio
Here's a map giving you idea of where the places we are going to be talking about are all located:  
But before we get into more details about this…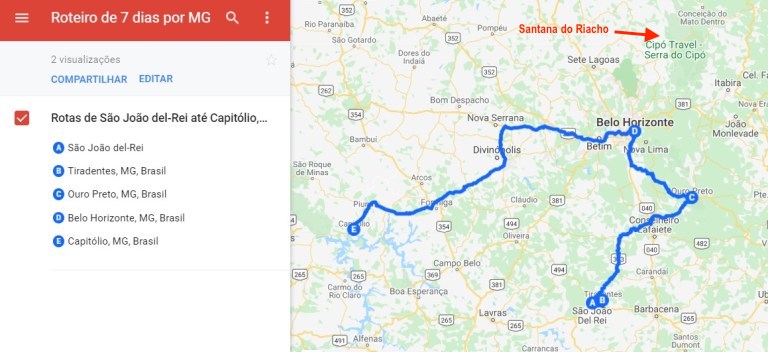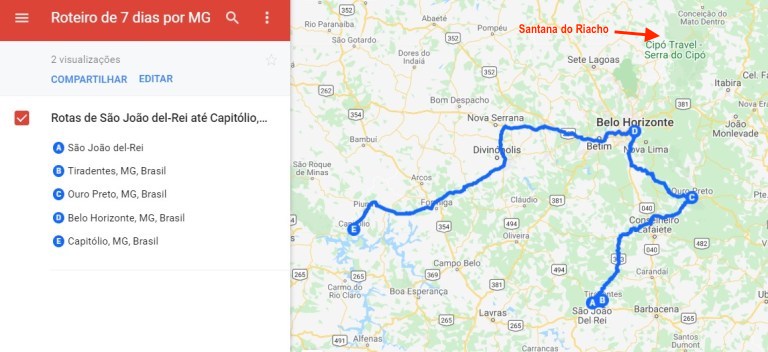 How to get to Minas Gerais
What city should I fly to get to Minas Gerais? 
If you're flying to Minas Gerais, then Belo Horizonte, as the capital of Minas Gerais and a city of well over a million, will be the easiest and cheapest airport for you to land in.
To help with your search for a cheap plane ticket, take a look at my article with 16 Tips to Save on Flights.  
Can I take a bus to Minas Gerais? 
There are buses that leave from São Paulo and go to a number of cities (including the ones in this itinerary) in Minas Gerais. 
Be warned that these buses are quite long (São Paulo to Belo Horizonte, for example, is 9+ hours). 
If you're interested in getting to Minas Gerais by bus, my article with the 2 Best Long-Distance Bus Ticket Companies in Brazil can help. 
How can I travel between the stops in the itinerary once I'm in Minas Gerais? 
To save time, have more flexibility in your travel schedule, and be able to access everywhere you want to go (for example, many of the natural attractions I mention won't be accessible by bus), I'd highly recommend renting a car to do this itinerary. 
In which case, my article with the best and cheapest websites for renting cars can help. 
Alternatively, there are local buses that will go between each of the stops on the itinerary (or at least the cities…it may be trickier to get to the national parks and other more isolated attractions). You can either ask around on arrival or look at these Brazilian bus company websites here and try to buy your tickets ahead of time. 
Day #1 in our 7-Day Minas Gerais Itinerary: São João Del Rei 
What could be a better way of beginning our itinerary than with one of the most well-known historical cities in Brazil? 
São João Del Rei, located in the heart of the state and a place of great importance during the Brazilian gold rush, is full of old colonial mansions, museums, and churches that'll make your jaw drop!  
Put another way, there's a lot of attractions to visit here! 
What to do & see in São João Del Rei: 
São Francisco de Assis Church ("Igreja de São Francisco de Assis") 

Our Lady of the Pillar Cathedral ("Catedral de Nossa Senhora do Pilar")

Street of the Crooked Houses

("Rua das Casas Tortas")

 

Railway Museum ("Museu Ferroviário")  
If you've like to spend some time outdoors, São João Del Rei is just outside the São José mountain range ("Serra de São José"), where you can find some incredible views. It's a good spot to explore along the way to Tiradentes, which is just 30 minutes by car from São João Del Rei. Mangue Waterfall ("Cachoeira do Mangue") is another must-see stop for nature lovers that lies not too far away from Tiradentes. 
And Tiradentes, our next stop, is another city of historical significance and beauty. 
Fun fact: the translation of "Tiradentes" in English is roughly "tooth puller" as the city is named after a dentist who was a leading member of a Brazilian separatist movement looking for independence from Portugal. 
You can learn more about this cool guy here. 
What to do & see in Tiradentes: 
Church Matriz of Santo Antônio ("Igreja Matriz de Santo Antônio") 

José São José Spring ("Chafariz de São") 

Forras Square ("Largo das Forras") 
I've put these two small cities on the first day since they are quite small and very close to one another, so you can see their main sights fairly quickly. However, do be sure to take some time to get lost and wander through their historical streets.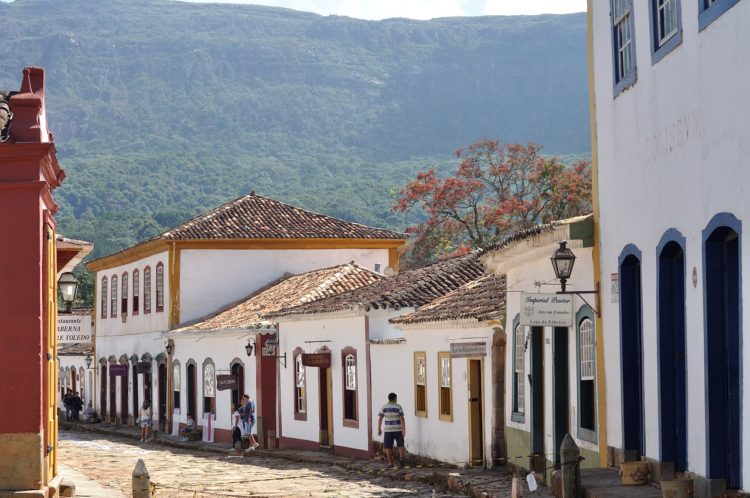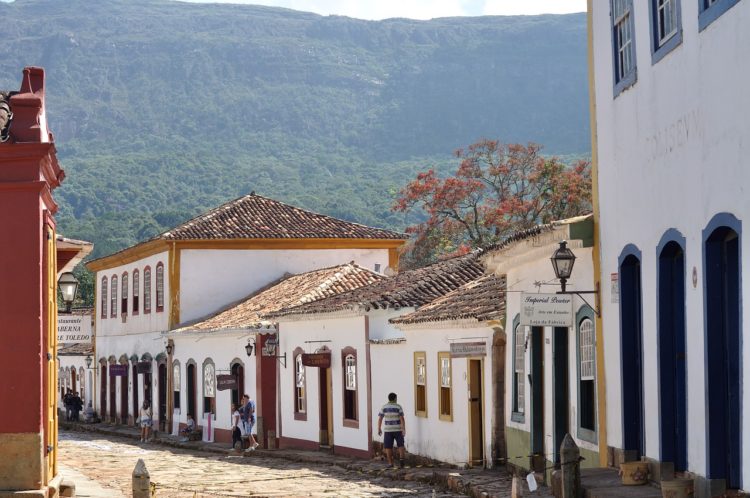 Day #2 in our 7-Day Minas Gerais Itinerary: Ouro Preto

 
Ouro Preto (fun fact: this means "Black Gold" in Portuguese!) is one of the major cities in the state of Minas Gerais, and is located roughly 160 km from Tiradentes. The trip between the two takes roughly 3 hours by car (although you can also find buses here), so you can easily do it in the morning and still have the rest of the day to explore. 
Visiting Ouro Preto truly feels like stepping back into the past. 
As one of the largest cities in the colonial period, Ouro Preto was a strategic economic and political location for a long time. Not to mention, as a visitor, you'll surely fall in love with the unique architecture and natural beauty that surrounds the city. After all, Ouro Preto is a UNESCO world heritage site! 
What to do & see in Ouro Preto: 
Museu da Inconfidência (a museum dedicated to those who died during a failed rebellion movement that wanted independence from Portugal) 

Church of São Francisco de Assis ("Igreja de São Francisco de Assis")

Tiradentes Square ("Praça Tiradentes")

Passagem Gold Mine ("Mina de Ouro da Passagem") 

Chico Rei Mine ("Mina de Chico Rei") 
There are many things to do in Ouro Preto. But for the first day, I recommend you spend some time just wandering and getting a feel for the city by visiting some churches and the museum listed above. And don't miss the chance to spend the night with a stroll through Praça Tiradentes, where you can have a meal in a traditional Mineira restaurant. Because, as I said above, you'll never regret eating too much Mineira food! 
Day #3 in our 7-Day Minas Gerais Itinerary: Ouro Preto
On your second day in Ouro Preto, I recommend visiting the city's decommissioned gold mines (keep in mind, the state's name of "Minas Gerais" means "General Mines" in English so you know they are important!), which are impressive sights and will teach you a lot about the history of the area. 
I recommend the following two mines: 
Mina de Ouro da Passagem

Mina do Chico Rei
If you have more time, a walk through Itacolomi State Park, with its incredible natural beauty and enormous biodiversity, is a great option. 
Beyond that, the city of Mariana, which is about 30 minutes by car from Ouro Preto, is another option for a visit. Although Mariana went through a tragedy during the 2015 Mariana dam disaster, it's still a major historical and touristic spot that demonstrates impressive resilience as well.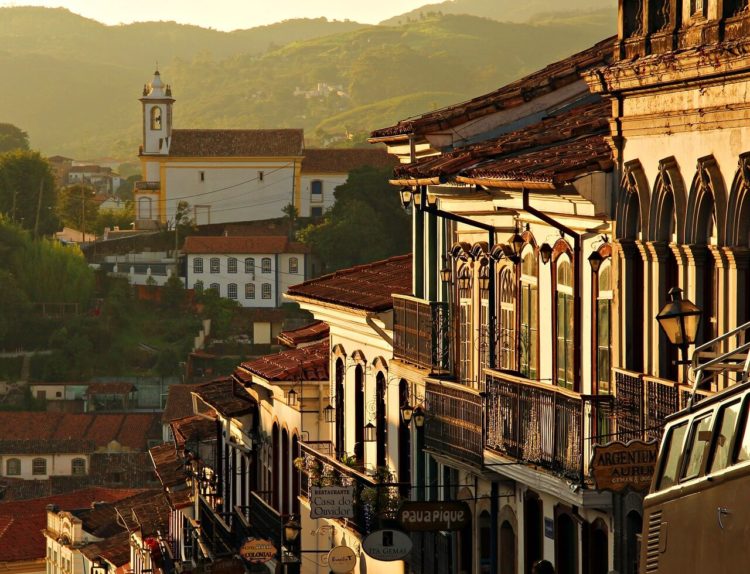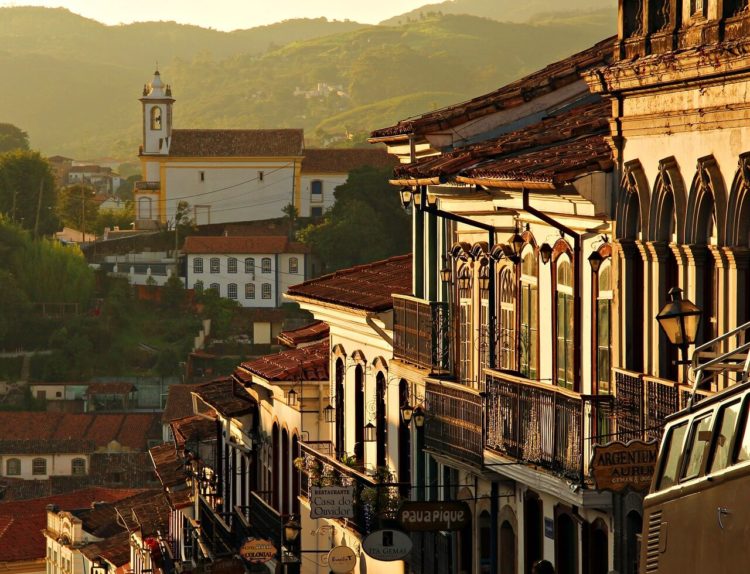 Day #4 in our 7-Day Minas Gerais Itinerary: Belo Horizonte
It's strange that most itineraries you find online for Minas Gerais don't include that state's capital: Belo Horizonte. 
However, Belo Horizonte is a big city with a lot of offer, especially if you like a bit more "city life" while traveling. 
And given that it's one of the largest cities in Brazil, there's plenty of things to do. So, I'll include a short list of the main things to do in Belo Horizonte. 
What to do & see in Belo Horizonte: 
Lake Pampulha ("Lagoa da Pampulha")

Liberty Square ("Praça da Liberdade")

Curial Chapel of São Francisco de Assis ("Capela Curial de São Francisco de Assis")

Mangabeiras Viewpoint ("Mirante do Mangabeiras")

Mine and Metal Museum ("Museu das Minas e do Metal")

Serra do Cipó National park (about 2 hours by car from Belo Horizonte)
I think that everything on the list above is interesting, but if you want to stray a bit from the usual tourist trail, it's definitely worth wandering through the city center, the markets, the stores, the restaurants, and the nightlife. And here's a tip – Belo Horizonte has some great nightlife!
Day #5 in our 7-Day Minas Gerais Itinerary: Belo Horizonte 
As with my advice for the second day in Ouro Preto, I also recommend that you take your second day in Belo Horizonte to wander through the city a bit more. After all, you won't be able to visit all the main points of interest in a single day, so it's worth making sure you have more time!
If you still find yourself with leftover time, a visit to the Instituto Inhotim, home to one of the biggest collections of contemporary art in Brazil and considered the largest open-air museum in the world won't disappoint!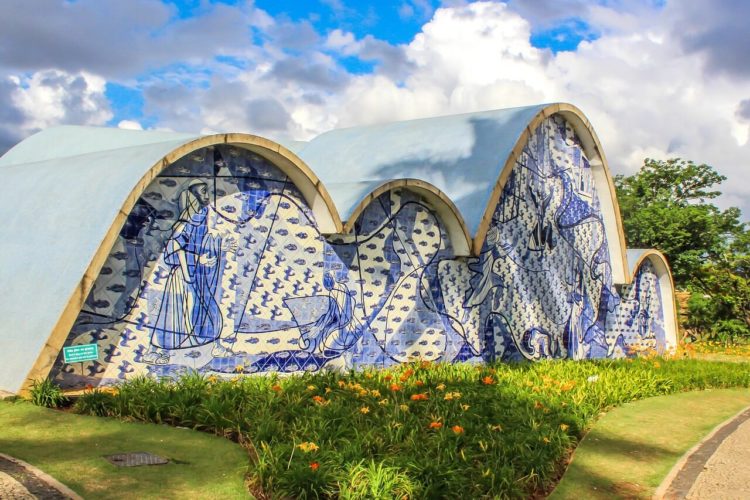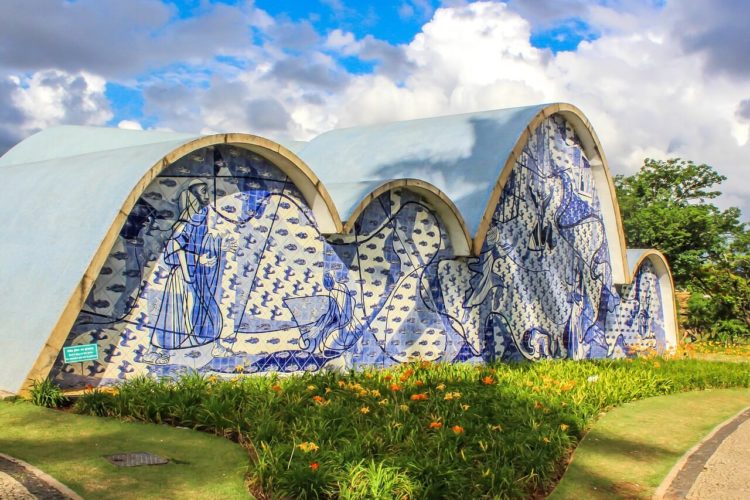 Bonus stop if you have more time in Belo Horizonte and like nature & adventure sports
If you have a bit more time in Belo Horizonte and you like nature and extreme sports, then I highly recommend heading to Parque Nacional da Serra do Cipó (Serra do Cipó National Park). More specifically, to Santana do Riacho, a village located in the Serra do Cipó National Park just under 2 hours from Belo Horizonte (it'll be easier to get to via rental car but buses do also exist). 
From there, you'll find everything you need to explore this region of waterfalls, creeks, canyons, and wildlife like maned wolves and giant anteaters. 
If you fly to Belo Horizonte and want to save on your rental car to get to Serra do Cipó National Park, I recommend taking a look at my article with the 5 best and cheapest websites to search for and book rental cars in Brazil. 
Day #6 & 7 in our 7-Day Minas Gerais Itinerary: Capitólio 
Capitólio is a municipality located some 300km from Belo Horizonte, or 4 to 5 hours by car. But believe me, the trip will be worth it! 
Capitólio has become one of Brazil's main spots for domestic tourism over the past decade thanks to all of its attractions and its proximity to the Parque Nacional da Serra da Canastra (Serra da Canastra National park). 
This region is home to one of the most famous canyons in Brazil, and one of the most beautiful you'll ever see: Furnas Canyon. The color of the water and the view from up above will leave you speechless! 
Beyond this, you'll also find plenty of waterfalls, lakes, and natural pools to enjoy and explore. And thanks to the rise in tourism over the years, the infrastructure in the area has improved a lot over the last years. So, it's not hard to find good restaurants, bars, and hotels close to nature. 
Another option to spend more time in the great outdoors is to camp. One example of a great place to camp is near the Blue Lagoon Waterfall ("Cachoeira Lagoa Azul") in Serra da Canastra National park, which is just 30 minutes by car from Capitólio. There are several options that are always full of people from all over the world to meet and enjoy together, especially in high season.

Given all the things that there are to do, I think that the last 2 days in Capitólio and parts of Serra da Canastra are truly the cherries on top of your week in Minas Gerais.
But of course, as I said above, you can adapt this itinerary however you like to spend more time in a specific attraction or city in Minas that interests you.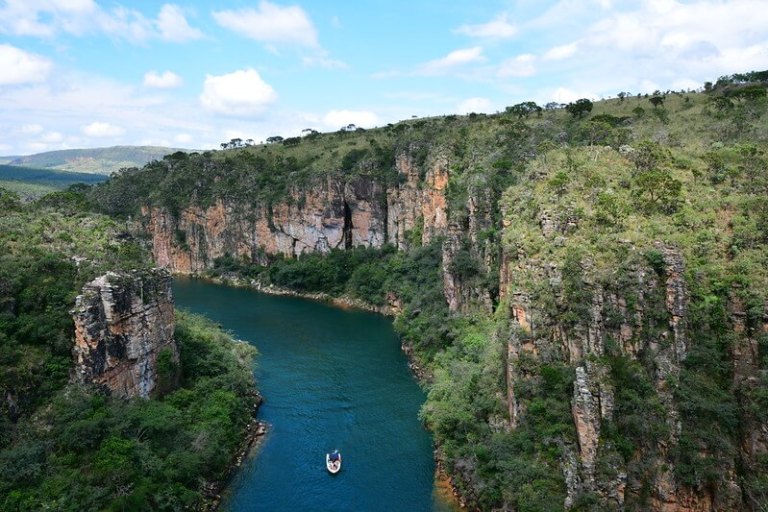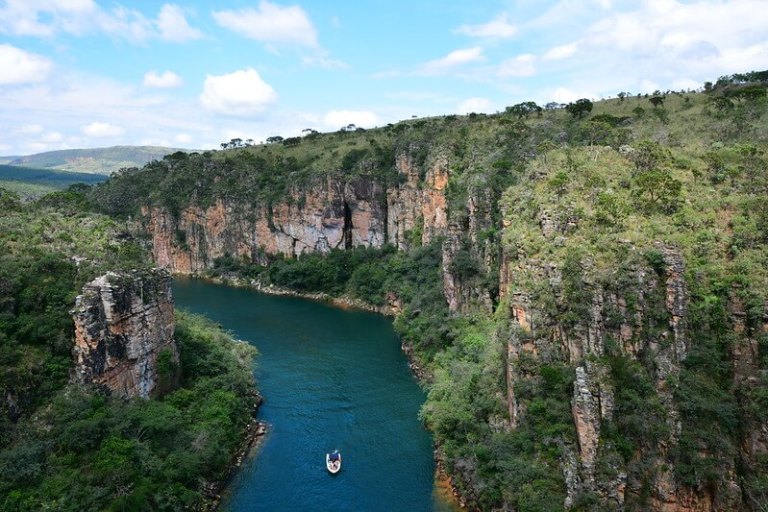 Other things to do in Minas Gerais: 
If you have more time in Minas Gerais, here's some great national parks that are worth visiting: 
Caparaó National Park

Itatiaia National Park

Grande Sertão Veredas National Park 
And here are some other cities that you may want to consider visiting: 
Uberlândia

Juiz de Fora

Uberaba
Where to find tours, attractions and activities in Minas Gerais
One of the things I always recommend when organizing a trip is planning. With good planning you can save a lot of money and still avoid any problems during your trip. Things like transportation, accommodation and tours require prior planning. One tool I use to find attractions and tours in the most diverse destinations is GetYourGuide and Viator. These sites have several leisure options in different price ranges and styles.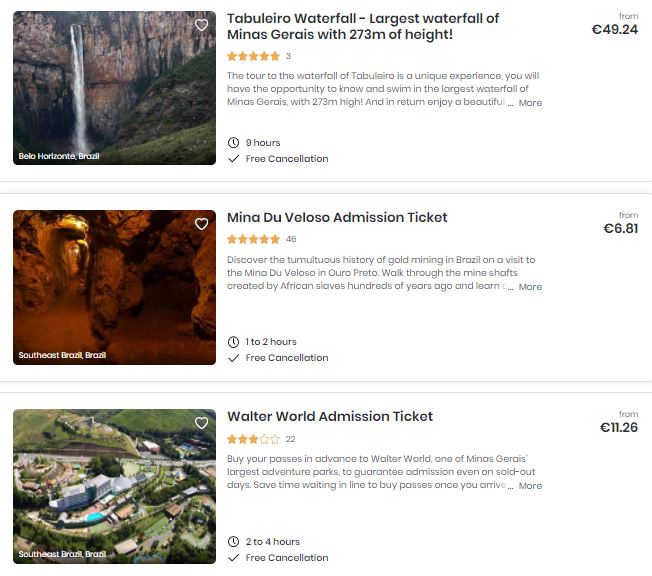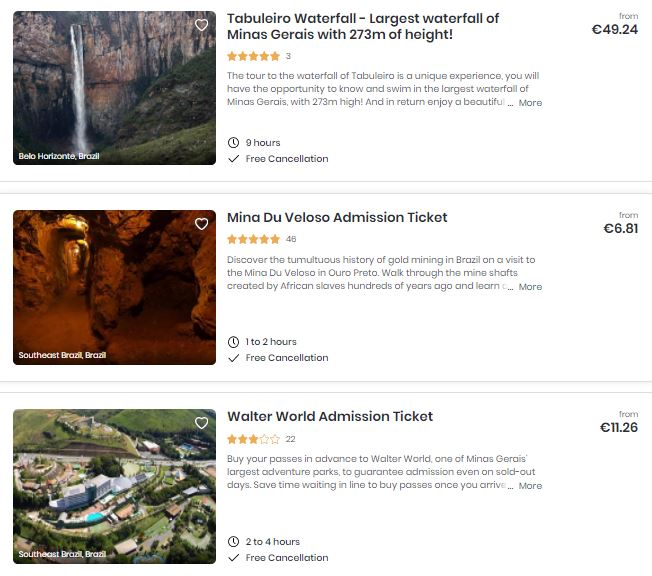 In conclusion…
Minas Gerais is an enormous state with the cultural and geographic diversity to match. So, it's certainly not easy to narrow down what you should visit in just a week. 
And, of course, I also believe Minas has much more to offer than just the list I included above….but not everyone has the time to travel more than a week. So if this was a 10-day or more itinerary in Minas Gerais, are there any cities or attractions that you'd either add in or remove? 
If you have any final comments about planning your trip to Minas to match your specific travel style, just leave me a comment below and I'll get back to you! 
Planning your next trip?
Then don't forget travel insurance! You don't want to get stuck paying a ton of money and ruining your trip if you get sick or have an accident without travel insurance. WorldNomads is ideal for adventurous travelers, backpackers, or anyone looking to be protected during their trip. They cover almost every single activity you can imagine! Plus, you can have a 5% discount with the coupon code comfort5.
Already reserved your hotel or hostel? If not, we recommend Booking.com. They have a huge selection of hotels and hostels all over the world. Plus, in most cases, you can cancel your reservation up to a few days before the check-in date without any costs! 
Still haven't booked your plane ticket and want to save big? Take a look at Kayak and Momondo. They are flight aggregators that combine several other ticket search websites to make it easier for you to compare prices and make sure you are getting the best deal. 
And finally, will you need to rent a car during your trip? Then check out Rentalcar.com to search and compare car rental companies from all over the world on a single website. Then, you can find the cheapest price for the best car!