Last Updated on by Lohanna Reis
Because of the pandemic and the resulting travel restrictions in 2020, people have become more spontaneous when it comes to traveling, making snap decisions to go on weekend getaways and vacationing to domestic travel destinations.
In fact, a global study found out that 35% of US travelers in 2021 tend to vacay at the drop of a hat if they can. However, most people find out that making snap decisions can result in an unsatisfying vacation. Since the trip is barely planned, most of the trip is spent on Google looking for things to do or where to go, possibly making the trip a bust.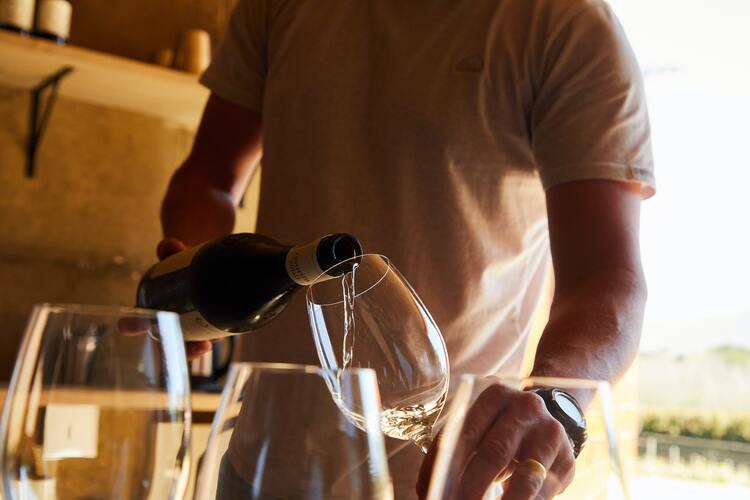 If you're looking to go on a quick yet relaxing getaway that doesn't take much planning, consider going on a wine tasting tour in Texas. The state may be famous for its barbecue, live music, and sports scene, but it also has a lot of vineyards and wineries.
So, if you suddenly decide to go on a wine-tasting weekend trip to Texas, here are the top places you can visit.
1. Fall Creek Vineyard
In 1975, Ed and Susan Auler established Fall Creek Vineyard. They wanted 100% Texan wine that can compete worldwide, and it only took them a few years to achieve that goal. Located on Lake Buchanan, the vineyard has a peaceful and rural atmosphere with a touch of European country flair.
Their standard wine tasting session is at $16, which actually features wine varieties made with grapes locally grown in the Texas Hill Country.
The good news is that the vineyard is only an hour away from Austin, so if you're staying in the city, you can easily make plans to go visit Fall Creek Vineyard to indulge in some world class wine and have a relaxing time.
You can even visit some massage places in Austin in between the vineyard visits to truly have a rejuvenating weekend trip. Having a full body massage at a spa can greatly reduce stress and help improve wellness. Moreover, spending time at a spa during your weekend getaway will definitely make your wine tasting weekend vacation worthwhile.
2. The Duchman Family Winery
If you are looking for a picturesque view with your wine, you should definitely visit the Duchman family's Texas Hill Country winery. Here, you will see Tuscan-style red roof tiles and stone walls that mimic the best wineries in Italy. It is so beautiful that HGTV named it as one of the most picturesque wineries in America.
They offer six wine varieties during their standard wine tasting tour, which costs $15 per person. Make sure to try the Duchman Family Canto Felince Red, the 2017 Duchman Family GSM, and the 2019 Duchman Family Trebbiano.
After the wine tasting tour, you can also enjoy great food in the area, like Italian food at Trattoria Lisina or Texas barbecue at Salt Lick BBQ restaurant. All of these factors make the Duchman Family Winery one of the top wine destinations in Texas.
3. Kuhlman Cellars
Less than one hour west of Austin, you can find Kuhlman Cellars. This winery is famous for their red wine Alluve, which is named after the estate's alluvial soil. They offer different types of wine experiences, including one where you can taste four of their wines paired with chef-prepared small bites and a sample of their famous herbed almonds.
It is suggested that you try The Lone Star 2021 Gold Star, which received 2 Gold Medals at Winning Wines, the 2020 Kuhlmanation Estate Rose, or the 2020 Kuhlmanation Estate White.
The wine and food pairing costs $22.50 per person, but you can get a $5 deduction for every bottle of wine you buy —a great deal, indeed. You can also take a tour of the place and have an Estate Experience wherein you can have a look at their working winery.
You may even make a reservation for a picnic experience so you can have a relaxing afternoon outdoors while enjoying quality wine and delicious food.
4. Bending Branch Winery
This winery is situated a few miles northwest of San Antonio. Bending Branch Winery is a sprawling 56-acre land, 14 acres of which is used to grow several Mediterranean varietals.
Founded by the Young Family in 2009, it already established itself as a reputable winery in Texas. Their red wines actually won the San Antonio Express-News Readers' Choice Award for Best Texas Winery from 2015-2018.
Visitors are invited to try their 2018 Estate Tannat, Lost Pirogue Vineyard, a silky red wine with notes of smoky black cherry, cinnamon, and clove. This wine won Gold at the 2021 San Francisco International Wine Competition.
You should also try their 2020 Estate Picpoul Blanc, Lost Pirogue Vineyard if you prefer a white wine with refreshing fruit notes and acidity. Their current wine tasting is at $30, which includes five varieties of wines with food pairings. This also includes a souvenir wine glass. You can even bring your pets along, just as long as they are well-behaved.
5. Messina Hof Hill Country Winery
Probably one of the oldest in Texas, Paul Vincent and Merrill Bonarrigo founded Messina Hof in 1977, and since then, they have been producing premium Texas wines that people love. They are one of the largest producers of 100% Texas wine and have become one of the most award-winning wineries in Texas.
They have four main locations, but The Hill Country winery is probably the most popular one. It is located in Fredericksburg and is situated on a 10-acre property. This location offers more than 50 wines in their tasting room. However, you should try their bestseller: the Harvest Green Augmented Reality Wine Collection.
The property also has a bed and breakfast establishment with four uniquely furnished, rustic-chic cottages. You can stay there for the weekend, experience the scenic vineyard view, and go on wine tasting sessions.
They offer a standard wine tasting tour that features food and wine pairing for $28 per person. As for activities, you can go hiking, biking, or swimming in the river. With all these activities in one place, it is definitely worth a visit.
6.

Spicewood Estate Vineyard
At 35 miles northwest of Austin, you will find the Spicewood Vineyards. Texas natives Ron Yates and Todd Crowell founded the winery, and the estate is a 32-acre property that houses a sprawling vineyard. It has a rustic and relaxing atmosphere, and the site is so attractive that it has become a popular venue for weddings, parties, and other private events.
And, of course, they have great wines. Their most popular wine is the Good Guy, which is a Tempranillo blend that is often requested by guests. They also offer more than 10 other types of wine, including a 2019 Cabernet Claret, 2019 Tenpranillo HP Black Label, and the 2017 Estate Syrah.
Their tastings range from $15-$30 per person, and the price depends on the wines you want to sample. They also sell cheeses and charcuterie boards. You have the option to bring outside food, and they do not require reservations. However, if you are a party of four, they prefer that you get one. Also, kids and well-trained pets are very welcome.
7. Llano Estacado Winery
Now, Texas Hill Country is known for the many vineyards and wineries, as you may have already surmised at this point, but Texas' first ever vineyard is not found there. Llano Estacado, the Lone Star State's first vineyard, is located 120 miles south of Amarillo in the Texas High Plains.
According to U.S. News, Llano Estacado put Texas' American Viticultural Area on the map because of its high-quality wines, such as a Tempranillo blend and its award-winning

Viviano-Cabernet Sauvignon variety. If you want to experience an important part of Texas' winemaking history, then this is the vineyard to visit.
The estate has a large and busy tasting room that is staffed by Texas Tech Students, which ensures that you get lots of interesting info about wine during the tour. You can enjoy a free 15-25 minute tour.
As for their wine tasting, they offer two different options. The first one is a $15 guided tasting, which includes six 1 oz. pours of a variety of sweet, white, and red wines. The second option is a self-guided outdoor flight for $15 as well.
This includes four different 2 oz. pours. You can sample their red wines, like the Cellar Reserve Cabernet Sauvignon, which has a complex bouquet of black currant jam, balsamic and spice.
They also have a great white wine selection, like the 2018 Cellar Reserve Chardonnay, which has aromatic notes, including aromas from citrus oil, butter, and spice, to Bartlett pears, and crème brûlée. As for reservations, they do not require it. They just need advance notice if you are a party of six or more visiting.
The estate can also host private events and they have several spaces that you can rent. Their tasting room can fit up to 150 people. They also have a Conference Room that can seat 16 people. Finally, the property has an Event Center, which can entertain up to 200 guests.
8. Becker Vineyards
If you are looking for a vineyard with a French countryside feel, you should definitely visit Becker Vineyard. Founded by the Becker Family, the vineyard produces fine Bordeaux-, Burgundy- and Rhone-style wines. These are such finely-made wines that they have been served at the White House.
The estate, which has grown to a total of 308 acres, is surrounded by lavender fields, just like those found in France. They usually bloom from mid-April to mid-May, so you can plan a visit during these months.
Peppered across the property are other beautiful flowers, including yellow sunflower, red poppies, and bluebonnets and zinnias, making the winery quite a sight to behold.

Moreover, the lavenders are such a huge part of the winery that they even have a Lavender Shop where they showcase and sell lavender products, like lotion, shower gel, and creams.
The Becker Vineyards Estate Tasting Room has several parts guests can choose from. It houses a large Main Tasting Room, a verandah, a pavilion, the Lavender Haus Reception Hall, and the Weekend Wine Club Tasting Room.
Their general tasting costs $25, but this already includes six wines that you can select from the tasting list. Make sure to try the Cabernet Sauvignon Reserve Canada Family 2017, which won the 2021 HLSR International Wine Competition. You should also sample the Dolcetto Reserve 2018, which won gold at the 2021 San Francisco Chronicle Wine Competition.
They also offer delicious charcuterie-cheese plates for $25, which is good for two people. Meanwhile, if you're an active member of the military, you can enjoy free wine tastings. Just don't forget to bring a valid military ID.
9. 4.0 Cellars in Fredericksburg
You can go on one wine tasting tour at a time at a vineyard or winery, but if you are up for it, you can go on three tours at one stop. You can do this by visiting 4.0 Cellars and experience the ultimate Texas Wine Experience. This one stop shop wine trail includes

Brennan Vineyards, Lost Oak Winery, and McPherson Cellars.
Each estate serves great vinos and other well-known varieties of wines, and they also offer an experimental blend that combines grapes from all three vineyards. It is definitely worth a try.
A standard wine tasting costs $15 per person, which you can enjoy on a relaxing patio, on the lawn, or in a modern tasting room. The estate also provides its customers with a variety of authentic Texas foods, like cheeses from Dublin, olive oils from San Saba, and even locally-made chocolates.
A spontaneous vacation does not need to be stressful nor hectic. You can easily maximize a whole weekend trip. Make the most of your weekend getaway tasting delicious wine and food and enjoying spectacular views at Texas' wineries and vineyards.
Summing up…
The 9 best vineyards in Texas to enjoy a wine tasting weekend are:
Fall Vineyard Creek

The Duchman family winery

Kuhlman Caves

Branch of Curvature Winery

Messina Hof Hill Country Winery

Spicewood Estate Vineyard

Llano Estacado Winery

Becker wines

4.0 Cellars in Fredericksburg
Planning your next trip?
Then don't forget travel insurance! You don't want to get stuck paying a ton of money and ruining your trip if you get sick or have an accident without travel insurance. WorldNomads is ideal for adventurous travelers, backpackers, or anyone looking to be protected during their trip. They cover almost every single activity you can image!
Already reserved your hotel or hostel? If not, we recommend Booking.com. They have a huge selection of hotels and hostels all over the world. Plus, in most cases, you can cancel your reservation without any costs up to a few days before the check-in date!
Still haven't booked your plane ticket and want to save big? Take a look at Kayak and Momondo. They are flight aggregators that combine several other ticket search websites to make it easier for you to compare prices and make sure you are getting the best deal.
And finally, will you need to rent a car during your trip? Then check out Rentalcar.com to search and compare car rental companies from all over the world on a single website. Then, you can find the cheapest price for the best car!