Last Updated on by Rodrigo @ OutofYourComfortZone
Palau is a marvelous island and destination in Micronesia. It's a place where you'll find one of the most unique attractions in the world: Jellyfish Lake! It's a place where tourists can swim with thousands of jellyfish that don't sting. However, Palau isn't an easy place to get and, like the other countries in this region, it's made up of several islands. In the case of Palau, to make things easier, the main islands have government ferries.
Here are the islands of Palau that are connected by the ferry
This is the main island of Palau. It's here that you'll find the international airport, the capital Ngerulmud, and the main city, Koror.
Famous for its World War II battles, it attracts tourists interested in abandoned war fortifications and equipment besides being an incredible location for diving. Watch out for leftover land mines, though, if you venture off on your own.
It's a small island south of Peleliu that can explored in a few hours. You can also find leftover military supplies for World War II.
The atoll of Kayangel is made up of various islands and has a population of only 138 people. You'll find it north of Babeldaob.
There are many private boats and small planes that'll cost you from $50 to more than $300 to get between these islands.
However, if you are like us and want to explore Palau cheaply and save on transportation between the islands, there's an option to use the Palau government ferries that do the same rates for a much cheaper price than the private companies.
The routes are:
Babeldaob (Koror) – Peleliu
Babeldaob (Koror) – Angaur
Babeldaob (Koror) – Kayangel
Unfortunately, there are no official connections between Peleliu and Angaur. However, to do this connection, you'll have to get a private boat between Peleliu and Angaur or go to back from Peleliu to Koror (Babeldaob) with the state ferry and then take another one of Angaur. Or, if you want to be adventurous like us (and please don't blame us if this doesn't work out), you can just show up on Peleliu and hope you can find a generous local to hitch a ride with to Angaur….. though it likely won't be nearly as cheap as the official government transportation.
The prices of the state ferries are really good. Some start as low as US$5.00!
You don't need to make a reservation but as there's a limit to the number of people that can fit on the boat, the first to arrive will be the first to embark so I advise you to arrive early to guarantee your spot.
Below is an official table with all of the hours, dates, and prices for the trips done by the State Ferries between the main islands of Palau. There's also telephone numbers to contact in case you want to confirm the hours (which I recommend you do), as the schedules can change without notice (usually in the case of bad weather).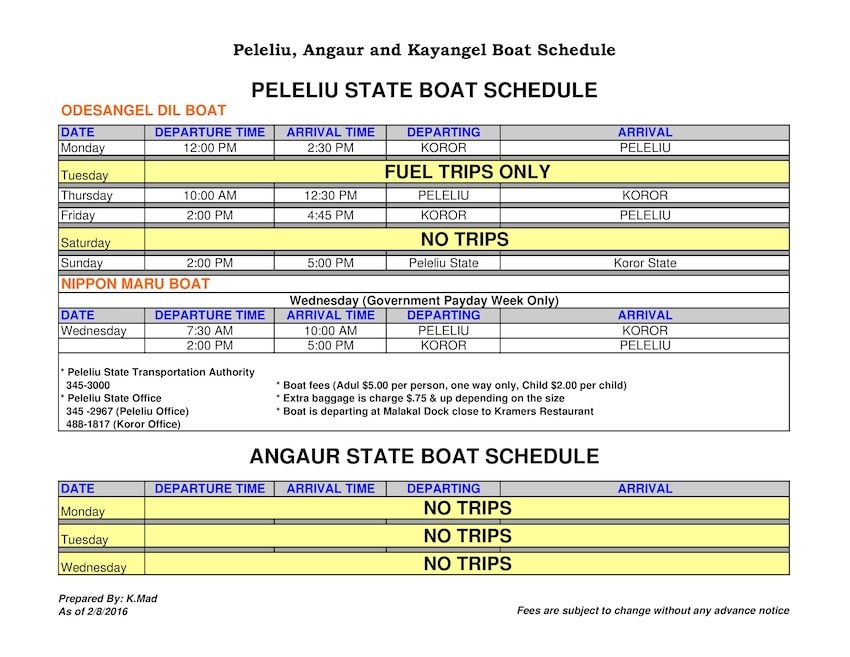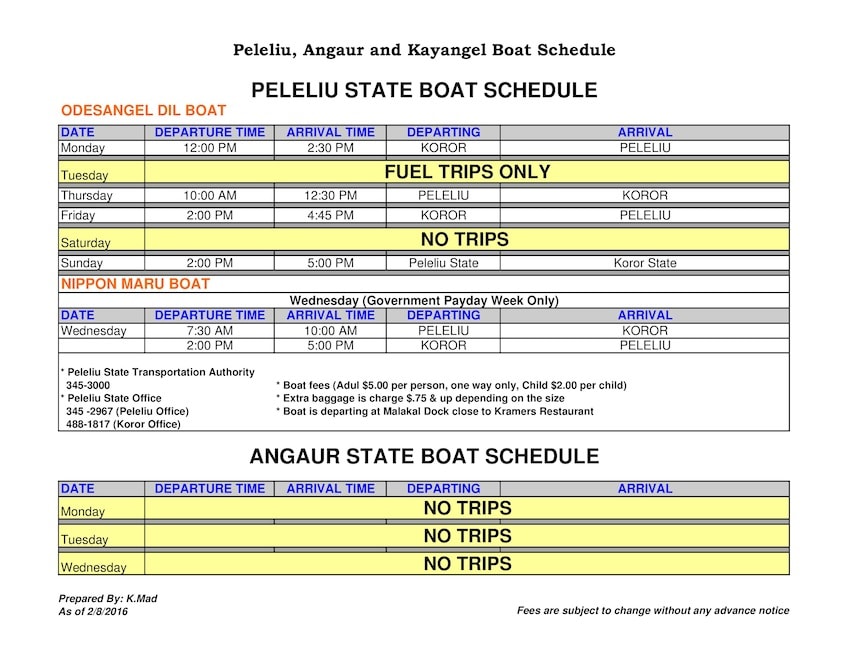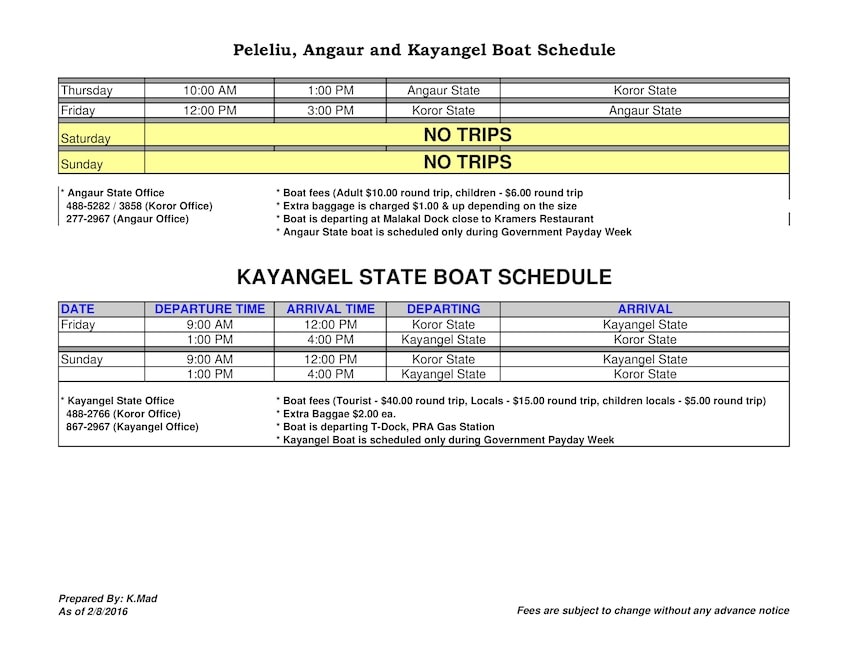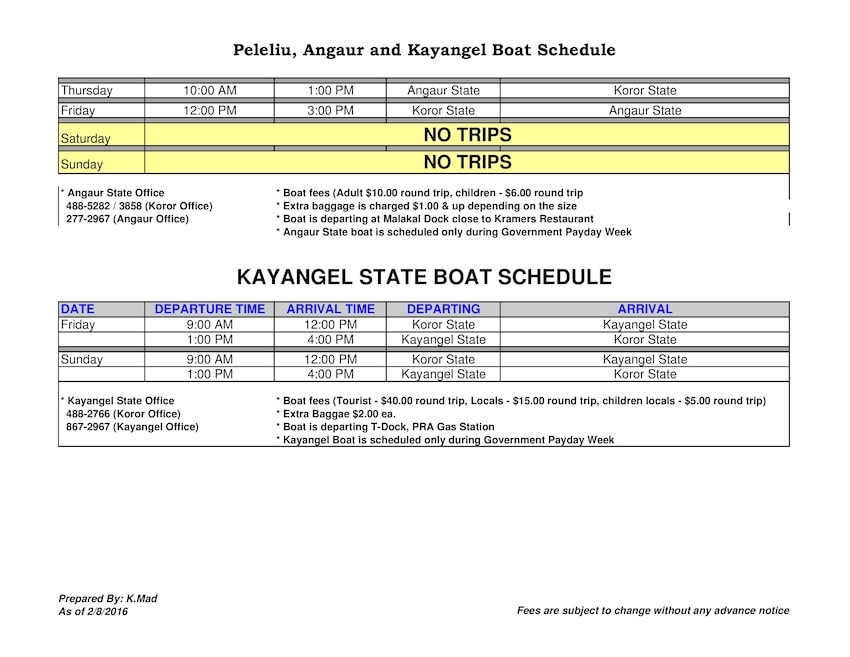 Going with the government public boats and ferries is definitely the cheapest way to move around the islands of Palau.
In less than a month, I will personally visit Palau and add much more information here about how to visit this little paradise the cheapest way possible.
So, follow us to know when we post more information about Palau!
Update!!
We just finished a trip to Palau and it was incredible!! So you can do the same, we prepared 2 Palau articles:
#1)The Ultimate Guide to Budget Travel in Palau
When it comes to the boat schedule, the days are correct but the times can change. In one of the days that we went to Peleliu, our boat left 2 hours later that what was marked on this table. So it's always better to call or visit Koror's tourist center to check the schedule.
Besides this, the cost of the tickets for tourists between Koror and Peleliu has increased. Now it's US $15.00.
If you know of any other changes, please let us know in the comments below so we can keep the article up-to-date.
SEPT/OCT 2017 UPDATE: Reader "Bjorn" was nice enough to let us know that the schedule has changed. Be sure to read his comment in the comments area below to get the most up-to-date schedule.
And enjoy Palau!!
Planning your next trip?

Then don't forget travel insurance! You don't want to get stuck paying a ton of money and ruining your trip if you get sick or have an accident without travel insurance. WorldNomads is ideal for adventurous travelers, backpackers, or anyone looking to be protected during their trip. They cover almost every single activity you can image!

Already reserved your hotel or hostel? If not, we recommend Booking.com. They have a huge selection of hotels and hostels all over the world. Plus, in most cases, you can cancel your reservation without any costs up to a few days before the check-in date!

Still haven't booked your plane ticket and want to save big? Take a look at Momondo. It's a flight aggregator that combines several other ticket search websites to make it easier for you to compare prices and make sure you are getting the best deal.

And finally, will you need to rent a car during your trip? Then check out Rentalcar.com to search and compare car rental companies from all over the world in a single website. Then, you can find the cheapest price for the best car!
If you want to hear about new articles, check out our latest pictures, and read our newest updates, be sure to follow us here….
…..and subscribe to our newsletter below!