Last Updated on by Talita
13 excellent and different guided tours around South America. Tours with a variety of prices, days, destinations, themes, age, luxury level, and adventure.
Tourism in South America is an unparalleled experience, offering an incredible diversity of stunning natural landscapes, rich history and vibrant culture. With unique and captivating destinations, the region attracts travelers from all over the world in search of adventure, beauty and an authentic experience.
One of the main tourist attractions of the continent is its exuberant nature. The region is home to one of the greatest biodiversity on the planet, with tropical forests, deserts, paradisiacal beaches, imposing mountains and impressive rivers. The Amazon Rainforest, for example, is one of the most iconic natural wonders in South America, offering a unique opportunity to explore its vast biodiversity and learn about the importance of environmental preservation.
In addition to nature, the countries that make up South America are rich in history and culture. Cities like Cusco, Peru, and Cartagena, Colombia, are colonial treasures, with stunning architecture and cobbled streets that tell fascinating stories. The region also has impressive archaeological sites, such as Machu Picchu, in Peru, and the ruins of Tiwanaku, in Bolivia, which provide a journey through time, revealing the greatness of ancient civilizations.
Cultural diversity is also one of its strengths. Each country has its own traditions, cuisine and music, providing visitors with an authentic and enriching experience.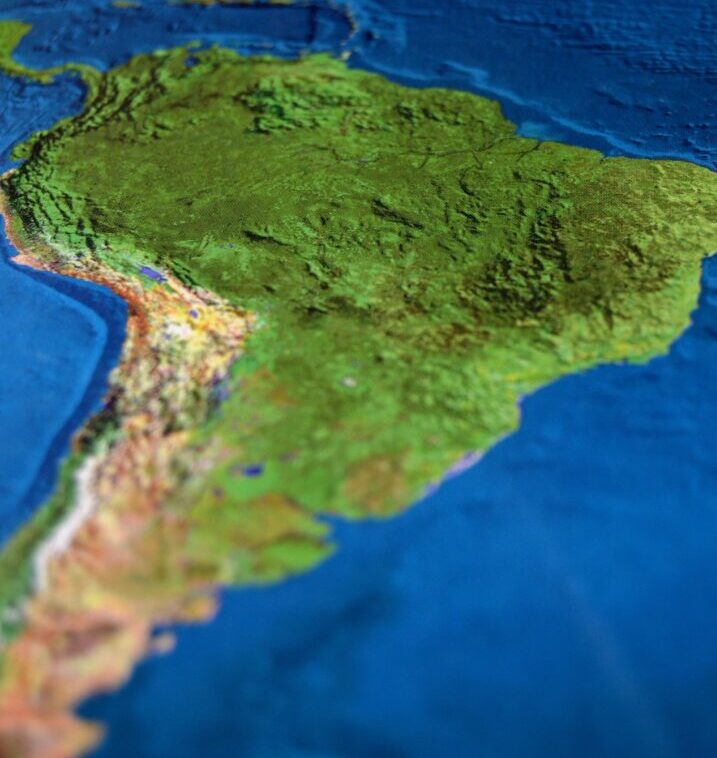 Top 10 Tourist Attractions in South America
Before we delve into the main topic of this article, it's relevant to highlight some of the most sought-after tourist attractions in South America to facilitate your search for tours, itineraries, and excursions that match your preferences.
Below is a list of the top 10 attractions and tourist cities that are worth visiting in the region:
Rio de Janeiro, Brazil: Known for its stunning beaches like Copacabana and Ipanema, and the iconic Christ the Redeemer statue, Rio offers a unique blend of nature and vibrant culture.

Machu Picchu, Peru:

The lost city of the Incas is one of the world's most famous archaeological sites, situated in the Andes mountains.

Buenos Aires, Argentina:

The Argentine capital combines European elegance with Latin passion. Its vibrant neighborhoods like La Boca and Palermo offer a rich cultural and culinary scene.

Cartagena, Colombia:

With its beautiful beaches and preserved colonial architecture, Cartagena is a charming city full of history.

Torres del Paine, Chile:

Torres del Paine National Park is a paradise for nature lovers, with spectacular landscapes of mountains, glaciers, and turquoise lakes.

Galápagos Islands, Ecuador:

A unique archipelago famous for its rich wildlife and the inspiration it provided Charles Darwin for his theory of evolution.

Salar de Uyuni, Bolivia:

The world's largest salt flat is a surreal landscape, with immense natural mirrors that reflect the sky.

Cusco, Peru:

Besides being the gateway to Machu Picchu, Cusco is a historic city with impressive Inca ruins like the Sacsayhuamán complex.

Angel Falls, Venezuela:

The world's highest waterfall is a stunning natural wonder located deep within the Venezuelan jungle.

Ushuaia, Argentina:

Known as the "end of the world" city, Ushuaia is the southernmost city on the planet, offering breathtaking landscapes like Tierra del Fuego National Park.
Is it better to travel independently or in group tours in South America?
Regardless of the option you choose for traveling in South America, whether independently or in a group tour, each presents its advantages and disadvantages.
Opting for independent travel provides greater flexibility to plan your own itinerary and choose activities according to your preferences. This grants you the freedom to decide when and how to engage in activities, allowing you to explore South America at your own pace. Additionally, this option can be more budget-friendly, as you have control over expenses based on your choices.
However, independent travel requires detailed planning, including research on accommodation, transportation, and activities. It's necessary to be prepared to handle potential challenges, such as language barriers, and take extra precautions regarding safety, especially in more remote areas.
On the other hand, a group tour with a guide offers the companionship of fellow travelers and the opportunity to meet people with similar interests. Traveling in a group can also provide a sense of security, especially when accompanied by an experienced guide familiar with South America.
However, this option might somewhat limit your freedom to explore the region independently, as you'll be following a predetermined itinerary and schedules set by the group.
Evaluate your interests, available time, budget, and comfort level when making your decision. Both options have their advantages and challenges, and the important thing is to find the one that best suits your travel style and the experiences you wish to have.
| | |
| --- | --- |
| Pros of traveling on a group tour | Pros of traveling on your own |
| Company and opportunity to meet people with similar interests | Flexibility to create your own itinerary and choose activities |
| Peaceful and fun group experience | Autonomy to follow your own schedule |
| More safety when riding in a group, especially with an experienced local guide | Freedom to explore Iceland without having to stick to a schedule |
| Less need for planning and research as the tour already provides accommodation, transport and activities | Potential savings, since depending on the choices it can be cheaper |
| Possibility of access to places or activities that may be difficult or impossible to reach alone | Greater challenge and opportunity to learn and grow with the experience of planning and conducting your own trip |
13 Best Tours and Itineraries to Explore South America
Best South America Tours and Itineraries for Guided Small Group Adventures
1. G Adventures – The Great South American Journey (65 Days)
Take the road from Quito to Rio with other young travelers and experience just about everything you can imagine along the way. Hike the Inca Trail and discover the thriving culture, cross the Salar de Uyuni in Bolivia, dance tango in Buenos Aires and enjoy the beaches of Brazil.
This trip offers lively cities, stunning landscapes and a lot of adventure. There are 65 days, seven countries, three nights in the Amazon and an adventure that you will remember forever.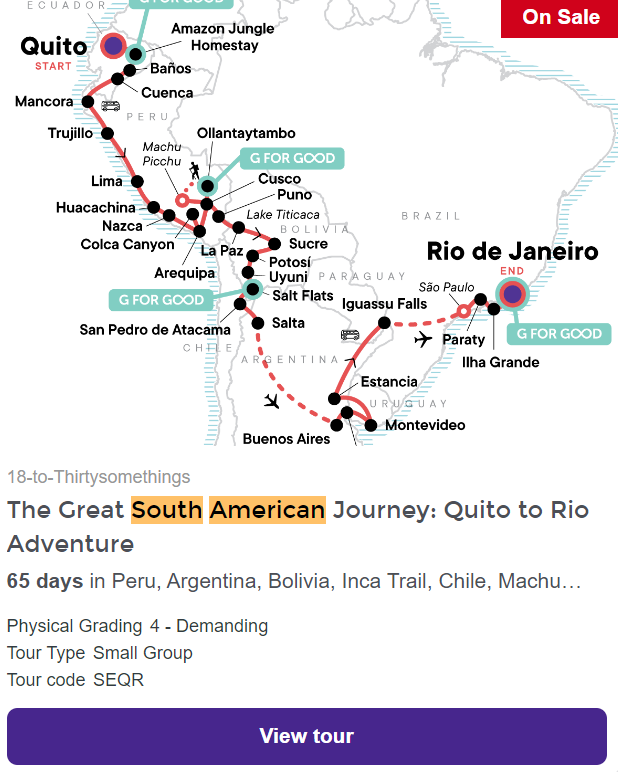 2. G Adventures – Buenos Aires to Rio de Janeiro: Falls & Footy (17 Days)
You'll begin the adventure in sophisticated Buenos Aires before reconnecting with nature on daily walks on a working Uruguayan farm. You'll marvel at the Iguazu Falls and then fly to São Paulo on your way to the Brazilian coast, without the tiring bus ride, which means more time at the beach.
The party ends in Rio, where you're free to immerse yourself in the carnival atmosphere at our centrally located Copacabana hostel.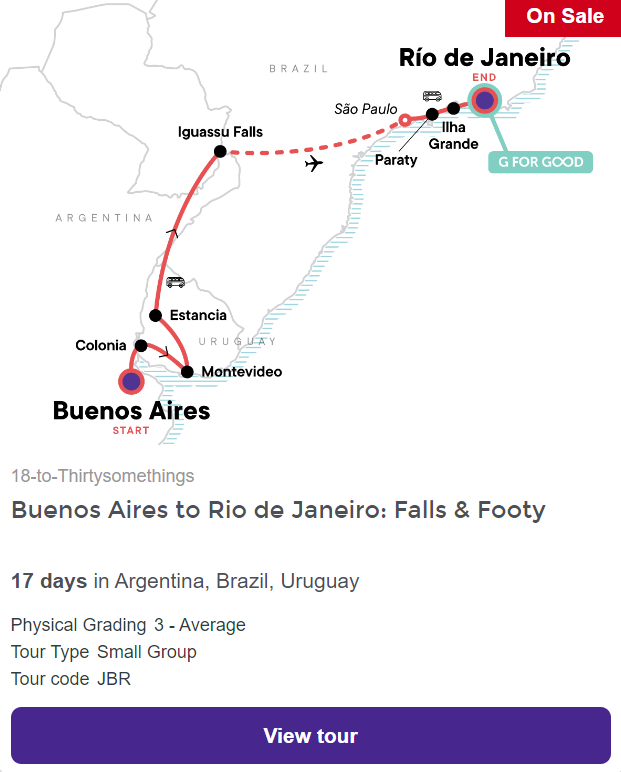 3. Encounters Travel – Patagonia Highlights (11 Days)
This 11-day overland adventure covers all the major highlights of the dramatic and beautiful region of Patagonia. From the coast and Chile's largest penguin colony to towering glaciers and spectacular mountains, this tour includes several daily hikes and free time to try some of the other adventure activities on offer.
It starts in the southern Chilean city, Punta Arenas, with the final destination at the village of El Chaltén, which is located within the Los Glaciares National Park.
Enjoy incredible views of the Andes on the way, take a full day hike with great views of glaciers and ice fields.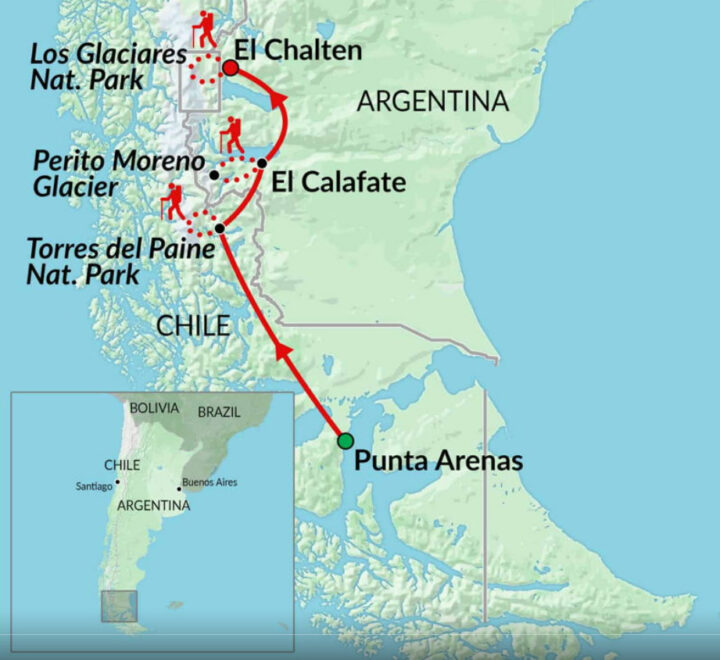 4. Intrepid – Inca Trail Express (7 Days)
Travel to Peru to retrace the steps of the Incas, Peru's fascinating ancient civilization. Head from Cusco, through the fertile heart of the Sacred Valley, to the magnificent ruins of Ollantaytambo, before arriving at the final destination, Machu Picchu.
This exciting express Peruvian tour takes you closer to the secrets of this elusive civilization on a stunning adventure along the Inca Trail.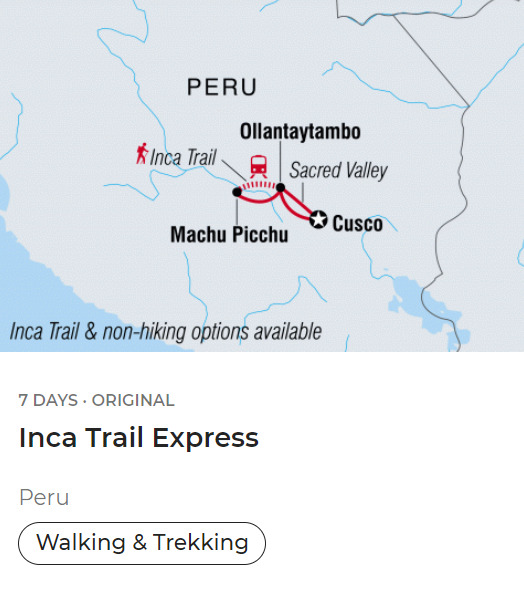 Best South America Tours and Itineraries for Groups of Young Singles (18-35 Years Old)
5. Contiki – The Adventurer (24 Days)
The ultimate trip for those who love to explore, this tour covers Peru, Argentina and Brazil. From misty train rides through the Sacred Valley to Machu Picchu, ziplining through the Amazon jungle, getting the party started in Rio and more, in this epic odyssey of waterfalls, beaches and big cities, no two days are the same.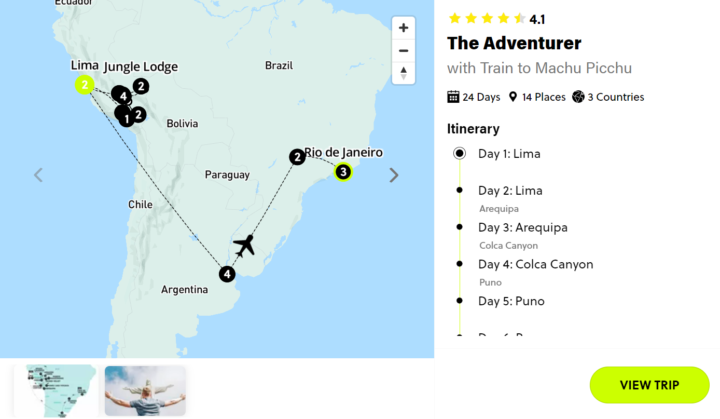 6. Contiki – The Lava Line (7 Days)
Enter the lush jungle and discover Ecuador in all its natural glory. Integrate with an indigenous community, get close to an active volcano and cool off in stunning waterfalls and thermal springs. With one foot in each hemisphere, you'll discover the true heart of this diverse country.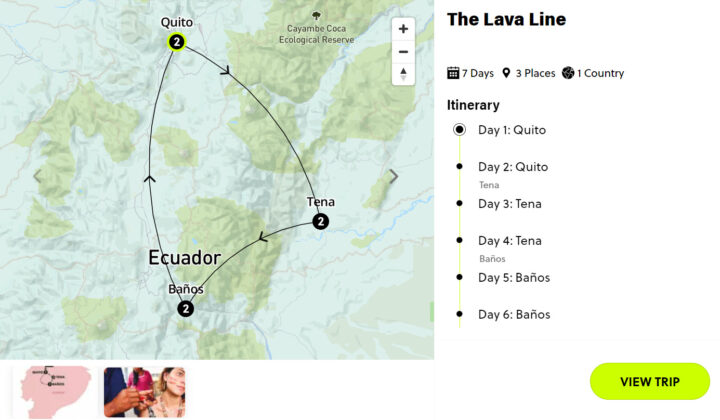 7. Contiki – Argentina and Brazil Highlights (10 Days)
Are catamarans on turquoise waters, lush white beaches, the excitement of the Iguazu Falls and the hustle and bustle of Rio de Janeiro attractive to you? Mix that with cosmopolitan Buenos Aires and you have the perfect combination of adventure, discovery and sunbathing in 10 fascinating days around Argentina and Brazil.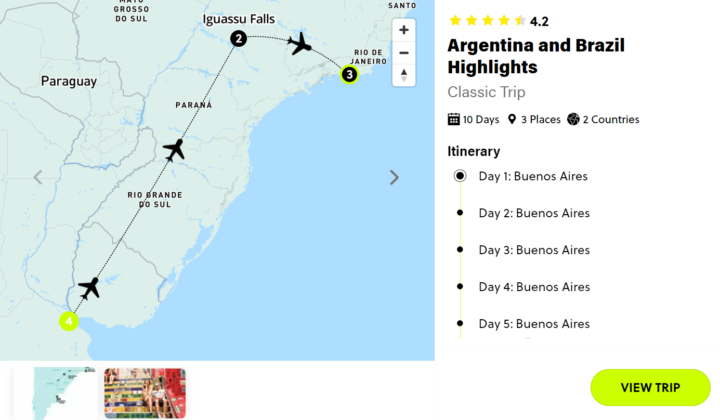 Best luxury and comfort tours and itineraries in South America for small groups with guides
8. Trafalgar – South America Revealed (16 Days)
Beautiful people and equally stunning landscapes, colors and culture, expect nothing less at Rio's beautiful beaches, your launching pad for a journey through South America, passing through vibrant capitals, national parks and the Inca heart of Peru.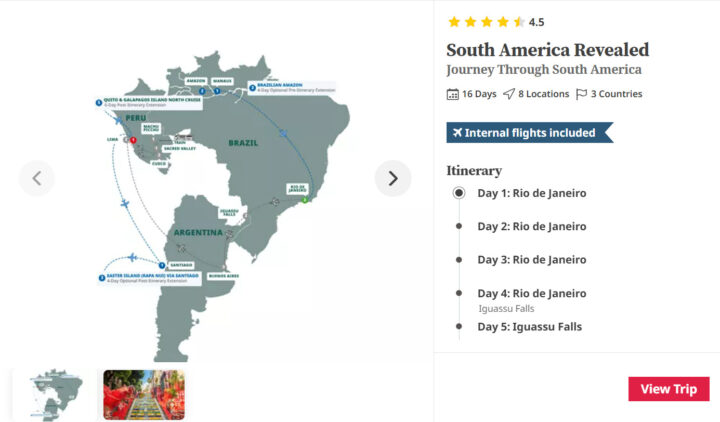 9. Trafalgar – Impressions of South America (9 Days)
From the vibrant beaches of Ipanema to the thunderous Iguazu Falls, South America awaits! Your nine-day Amazon tour will take you behind the scenes at a samba school in Rio, where you can watch unforgettable tango performances in Buenos Aires and admire the vibrant colors and wildlife of the UNESCO-listed Iguazu National Park.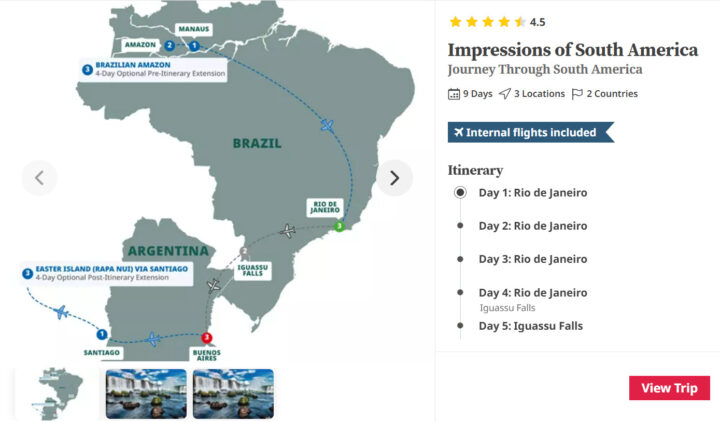 10. Insight Vacations – Argentina, Uruguay & Brazil Discovery (11 Days)
Treat yourself to the best of life as you sip cocktails on Copacabana beach in Rio de Janeiro, shop in the antique markets of Buenos Aires's Tango district, and relax in a spa hotel overlooking the mists of Iguazu Falls, Argentina.
At the vineyards of the Juanicó winery, stop to taste the flavors of Uruguay's revered wine region. Cross the Rio de la Plata to explore the UNESCO World Heritage-listed city of Colonia del Sacramento before heading onwards towards the Iguazu Falls and Rio de Janeiro.
Follow in the footsteps of your Local Expert on an exclusive guided tour of Rio's Botanical Garden, a treasured collection of the world's oldest trees and exotic orchids.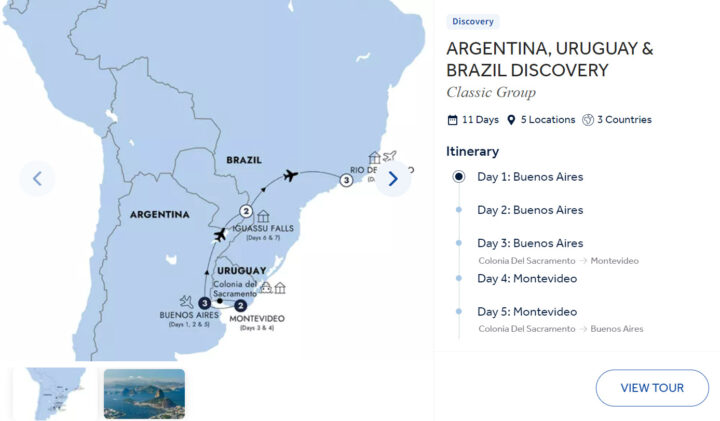 Tourradar's Best South America Tours (Best site to search and compare South America tours of different lengths, styles, prices, and operators)
11. Tourradar – Wonders of South America (21 Days)
Start in Rio de Janeiro and end in Aguas Calientes! With this tour, you will have a 21-day travel package that will take you to Rio de Janeiro, Brazil, and 13 other destinations in Latin America. The tour includes hotel accommodation, expert guide, meals, transportation and more.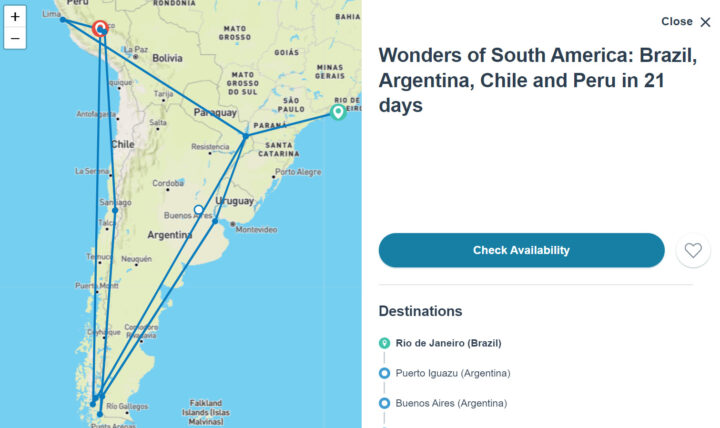 12. Tourradar – Exploring South America (13 Days)
Start in Lima and end in Rio de Janeiro! On this tour you will have a 13-day travel package that will take you to Lima, Peru, and 6 other destinations in Latin America. The tour includes accommodation, an expert guide, meals, transport and more.

13. Tourradar – Southern Divide (21 Days)
Start in Lima and end in Santiago! With the cultural tour you will have a 21-day travel package that will take you to Lima and 13 other destinations in Latin America. The tour includes hotel accommodation, an expert guide, meals, transport and more.

Concluding
South America is an exciting destination for those looking for cultural, historical and adventure-filled experiences.
With a wide range of tour and excursion options available, it is crucial to carry out thorough research before choosing the company that best suits your needs and expectations. Check the reviews of other travelers and the details of the accommodations offered. This is essential to ensure a smooth and safe journey.
When planning your trip, be sure to consider your interests and preferences. However, regardless of the selected company, one thing is certain: visiting South America is a truly once-in-a-lifetime experience!
Planning your next trip?

Then don't forget travel insurance! You don't want to get stuck paying a ton of money and ruining your trip if you get sick or have an accident without travel insurance. WorldNomads is ideal for adventurous travelers, backpackers, or anyone looking to be protected during their trip. They cover almost every single activity you can image! Plus, you can have a 5% discount with the coupon code comfort5.

Already reserved your hotel or hostel? If not, we recommend Booking.com. They have a huge selection of hotels and hostels all over the world. Plus, in most cases, you can cancel your reservation without any costs up to a few days before the check-in date!

Still haven't booked your plane ticket and want to save big? Take a look at Momondo. It's a flight aggregator that combines several other ticket search websites to make it easier for you to compare prices and make sure you are getting the best deal.

And finally, will you need to rent a car during your trip? Then check out Rentalcar.com to search and compare car rental companies from all over the world in a single website. Then, you can find the cheapest price for the best car!