Last Updated on by Talita
13 excellent and different guided tours around Africa. Tours with a variety of prices, days, destinations, themes, age, level of luxury, and adventure.
The African continent is an incredibly diverse and fascinating tourism destination, filled with spectacular landscapes, rich culture, intriguing history and a variety of unique experiences for visitors. Over the past few decades, tourism in Africa has experienced remarkable growth as more travelers discover the charms of this vibrant continent.
One of Africa's most iconic attractions is its wildlife. Safaris in countries such as Kenya, Tanzania, South Africa and Botswana provide visitors with the opportunity to witness the majesty of the "Big Five" (lions, elephants, rhinos, leopards and buffaloes) in their natural habitat. Africa's national parks and reserves are true natural treasures, and safaris offer exciting adventures for nature lovers and photographers.
Furthermore, Africa has a wealth of historical and cultural sites, such as the pyramids of Egypt, the temples of Luxor and the Great Mosque of Djenné in Mali. These fascinating sites offer in-depth insights into the continent's ancient history and spectacular architecture.
Africa's cultural diversity is also remarkable, with more than 2,000 languages spoken and a rich tapestry of traditions, dances and music. African festivals, such as the Essaouira Music Festival in Morocco and the Oshogbo Festival in Nigeria, offer visitors the opportunity to experience the continent's vibrant culture and warm hospitality.
Additionally, Africa's stunning beaches, such as those in the Seychelles, Zanzibar and Mauritius, attract sun and sea lovers, while the stunning landscapes of the Sahara Desert, Victoria Falls and Mount Kilimanjaro provide exciting opportunities for ecotourism lovers. and adventure tourism.
Finally, African cuisine is a unique experience, with tasty dishes such as Moroccan tagine, Ethiopian injera and South African bobotie to satisfy the most demanding palates.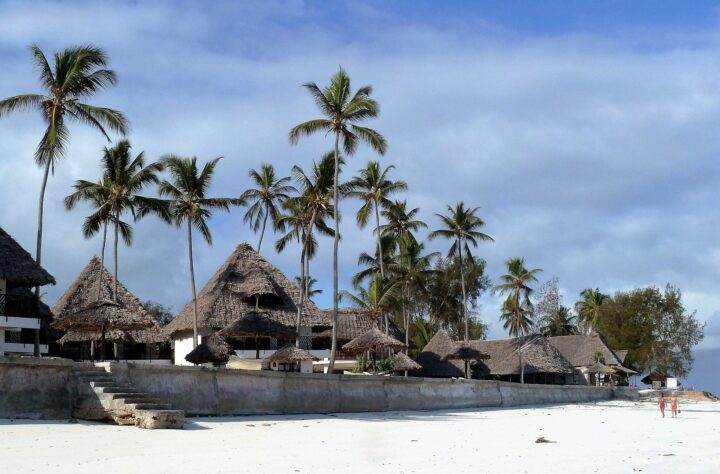 Top 10 Tourist Attractions in Africa
Before we delve into the main topic of this article, it's interesting to highlight some of the most popular tourist destinations in Africa to assist you in your search for tours, itineraries, and outings that suit your preferences.
As mentioned earlier, Africa is a fascinating continent. Below, we present a list of the top 10 attractions and tourist cities worth visiting in Africa:
Pyramids of Giza, Egypt:

This is one of the world's most iconic sites, with the three great pyramids built during the Ancient Egyptian Old Kingdom, along with the Great Sphinx. They are testaments to the skill and ingenuity of the ancient Egyptians.

Serengeti Safari, Tanzania:

Serengeti National Park is famous for its wildebeest and zebra migration, as well as abundant wildlife, including lions, leopards, and elephants. It's a paradise for wildlife enthusiasts.

Mount Kilimanjaro, Tanzania:

Africa's tallest mountain offers a unique trekking adventure. Climbing Kilimanjaro is a challenging and rewarding experience.

Victoria Falls, Zambia/Zimbabwe:

These majestic waterfalls, also known as "Mosi-oa-Tunya" (the smoke that thunders), are one of the continent's greatest natural attractions, providing spectacular views and exciting activities.

Cape Town, South Africa:

Known for its scenic beauty, Cape Town offers a unique combination of incredible beaches, stunning mountains (like Table Mountain), and a rich cultural heritage.

Bwindi Impenetrable National Park, Uganda:

This is the place to go for gorilla trekking to see rare mountain gorillas. It's a unique experience of primate watching in their natural habitat.

Marrakech, Morocco:

This magical city is famous for its Medina (old town) with narrow streets, bustling markets, and stunning architecture. The Bahia Palace and Koutoubia Mosque are must-visit attractions.

Seychelles: Victoria Island:

This is a paradise beach destination with white sands, crystal-clear waters, and ideal coral reefs for diving and snorkeling.

Chobe National Park, Botswana:

This park is known for its dense population of elephants, as well as thrilling boat safaris on the Chobe River to see wildlife.

Gorongosa National Park, Mozambique:

This recovering national park offers incredible wildlife viewing opportunities, hiking trails, and natural beauty.
Is it better to travel independently or in group tours in Africa?
Regardless of the option you choose for traveling in Africa, whether independently or in a group tour, each has its positives and negatives.
Opting for independent travel, for example, offers greater flexibility to plan your own itinerary and choose activities according to your preferences. You'll have the freedom to decide when and how to do activities, allowing you to explore Africa at your own pace. Additionally, this option can be more cost-effective as you can control expenses based on your choices.
However, independent travel requires detailed planning, including research on accommodation, transportation, and activities. You need to be prepared to deal with potential challenges like language barriers and take extra precautions regarding safety, especially in more remote areas.
On the other hand, a group tour with a guide offers the company of other travelers and the opportunity to meet people with similar interests. Additionally, traveling in a group can provide a sense of security, especially if you're accompanied by an experienced guide familiar with Africa.
However, this option may somewhat limit your freedom to explore Africa independently, as you'll be following a predetermined itinerary and group-established schedules.
In summary, the choice between traveling independently or in a group in Africa depends on your personal preferences. Evaluate your interests, time availability, budget, and comfort level when making your decision.
| | |
| --- | --- |
| Pros of traveling on a group tour | Pros of traveling on your own |
| Company and opportunity to meet people with similar interests | Flexibility to create your own itinerary and choose activities |
| Peaceful and fun group experience | Autonomy to follow your own schedule |
| More safety when riding in a group, especially with an experienced local guide | Freedom to explore Iceland without having to stick to a schedule |
| Less need for planning and research as the tour already provides accommodation, transport and activities | Potential savings, since depending on the choices it can be cheaper |
| Possibility of access to places or activities that may be difficult or impossible to reach alone | Greater challenge and opportunity to learn and grow with the experience of planning and conducting your own trip |
13 Best Tours and Itineraries to Explore Africa
Best Africa Tours and Itineraries for Guided Small Group Adventures
1. G Adventures – Explore Southern Africa (12 Days)
On this extraordinary adventure through southern Africa, set off from glittering Cape Town to the vast wilderness of Kruger National Park, home to the legendary "big five" animals of the savannah. Explore the Soweto neighborhood where Nelson Mandela lived, enjoy a home-cooked dinner with a local family in a village in Zimbabwe; and witness the stunning beauty of Victoria Falls, a UNESCO World Heritage Site.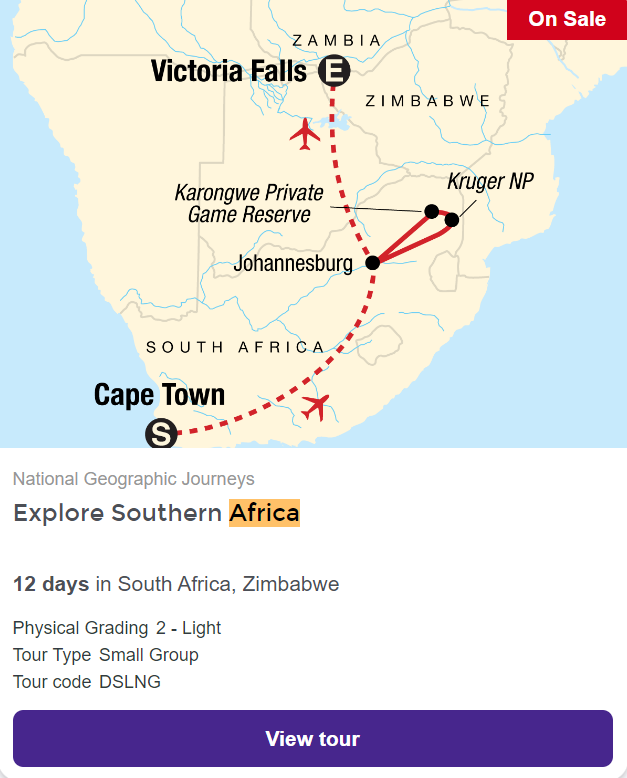 2. G Adventures – East Africa In-Depth (16 Days)
Experience a unique experience in East Africa with this 16-day tour that brings you closer to the land, wildlife and communities that make this part of the world so special.
Camp on the shores of Lake Nakuru National Park and learn about tribal life and customs as you spend time with locals. Your journey isn't complete without a safari (or five), and on this itinerary there are plenty of opportunities for just that, including a gorilla-watching trail in Bwindi National Park and chimpanzee-watching trails in Kibale National Park.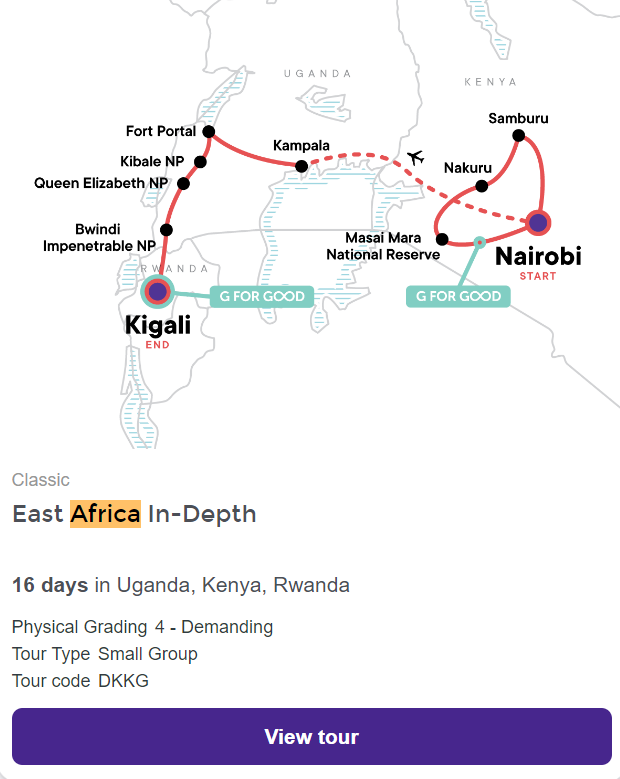 3. Encounters Travel – Gorillaz & Plains (15 Days)
This two-week adventure will take you through Kenya's magnificent lakes and wildlife parks, across Uganda and Ecuador, and deep into the jungle to hike and visit mountain gorillas and chimpanzees.
There are two accommodation options available, either "Camping", where you spend most nights under tents, or "Accommodated", staying most of the time in rooms with private bathrooms.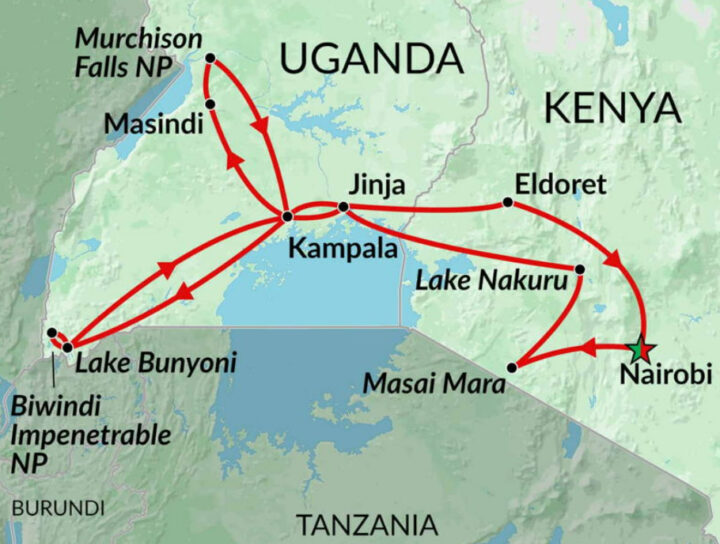 4. Intrepid – Serengeti Trail (8 Days)
Bless the rains of East Africa on an eight-day safari adventure through Kenya and Tanzania.
The famous national parks of the Serengeti region and Ngorongoro Crater are home to an impressive array of animals, from small dik-dik antelopes to lions and noble African elephants.
With local guides and your every need catered for, embark on a variety of safaris in search of the Big Five aboard specially designed safari vehicles. With stops at a local community in Mto wa Mbu, the vast Lake Victoria and bustling Nairobi.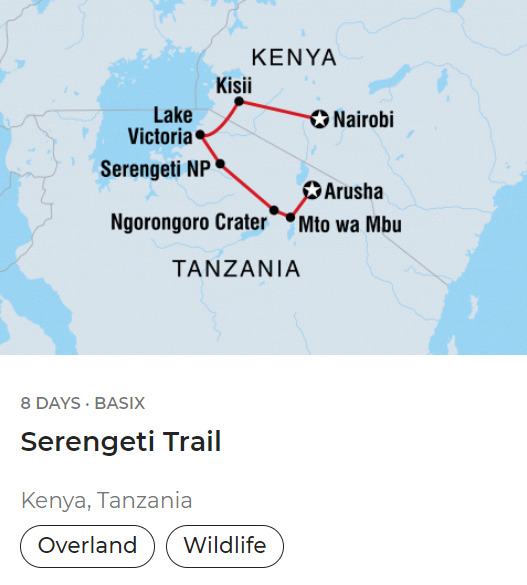 Best Africa Tours and Itineraries for Young Singles Groups (Ages 18-35)
5. Contiki – Cape to Delta Safari (15 Days)
This wild adventure takes you to the top safari destinations in Africa. Starting with spectacular panoramas of Cape Town, you'll head to Kruger National Park, where you'll enjoy included safaris and spot elephants, buffalo and, hopefully, some lions.
Next, it's time for one of the world's natural wonders: Victoria Falls, before exploring Chobe and finally enjoying another safari in the incomparable Okavango Delta.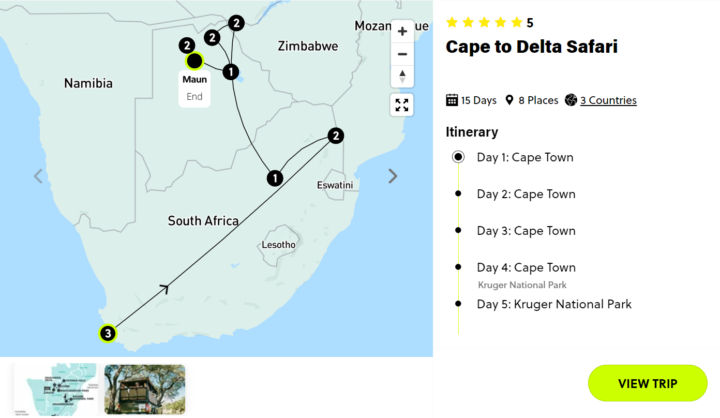 6. Contiki – Nomadic Namibia (7 Days)
Looking for a stunning journey through the deserts and savannahs of Namibia? This trip takes you from Namibia's bustling capital to the historic coastal town of Swakopmund and the sprawling red sand dunes of Sossusvlei.
There is also an unforgettable safari through Etosha National Park (with its specialties including desert lions and elephants covered in white dust), with included safaris, luxury lodges with swimming pools, desert camping and interactions with indigenous communities, as well as spending time with indigenous people San Bushmen in their village.
This is a unique adventure in Namibia with the chance to immerse yourself in the region's historic nomadic culture and its vast, beautiful landscapes – an experience you will never forget.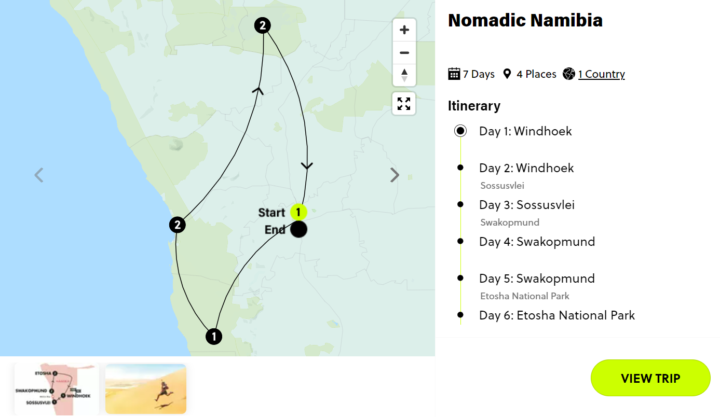 7. Topdeck – Delve Deep: Kenya & Tanzania Safari (14 Days)
Traveling from Nairobi to Zanzibar, you'll indulge in thrilling safaris that quicken the pulse, fascinating island discoveries, and local interactions that will feed your soul.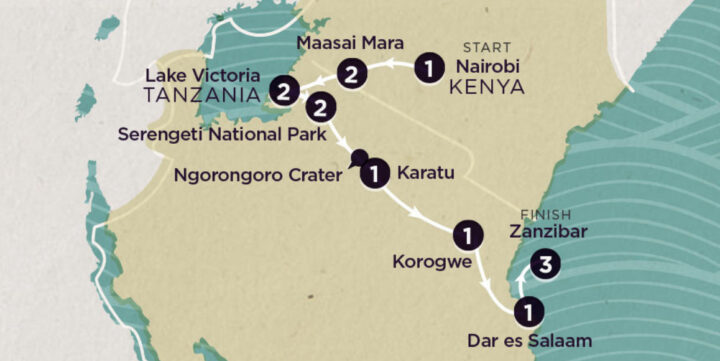 Best Luxury and Comfort Africa Tours and Itineraries for Small Groups with Guides
8. Trafalgar – Wonders of Ancient Egypt (12 Days)
The continuous bustle of Cairo's busy city streets and the imposing Great Pyramids of Giza mark the beginning of your discovery of Ancient Egypt. Sail the Nile to Kom Ombo, passing through Luxor, and explore the Valley of the Kings.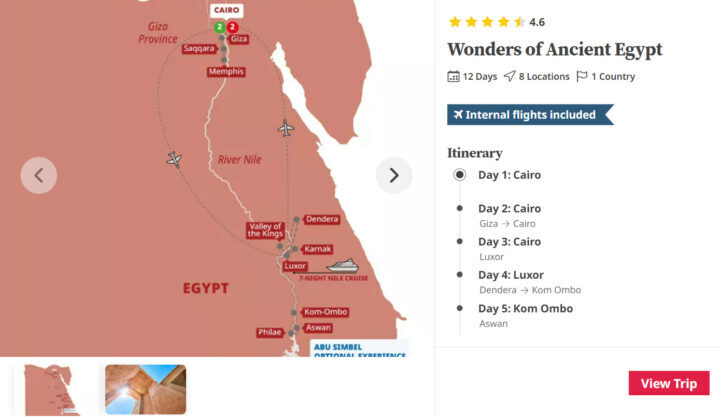 9. Trafalgar – Victoria Falls Experience (4 Days)
The grandeur and beauty of Africa's wilderness are revealed on this adventure that combines the thrill of Victoria Falls with a visit to Chobe National Park, home to Botswana's elephants.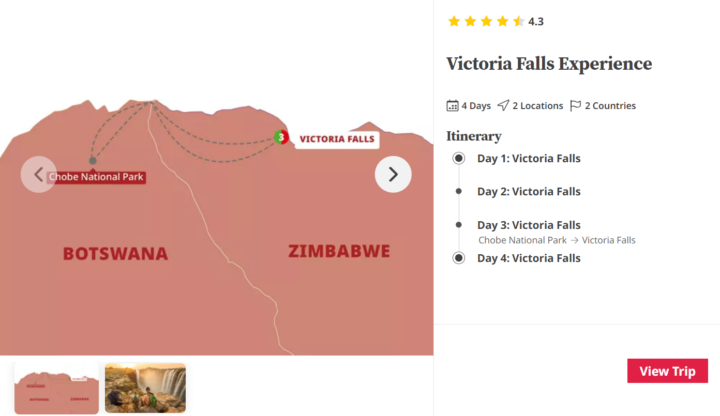 10. Insight Vacations – Land of the Prophets (26 Days)
Adventure awaits on this 26-day guided tour. Travel to the vibrant city of Tel Aviv and visit its Habima National Theater, Rabin Square and Carmel Market.
Then head to Jaffa to explore the narrow streets of its artists' quarters – and buy a souvenir if you wish. In Amman, visit a cooperative that teaches local women craft skills.
Picturesque Petra awaits with its pink gorges leading to temples carved into the towering cliffs. Sail the Nile with a local sailor. Enjoy a traditional afternoon tea at the historic Old Cataract Hotel.
In Luxor, meet a local family who will share the secrets of authentic Egyptian bread production. And enjoy panoramic views of Cairo from the city's Citadel, a medieval Islamic fortress.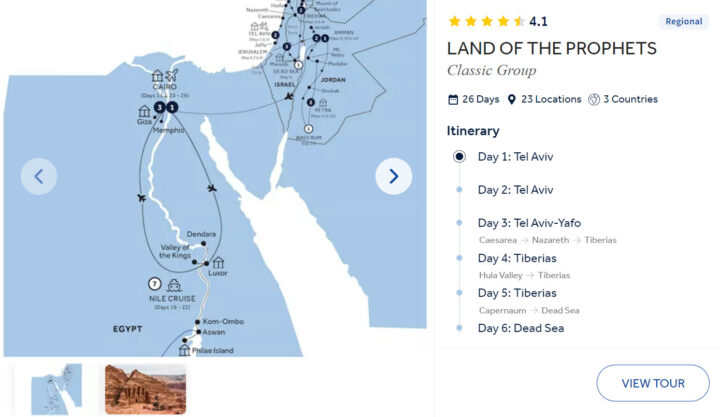 Best tours to Africa from Tourradar (best site to search and compare tours in Africa of different durations, styles, prices, and operators)
11. Tourradar – South Africa Odyssey (14 Days)
Start in Johannesburg and end in Cape Town! With the cultural tour you have a 14-day travel package that will take you to Johannesburg, South Africa, and 16 other destinations in the country. Includes hotel accommodation as well as an expert guide, meals, transportation and more.

12. Tourradar – Cairo City Break (4 Days)
Start and end in Cairo! With the exploration tour you get a 4-day travel package that will take you to Cairo and 3 other destinations in Egypt. The tour includes hotel accommodation as well as an expert guide, meals, transportation and more.

Best Africa itineraries and group tours just for women
13. Solo Female Travelers – Climb Kilimanjaro (10 Days)
Join other incredible women at the top of Africa as you journey to Kilimanjaro and reach the summit on International Women's Day. Contribute to female guide training with a donation to the Tanzania Women Guides Foundation, a local NGO set up by our lead guide, and make a difference by providing opportunities for women in the tourism sector.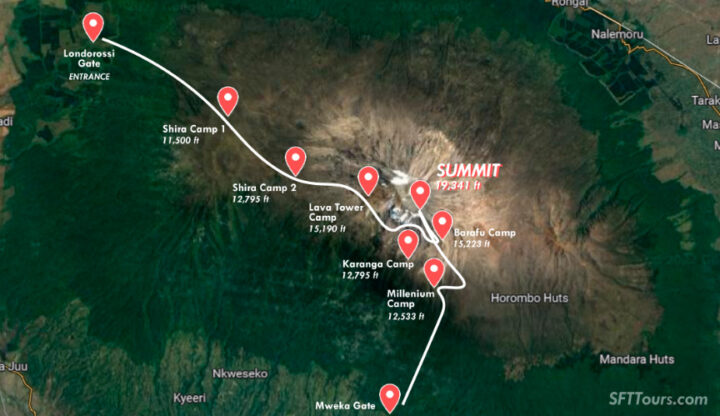 Concluding…
Africa is a fascinating destination for those seeking cultural, historical and adventure experiences. With a wide variety of tour and excursion options available, it is essential to carry out careful research before selecting the company that best meets your needs and expectations. Checking reviews from other travelers and details of the accommodations offered is essential to ensure a smooth and safe trip.
However, regardless of which company you choose, one thing is certain: visiting Africa is a truly once-in-a-lifetime experience! So, get ready for an unforgettable journey and embark on this adventure across the continent!
Planning your next trip?

Then don't forget travel insurance! You don't want to get stuck paying a ton of money and ruining your trip if you get sick or have an accident without travel insurance. WorldNomads is ideal for adventurous travelers, backpackers, or anyone looking to be protected during their trip. They cover almost every single activity you can image! Plus, you can have a 5% discount with the coupon code comfort5.

Already reserved your hotel or hostel? If not, we recommend Booking.com. They have a huge selection of hotels and hostels all over the world. Plus, in most cases, you can cancel your reservation without any costs up to a few days before the check-in date!

Still haven't booked your plane ticket and want to save big? Take a look at Momondo. It's a flight aggregator that combines several other ticket search websites to make it easier for you to compare prices and make sure you are getting the best deal.

And finally, will you need to rent a car during your trip? Then check out Rentalcar.com to search and compare car rental companies from all over the world in a single website. Then, you can find the cheapest price for the best car!