Last Updated on by Talita
13 great and different guided tours around Europe. Tours with a variety of prices, days, destinations, themes, age, luxury level, and adventure.
Tourism in Europe is an extremely popular and diverse sector, attracting millions of visitors from all over the world each year. With a rich history, an impressive cultural heritage and a dazzling variety of landscapes, the European continent is a true paradise for travel lovers.
One of the main advantages of tourism in Europe is accessibility. With a vast transportation network including low-cost airlines, high-speed trains and a wide range of accommodation options such as hotels, hostels and apartments for rent, travelers can easily explore multiple destinations in a short period of time and by varying values. This allows visitors to make the most of their stay and discover different countries and cultures in a single trip.
The continent is also known for its fascinating and rich history. From majestic Roman ruins to magnificent medieval castles, tourists have the opportunity to immerse themselves in history while visiting well-preserved monuments and historic sites. Cities like Athens, Rome, Prague and Istanbul are true architectural treasures.
Furthermore, it is famous for its cultural diversity. Each country has its own traditions, cuisine and customs, which makes the experience of traveling in Europe incredibly enriching. Food lovers can delight in Italian, French, Spanish, Greek and many other cuisines. From Neapolitan pizza to Swiss cheese, European flavors are varied and delicious.
In summary, tourism in Europe is an unforgettable experience. With a unique blend of history, culture, landscapes and cuisine, Europe remains a premier travel destination for the adventurous and curious looking to explore all that this incredible continent has to offer.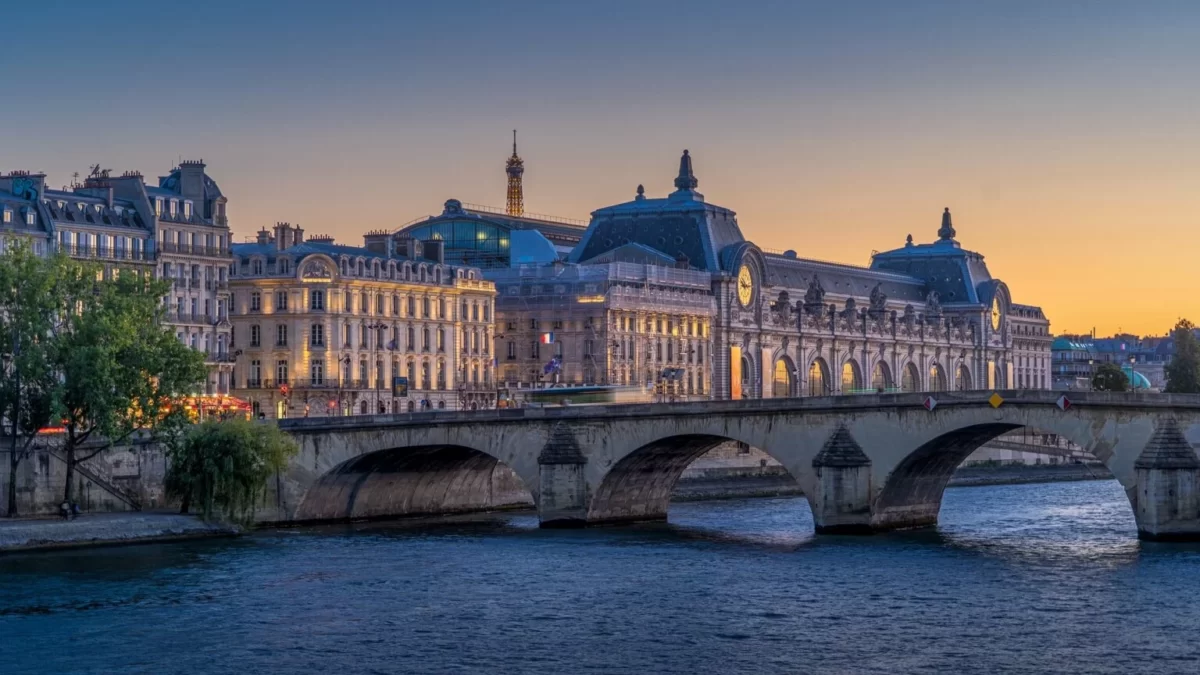 Top 10 Tourist Attractions in Europe
Before delving into the main subject of this text, it is relevant to highlight some of the most popular tourist destinations in Europe to facilitate the search for tours, itineraries, and excursions that suit your preferences.
Europe is a fascinating continent full of must-see attractions. Below, we present a list of the top 10 tourist attractions and cities worth visiting in Europe:
Barcelona, Spain:

Known for its modernist architecture, sunny beaches, and vibrant art scene.

Barcelona offers a unique experience.

Paris, France:

The city of lights enchants with its iconic architecture, renowned museums like the Louvre and the Eiffel Tower, and its romantic atmosphere.

Prague, Czech Republic:

With its Gothic and medieval architecture, Charles Bridge, and the Old Town, Prague is a historical and cultural treasure.

Rome, Italy:

With its impressive historical heritage, including the Colosseum and the Vatican, Rome is a city steeped in history and culture.

Athens, Greece:

The birthplace of Western civilization, Athens attracts visitors with the majestic Acropolis, the Parthenon, and a rich ancient history.

London, United Kingdom:

With its emblematic landmarks like Big Ben and Buckingham Palace, as well as world-class museums, London is a vibrant and cosmopolitan city.

Amsterdam, Netherlands:

With its picturesque canals, renowned museums like the Rijksmuseum, and laid-back atmosphere, Amsterdam is a charming city.

Florence, Italy:

Home to Renaissance masterpieces such as Michelangelo's David and the dome of the Cathedral of Santa Maria del Fiore, Florence is an artistic treasure.

Istanbul, Türkiye:

With its rich cultural heritage and impressive architecture, such as the Blue Mosque and the Topkapi Palace, Istanbul is a fascinating city.

Lisbon, Portugal:

With its cobblestone streets, charming neighborhoods like Alfama, and monuments like the Tower of Belém, Lisbon is a captivating destination.
Is it better to travel independently or in group tours in Europe?
Regardless of the option you choose for traveling in Europe, whether independently or on a group tour, each has its positive and negative aspects.
Opting for an independent trip, for example, offers greater flexibility to plan your own itinerary and choose activities according to your preferences. You will have the freedom to decide when and how to do activities, allowing you to explore Europe at your own pace. Additionally, this option can be more cost-effective as you can control expenses based on your choices.
However, an independent trip requires detailed planning, including research on accommodation, transportation, and activities. You need to be prepared to deal with potential challenges, such as the language barrier, and take extra precautions regarding safety, especially in more remote areas.
On the other hand, a group tour with a guide offers the company of other travelers and the opportunity to meet people with similar interests. Additionally, traveling in a group can provide a sense of security, especially if you are accompanied by an experienced guide who knows Europe well.
However, this option may somewhat limit your freedom to explore Europe independently, as you will be following a predetermined itinerary and schedule set by the group.
In summary, the choice between traveling independently or in a group in Europe depends on your personal preferences. Evaluate your interests, time availability, budget, and level of comfort when making your decision. Both options have their benefits, and the important thing is to find the one that best suits your travel needs and desires.
| | |
| --- | --- |
| Pros of traveling on a group tour | Pros of traveling on your own |
| Company and opportunity to meet people with similar interests | Flexibility to create your own itinerary and choose activities |
| Peaceful and fun group experience | Autonomy to follow your own schedule |
| More safety when riding in a group, especially with an experienced local guide | Freedom to explore Iceland without having to stick to a schedule |
| Less need for planning and research as the tour already provides accommodation, transport and activities | Potential savings, since depending on the choices it can be cheaper |
| Possibility of access to places or activities that may be difficult or impossible to reach alone | Greater challenge and opportunity to learn and grow with the experience of planning and conducting your own trip |
13 Best Tours and Itineraries to Explore India
Best India Tours and Itineraries for Guided Small Group Adventures
1. G Adventures – The Best of Eastern Europe (14 Days)
From charming cities in the Czech Republic to Budapest, the Pearl of the Danube, experience the unique culture, cuisine and history of Eastern Europe. On this two-week tour of six Eastern European countries, you'll find a fascinating combination of urban centres, village life and outdoor activities. Visit castles, churches and romantic city squares, enjoying Berlin's café culture and Prague's beer.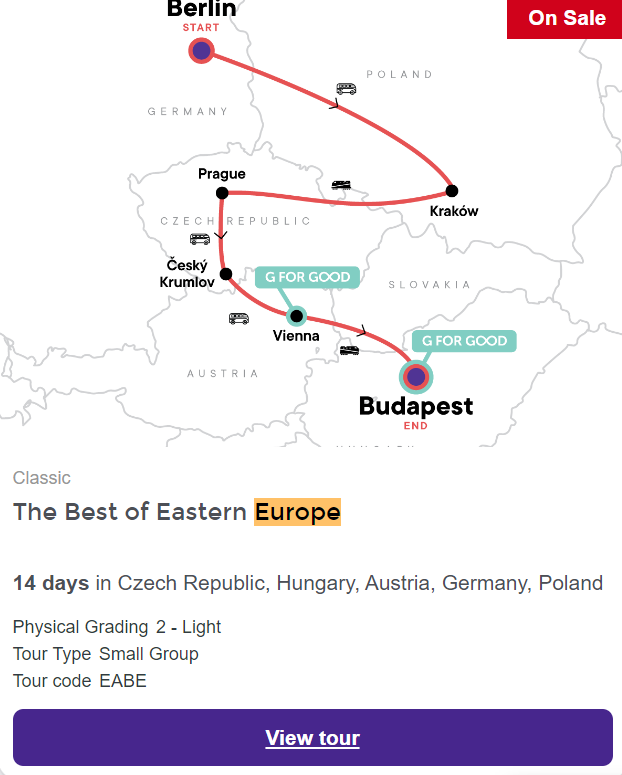 2. G Adventures – Ultimate Europe (34 Days)
If you want to enjoy all that Europe has to offer, this is the tour for you. On this 34-day hostel-based trip, you'll visit an incredible 20 different cities, experiencing unforgettable moments along the way.
You'll marvel at the art scene in Berlin, be awestruck by the architecture in Prague, feel the fresh Alpine air in Innsbruck and admire street art in Rome.
Furthermore, you will pass through Dubrovnik before heading to Montenegro to visit a medieval fortress. Albania for stunning beaches and epic diving, then on to Greece, where you'll find all the ancient history you could want.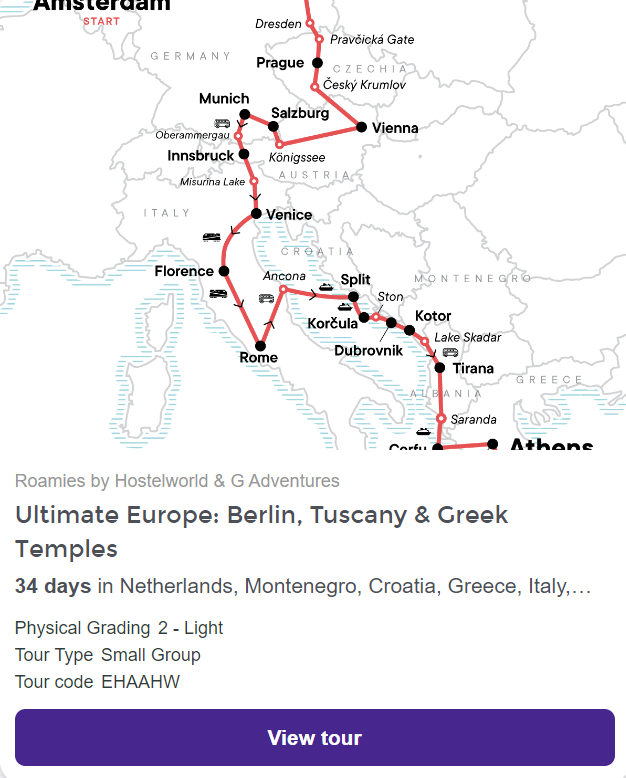 3. Encounters Travel – Istanbul to Athens Explorer Tour (15 Days)
Türkiye and Greece are fascinating lands with incredible historical and cultural importance. This 15-day tour will take you on a journey through the past as you discover sites and landmarks dedicated to religion, culture, mythology and philosophy.
Ancient civilizations and legendary mythical figures will come to life as you step through the pages of time. You'll see some of the most famous and beautiful temples and mosques in the world, as well as unique and fascinating natural phenomena.
Highlights in Turkey include Istanbul's iconic Blue Mosque, the surreal landscape of Cappadocia, the quirky waterfalls of Pamukkale and the resting place of the famous poet Rumi.
In Greece you will find temples dedicated to famous gods, ancient cities of great civilizations and the birthplace of the Olympic Games. Coming back to modern life will feel quite surreal after this captivating journey!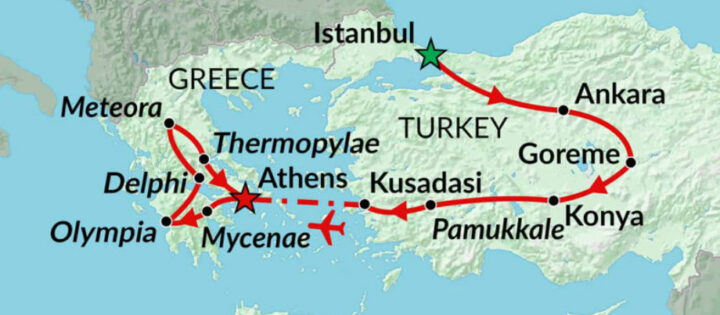 4. Intrepid – Best of Central Europe (15 Days)
Experience the charm, sophistication and elegance of Central Europe on this 15-day leisurely, classic exploration from Vienna to Budapest.
Enjoy the vibrant tradition of Vienna, discover the hidden fairytale gem of Cesky Krumlov, Prague, Czech Republic and connect with nature in the Tatra Mountains, Slovakia.
Marvel at the classic Polish cities of Wroclaw and Krakow, reflect during a moving visit to Auschwitz, and end your journey by boldly exploring Budapest.
With an expert leader to guide the way and plenty of time to explore at your own pace, discover some of the highlights of central Europe. Medieval architecture, stunning countryside and varied cuisine await you.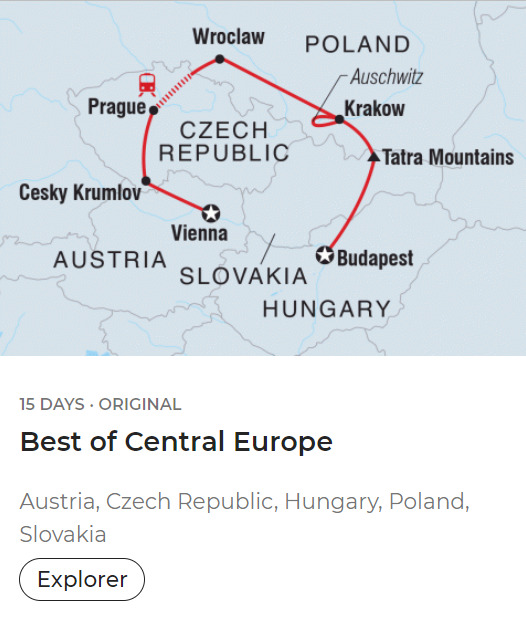 Best India Tours and Itineraries for Groups of Young Singles (18-35 Years Old)
5. Contiki – European Discovery (12 Days)
Put on your woolen clothes and get ready to enjoy winter in Europe. From a traditional German beer hall to a stunning Austrian mountain range and a gelateria in Rome, you'll get a taste of all the best experiences, visiting 9 countries in 12 days.
When you return to London you will be completely enchanted by all that Europe has to offer.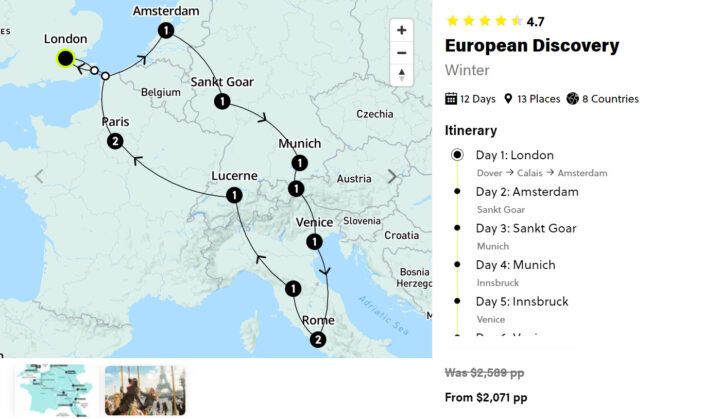 6. Contiki – European Magic (9 Days)
This trip offers a taste of Europe's top highlights for those short on time.
7 countries, 9 days and some of the top sights for you to experience Europe's essential travel destinations in no time. Visit Amsterdam's charming Gothic-style houses, feast on sausages and pints of beer in a Bavarian saloon, glide along the canals of Venice, explore the glory of the Swiss Alps and see the Eiffel Tower and Arc de Triomphe illuminated at night. night. All in just over a week.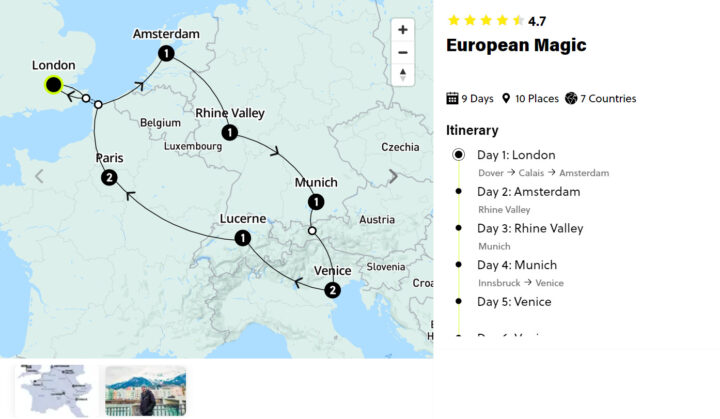 7. Topdeck – Get Social: Northern & Eastern Europe Highlights (17 Days)
This huge adventure across Northern and Eastern Europe is packed with fun. 17 days. 10 countries. And an explosion of breathtaking cities, charming villages, traditional delicacies and surprising group experiences.
What happens when you combine the vibrant capitals of Germany, Poland, Estonia, Lithuania and Latvia? And add Scandinavia to the mix? That happens.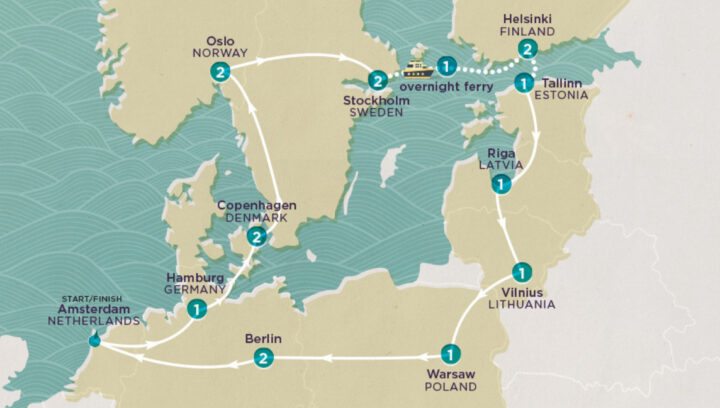 Best India luxury and comfort tours and itineraries for small groups with guides
8. Trafalgar – Traditional Europe (18 Days)
Let yourself be involved by the history and romanticism of Traditional Europe. You'll see all the iconic sights and some wonderful surprises over the course of this 3-week European trip, exploring the lush beauty of the Rhine Valley, the snow-capped peaks of the Alps and the incredibly warm waters of the French Riviera.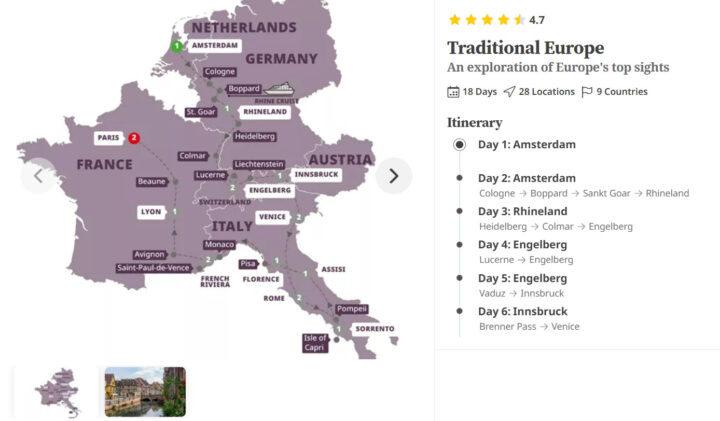 9. Trafalgar – European Traveller (10 Days)
Stroll through streets filled with romance, history and adventure as you travel across Europe. Feed your imagination as you relax on the stunning shores of Lake Lucerne, watch master craftsmen create treasures in Venice and admire the magic of the snow-capped Swiss Alps.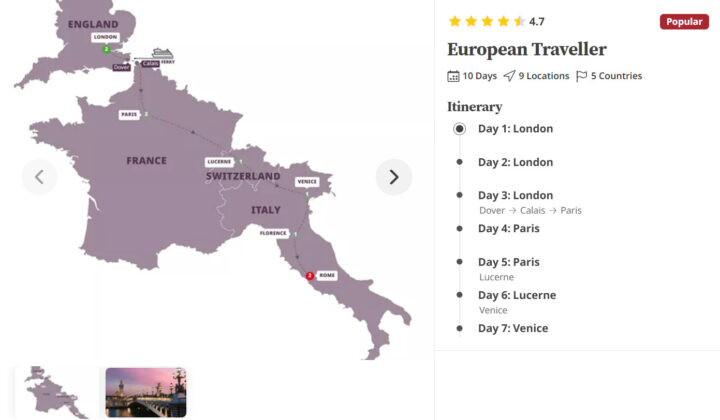 10. Insight Vacations – European Dream (11 Days)
Live the European dream on this 11-day guided tour. Enjoy luxury in Rome, explore the Vatican with VIP fast-track entry, take an exhilarating open-top cable car ride to Mount Stanserhorn in Lucerne, Switzerland, and dine in style at La Coupole in Paris.
As you venture into Italy, you'll get a real taste of local cuisine fresh between the canals of Venice with an exclusive dining experience at La Fenice restaurant. After your on-site Travel Director guides you through the stunning vineyard-covered fields of Umbria, two comprehensive nights begin in Florence, breathing in the atmosphere of fine wines, cobbled streets and green marble cathedrals.
Paris ends the journey with iconic sights including the Arc de Triomphe, the Louvre, Place de la Concorde and the Champs-Élysées.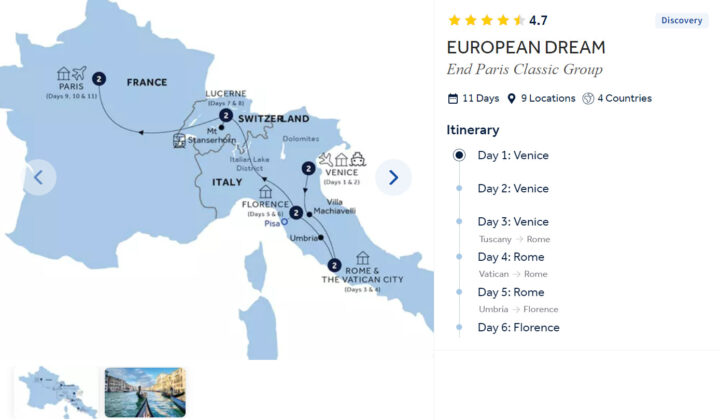 Melhores tours para a Europa do Tourradar (melhor site para buscar e comparar excursões na Europa de diferentes durações, estilos, preços, e operadores)
11. Tourradar – Europe Escape (12 Days)
Start and end in Rome! With the tour, you will have a 12-day tour package that will visit Rome, Italy and 15 other destinations in Europe. The tour includes hotel accommodation, plus an expert guide, meals, transportation and more.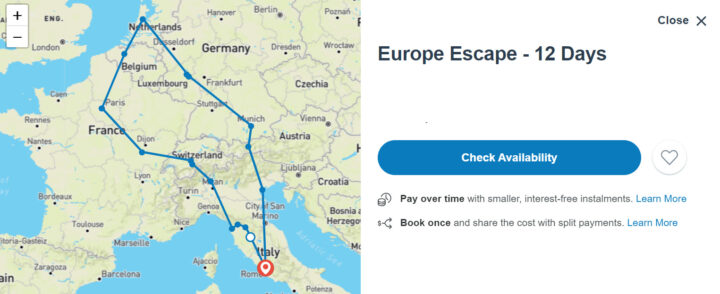 12. Tourradar – Europe Highlights (10 Days)
Start and end in Rome! With this tour, you will have a 10-day package that will visit Rome and 15 other destinations in Europe. The tour includes hotel accommodation, plus an expert guide, meals, transport, and more.

Melhores itinerários e excursões em grupo na Europa só para mulheres
13. Solo Female Travelers – Croatia & Montenegro Summer Road Trip
Enjoy the summer lifestyle along the Adriatic coast of Croatia and Montenegro in style. Visit coves, exclusive beaches and clubs, islands, national parks, bays and walled cities as we indulge in the perfect seaside holiday with a touch of luxury.

Concluding
Europe is a fascinating destination for those looking for cultural, historical and adventure experiences.
With a wide variety of tour and excursion options available, it is essential to do some careful research before choosing the company that best suits your needs and expectations.
Check the reviews of other travelers and the details of the accommodations offered. This is essential to ensure a smooth and safe journey.
Despite everything, regardless of the chosen company, one certainty is absolute: visiting Europe is a truly once-in-a-lifetime experience! So get ready for an unforgettable journey and embark on this adventure across the continent!
Planning your next trip?

Then don't forget travel insurance! You don't want to get stuck paying a ton of money and ruining your trip if you get sick or have an accident without travel insurance. WorldNomads is ideal for adventurous travelers, backpackers, or anyone looking to be protected during their trip. They cover almost every single activity you can image! Plus, you can have a 5% discount with the coupon code comfort5.

Already reserved your hotel or hostel? If not, we recommend Booking.com. They have a huge selection of hotels and hostels all over the world. Plus, in most cases, you can cancel your reservation without any costs up to a few days before the check-in date!

Still haven't booked your plane ticket and want to save big? Take a look at Momondo. It's a flight aggregator that combines several other ticket search websites to make it easier for you to compare prices and make sure you are getting the best deal.

And finally, will you need to rent a car during your trip? Then check out Rentalcar.com to search and compare car rental companies from all over the world in a single website. Then, you can find the cheapest price for the best car!