Last Updated on by Talita
13 excellent and different guided tours in Morocco. Tours with a variety of prices, durations, destinations, themes, age ranges, luxury levels, and adventure levels.
Morocco is a fascinating and diverse country, known for its rich history, vibrant culture, and stunning landscapes. Tourism in Morocco has been growing in recent years, attracting visitors from around the world who want to explore the imperial cities, the Sahara Desert, and the Atlas Mountains.
One of the main tourist attractions in Morocco is the historic imperial cities that enchant visitors with their opulent palaces, stunning mosques, labyrinthine medinas, and lively souks.
Another highlight of tourism in the country is the Sahara Desert. Travelers can embark on a camel adventure through the golden dunes, spending the night in a Bedouin camp and admiring the spectacle of the sunset over the endless sands. This unique desert experience offers tourists a unique perspective and a connection with the nature and vastness of the environment.
In addition, the Moroccan lands offer a variety of beautiful natural landscapes. The Atlas Mountains are a paradise for hiking enthusiasts, with panoramic views and picturesque Berber villages. The beaches of Morocco, such as those in Essaouira and Agadir, are ideal for relaxing, practicing water sports, or simply enjoying the sun.
Moroccan cuisine is also a strong point that deserves recognition. Travelers can savor exotic flavors and aromas of spices in traditional dishes such as couscous, tajine, and Moroccan mint tea. Local markets offer a multitude of fresh and colorful ingredients, creating an unforgettable culinary experience.
However, it is important to mention that tourism in Morocco also presents challenges, such as negotiating prices in the souks and the need to take health and safety precautions. It is advisable for travelers to consult updated information and follow the guidelines of the government and local authorities during their stay.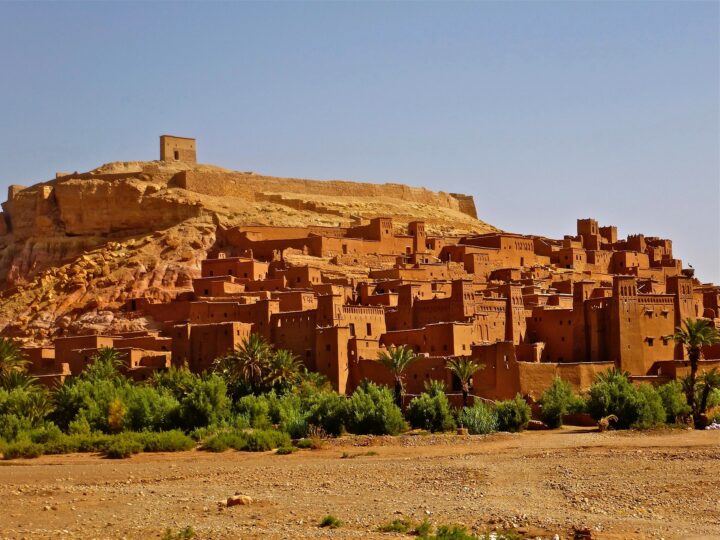 10 top tourist attractions in Morocco
Before we dive into the main topic of this article, it's interesting to highlight some of the most sought-after tourist attractions in Morocco to facilitate the search for tours, itineraries, and excursions that suit your preferences.
As mentioned before, Morocco is a captivating country. Below, we present a list of the 10 main attractions and tourist cities that are worth visiting in Morocco:
Fez:

One of the imperial cities, Fez is home to one of the oldest medinas in the world, with its labyrinthine alleys, mosques, and historic universities;

Marrakech:

Known as the "Red City," Marrakech enchants visitors with its historic medina, stunning palaces, and the bustling Jemaa el-Fna Square;

Sahara Desert:

A visit to Morocco would not be complete without an experience in the Sahara Desert, with its vast sand dunes and the opportunity to enjoy a camel ride or camp under the stars;

Essaouira:

A charming coastal city, Essaouira is known for its beaches, historic fortifications, and relaxed atmosphere;

Casablanca:

The largest city in Morocco, combining modern architecture with traditional touches, notable for the famous Hassan II Mosque, one of the largest in the Islamic world;

Rabat:

The capital of Morocco is a fascinating blend of tradition and modernity, with the impressive Kasbah des Oudaias and the Hassan Tower as highlights;

Atlas Mountains:

The Atlas Mountains offer breathtaking beauty and opportunities for hiking, trekking, and exploring traditional Berber villages;

Ait Ben Haddou:

This ancient fortified city is a UNESCO World Heritage site and has served as a backdrop for famous films such as "Gladiator" and "Game of Thrones";

Chefchaouen:

Also known as the "Blue City," Chefchaouen is famous for its narrow streets and houses painted in vibrant blue, creating a charming setting;

Meknes:

Another imperial city, Meknes delights with its monumental gates, palaces, and historical attractions, such as the Dar Jamai Mansion and El Hedim Square.
Is it better to travel independently or in group tours in Morocco?
Regardless of the option you choose to travel in Morocco, whether independently or on a group tour, each has its positive and negative aspects.
Opting for independent travel, for example, offers greater flexibility to plan your own itinerary and choose activities according to your preferences. You'll have the freedom to decide when and how to carry out activities, allowing you to explore Morocco at your own pace. Additionally, this option can be more economical as you can control expenses according to your choices.
However, independent travel requires detailed planning, with research on accommodation, transportation, and activities. You need to be prepared to deal with potential challenges, such as the language barrier, and take extra precautions regarding safety, especially in more remote areas.
On the other hand, a group tour with a guide offers the company of other travelers and the opportunity to meet people with similar interests. Additionally, traveling in a group can provide a sense of security, especially if you are accompanied by an experienced guide who is knowledgeable about Morocco.
However, this option may somewhat limit your freedom to explore Morocco independently, as you will be following a predetermined itinerary and schedule set by the group.
In summary, the choice between traveling independently or in a group in Morocco depends on your personal preferences. Evaluate your interests, time availability, budget, and comfort level when making your decision.
| | |
| --- | --- |
| Positives of traveling on a group tour | Advantages of traveling on your own |
| Company and opportunity to meet people with similar interests | Flexibility to create your own itinerary and choose activities |
| Peaceful and fun group experience | Autonomy to follow your own schedule |
| More safety when riding in a group, especially with an experienced local guide | Freedom to explore Iceland without having to stick to a schedule |
| Less need for planning and research as the tour already provides accommodation, transport and activities | Potential savings, since depending on the choices it can be cheaper |
| Possibility of access to places or activities that may be difficult or impossible to reach alone | Greater challenge and opportunity to learn and grow with the experience of planning and conducting your own trip |
13 Best Tours and Itineraries to Explore Morocco
Best Morocco Tours and Itineraries for Guided Small Group Adventures
1. GAdventures – Morocco Journey (9 Days)
From golden dunes, vibrant and bustling bazaars to the ancient ruins of past civilizations. Explore some of Morocco's most fascinating locations.
Discover the cool cedar forests of the Atlas Mountains, travel through the winding lanes of ancient Marrakech and embark on a 4×4 desert adventure. Meet musicians, artisans and nomads as you soak up the mystical aura of this captivating North African nation.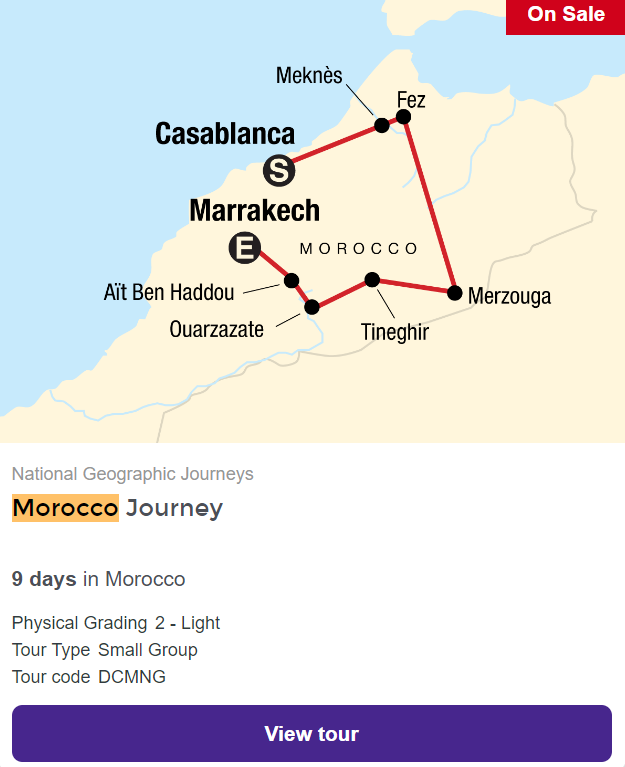 2. GAdventures – Morocco Adventure: Culture & Color (17 Days)
Visit charming mountain towns that make for amazing photos, bustling markets, desert camel rides and surfing lessons await you on this 17-day tour of Morocco.
Enjoy the picturesque blue city of Chefchaouen, enjoy free time to explore the vibrant markets of Marrakech, hike along the Atlas Mountains (with an overnight stay in a cozy gîte) and relax with your fellow travelers around a bonfire on the beach in Taghazout.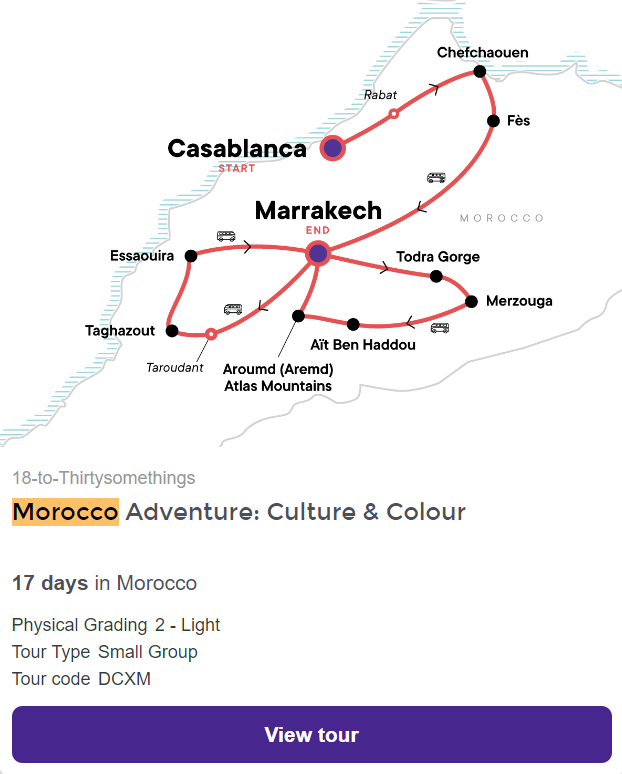 3. Encounters Travel – Moroccan Highlights (8 Days)
This classic group tour spends 8 days exploring Morocco's highlights, from the Imperial Cities, medinas and ancient cities in the north, to the Atlas Mountains and Sahara sand dunes in the south.
Accommodation is in comfortable, mid-range hotels, plus one night in a desert camp, with extensions available at the beginning or end of the tour if you have more time on your hands. The tour can also be arranged privately if you prefer not to join a small group or if the group dates don't work for you. Please contact us for more details.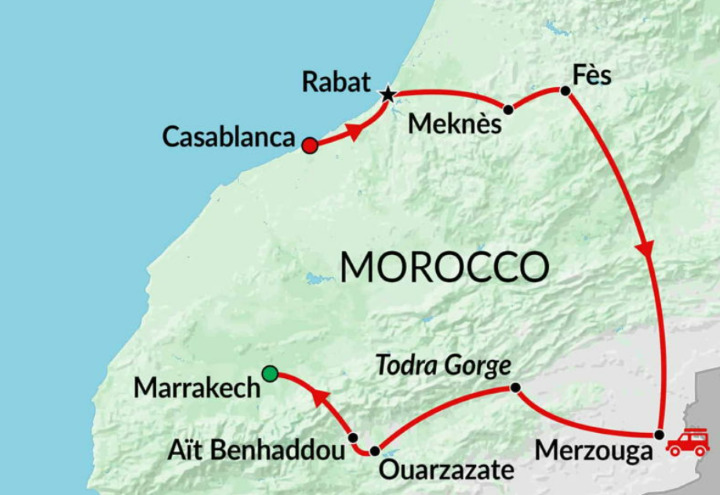 4. Intrepid – Premium Morocco in Depth (15 Days)
Energetic cities give way to wild deserts and towering peaks on this 15-day Premium Morocco adventure. Explore the blue streets of Chefchaouen, the lively medina of Meknes, the historic Old Town of Fes and the bustling Djemaa el-Fna square in Marrakech.
Plus, sip tea with an Amazigh family in the Dades Valley, taste pastilla at a local's home in Fes, and spend an unforgettable night under the stars in the Sahara. From a diverse culture to endless hospitality, discover a country that defies expectations.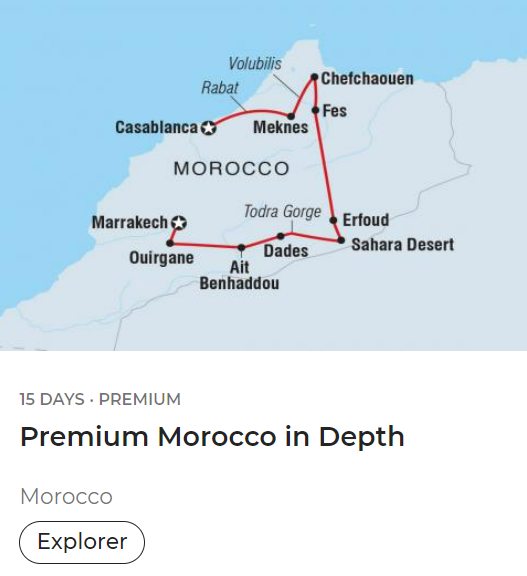 Best Morocco Tours and Itineraries for Groups of Young Singles (18-35 Years Old)
5. Contiki – Moroccan Adventure (10 Days)
The earthy scent of saffron, the kaleidoscope of colorful rugs, mountains and mosques, this is Morocco. Stroll through the medinas, bustling squares and imposing palaces, immersing yourself in ways you couldn't on your own.
From the magical hubbub of Marrakech to iconic Casablanca and Rabat, we'll then head into the desert to stay with Berber people and enjoy dinner in a royal tent.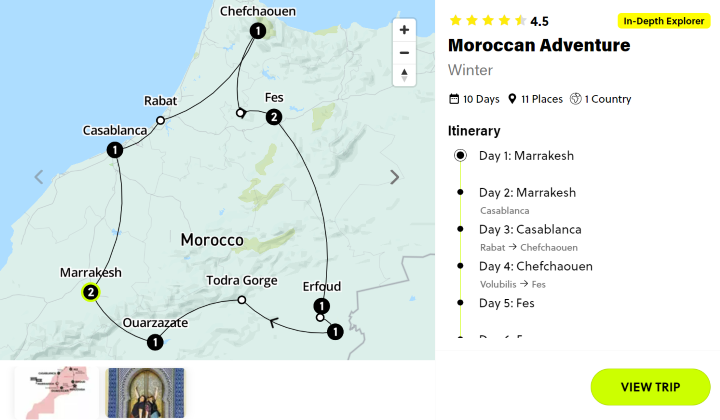 6. Contiki – Iberian Peninsula and Morocco (21 Days)
Get ready for the irresistible trio of Spain, Portugal and Morocco! From strolling through Barcelona's Gothic Quarter to discovering richly decorated mosques in Casablanca and enjoying incredibly fresh seafood in Lisbon. This tour is a labyrinth of culture, charm and colorful experiences.

7. Topdeck – Delve Deep: Morocco (11 Days)
Iconic attractions and detailed adventures with a local tour leader. Did you think Morocco was all about photos of bazaars, camel rides and lots of couscous food? Despite having it all, on this 11-day tour you'll see a side of Morocco that your Instagram feed fails to capture.
Immerse yourself in a unique culture, surrender to new experiences and discover a world unlike any other, together with a small group of true adventurers.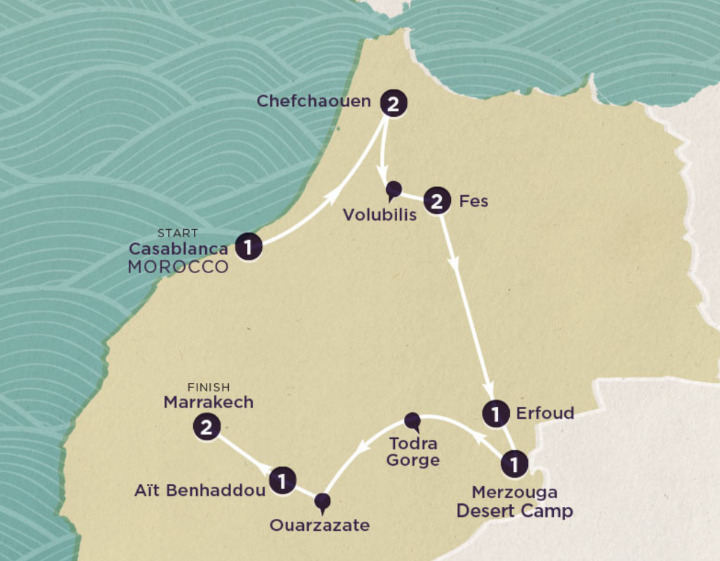 Best Luxury and Comfort Morocco Tours and Itineraries for Small Groups with Guides
8. Trafalgar – Best of Morocco (10 Days)
A complete journey through Morocco, exploring all the exciting sights, sounds and tastes worthy of its status as the gateway to Africa. Explore the ancient alleyways of Fes, spend a night like a local in a riad, and learn about the healing touch of Moroccan ingredients like argan oil.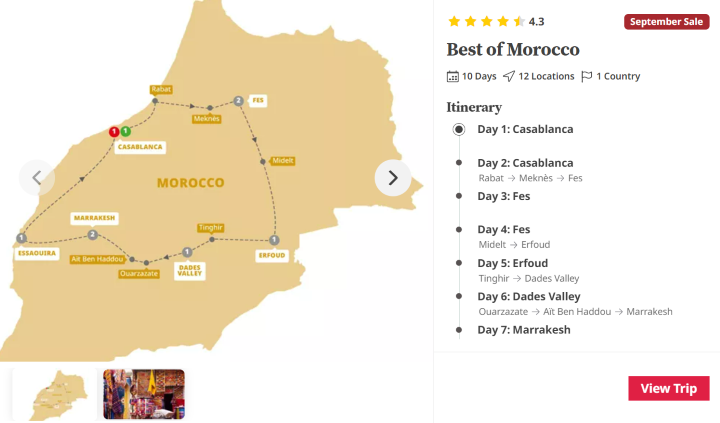 9. Insight Vacations – Treasures of Spain, Portugal & Morocco (17 Days)
Traverse Spain, Portugal and Morocco on this 17-day guided tour.
In Fez, Morocco, tour the Medina and learn about the renowned local arts and crafts. Travel to the white village of Alfarnatejo and discover the oldest olive grove in the region, where you will taste fresh olive oils and enjoy a traditional meal in the home of a Spanish family.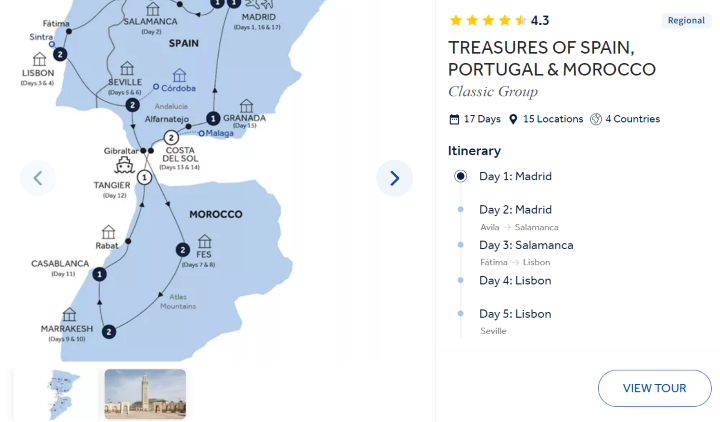 10. Insight Vacations – Best of Morocco (10 Days)
Discover Morocco's spectacular sites on this 10-day guided tour. Explore Morocco's largest mosque in Casablanca and feast on aromatic tagines and exotic fruits inside the ancient palace in Fez.
Then, take some time to appreciate the seductive art of belly dancing. Marvel at the rugged red mountains of the Dades Valley and sip wild herbal tea alongside local nomads.
Before reaching Marrakech, walk around one of Morocco's most impressive kasbahs at the entrance to the Sahara, an earthenware fortress and UNESCO World Heritage Site. And of course, you won't leave Morocco without seeing the snake charmers, storytellers and acrobats in Marrakech's markets and souks.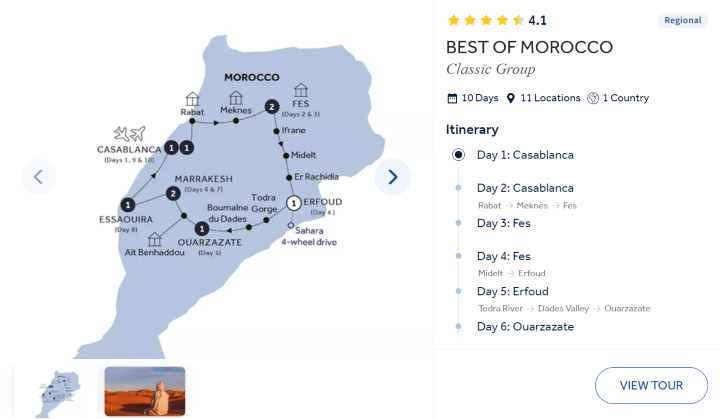 Tourradar's best Morocco tours (best site to search and compare Morocco tours of different lengths, styles, prices, and operators)
11. Tourradar – Highlights of Morocco (9 Days)
Start and end in Casablanca! On this tour, you will have a 9-day package that will take you through Casablanca, Morocco, and 9 other destinations in the country. Tour includes hotel accommodation as well as an expert guide, meals, transport and more!

12. Tourradar – Around Morocco Tour (8 Days)
Start in Marrakech and end in Casablanca! On this tour you will go to Marrakech and 6 other destinations in Morocco. The guided tour includes hotel accommodation, meals and more.

Best Itineraries and Group Tours in Morocco for Women Only
13. Solo Female Travelers – Morocco's Sights, Sounds and Colors
Experience Morocco through the eyes of a local hostess, guides and local activists as you navigate the contrasting modernity and tradition; from elegant Casablanca to the traditional Blue Pearl, Chefchaouen, from alpine ski resorts to the endless Sahara, from labyrinthine souks and ancient medinas to luxury hotels and elegant riads.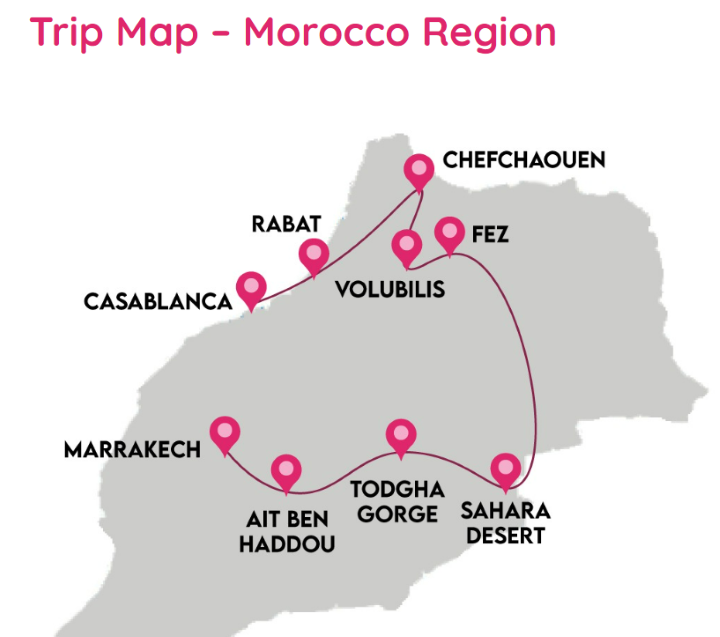 Concluding…
Morocco is a fascinating destination for those looking for cultural, historical and adventure experiences.
With a wide variety of tour and excursion options available, it is essential to do some careful research before choosing the company that best suits your needs and expectations. Check the reviews of other travelers and the details of the accommodations offered. This is essential to ensure a smooth and safe journey.
However, regardless of the chosen company, one thing is absolutely certain: visiting Morocco is a truly once-in-a-lifetime experience! So get ready for an unforgettable journey and embark on this adventure across the country!
Planning your next trip?

Then don't forget travel insurance! You don't want to get stuck paying a ton of money and ruining your trip if you get sick or have an accident without travel insurance. WorldNomads is ideal for adventurous travelers, backpackers, or anyone looking to be protected during their trip. They cover almost every single activity you can image! Plus, you can have a 5% discount with the coupon code comfort5.

Already reserved your hotel or hostel? If not, we recommend Booking.com. They have a huge selection of hotels and hostels all over the world. Plus, in most cases, you can cancel your reservation without any costs up to a few days before the check-in date!

Still haven't booked your plane ticket and want to save big? Take a look at Momondo. It's a flight aggregator that combines several other ticket search websites to make it easier for you to compare prices and make sure you are getting the best deal.

And finally, will you need to rent a car during your trip? Then check out Rentalcar.com to search and compare car rental companies from all over the world in a single website. Then, you can find the cheapest price for the best car!