Last Updated on by Talita
13 great and different guided tours around Tanzania. Tours with a variety of prices, days, destinations, themes, age, luxury level, and adventure.
Tanzania, located in East Africa, is a tourist destination that attracts visitors from all over the world. With its rich biodiversity, stunning landscapes and vibrant culture, the country offers an unforgettable experience for nature lovers.
Tanzanian culture is fascinating. With over 120 ethnic groups, each with their own traditions and languages, the country is a melting pot of cultural diversity. Visitors have the opportunity to meet local communities, learn about their traditions, music and dance, and experience traditional cuisine.
On top of that, Tanzania offers a variety of outdoor activities such as mountain hikes, bike rides, hot air balloon safaris and even the chance to go on an underwater safari in the waters of Lake Tanganyika.
Despite its natural beauty and rich culture, Tanzania faces some challenges in the tourism sector, such as the need to improve infrastructure and promote sustainable practices. Continued investment and conservation efforts are essential to protecting the country's natural resources and ensuring that future generations can enjoy the incredible diversity the country has to offer.
In short, tourism there offers a unique opportunity to explore the wildlife, landscapes and rich culture of a fascinating African country. With its vast plains, mountains and idyllic beaches, Tanzania captivates the hearts and minds of travelers seeking adventure, natural beauty and an authentic cultural experience.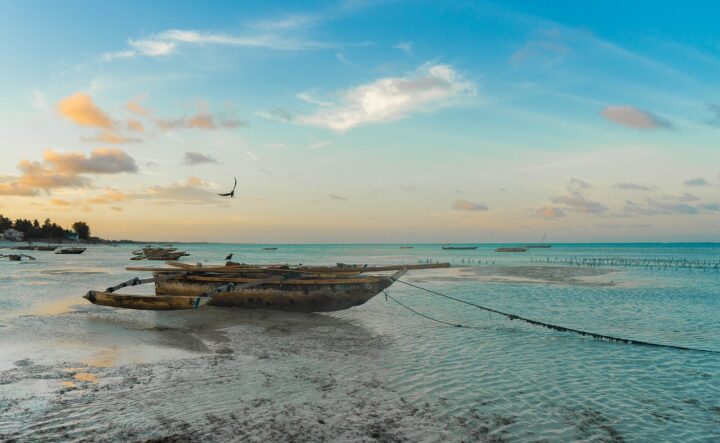 10 top tourist attractions in Tanzania
Before delving into the main topic of this article, it's interesting to highlight some of the most sought-after tourist attractions in Tanzania to facilitate the search for tours, itineraries, and excursions that suit your preferences.
Tanzania is an incredible country, filled with fascinating tourist attractions. Below, we present a list of the 10 main destinations and tourist cities that are worth visiting:
Serengeti National Park:

Known for its annual wildebeest and zebra migration, Serengeti offers thrilling safaris and the opportunity to observe wildlife up close;

Mount Kilimanjaro:

Africa's highest mountain is an unmissable challenge for adventure and mountaineering enthusiasts;

Lake Manyara National Park:

With its diverse landscapes ranging from lush forests to the famous alkaline lake, Lake Manyara National Park is a paradise for nature lovers;

Zanzibar Island:

With its pristine beaches, crystal-clear waters, and rich historical culture, Zanzibar is a perfect destination for relaxation and exploration;

Gombe Stream National Park:

This park is famous for its wild chimpanzees and offers a unique opportunity to observe these primates in their natural habitat;

Arusha:

Known as the "gateway" to many safaris, Arusha is a charming city surrounded by breathtaking landscapes and offers a welcoming atmosphere;

Ruaha National Park:

Tanzania's largest national park is home to an impressive variety of wildlife, including lions, elephants, giraffes, and more;

Ngorongoro Conservation Area:

With the Ngorongoro Crater as its main attraction, this conservation area offers spectacular scenery and diverse wildlife;

Tarangire National Park:

Known for its abundant elephant population, Tarangire National Park offers thrilling safaris in a stunning environment;

Mikumi National Park:

Located a few hours' drive from Dar es Salaam, Mikumi is known for its abundance of lions, giraffes, zebras, and other wildlife.
Is it better to travel independently or in group tours in Tanzania?
Whether you choose to travel to Tanzania independently or on a group tour, know that each has its advantages and disadvantages.
Opting for independent travel, for example, offers greater flexibility to plan your own itinerary and choose activities according to your preferences. This allows you to explore Tanzania at your own pace, deciding when and how to carry out activities. Additionally, this option can be more economical as you have control over expenses according to your choices.
However, such a trip requires careful planning, with research on accommodations, transportation, and activities. You need to be prepared to face potential challenges, such as the language barrier, and take extra precautions regarding safety, especially in more remote areas.
On the other hand, a group tour with a guide provides the company of other travelers and the opportunity to meet people with similar interests. Traveling in a group can offer a sense of security, especially when accompanied by an experienced guide who is familiar with Tanzania.
However, this option may somewhat limit your freedom to explore Tanzania independently, as you will be following a predetermined itinerary and schedule set by the group.
In summary, the choice between traveling independently or in a group in Tanzania depends on your personal preferences. Evaluate your interests, time availability, budget, and comfort level when making your decision. Both options have their merits, and the important thing is to find the one that best suits your needs and travel expectations.
| | |
| --- | --- |
| Pros of traveling on a group tour | Advantages of traveling on your own |
| Company and opportunity to meet people with similar interests | Flexibility to create your own itinerary and choose activities |
| Peaceful and fun group experience | Autonomy to follow your own schedule |
| More safety when riding in a group, especially with an experienced local guide | Freedom to explore Iceland without having to stick to a schedule |
| Less need for planning and research as the tour already provides accommodation, transport and activities | Potential savings, since depending on the choices it can be cheaper |
| Possibility of access to places or activities that may be difficult or impossible to reach alone | Greater challenge and opportunity to learn and grow with the experience of planning and conducting your own trip |
13 Best Tours and Itineraries to Explore Tanzania
Best Tanzania Tours and Itineraries for Guided Small Group Adventures
1. G Adventures – Tanzania Camping Adventure (6 Days)
Witness wildlife in the open savannas and experience the breathtaking beauty of the Rift Valley. Under the guidance of a certified safari guide, you'll travel to the Serengeti in search of phenomenal wildlife in their natural habitat.
Full-service camps will bring you closer to the animals in the area and are a cost-effective way to gain insight into local cultures in a short period of time.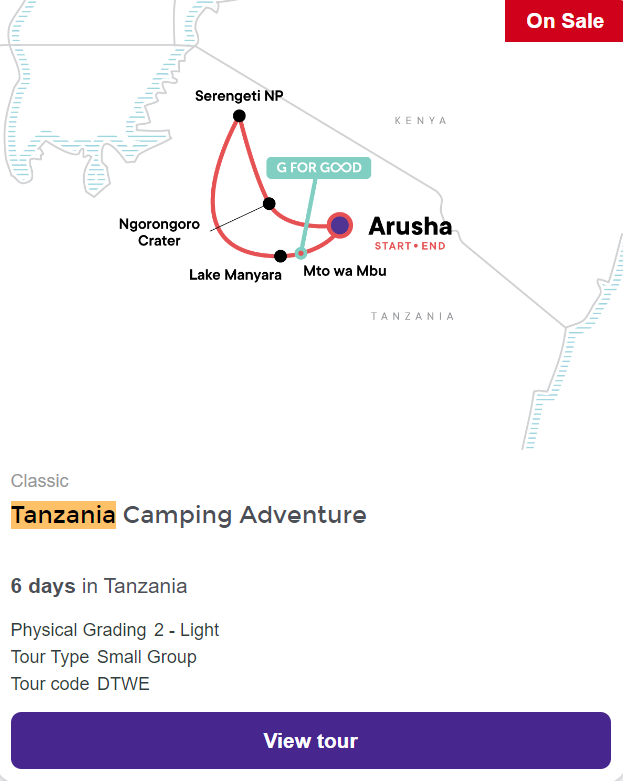 2. G Adventures – Tanzania Safari Experience (7 Days)
Embark on an unforgettable adventure in Tanzania in search of the African "big five" while immersing yourself in the rich cultures of the Maasai peoples.
Discover the stunning and wild Ngorongoro Crater and the vast golden plains of the Serengeti, visit a Maasai village and explore the area around the Olduvai Gorge, which has been inhabited by humans – and their most remote ancestors – for nearly two million years.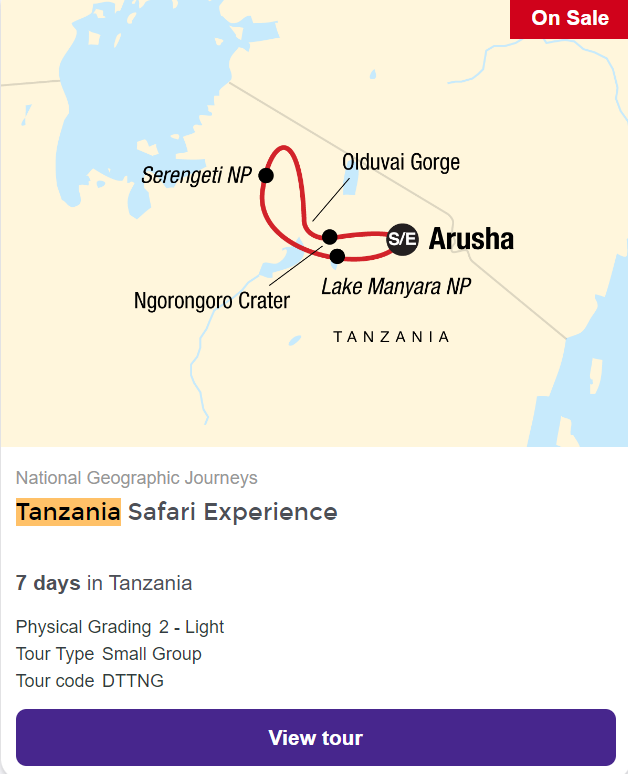 3. Encounters Travel – Zanzibar Escape Tour (6 Days)
This six-day tour of Zanzibar offers a taste of the best attractions and activities this African island has to offer.
Lovers of water sports will be delighted with the variety of attractions on offer, including excellent diving and snorkelling trips. Meanwhile, those looking to relax on the beach are also in the right place.
If you wish to extend your stay, you can book additional nights in Stone Town. Please contact us for more details.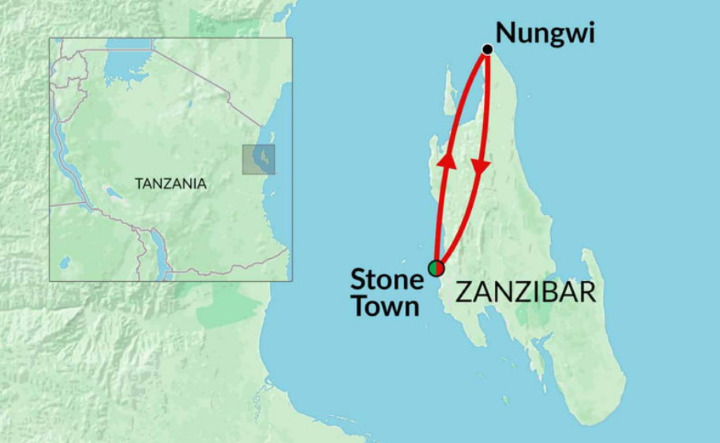 4. Intrepid – Cycle Tanzania (11 Days)
Filled with mighty predators and birds, the Serengeti and Ngorongoro Crater are must-visits for any trip to Tanzania, but safaris are just the beginning.
This unique cycling adventure lets you race down the escarpments of the Great Rift Valley, cycle through farming villages, roast and grind your own coffee, fall asleep among nocturnal creatures, experience the culture of the Maasai people, cycle off-the-beaten-path trails where no car goes. , and, of course, enjoy a sunset drink.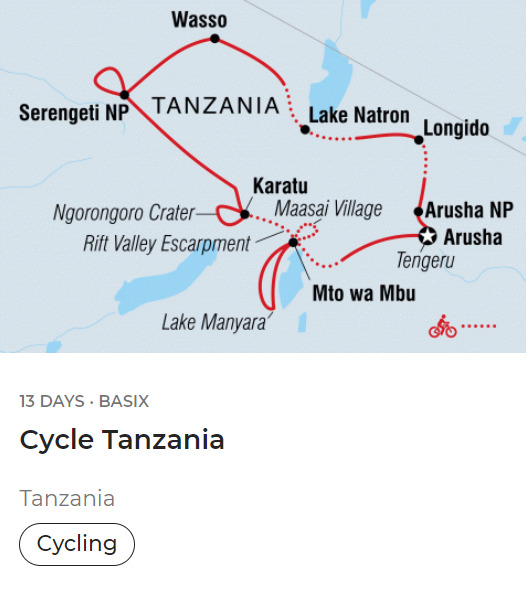 Best Tanzania Tours and Itineraries for Groups of Young Singles (18-35 Years Old)
5. Contiki – Taste of Tanzania (6 Days)
Have you ever imagined driving through the Serengeti in an open top vehicle and dreamed of going on safari?
How about also including views of the Great Rift Valley, a visit to an ancient volcano teeming with animals and predators, and nights camping under the starry skies of the Serengeti plains?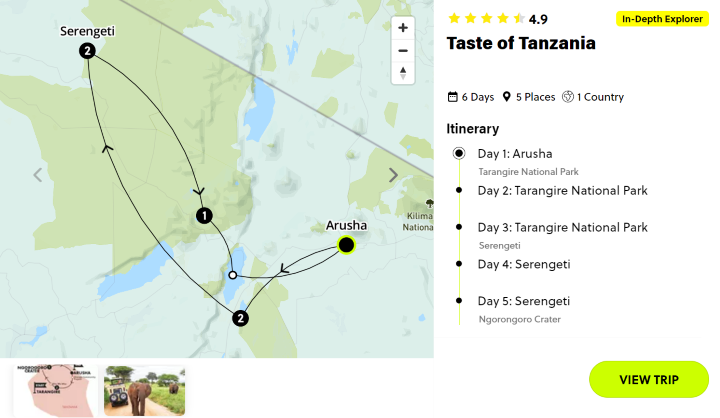 6. Contiki – Kili Climb (7 Days)
In a country of vast wild landscapes rises a dormant volcano that boasts the highest peak in Africa: Kilimanjaro. On this once-in-a-lifetime trip, you embark on an unforgettable climb along the Marangu route to Uhuru Peak on an epic 7-day adventure.
But the real adventure is in the experience along the way: the trails taken, the wildlife seen and the friendships made. This is a small group trip where you will be looked after by a Local Guide from the team in the country organizing the trip.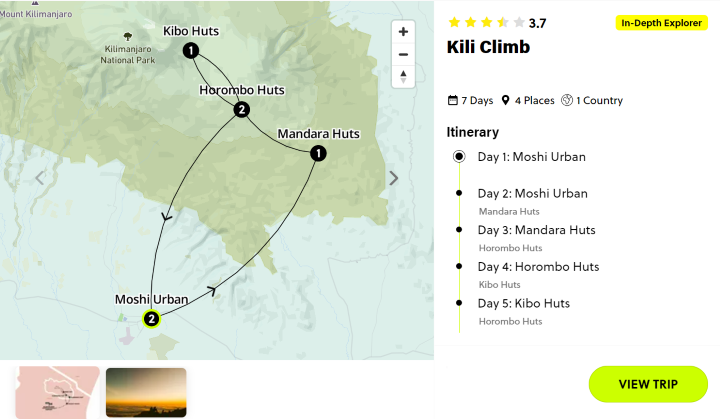 7. Topdeck – Delve Deep: Kenya & Tanzânia (14 Days)
Striking icons and deep adventures with a local Travel Guide. For you who want to feel the true African in two weeks, comprehensive and unforgettable.
Traveling from Nairobi to Zanzibar, you'll be immersed in thrilling safaris. Revealing discoveries on the islands. And local interactions that will feed your soul.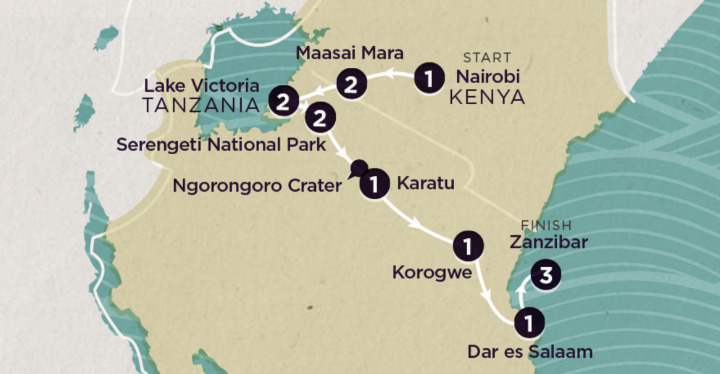 Best luxury and comfort Tanzania tours and itineraries for small groups with guides
8. Trafalgar – African Safari Adventure (14 Days)
Explore the wilds of Kenya and Tanzania, traversing landscapes where thousands of wildebeest make their courageous pilgrimage. Cruise across lakes in search of resting hippos and savor the spicy flavors of Swahili cuisine. All this on a once-in-a-lifetime adventure through East Africa.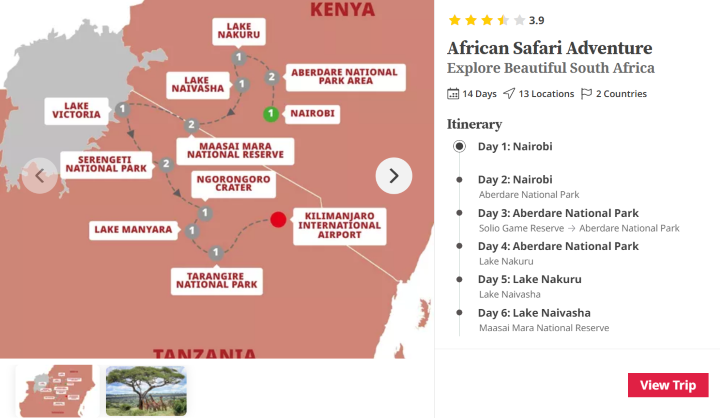 9. Trafalgar – Wonders of Kenya & Tanzania (12 Days)
Embark on a journey to the enchanting home of the African safari, fiery savannah sunsets and richly dressed Maasai, an epic adventure through Kenya's iconic wilderness.
End your trip by embracing the tropical paradise of Zanzibar Island. The Isle of Spice may be best known for its pristine beaches and crystal clear sea, but its rich commercial legacy is equally enchanting for culture and history buffs.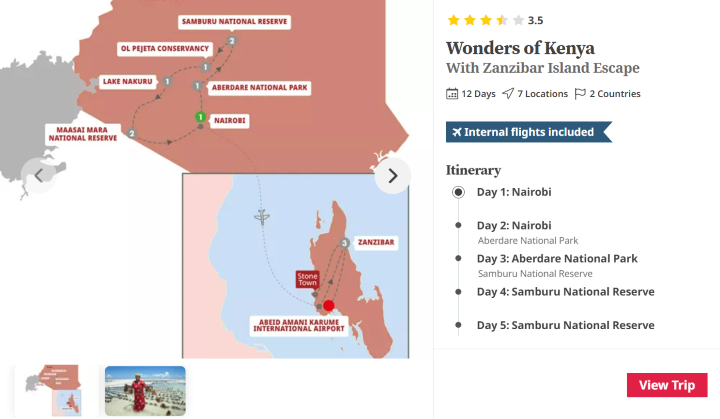 Tourradar's best Tanzania tours (best site to search and compare Tanzania tours of different durations, styles, prices, and operators)
10. Tourradar – Serengeti & Ngorongoro Safari (4 Days)
Start and end in Arusha! With this tour you will have a 4-day travel package that will pass through Arusha and 2 more destinations in Tanzania. The safari includes accommodation, an expert guide, meals, transport and much more.

11. Tourradar – Mount Kilimanjaro Western Breach (11 Days)
Start and end in Moshi! With this 11 days tour, you will have an 11 days travel package that will pass through Moshi and 6 more destinations in Tanzania. Your Western Breach tour includes accommodation, an expert guide, meals, transportation and more.

12. Tourradar – Zanzibar & Vic Falls (14 Days)
Start in Dar es Salaam and end in Victoria Falls! With the tour you will have a 14-day travel package that will pass through Dar es Salaam, Tanzania, and 10 other destinations in Africa. The tour also includes hotel accommodation, plus an expert guide, meals, transportation, and more.

Best itineraries and group tours in Tanzania for women only
13. Solo Female Travelers – Tanzania Value (11 Days)
Join other female travelers on an exclusive expedition, tracking wildlife across the Ngorongoro Crater region and the Central Serengeti, before relaxing on Zanzibar's beaches and exploring Stone Town, all while staying at unique and special properties.

Concluding…
Tanzania is a captivating destination for those in search of natural experiences and adventure.
When planning your trip, it is important to carry out thorough research to select the company that best meets your needs and expectations. We recommend checking the reviews of other travelers and the details of the accommodation offered is crucial to ensure a smooth and safe experience.
However, regardless of the company you choose, one thing is for sure: visiting Tanzania is amazing! So be prepared for an unforgettable journey and embark on this adventure across the country!
Planning your next trip?

Then don't forget travel insurance! You don't want to get stuck paying a ton of money and ruining your trip if you get sick or have an accident without travel insurance. WorldNomads is ideal for adventurous travelers, backpackers, or anyone looking to be protected during their trip. They cover almost every single activity you can image! Plus, you can have a 5% discount with the coupon code comfort5.

Already reserved your hotel or hostel? If not, we recommend Booking.com. They have a huge selection of hotels and hostels all over the world. Plus, in most cases, you can cancel your reservation without any costs up to a few days before the check-in date!

Still haven't booked your plane ticket and want to save big? Take a look at Momondo. It's a flight aggregator that combines several other ticket search websites to make it easier for you to compare prices and make sure you are getting the best deal.

And finally, will you need to rent a car during your trip? Then check out Rentalcar.com to search and compare car rental companies from all over the world in a single website. Then, you can find the cheapest price for the best car!