Last Updated on by Rodrigo @ OutofYourComfortZone
If you're planning to relocate or live overseas, having expat/international health insurance is essential! However, with numerous insurance options available, it can be difficult to determine the right choice. Check out this article to explore the top options, including their advantages and disadvantages, and find tables comparing the key features of each insurance plan.
So, you're embarking on an exciting journey abroad… Congratulations! I'm thrilled for you!

Living, working, or studying in a foreign country can be an exhilarating experience. You'll be joining countless individuals who, like you, have the chance to explore the world beyond their home countries. However, as you make preparations for visa arrangements and schedule vaccinations, there's one crucial aspect you mustn't overlook: expat/international health insurance.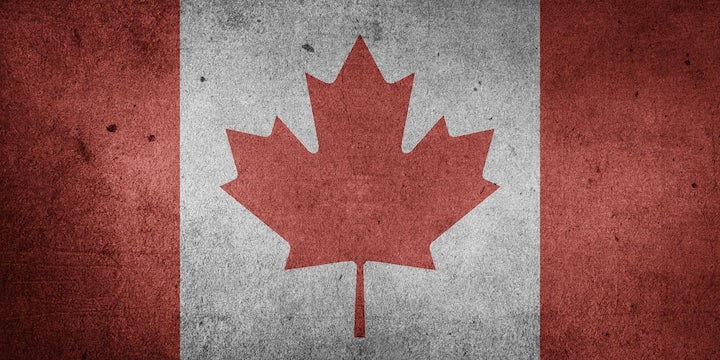 Canada's healthcare system is known as Medicare and it is a public, universal healthcare system. Canada has a government-funded health care system that provides essential medical services to all Canadian citizens and permanent residents.
Medicare is funded primarily by taxes collected by the federal government and by individual provinces and territories. Each province and territory is responsible for administering its own health care system, with guidelines set by the federal government.
The Canadian system is based on a few key principles, including universality, meaning all citizens and permanent residents are entitled to the necessary medical care, regardless of their ability to pay. Furthermore, the system is affordable and free of direct financial barriers for patients, as most medical services are covered by the government.
Medical services in Canada include doctor visits, hospital care, laboratory tests, prescription drugs, emergency care, maternity services and preventive care. However, it's important to note that not all health services are fully covered by Medicare, such as dentists, eyeglasses, and nonprescription drugs. These services are usually covered by private health plans or paid for by the individual.
Canadians usually have a family doctor, known as a family doctor or general practitioner, who is the initial point of contact for non-emergency medical care. Family physicians refer patients to specialists and hospital services when needed.
While the Canadian healthcare system is praised for its universality and accessibility, it also faces challenges such as waiting times for certain procedures and shortages of healthcare professionals in some areas.
Furthermore, if you decide to live abroad, neither of these two plans will provide coverage for your health under any circumstances.
Your health insurance from back home won't cover you while you live in another country long-term. And if you aren't a citizen of the country you will be moving to, you won't be covered by its public healthcare system.
What is expat/international health insurance?
International health insurance for expatriates and immigrants offers coverage for your medical expenses during an extended stay in another country. It typically provides a wide range of healthcare services, including medical emergencies and preventive care.
It's crucial to understand that international health insurance differs from travel insurance, and it is not recommended to forego it.
Why do I need international medical insurance for expats/immigrants and students?
Similar to the importance of having health insurance in your home country, obtaining health insurance becomes equally crucial if you plan on residing in another country for more than six months. In fact, many countries even require proof of medical insurance before granting visas or work permits (more information on this can be found in the "expat/international health insurance for immigration" section below).
Living abroad as an expat, immigrant, or student presents unique healthcare challenges. While away from your home country, it's essential to ensure access to quality healthcare services and financial protection in the face of unexpected medical situations.
As an expat or immigrant, it's still necessary to have regular check-ups, address any health issues promptly, and be prepared for potential emergencies. Having international medical insurance that covers you overseas provides peace of mind and the assurance that you can receive the necessary healthcare when needed.
For students studying abroad, international medical insurance is particularly critical. Being in a new environment, you may encounter different healthcare systems, potential health risks, and the need for ongoing medical support. Comprehensive coverage guarantees access to necessary healthcare services, including routine check-ups, treatment for illnesses, and emergency medical care.
While some employers may offer healthcare coverage for employees working in another country, this is not always the case. It's important to inquire with your employer about the availability of an international health plan for you and your family. If not provided, obtaining your own immigrant/expat insurance plan that aligns with the coverage you had at home is highly recommended.
The good news is that there are international health insurance options available that can be tailored to meet your specific needs, whether you're a solo traveler or require coverage for your family.
Investing in international medical insurance as an expat, immigrant, or student is a responsible decision that prioritizes your health and well-being while living abroad. It ensures preparedness for any healthcare needs that may arise and provides the necessary support to navigate the healthcare systems of your host country.
Why can't I just make sure I'm healthy before I leave?
It is essential to consult with your doctor before leaving your home country. However, prioritizing your well-being while abroad is equally important. It's important to consider that if you have pre-existing conditions or require ongoing medications, they may not be covered in another country.
Additionally, accidents can happen unexpectedly, even while traveling (I remember breaking my toe in South Korea, and I've met fellow travelers who have fallen off their skateboards or suffered from food poisoning). Therefore, having appropriate coverage is crucial for unforeseen circumstances.
Can I just use travel insurance for healthcare while living abroad?
In general, travel insurance is not sufficient for long-term stays in a single country. Its coverage is primarily designed for trips lasting less than 6 months, although there are options available for multiple countries if you are a tourist.
To grasp the difference between travel insurance and expat/international health insurance, let's explore further details below.
Difference between travel insurance & expat/international health insurance
Travel insurance:
It is designed for individuals who are visiting as tourists or traveling temporarily, rather than those who are living in a new country.

Usually offers coverage for medical emergencies that occur abroad but often excludes basic preventative care.

May also include coverage for incidents like lost baggage and trip cancellations, depending on the specific policy.
In certain regions, such as the European Schengen Area, travel insurance may be required for entry.
For more information on travel insurance, we suggest reading our article featuring the top three affordable travel insurance companies.
Expat/international/immigrant/overseas health insurance:
It is specifically tailored for individuals who are planning to relocate or reside long-term in another country.

Functions similarly to your standard insurance coverage in your home country.

Offers comprehensive coverage beyond emergency medical care, including preventative care, dental services, and vision care.

Can encompass a wide range of services such as pregnancy, cancer treatment, or mental health care, depending on the available plans.

Often a requirement for visa applications or obtaining resident permits.

You can continuously renew it as long as you remain overseas.

Having international health insurance that provides ongoing coverage is essential for individuals seeking permanent relocation abroad.
Expat/international health insurance for immigration and applying for residence permits/visa
In most countries, it is mandatory to provide proof of coverage under an international health insurance plan when applying for a temporary or permanent resident visa. It's essential to understand that travel insurance alone is generally not accepted for this purpose.
Due to the intricacies involved in immigration procedures, it is crucial to ensure that the expat/international health insurance policy you are purchasing meets the specific requirements of the immigration office in the country you plan to relocate to. While you may find this information online, it is advisable to directly contact the immigration office for clarification if it is not readily available.
Personal experience using expat/international health insurance for immigration in Sweden (hint: it's not always easy): When Nikki relocated from the United States to Sweden, she applied for her temporary residence permit, encountered the requirement of providing proof of international health insurance to the immigration authorities. Then, she purchased a policy from one of the companies listed below, and it was accepted by immigration.
However, when she proceeded to apply for her tax identification number through the Swedish tax office, she faced a situation where the same insurance policy was not deemed acceptable. As a result, she had to obtain a new policy from a different company.
If you anticipate facing a similar situation, it is crucial to thoroughly investigate the cancellation policies of each insurance company. By doing so, even if your current plan is rejected by immigration or other authorities, you can minimize financial loss by canceling your existing policy and obtaining a new one.
What should I look for in an overseas healthcare plan for expatriates?
While the plan you choose will depend on the kind of coverage you need while you live as an immigrant/expat, here are some of the basic things they should include:
Adequate yearly benefit maximums

Flexibility in plans and prices

Wellness care and emergency care

Inpatient and outpatient hospital visits

A large network of doctors and medical facilities to choose from

Multilingual and 24/7 customer service
Here is a comparison of our top three recommended insurance options for expats/immigrants, making it easier for you to choose. These options provide essential coverage for inpatient care, routine doctor's visits, emergency evacuations, and 24/7 customer service.
Please be aware that additional coverage for dental and vision services will result in extra costs. If you are pregnant or planning to start a family while living in another country, it may be necessary to select more expensive plans to ensure comprehensive coverage.
It's important to remember that lower-cost insurance plans often offer less coverage.
Therefore, conducting thorough research is crucial to find the ideal plan that suits your specific needs.
Who do these international health insurances work for?
For these citizens living abroad as expats or immigrants:
Americans

Australians

Chinese

Germans

French

Argentinians

British

Swedes

New Zealanders
And for citizens from almost every other country living abroad
For expats/immigrants living in:
The United States

Canada

China

Germany

Sweden

Spain

Portugal

France (European Union/Schengen Area as a whole)

United Kingdom

China (and Hong Kong)

Australia

Switzerland
And for expats living in almost any other country in the world
In other words, no matter your citizenship or which country you are moving to, most of these international health plans will work for you since they are truly global insurances.
Some questions to ask yourself before you buy expat/international medical insurance:
Do you need a private room if you're admitted to a hospital?

Are you planning on starting a family or expanding your family?

Do you have any pre-existing conditions or are you on any medications you need to continue while living in another country?

Are you willing to pay a higher deductible for lower premiums?
Note: If you aren't really an expat/immigrant but an international student at a school or college/university overseas, then I suggest you take a look at my article with the 3 Best and Cheapest Health Insurance for International Students and Exchanges/Study Abroad.
What I like:
You can choose from three plans: Silver, Gold, and Platinum.

The Silver plan offers basic coverage, including $100 annual coverage for eye care and certain cancer screenings.

You can customize your plan to include outpatient coverage and emergency medical evacuation if required for treatment outside the country.

Flexible deductibles are available, allowing you to have control over upfront payments.

Customer service is available 24/7 in multiple languages.

Payment options include monthly, quarterly, or yearly. Direct provider billing ensures that Cigna pays for your appointments directly, and Middle Eastern medical coverage is included.

The plans provide services for organ transplants and kidney dialysis treatments. This international health insurance has received positive reviews.

Their website offers information about the financial system, culture, and schools of your host country.
What I didn't like:
Before obtaining a quote, you will need to provide significant personal information.

It's important to note that the basic plan does not include coverage for maternity care.

Therefore, if you plan to have a baby while living abroad, you will need to purchase a more expensive policy.
IMG provides a variety of insurance options, such as travel insurance, health insurance for students, insurance for crew members, and dedicated insurance plans for expatriates. When navigating their website, make sure to explore their "Expat / Global Citizen" health insurance category for relevant coverage options.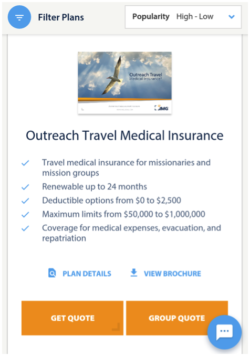 What I like:
They offer a selection of 5 plans for you to choose from.

Opting for their facilities outside of the U.S. comes with a cash incentive and the potential to waive up to 50% of your deductible.

With over 29 years of experience in providing health insurance coverage for immigrants and expatriates, they have extensive expertise in the field.

Their website provides an online portal, granting you 24/7 access to emergency medical services. Their network includes 17,000 physicians and facilities worldwide.

Direct billing services are available.

They offer both annual international health insurance plans and short-term plans. Coverage is available for individuals and families of all nationalities.

For their Bronze package, 12-month worldwide coverage with a $250 deductible could cost less than $1000 annually.
What I didn't like:
Coverage ends at the age of 75 (however, if you secure a plan before turning 65 and maintain it, you can participate in their lifetime enrollment program).

The basic plan does not include coverage for maternity care, and even their most expensive plan only covers deliveries and newborn care after a minimum enrollment period of 10 months.

The company treats COVID-19 as they would any other illness or injury, following the terms and conditions outlined in the policy.
Now Health International is focused on delivering a streamlined, cost-effective, and easily accessible service, as its name suggests. The company places a strong emphasis on fostering a connection with its customers. They communicate plan details clearly and efficiently and promptly address any questions or concerns through their dedicated customer support team.
Now Health plans are carefully designed to address the everyday challenges faced by individuals living abroad, providing guidance and ensuring high-quality healthcare services worldwide.
What I like: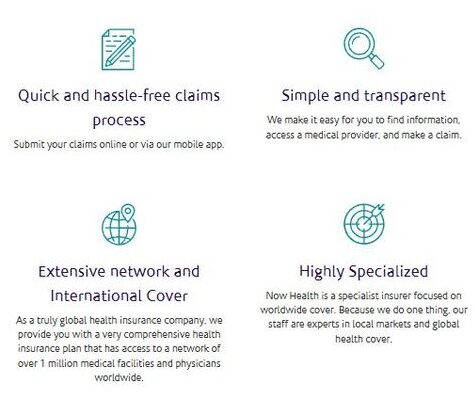 They offer personalized plans tailored to your specific needs.

Their customer service team provides clear information and excellent support.

Coverage is available in 194 countries and territories.

They offer plans with extensive coverage for routine maternity care.
What I didn't like:
There is a 12-month waiting period before you can utilize maternity coverage.

For certain procedures, you may need to use the company's reimbursement system, which requires you to initially pay for your care.
4. Allianz Worldwide Care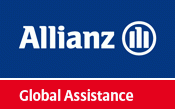 Allianz, a well-established German insurance company, is undoubtedly one of the major players in the global insurance industry. It would be incomplete to overlook them in our conversation about international health insurance providers.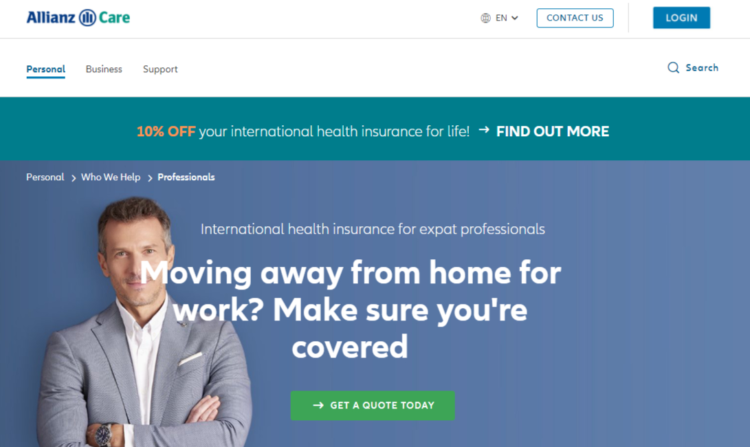 Here are a few of the things that I appreciate and didn't like about Allianz.
What I liked:
Allianz provides 24/7 international customer support, ensuring assistance is available whenever you need it.

In many cases, you won't have to handle payments directly with healthcare providers as Allianz takes care of settling the bills on your behalf, eliminating the need for reimbursement requests.

Allianz offers comprehensive coverage across all continents and the majority of countries worldwide, ensuring you are protected wherever you may be.

As part of their services, you gain access to a medical app that supports the prevention and treatment of health issues.

After 6 months of your contract, you can utilize the app, and expenses of up to €50 are covered.

Allianz extends its services beyond medical care with a specialized program specifically designed for expats and immigrants.

This program provides assistance in various aspects beyond healthcare, including guidance on independent living, managing family needs, and navigating the specific challenges of living in a new country.



What I didn't like:
Allianz don't have many options for plans.
Safety Wing is a reputable provider of international health insurance, serving a diverse range of individuals including students, digital nomads, and expats. Their website features a user-friendly interface that makes it effortless to obtain a quote for their plans. Simply input your age, duration of stay, and the countries you need coverage for, and you'll receive a customized quote.
What I like: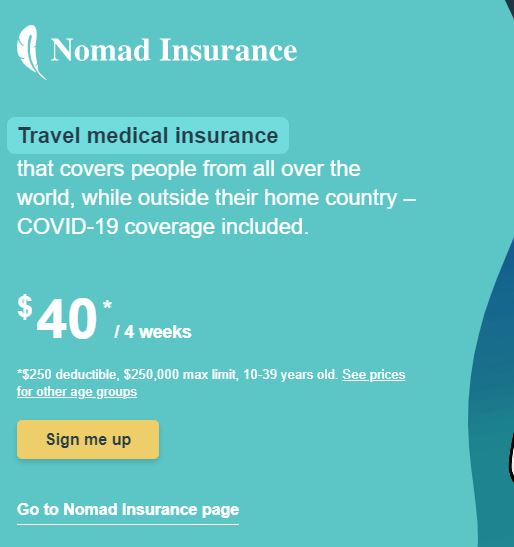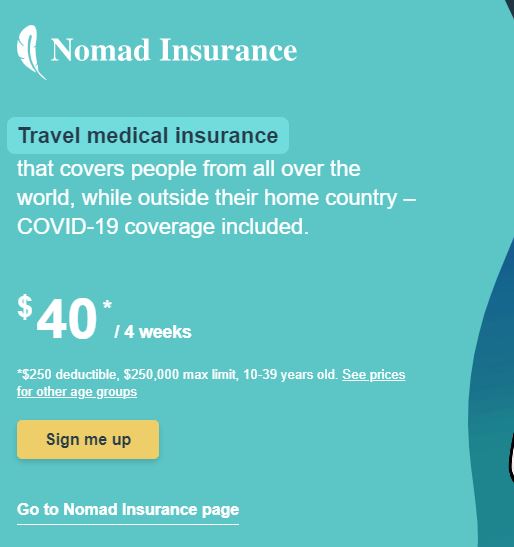 Safety Wing offers a user-friendly website that allows for quick and easy generation of insurance quotes.

They provide comprehensive coverage for expats, including coverage for COVID-19, with transparent details outlined for each plan.

You have the option to enhance your plan with additional services such as dental care, maternity care, deductible expenses, physical therapy, and access to a family doctor.

Safety Wing also provides coverage of up to $10,000 USD for repatriation following a political evacuation, going above and beyond to ensure your peace of mind.

In situations where treatment is received in a public hospital without fees or is covered by another insurance, Safety Wing offers payment assistance of US $125 per night for up to 30 nights.

They also offer comprehensive coverage and reimbursement for cancer treatments and reconstructive surgeries.

Families with children under the age of 10 can benefit from inclusive insurance coverage at no additional cost.

Additionally, Safety Wing provides round-the-clock customer support worldwide to assist you whenever you need it.
What I didn't like:
Fees for coverage in the United States, Hong Kong, and Singapore can be relatively high.

Obtaining a quote requires creating a login and providing detailed information, and the quotes may not display all fees upfront.
Safety Wing includes coverage for COVID-19 in their expat insurance plans, and starting from August 1st, 2020, this coverage is also available for their nomad plans.
It's important to note that COVID-19 tests are covered only when they are deemed necessary by a doctor. However, antibody tests are not covered as they are considered medically unnecessary.

Global Health, a subsidiary of the Foyer Group, is a renowned European company that provides a diverse range of insurance options. Their expertise spans across various types of coverage, including travel insurance, expat insurance, and student insurance. With their solid reputation and extensive experience, Global Health has established itself as a reliable and trustworthy player in the insurance industry. What sets them apart is their wide array of personalized plans, ensuring that individuals can find the coverage that precisely fits their unique requirements.
What I like: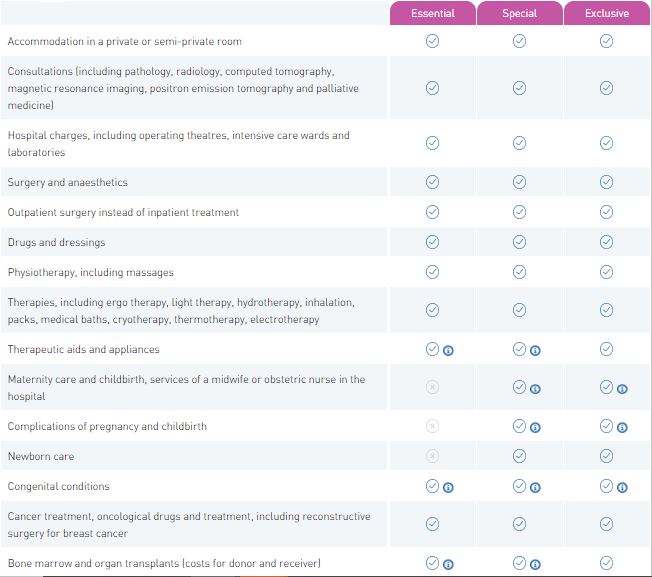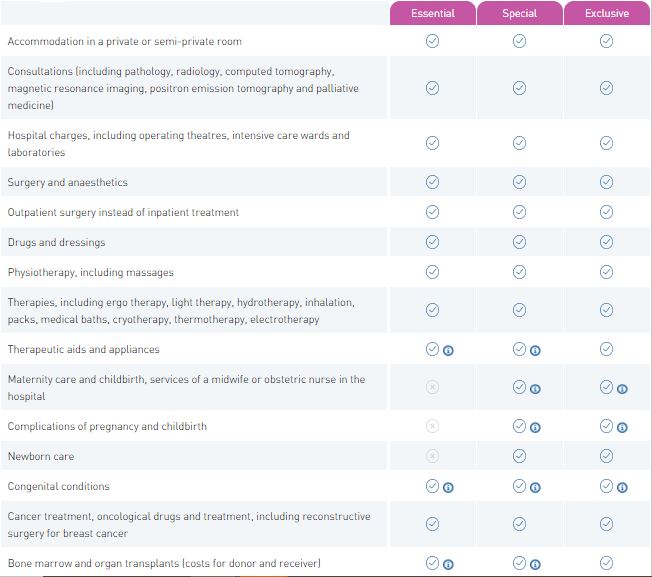 You have the freedom to personalize your insurance coverage with Global Health, taking into account factors such as your age, country of origin, dental care, vision care, maternity and child care, and more. They offer a range of options for each area of coverage, allowing you to choose from zero to maximum coverage based on your preferences.

Global Health caters to individuals, families without children, and families with children, providing insurance options tailored to their specific needs. Even if you don't have health insurance in the United States, Global Health ensures coverage for emergencies during your time on American soil.

They offer three distinct plan options: ESSENTIAL, SPECIAL, and EXCLUSIVE, each with different levels of coverage. Obtaining a quote is a quick and simple process, requiring minimal personal information. Deductible options are available, allowing you to select a plan that aligns with your financial preferences.

For short-term stays in another country, Global Health provides specific plans to meet your needs. They also facilitate plan comparisons, empowering you to make an informed decision about the coverage that best suits you.
What I didn't like:
While Global Health offers coverage options for expats throughout Europe, their basic plans may have limited coverage and may not include important services such as maternity care and newborn care. The customer service provided by Global Health, although functional, may not be as user-friendly or straightforward compared to other companies on this list.

The clarity of coverage details and limits on the Global Health website could be improved, making it slightly challenging to understand what is covered and what is not. While their website contains information about coronavirus, it is unclear whether their plans specifically cover COVID-19 tests or complications.

Additionally, Global Health charges a 5 euro fee for emergency support, which is an additional cost to consider.
Global Underwriters is a well-established insurance provider renowned for its exceptional offerings for expatriates and immigrants. With their extensive experience in the industry, they specialize in creating customized plans for travelers around the globe.
When it comes to expatriates, Global Underwriters presents two remarkable options: Diplomat Long Term and Diplomat International. These plans are meticulously crafted to cater to the unique requirements of individuals living in foreign countries, delivering comprehensive coverage and ensuring a sense of security.
What I like: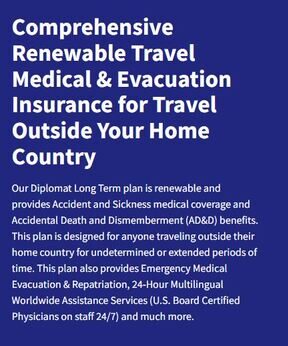 Global Underwriters' plans encompass essential features that include medical evacuations, repatriation of remains, and emergency dental coverage.

These comprehensive benefits offer coverage of up to $1,000,000 for medical expenses and accidental death or dismemberment, providing substantial protection.

Global Underwriters understands the importance of seamless travel experiences and offers support in case of trip interruptions due to health issues, as well as assistance for lost luggage. These additional services aim to ensure peace of mind during your journeys.
What I didn't like:
The Diplomat Long Term plan is not available for citizens residing in New York, Maryland, South Dakota, as well as residents of Australia and Iran.

Additionally, travel to Cuba, Iran, and Afghanistan is not covered under the Diplomat Long Term plan.

Lastly, the Diplomat International plan does not cover care for COVID-19.
3 Bonus options for Expat International Insurance plans:
– GeoBlue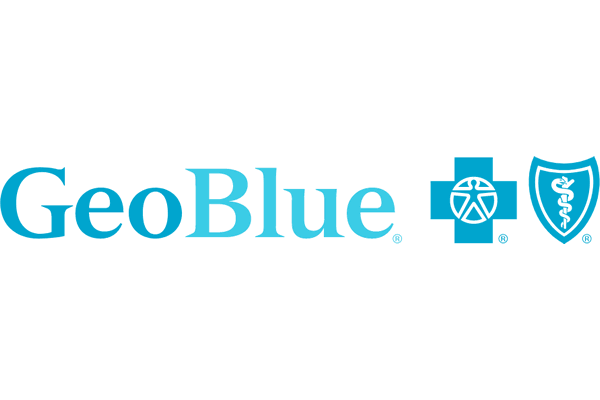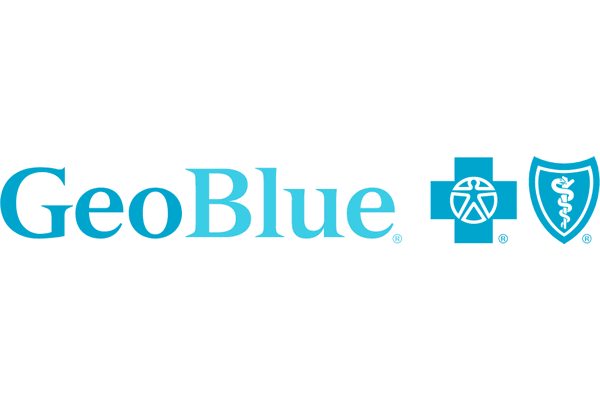 GeoBlue is a top-tier insurance provider that comes highly recommended for expatriates, making it an excellent choice for both residents and visitors in the United States. With its unwavering commitment to exceptional quality standards and its prominent position in the industry, GeoBlue stands as one of the leading names in its category.
What I like:
GeoBlue excels in delivering an exceptional service that surpasses even the highest quality standards in the industry.

Their Xplorer plan is specifically designed to cater to the unique needs of expatriates, foreign nationals residing in the US, and US citizens living abroad.

This plan offers unparalleled flexibility to ensure it meets your individual requirements.

With the Xplorer plan, you won't have to worry about deductibles for standard services, and it provides unlimited medical coverage, ensuring comprehensive protection.

In addition to its extensive coverage, the Xplorer plan includes benefits for extreme sports activities, and there are no cancellation fees associated with it.

For enhanced coverage, GeoBlue offers optional dental and vision coverage options that you can add to your plan.

GeoBlue provides a range of plans to choose from, allowing you to select the one that best aligns with your specific needs.

Their customer service is available 24/7, providing round-the-clock assistance whenever you need it.

Their plans offer comprehensive coverage that includes essential services such as evacuation, health consultations, and maternity care, ensuring you are fully protected.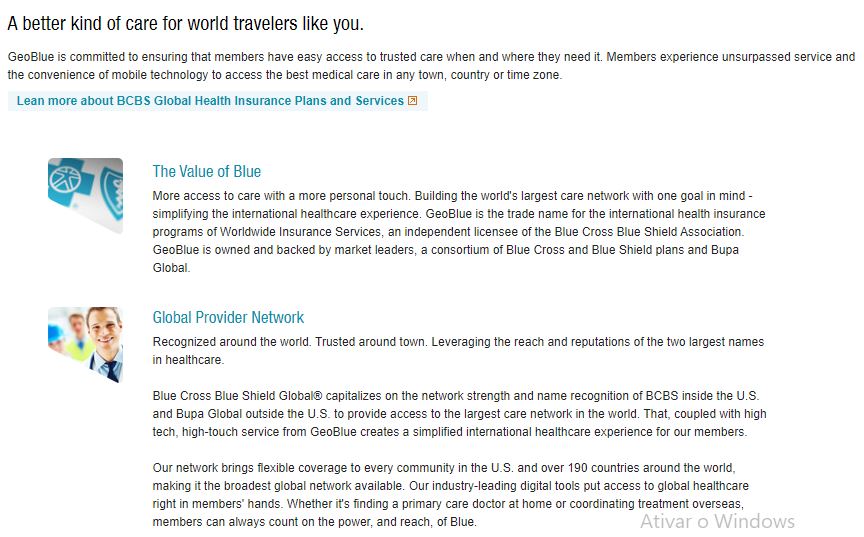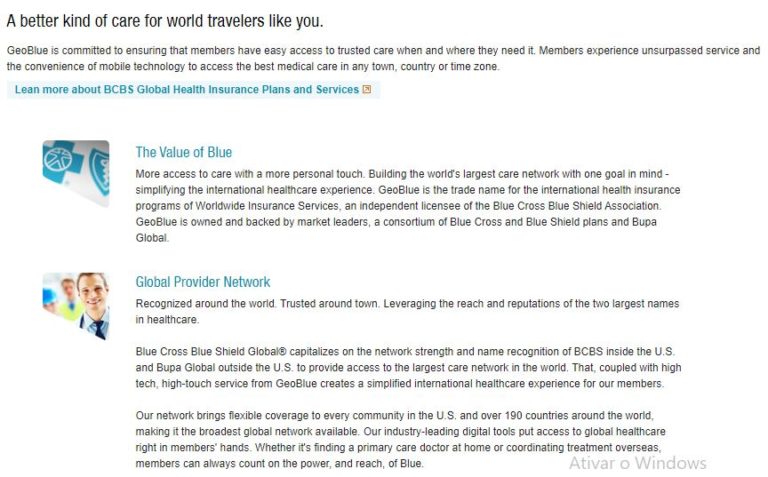 What I didn't like:
GeoBlue's insurance plans are currently not available for residents of New York and Washington states.

To obtain pricing information for their plans, it is necessary to contact a broker who can provide the relevant details.
One of the valuable benefits offered by GeoBlue is unlimited telemedicine consultations, which are provided at no cost to plan members who have inquiries related to Covid-19. Furthermore, if a physician recommends it, the company covers the costs associated with clinical testing and treatment for Covid-19.
As with IMG, Seven Corners also has medical insurance for travelers, students, faculty, and others.
What I like: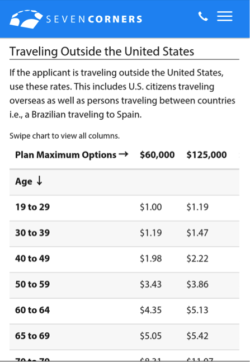 With a reputable 20-year history in the industry, Global Underwriters has established itself as a trusted provider of international health insurance solutions. Their comprehensive plans offer coverage for pre-existing conditions, providing peace of mind for individuals with ongoing health needs.

In addition to their robust coverage, Global Underwriters goes above and beyond by assisting you in locating embassies and providing travel advisories, prioritizing your safety and well-being while you are abroad. Their dedicated 24/7 multilingual travel assistance ensures prompt support whenever you require it.

Global Underwriters' plans offer extensive coverage that includes inpatient and outpatient care, dental services, emergency evacuation, and emergency reunion, allowing your loved ones to be by your side during hospitalization. For adventure enthusiasts, they even offer a hazardous sports rider that covers activities such as hang gliding, zip-lining, water skiing, and bungee jumping.

If affordability is a priority, Global Underwriters' basic plans are attractively priced. For example, a single male relocating to Fiji can obtain a basic plan with a $250 deductible for approximately $1 per day.
What I didn't like:
It's important to note that Global Underwriters does not offer coverage for individuals above 60 years old.

Coverage is not available if your U.S. address is in Maryland, Washington, New York, South Dakota, or Colorado.

Global Underwriters does not provide coverage for travel to Iran, Syria, U.S. Virgin Islands, Gambia, Ghana, Nigeria, or Sierra Leone.

For certain services like inpatient stays, rehab, outpatient surgeries, and home healthcare, precertification is required, which may involve additional steps and processes.
–

Aetna (acquired by Allianz)
Aetna prioritizes customer satisfaction by offering services tailored to the specific needs of individuals. With a strong focus on addressing the diverse requirements of expatriates and citizens residing in various countries around the world, Aetna provides a wide selection of customized plans.
By taking into account the individual circumstances of their customers, Aetna guarantees that their plans are carefully crafted to deliver comprehensive coverage and cater to the specific healthcare needs of individuals living abroad.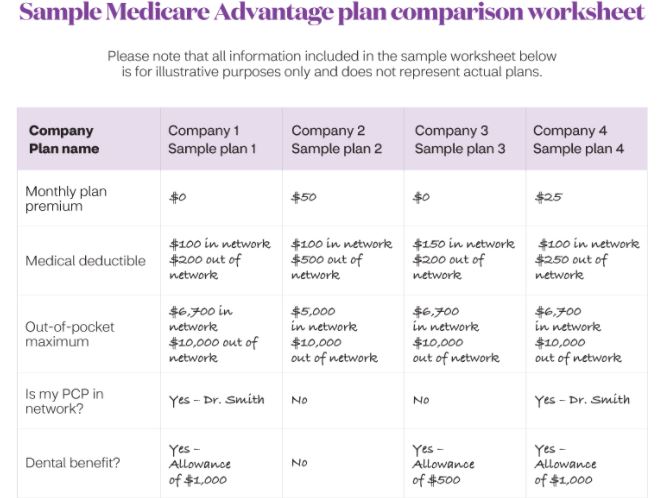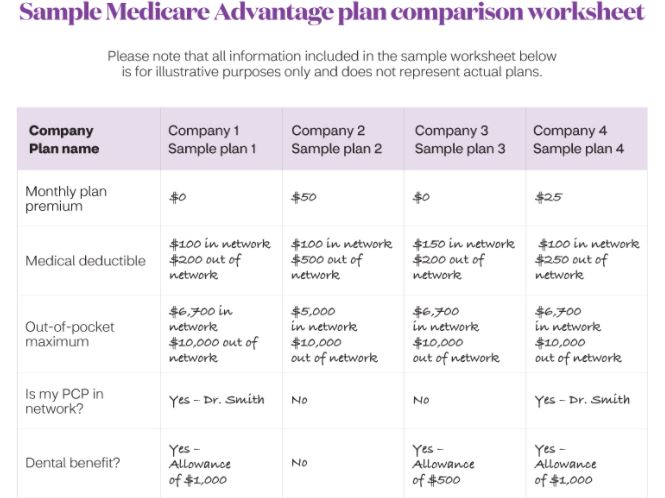 What I like:
Aetna is a reputable and well-established company with a distinguished history spanning over 50 years. They specialize in providing customized insurance plans specifically tailored to the unique needs of expatriates and digital nomads.

With a strong commitment to customer service, Aetna ensures round-the-clock support, available 24/7, to assist individuals whenever they need it. Their comprehensive plans typically encompass extensive coverage for hospitalization, emergency evacuation, repatriation, and cancer treatment, offering individuals peace of mind and comprehensive protection.

Aetna has been recognized for its excellence in the industry and has received prestigious awards such as "Best International Private Health Insurance Provider" and "Health Insurer of the Year." They have also developed a user-friendly mobile application that allows individuals to monitor their health and earn rewards points by practicing healthy habits. These points can be redeemed for gift cards at popular stores, adding an extra incentive for maintaining a healthy lifestyle.

Expanding their coverage to over 15 countries and territories worldwide, Aetna ensures accessibility and a wide reach for individuals seeking reliable international health insurance.
What I didn't like:
Aetna does not offer travel insurance plans specifically designed for solo travelers or families, which may limit options for certain individuals.

The website could be improved in terms of clarity and intuitiveness when presenting the available plans, making it easier for individuals to understand and compare their options.

To determine which plans cover the cost of Covid-19 treatment and testing, such as Medicare, individuals need to contact the company directly, which may require additional effort and time.
Do you consider yourself a "global citizen," or are you a digital nomad and need medical insurance that will follow you worldwide?
In that case, the mentioned insurance options are well-suited to your needs. The seven international health insurance plans listed are specifically tailored for digital nomads and individuals who live in multiple countries without a permanent residence. These plans are designed to meet the unique requirements of "global citizens" who seek comprehensive global health coverage.
To provide a quick summary and facilitate comparison, here are the key features of the seven international health insurance plans:
CIGNA
IMGLOBAL
AETNA
GEOBLUE
SAFETY WING
GLOBAL HEALTH FOYER
GLOBAL UNDERWRITERS

Silver – $1 million

BRONZE – $1 million

The values of the limits increase depending on the length of the insurance contract

The coverage amounts may change according to your choices

Annual benefit maximum of US $1,000,000

Personalized plans for you or your family

Maximum annual benefit of $1,000,000.00

Gold – $2 million
SILVER – $5 million

Aetna's plans may cover cancer treatments when the patient is part of a clinical trial.

Full reimbursement for hospital & cancers treatments, ambulance, and reconstructive surgeries

Value of total coverage is something you can customize per item

Up to $1,000,000 coverage in cases of accidental death or dismemberment

Platinum – Unlimited
GOLD – FOR COVERAGE UP TO 36 MONTHS

–

$5 million

Value of total coverage is something you can customize per item

GOLD – FOR COVERAGE AFTER 36 MONTHS

–

$5 million
GOLD PLUS

–

$5 million
PLATINUM

–

$8 million
A complete table comparing these 7 health insurances for expats…
Get a Quote

Get a Quote

BENEFIT
LIMIT
LIMIT
LIMIT
LIMIT
LIMIT
LIMIT
LIMIT
Benefit Information

Medical Maximum

Unlimited (for the Platinum plan)

$8,000,000

The site doesn't specify

Unlimited

US$1,000,000 per year

The site doesn't specify

$1,000,000

U.S. In-Network Coinsurance

You choose. From 70%(100% thereafter) to 100%

100%

No

60% for maximum coinsurance and then 100%

Yes, for higher fees

Only in emergencies

Yes

U.S. Out-of-Network Coinsurance

You choose. From 70%(100% thereafter) to 100%

90% to $5,000 (100% thereafter)

Yes, for higher fees

100%

100%

100%

100%

Mental Health Availability

No waiting period

12-month waiting period

Co-payment of $25 per visit, waived deductible

75% up to 40 visits / 60% after that

No

Waiting period of 10 months

Depends on the plan

Mental Health Benefit

Inpatient and Outpatient: $5,000 lifetime maximum to paid in full depending on the plan

Inpatient and Outpatient: $50,000 lifetime maximum

Co-payment of $250 after deductible

100% up to 60 days

International and ambulance: limit not specified

Inpatient Prescription Drugs

$500 to paid in full depending on the plan

Up to $8,000,000

Yes

Complete reimbursement

Yes

Yes

Outpatient Prescription Drugs

None, unless you buy the International Outpatient Option

Up to $8,000,000

Complete reimbursement

Yes

Yes

Evacuation and Repatriation of Remains

Paid in full

Up to $8,000,000

Yes

Up to $25,000

No

Up to 10,000 euros

Yes

Accidental Death & Dismemberment

Depends on the plan

Rider available, limit depends on age.

$50,000

Depends on the plan

Emergency Dental

Paid in full

Up to $8,000,000

Optional

1,000 per year, $ 200 per tooth

Yes, however you need to pay an extra fee on top of your plan

Depending on the plan, it's unlimited

It has coverage in the Diplomat Long Term and Diplomat International plans

Treatment Necessary as Result of Terrorism

Up to the amount of the coverage

Rider available up to $50,000-lifetime maximum

Clause available up to maximum of $50,000 in lifetime payments

Amateur Sports

Unlimited

Rider available up to $10,000

No

Yes

No

No

No

Newborn Care

Routine Nursery Care of a Newborn Child of a Covered Pregnancy

$25,000 to $156,000 depending on the plan

$1,000 additional deductible, $50,000 lifetime maximum, $200 wellness benefit for first 12 months

Yes

Depends on the plan

Can be unlimited depending on the plan

Can be unlimited depending on the plan

Children born as a result of fertility treatment (such as IVF or surrogacy)

Only after the baby is 90 days old

Excluded

Depends on the plan

Excluded

No

Neonatal Intensive Care Unit

Check website for updated information

$250,000 maximum for first 31 days

No

Up to $250,000 for the first 31 days

No

Pre-existing Conditions

Pre-existing condition exclusion period

Conditions that are fully disclosed on the application and have not been excluded or restricted by a rider will be covered as any illness

Conditions that are fully disclosed on the application and have not been excluded or restricted by a rider will be covered as any illness

Conditions that are fully disclosed on the application and have not been excluded or restricted by a rider will be covered as any illness

Conditions that are fully disclosed on the application and have not been excluded or restricted by a rider will be covered as any illness

Conditions that are fully disclosed on the application and have not been excluded or restricted by a rider will be covered as any illness

Conditions that are fully disclosed on the application and have not been excluded or restricted by a rider will be covered as any illness

Conditions that are fully disclosed on the application and have not been excluded or restricted by a rider will be covered as any illness

Pre-existing condition look back period

Any time prior to effective date

Any time prior to effective date

Any time prior to effective date

Any time prior to effective date

Any time prior to the effective date

Any time prior to the effective date

Any time prior to the effective date

Pre-existing annual maximum once covered

Unlimited depending on the plan

Up to $8,000,000

Unlimited depending on the plan

Unlimited depending on the plan

Full reimbursement

Unlimited depending on the plan

Unlimited depending on the plan

Pre-existing lifetime maximum once covered

Unlimited depending on the plan

Up to $8,000,000

Unlimited depending on the plan

Unlimited depending on the plan

Full reimbursement

Unlimited depending on the plan

Unlimited depending on the plan
Worldwide Medical Insurance / Comparison Chart*
Part of the table courtesy of Tokio Marine HCC
*Note: this table is just for informational purposes and subject to change. It was accurate as of the time we wrote it here, but please check each company's individual website for updated info.
To sum up…
These are the 7 best international health insurance for expats and immigrants:
Cigna

IMG

Now Health

Allianz

Safety Wing

Foyer Global Health

Global Underwriters
In conclusion…
Essentially, obtaining an immigrant/expat health insurance plan is crucial when you're considering living in another country, regardless of the duration of your stay.
We recognize that choosing the right plan can be overwhelming. Having gone through this process ourselves, we understand any concerns or questions you may have. If you need any assistance or feel that we may have overlooked any aspects, please don't hesitate to leave a comment below. We are here to support you!
Do you live abroad and need to receive or send money back home cheaply?
I have a specific article to help you make international transfers as cheaply as possible: The 5 Best Websites for International Money Transfers (send and receive money from abroad).
Planning your next trip?

Then don't forget travel insurance! You don't want to get stuck paying a ton of money and ruining your trip if you get sick or have an accident without travel insurance. WorldNomads is ideal for adventurous travelers, backpackers, or anyone looking to be protected during their trip. They cover almost every single activity you can image! Plus, you can have a 5% discount with the coupon code comfort5.

Already reserved your hotel or hostel? If not, we recommend Booking.com. They have a huge selection of hotels and hostels all over the world. Plus, in most cases, you can cancel your reservation without any costs up to a few days before the check-in date!

Still haven't booked your plane ticket and want to save big? Take a look at Momondo. It's a flight aggregator that combines several other ticket search websites to make it easier for you to compare prices and make sure you are getting the best deal.

And finally, will you need to rent a car during your trip? Then check out Rentalcar.com to search and compare car rental companies from all over the world in a single website. Then, you can find the cheapest price for the best car!