Last Updated on by Editor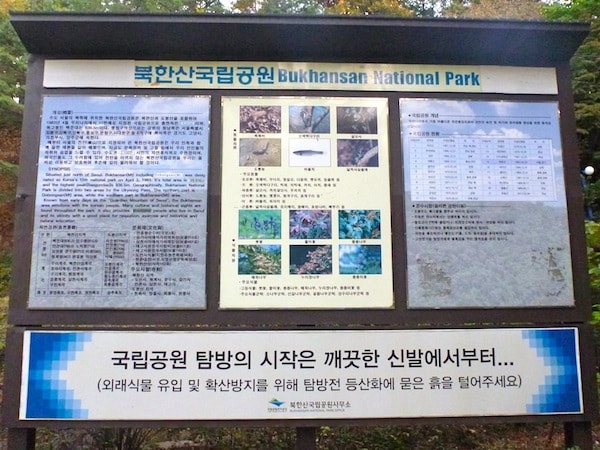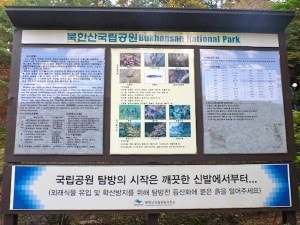 If you live in or near Seoul or you are just visiting and want to go on an adventure one day, hiking Bukhansan is a great option. Bukhansan National Park is just north of Seoul.
Baegundae Peak is the highest part of the mountain and is 840 m (or 2700 ft) above sea level. Depending on where you begin your hike, there are trails of about 3.4 km (2.11 miles) to arrive at the top in just over two hours. From the top, you'll have an incredible view of Seoul. If you need a little inspiration, check out some quotes about mountains here.
It's very easy to access this marvel of nature. You just take the metro and afterwards a bus to the entrance of the park. I'll give you the specifics down below. There are many trails, but the most popular is Bukhansanseong Trail.
The fastest way to access Bukhansan and get to the highest peak:
Metro Line number 3 → Gupabal Station → Exit 1→ bus 704 going towards Bukhansanseong Fortress → get off at the entrance to the park.
To arrive at Baegundae Paek, you can get a map at the information center at the entrance, follow the signs for "Baegundae," or just follow the crowd and ask. The trail always has a lot of people and it's difficult to get lost.
After the peak, you can return through the same trail or you can cross the park to the other side and walk along the old fortress wall. This alternative will add on about 4 km (2.48 miles) and will take just over 3 hours.
To descend Bukhansan from the other side, passing through The Fortress Wall of Seoul:
Keep following the wall until Daedongmun Gate (you'll see signs and there's a picture below) and go down the trail.
When you arrive at the end, catch bus number 1→ get off at Suyu metro station on line 4 → home.
You can see pictures of the bus and subway station down below.
Totals for the route across Bukhansan Mountain going to the highest peak:
Distance: 7.4 km (4.6 miles)
Time without transportation or stops: 5 hours (although I recommend you take your time to stop, appreciate, eat, and relax)
Cost: just transportation, the mountain is free!
Difficulty: the trails are relatively easy with a good number of steps. It's just a bit more difficult near the end as you climb Baegundae Peak and you need to support yourself with steel cables… but it's nothing that something you aren't accustomed to physical activity can't handle.
For more information like dates and opening hours:
https://english.visitkorea.or.kr/enu/SI/SI_EN_3_1_1_1.jsp?cid=264309
Check the map and the photos below to see what awaits you…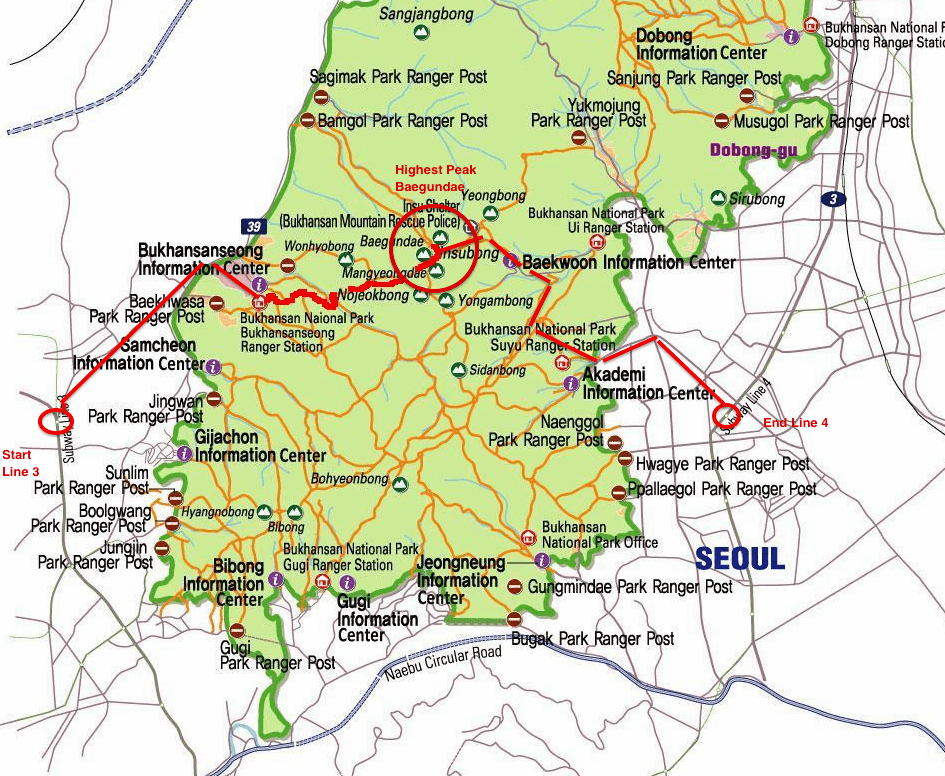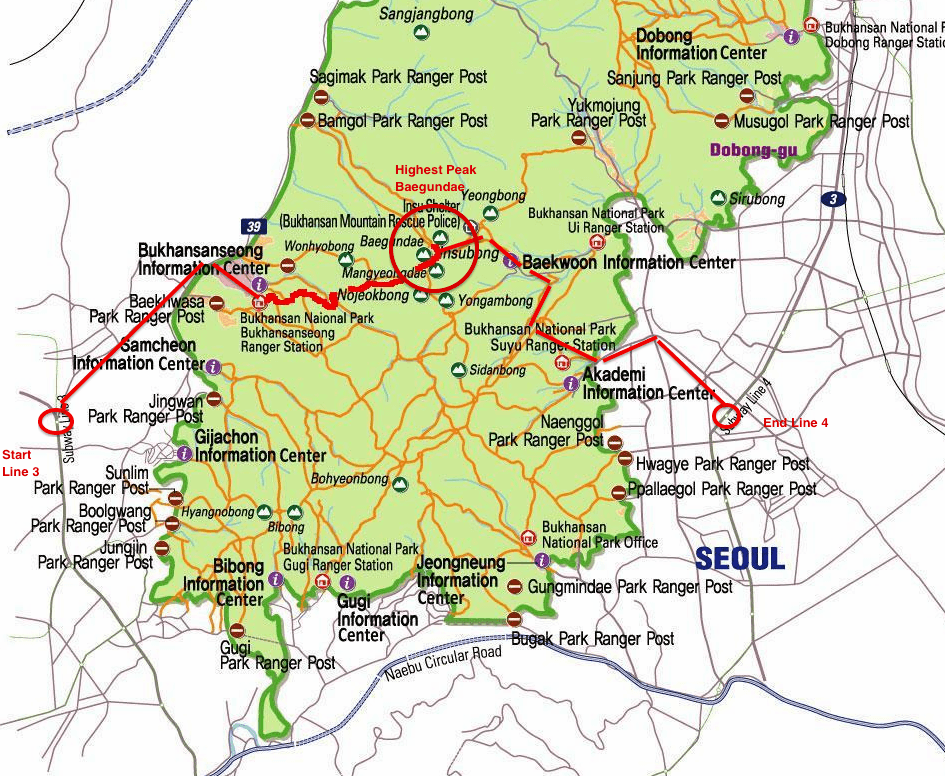 And here are some photos and videos from my day in Bukhansan
Before starting, don't forget to do your Korean style "warm-up… 😉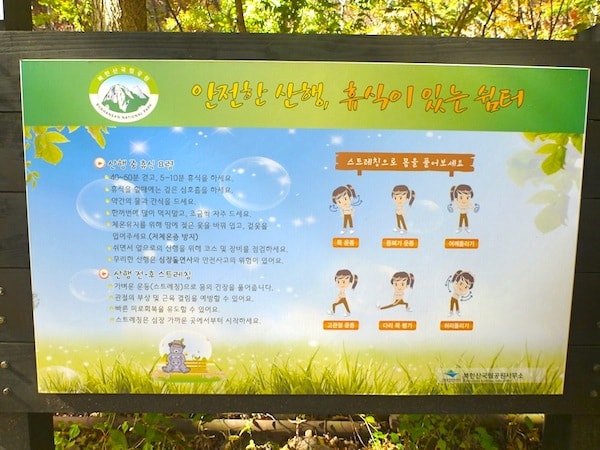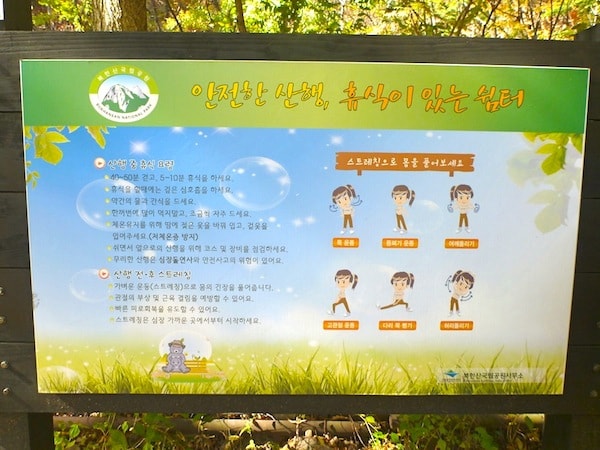 Heading towards the top with a few stops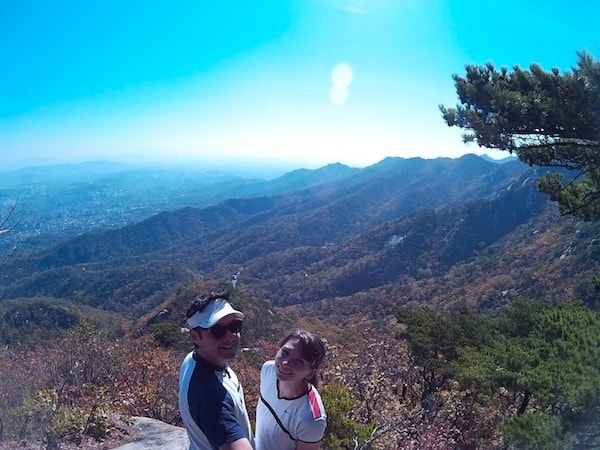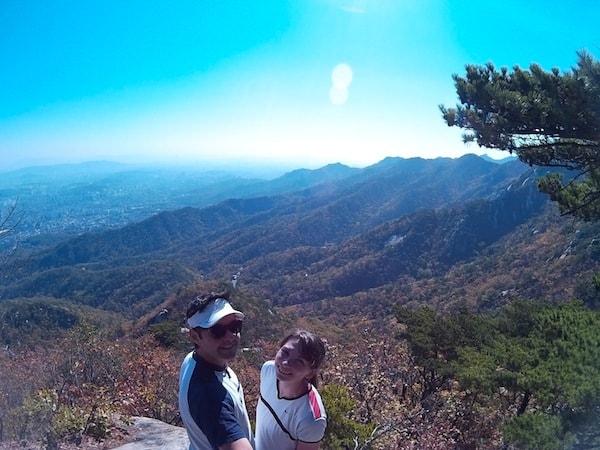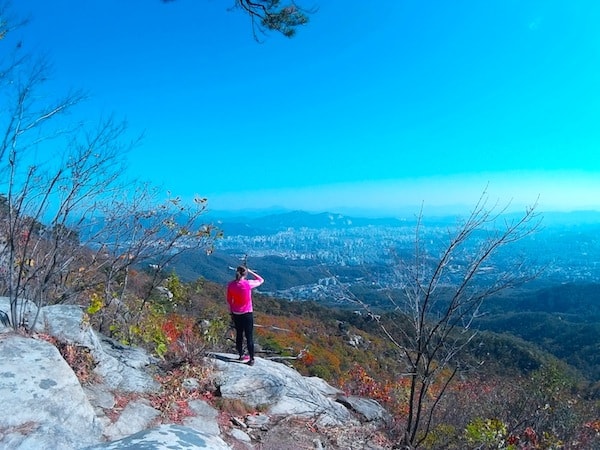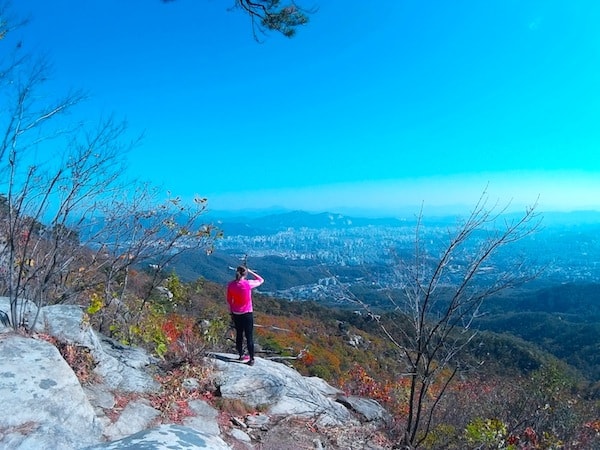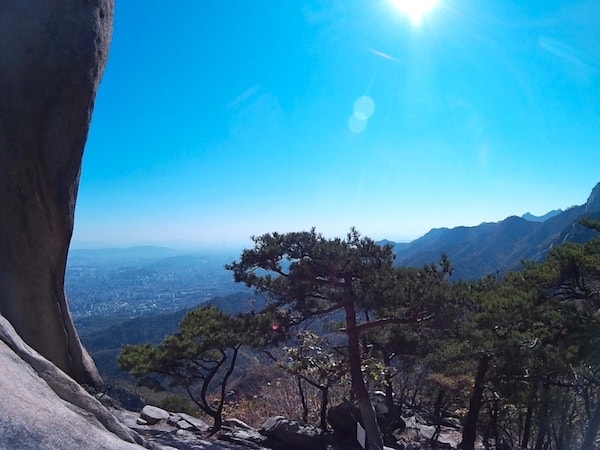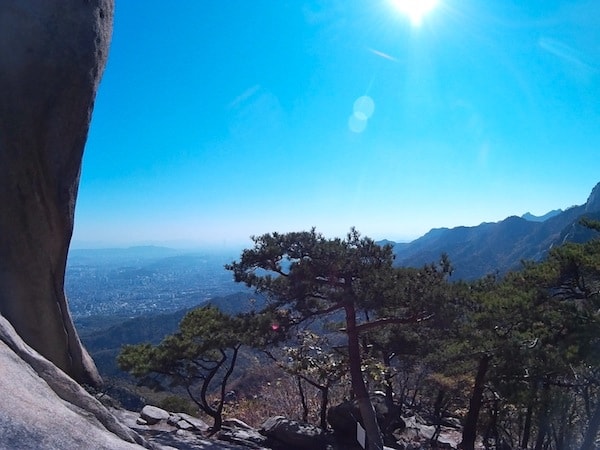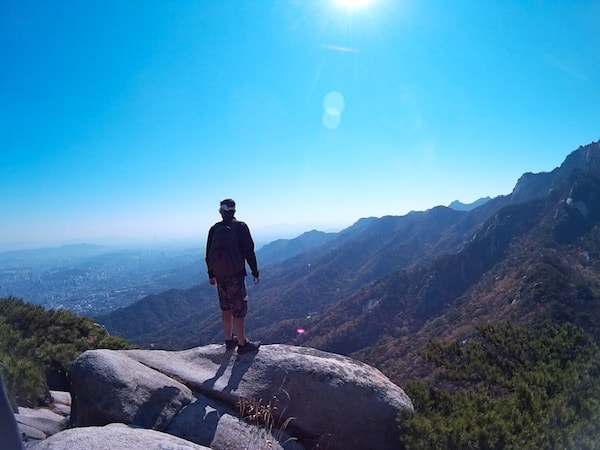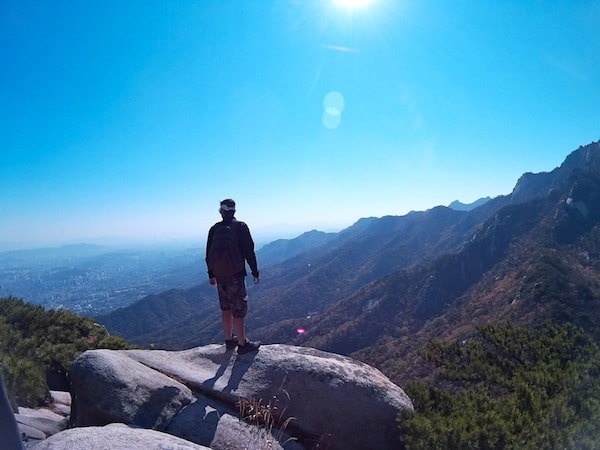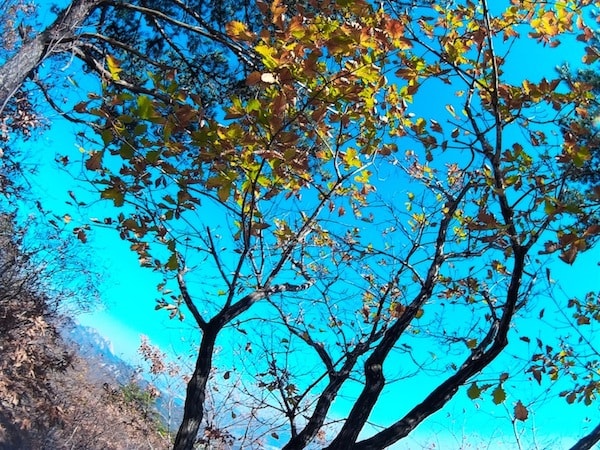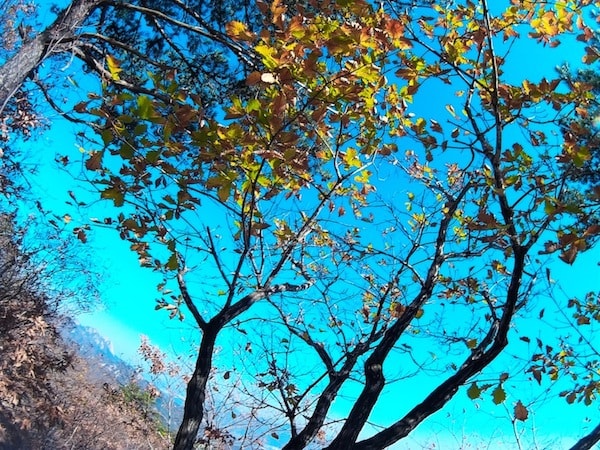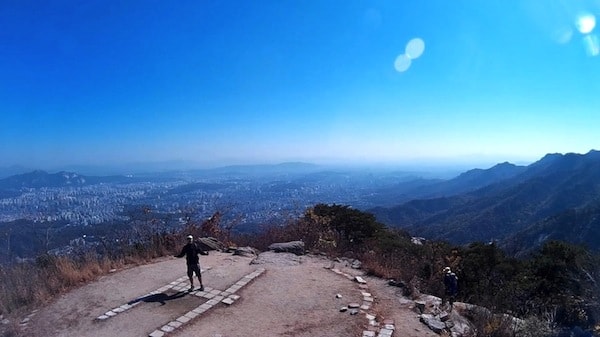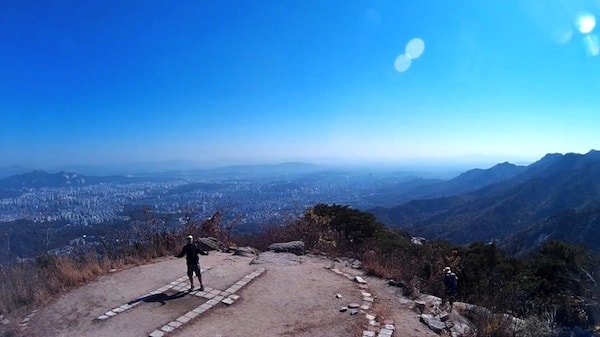 Arriving at the top… a LOT of people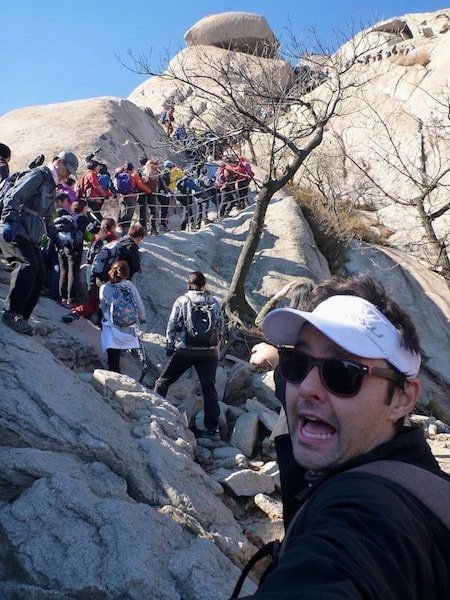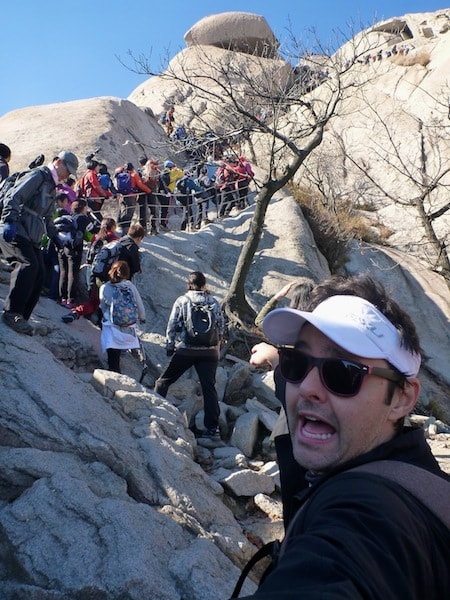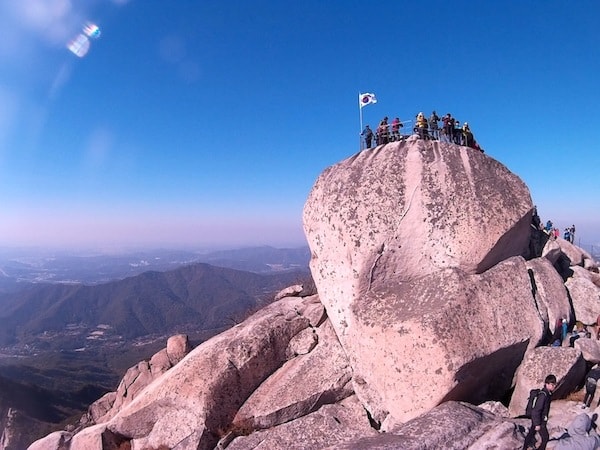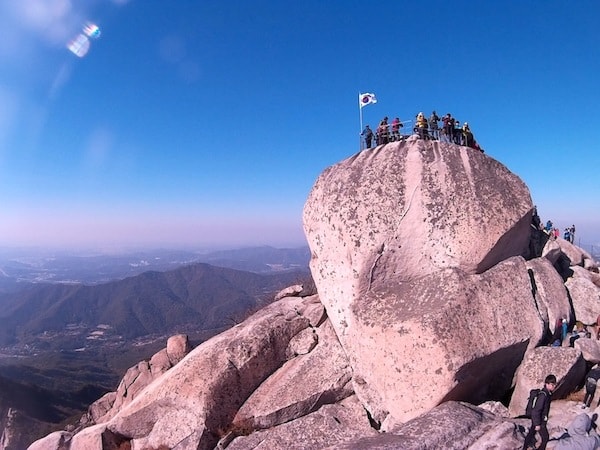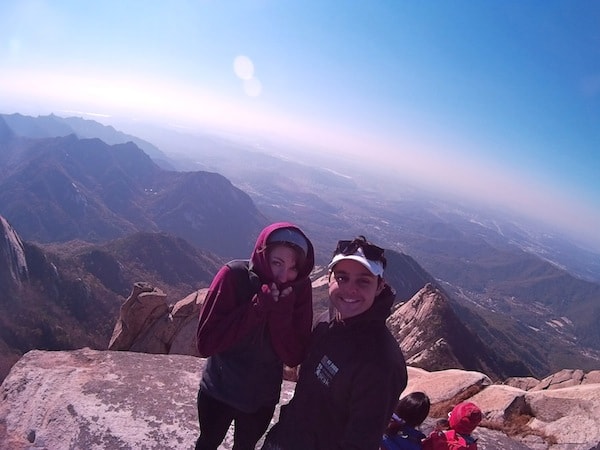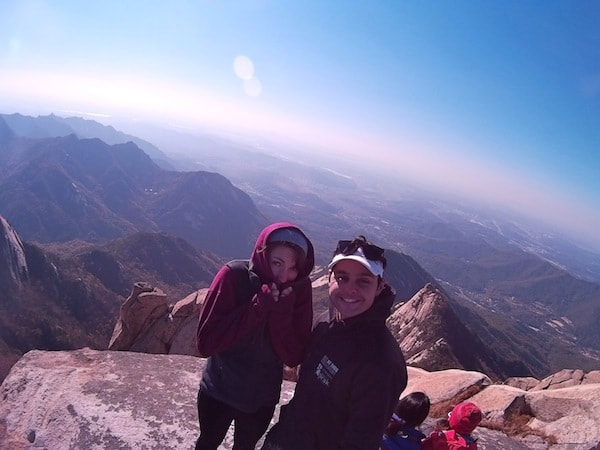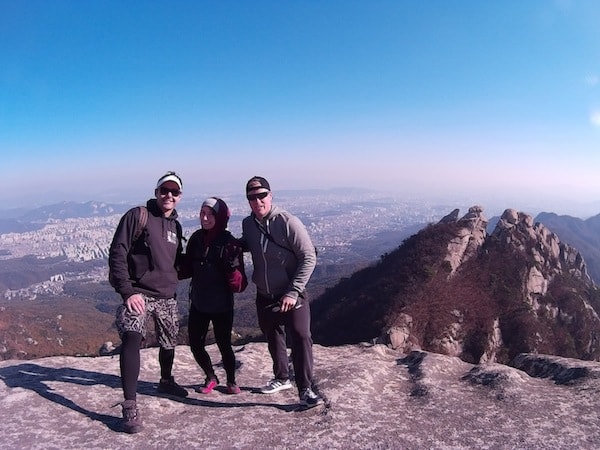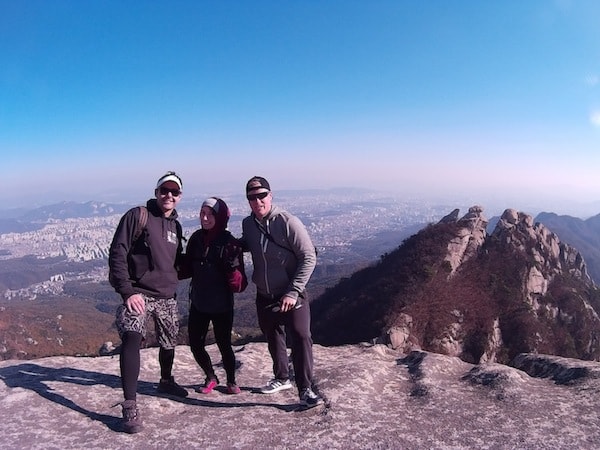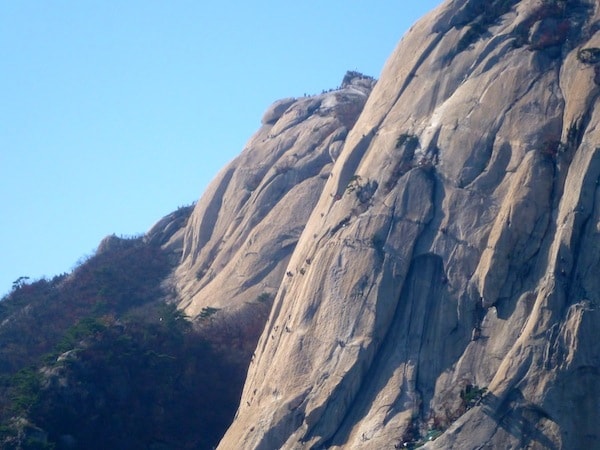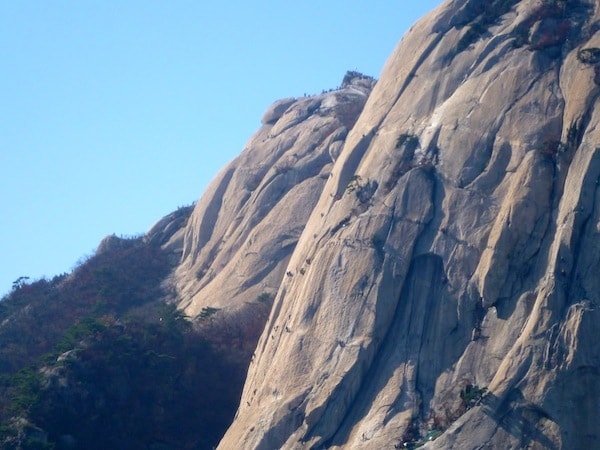 Try to find the cat on the peak!!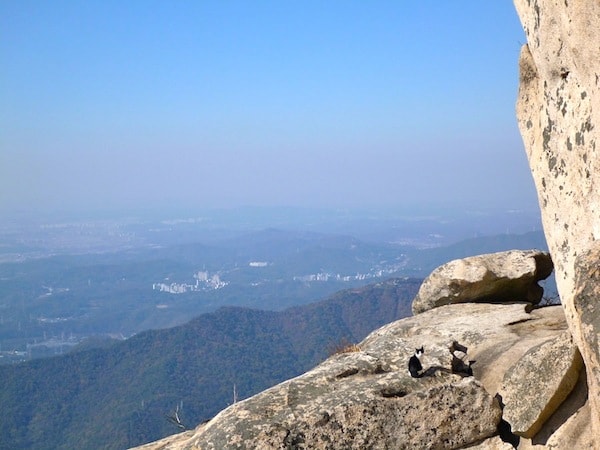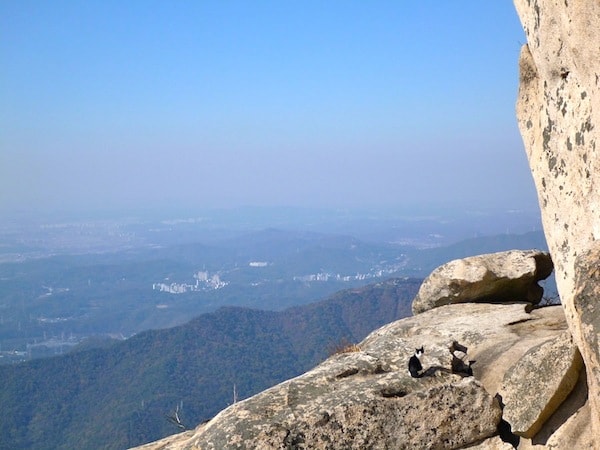 Sorry I don't have a prettier bird for the picture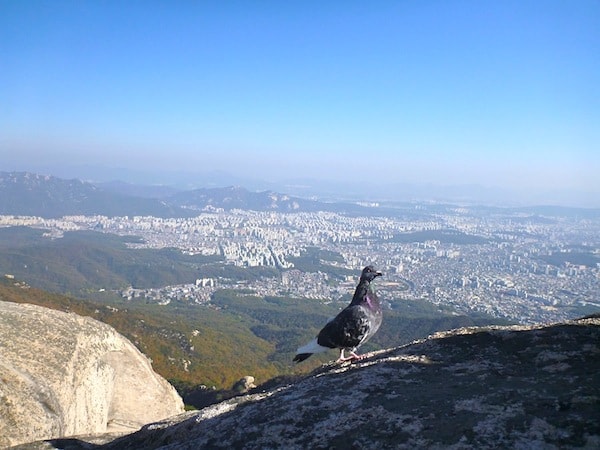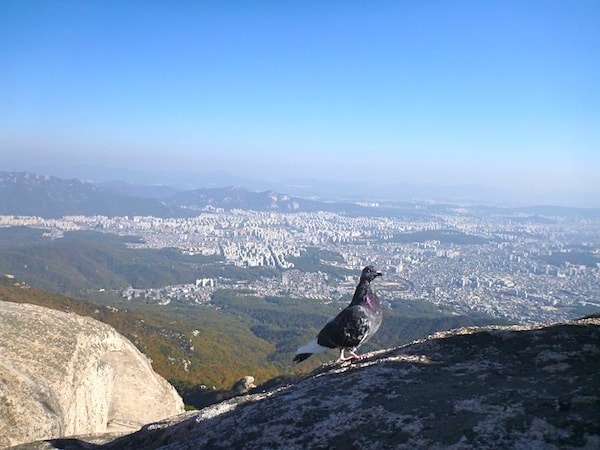 This picture is definitely not staged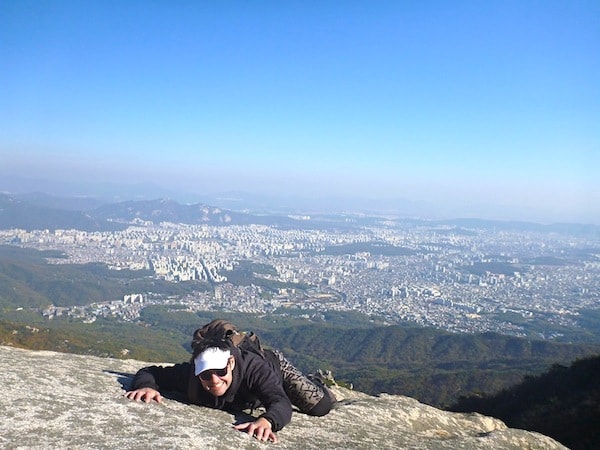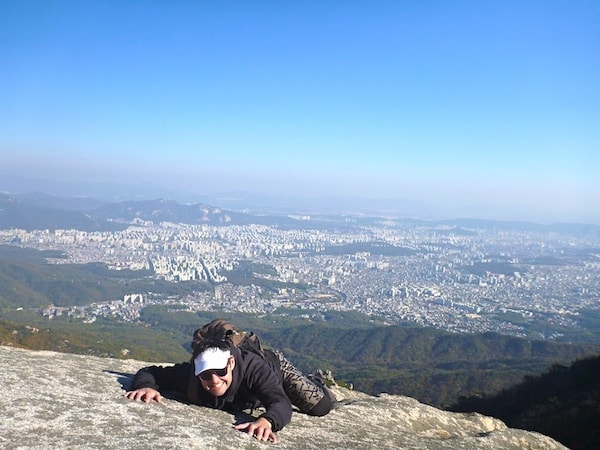 A 360-degree video of the top of Bukhansan (Baegundae Peak)… that's Seoul down below!
Climbing down… typically Korean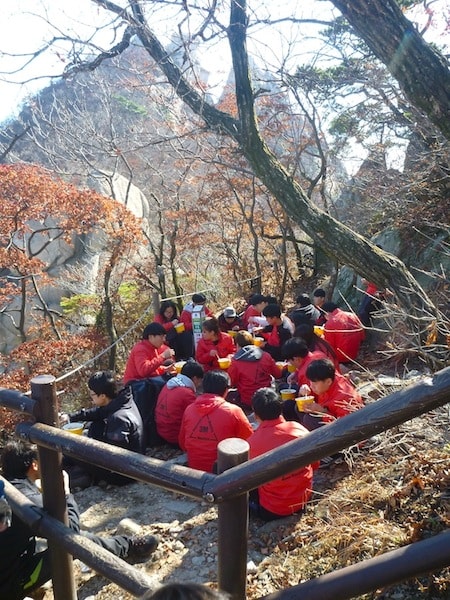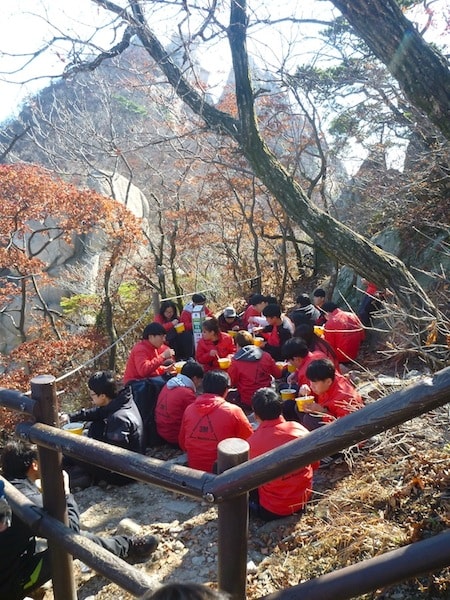 On the way back, walking along the Seoul fortress wall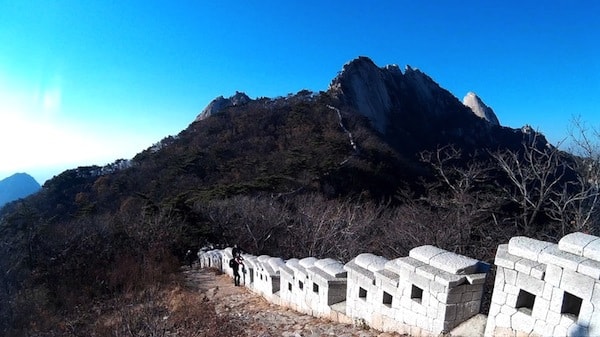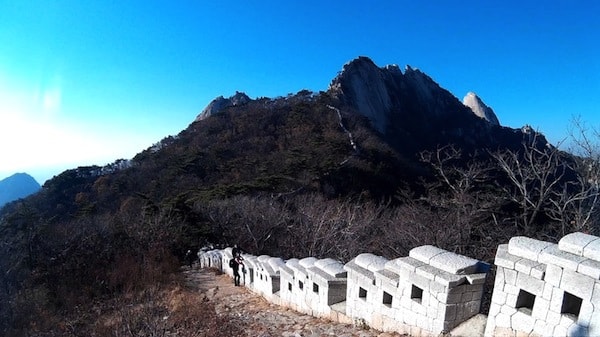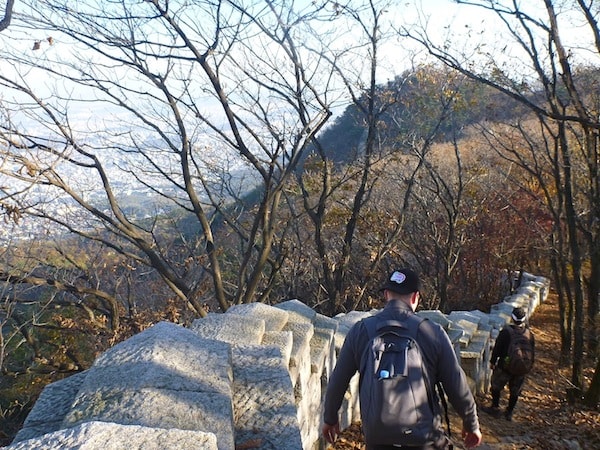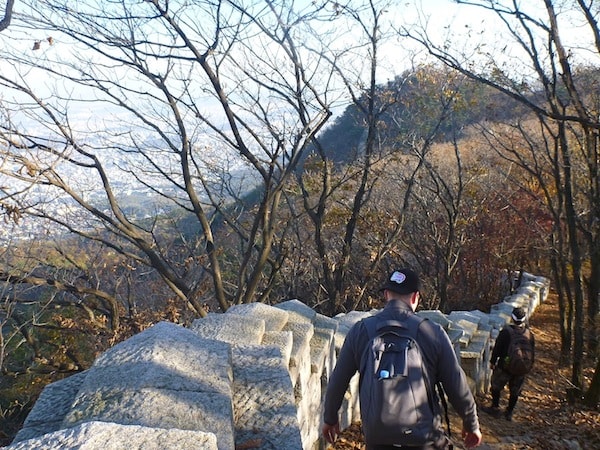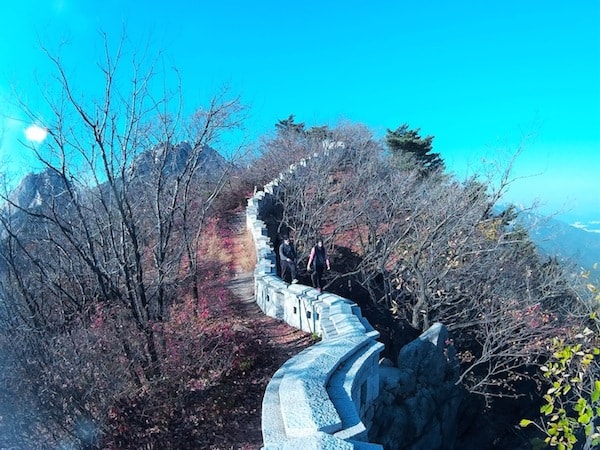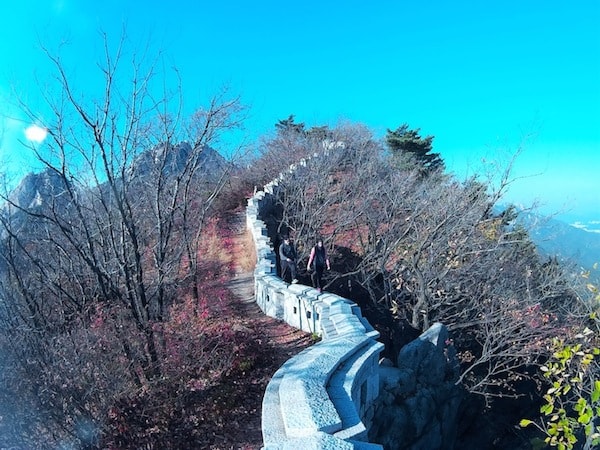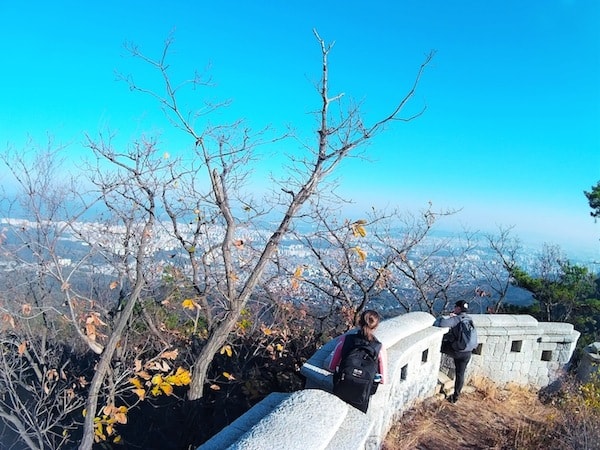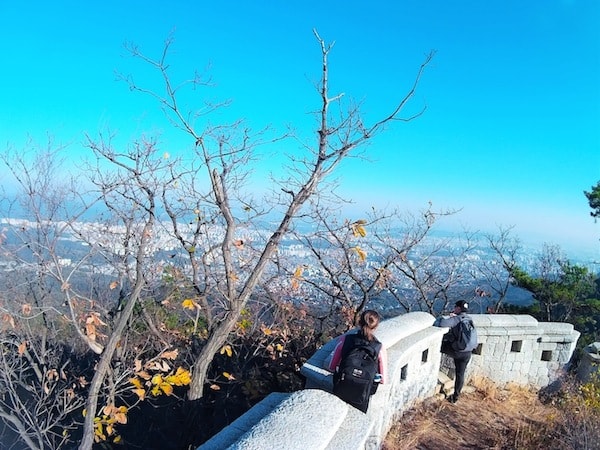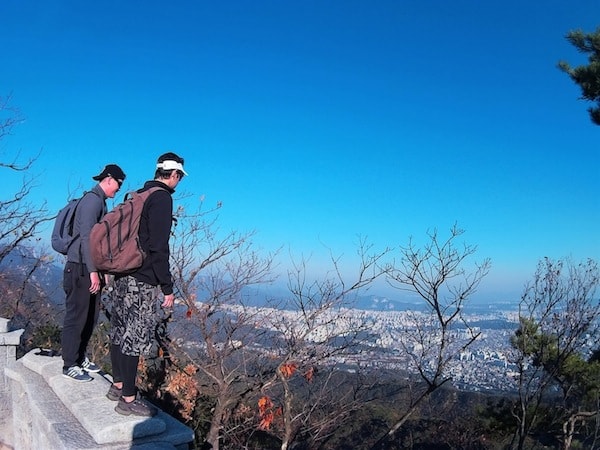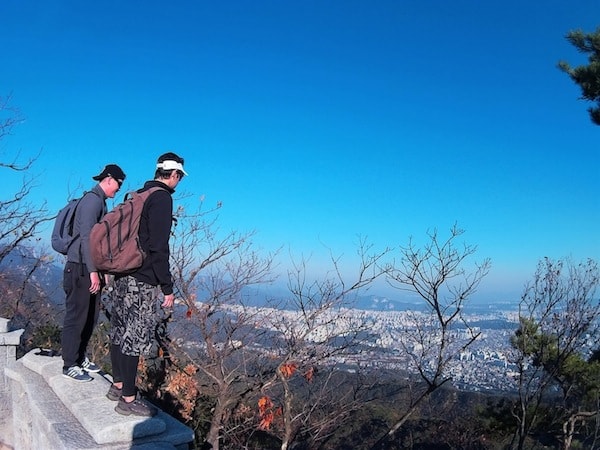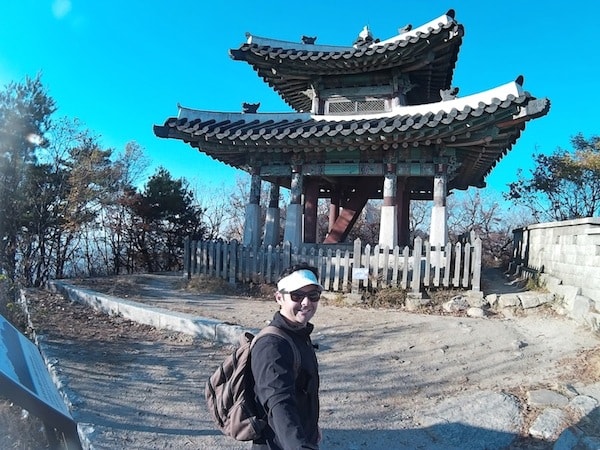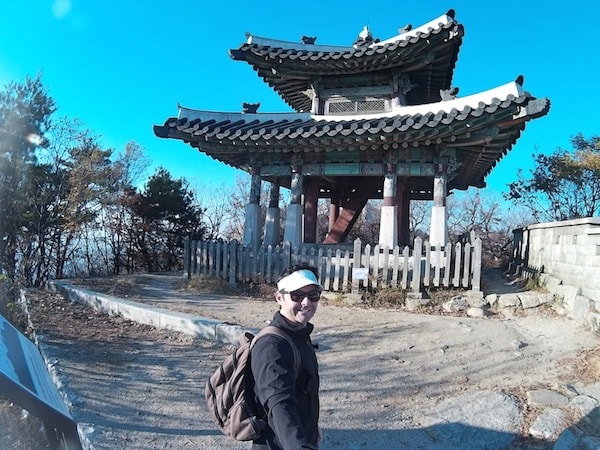 A video while running on the wall… don't worry, the wall isn't the original 

The incredible fall leaves…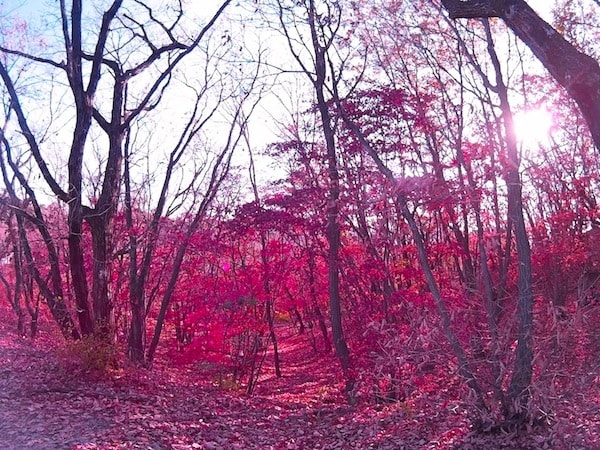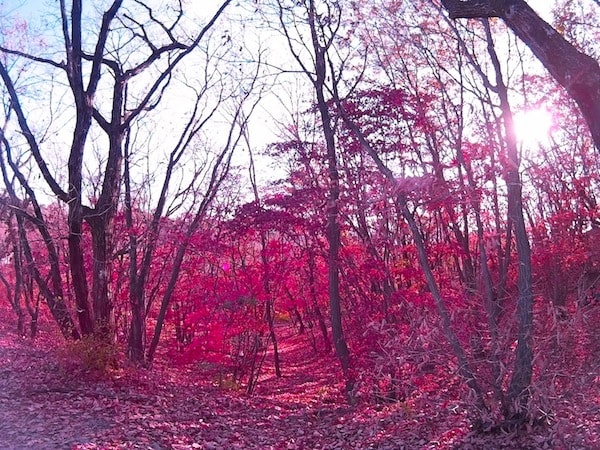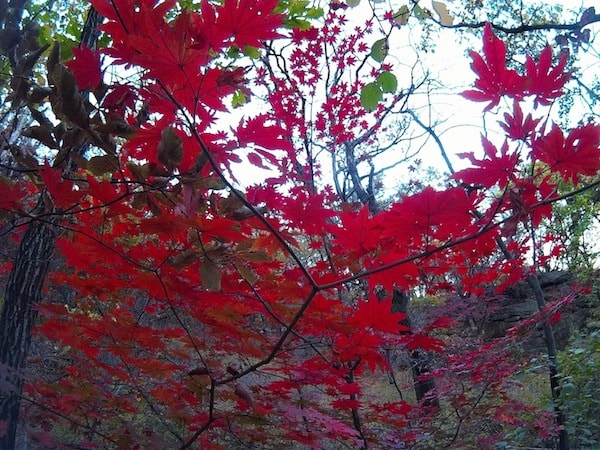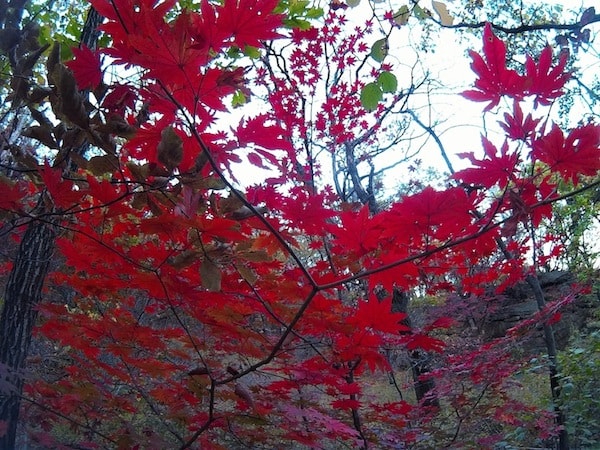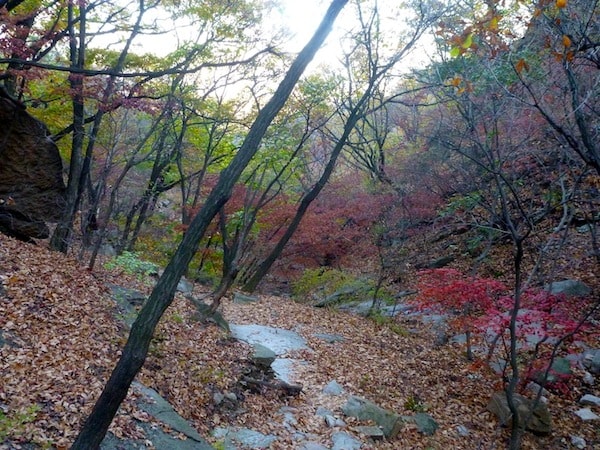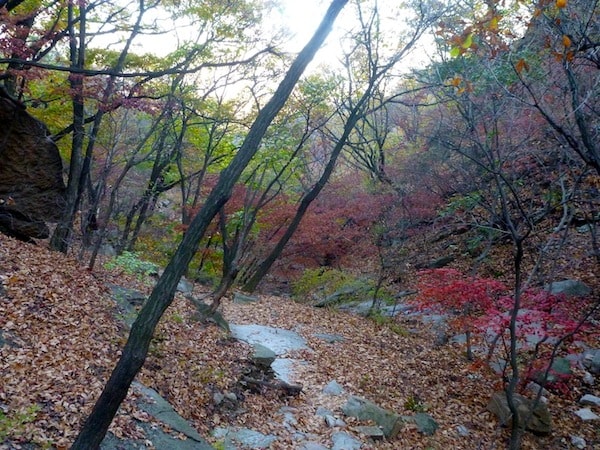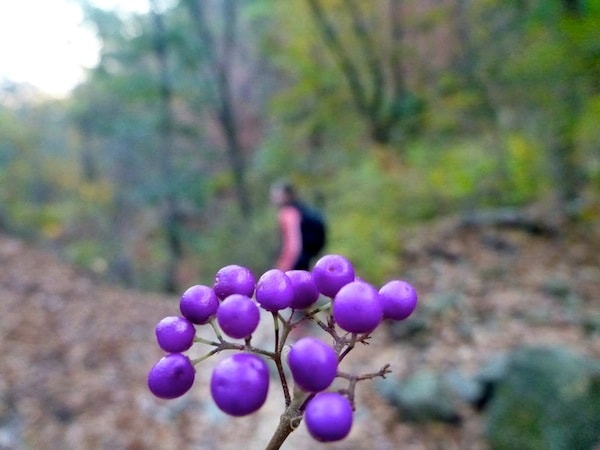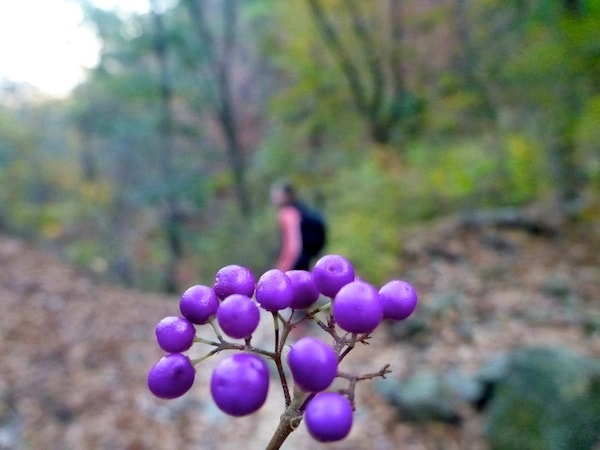 Now you know how one of the photos was really taken…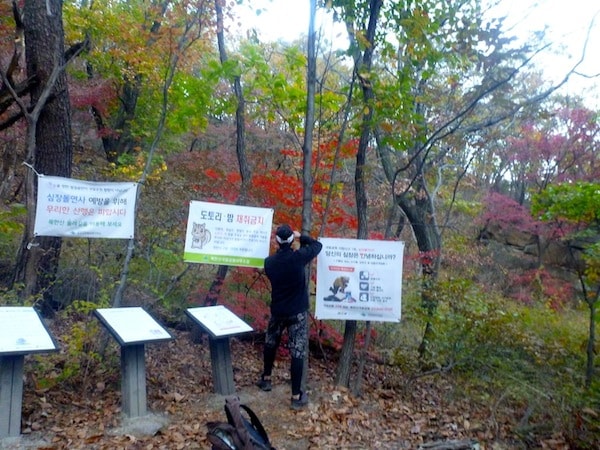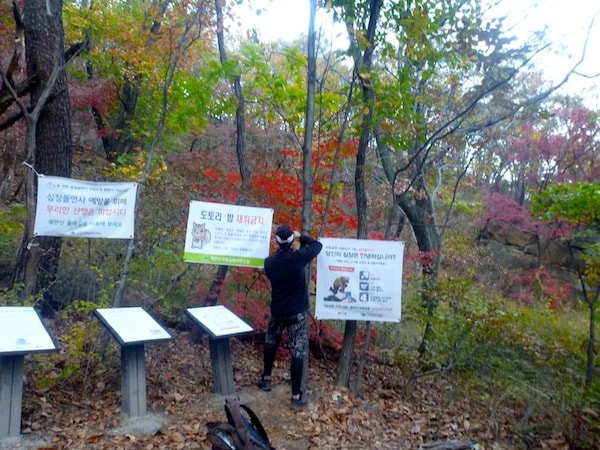 The Daedongmun gate to descend back to Seoul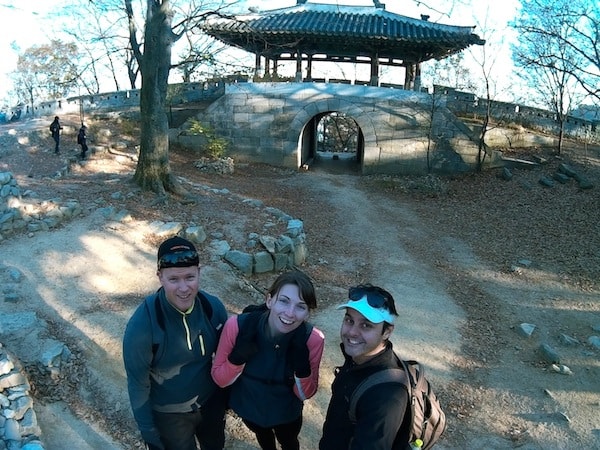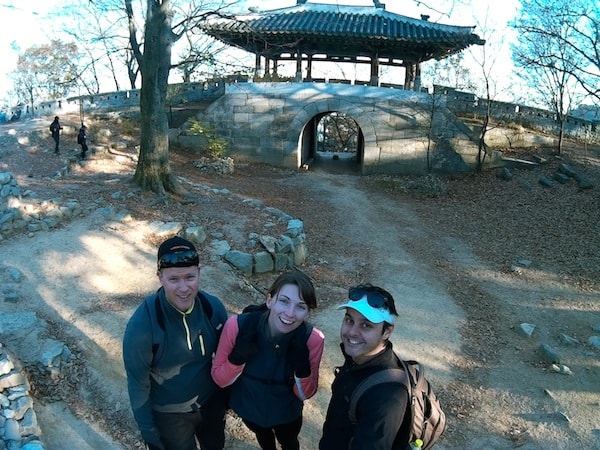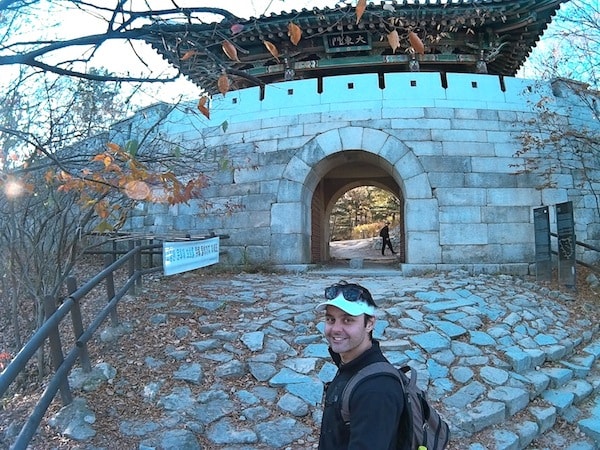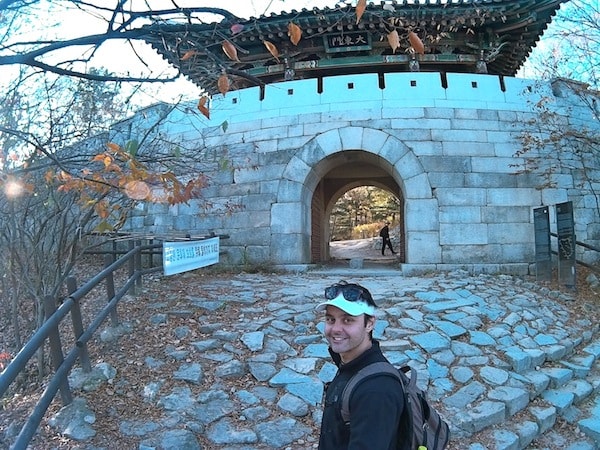 Sunset over Seoul…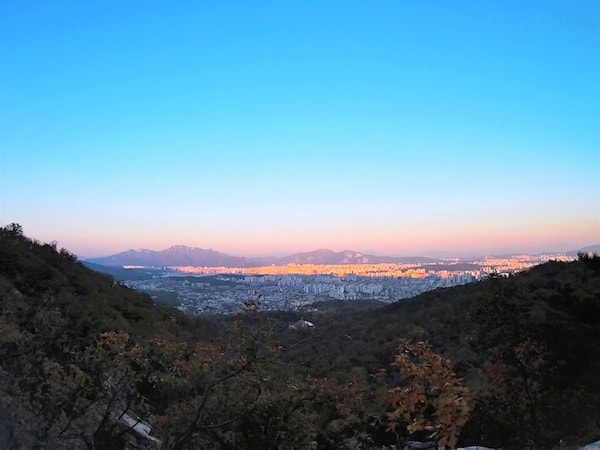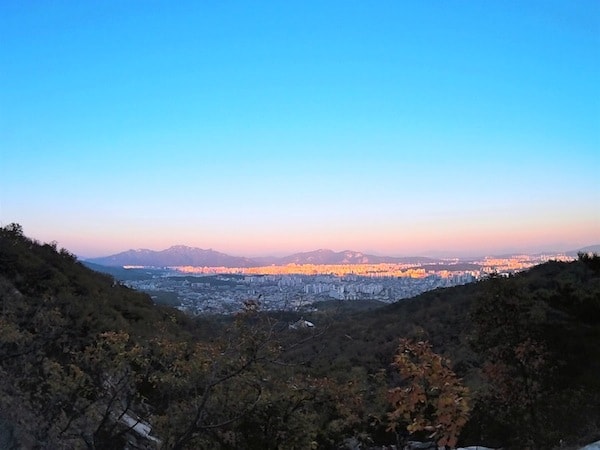 Taking the bus number 1 to get to subway line 4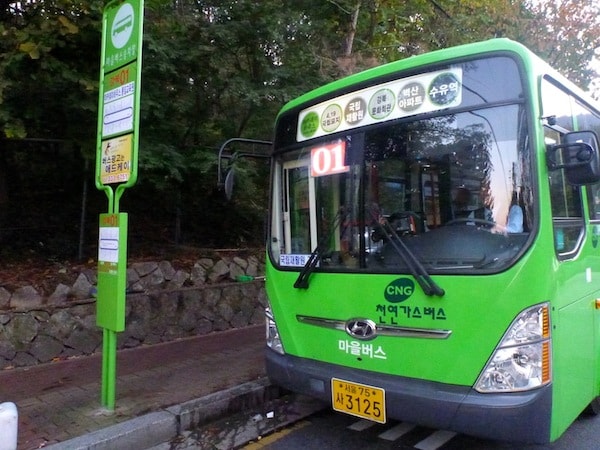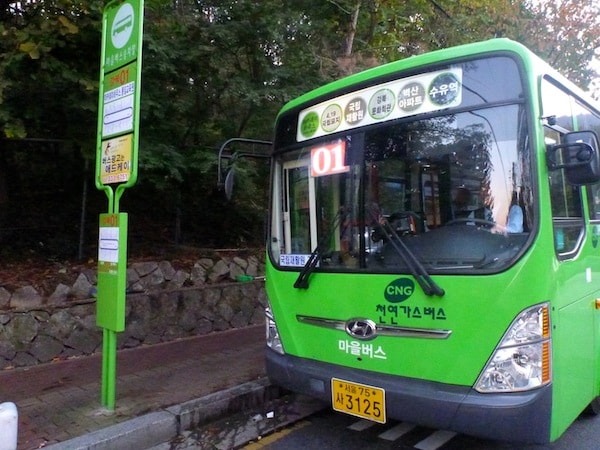 Arriving at Suyu subway station that goes directly to Seoul Station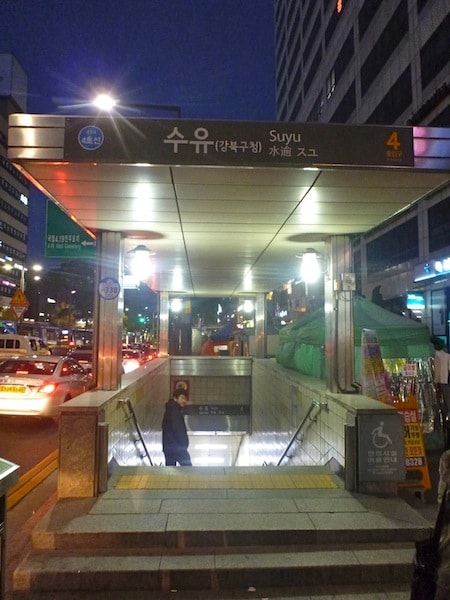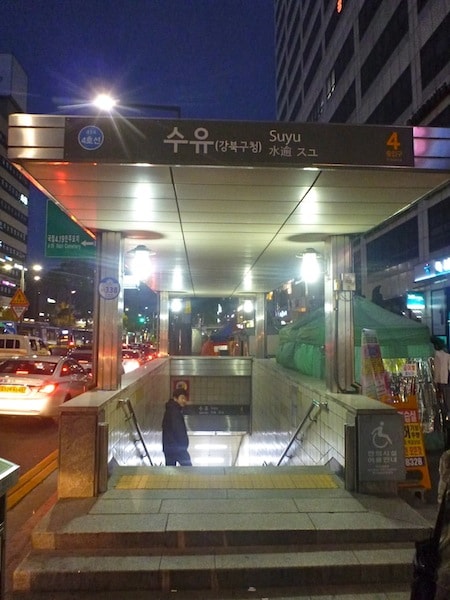 Like I mentioned before, hiking in Bukhansan National Park is a perfect plan for a day trip if you live in or around Seoul or you are visiting as a tourist. And if you prefer a stroll through the city center, check out this article 24 Hours in Seoul. We live in Suwon which is about an hour south of Seoul and we did the whole hike in a day without problems. 
Just don't forget some food, water, a camera to take pictures like the ones above and a positive energy to take advantage of this gift of nature for Seoul and its inhabitants. 
Happy trails!
P.S: If you are going to be hiking, make sure you have the necessary hiking equipment and good travel insurance that covers mountain hiking. You can read my article about the 3 Best and Cheapest Travel Insurances on the Market to make sure you stay safe.  
Would you like to do another easy hike and have this amazing view of downtown Seoul?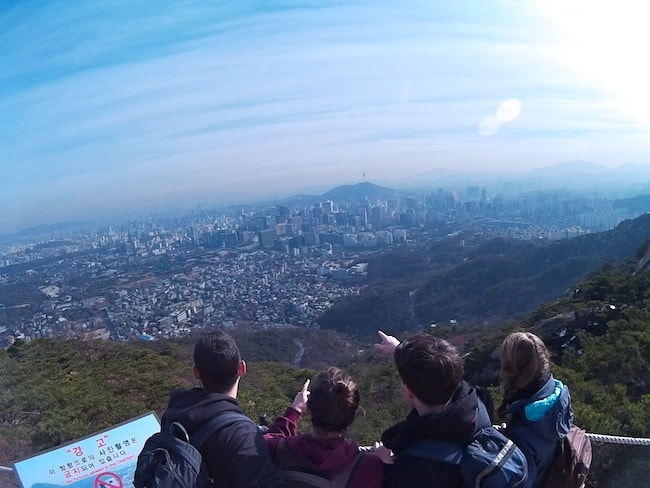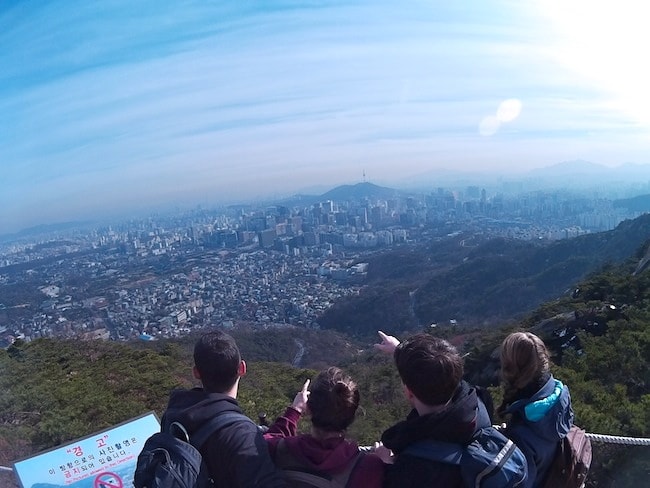 Looking for other activities, excursions, and day trips around Seoul and South Korea?
Then I recommend checking out Civitatis, GetYourGuide or Viator to explore your options and find a bunch of tours and activities around Seoul and South Korea as a whole.

Civitatis: https://www.civitatis.com/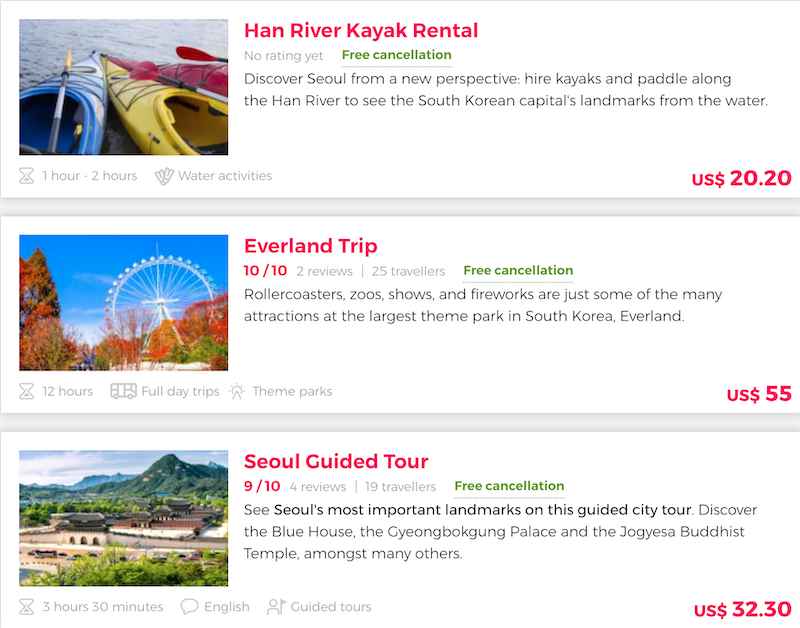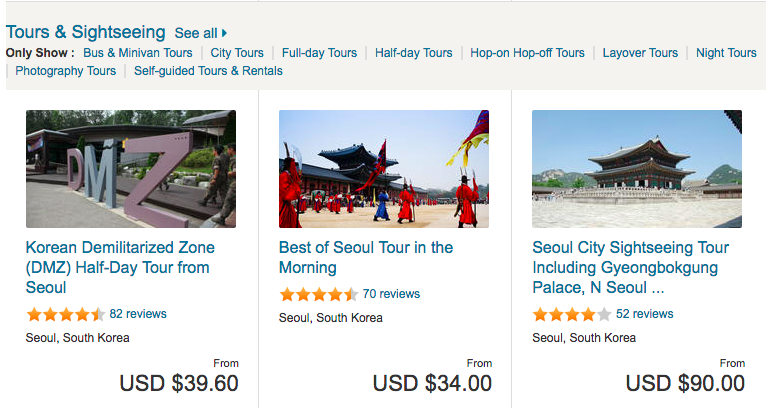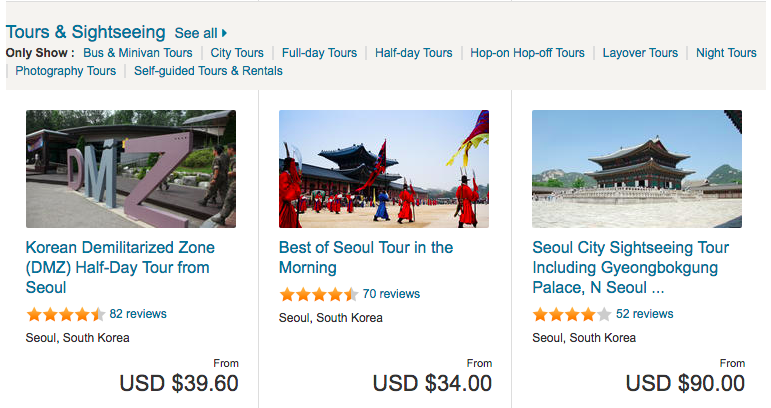 And don't miss our other articles about South Korea (we lived there for a year):
The Cheapest Way to Visit the DMZ (Demilitarized Zone) and the JSA (Joint Security Area) in South Korea
22 Interesting Things I Learned Living in South Korea
13 Places to Visit in South Korea Outside Seoul
How to Visit the Free Samsung Museum in Suwon, South Korea
How to Hike Mount Inwangsan: The Best View of Seoul
And North Korea (we visited for 10 days):
How to Visit North Korea on a Budget
101 Pictures of North Korea: Pyongyang – Part 1
101 Pictures of North Korea: Pyongyang – Part 2
Planning your next trip?

Then don't forget travel insurance! You don't want to get stuck paying a ton of money and ruining your trip if you get sick or have an accident without travel insurance. Our page with The 3 Best and Cheapest Travel Insurance on the Market can help you choose the right plan and will give you some discount coupons for the biggest insurance companies!

 Already reserved your hotel or hostel? If not, our article with The 6 Best and Cheapest Websites to Find & Reserve Accommodation can help you out. You'll also find some promotions and discount codes.

 Still haven't booked your plane ticket and want to save big? Take a look at our page with 16 Tips to Save on Flights where you'll also find the 4 best websites to buy your plane tickets. 

And finally, will you need to rent a car during your trip? Then surely our page with The 5 Best and Cheapest Websites to Compare and Rent Cars Around the World will help you choose the best rental car and find a good deal.
To see more of my favorite travel companies and resources that let me travel so much for such a low cost, take a look at my special page of "81 Travel Apps & Resources."
And if you want to hear about new articles, check out our latest pictures, and read our newest updates, be sure to follow us here….
…..and subscribe to our newsletter below!