Last Updated on by Editor
All that you need to know to take the public ferry from the island of Saint Martin to Anguilla – including schedules, prices, & maps. Plus, more info about the British territory of Anguilla like transportation options, accommodation, and what to do. Works also if you are visiting Saint Martin on a cruise ship!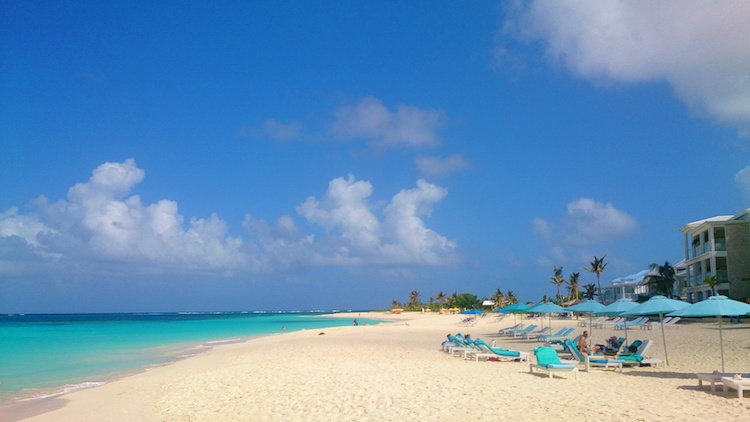 The island of Saint Martin is one of the main destinations in the Caribbean between all the visitors that come by cruise ship and just pass a day, as well as all those that spend several nights.
There's a lot of things to do and places to see between the island's French side, called Saint Martin, and its Dutch side called Sint Maarten.
You can find a list of St Martin activities and things to do here on Get Your Guide. or Viator. You can even reserve and purchase activities directly (or just look at the options for some inspiration for what to do on your own).
But if you've already explored the island enough and are on the lookout for another nearby adventure, then I recommend you spend a day (or several) visiting Anguilla, Saint Martin's closest neighbor.
What's Anguilla?
Anguilla is a British island territory in the Caribbean that's only about 25 minutes by boat from Saint Martin.
It's a fairly small island that's just 16 miles (25 kilometers) in length and 3 miles (5 kilometers) wide at its widest point.
What to do & visit in Anguilla
For visitors, Anguilla's main attractions are without a doubt its 33 beautiful beaches to choose from. Some with lots of wind and thus perfect for watersports like kitesurfing or windsurfing, others tranquil paradises like Shoal Bay. To give you an idea of what I'm talking about, Anguilla's Shoal Bay is considered one of the most beautiful and exclusive places in the Caribbean!
Other famous areas include Barnes Bay, Rendezvous Bay, Road Bay, and Little Bay. Anguilla is also known as one of the few places where sea turtles come annually to lay eggs between April and November. So, if you're lucky you'll get to see them!
You can find a list of more activities and attractions in Anguilla here.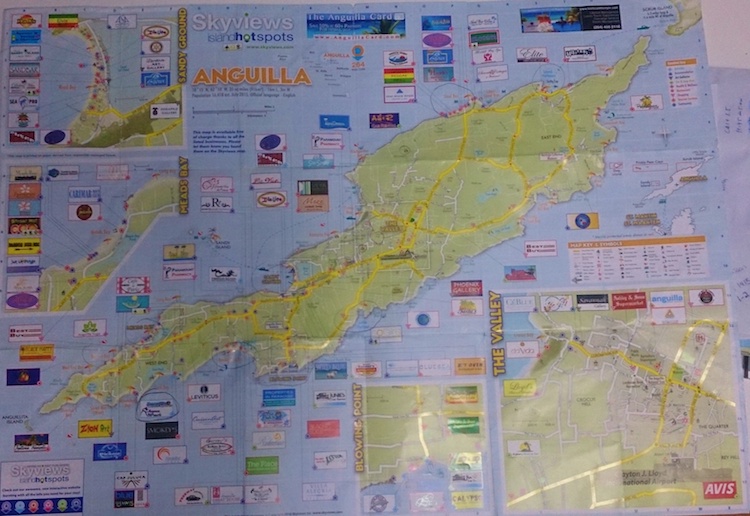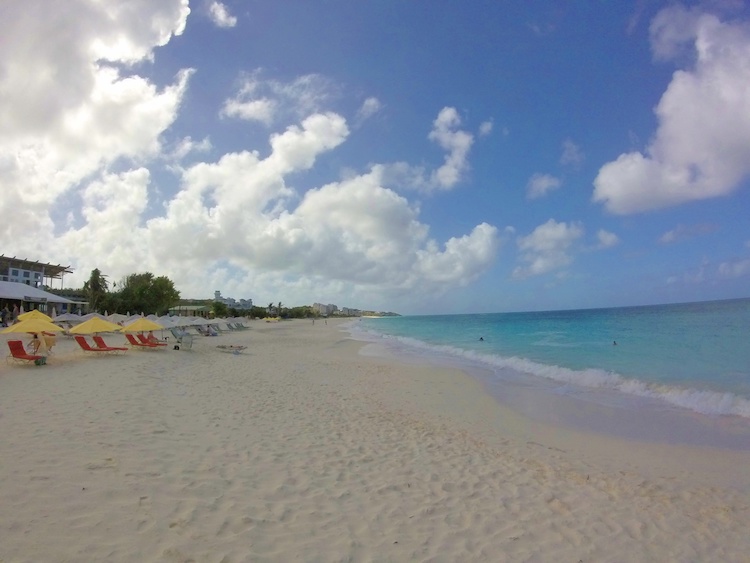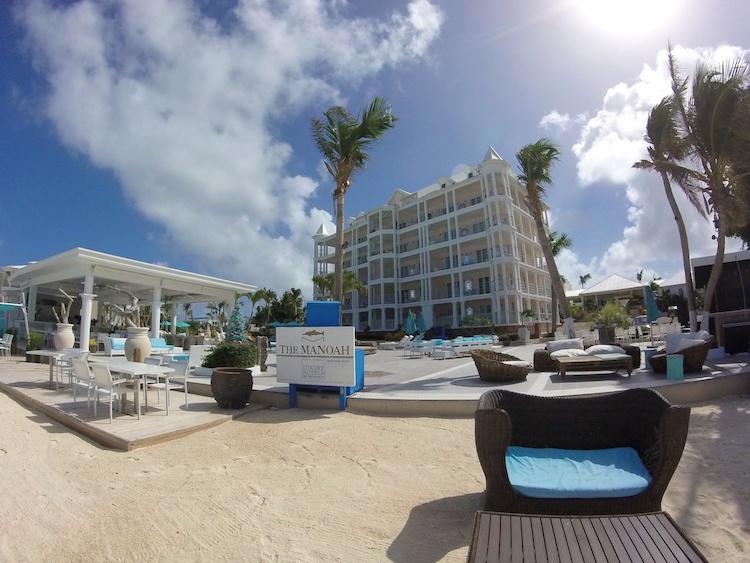 How to get from Saint Martin to Anguilla (the cheapest way possible)  
(NOTE: if you're visiting Saint Martin on a cruise and just have one day to go to Anguilla, read below where I explain all that you need to know about getting from the cruise terminal in Philipsburg to Marigot to Anguilla and back again)
For being so close to each other, there's a surprising number of ways to get from Saint Martin to the island of Anguilla.
The most expensive and fastest would be to charter a small plane from the Philipsburg airport in Saint Martin to the airport in Anguilla. The flight is just 8 minutes. There aren't any big commercial flights going to Anguilla!
There's also the option to take a fast charter boat from Saint Martin to Anguilla. But since they're chartered, they aren't exactly cheap.
But if your idea is to save on your visit to Anguilla, the best option is to take the public ferry between Marigot (the capital of the French side of Saint Martin) and Blowing Point Port in Anguilla (and really, the ferry is only 25 minutes…so there's no reason not to do this option!).
You can get to the Marigot ferry terminal pretty easily from wherever you're staying in Saint Martin (either by bus or taxi). Just ask your hostel, hotel, or any of the friendly locals on the street for guidance.
Schedule for the public ferry between Marigot (Saint Martin) and Anguilla
8:14
8:45
11:00
12:15
13:30
14:45
16:00
17:15 
Schedule for the public ferry between Anguilla and Marigot (Saint Martin)  
7:30
8:45
9:45
11:15
12:30
13:45
15:00
16:45
For more information on one of the boats that does this crossing, check it out here: https://www.link.ai
Cost of the public ferry between Marigot (Saint Martin) and Anguilla
The cost of the ferry is USD $10 one way or USD $20 roundtrip per person. You can buy the ticket right at the terminal – no need to reserve ahead of time.
When leaving from Marigot in Saint Martin, you'll also need to pay a port fee of USD $5.00 when you buy your ticket.
If you aren't going to stay overnight in Anguilla and just plan to spend the day, you don't need to pay any port fee in Blowing Point when you leave Anguilla. But if you spend more than a day in Anguilla, you'll have to pay a port fee of USD $23 when you buy your ticket for your ferry back to Saint Martin.
Total price for the public ferry day trip between Saint Martin and Anguilla
Ticket to go = USD $10
Ticket to return = USD $10
Port tax when departing = USD $5
Total = USD $25
And remember, if you spend more than a day in Anguilla, you'll have to pay that USD $23 port tax when returning back to Saint Martin.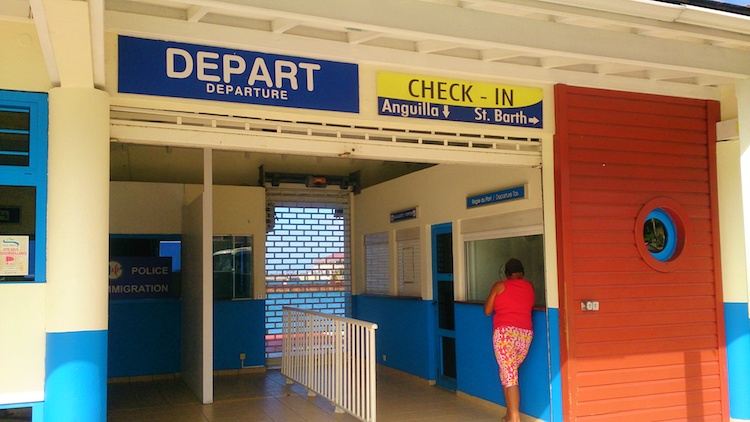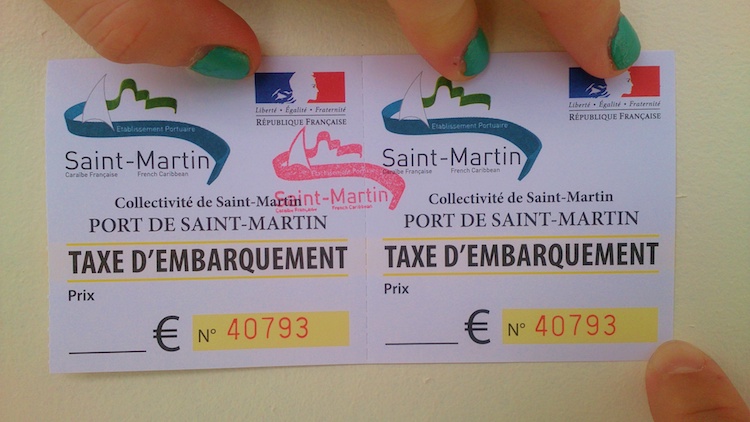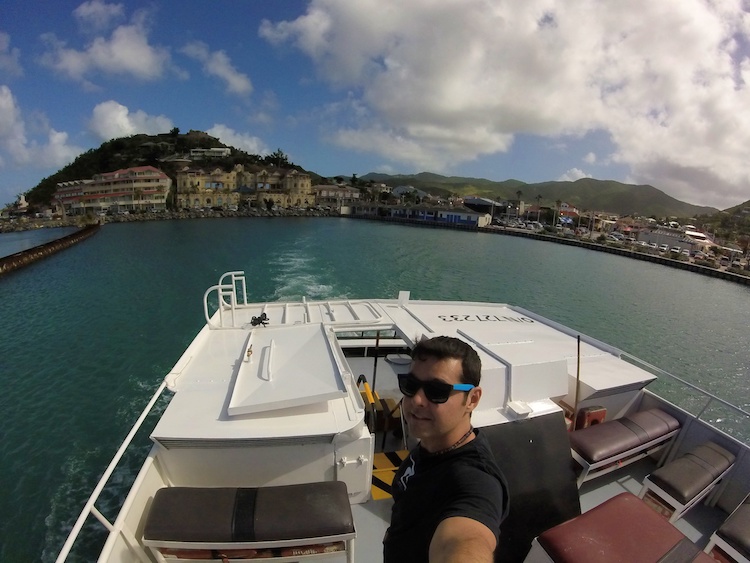 Tips for the trip between Saint Martin and Anguilla
As the sea between the two islands can be very choppy and have lots of waves splashing into the boat, I recommend you protect your stuff in a plastic bag so it doesn't get wet.
And if you get seasick, it's better to take some type of medicine before you get on the ferry. Crushed ginger pills are a good natural option to help with motion sickness in boats or cars.
Important tip for immigration between Saint Martin and Anguilla: bring your passport with you!!
Remember that you'll be leaving from a French territory (Saint Martin) to a British territory (Anguilla)! So, since they are different countries (and the United Kingdom isn't a part of the Schengen area like France), you'll need to do immigration at both ports. It's a super simple process, but obviously, you'll need your passport to do it. Without the passport, you won't be able to board the boat to Anguilla!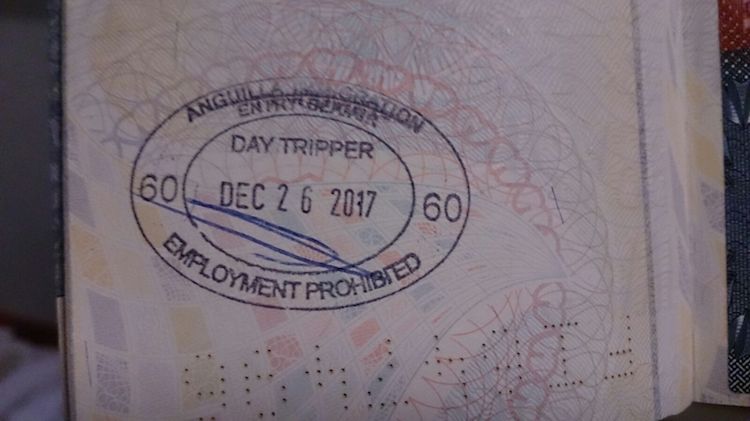 How to get around the island once you arrive in Anguilla
If you are staying in a hotel on Anguilla, they'll probably arrange transportation from the port of Anguilla (Blowing Point) to your hotel. But if you're just visiting for the day, you'll have to arrange your own transportation to visit the places you want to.
Here are your options for local transportation in Anguilla:
Taxi in Anguilla: You can get a taxi right at the port when you get off the ferry. You can have them take you directly to one place (Shoal Bay, for example), or arrange with the taxi driver to drive you around and stay with you for a few hours to see various points on the island.
Price of the taxi: about USD $20 or so per hour (but negotiable depending on the total time)
Rental car in Anguilla: I think renting a car in Anguilla is your best option for transportation, especially if you have several people to split the cost with. It's cheaper than a taxi and gives you the freedom to explore the island and visit places for as long as you like.
If you've read my article on the 5 Best Website for Rental Cars Around the World, you'll know that I like to check several car rental websites before reserving to find the best deal. But in Anguilla, there's not a lot of options for rental cars like in other places. Basically, they just have one car rental place and it's right in front of Blowing Hole Port. So when you arrive from your ferry, you can rent your car from them right away.
It'll be best if you can call to reserve a car and confirm the price ahead of time. You have to call because this rental car place doesn't have a website.
(P.S: I know making international calls can be tricky, but I've always found Skype to be the easiest and cheapest way to make them. You can read more about how we use Skype for cheap international calls here. )
Here is the info and pictures of the car rental place in Anguilla:
Cost of renting a car: around $60 per day including the Anguilla driving permission (which they'll give you right at car rental place). You need to bring your passport and driver's license from your home country to be able to rent the car.
Scooter/motorcycle rental in Anguilla: this would be a great option to explore the island, especially if you're alone or as a couple. But unfortunately, after the last hurricane that hit the island, all of the scooters were destroyed (as of January 2018). The only place to rent scooters on the island is the same as the car rental place we just talked about above.
So, I'd recommend calling ahead as well to see if there still are no scooters. Perhaps by the time you read this article, the scooters will have been replaced and are now available to rent again.
Bicycle rental in Anguilla: personally, I don't think renting bikes to explore Anguilla is the best option. The best places to visit aren't that close to Blowing Point Port, so you'd lose a lot of time just pedaling under the hot Caribbean sun to get to them. The island also isn't very flat, thus making your journey more difficult. So in my experience, if you only have a day in Anguilla, bike isn't such a great option.
This doesn't mean that there aren't places to rent bicycles in Anguilla. But the options available are for speed and road bikes (professional-ish ones), and probably not the type you'd want for a relaxed ride around the island.
Tip about transportation in Anguilla (or really anywhere else in the world): No matter what form of transportation you choose, I recommend you download a map of Anguilla from Google Maps onto your phone. Then, you can use it offline to avoid getting lost while you venture around the island.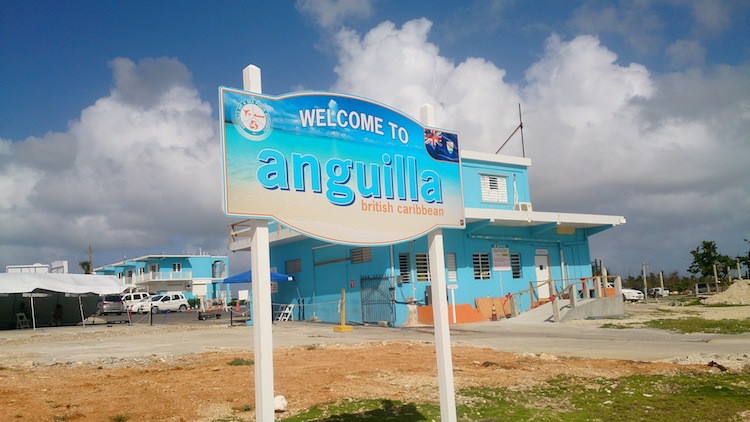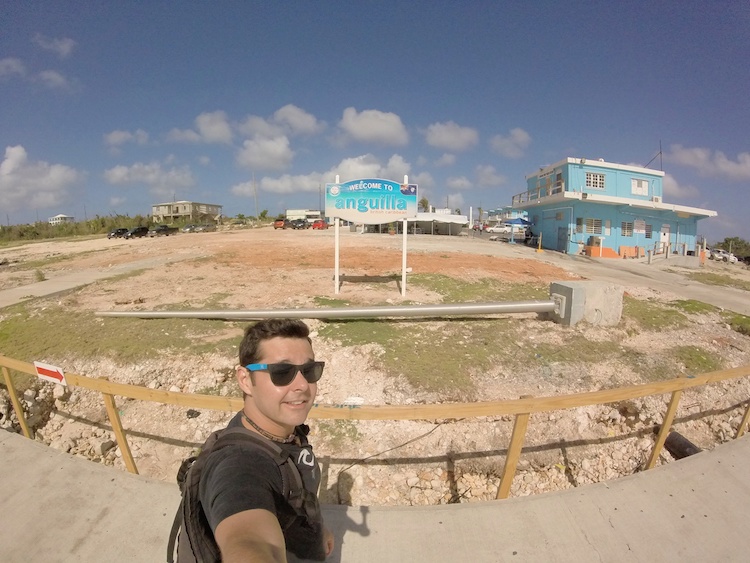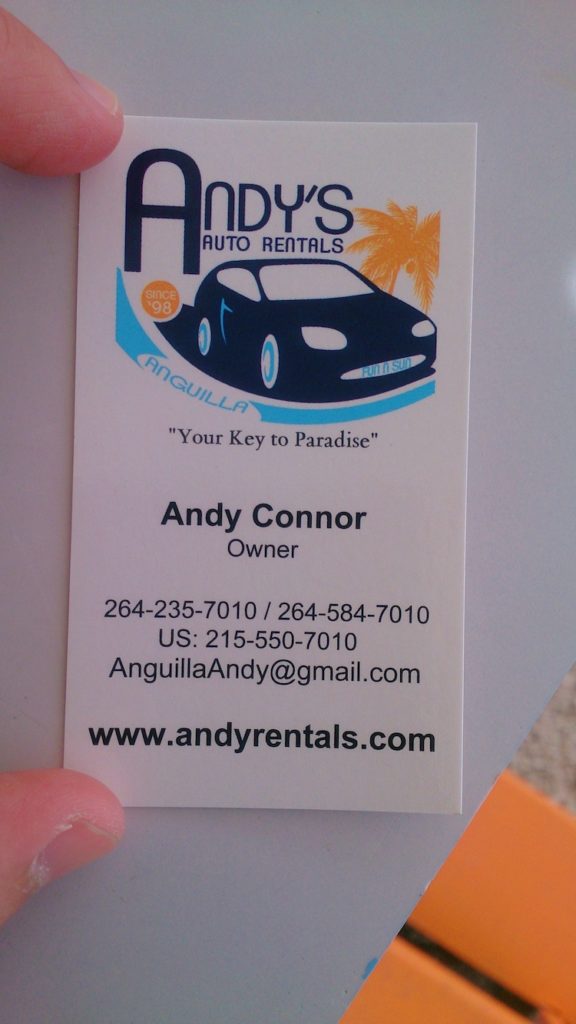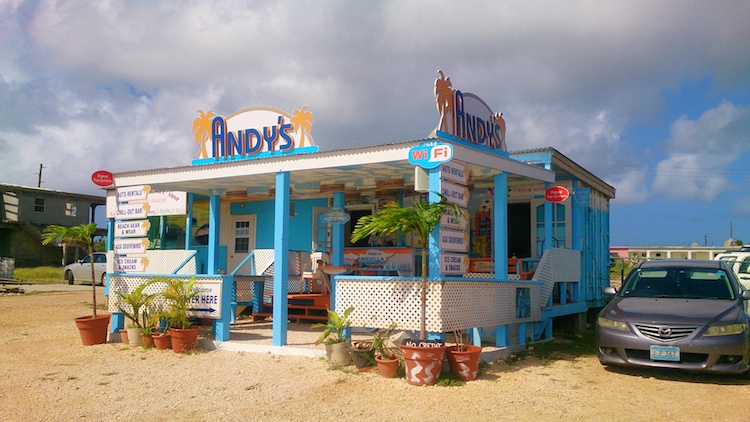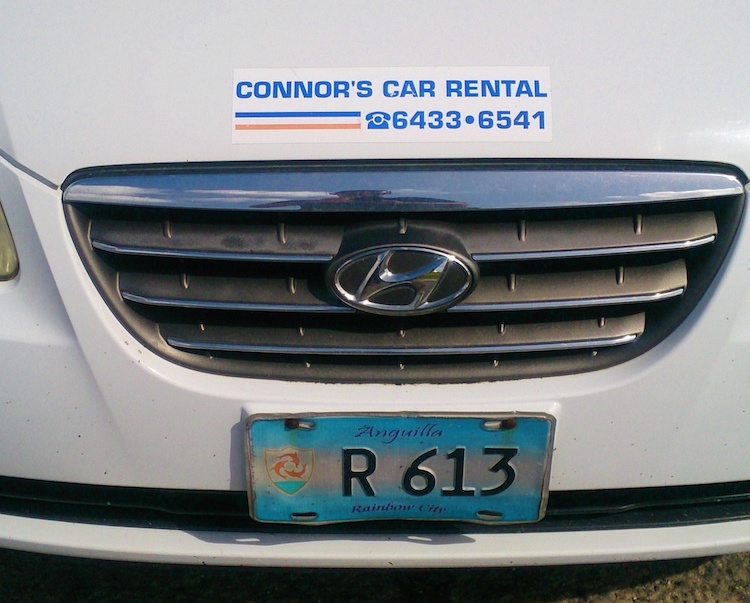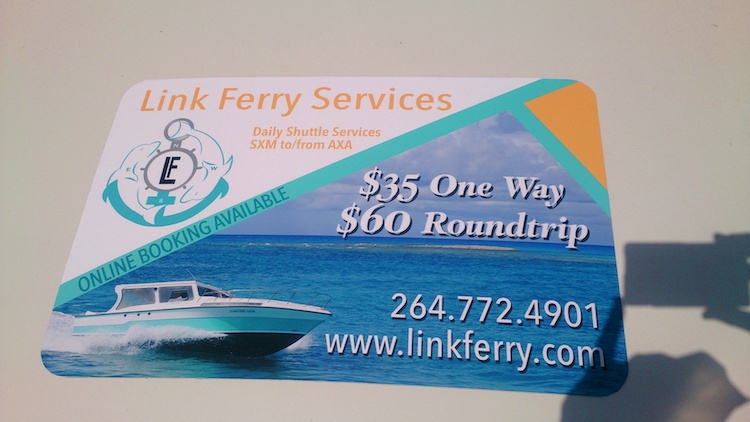 Where to Stay in Anguilla
If you plan to stay more than a day in Anguilla, you'll need a hotel or hostel that fits your budget and style. So, I'll give you 2 options here. The more expensive and luxurious one is in Shoal Bay, one of Anguilla's most famous spots, and the other option is a lower-key choice in case you want to save a bit more. But as you can see here in this list of hotels with prices, there aren't actually cheap options in Anguilla. 
Option for Luxurious Hotel in Shoal Bay, Anguilla: Zemi Beach House, Resort & Spa

Option for "Economy" Hotel / Guesthouse / Apartment in Anguilla: Fountain Anguilla

How to do a day trip to Anguilla during a cruise stop in Saint Martin (Sint Maarten)
I did this exact trip myself. So, I'll explain everything so you can do it too. Including maps & photos below!
Disembark from your cruise as early as possible. Then, you'll have the most amount of time to explore Anguilla.

Walk for about 10

minute

from the Philipsburg Cruise Terminal to the center of Philipsburg to take a local bus to Marigot. Map below.

In Marigot, get off at the bus terminal and walk for 5 minutes to the port to take the public ferry to Anguilla.

Take the ferry to Blowing Point in Anguilla. All the info about prices, schedule, Anguilla local transportation

and

activities are above.

Return to Marigot by ferry, walk from the port to the bus terminal, and take a bus back to Philipsburg.

In Philipsburg, get off near the center and walk back to the cruise terminal.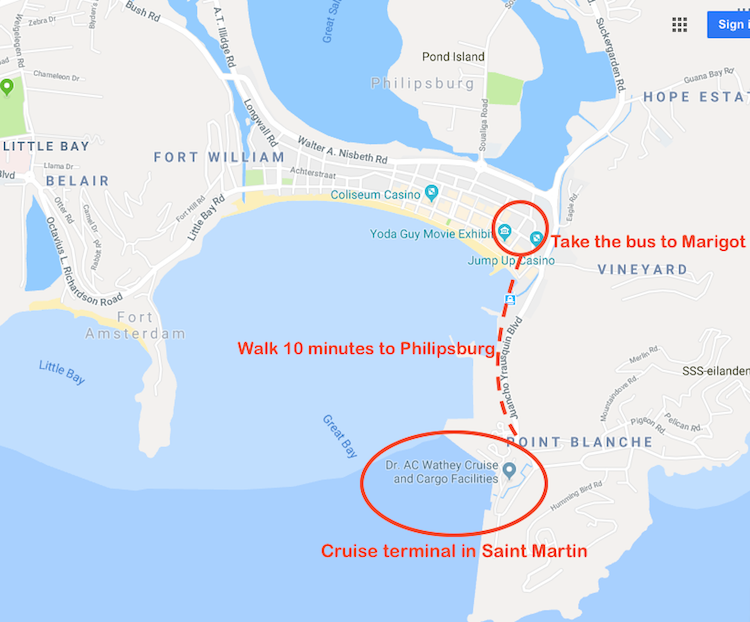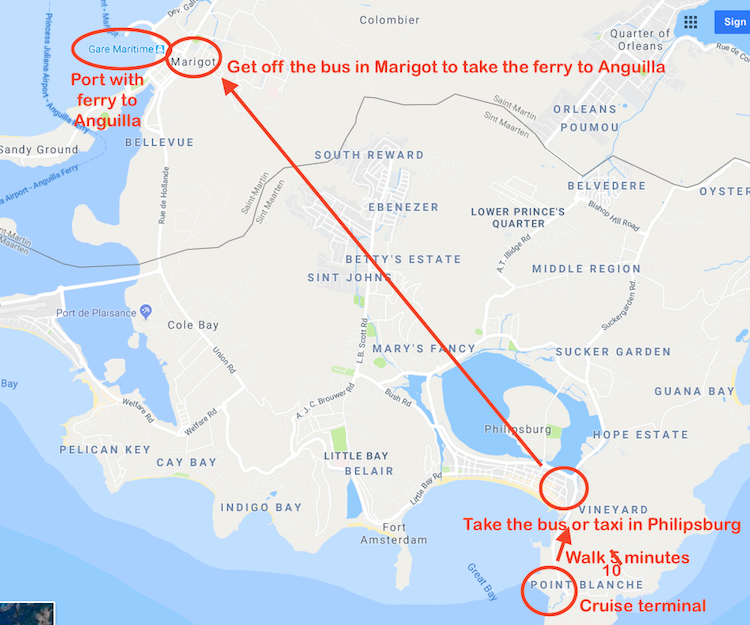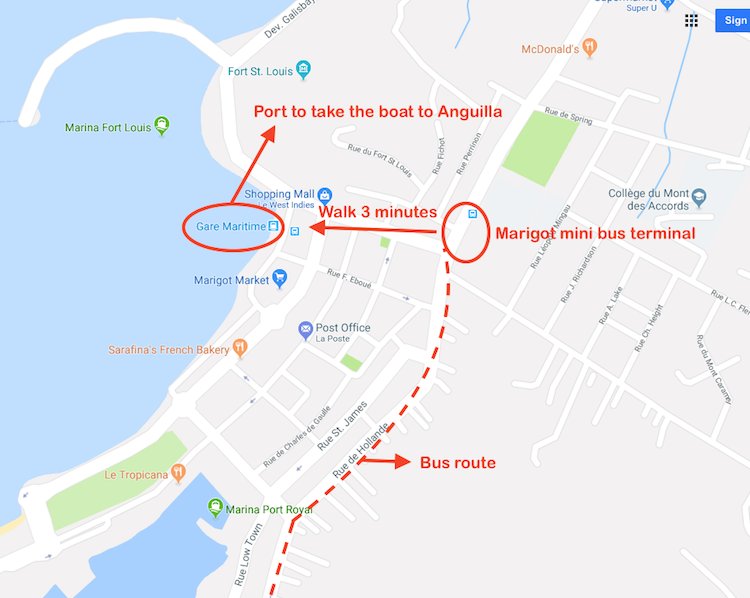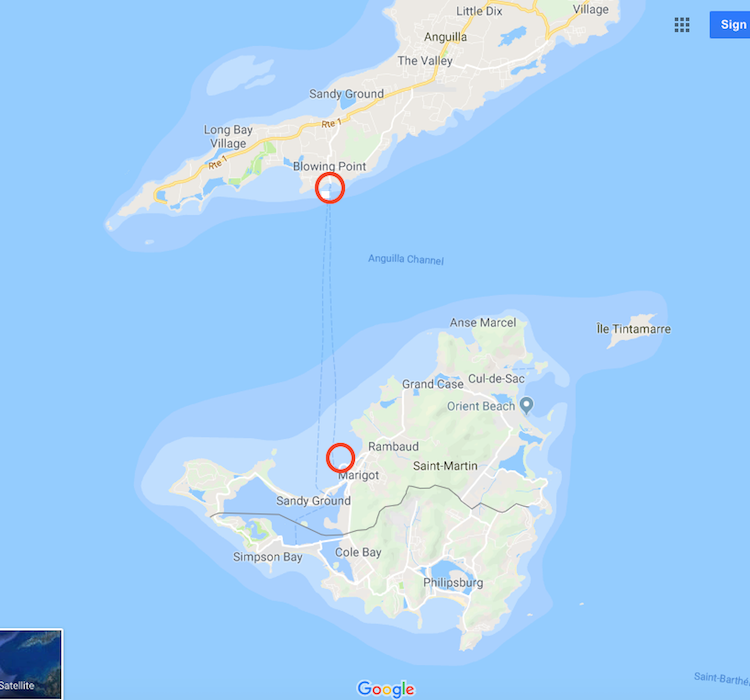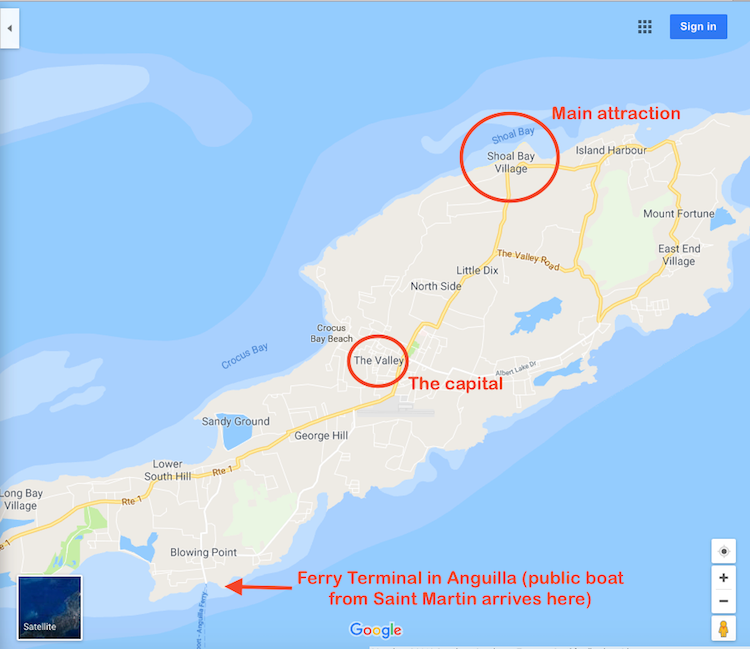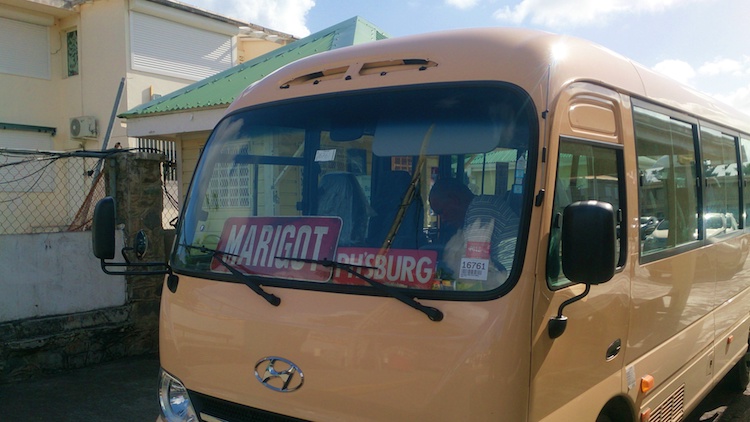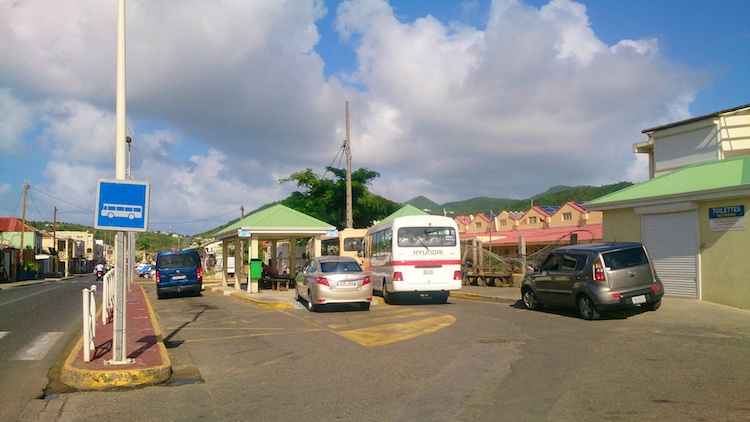 IMPORTANT:
Pay attention so you don't miss your cruise! Plan to return back to Saint Martin at least an hour and a half before the final call to be on your ship. Then, if you have any problems along the way back from Anguilla to the terminal in Philipsburg, you'll have some backup time to find an alternative. Just remember that if you aren't back by the time your cruise says to be back, they'll leave without you!
If all goes well, the total cost for visiting Anguilla during your cruise stop in St. Martin will fall under USD $100 (including the ferry and renting a car). Cheaper than most tours your cruise ship offers to go to Anguilla! And if you're with more people and can split the cost of the car, it'll be even cheaper per person.
It's definitely worth visiting Anguilla during your stop in Saint Martin if you've already been or stopped several times in Saint Martin and want to do something new.
Where to find tours, activities and attractions in Anguilla?
If you are planning to visit Anguilla Island, be sure to check out the attractions and tours available in that region beforehand. A good way to do this is through the GetYourGuide website or Viator. That way, you can plan ahead and visit all the amazing places that this destination has to offer.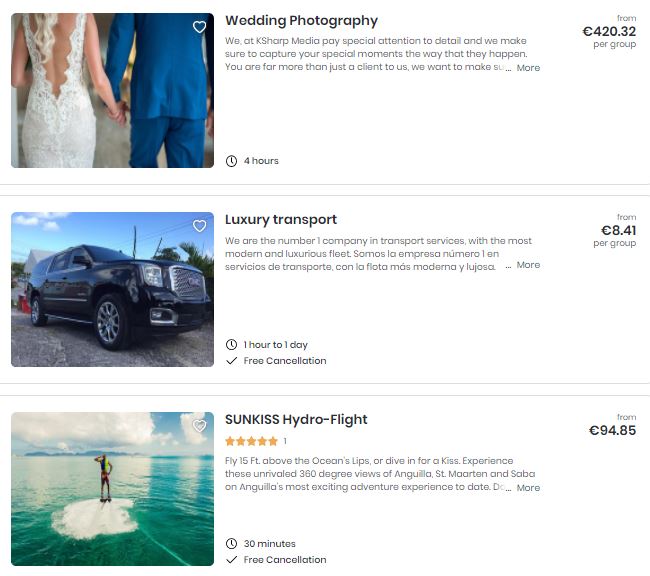 How to Get from the Cruise Terminal to Maho Beach, the airport/plane beach?
If you are visiting Saint Martin for more time and would like to have the same picture as I have below, check out my article about The Cheapest Way to Get from the Cruise Terminal to Maho Beach, the airport/plane beach in Saint Martin.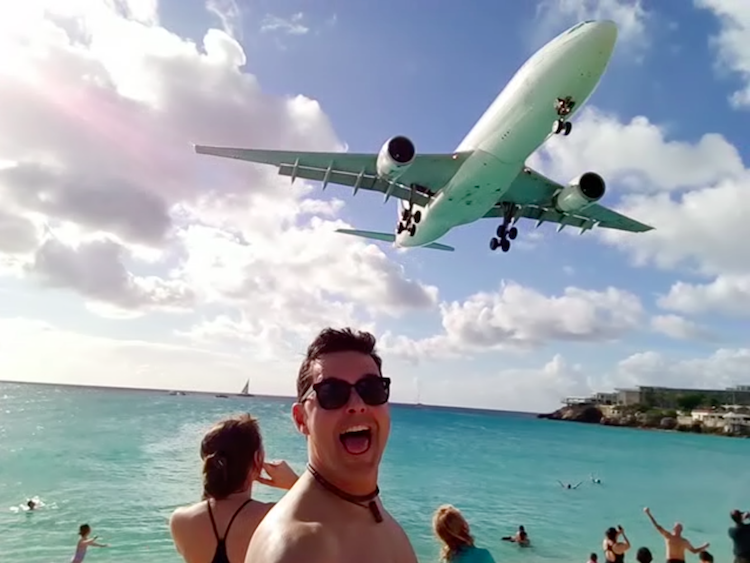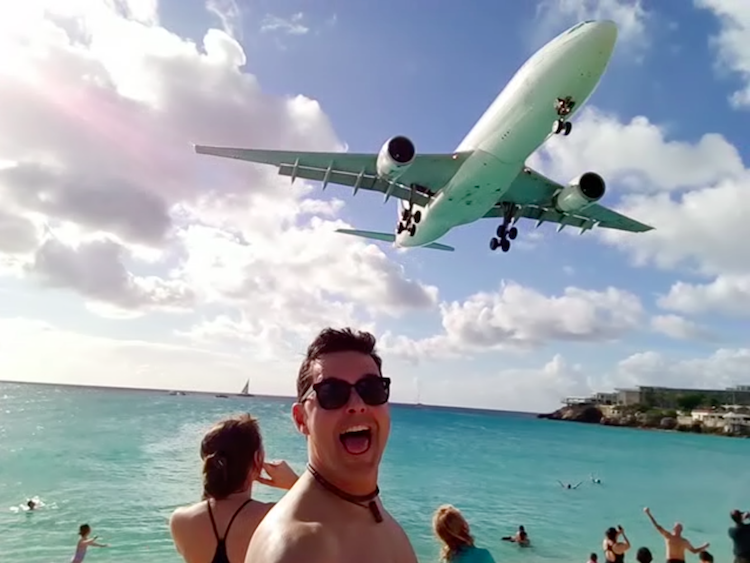 And that's it! I hope I've clearly explained all that you need to know to visit Anguilla from Saint Martin. But if you have any questions, just ask in the comments area below and I'll get back to you.
Happy travels!!
Planning your next trip?

Then don't forget travel insurance! You don't want to get stuck paying a ton of money and ruining your trip if you get sick or have an accident without travel insurance. WorldNomads is ideal for adventurous travelers, backpackers, or anyone looking to be protected during their trip. They cover almost every single activity you can image! Plus, you can have a 5% discount with the coupon code 

comfort5

. 

Already reserved your hotel or hostel? If not, we recommend Booking.com. They have a huge selection of hotels and hostels all over the world. Plus, in most cases, you can cancel your reservation without any costs up to a few days before the check-in date! 

Still haven't booked your plane ticket and want to save big? Take a look at Momondo. It's a flight aggregator that combines several other ticket search websites to make it easier for you to compare prices and make sure you are getting the best deal. 

And finally, will you need to rent a car during your trip? Then check out Rentalcar.com to search and compare car rental companies from all over the world in a single website. Then, you can find the cheapest price for the best car!
If you want to hear about new articles, check out our latest pictures, and read our newest updates, be sure to follow us here….
…..and subscribe to our newsletter below!