We all like to get something for nothing and that certainly applies to visitors to Las Vegas, where the casinos were once renowned for the complimentary drinks available to all gamblers!
Times are changing though and the trend these days is towards keeping the high rollers happy with free booze, while the rest of us sometimes have to use a little ingenuity to ensure that we have a full glass when we're playing.
The reason why casinos and sportsbooks in Las Vegas give free alcoholic beverages to their customers is fairly self-evident. And if you love free stuf, be sure to read this article with Free and Cheap Things to do in Las Vegas!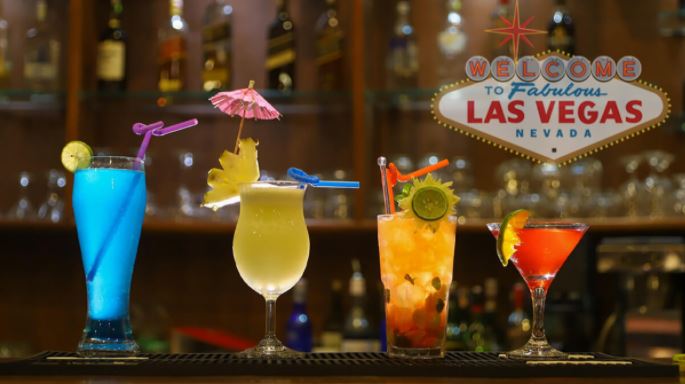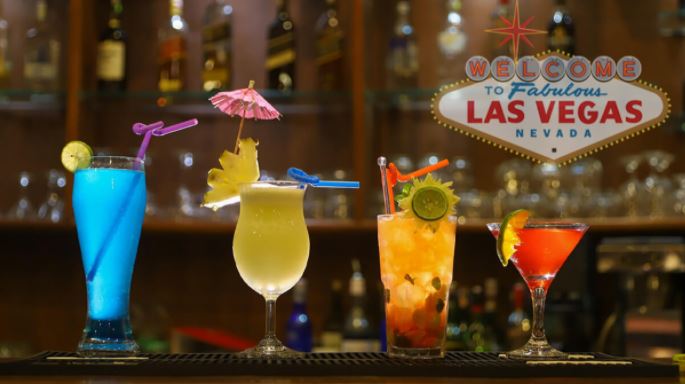 1. Keep 'em Drinking, Keep 'em Gambling
If the casino is giving away free drinks, the customer has no need to leave the gaming tables or the slots in order to find a bar to quench their thirst. The idea is that what the casino spends in providing free liquor is more than compensated for in the dollars spent by their guests playing.
It also doesn't hurt the casinos that alcohol is of course known to impair judgment and reaction times, both of which can be big factors when gambling.
That said, it's unquestionably more difficult now to get free drinks in Las Vegas than it once was, but it's still very much possible.
Some of the bigger casinos are currently experimenting with the use of technology to track what customers are betting to ensure that free drinks are only served to those staking above a set amount.
At Caesars, this is only seemingly applied to video poker machines, which have indicator lights installed on the rear of them. In order to make the "green" light flash, guests need to wager a certain amount on each hand. Only then will they be served free drinks. Those staking smaller sums of money will have to pay for their alcoholic drinks.
2. Get Free Beer Vouchers for High Bets
At MGM Resorts, they are testing machines that print out free drink vouchers for those gamblers that play for a certain amount of time. On the plus side, they do serve one free drink as soon as a guest puts money into a machine.
Thankfully, restrictions of this kind are still relatively few and far between. In general, the key to getting free drinks in Sin City, even if you're not a high roller, is to ensure that you tip your waitress and that you behave yourself.
A tip of around $5 for your first drink should ensure that the waitress remembers you, and a couple of bucks per drink thereafter will help to keep the service going.
It could be argued that tipping for each of your alcoholic drinks doesn't equate to them being free, but you need to appreciate that you are receiving a service in which the drinks are brought to you whilst you are able to continue to play.
3. All-day Drinking on the Strip
It's generally accepted that it's easier to get free drinks at the more popular casinos on the Vegas Strip. The reality is that in the less exclusive casinos such as the Flamingo or O'Sheas, the drinks don't flow quite as readily as they do at somewhere like the Wynn or the Bellagio.
So, even if you're happy staying elsewhere, if you're in the mood for a few free drinks whilst gambling, it can pay to venture out a few blocks out to the more high-profile casinos.
It's also worth remembering that, unlike most cities in the USA, you can drink 24 hours a day in Vegas – you will never hear the words "Last call" in any casino bar. The drinking age in Las Vegas is 21 and up.
Other things to do in Las Vegas, Nevada
There's plenty of other things to do in Vegas besides gambling and drinking, although that is one of the main reasons many people flock to this world-famous city.
I myself, have been twice in Vegas and never gambled. I spent my time visiting all the cool hotels and casinos during the day, and partying during the night!
Las Vegas is well known for hosting many big-name music concerts down the years. 50 years ago, Elvis Presley was a resident performer at the International (now the Westgate) for a whopping 636 consecutive sold-out concerts (2 shows a night / 7 days a week). Today's stars wouldn't even contemplate such a huge run of shows, even at the best venues on the Vegas strip.
Vegas is also one of the most epic birthday destinations and home of big-time boxing, hosting all the top world-title fights. Plus, since 2020, the city now has its very own NFL franchise, the Las Vegas Raiders (formerly the Oakland Raiders) who play their home games at the Allegiant Stadium in Paradise.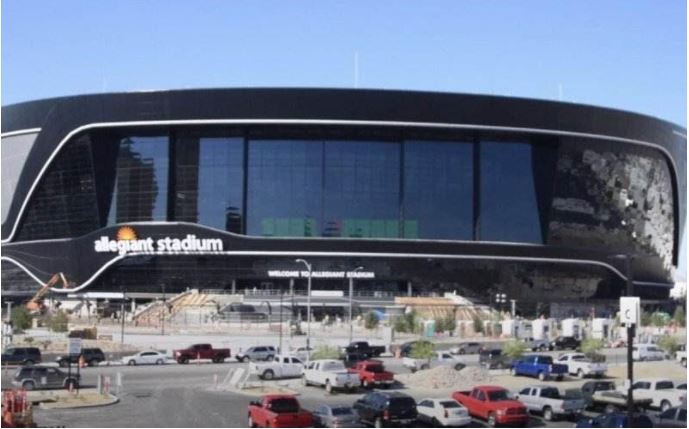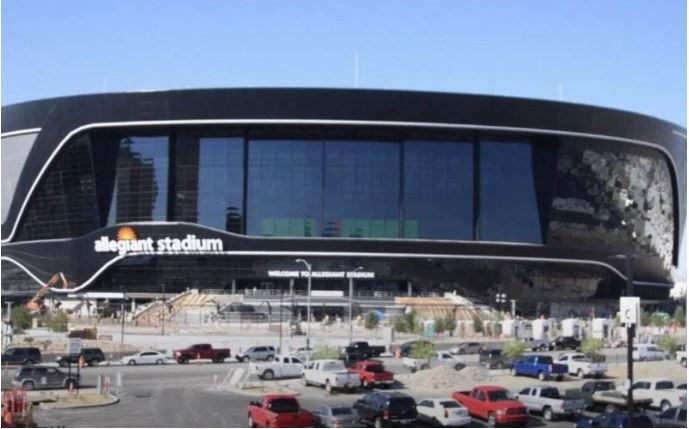 The enormous themed Vegas hotel-casinos are more like resorts and many are tourist attractions in themselves. The Bellagio has its spectacular water fountains with music show, which I definitely recommend.
The Venetian has its gondola rides, and New York New York has an epic roller coaster that goes all the way around the outside of the hotel.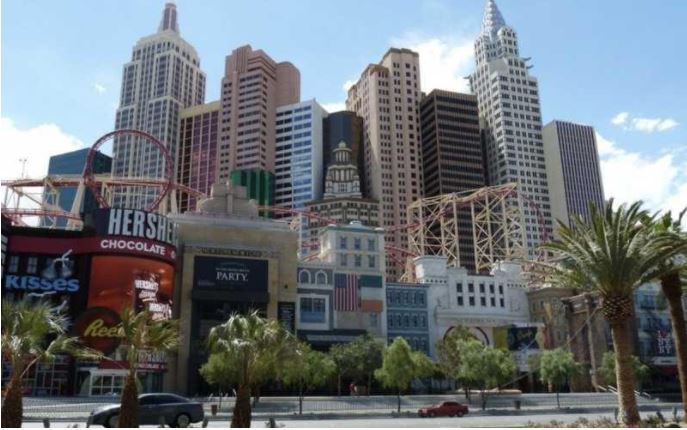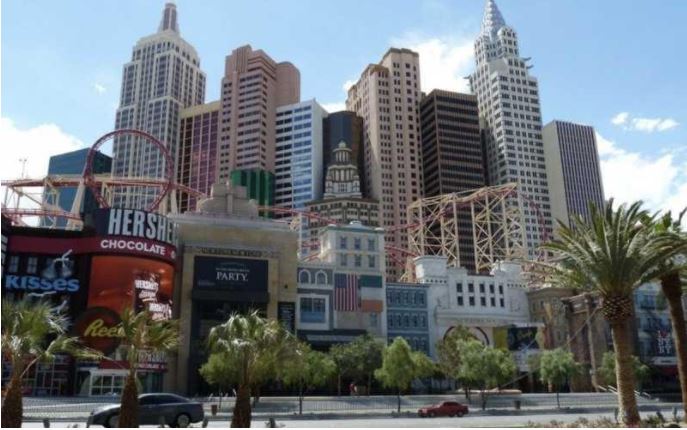 The Egyptian-themed Luxor hotel is designed like a pyramid with the Luxor Sky Beam, a 42.3 billion candela tunnel of light (the strongest in the world) shining out of the top. A great beacon to help guide you home after a few too many free drinks!
The Luxor is also home to the recently built HyperX Esports Arena which hosts major eSports tournaments, so is definitely worth a visit if you like video games.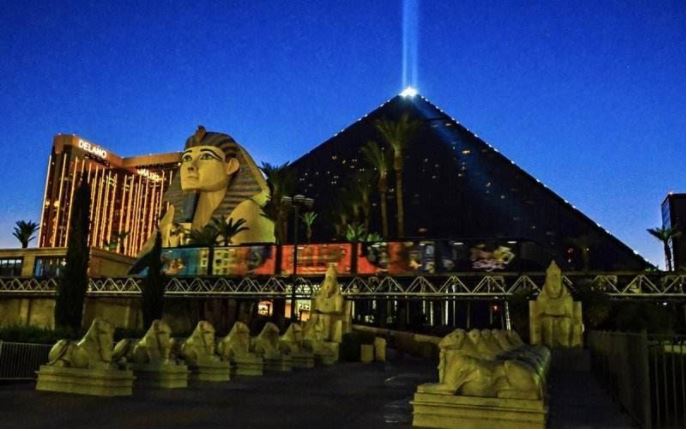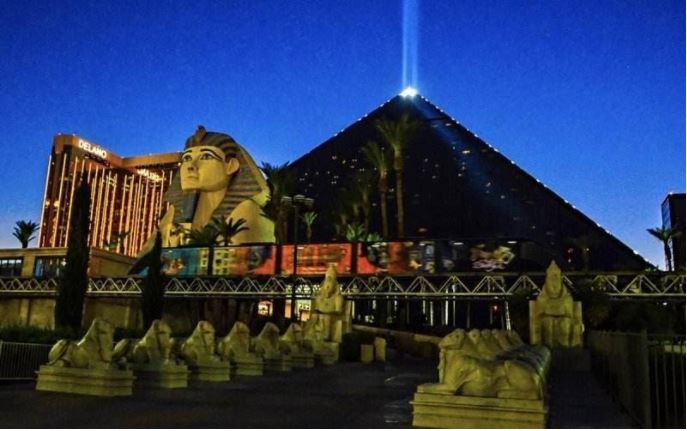 How to Get High in Vegas….it's not what you are thinking!
If you're feeling adventurous, you can fly high with a night-time helicopter ride over the famous Las Vegas skyline. Or, if you want to go a little further afield, you can also visit the nearby Hoover Dam and Grand Canyon, either by air, road or even horseback.
Just last year, Las Vegas launched a new city slogan campaign "What Happens Here, Only Happens Here." It may not be as catchy as the more familiar "What happens in Vegas, stays in Vegas," but reinforces the city's status of the world's most renowned adult hot spot.
So, if you are looking for a kind of Disneyland for adults, Las Vegas is your destination in the United States.
Let me know in the comments area if you have any questions or comments about Vegas. It's a great destination if you are visiting California and would like to extend to Nevada and Arizona to see the Grand Canyon!
Planning your next trip?
Then don't forget travel insurance! You don't want to get stuck paying a ton of money and ruining your trip if you get sick or have an accident without travel insurance. WorldNomads is ideal for adventurous travelers, backpackers, or anyone looking to be protected during their trip. They cover almost every single activity you can imagine! Plus, you can have a 5% discount with the coupon code comfort5.
Already reserved your hotel or hostel? If not, we recommend Booking.com. They have a huge selection of hotels and hostels all over the world. Plus, in most cases, you can cancel your reservation up to a few days before the check-in date without any costs!
Still haven't booked your plane ticket and want to save big? Take a look at Kayak and Momondo. They are flight aggregators that combine several other ticket search websites to make it easier for you to compare prices and make sure you are getting the best deal.
And finally, will you need to rent a car during your trip? Then check out Rentalcar.com to search and compare car rental companies from all over the world on a single website. Then, you can find the lowest price for the best car!