Last Updated on by Editor
China is a huge country and you could spend months exploring its vast territory. However, if you'd like to visit some of its neighbors, Mongolia is a great option.
One of the most "classic" routes between the two countries is between Beijing, the capital of China, and Ulaanbaatar, the capital of Mongolia.
This trip can be done several ways – plane, train, or a combination of bus and train.
Every one of these ways has pros and cons. For example, a flight between the two destinations will be the fastest at 2 ½ hours but costs at least $250.00.
In case this is your choice, take a look at our page with 16 tips to help you save on purchasing flights.
If you'd just like to use train, you'll be traveling along the Mongolian and Chinese part of the famous Transiberian. It's a unique trip that crosses the Gobi Desert… though it takes nearly 28 hours including the time to cross immigration. However, just that little adventure will cost you somewhere between $250.00 to $300.00 (that's as much as the flight!!).
If you'd like to read more about the Transiberian and the other 10 most incredible train trips in the world, take a look at our page here. We also recommend using China Highlights to search for and buy your train tickets within China if that's the way you'd like to go.
But if you have time to spare and money to save, we'll give you the cheapest option to get from Beijing to Ulaanbaatar.
Actually, there are two choices. The absolute cheapest is when you basically don't stop at all and the other is when you stop in Erlian (Erenhot) on the Chinese side of the border to rest and explore the dinosaur history of the region.
Our Way
Get to Muxiyuan Station in Beijing
In our option, you'll take a sleeper bus (meaning it has beds) from Muxiyuan (木樨园客运站) Station in Beijing to Erlian (also called Erenhot). To get to the bus station, you'll need to get to Dahongmen Station on line 10 of the Beijing. Then you'll leave from exit C and walk about 10 minutes. Here's a map of how to get there:
It seems like the Muxiyuan station is out of operation. So, buses to Erlian should be leaving from another bus station in Beijing. I just do not know which one.

If anyone has this new information, please let me know in the comments area that I will update the page! Thanks!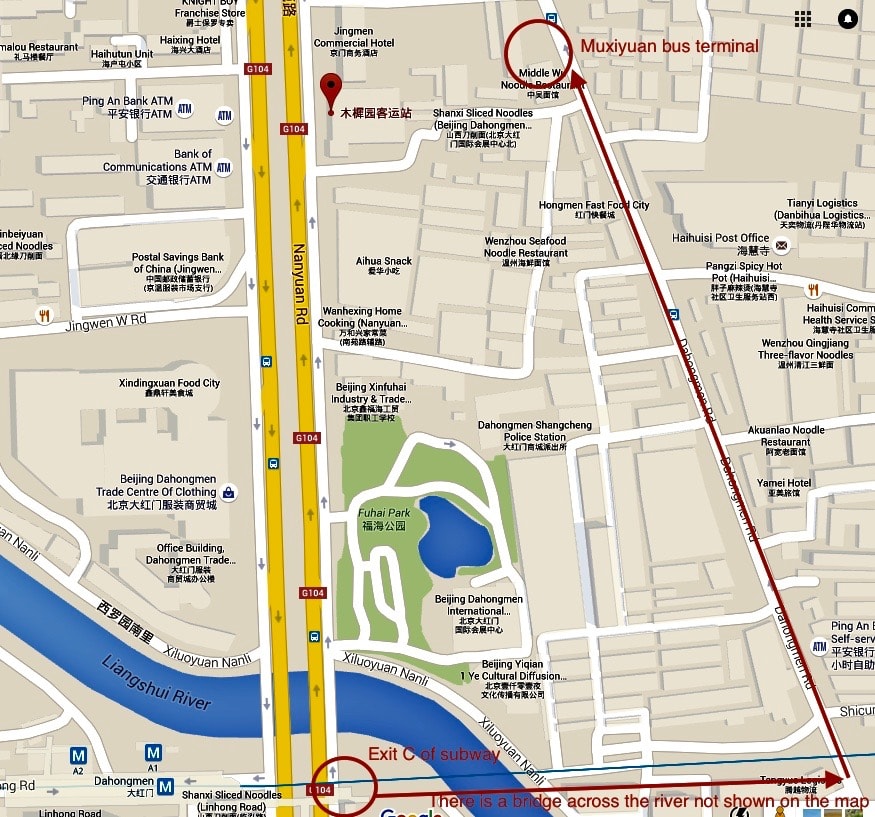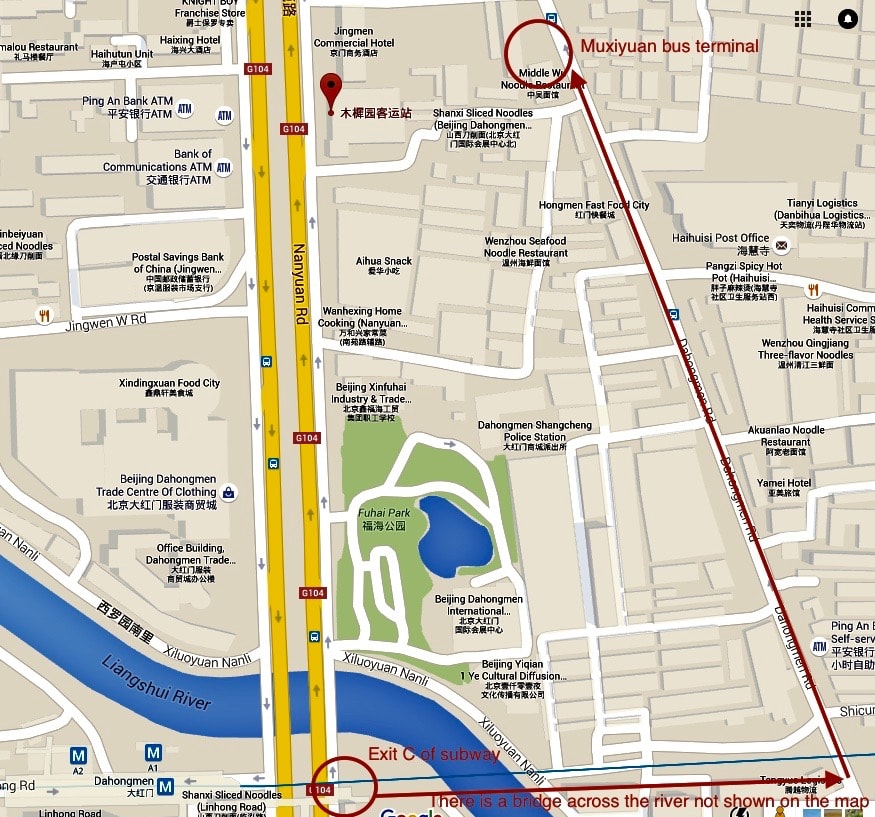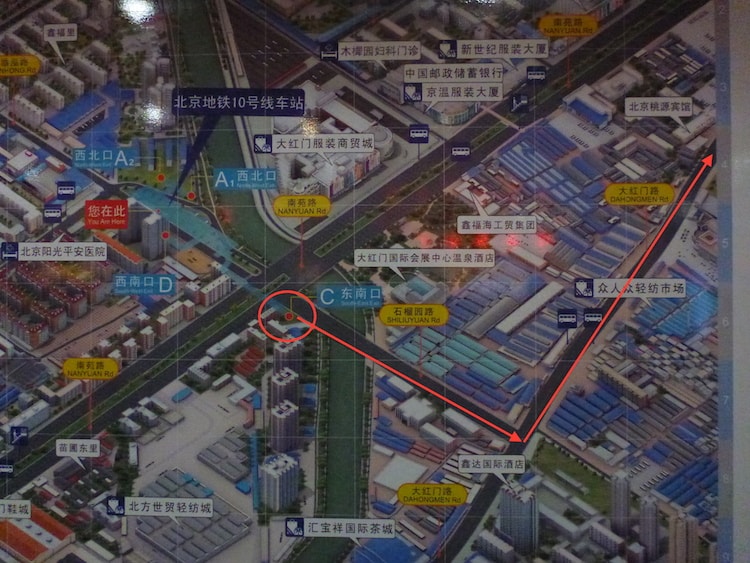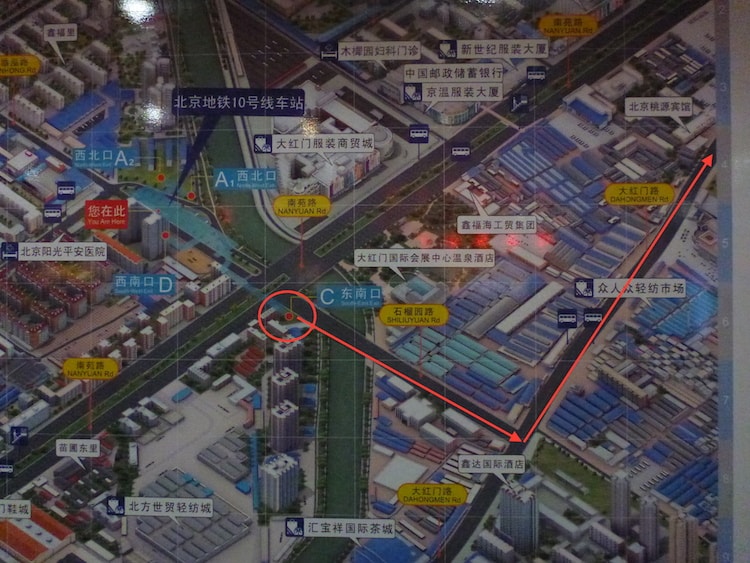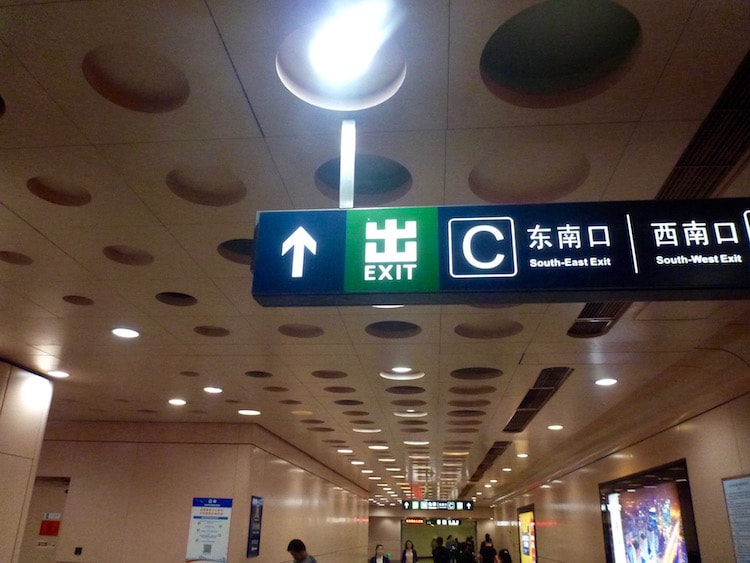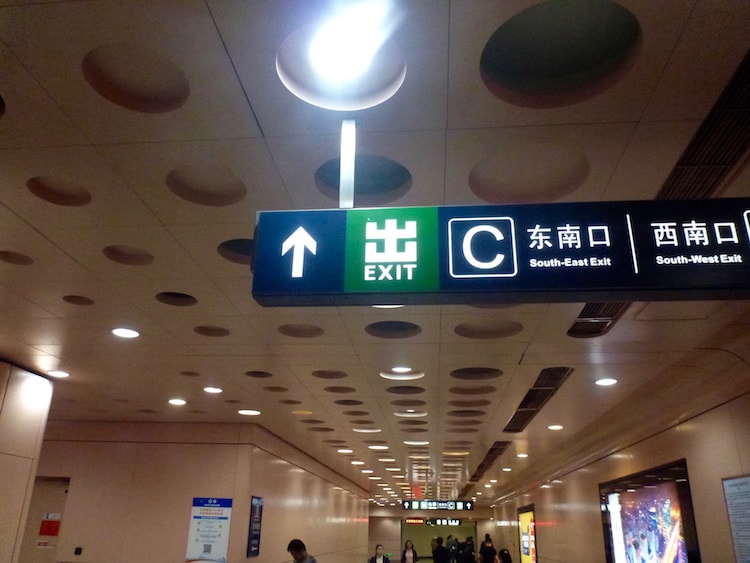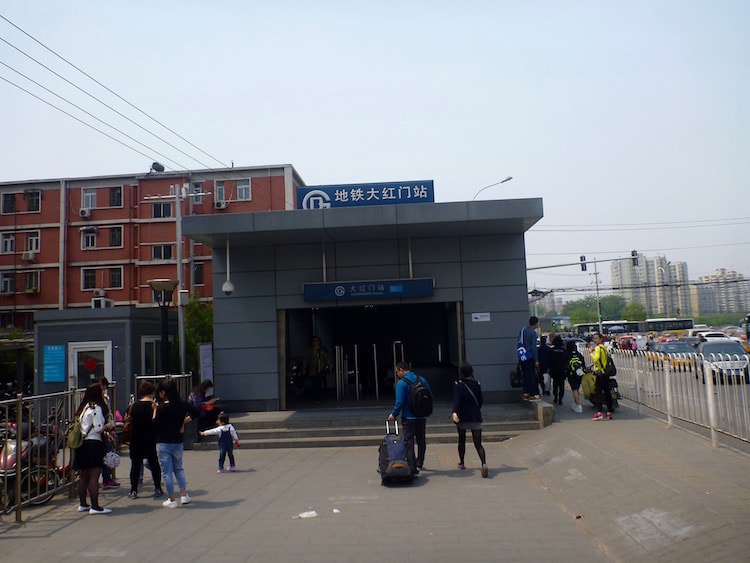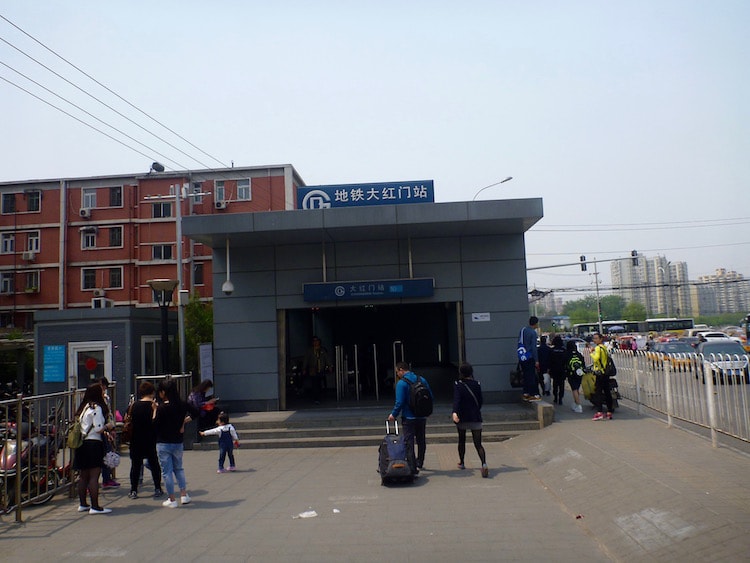 Beijing to Erlian / Erenhot by sleeper bus
Cost: 180 yuan (US $27.39)
Time: 15:10 PM to 7:00 AM
Although the official departure time is 15:10 PM, the schedule is always changing. So I recommend you arrive at the station around 10:00 AM to buy your ticket and stay around the station until your bus leaves.
Don't worry if just after leaving your bus stops for a few hours by a mall to pick up some goods to bring across the border. It's all part of the journey. Ask your driver how long it'll take until the bus leaves again (it was about 2 hours for us) and take a walk around the surrounding stores.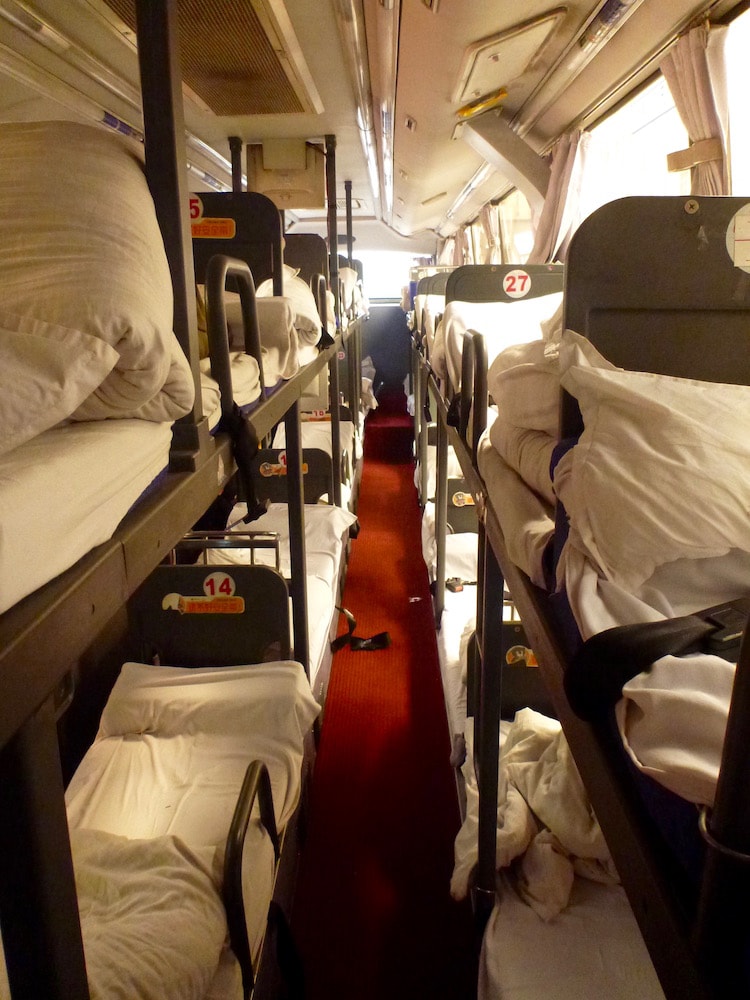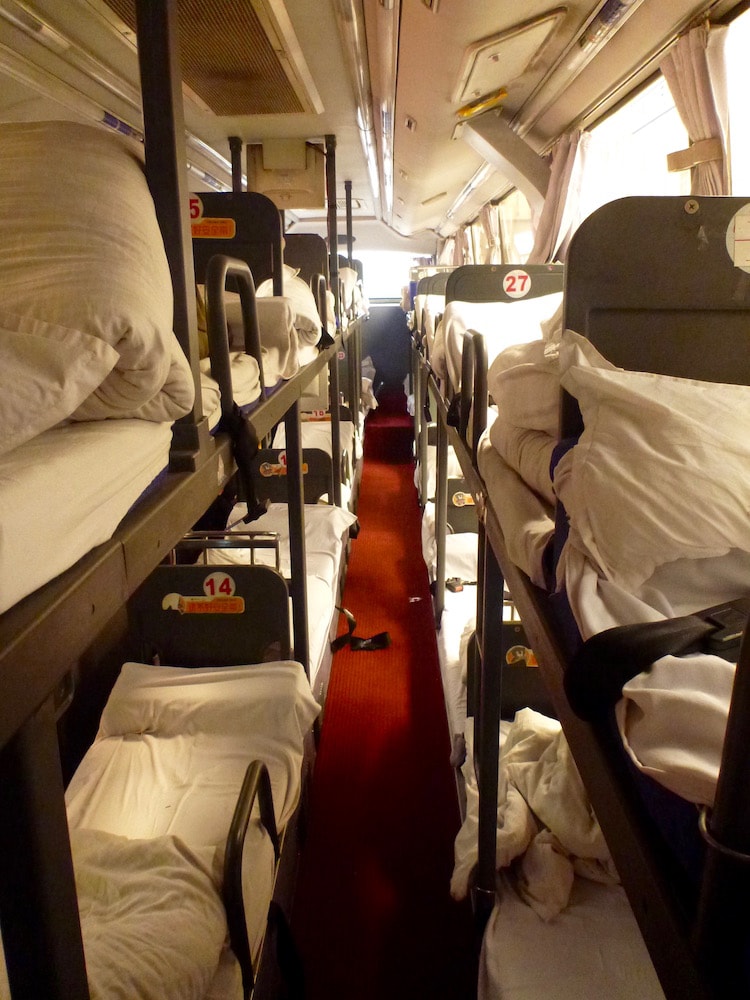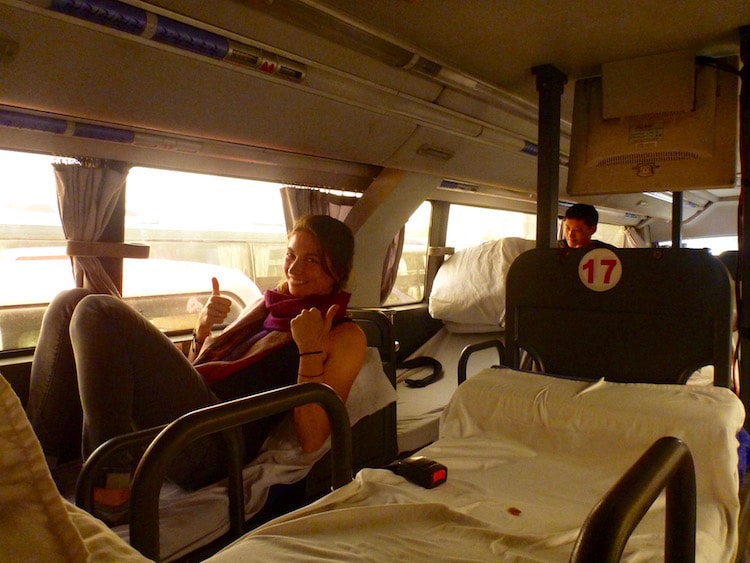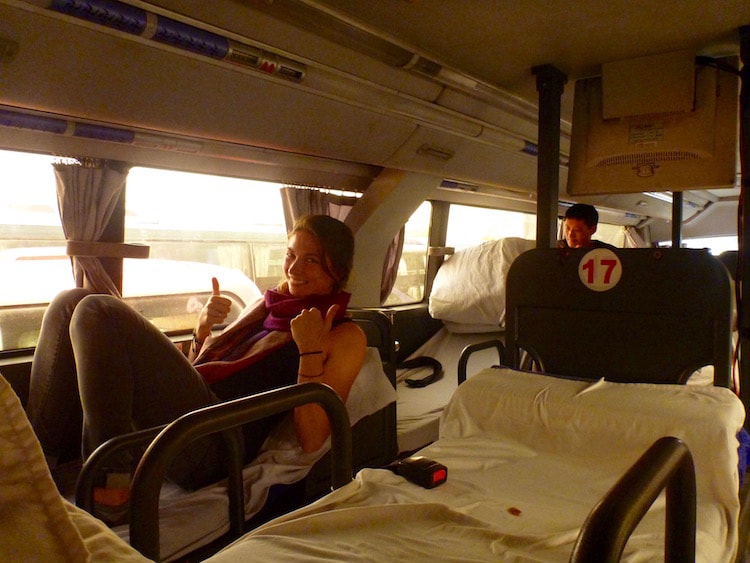 Sleep in Erlian / Erenhot
Accommodation in Erlian / Erenhot
Cost: 120 yuan (US $18.26)
Arriving in Erlian/Erenhot, you can go directly to your hotel and check-in early. We talk more about what you can do in Erlian/Erenhot below.
Unfortunately, we didn't find an option to reserve hotels in Erlian/Erenhot anywhere online. But don't worry because there's a map just below of how to get to our hotel from the bus station. Just in case, if you'd like to check the 6 best websites to reserve hotels and hostels, take a look at this article.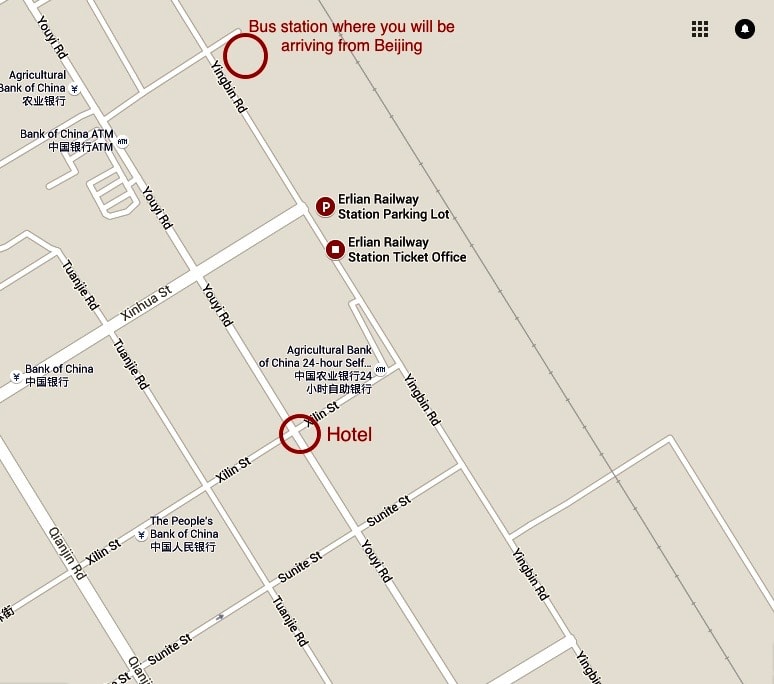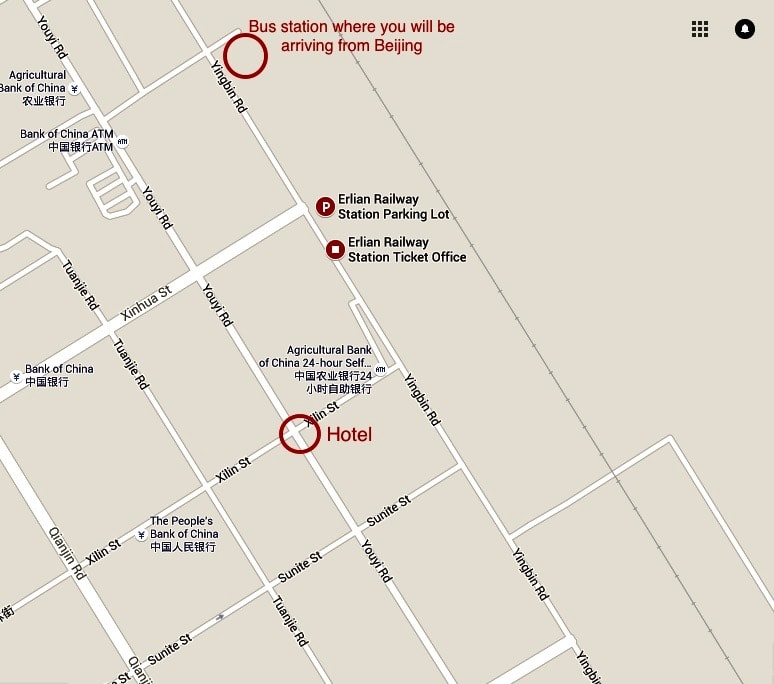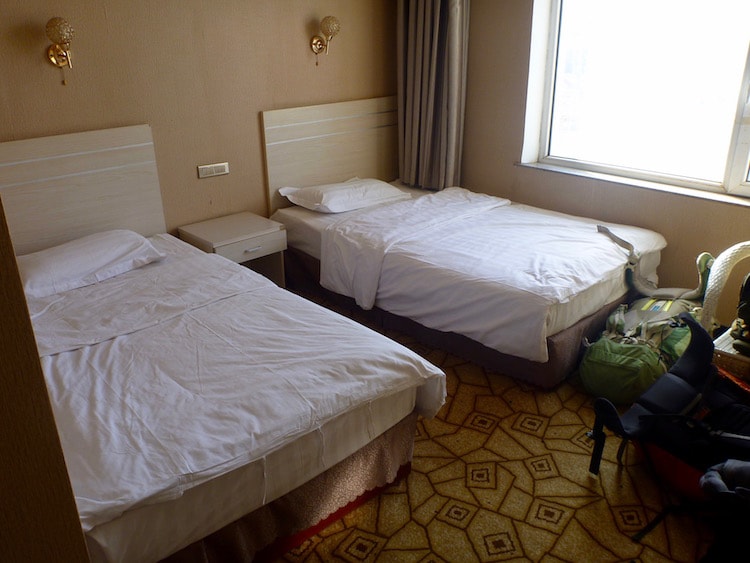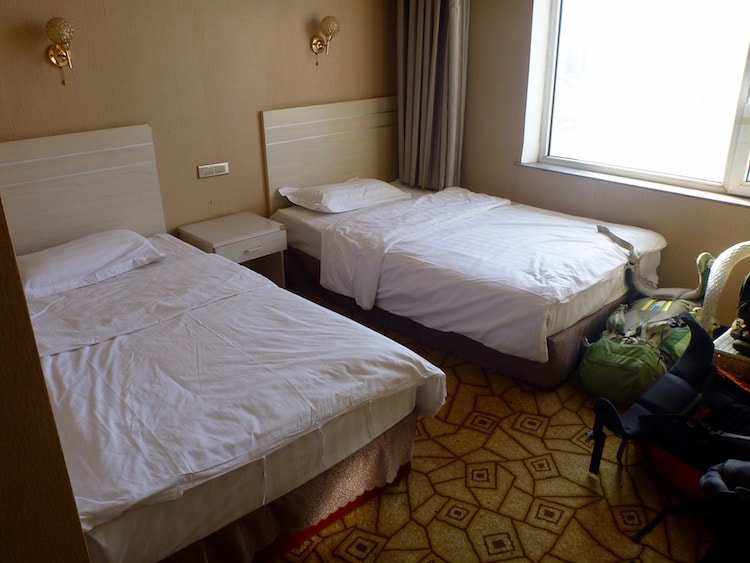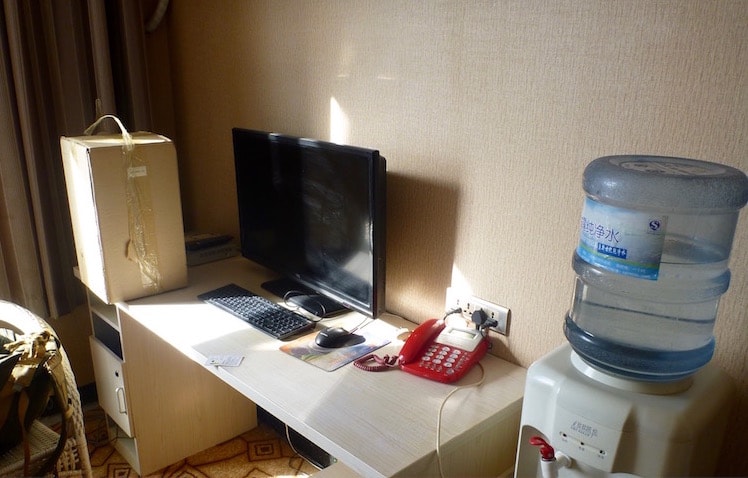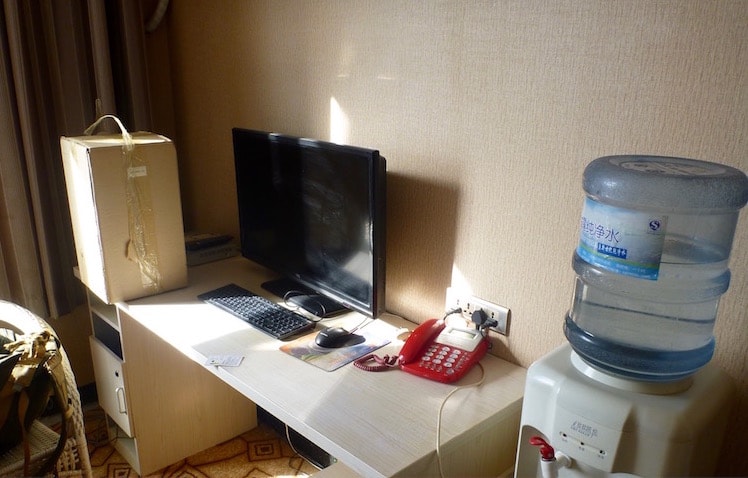 Erlian / Erenhot to Zamiin Udd by shared jeep
Cost: 50 yuan (US$7.61), but you have to negotiate! It's normally between 40 to 100 yuan.
Time: 10:30 AM to 13:30 PM approximately
There's also a train between these two places but it only does this route twice a week.
Otherwise, this part is relatively easy. Just go to the local square where the jeeps are parked around 9:00 AM and negotiate the price with different drivers. There's a map below of how to get to the square.
The jeep will probably end up leaving around 10:30 AM. The trip to the border only takes 20 minutes, so it's immigration for the two countries that'll take up the most time on this leg of the journey.
You'll leave the jeep for Chinese immigration, walk to the building, complete immigration, get back in the jeep on the other side, drive to Mongolian immigration, get out, go through immigration, and afterwards get in to the jeep on the other side where you'll drive for 10 minutes to Zamiin Udd. Your trip through immigration will probably be much faster than your jeep and driver's trip, so don't worry if you have to wait awhile. Just bring something to read.
This map shows where to get the jeep from the hotel.
To change money, you can go to the bank within Mongolian immigration or use the ATMs to withdraw money in the local currency.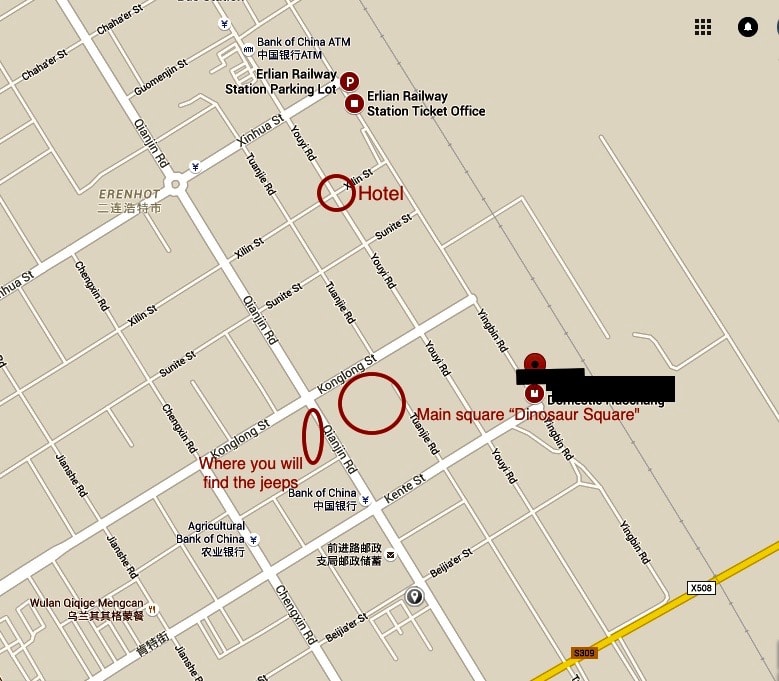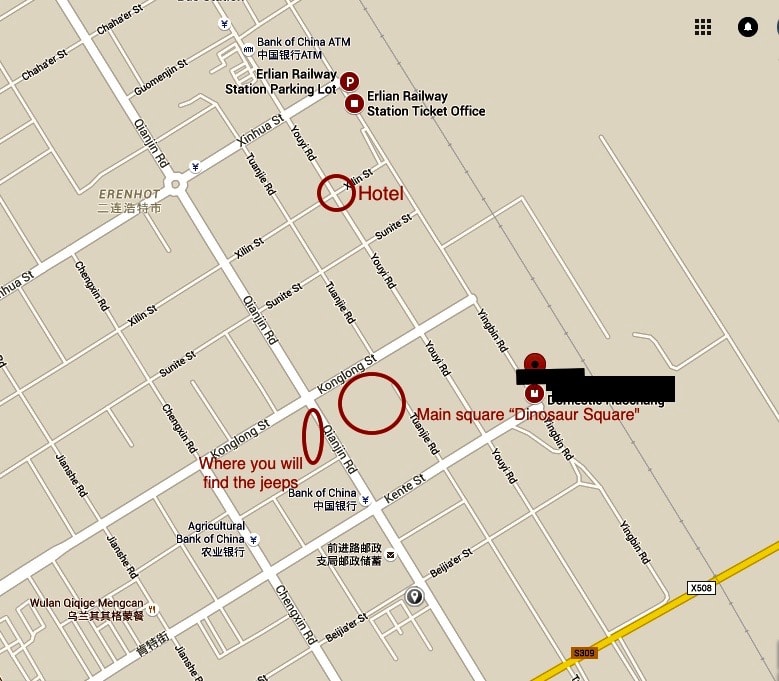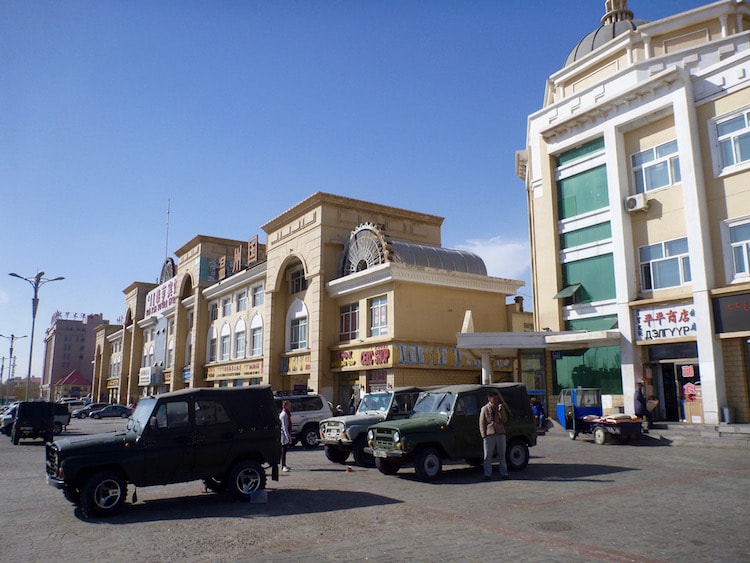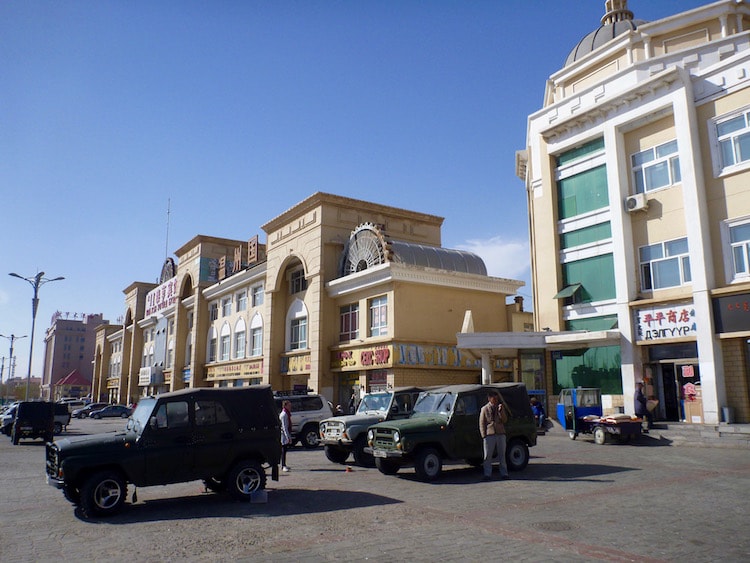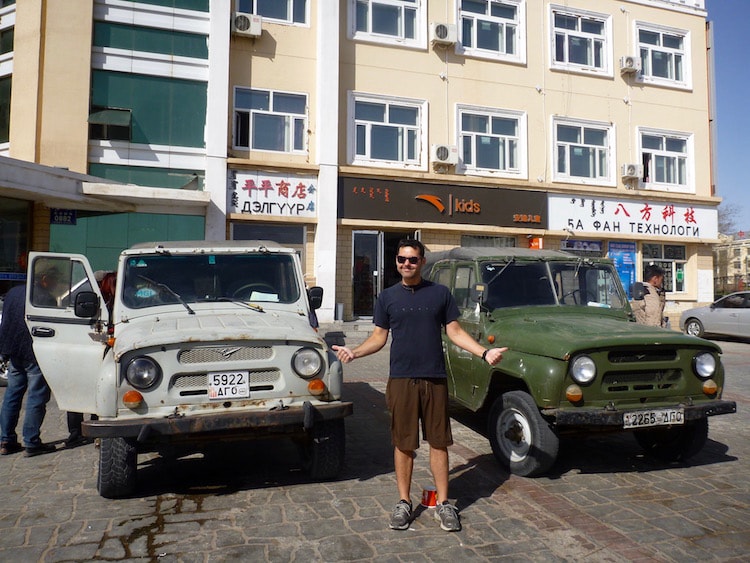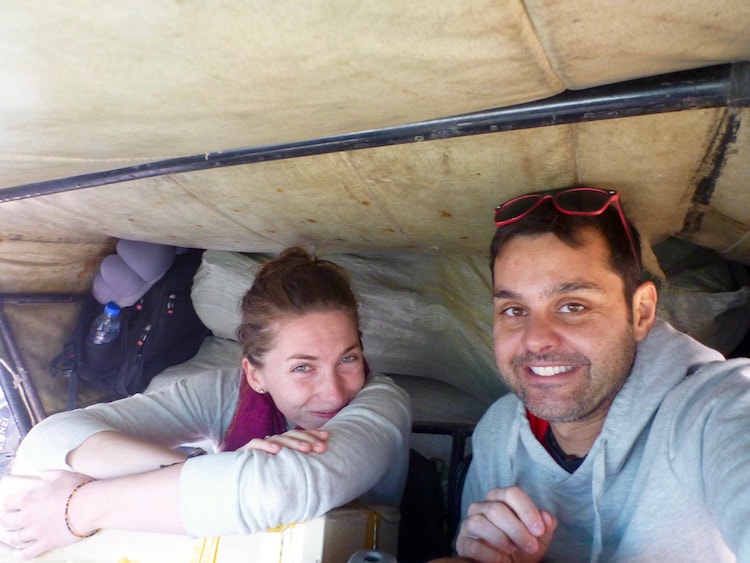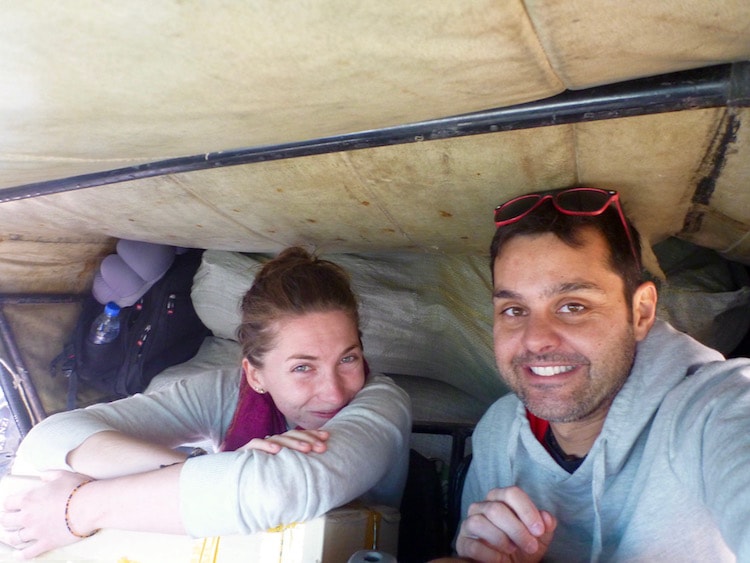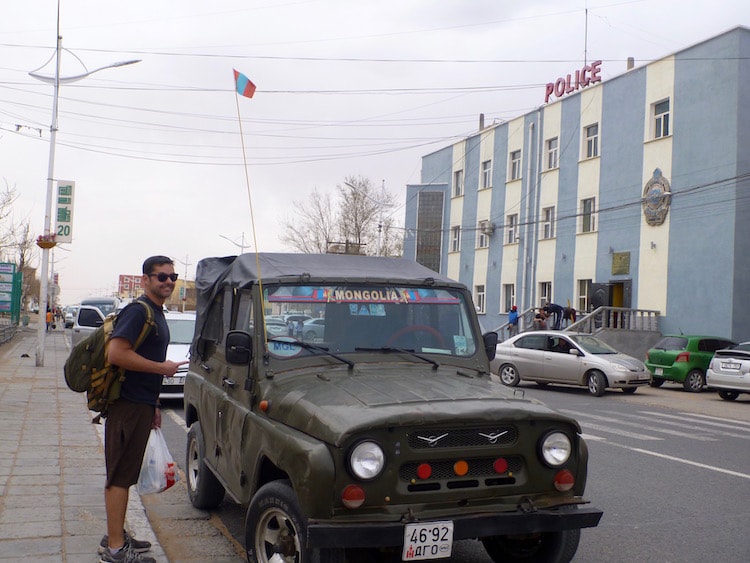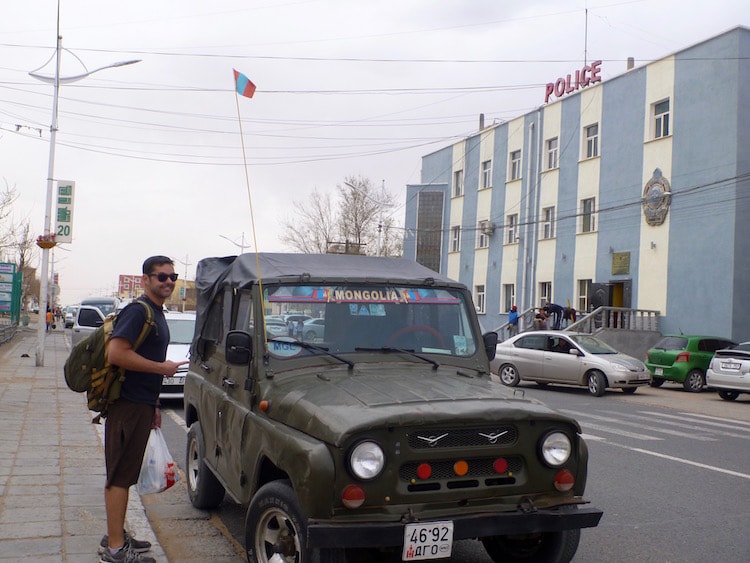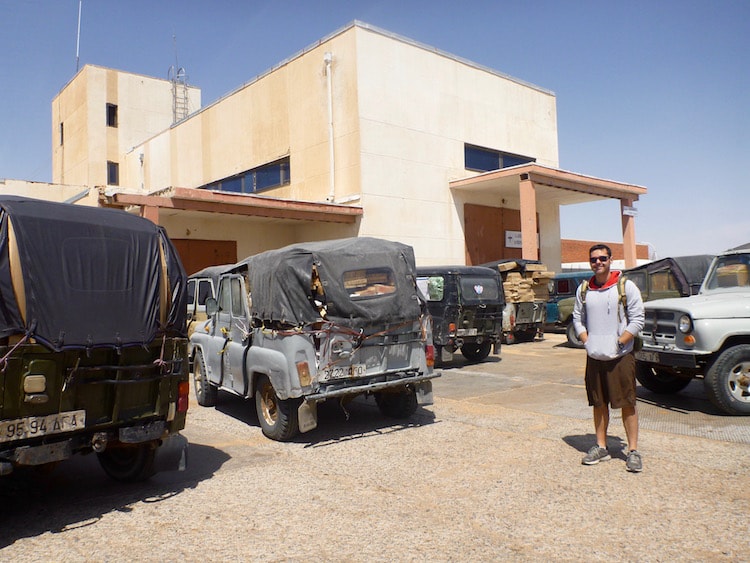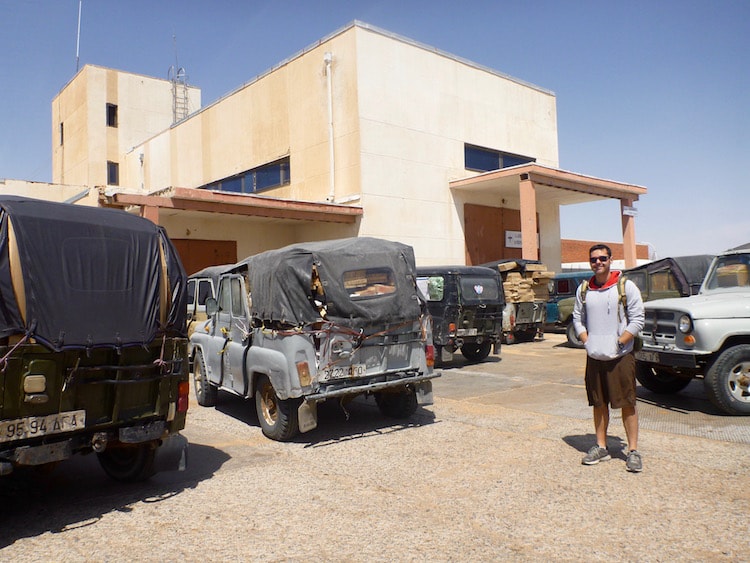 Zamiin Udd to Ulaanbaatar by train
Cost: 22.850 MNT (US$ 11.60) for a bed in a shared berth, called a "hard sleeper"
Time: 18:15 PM – 8:30 AM
The driver of your jeep will bring you right to the square in front of the Zamiin Udd train station. However, to buy the tickets you'll have to go to the modern looking building to the left of the old station. The office to buy tickets is on the second floor.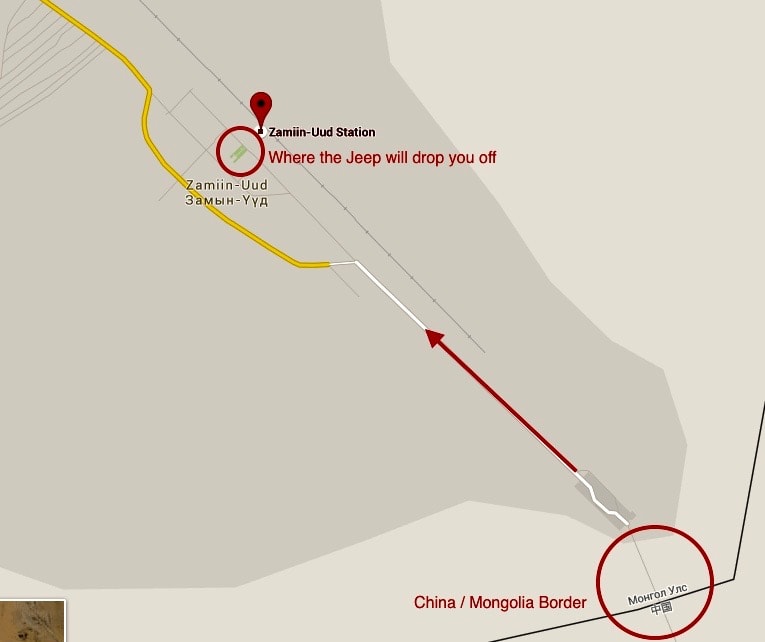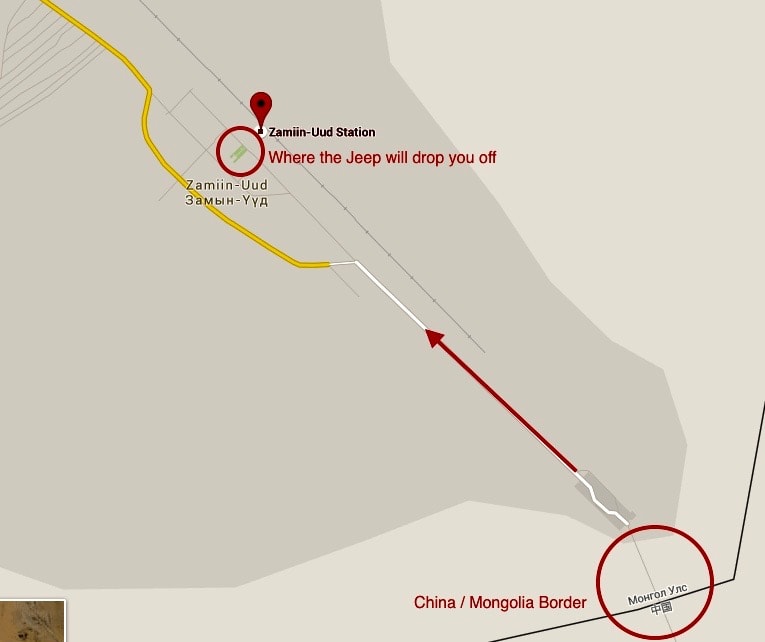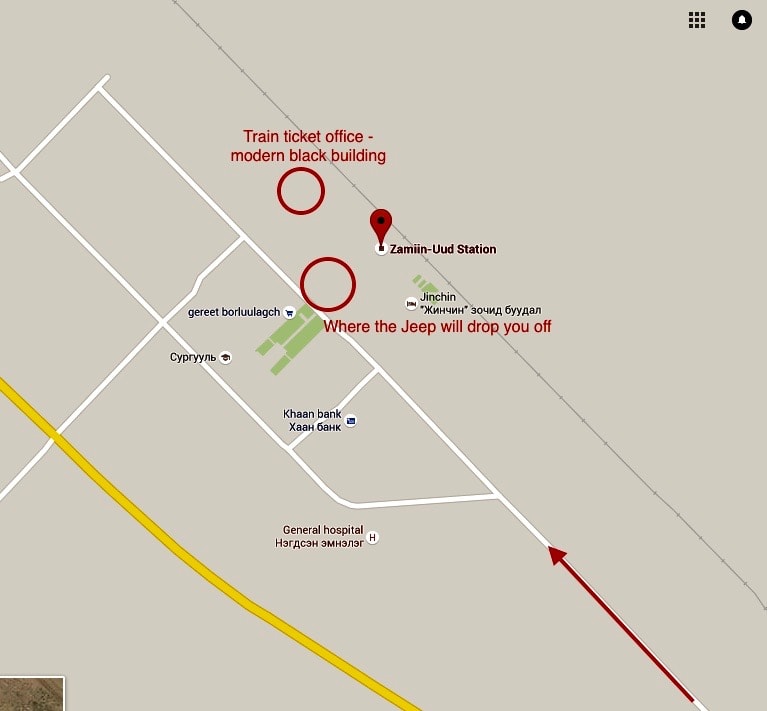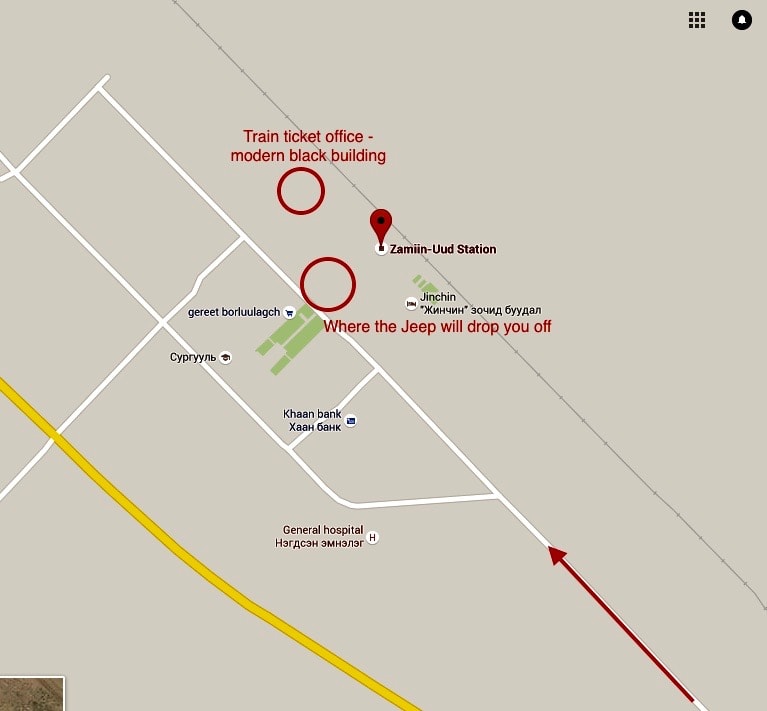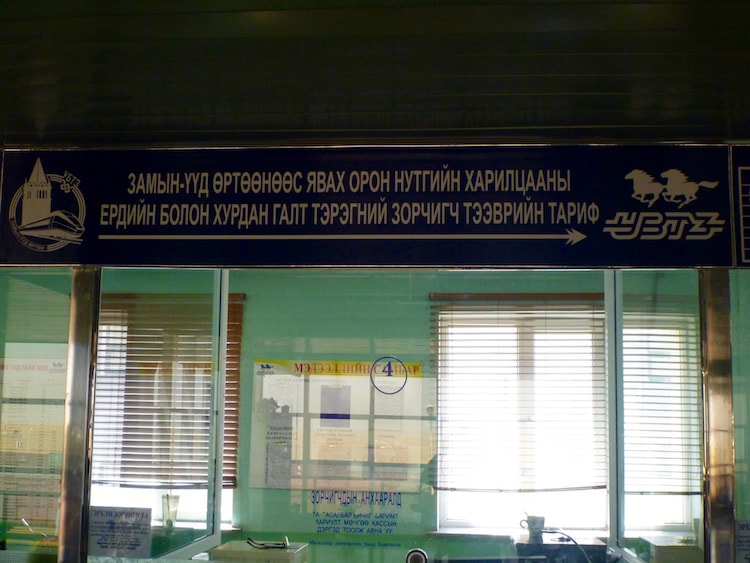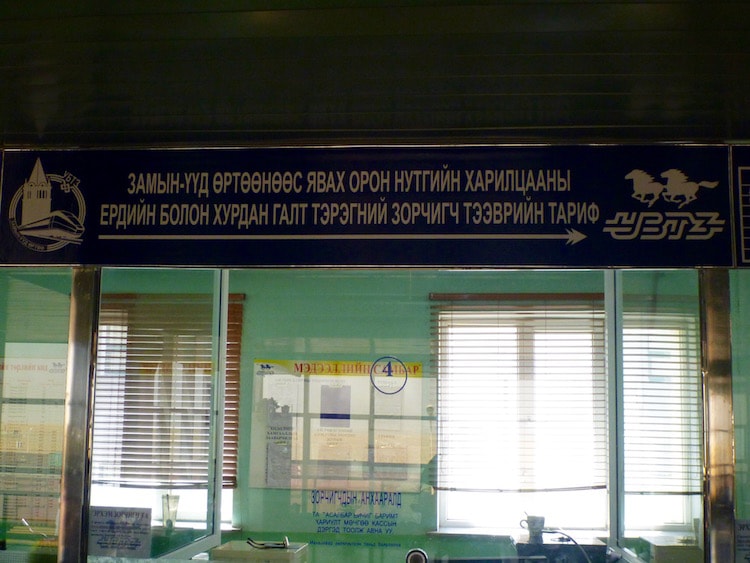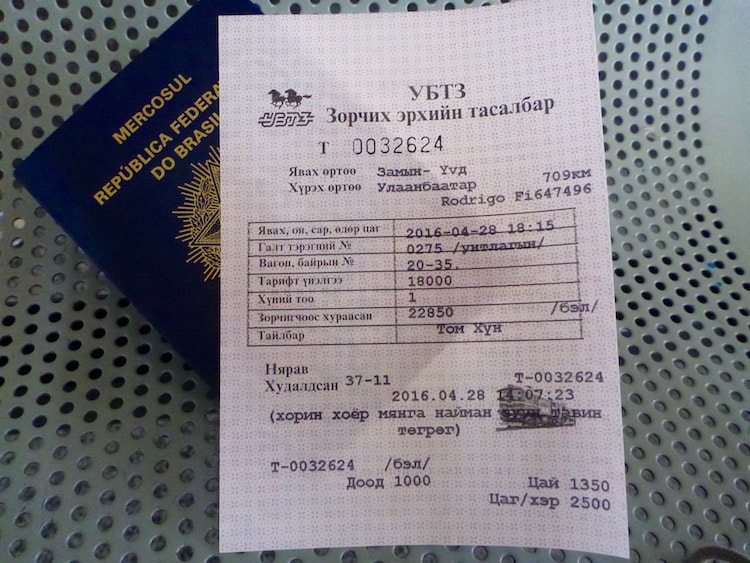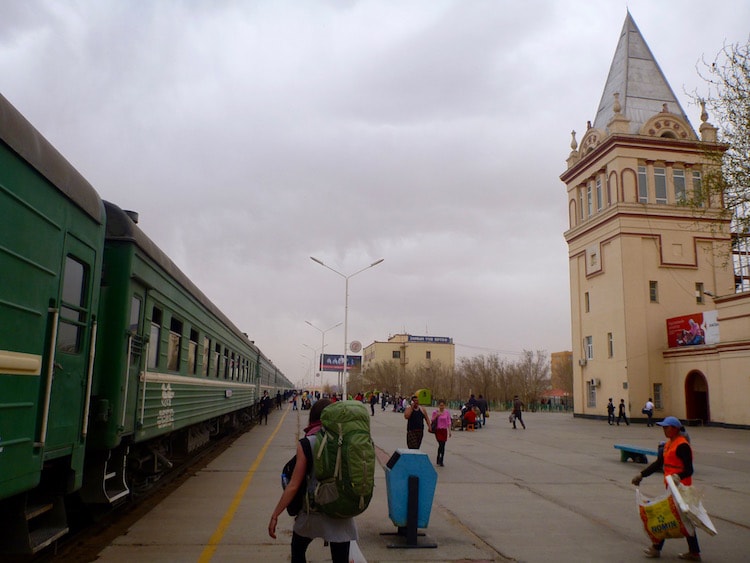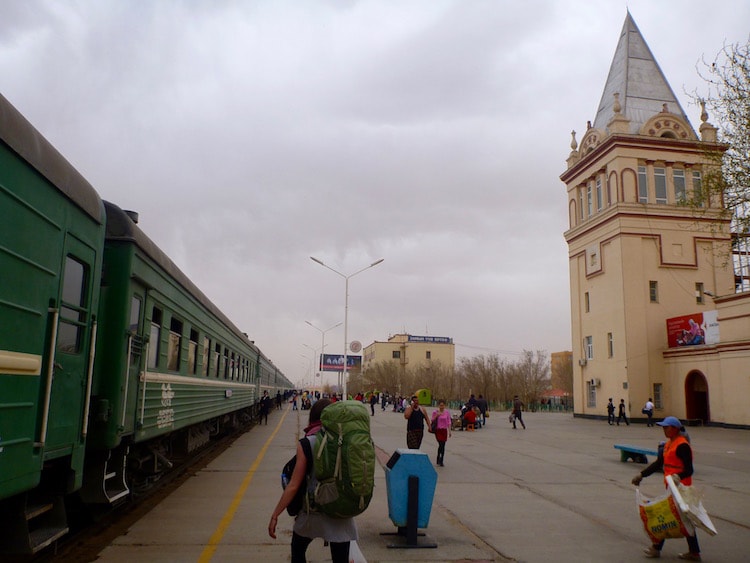 Totals for our way:
Cost: US $ 64.86 (including a night of accommodation for 2 people)
Time: nearly 3 days
The absolute cheapest way
We didn't do this option personally but we met some girls along the way who did and it's definitely the cheapest way to travel between Beijing and Ulaanbaatar.
Beijing to Zamiin Udd by sleeper bus
Cost: 220 yuan (US$ 33.48)
Time: 15:10 PM to 10:30 AM depending on how long immigration at the border takes
For this route, as we explain above, you'll have to go to the same bus station but instead buy a ticket to Zamiin Udd in Mongolia. The sleeper bus leaves at approximately the same time as the other just that the next day you'll stay in the bus, go straight to Chinese immigration on the border, complete immigration on both sides, return to the bus, and be dropped off at the Zamiin Udd train station. This is without a doubt the easiest option. The downside is that then you'll then be traveling almost 41 hours straight and you won't have the chance to explore the border town between China and Mongolia in the middle of the Gobi Desert.
Zamiin Udd to Ulaanbaatar by train
Cost: 22.850 MNT (US $11.60) for a bed in a shared berth, called a "hard sleeper"
Time: 18:15 PM – 8:30 AM
Totals for the cheapest option:
Cost: US$ 45.08
Time: 41 hours since you'll be going without a stop
Contrary to what sometimes happens in Europe, I wasn't asked if I have travel insurance on either side of immigration but of course I always travel with it anyways. If you'd like to read which insurance I use and find out the 3 best and cheapest travel insurances on the market, take a look at our article here.
What to do in Erlian/Erenhot on the border between China and Mongolia
Erlian/Erenhot is a place proudly called "dinosaur city" due to its internationally renowned dinosaur fossil discoveries. While driving towards the city, you'll even see a bunch of dinosaur statues in the middle of the Gobi Desert (so try to stay awake if you're coming from Beijing!).
Without a doubt the main attraction is Erenhot National Geopark in Inner Mongolia (also called Erlian Cretaceous Dinosaur Geopark). It's a place where dinosaur fans can spend several hours checking out skeletons and real fossils that are still in the ground.
To arrive at Erenhot National Geopark in Inner Mongolia (Erlian Cretacaceous Dinosaur Geopark), the best way is to go by taxi because there's no public transportation. If you've read my article about how to save on public transportation, you'll know that I'm not big into taxis but in this case there wasn't a choice!
If you're going to take a taxi, you can go the same route that we did. First we visited the entrance to the city where there are two famous dinosaurs kissing over the road and from there we went to the Geopark. As we wanted to save, we took a taxi to the Geopark and hitchhiked to get back to the city. This cost us about 50 yuan. If you want the taxi to wait for you while you're at the park, expect upwards of 100 yuan.
The entrance to the park is also 50 yuan and we spent about 3 hours there (though we moved really slowly and Nikki loves dinosraus). Since your taxi driver likely won't speak English, you're best bet is just to show him a pictures of where you want to go….. like these: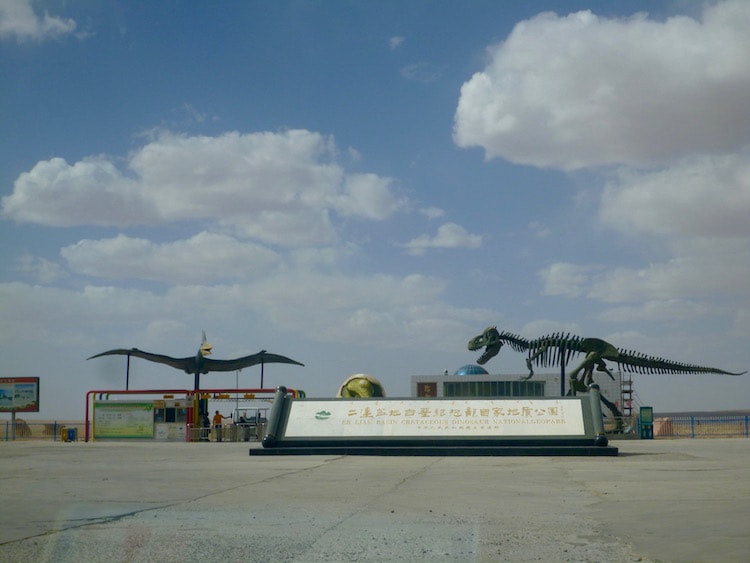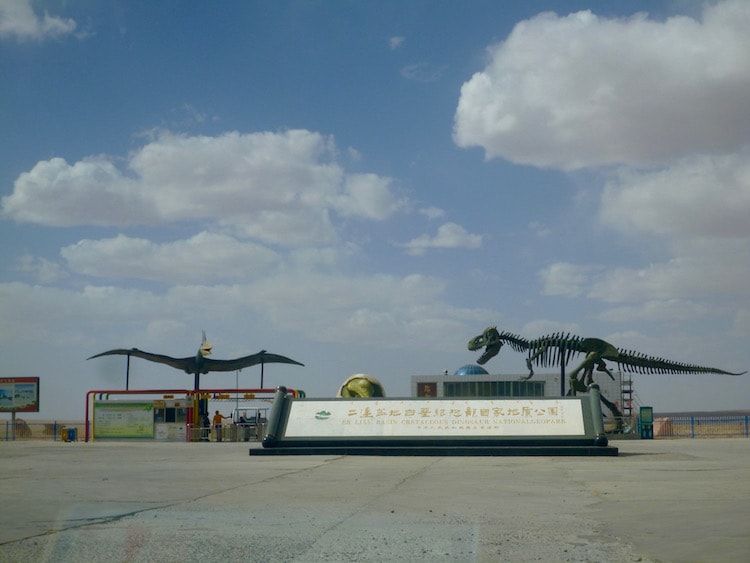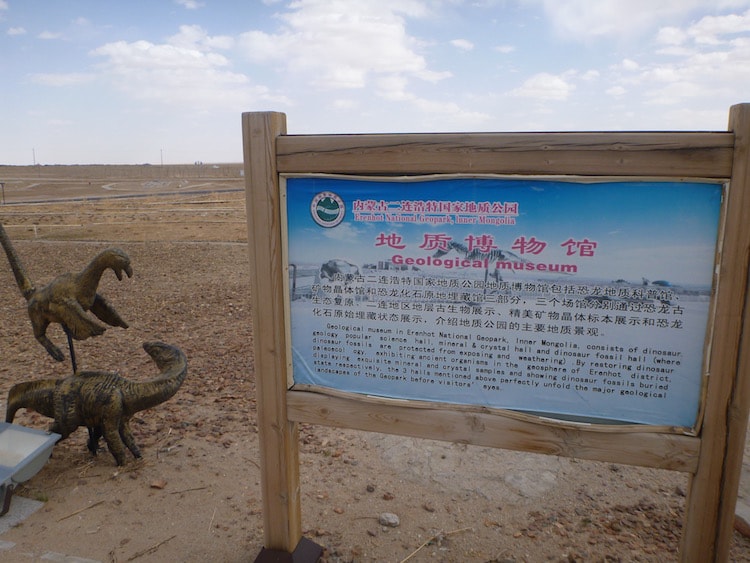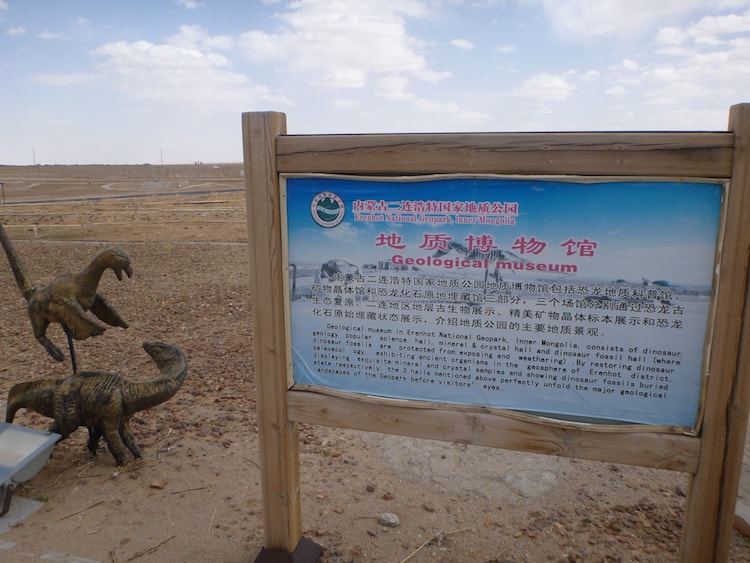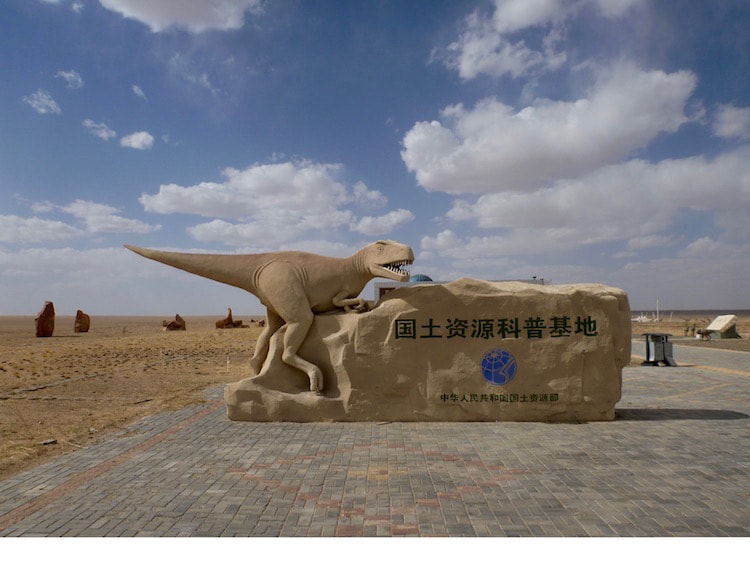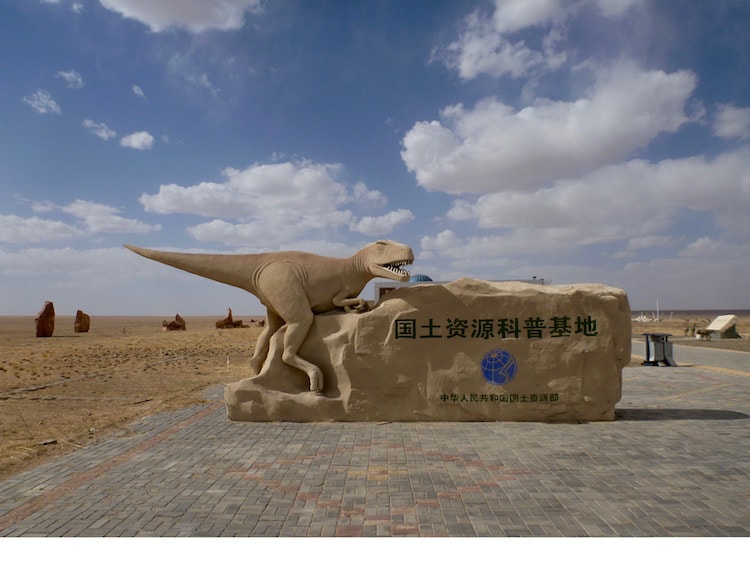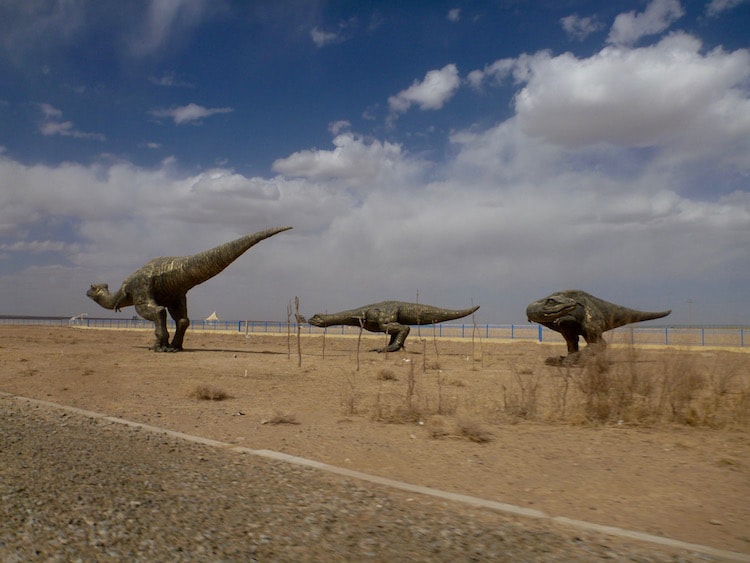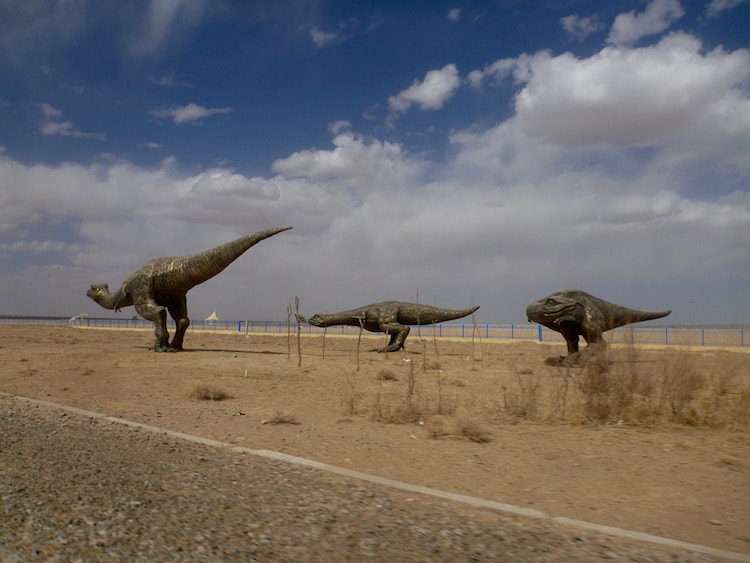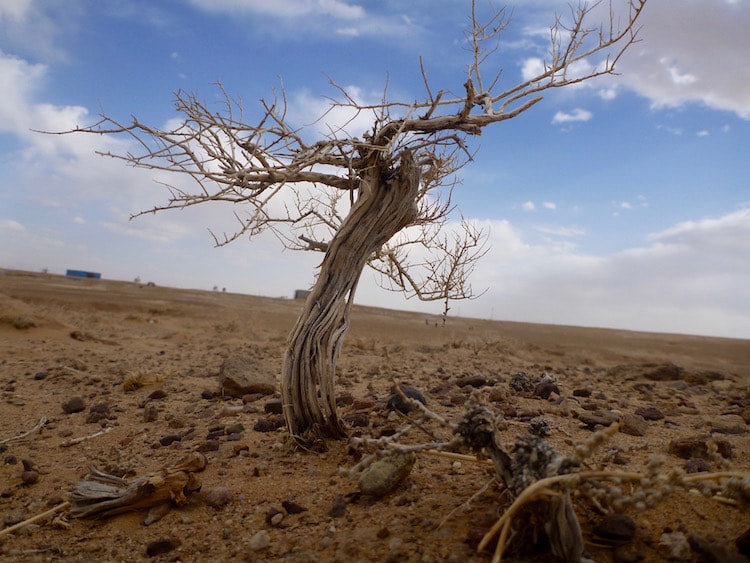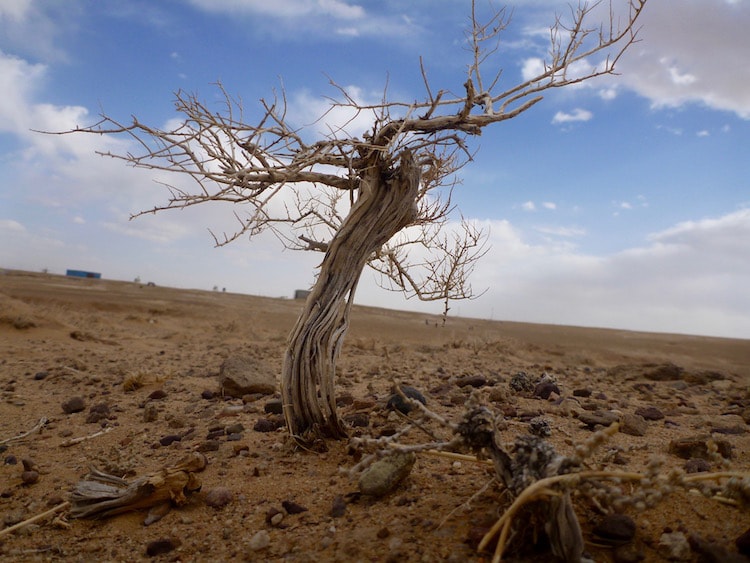 In the evening, you can take a walk around the main square (called "Dinosaur Square") where there's a small amusement park as well as groups of Chinese dancing as they do all around China.
Here's some more pictures from the journey: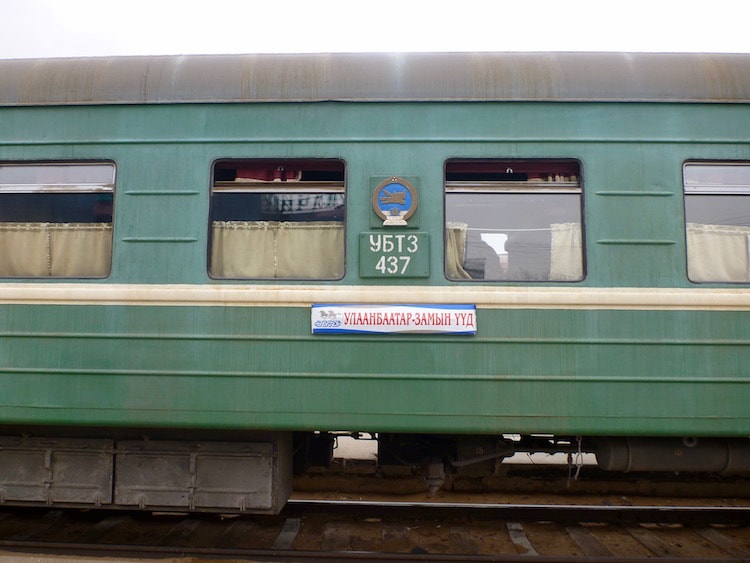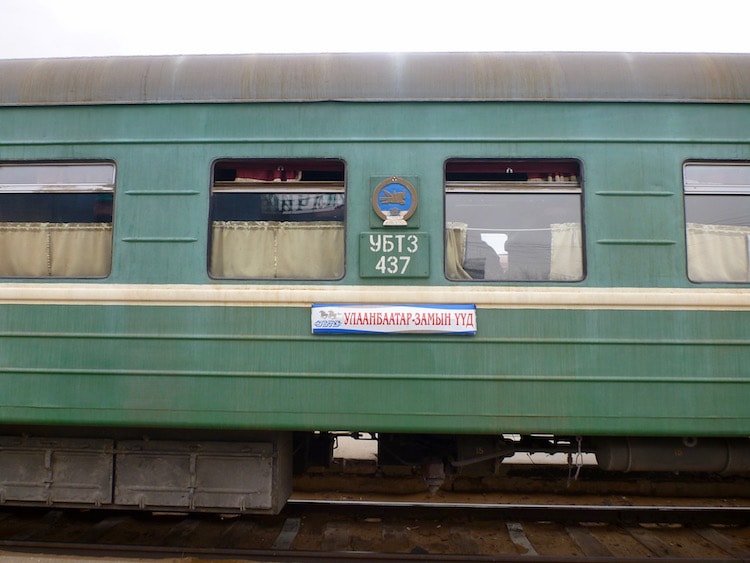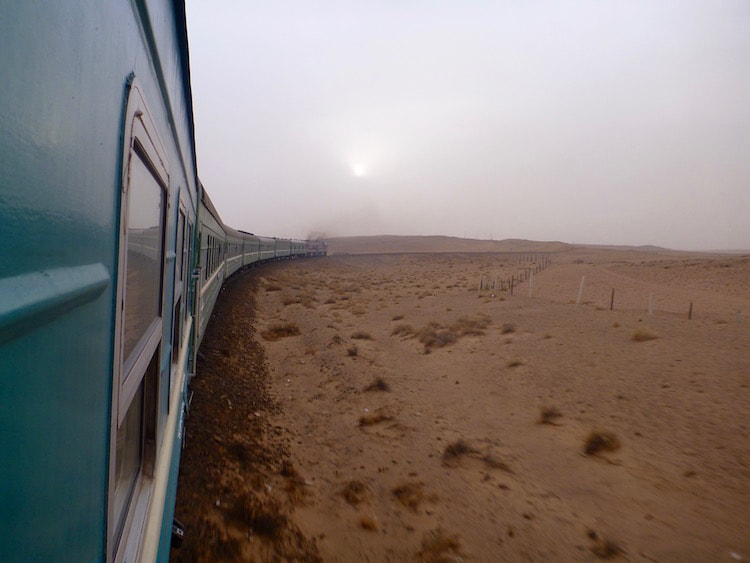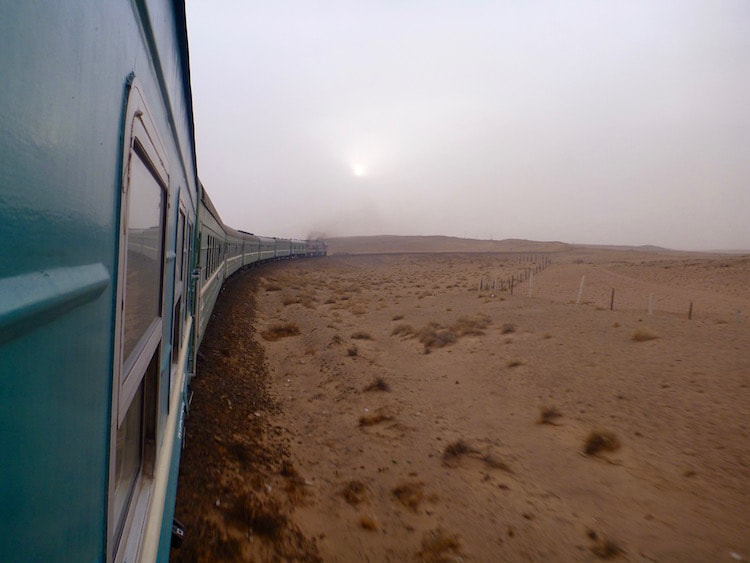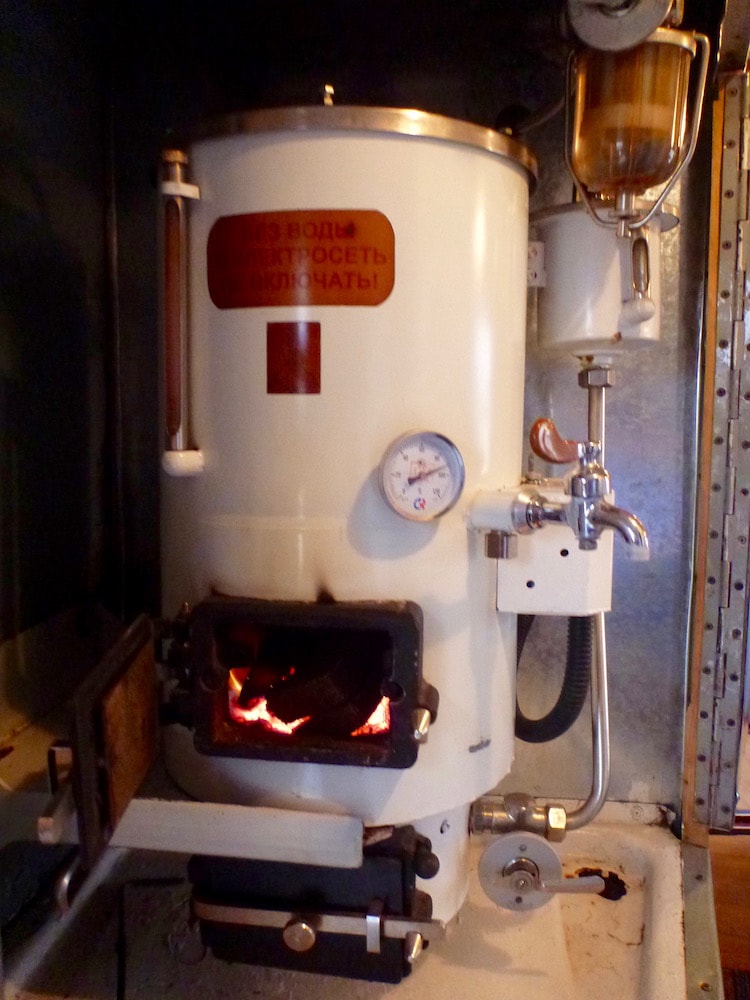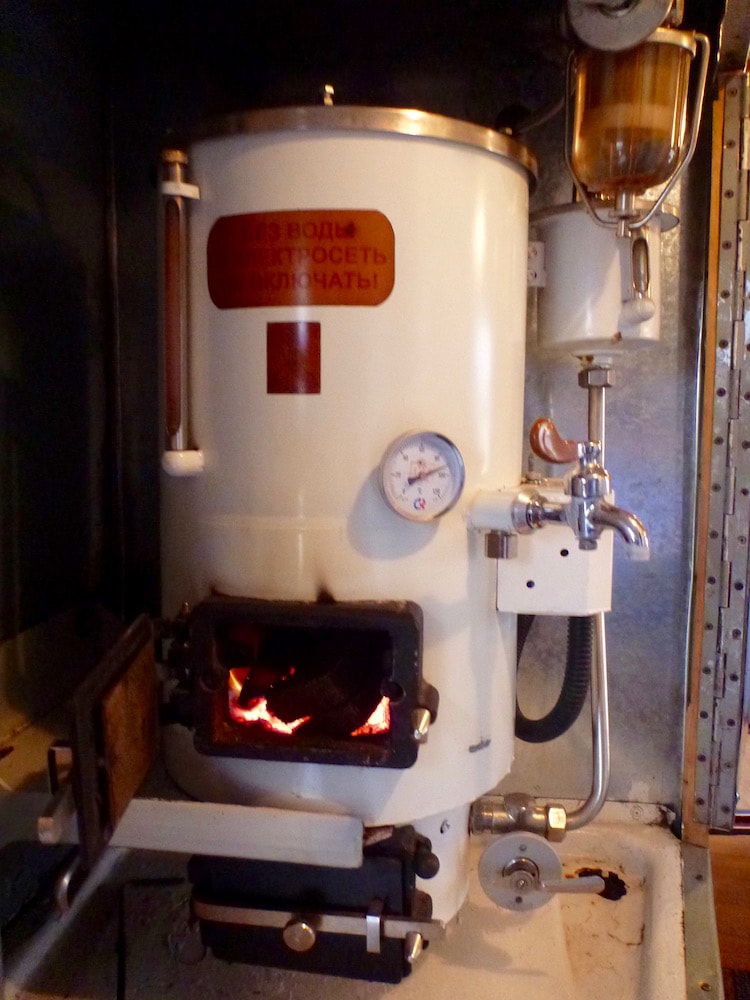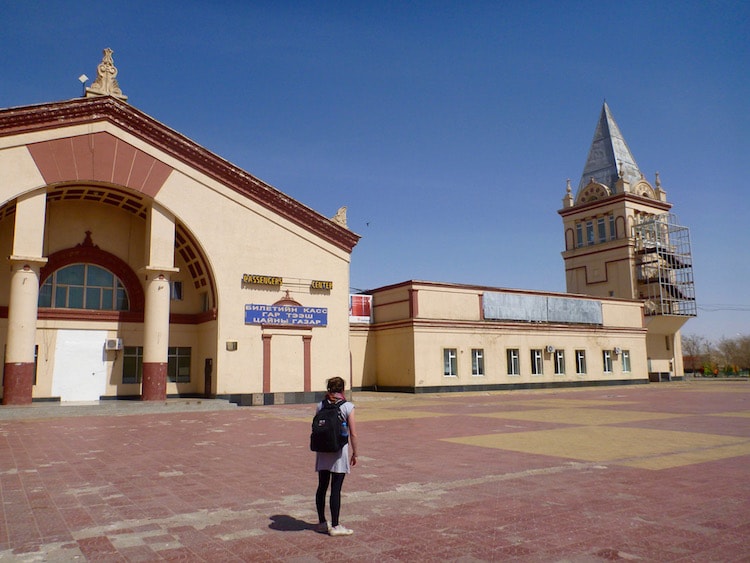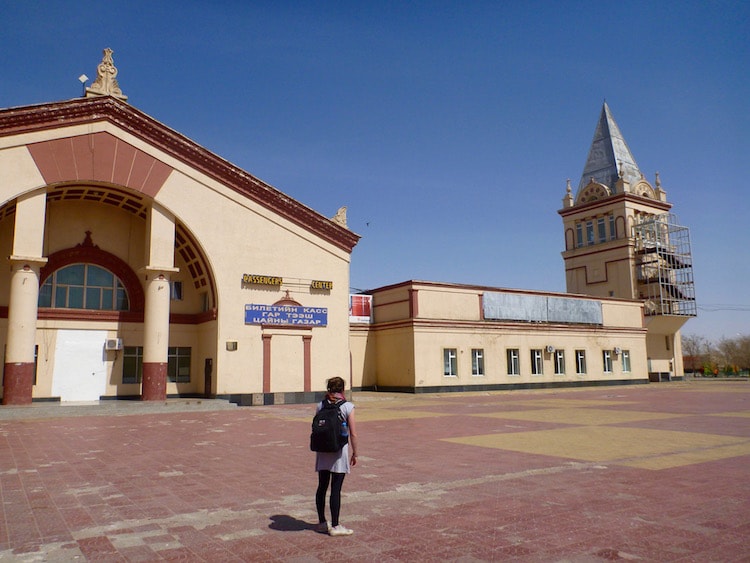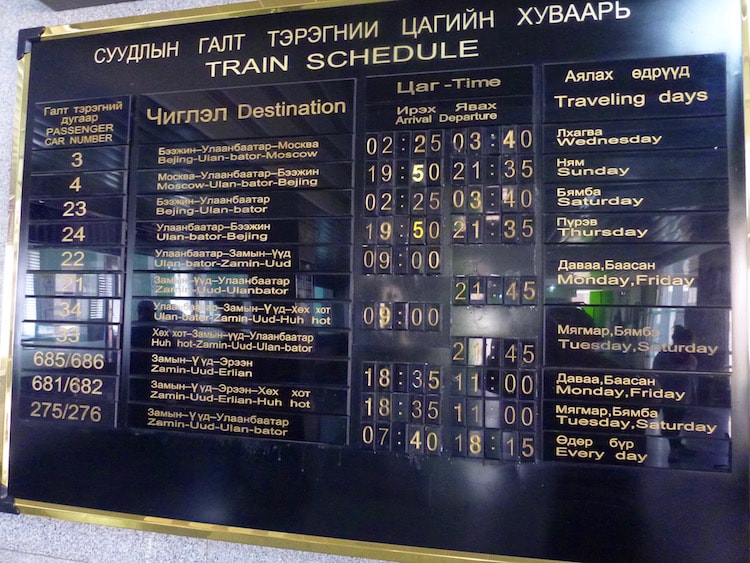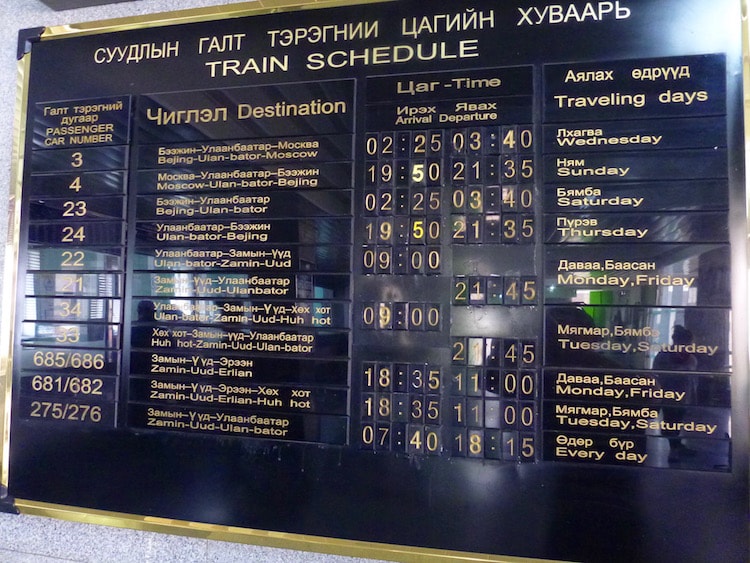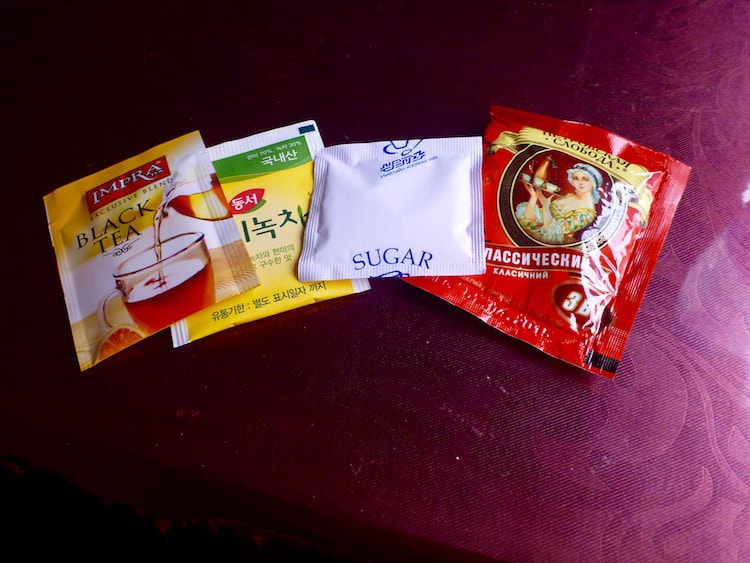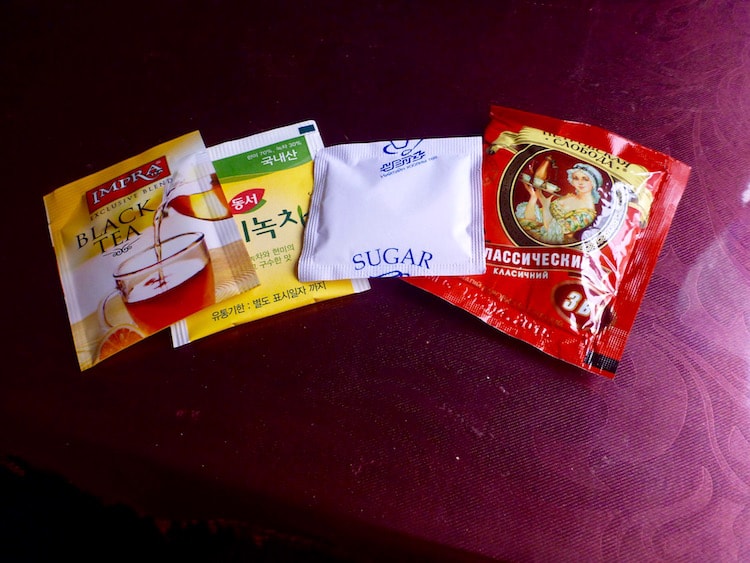 Tips for finding tours, attractions and activities in Mongolia
It can be a little difficult to communicate in Mongolia, so research and plan the tours you want to take during your trip in advance. A great tool for this is Viator and Civitatis, on these platforms it is possible to find different activities, excursions and tours almost anywhere in the world.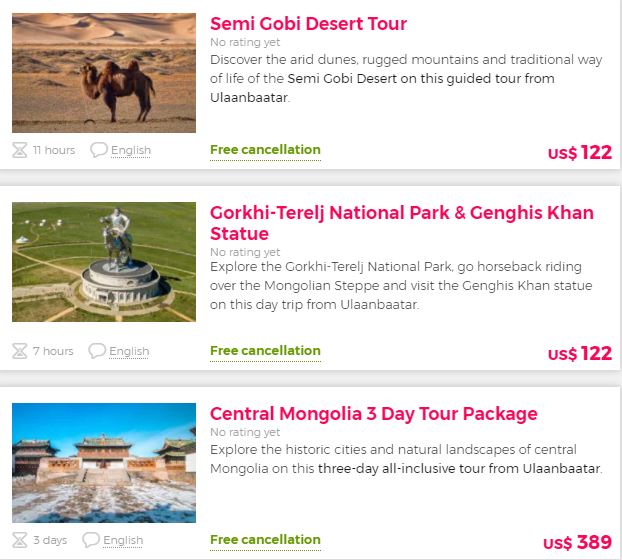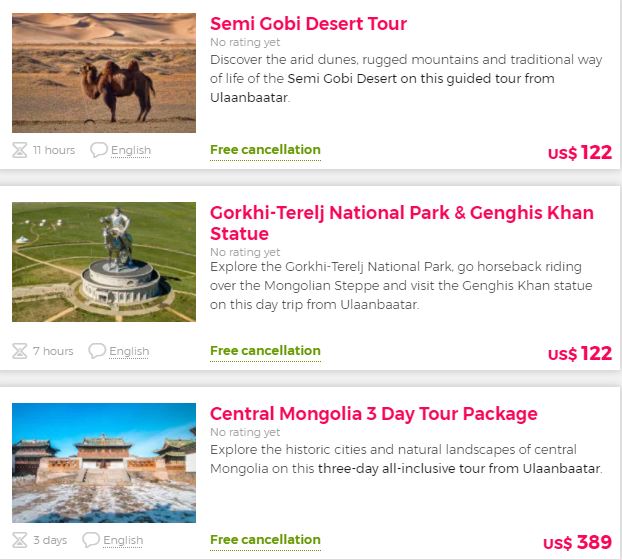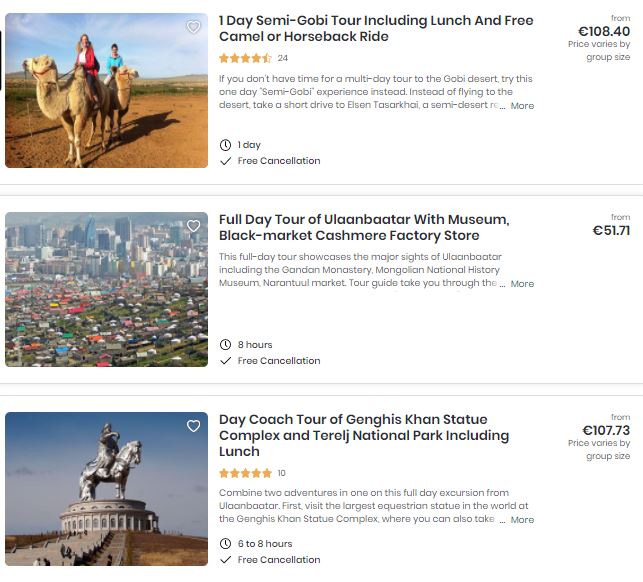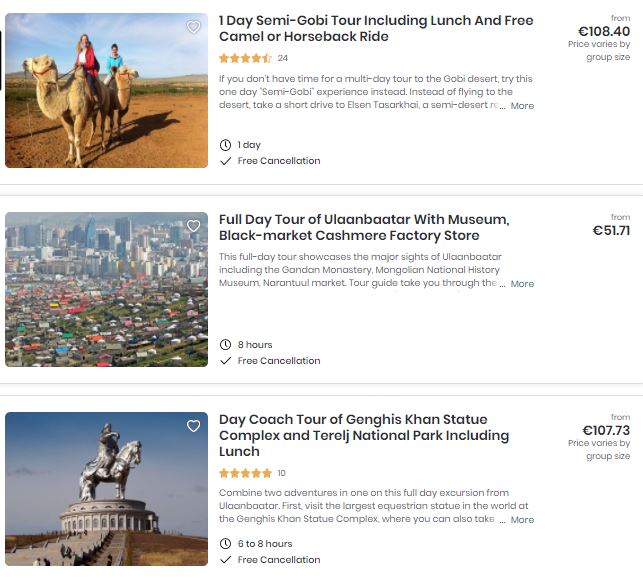 Hopefully, this article was clear and will help you follow this route without any big difficulties.
The prices and schedules above are correct as of April 2016 and the exchange rates as of the 17th of June, 2016. Yuan and RMB can be used interchangeably as the name of China's currency.
There is also one other border crossing open to foreigners going from Western Mongolia (Khovd) to Western China (Urumqi) that we'll be writing about soon. So, if you're looking for information about that one, keep your eyes peeled.
If you still have any questions or if any of the information above seems inaccurate, please let us know in the comments area below.
Safe journey and happy travels!
Did you know most of your favorite websites (Facebook, Google, Instagram, etc.) are blocked in China? Check out our special Best VPNs for Travelers article to learn how you can get around these blocks!
To read our other articles about China & Mongolia:
25 Things to Know Before Visiting China
25 Interesting Things I Learned Traveling in Mongolia
How to Visit Tibet Without the Chinese Permit
How We Planned Our Super Budget 3 Month Trip Around Asia and Micronesia

How to Get From Shangri-La to Litang in 1 Day
Planning your next trip?

Then don't forget travel insurance! You don't want to get stuck paying a ton of money and ruining your trip if you get sick or have an accident without travel insurance. WorldNomads is ideal for adventurous travelers, backpackers, or anyone looking to be protected during their trip. They cover almost every single activity you can image!

Already reserved your hotel or hostel? If not, we recommend Booking.com. They have a huge selection of hotels and hostels all over the world. Plus, in most cases, you can cancel your reservation without any costs up to a few days before the check-in date!

Still haven't booked your plane ticket and want to save big? Take a look at Momondo. It's a flight aggregator that combines several other ticket search websites to make it easier for you to compare prices and make sure you are getting the best deal.

And finally, will you need to rent a car during your trip? Then check out Rentalcar.com to search and compare car rental companies from all over the world in a single website. Then, you can find the cheapest price for the best car!
If you want to hear about new articles, check out our latest pictures, and read our newest updates, be sure to follow us here….
…..and subscribe to our newsletter below!