Last Updated on by Editor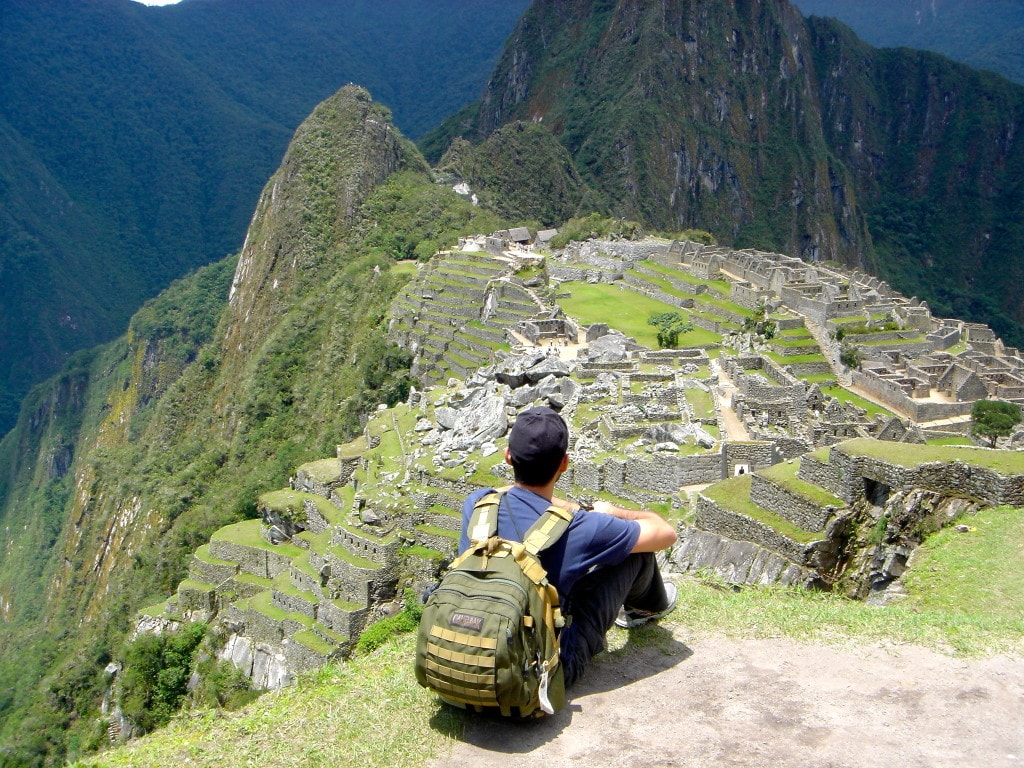 The first time that I went to Machu Picchu was in 2006. Back then, though the train between Cusco and Aguas Calientes (now officially Machu Picchu Pueblo) wasn't the nicest….but it was very cheap!
However, with the explosion of international tourists visiting Machu Picchu, the quality of the train has grown greatly, along with the prices.
Currently, the minimum that you'll pay to get from Cusco to Aguas Calientes by train is US$ 77 and US$ 51 for the reverse direction if you buy the tickets early. You can check online to see the current prices: https://www.perurail.com/
However, if you have the time and are in modarate physical shape or just want to do an old school backpacking trek (outside of the Inca Trail), you can do the following trip for a fraction of the price of the train. Plus, appreciate the nature and adventure yourself with a crazy taxi driver through the clifs that take you to the hidroeletric dam.
The whole trip can be done in a day. The itinerary looks something like this:
1) From Cusco to Santa Maria by bus
2) From Santa Maria to Hidroeléctrica (Hydroelectric) in a shared taxi
3) From Hidroeléctrica to Aguas Calientes by foot along the railroad tracks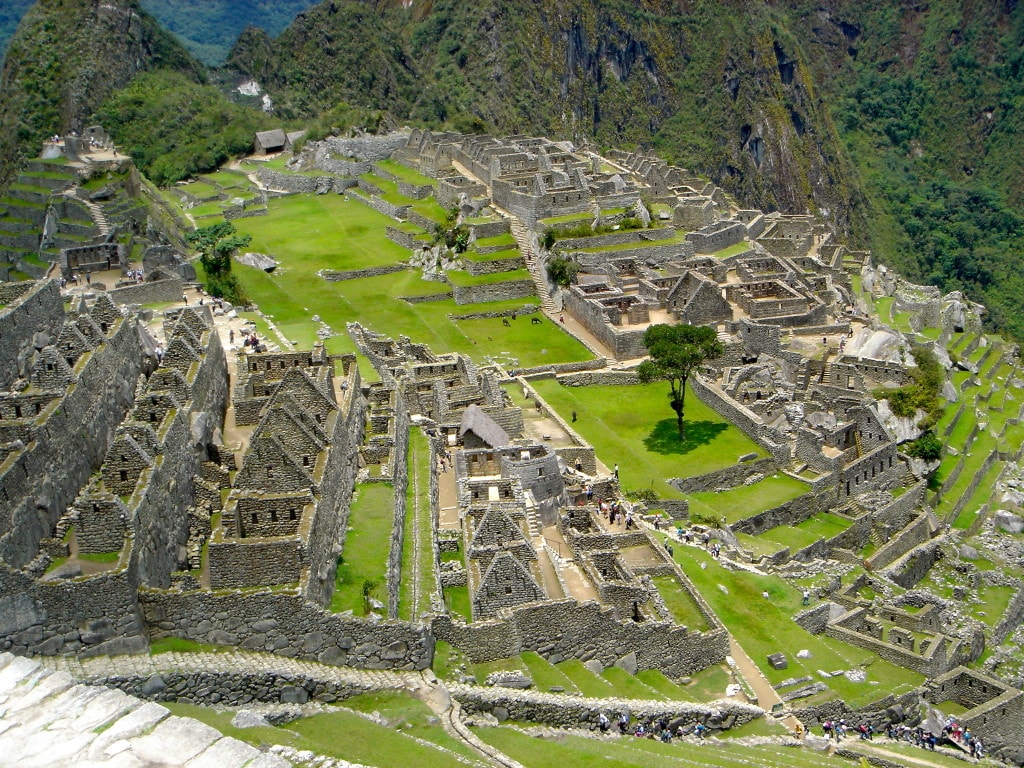 Your trip will begin in Cusco. There, you'll have to get to the Santiago bus station in the west part of Cusco. You can ask at your hostel or at the tourist info center (it's right in the main square) which bus to take to get there. The bus to get there should cost 0.70 soles (US$ 0.22). Just remember that this is not Cusco's main bus station.
It's best to arrive at the station before 8 AM and catch the bus towards Quillabamba for 20 soles (US$ 6.4). Shortly after passing Ollantaytambo (a place that is definitely worth a visit on its own, by the way), you'll have to ask to be dropped off in Santa Maria. The trip from Cusco to Santa Maria is about 2.5 hours.
In Santa Maria, you'll organize a shared taxi to get to Hidroeléctrica. Normally, there are taxis waiting right where the bus will drop you off. If there are 5 people in the taxi, it'll be 10 soles (US$ 3.20) per person. If the taxi isn't full, the driver will try to find more people to pick up along the way. Otherwise, you might have to pay more.
The trip from Santa Maria to Hidroeléctrica will be an hour and a half on a gravel road bordering a cliff… a unique (though also slightly terrifying) experience.
Arriving in Hidroeléctrica, you'll have to begin walking along the train tracks (just ask the taxi driver where they begin). Shortly after the tracks begin, they will suddenly disappear, and you'll have to follow a small trail to the right that will take you upwards through the forest. Don't worry, though, because after 10 minutes or so you'll exit the forest and see the train tracks once again. Just take a left at the tracks and follow them around 5 km or so until you hit Aguas Calientes. Depending on your walking pace, you should arrive in about an hour. The tracks will take you right to the center of Aguas Calientes.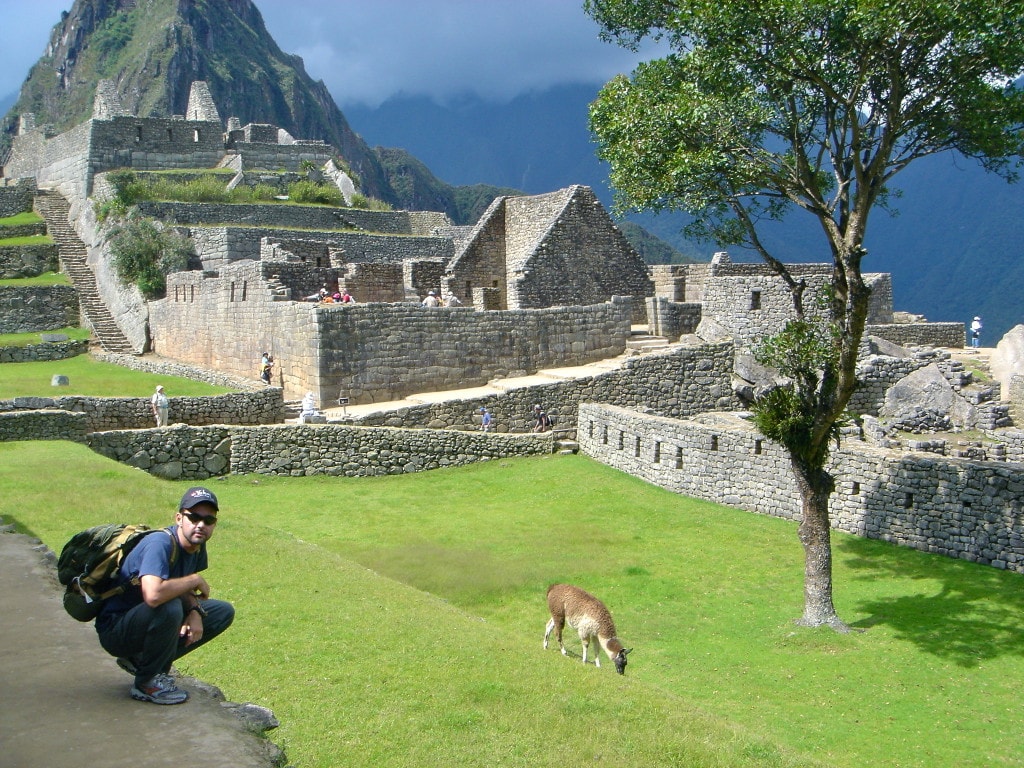 The next day, you can save even more. Instead of paying the $16 roundtrip to take the bus from Aguas Calientes to Machu Picchu, you can walk the same way that the bus goes. Just remember to get up early if you want to do this, though. If you want to enjoy it even more, take a walk to Inti Punku (also known as the gate of the sun) and marvel at the incredible view.
Adding it all up:
Local bus in Cusco to get to the bus station: 0.70 Soles

Bus from Cusco to Santa Maria: 20 soles

Shared taxi from Santa Maria to Hidroeléctrica: 10 soles

The beautiful views along the way: priceless
Total: 30.7 soles, around US$ 10. What a bargain!
To go back, you just have to follow the inverse itinerary.
Note: The prices in Peruvian Nuevo Soles was current as of July 2013. The exchange rate with dollars was current as of April 2015. Check exchange rates before your trip.
Attractions, tours and activities to do in Peru
If you are looking for activities and tours to do in Peru, I recommend taking a look at GetYourGuide and Civitatis. On these sites you search and buy different tours and excursions with discounts and promotions. Check out!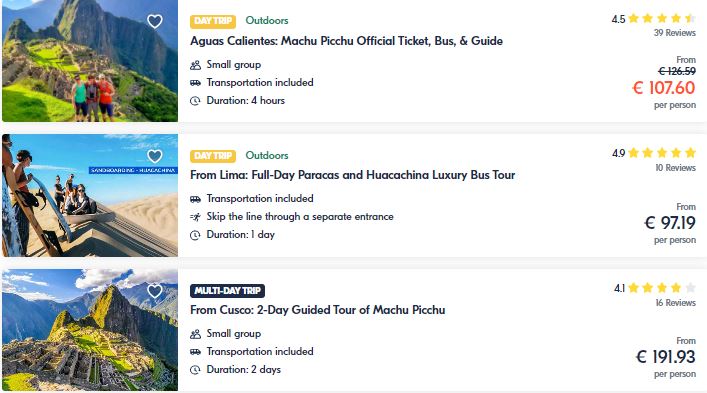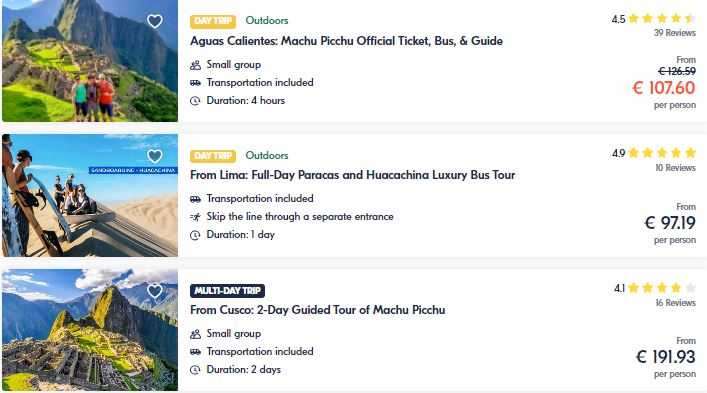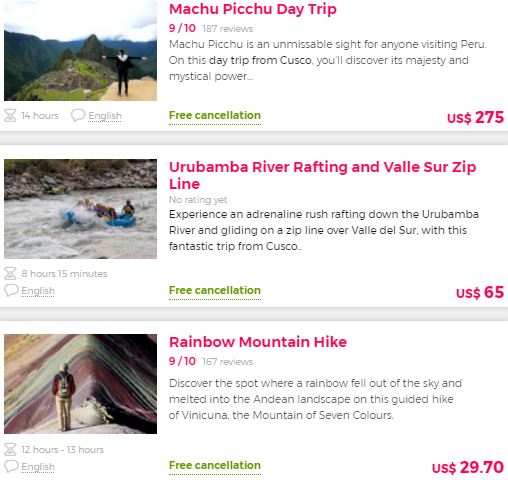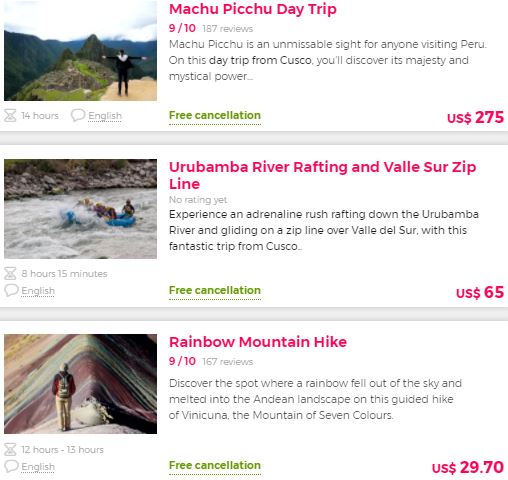 2017 UPDATE AND FAQs:
I received some questions from a reader via email and I thought they might help other readers out. So, I'll add in the questions and my response:
QUESTION:
I'll try to be quick/objective (to not bother you so much). I'm arriving in Cusco early on 6/14/17. Leaving early on 6/19.
You mention that you saved a lot getting to Machu Picchu. My plan is to do the trip considering: best cost/benefit and safety…haha
I'm staying very close to the main plaza…So, here we go:
Where exactly do I catch the bus that goes from Cusco to Santa Maria? You mentioned Santiago bus station, but I really couldn't find it on Google…Can you confirm if, by arriving early, there will definitely be tickets to Santa Maria? Or do I need to buy the tickets before?

After arriving in Santa Maria, is it best to confirm the price with a taxi to Hidroeléctrica? Just mention "I want to go to Hidroeléctrica" to the driver? Is it safe?

After arriving in Hidroeléctrica you can't mess up; just follow the train tracks and you'll be safe inside the jungle? Normally (during weekdays) do you see a lot of people taking this route?

If I leave Cusco around 7 in the morning, what time do you think I can manage to arrive in Aguas Calientes?

Do you have any recommendations for places to stay or eat in Aguas Calientes (to climb the mountain just the next day)?

After leaving Machu Picchu around 1 PM, do you think I can get back to Cusco the same day? Do you know what the best cost-benefit is (in this case) to return?
Okay, well I don't want to bother you too much…Rodrigo.
Plus, any info you could add, any tips for those days in Cusco; trip suggestion, etc. etc…is very welcome.
Thank you for the response.
MY RESPONSE:
Oi XXXX, no problem…
Okay, to answer your questions:
Apparently, now there are vans that leave from Cusco and go directly to Hidroeléctrica carrying backpackers. It's probably a little more expensive than a normal bus, but it's probably much faster and more convenient. I think that this info should be easy to get in hostels. But if you still want to take the bus, I don't think you need to buy the day before. Just arrive early to buy the same day. To find the bus station, just ask at the tourist info office (right in the main square) or in your hostel's reception (they can also tell you what bus to take to the Santiago Bus Station.)

Yes. Once you arrive in Santa Marta, there will be a bunch of taxis waiting to take tourists to Hidroeléctrica. Ideally, you would arrange a group to go together and pay less for the trip.

Yes, just do it during the day. Normally, there are other people doing the same route. But it's always good to go with someone else. You could meet someone at your hostel and arrange to do the trip together just to be safe.

Arriving at 7 is fine to buy tickets, but the bus will leave a bit later than this. I think you'll be arriving in Aguas Calientes around the end of the day. It's a long day, but it's worth it for the adventure and money saved! So, bring water and food with you!

Yes, you definitely won't be going to Machu Picchu until the next day. It's not even worth it to try to do it all in a day. You won't be able to enjoy it. Just don't forget to buy your Machu Picchu tickets before your trip. As far as accommodation goes, there's a ton of cool hostels in Aguas Calientes. I just looked on Booking.com and saw 6 options under USD $9.00. So, just take a look at what's available. To eat, I don't even remember where I ate, but there were a TON of restaurants all around. Plus it's easy to walk around Aguas Calientes because it's pretty small.

Hmmm, I think I would try to spend two nights in Aguas Calientes to have a full day in Machu Picchu because this is the peak of your trip. Then you won't be rushed. And from there you can organize to head back early to Cusco the next day and enjoy the city. I always recommend people do "Free Walking Tours" anywhere in the world because they give you a good feel for the city plus cover points of interest and history. There's 3 in Cusco: 
www.fwtperu.com
And our page here tells you all about these types of tours and will help you decide what else to do: https://outofyourcomfortzone.net/things-and-activities-to-do/
TIP ABOUT TRAVEL INSURANCE:
As many readers have mentioned safety concerns for this part of the journey, I wanted to remind you not to forget travel insurance when you go to Peru or any other country. Traveling without travel insurance is like playing Russian Roulette – just not a good idea! Our article here will tell you about the 3 Best and Cheapest Travel Insurance Options on the Market + 2 Free Options!
Well, I hope this tip will help you to visit Machu Picchu even if you are on a low budget. And don't forget to take the best Machu Picchu pictures! 
Let me know in the comments area below if you have any questions, suggestions, or if you've completed this trip yourself. If any of the information is wrong, please let me know so I can fix it in the article.
Happy travels!!
Planning your next trip?
Already reserved your hotel or hostel? If not, we recommend Booking.com. They have a huge selection of hotels and hostels all over the world. Plus, in most cases, you can cancel your reservation without any costs up to a few days before the check-in date! 
Still haven't booked your plane ticket and want to save big? Take a look at Momondo. It's a flight aggregator that combines several other ticket search websites to make it easier for you to compare prices and make sure you are getting the best deal. 
And finally, will you need to rent a car during your trip? Then check out Rentalcar.com to search and compare car rental companies from all over the world in a single website. Then, you can find the cheapest price for the best car!
If you want to hear about new articles, check out our latest pictures, and read our newest updates, be sure to follow us here….
…..and subscribe to our newsletter below!