Last Updated on by Editor
If you're visiting Belarus and arriving in the Minsk airport, it's very easy and cheap to use public transportation to get to the city center. Read everything you need to know here with schedules, photos, maps, and prices. Forget taxi or Uber, use public transportation!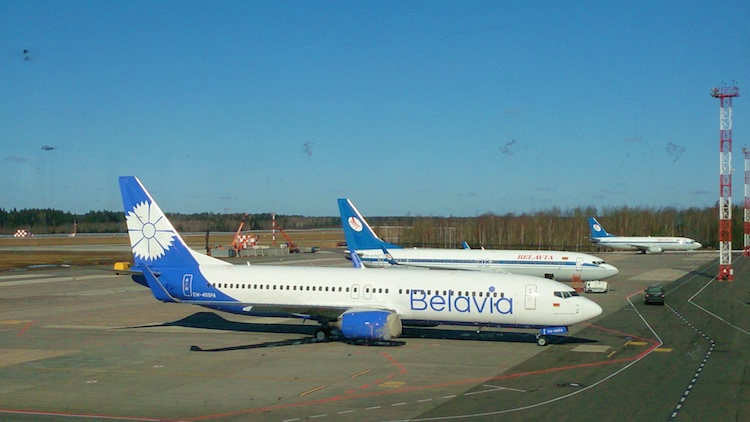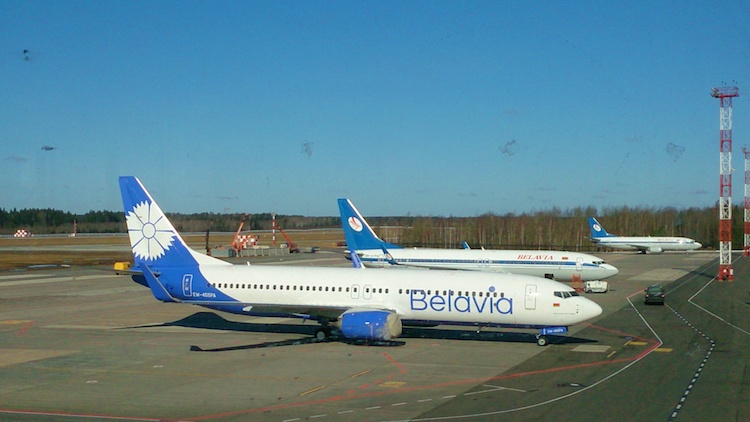 Belarus is turning into a new frontier for tourism in Europe. As their government starts allowing the country to open to the world a bit more, they've switched up their visa policy to attract more visitors.
Now, visitors from most countries in the world can visit Belarus without a visa! To qualify, usually you have to arrive and leave Belarus through the Minsk airport (MSQ), and you only have 4 nights/5 days in the country. I know it's not a lot of time, but it's worth it to get of taste of this fascinating country that's still mostly unexplored by tourists.
Better yet, it looks like the Belarusian government is considering extending these 5 days to 10 days. But for now, we'll just have to content ourselves with a shorter trip.
Everything has changed! Now you can stay up to 30 days in Belarus without a visa. I explain all of this in my new article
3, 5, 7 & 10 Day Belarus Itinerary (Ultimate Belarus Guide) – 2019.
Keep reading below for information about transport to and from Minsk airport.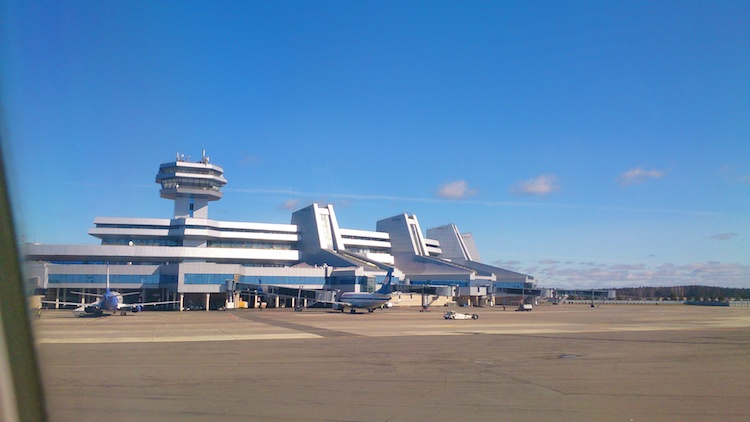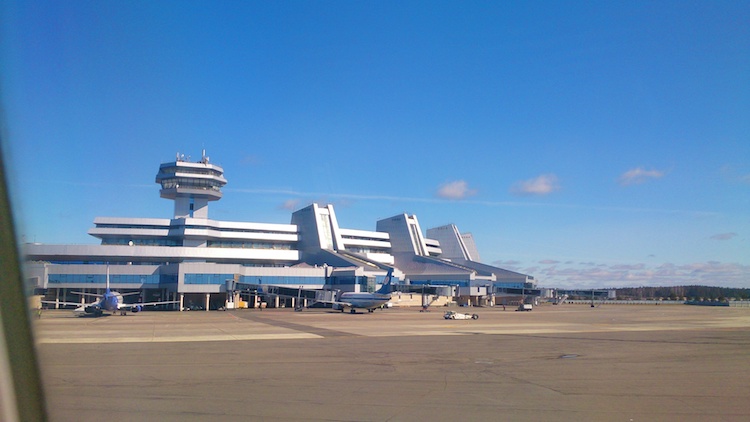 GOOD NEWS FOR BRAZILIANS: In case you didn't know, just as with Russia, we can actually visit Belarus visa-free for 90 days! There aren't many countries in the world that have the same benefit of not needing a visa for these two countries that, alongside Ukraine (which we also don't need a visa for), were some of the most important in the ex-Soviet Union.This great to know for anyone who'd like to go to the 2018 World Cup in Russia.
You can find a full list of countries that can visit Belarus visa-free for longer than 5 days here.
Anyway, let's get on to the reason you're reading this article.
Public Transportation from the Minsk Airport to the City Center
It's very simple to use public transportation to get from the Minsk airport to the city center (where you'll be dropped off right in front of the main train/bus station).
When exiting the Minsk airport, leave from doors 5 and 6 and you'll see a bus stop just to your right.
To buy your tickets, there are two ticket machines right next to the bus stop where you can buy them using your credit card (with everything in English!). Or you can also withdraw Belarusian Rubles (BYN) from the ATM just inside the doors you left the airport from. Then, you can pay the bus driver directly.
As the trip is only 4 BYN (about 2 USD), it's better if you have a 5 or 10 note because otherwise the driver probably won't have change. You can withdraw 10 BYD notes from the ATM.
There are two buses you can take, number 300Э or van1400-TK. Both options will leave you in the same place.
The trip is around 1 hour since there are stops along the way.
Once you arrive in Minsk in front of the train station, you can take the metro from the station right there (Plaza Lenin / Плошча Ленiна) to get to your final destination. You can also use Uber from the station, which is really cheap in Belarus.
If you've never used Uber before and want to get up to $15 USD off your first trip, use this link here to sign up.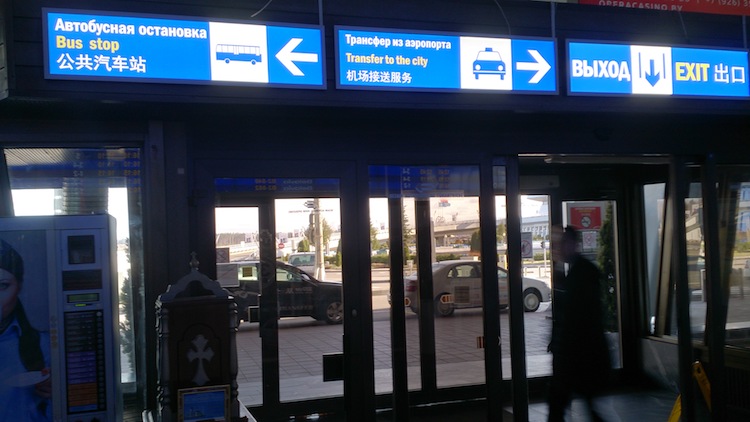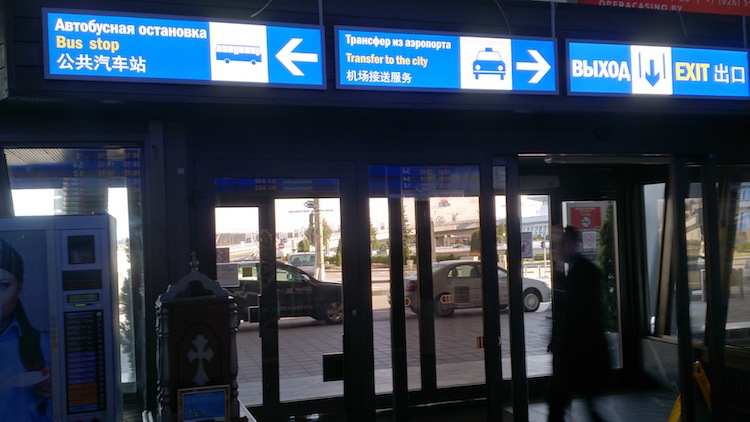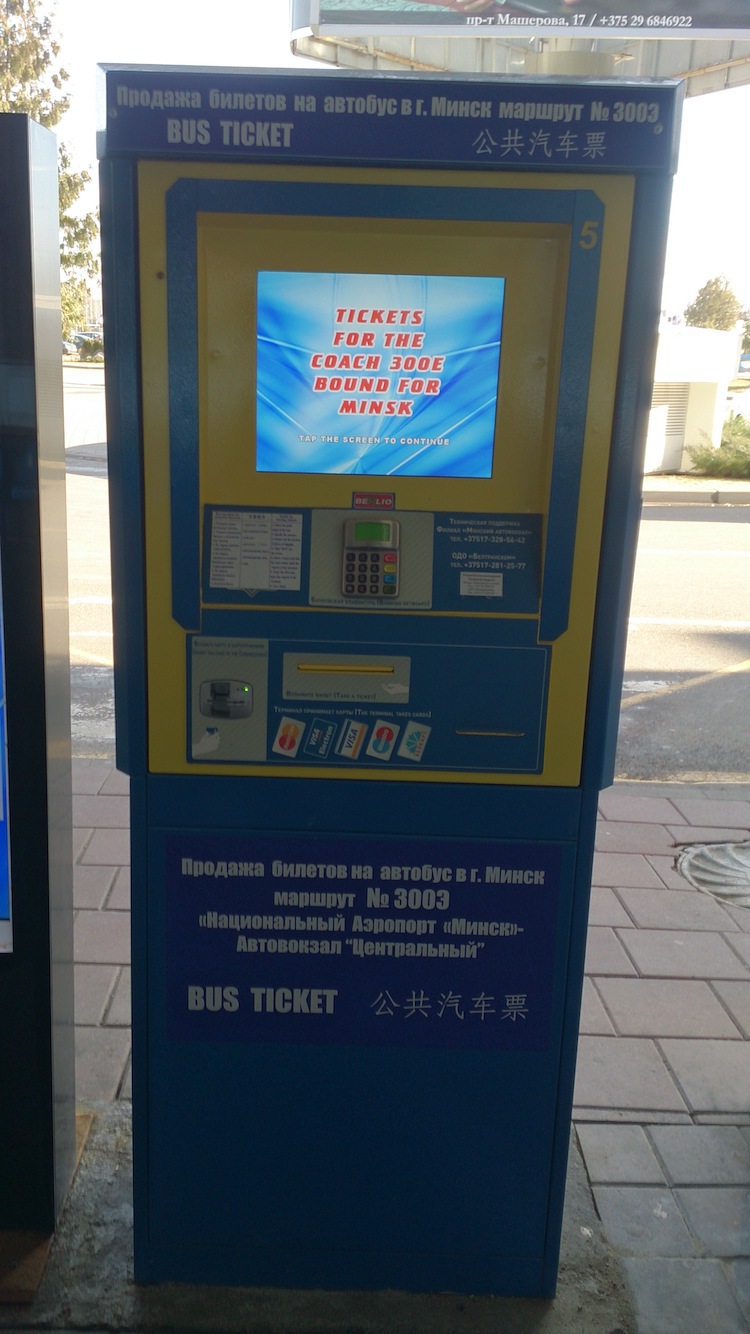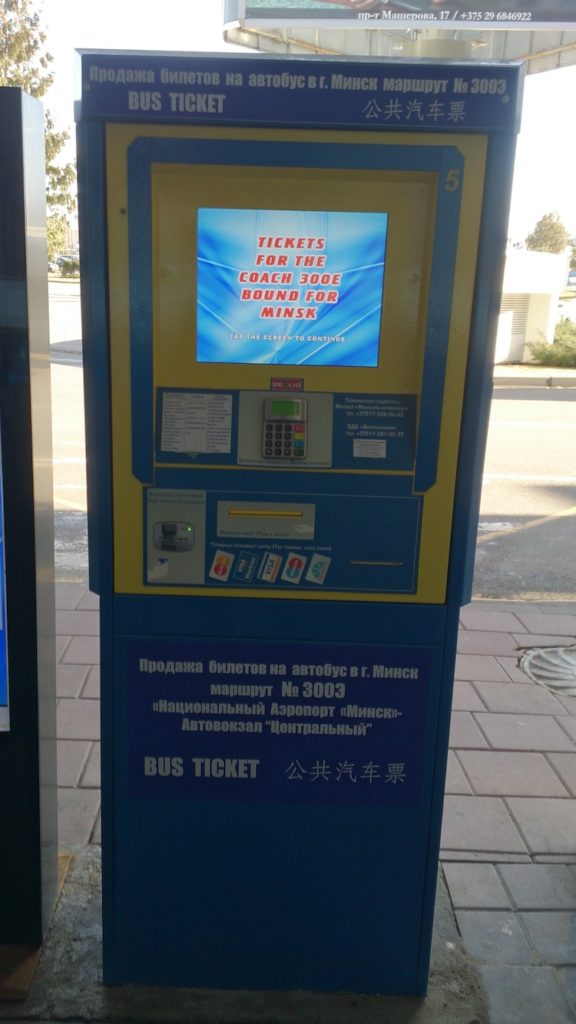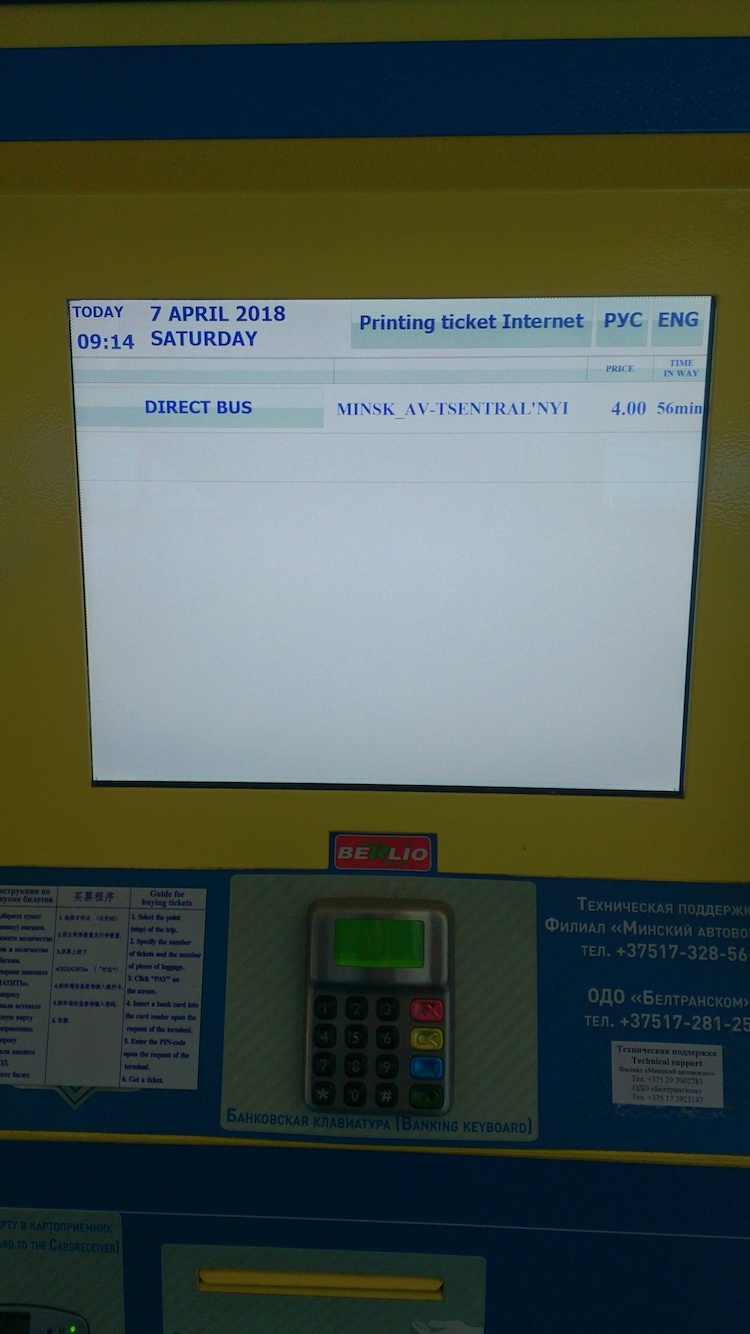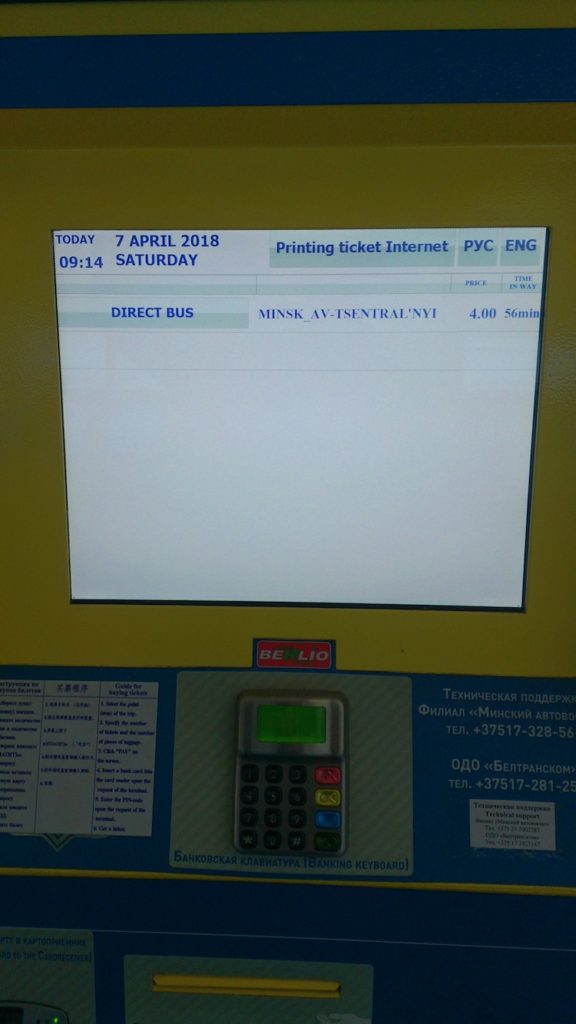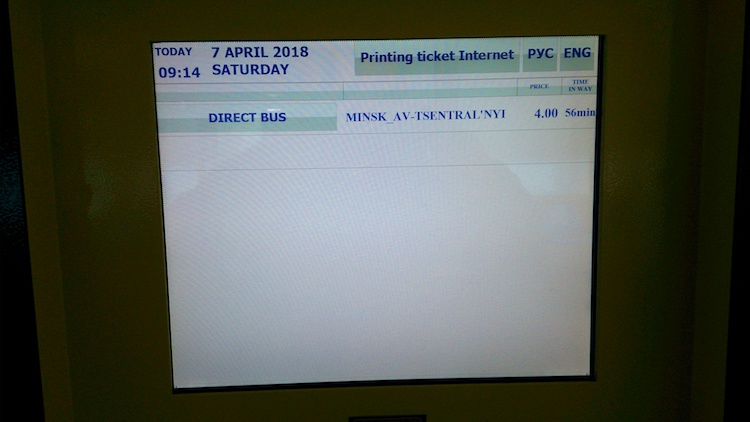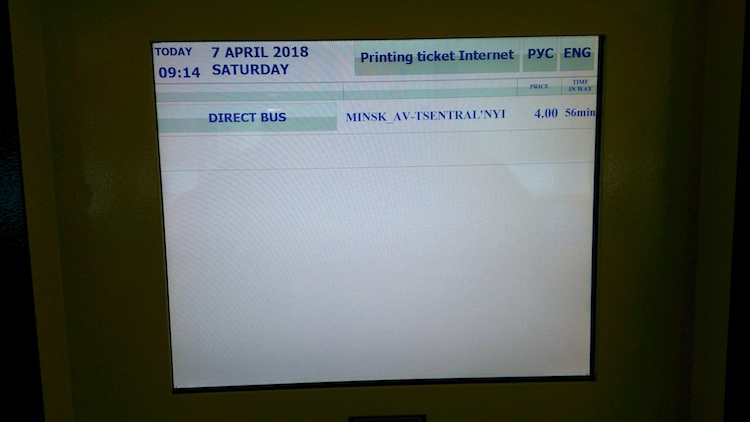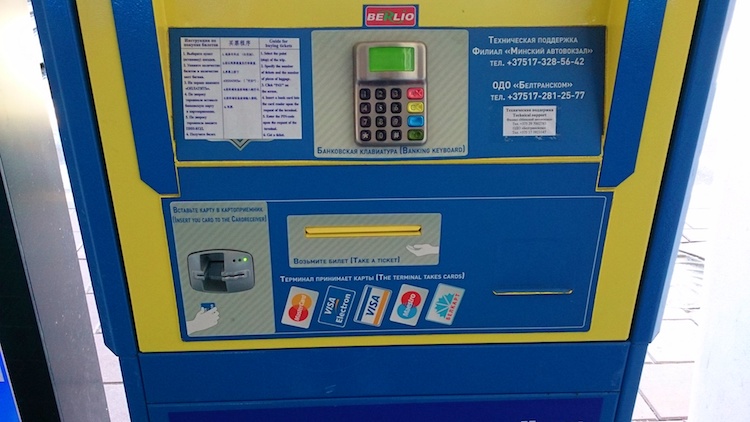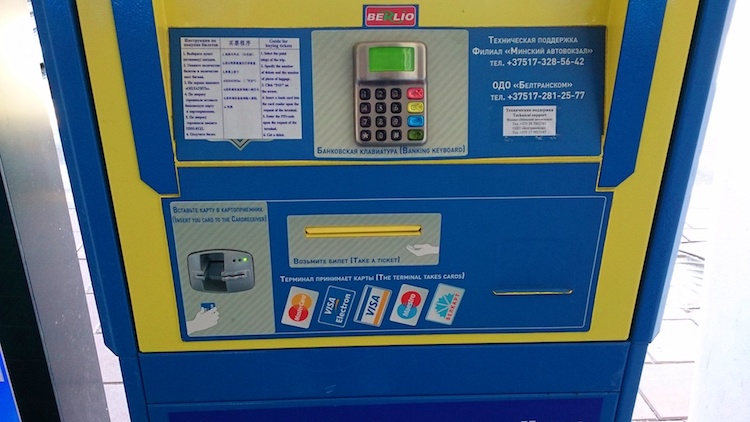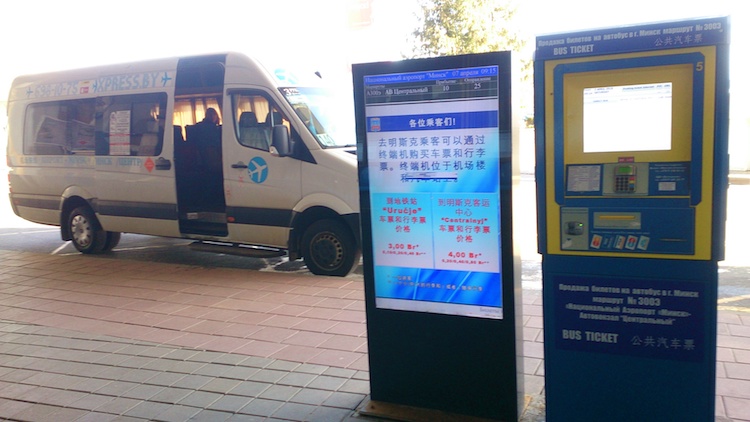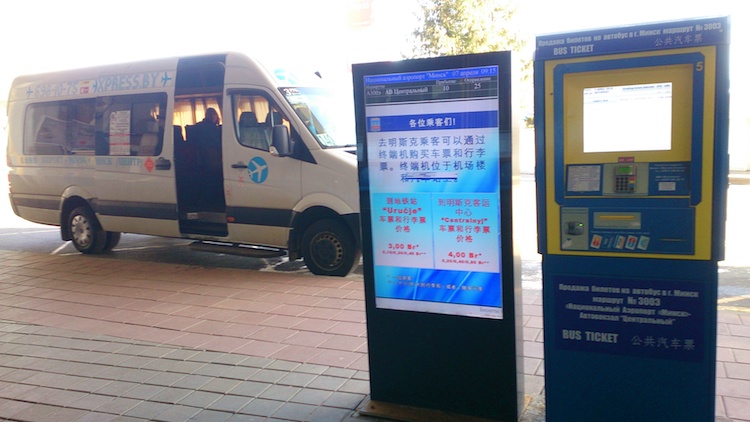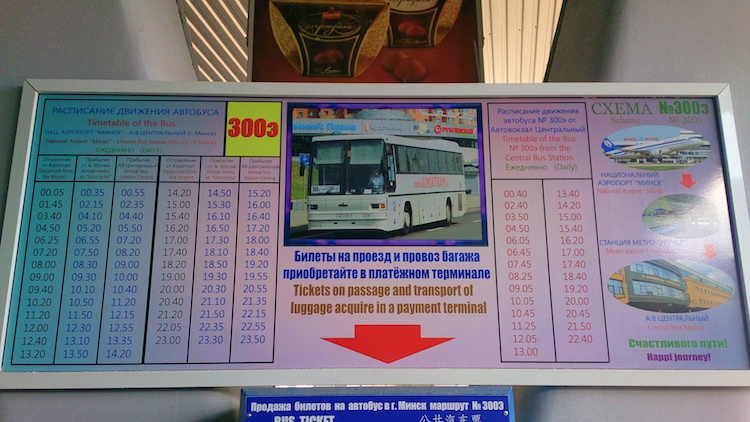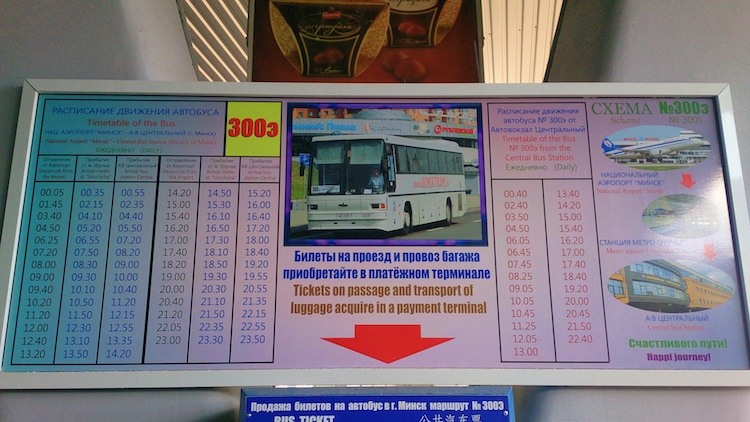 Schedule for bus 300Э from Minsk airport and the city center
4.50, 6/25, 7.20, 8.00, 9.00, 9.40, 10.20, 11.20, 12.00, 12.40, 13.20, 14.20, 15.00, 15.40, 16.20, 17.00, 17.40, 18.20, 19.00, 20.00,20.40, 21.20, 22.05, 23.00, 0.05, 1.45, 3.40.
Schedule for van 1400-TK from Minsk airport to the city center
7.00, 7.40, 9.20, 10.00, 10.40, 11.10, 11.40, 12.20, 13.00, 13.40, 14.30, 15.20, 16.00, 16.40, 17.25, 18.00, 18.40, 19.20, 20.20, 21.00, 21.40, 22.30, 23.30, 0.30.
This timetable was accurate as of my trip. But you'll probably want to double-check the times on the official website here: https://airport.by/en/transport/regular-route-bus
Cost of trip: 4 BYN (about $2.00 USD)
Length of trip: 1 hour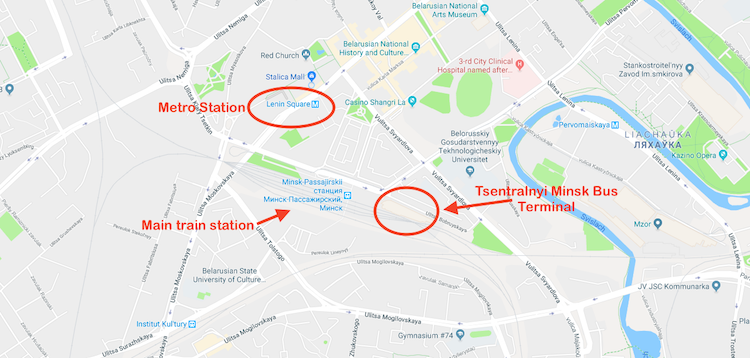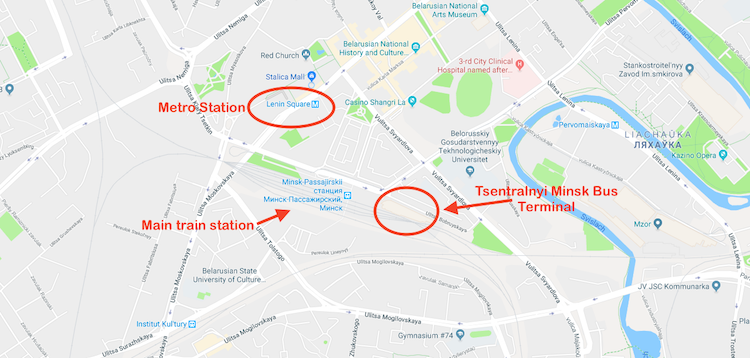 Public Transportation from Minsk's City Center (Tsentralnyi Bus Station) to the Airport
To get from anywhere in Minsk to the airport, just do the opposite journey. Take the metro (or bus) to Plaza Lenin Station (Плошча Ленiна). From there, walk about 5 minutes to Minsk's Tsentralnyi Bus Station (which is to the right of the railroad station if you're facing its main entrance).
Once you arrive, you can buy your ticket from the ticket office, the automatic ticket machine, or from the bus driver with cash. The only difference that I noticed on this trip was that they charged me an extra 0.40 BYN for my big bag, or about USD $0.20 cents…..how unreasonable of them 😉
The 300Э bus was at "gate" 2. But you can also check the departure screens.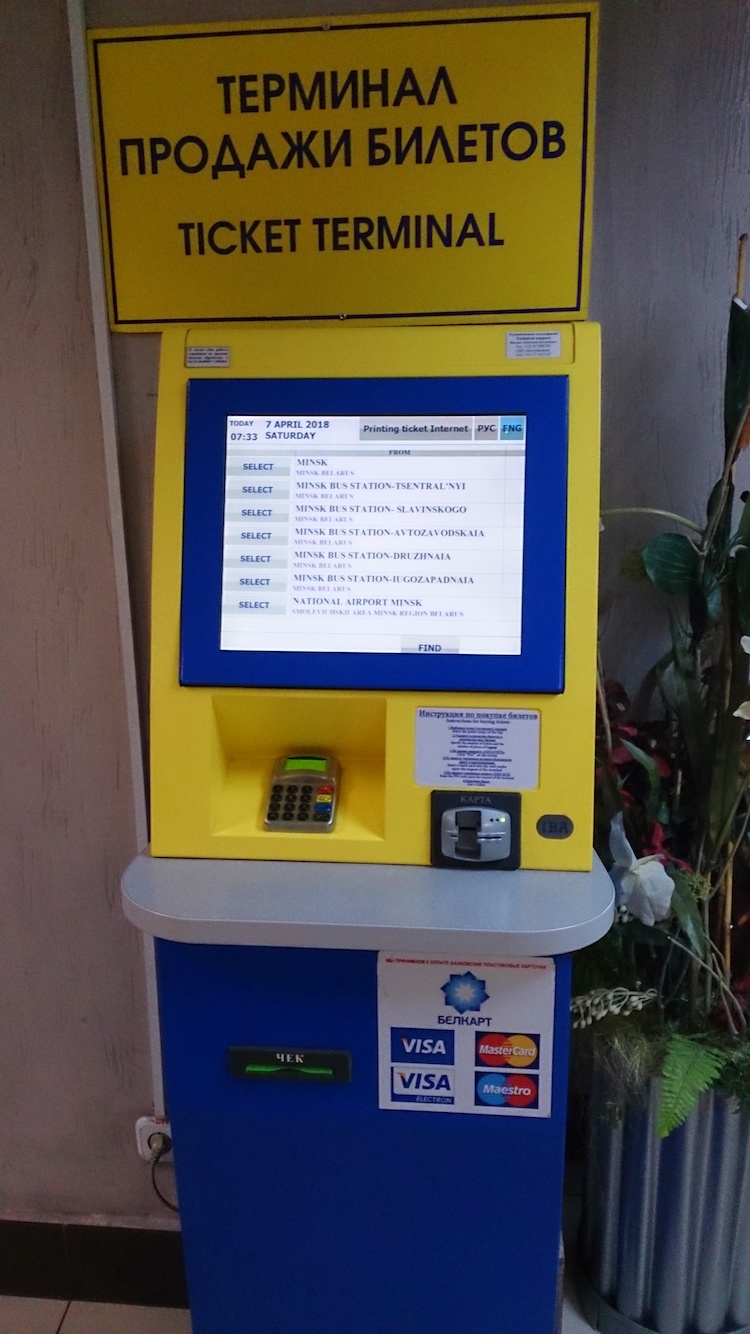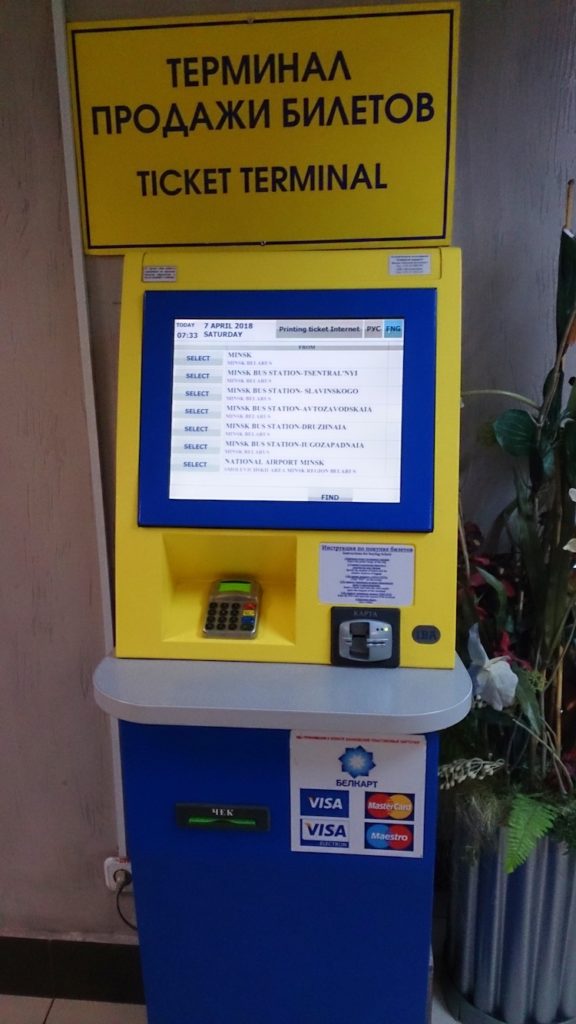 Schedule for bus 300Э from Minsk airport and the city center
2.40, 3.50, 4.50, 6.05, 6.45, 7.45, 8.25, 9.05, 10.05, 10.45, 11.25, 12.05, 13.00, 13.40, 14.20, 15.00, 15.40, 16.20, 17.00, 17.40, 18.40, 19.20, 20.00, 20.45, 21.50, 22.40, 0.40.
Schedule for van 1400-TK from Minsk airport to the city center
5.45 6.25, 8.05, 8.45, 9.25, 9.55, 10.25, 11.05, 11.45, 12.25, 13.20, 14.00, 14.40, 15.20, 16.10, 16.40, 17.20, 18.00, 19.00, 19.40, 20.25, 21.15, 22.15, 23.25.
As noted above, this was timetable when I was there in April 2018. But you'll probably want to double-check the times on the website here.
Cost of trip: 4 BYN (about $2.00 USD)
Length of trip: 1 hour
There's also the option to take a taxi from the airport of Minsk to the city. There were several taxis at the arrivals exit asking if I was going to the city – but they were super low-key, not pushy at all. Truthfully, I didn't even ask the price so I'm not sure how much it is.
Besides this, there's also an option to rent cars at the Minsk airport if you're thinking of exploring Belarus by road. If so, I'd recommend you take a look at my page with the 5 best and cheapest websites to rent cars around the world to know where to start your search for car rental deals in Belarus.
Finally, if you really want the privacy of a taxi, be careful to take them in front of the airport because some of them might be illegal. A suggestion is the Minsk Airport Transfer company. They are a primer transportation service in Belarus that offers private transfers from/to National Airport Minsk. If you want more info…www.minskairporttransfer.com
What to do in Minsk? Where to find tours, attractions and activities in Belarus?
If you are planning to go to Minsk, I recommend that you plan what activities and tours you will undertake in advance. This way, you will be able to organize yourself better and you will not risk missing a tour. One of the sites I use most to search for tours and attractions are GetYourGuide and Viator. Below you will find some of the tours offered by these sites.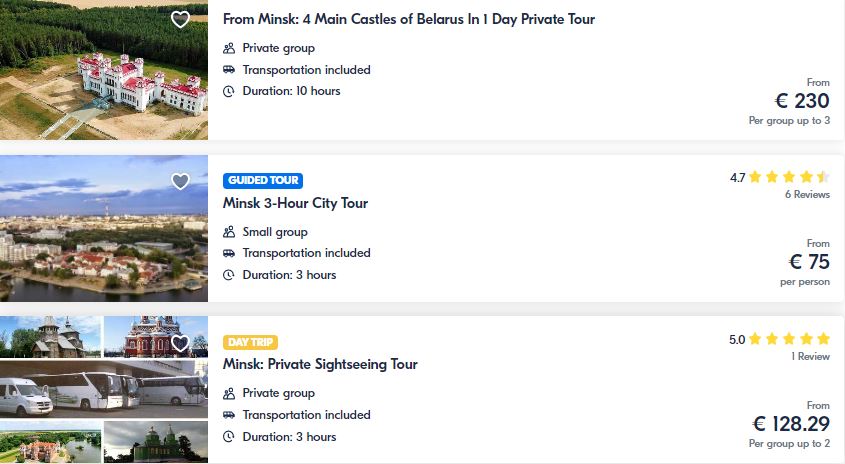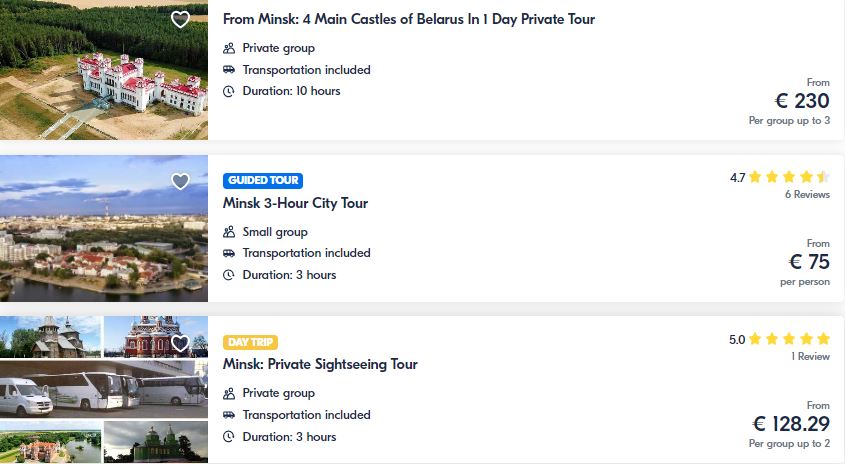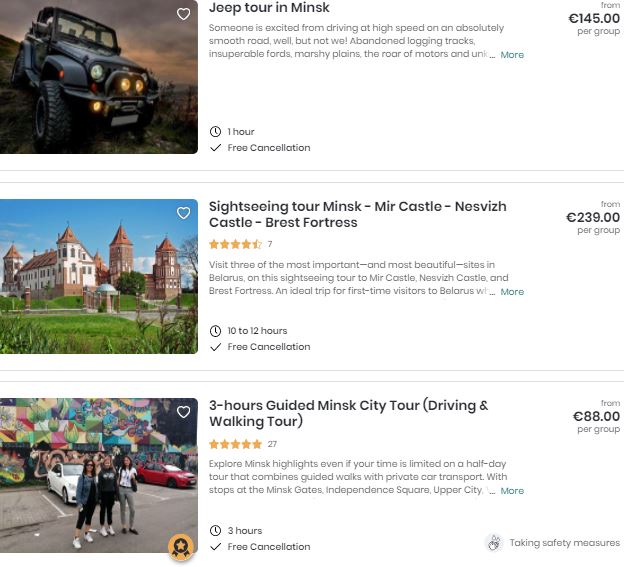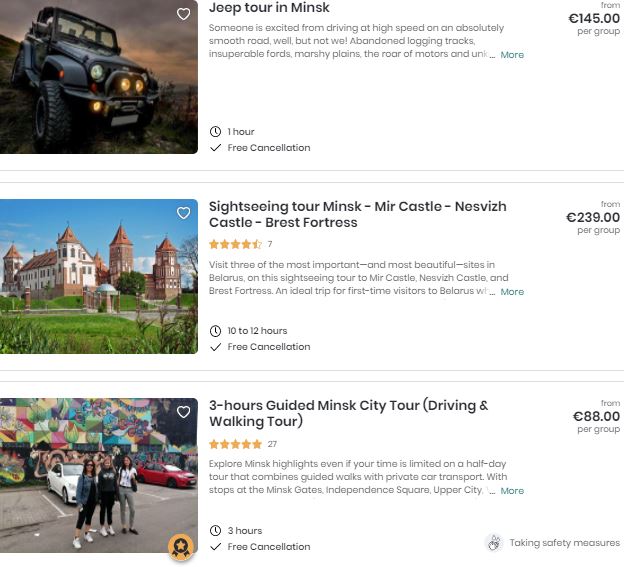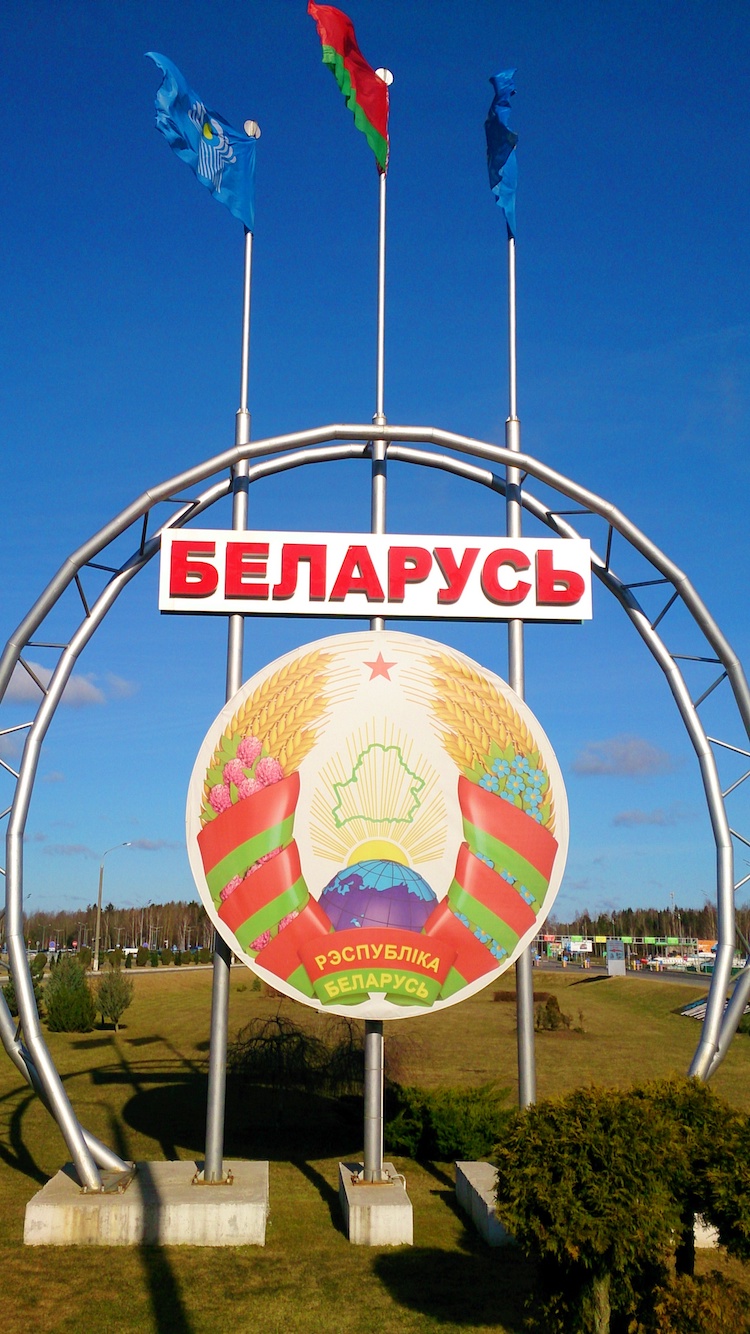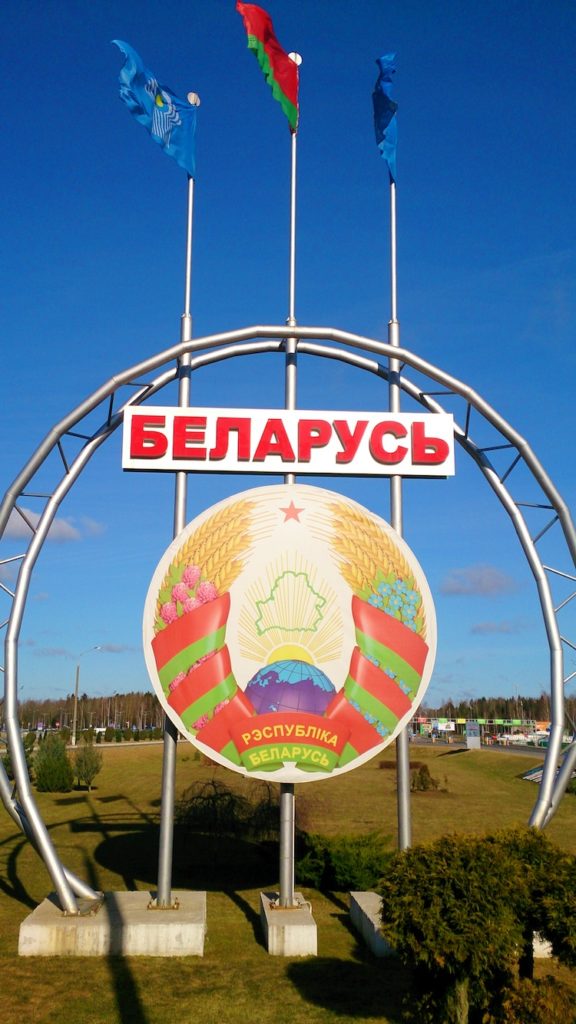 And that's it – just a short and simple article. But if you're looking for more info about Belarus, stay tuned for an upcoming article with all you need to know about Belarus including itineraries, routes, attraction tips, and suggestions for accommodation. So, look out for the new article when we post it on social media!
But if you have any questions about Belarus for now, let me know in the comment area below and I'll try to help.
And as mentioned before, Belarus is a fascinating country that's easy to travel in and has super friendly and polite people. I'd definitely recommend taking the trip!
Happy travels!
Check here other articles that may be of interest to you:
3, 5, 7 & 10 Day Belarus Itinerary (Ultimate Belarus Guide) – 2020
How to Visit Transnistria: a "Soviet" Country that Doesn't Exist!
18 Amazing Facts About Svalbard – The Arctic for Tourists!
The cheapest way to get from Ukraine (Lviv) to Poland (Krakow)
Planning your next trip?

Then don't forget travel insurance! You don't want to get stuck paying a ton of money and ruining your trip if you get sick or have an accident without travel insurance. WorldNomads is ideal for adventurous travelers, backpackers, or anyone looking to be protected during their trip. They cover almost every single activity you can image!

Already reserved your hotel or hostel? If not, we recommend Booking.com. They have a huge selection of hotels and hostels all over the world. Plus, in most cases, you can cancel your reservation without any costs up to a few days before the check-in date!

Still
haven't booked your plane ticket and want to save big? Take a look at Momondo. It's a flight aggregator that combines several other ticket search websites to make it easier for you to compare prices and make sure you are getting the best deal.

And finally, will you need to rent a car during your trip? Then check out Rentalcar.com to search and compare car rental companies from all over the world in a single website. Then, you can find the cheapest price for the best car!
If you want to hear about new articles, check out our latest pictures, and read our newest updates, be sure to follow us here….
…..and subscribe to our newsletter below!