Last Updated on by Rodrigo @ OutofYourComfortZone
If you've already read our article about How to Visit Tibet without the Chinese Permit, you'll know why this route is important. It connects a well-known tourist city in China (Shangri-La) to one that is less-known but still exceptional (Litang). In case you haven't read the other article yet (though you really should!), Litang is the closest you can get to true Tibet without paying for an expensive tour and the Chinese government permit.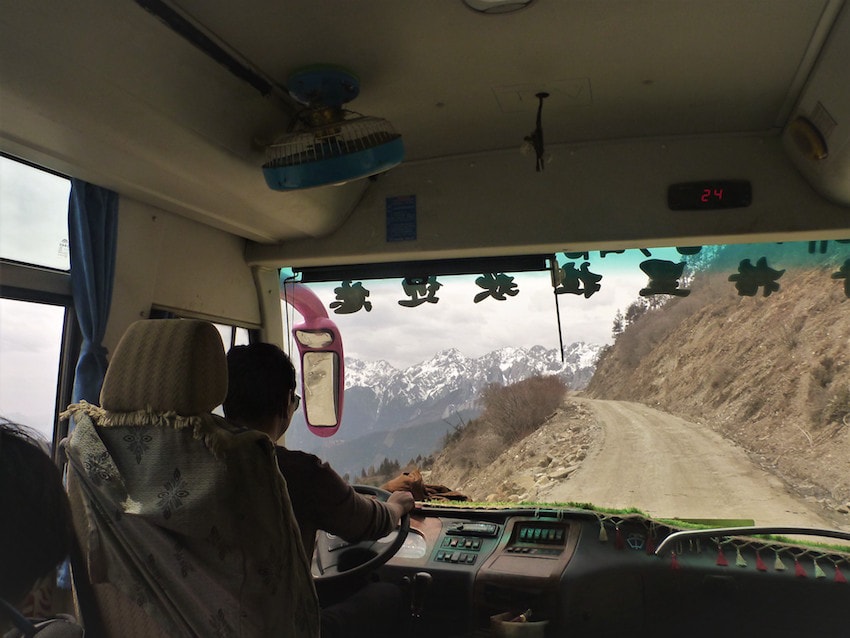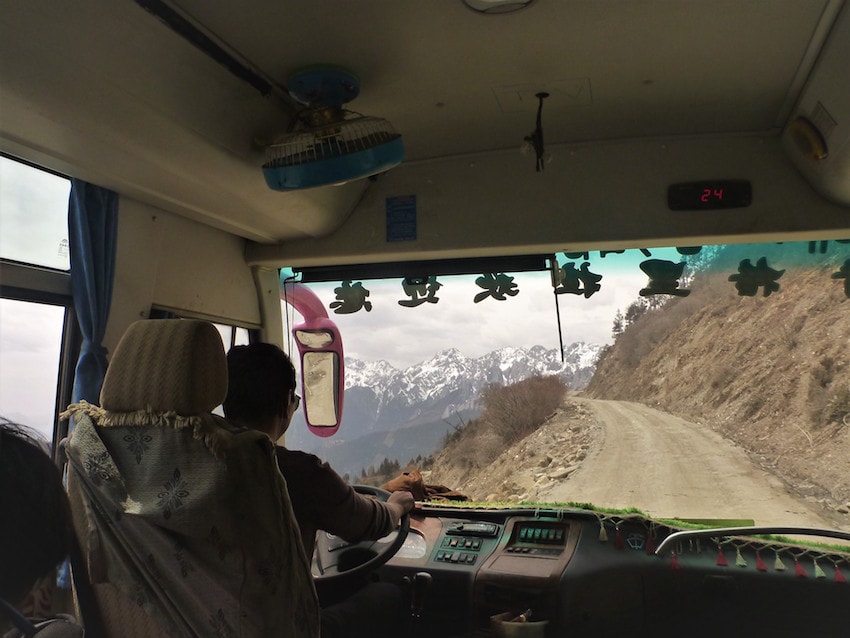 This route is often done in two days with a stop in the middle to stay somewhere overnight. But if you want to save some time and arrive as quickly as possible to this incredible place close to the sky (after all, Litang is more than 4,000 meters high!), you can do it all in just one day, as we did.
The Route: Shangri-La – Xiangcheng – Litang
Bus from Shangri-La to Xiangcheng
Time of departure: 8:00 AM
Duration: 8 hours (with a stop of about 30 minutes for lunch)
Price: 85 RMB                                       
Where: Shangri-La's main bus station, Kangding Road (I'll add a map below)
This first part is very easy to do. Ideally, you would buy your bus ticket the day before because the bus leaves rather early. Then, you can guarantee that you already have your spot.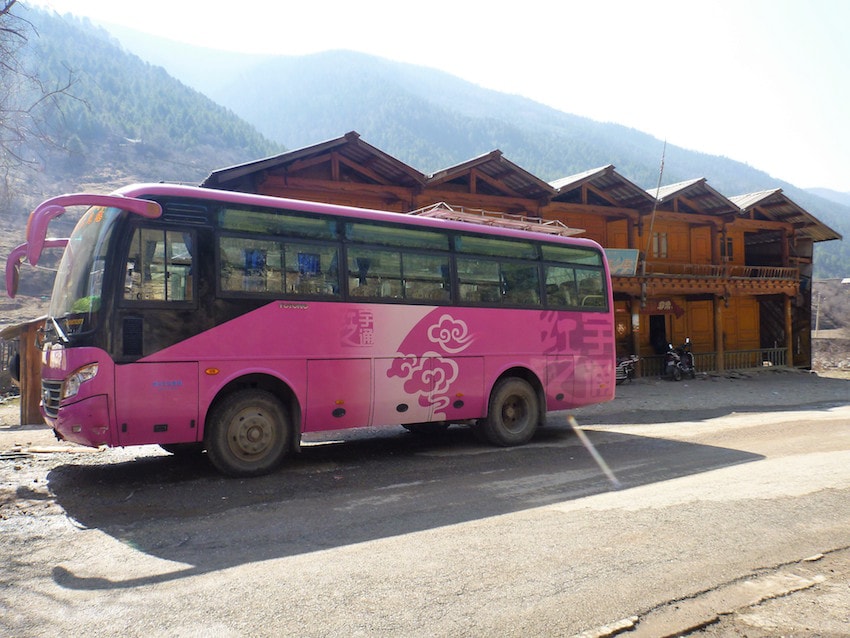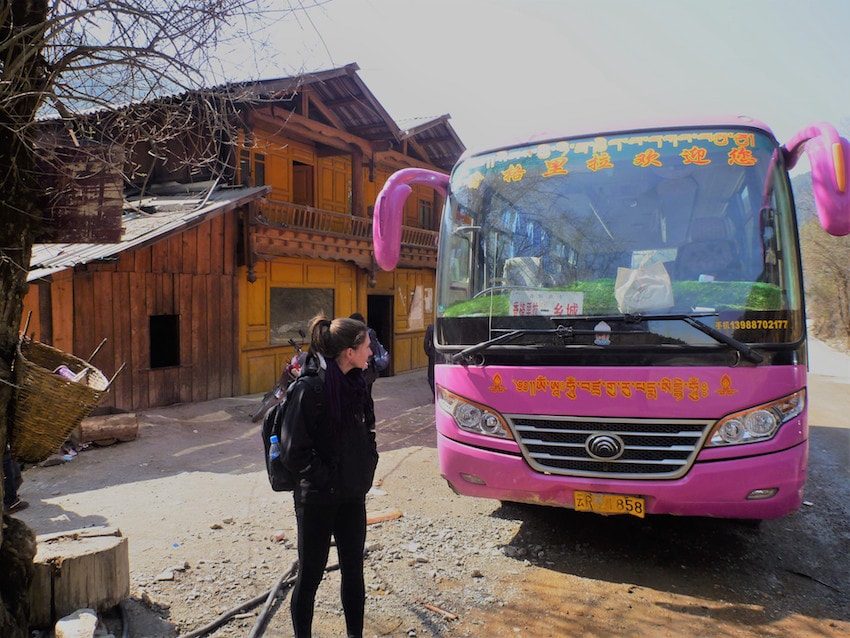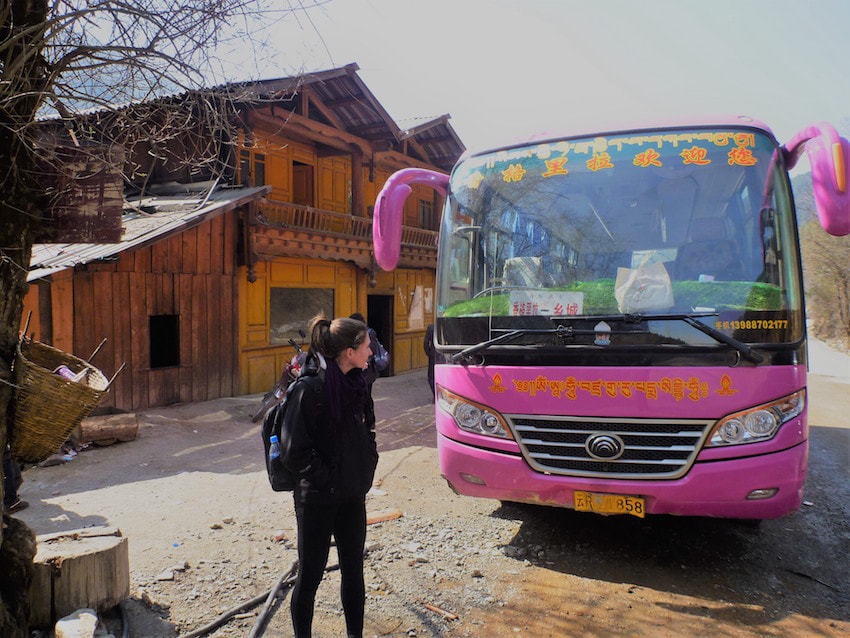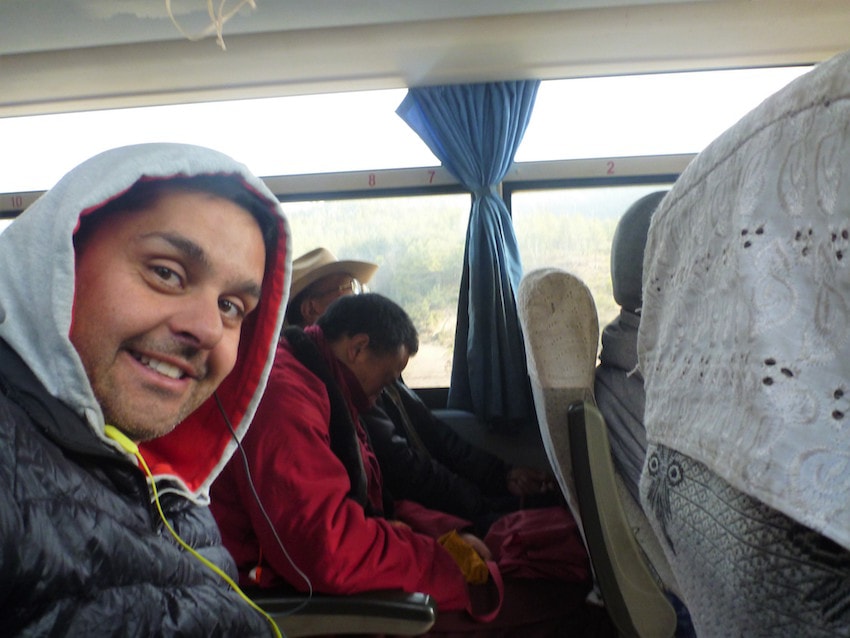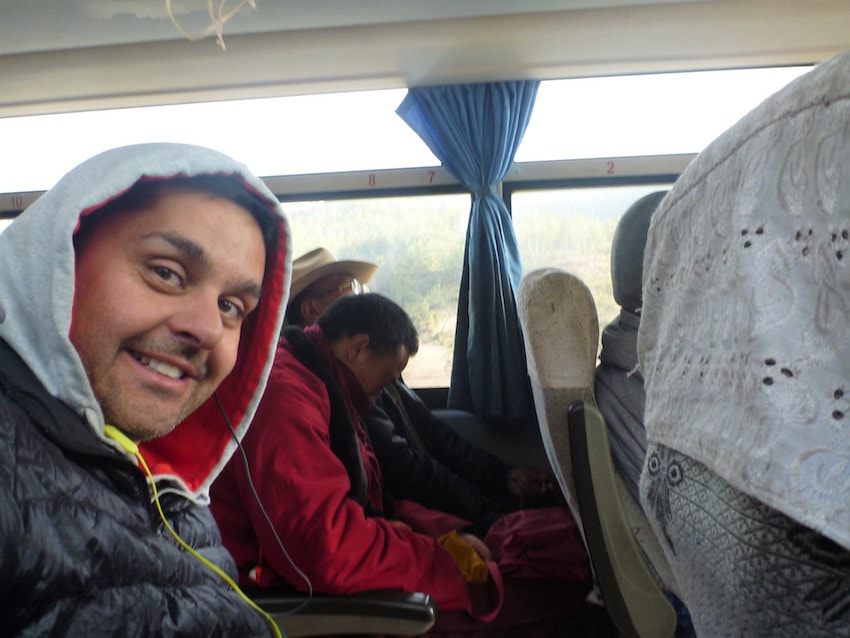 Shared car/taxi from Xiangcheng to Litang
Time of departure: the car will be there at the time your bus in Xiangcheng arrives (so around 4:00 PM, at least in our case)
Duration: around 3 ½ hours
Price: 100 RMB
Where: right in front of Xiangcheng's bus station
Alternative: spend the night in Xiangcheng and catch the bus to Litang the next day at 6:00 AM for 79.5 RMB
Basically, when you arrive from Shangri-La at the Xiangcheng bus station, there will be a bunch of people asking/gesturing where you are going or if you need a place to sleep. In our case, there was a lady who was offering a place to sleep. But since we didn't want to spend the night there, we asked in the station if there was a bus to Litang that day and they told us that no, just for the next day at the time/price mentioned above.
But just outside the exit of the station, there was a man with a car waiting to take passengers to Litang (basically, just keep saying the word 'Litang' when you leave the station). We negotiated with him and agreed on 100 RMB per person. It was a little bit more expensive than the bus leaving the next day, but it was worth it for the time spared and the money saved by not spending a night in Xiangcheng. Apparently, he goes this route every day.  So, you can kind of count on this option.
And after nearly 12 hours of travel, we arrived at our final destination. The driver left us almost in front of Peace Guesthouse (which we talk about here), as it's the best option for accommodation in Litang.




Totals from the 1-day trip Shangri-La – Xiangcheng – Litang
Duration: 12 hours
Price: 85 RMB + 100 RMB = 185 RMB
Important tips for the trip between Shangri-La and Litang:
The road goes through the middle of the mountains and is full of curves, so bring something for motion sickness if you usually need to. I recommend ginger pills. There were buckets in the middle of the bus's aisle and I had the displeasure of watching people puke in them…so they are there for a reason!

Don't drink too much liquid! There were very few bathroom stops (or even stops where the "bathroom" was nothing more than the ditch along the road… much more challenging for a lady than a man). In other words, if you drink a lot, you will have to hold it because the bus doesn't stop!

Don't eat too much before the trip in case of motion sickness, but also bring some things to munch on because there is just one stop for food during the first leg and nothing during the second.

Bring a jacket because you'll be going more than 4,000 meters high and it's cold and VERY windy!

Enjoy the views! Besides being a difficult trip, you'll also have the pleasure of passing hours on dirt roads along sheer cliffs that often don't have railings (just look at the pictures above to see what I mean). Perhaps a little dangerous, but it makes for awesome views! Check them out here: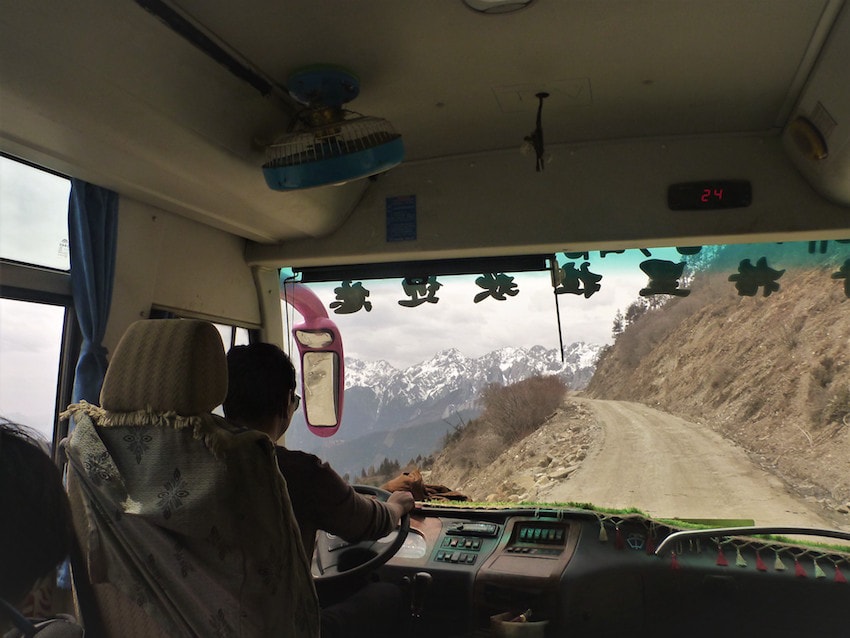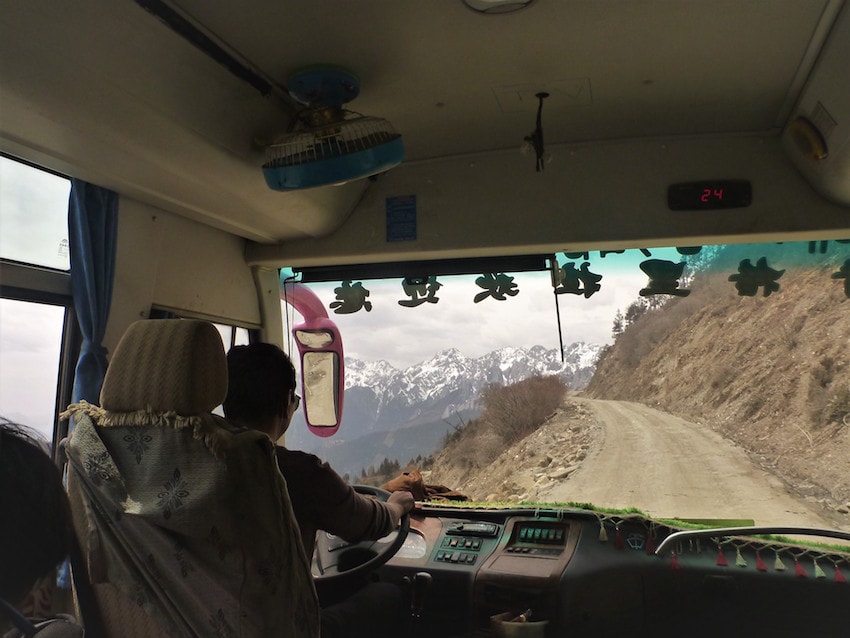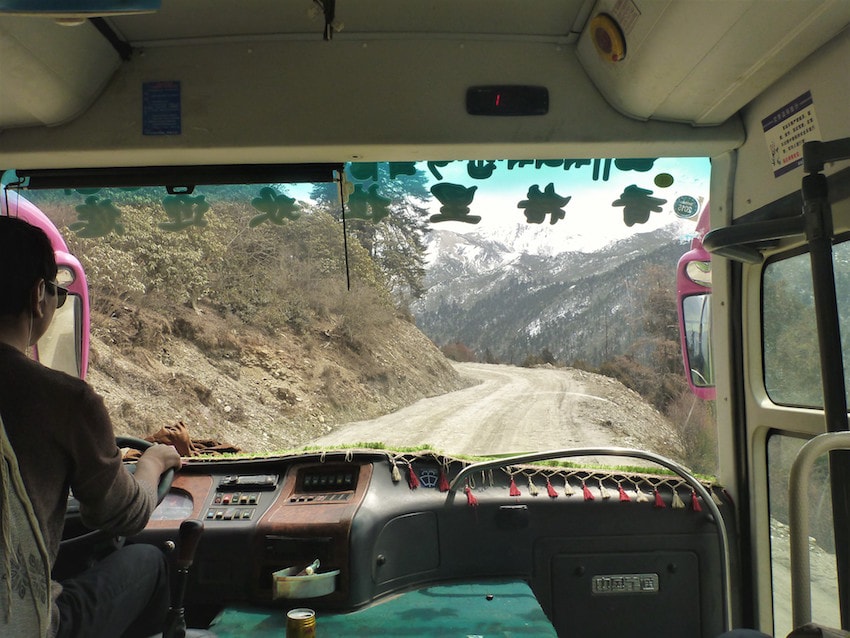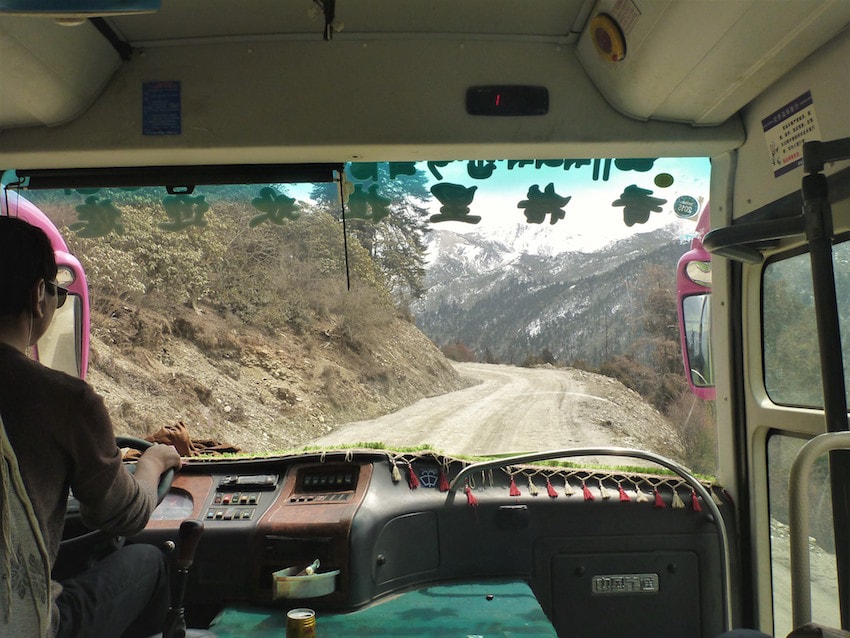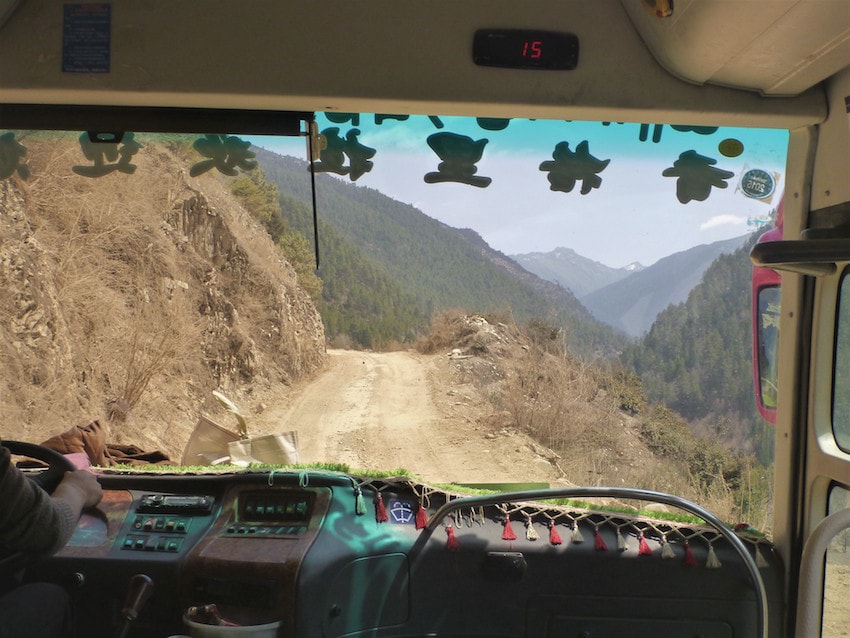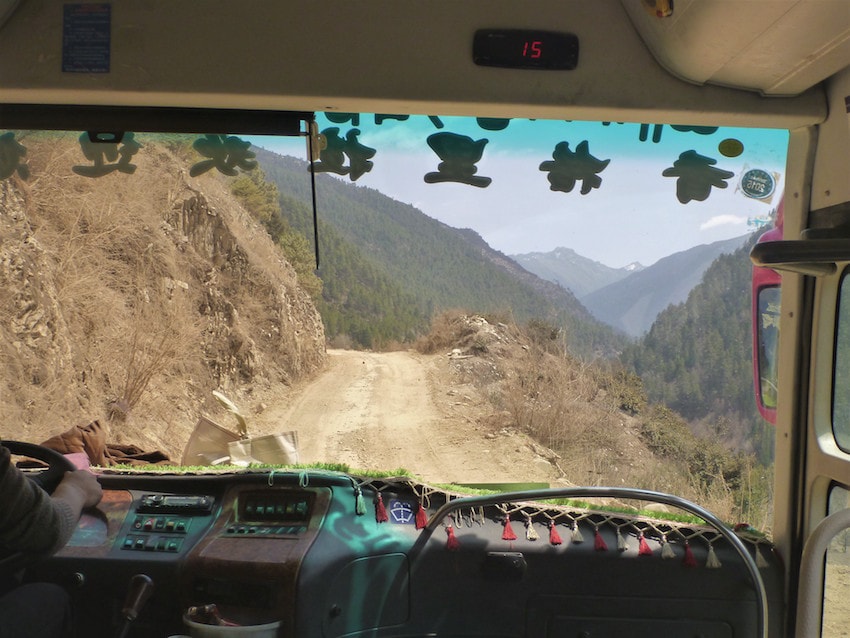 Note: If you want to go from Lijiang or Tiger Leaping Gorge to Litang, you will have to get to Shangri-La first and then follow the route above.
As I already mentioned above, we have another article that explains all that you need to know about Litang, an authentic Tibetan city that you can visit without the Chinese government permit, and what to do there.
Are you going to do this route? Do you still have any questions? Or perhaps some advice? Leave us your thoughts in the comments area below!
Happy travels!

Planning your next trip?

Then don't forget travel insurance! You don't want to get stuck paying a ton of money and ruining your trip if you get sick or have an accident without travel insurance. WorldNomads is ideal for adventurous travelers, backpackers, or anyone looking to be protected during their trip. They cover almost every single activity you can image!

Already reserved your hotel or hostel? If not, we recommend Booking.com. They have a huge selection of hotels and hostels all over the world. Plus, in most cases, you can cancel your reservation without any costs up to a few days before the check-in date! 

Still haven't booked your plane ticket and want to save big? Take a look at Momondo. It's a flight aggregator that combines several other ticket search websites to make it easier for you to compare prices and make sure you are getting the best deal. 

And finally, will you need to rent a car during your trip? Then check out Rentalcar.com to search and compare car rental companies from all over the world in a single website. Then, you can find the cheapest price for the best car!

If you want to hear about new articles, check out our latest pictures, and read our newest updates, be sure to follow us here….
…..and subscribe to our newsletter below!