Last Updated on by Rodrigo @ OutofYourComfortZone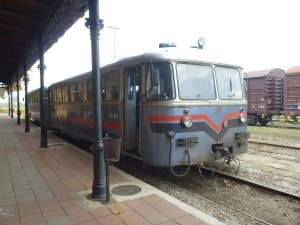 I am doing this post and adding it to my Tricky Treks section because I couldn't find much information about this on the internet nor by asking in person at the train stations in Belgrade or Novi Sad. Basically, they told me that it wasn't possible to go from the north of Serbia to the west of Romania without passing through Hungary or returning to Belgrade. However, I saw an old map at a train station that showed a train line connecting this region and I decided to risk….it worked.
This Tricky Treks post is useful if you are doing the traditional route from southern Serbia to Belgrade, Novi Sad, and Subotica in the north and afterward want to explore Romania.
This entire trip is done by train, which is cheaper than bus, as I have compared the two prices.
It's a really interesting little trip, ideal for train enthusiasts, that passes through the Serbian countryside. It's also interesting to see what the train conductor calls the "concentration camp," which is a tangle of barbed wire fences surrounding the train tracks to separate Serbia, a non-EU member, with Romania, an EU-member while crossing the border.
Here's the route: Subotica – Kikinda – Jimbolia – Timisoara
Take the train from Subotica train station at 7:05 AM and arrive in Kikinda at 9:30 AM. The cost of the trip is 384 dinars (US$ 4.53). The train is just a single train car run by diesel so it looks more like a bus on tracks. Side note, I asked the conductor how old the train was and he told me it was more than 60 years old!!
In Kikinda, there will be another train waiting for you to cross the border. You will have just enough time to pass through immigration to leave Serbia inside the station before the next train leaves.
The train leaves from Kikinda at 9:45 AM and arrives at Jimbolia at 10:04 AM. It's a short trip with a very kind ticket collector and conductor.

Since I was the only one on the train, they let me sit up front next to the conductor. The price that they asked me to pay once inside the train was 370 diners (US$4.37). I can't confirm if this is the true price or the ticket collector invented it on the spot when he charged me. As I was leaving from Serbia, I only had 300 dinars left and he accepted it.
Arriving at Jimbolia, a Romanian immigration official will be waiting for you.
Since the next train won't be until 2:47 PM, you will have time to explore this small, Romanian city… especially because there is absolutely nothing in the train station. The nice ticket lady even lets me leave my big bag behind her desk so I could walk around Jimbolia a bit lighter.
The next train leaves Jimbolia leaves at 2:47 PM and arrives in Timisoara at 3:40 PM. The ticket costs 5.5 Romanian lets.
Altogether, the trip takes 8 hours and thirty minutes and, as of 6/6/2014 US$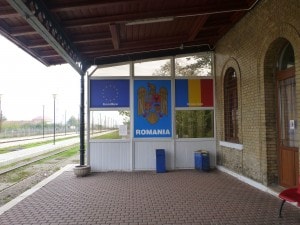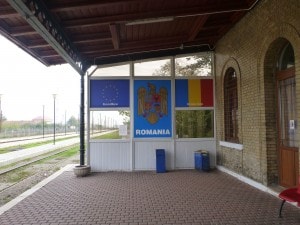 10.61. Let me know below if you have any other questions, have done this same trip, or have a better idea to share with the others.
Happy travels!!
Planning your next trip?

Then don't forget travel insurance! You don't want to get stuck paying a ton of money and ruining your trip if you get sick or have an accident without travel insurance. WorldNomads is ideal for adventurous travelers, backpackers, or anyone looking to be protected during their trip. They cover almost every single activity you can image!

Already reserved your hotel or hostel? If not, we recommend Booking.com. They have a huge selection of hotels and hostels all over the world. Plus, in most cases, you can cancel your reservation without any costs up to a few days before the check-in date!

Still haven't booked your plane ticket and want to save big? Take a look at Momondo. It's a flight aggregator that combines several other ticket search websites to make it easier for you to compare prices and make sure you are getting the best deal.

And finally, will you need to rent a car during your trip? Then check out Rentalcar.com to search and compare car rental companies from all over the world in a single website. Then, you can find the cheapest price for the best car!
If you want to hear about new articles, check out our latest pictures, and read our newest updates, be sure to follow us here….
…..and subscribe to our newsletter below!