Last Updated on by Editor
The tourist info center will point you to the bus to get from the airport to the center of the city. But there's a cheaper and faster option: the train. In this article, we'll tell you how to get the train at the airport for less than 2€ and which stations to use to get to the center of Malaga. With photos & maps.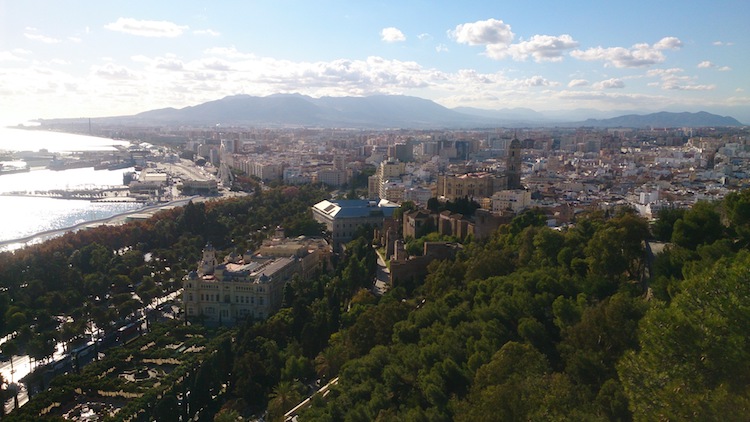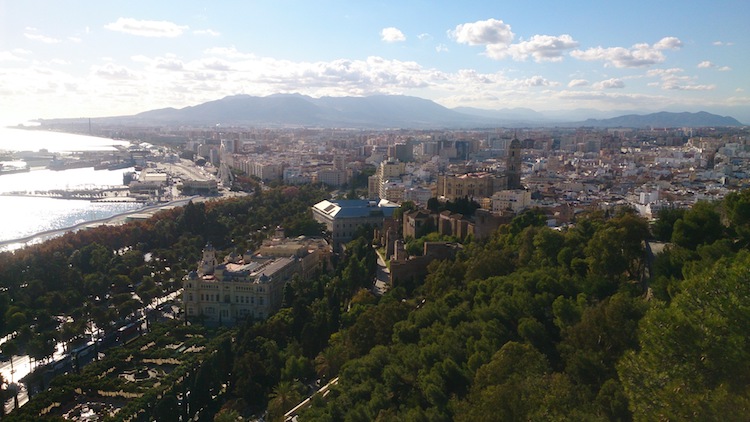 Málaga is one of the biggest cities in the southern Spanish province of Andalucía. And the Málaga airport is the main gateway to the Costa del Sol – one of the most famous beach areas in Spain.
So, if you want to get to the Costa del Sol, you'll probably fly into Málaga's airport.
Or if you want to get to Granada by plane, arriving into Málaga airport and then taking a bus could be cheaper than flying direct.
Same goes for the British territory of Gibraltar in the South of Spain. Sometimes, it'll be cheaper for you to fly into Málaga from wherever you are and then take the 3-hour bus to the border.
And finally, to get to Algeciras, Spain and from there take the ferry to Ceuta and Morocco in Africa, Málaga's airport also remains your best option
Basically, this is because Málaga is a giant Ryanair "hub" (a low-cost airline that covers Europe), so it's easy and cheap to fly there from almost anywhere in Europe.
((To know more about low-cost airlines in Europe like Ryanair and how to save on plane tickets in general, don't miss our article with 16 tips to save money on your flights))
Anyway, no matter why you are flying into Málaga…you'll have to find a way to get to the city center, bus station, or wherever your next stop is! Which is why I'm writing this article today.
The 2 most common ways to get from Málaga's Airport to the city center
When your flight arrives in Málaga and you're leaving the airport, just after the baggage claim and the arrivals exit, you'll see a Tourist Info Center.
When I went to ask them what the cheapest way to get from the airport to Málaga's bus station, she said the airport bus. It would cost 3€. But when I asked if there was a train as well, she told me "of course." And when I asked how much it is, she told me 1.80€.
Anyway, not really a big deal….but I'm guessing they earn commission or something from the bus (which is why she directed me there instead of to the cheaper and faster option). It's mostly just annoying that she would tell me wrong info when I explicitly asked. So, that's my beef with it. ?
Moral of the story: instead of asking at the tourist info center, just walk out the airport's exit and you'll see the Renfe train station about 50 meters away.
How much is the train from Málaga's airport to the city center?



The cost of the train from the airport to the center of the city or the bus terminal (Maria Zambrano station) is 1.80 €.
You can buy your ticket at the station. You can pay with credit card or cash in the machine (the bus would only accept cash).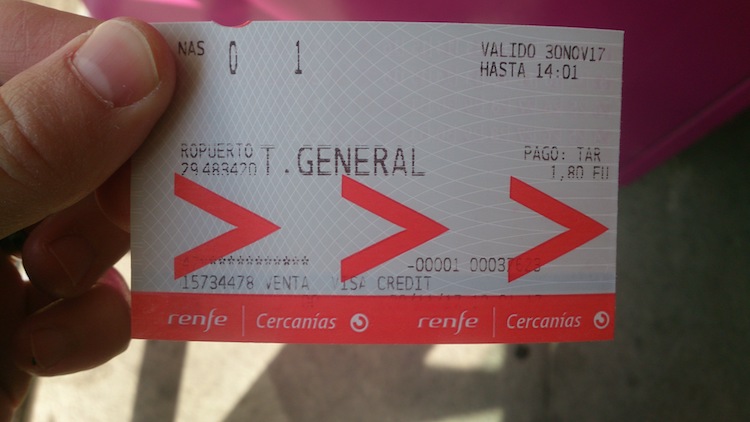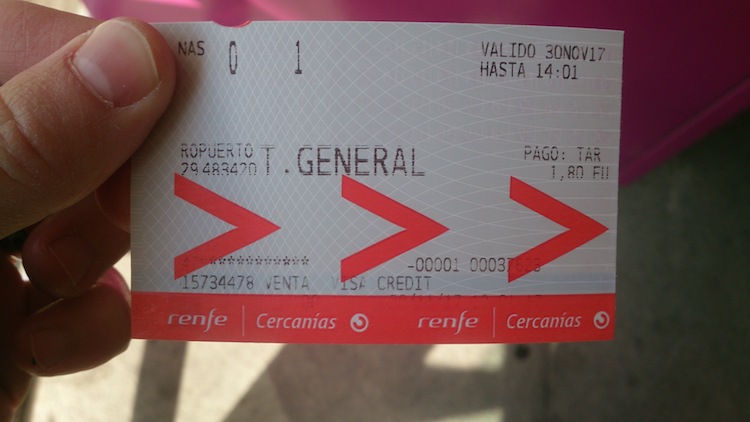 What train station to get off at to get to the center of Málaga?
Station for Málaga's downtown: Málaga Centro Alameda
Station for Málaga's bus station: Estación Málaga Maria Zambrano
From Málaga's bus station, you can take a bus to nearly anywhere in the Costa del Sol (Torremolinos, Fuengirola, etc…), Gibraltar, Sevilla, Córdoba, Algeciras (where you can take the ferry for the autonomous Spanish city of Ceuta in Africa.
The bus station is also next to two big shopping malls. So, it's perfect if you want to buy anything in the area.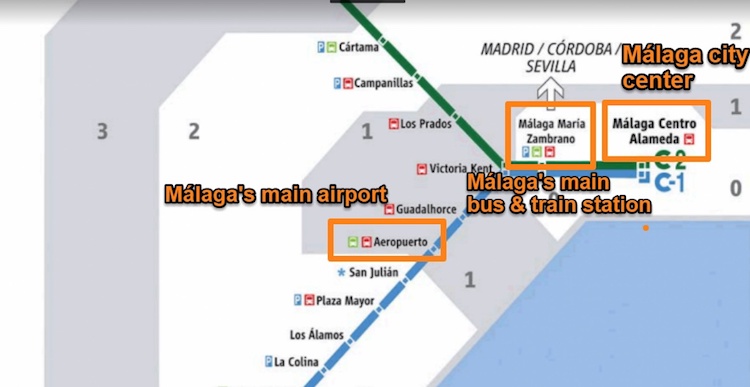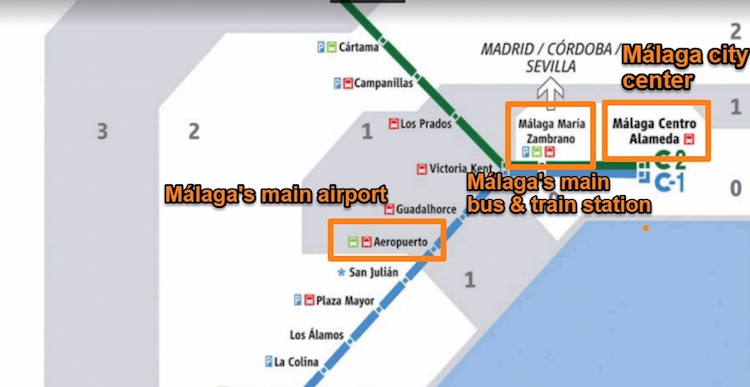 Schedule and travel time from Málaga's airport to the city center by train
Train begins: 6:44 AM
Train ends: 12:54 AM
Travel of travel between the two stations: 12 minutes
Wait time between trains: 20 minutes
And to get from Malaga's city center to the airport, just go the opposite way for the same price. You can also take the bus for 3€, but it'll take a bit longer. Though depending on where you are staying in Málaga, taking the bus back to the airport might actually be more convenient.
Tip about staying overnight in Málaga!
If you want to save on accommodation during your stay in Málaga and stay REALLY close to the city center, we recommend Residencia Universitaria San José. It's right next to the city's cathedral, a short walk from all the main attractions, and has some of the best prices in Málaga for private rooms.


Something important to note: if you are going to be arriving after 8 PM, MAKE SURE YOU LET THEM KNOW! Otherwise, you'll arrive to a locked door (you'll have to call the phone number on the door to get someone to come and give you your key – something that's *not* that easy when you don't have a Spanish phone) and pay an extra 5€ charge. Beyond that, we enjoyed our stay!
If you want to stay in a hostel, then we recommend Lights Hostel, which is also nearby.


And if you are looking for a higher-quality, reasonably priced hotel, we recommend Hotel Sur Málaga.


(You can click any of the images above about accommodation to get more info about the place & check availability)
What to do in Málaga?
We're glad you asked! You can check out our 6 Days Itinerary in Malaga, Ceuta, Gibraltar to know what to do in Malaga.
or….
Activities and Tours to Do in Malaga
If you are looking for activities and tours in Malaga, I recommend you take a look at Civitatis or Tiqets. There you can find and buy tickets, tours, and excursions in Malaga with discounted prices.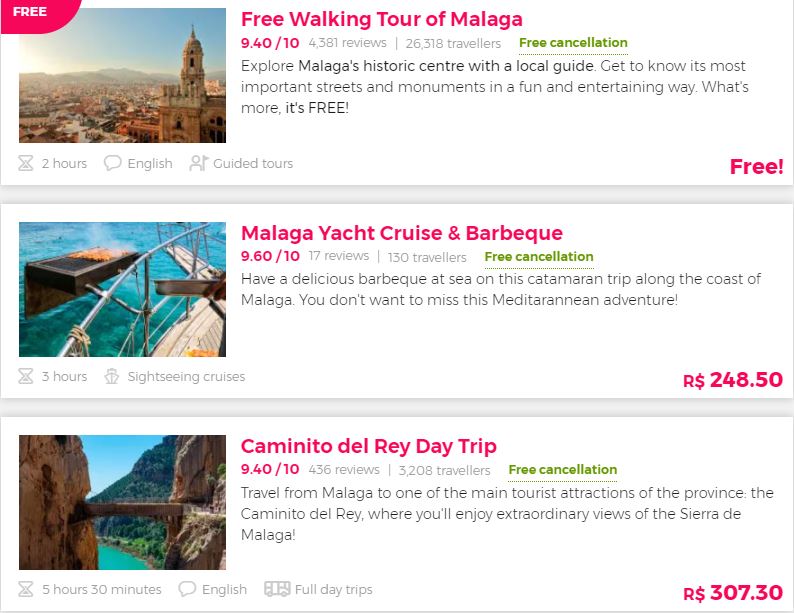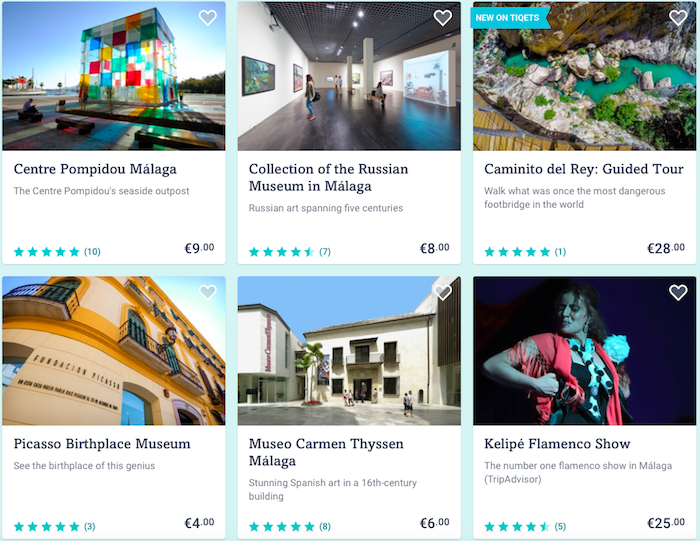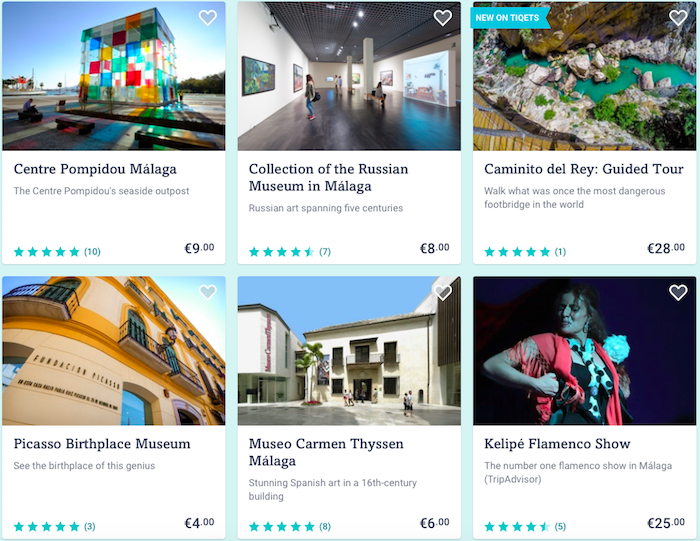 And that's it! A short, but very practical, article.
Any questions about Málaga or travel in general? Just leave them in the comments area below because we always respond!!
Happy travels!
Planning your next trip?

Then don't forget travel insurance! You don't want to get stuck paying a ton of money and ruining your trip if you get sick or have an accident without travel insurance. WorldNomads is ideal for adventurous travelers, backpackers, or anyone looking to be protected during their trip. They cover almost every single activity you can image!

Already reserved your hotel or hostel? If not, we recommend Booking.com. They have a huge selection of hotels and hostels all over the world. Plus, in most cases, you can cancel your reservation without any costs up to a few days before the check-in date!
Still haven't booked your plane ticket and want to save big? Take a look at Momondo. It's a flight aggregator that combines several other ticket search websites to make it easier for you to compare prices and make sure you are getting the best deal.

And finally, will you need to rent a car during your trip? Then check out Rentalcar.com to search and compare car rental companies from all over the world in a single website. Then, you can find the cheapest price for the best car!
If you want to hear about new articles, check out our latest pictures, and read our newest updates, be sure to follow us here….
…..and subscribe to our newsletter below!