Last Updated on by Talita
All you need to know to visit Wadi Rum from Aqaba – including what tour to do, 1 day Aqaba cruise stop itinerary, transportation from Aqaba to Wadi Rum, and more.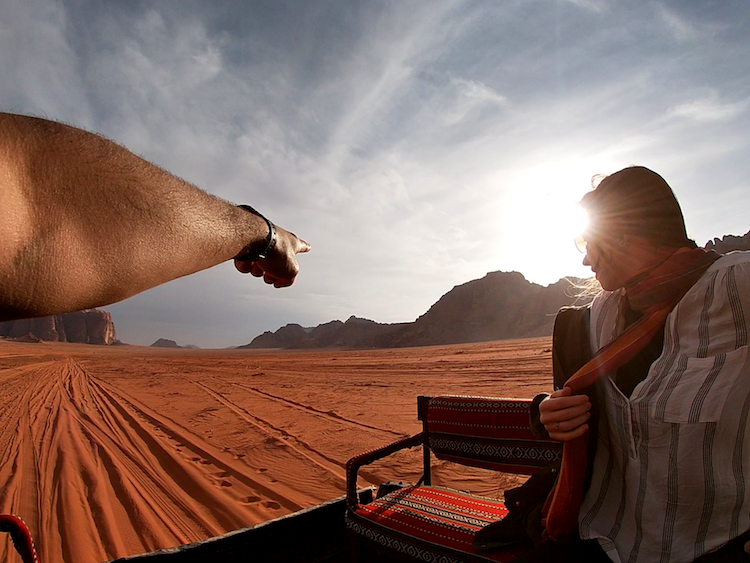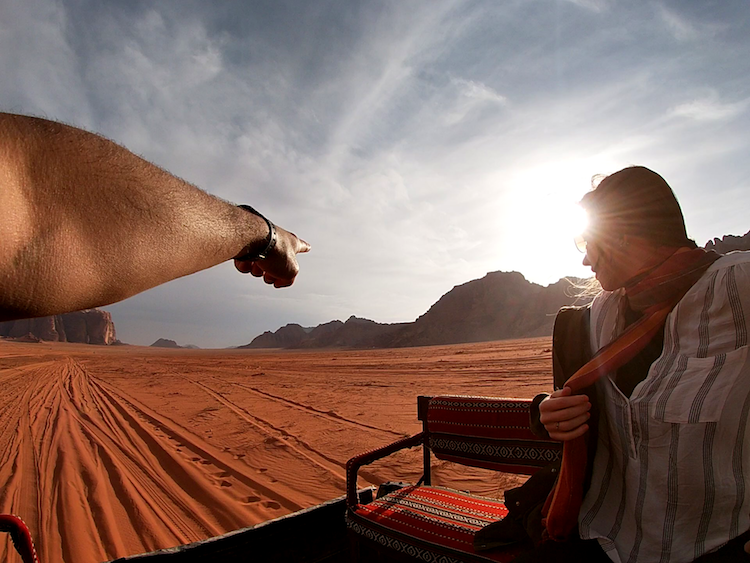 Beyond Petra, the Wadi Rum desert is Jordan's most visited attraction.
And for good reason!
Between its dramatic sandstone mountains, rocky red sands, and just generally otherworldly landscape (after all, there was a reason The Martian was filmed here – just watch the video below to see what I mean!), it's certainly a place you want to make time for if you're in Jordan.
And the Red Sea port city of Aqaba, being just a 1 hour drive from the desert, is a great spot for you to begin your desert adventures (for comparison: Amman, Jordan's capital city, is a 4+ hour drive away) – whether you're visiting Aqaba for a longer period of time, on a short trip, or just a single day on a cruise stop.
—
The 1st half of today's article will be about visiting Wadi Rum from Aqaba in general and then the 2nd half will be about visiting Wadi Rum from Aqaba during your Aqaba cruise stop.
Let's go!
(Or as they'd say in Jordan…. "Yallah!")
How to Visit the Wadi Rum Desert from Aqaba
In this section, I'll give you step-by-step directions for all you need to know.
How to get to the Wadi Rum Desert from Aqaba
Basically, you have 3 options which I'll give details below.

Option #1: Aqaba to Wadi Rum by bus
Frankly, it's a bit hard to get info about buses between Aqaba & Wadi Rum because there doesn't seem to be much demand for it. But based on what I can tell, you have two options for buses.
The first option is the daily local minibusses which leave at around noon on all days but Friday from the Aqaba bus terminal. These buses drop you off at the Wadi Rum visitor center and from there you can arrange your tour into the desert.
What makes these minibusses tricky is that they don't have a set schedule and apparently only run when full. But on the plus side, they do cost just 3 JOD (approximately $4.00 USD).
You also have the option to take the JETT bus, which leaves at 8 AM daily and costs 18 JOD (about $24.00 USD) roundtrip. You can find the schedule and book your ticket here.
JETT also has a bus from Wadi Rum to Petra if that's your next stop.
Wikitravel here has more information about taking the bus to Wadi Rum. https://wikitravel.org/en/Wadi_Rum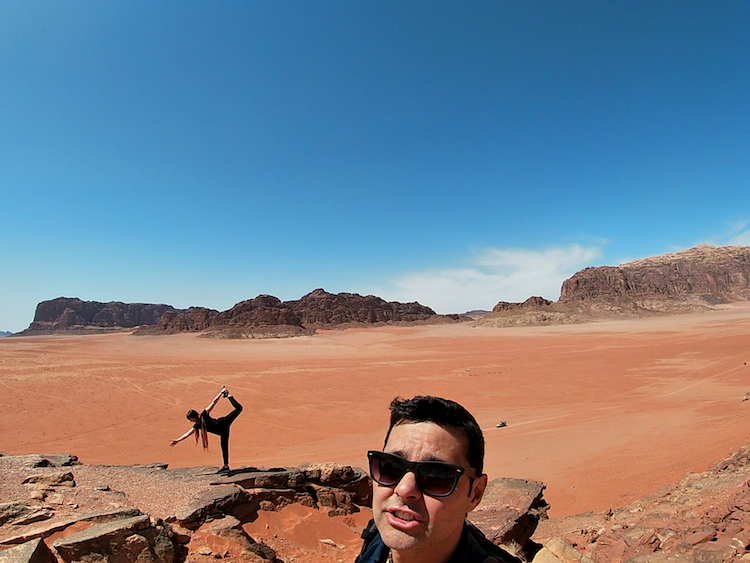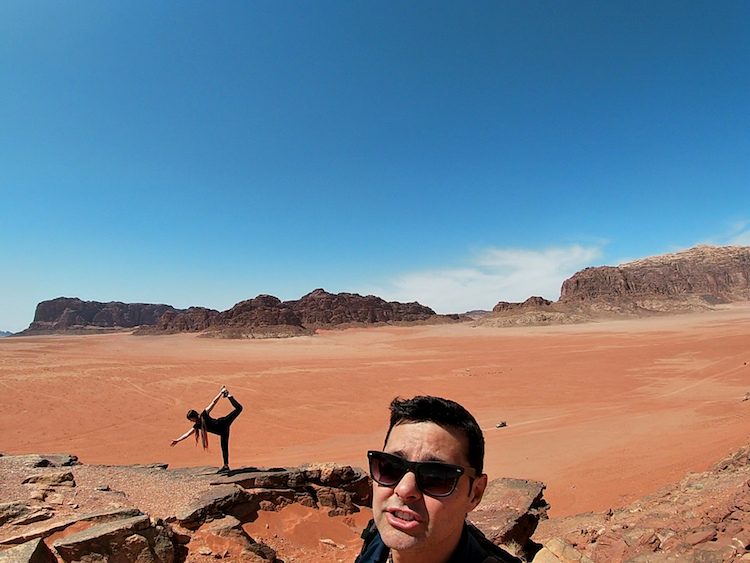 Option #2: Aqaba to Wadi Rum by taxi
Obviously, this will be a more expensive option. If this is what you chose, make sure you negotiate your price before you start the journey. Expect to spend at least 25 JOD (about $33.00 USD) per person.
As you'll see below when I discuss tours, your tour operator may be able to arrange this for you and get a slightly better price.
Option #3: Aqaba to Wadi Rum by rental car
You can definitely find cheap rental cars in Aqaba, and I'd recommend this option if you're short on time (and thus can't risk the bus).
We've found rental cars for as low as $45. Although this may be more expensive than a taxi, it's quite reasonable if you split it with other travelers.
Check our article about the 5 best websites to find cheap rental cars to begin your search for a rental car in Aqaba.
How to do a Wadi Rum Day Trip from Aqaba
Ideally, you'd be able to spend a night sleeping out under the stars in the desert.
But if you don't have the time, you can still have a wonderful day trip to the desert quite easily.
If you have just 1 day, then I highly recommend you book your tour ahead of time so you're not disappointed with a last-minute option and don't waste any time trying to set something up on arrival (see the section "The Best & Cheapest Tours in Wadi Rum" below for more details on this).
And if you're just doing a day trip, you won't have time to take the bus. So, your best options are either renting a car or taking a taxi like as described above.
What to do in the Wadi Rum Desert – Attractions
Obviously, the Wadi Rum Desert is huge and there's a ton of things to see.
Here are just a few of the highlights of the Wadi Rum….
Khazali canyon: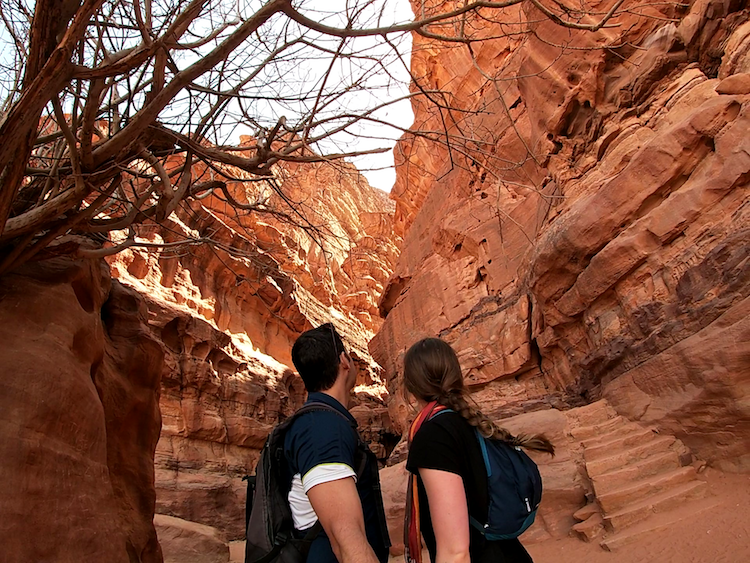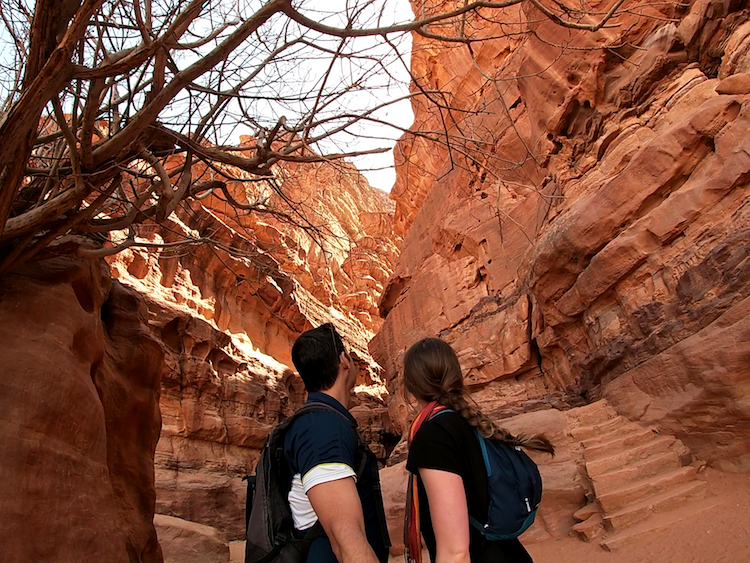 Um Frouth rock bridge: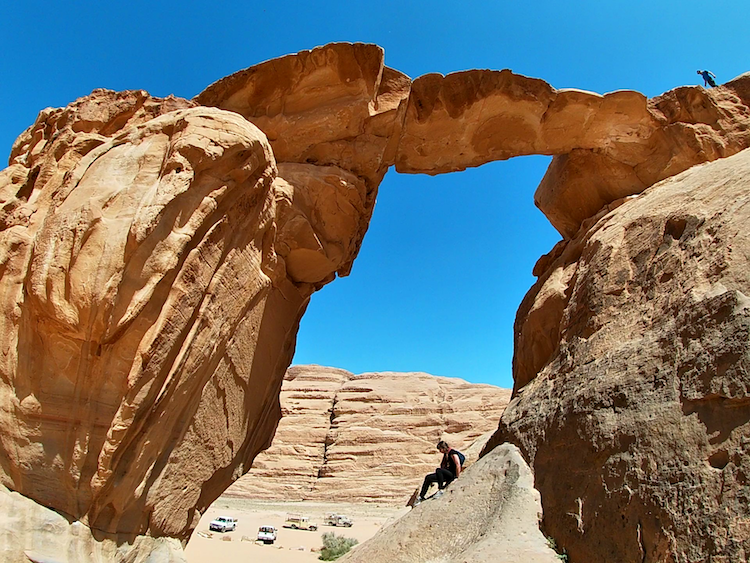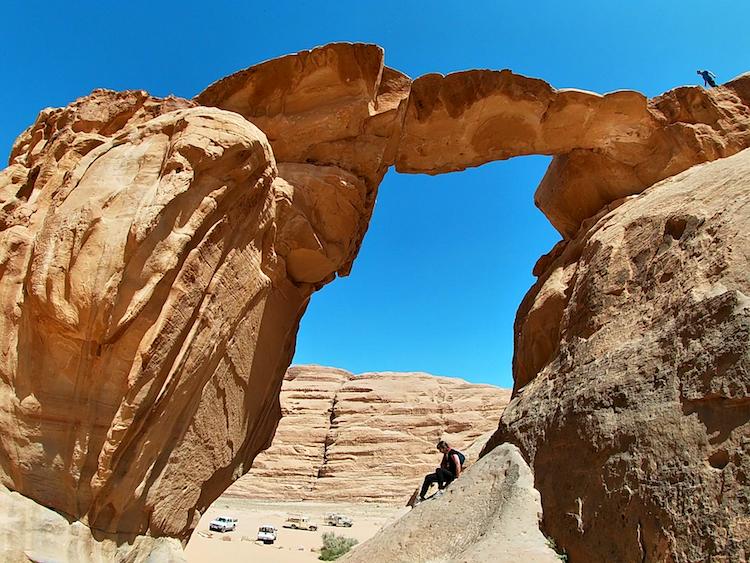 Al Ramal sand dune: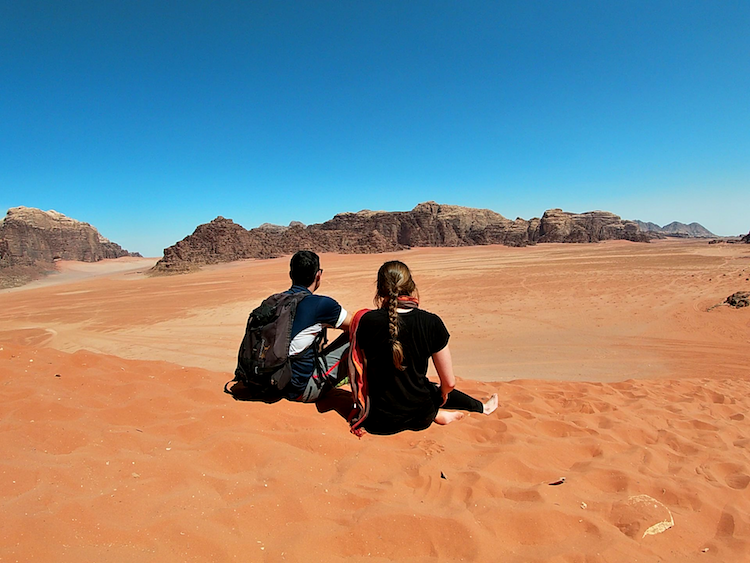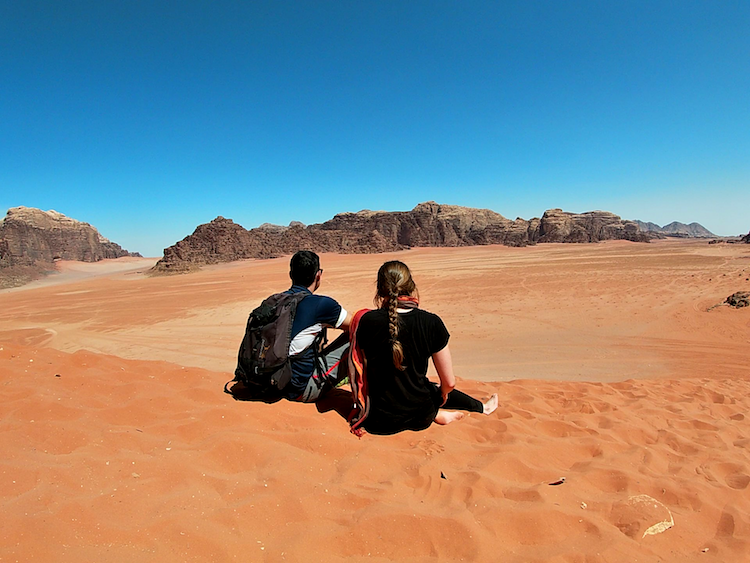 Abu Khashaba Canyon: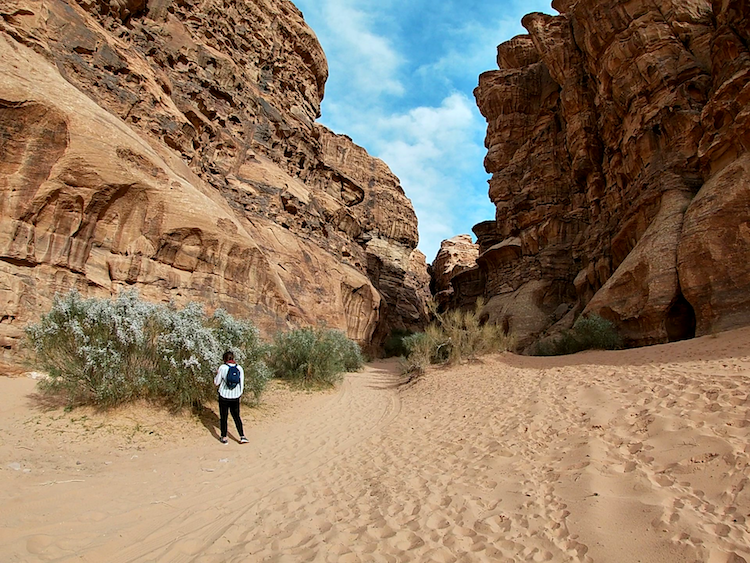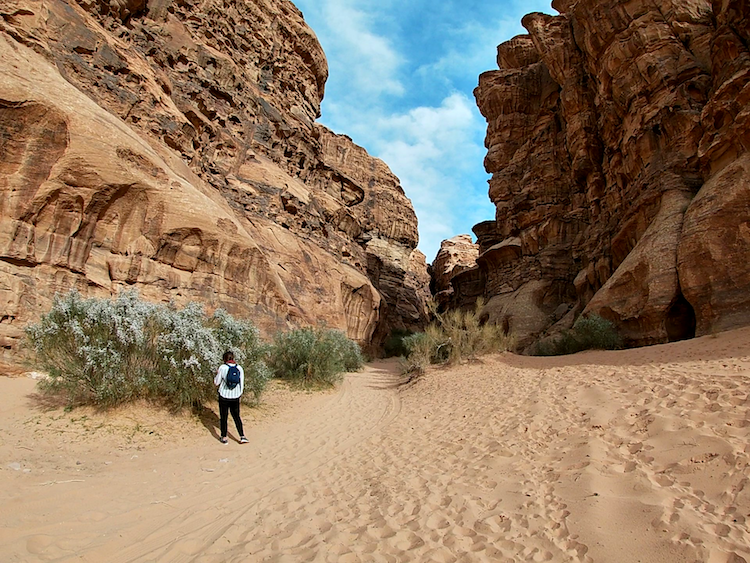 Giant red sand dunes: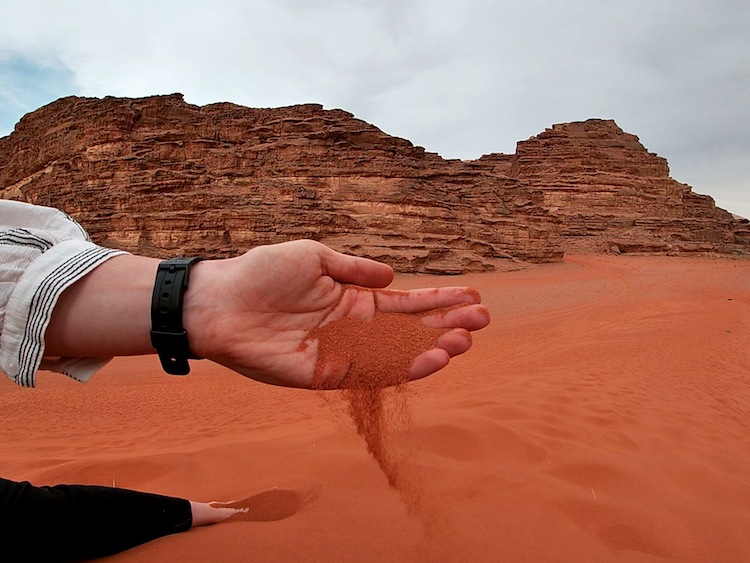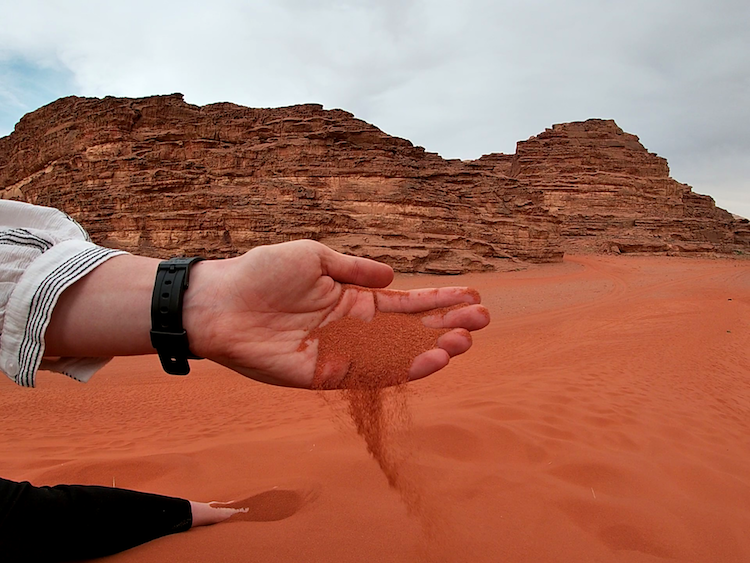 There is the option to rent your own 4×4 if you're feeling adventurous and want to head out on your own.
However, to get to the spots above, it really is worth going with a local tour to make sure 1) you can find everything (remember: this is a desert with no real roads) and 2) you don't get lost or stuck in the sand. Not to mention you'll have a guide who you can learn from along the way!
Beyond a tour through the nature preserve, you can also arrange hikes, camel rides, and overnight camping in the desert.
The Best & Cheapest Tours in Wadi Rum
There are a ton of different companies running tours to the Wadi Rum desert ranging from simple, no-frills cultural experiences, to full-on luxury desert camping.
Personally, we set up our tour with Wild Wadi Rum and would recommend them 100%.
The tour company, run by a Bedouin family who has lived in Wadi Rum for generations, was local, friendly (they had Bedouin tea waiting for us when we arrived!), and tried really hard to share with us their love and knowledge of the desert.
Plus, it's hard not to love the trusty, safari-style open-air truck they took us out on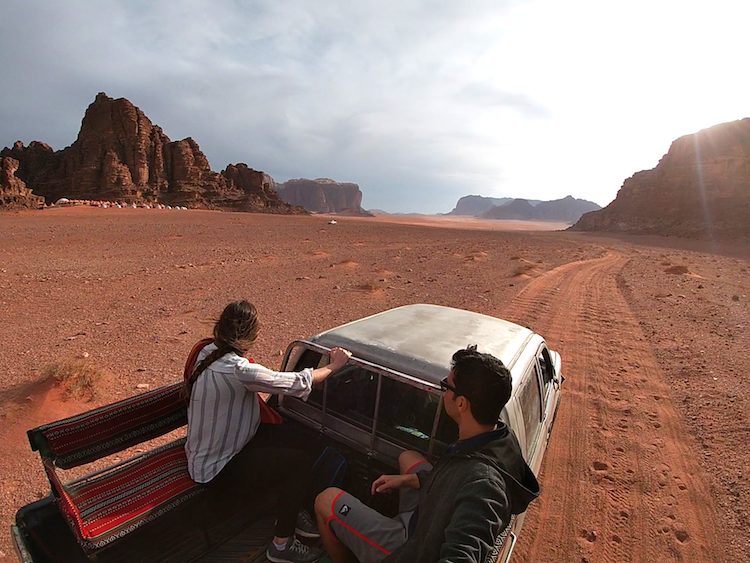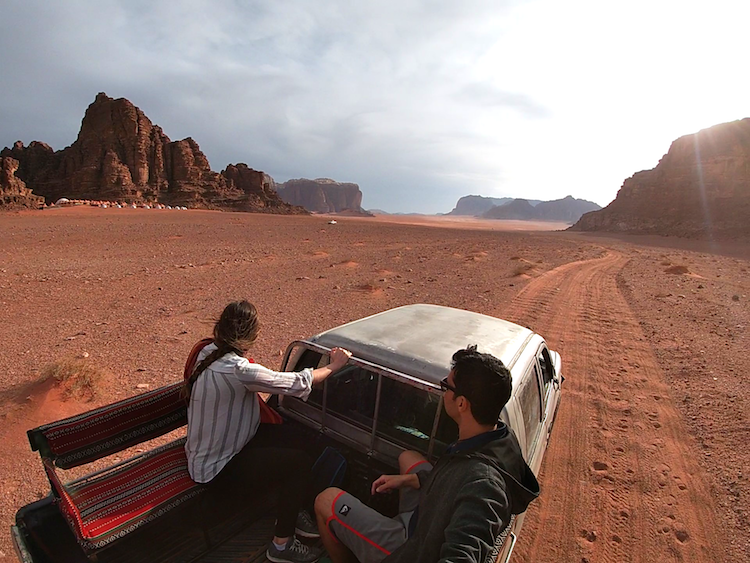 They have a lot of different tours, but since we just had 1 day on our cruise stop in Aqaba, we chose the 5-hour jeep tour.
Although, our guide was so great that he added on a bit of extra time to show us the incredible red sand dunes. As he put it, "in the desert, we don't worry about time."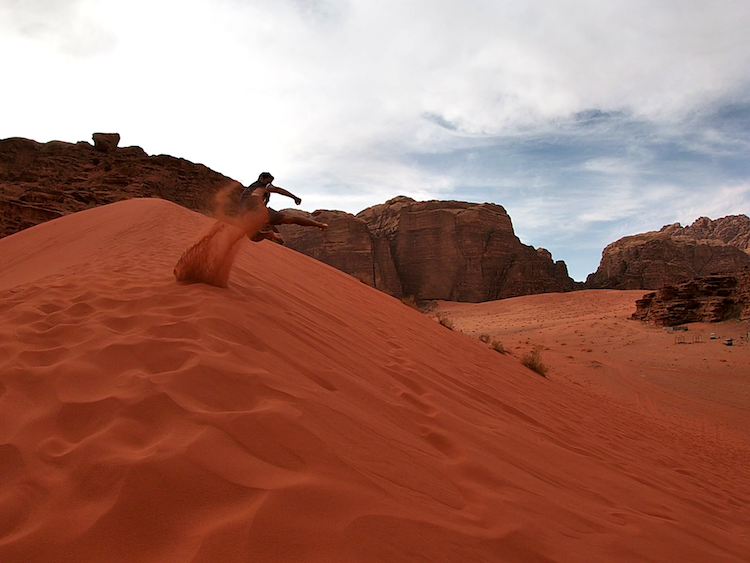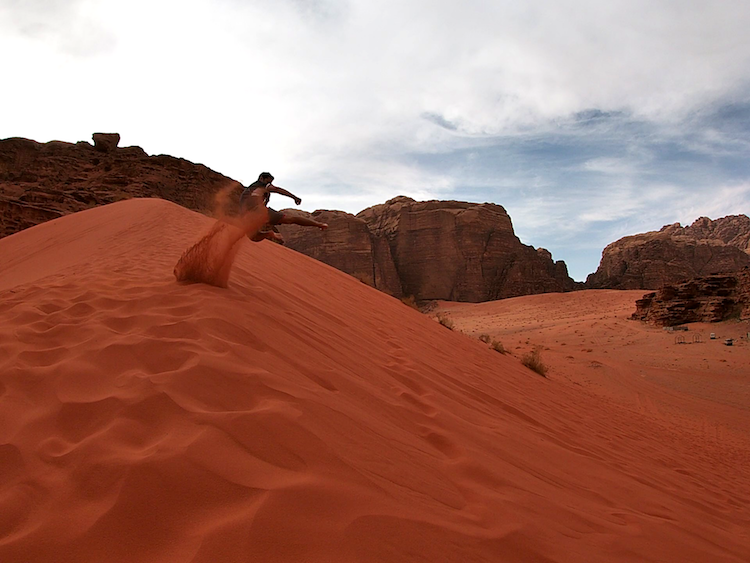 Here's what the 5-hour itinerary with Wild Wadi Rum includes: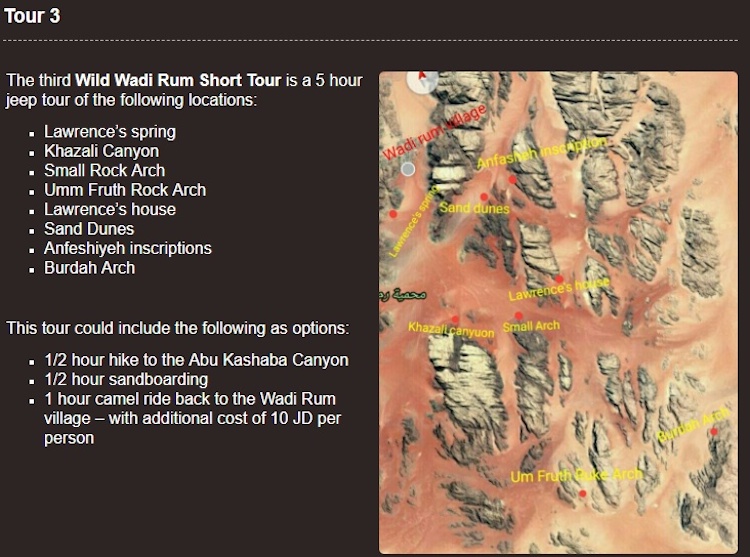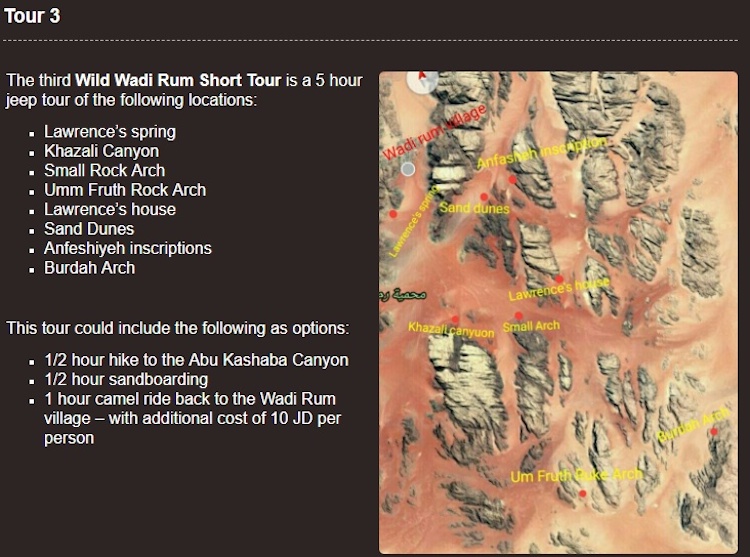 They have jeep tours of many different lengths, as well as hiking tours, adventure tours, climbing tours, and overnight desert camping.
For the two of us, the 5-hour tour cost 70 JOD (or 35 JOD per person). The price per person goes down significantly if you have more people on the tour (as an example: it's under $20/person if you have 6 people).
Based on what I saw while researching other tour companies before booking, Wild Wadi Rum definitely has some of the lowest prices for these types of tours.
If you're interested, you can see Wild Wadi Rum's tours here. To book, just send them a message to Salman through their "contact" page.
—
Alternatively, the Wadi Rum visitor center also runs tours which you don't need to book in advance.
The price for these tours is just slightly more than our recommendation above, but based on what we've heard from other travelers, these tours can be really hit or miss (it depends completely on the guide you get).
The tour routes are fixed ahead of time and I'm not sure how much flexibility you'll have with them (example: requesting to spend more time somewhere, to visit something additional, etc.)
How to Stay Overnight in Wadi Rum Desert
As with the Wadi Rum tours, there are also a lot of ways to stay overnight – ranging from simple camping to luxury desert accommodation.
Wild Wadi Rum also has campsites and offers overnight camping tours. We haven't tested these personally, but they do look to be highly reviewed.
Otherwise, Booking.com has a huge list of other options to sleep in the Wadi Rum desert for all budgets & levels of luxury.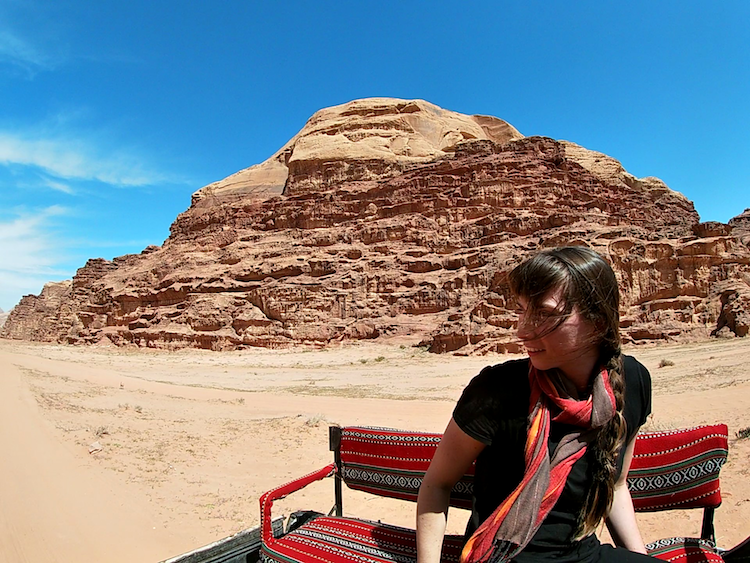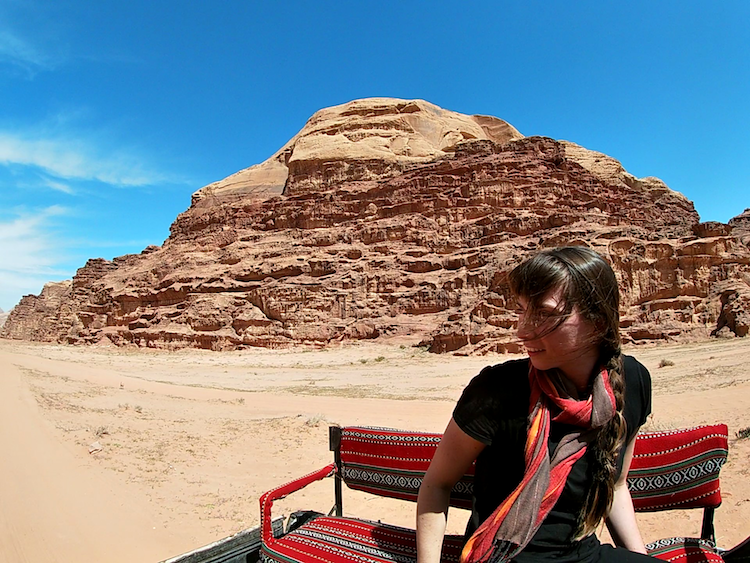 How to Visit the Wadi Rum Desert on a Cruise Ship (Aqaba Port Stop 1-Day Itinerary)
What to do on an Aqaba cruise stop?
What to do if you only have 1 day in Aqaba?
How to visit Wadi Rum from Aqaba on your own without a cruise ship excursion?
If you've been frantically googling answers to the questions above and found no help, then you're in the right place

You see, it's no big secret that those cruise ship excursions are really expensive.
And if you don't feel like visiting Petra with 17 other tour buses from your cruise but still want something awesome to do with your cruise stop in Aqaba, then the Wadi Rum Desert is your best choice.
Here's how you can plan your visit to Wadi Rum on your cruise stop in 3 steps.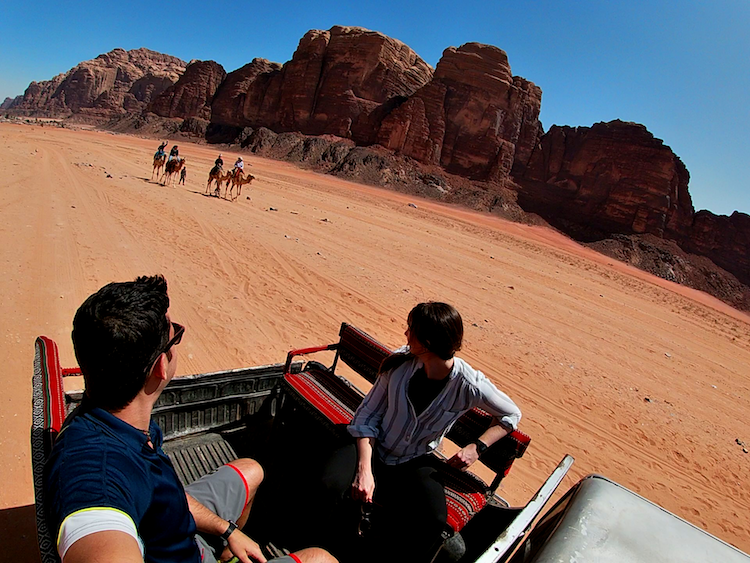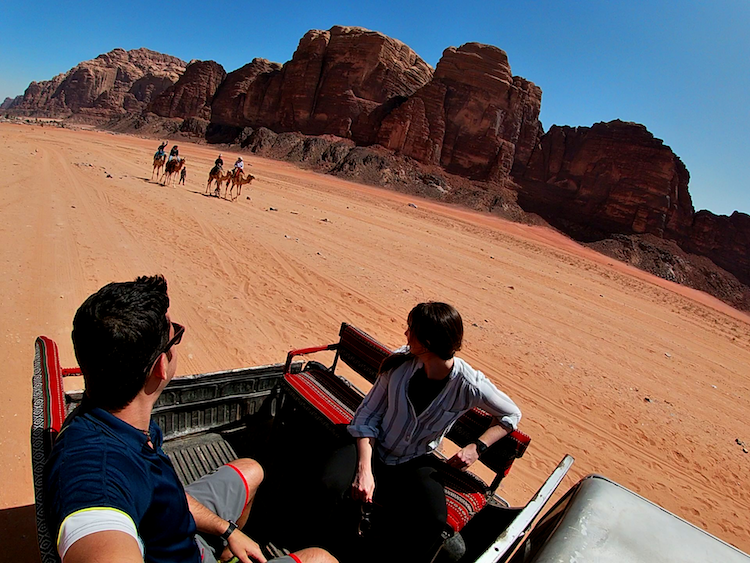 Step #1: Check how long your cruise stop is in Aqaba
Most cruise stops in Aqaba are long (ours was 8 AM – 8 PM) or even include an overnight in Aqaba to make sure the cruise ship excursions have time to go to Petra and back.
Either way, make sure you know this so you don't miss your ship!
Step #2: Choose your Wadi Rum tour
Like we said in the "Best & Cheapest Wadi Rum Tours" section above, we highly recommend going on one of Wild Wadi Rum's jeep tours for your cruise stop in Aqaba.
Wild Wadi Rum organized everything for us, had some of the most reasonable prices we saw, and brought us to most incredible spots Wadi Rum has to offer (our guide was even nice enough to bring us on to a special "bonus" stop not included in our usual tour itinerary).
We personally did the 5-hour tour, but depending on your cruise itinerary, you might be able to extend it to their full-day tour.
Scroll up to the "What to Do in Wadi Rum" section above see some pictures of the tour & get an idea of the "attractions" you can see during your day in the desert.
And then scroll up to the "Best & Cheapest Tours in Wadi Rum" for more details about our experience with Wild Wadi Rum and for more tour company options.
No matter what tour company you choose, make sure you book in advance and let the tour operator know you are on a ship and what time you have to be back.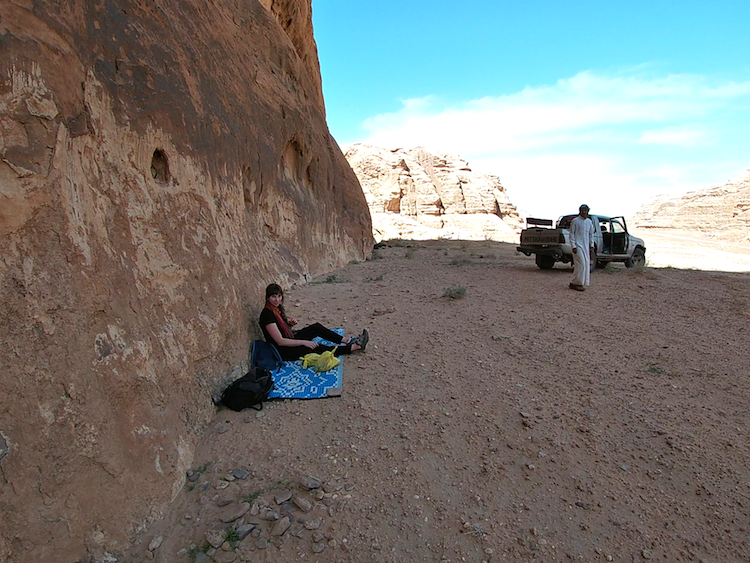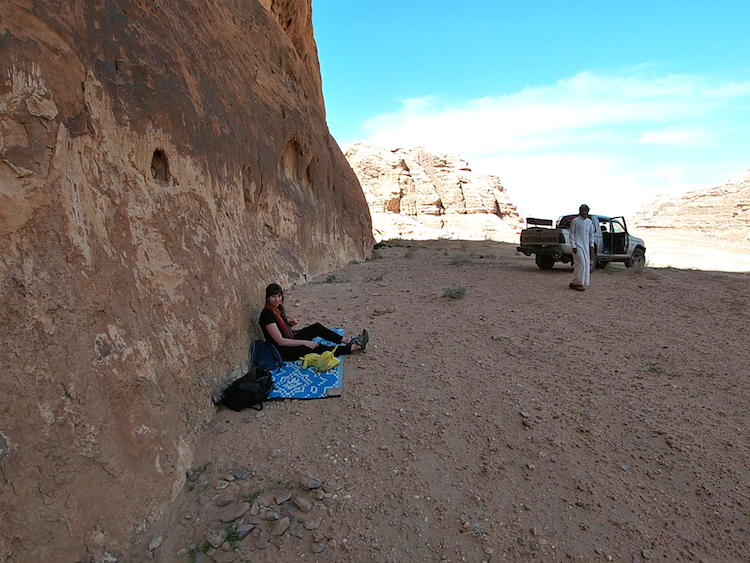 Step #3: Figure out how to get to Wadi Rum
In the "How to get from Aqaba to Wadi Rum" section above, we talk about 3 options.
If you're on a cruise ship, a bus is out of the question. You won't have time.
This leaves you with either the taxi (organized by your tour operator) or the rental car.
The upside of the taxi is that there's no risk. All you have to do is ask your tour operator to arrange a taxi for you…and then you'll have someone waiting for you with your name on a signed when you get out of the port in Aqaba. But the downside is that it's more expensive (25 JOD per person roundtrip).
The upside of rental cars is that they can be a cheaper option if you are traveling with more people and can split the cost. They also give you a bit more freedom to stop along the way (or explore Aqaba a bit after your desert tour on your way back). The drive to Wadi Rum from Aqaba is very straightforward (in other words, you really can't get lost).
The downside is that renting a car is a bit riskier since you're ship won't wait for you if your car breaks down, you get lost, etc. One other consideration is that we passed a lot of police checkpoints along the way. We aren't sure if they would have given us a hard time or not as tourists (especially because we didn't have our passports with us – our cruise held on to them for the duration of our trip).
If you'd like to rent a car in Aqaba, then head to our article with the 5 Best & Cheapest websites to rent cars in Jordan to get started.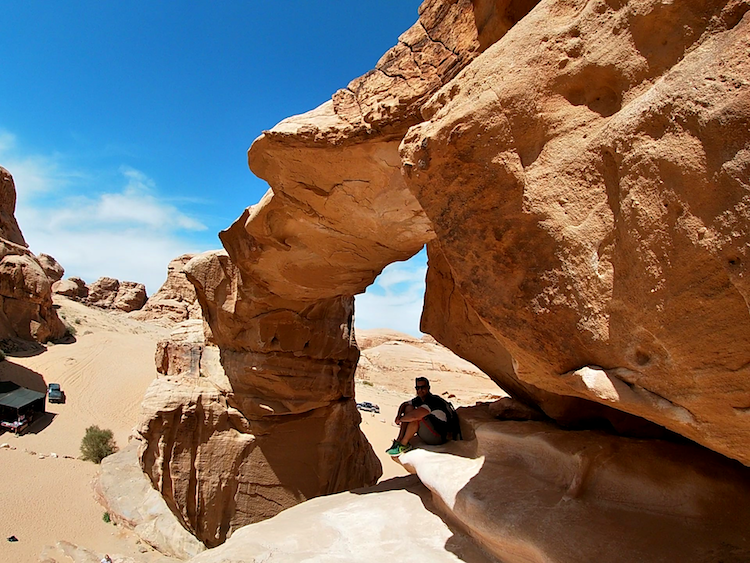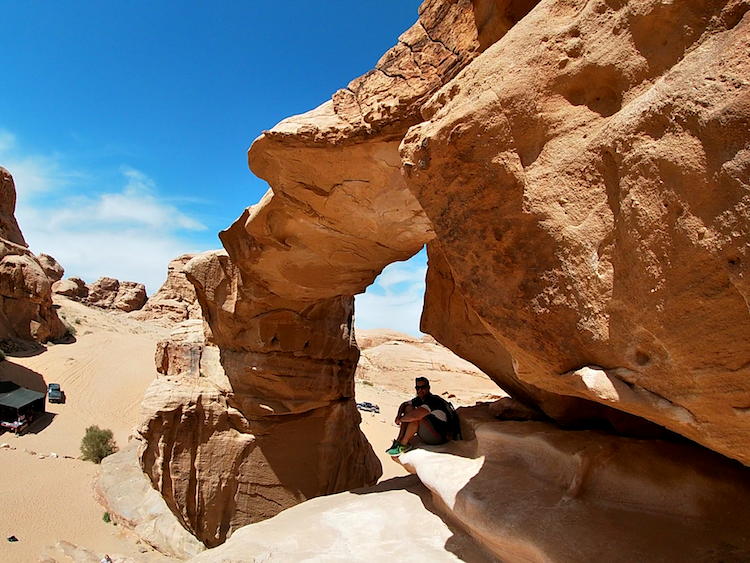 IMPORTANT TIP!
How to get from Aqaba Port to Aqaba City Center via the Aqaba Port Shuttle
One thing we noticed in many cruise port terminals in the Middle East is that you can't just leave them on foot (like you can with many ports in the Caribbean and Europe).
This means the only way you can get out of the Aqaba port is with your pre-organized cruise ship excursion bus or the free port shuttle bus.
We were told that the free shuttle bus would go from the port to Aqaba city center every 30 minutes. However, we were off our ship just after 8:00 AM and the shuttle didn't leave until 9:00 AM when the bus was completely full (leaving our poor taxi driver waiting for us to arrive at the visitor's center for quite a long time).
The shuttle drivers might not speak much English, so you'll probably want to ask the cruise front desk about bus times (including the buses that go back to the port) before you depart from the port.
The shuttle is free, takes about 10 minutes, and will drop you off right in the middle of the city at the Aqaba Visitor's Center.
If you organize a ride to Wadi Rum with your tour operator, this is where your driver will wait for you.
And if get back from your Wadi Rum tour early, you'll be right in the center of the city (and there will be a map right in front of the visitor's center) and can easily spend some time wandering this area of Aqaba.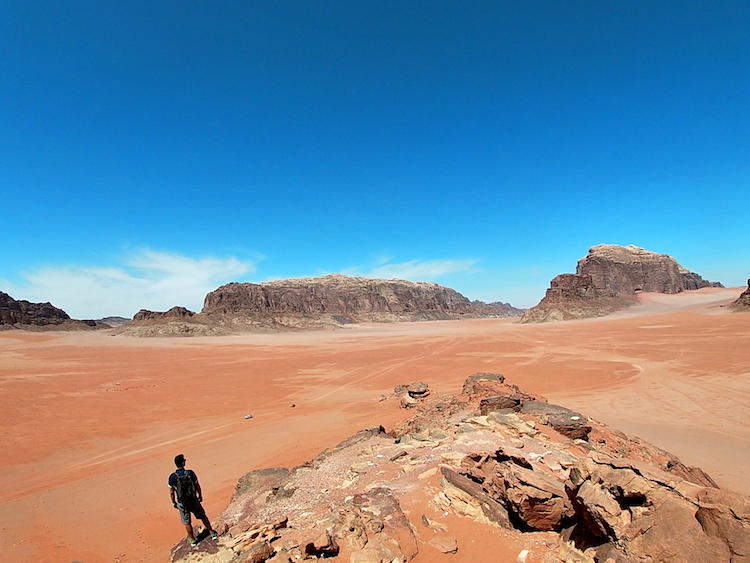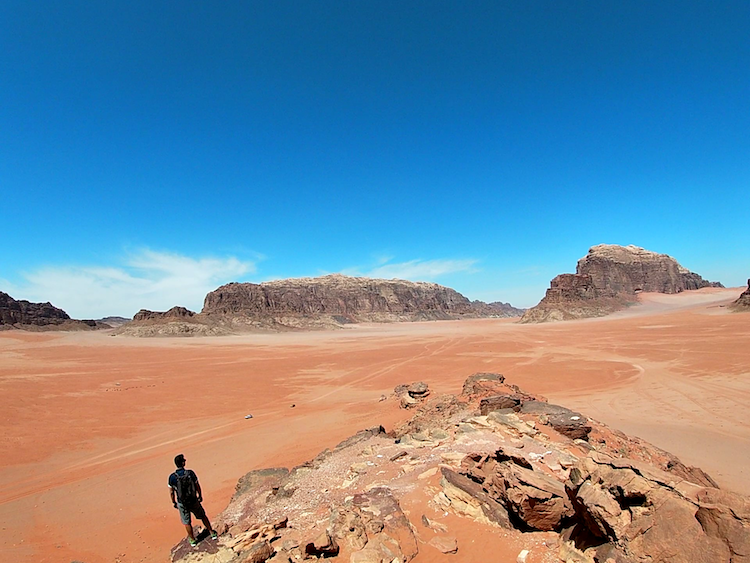 Final tips about visiting the Wadi Rum Desert
Bring lots of sunscreen

– even in March, the sun was very strong!
Bring lots of layers

– the sun may be strong during the day, but the temperature drops fast as the sun goes down (and it gets windy in the back of the jeep)
If you're a lady, dress modestly

– although Jordan is certainly more open than many of its neighboring countries, it still is a Muslim country. In other words, if you're a woman, you'll probably feel most comfortable and will be most respectful if you were loose clothing that covers your knees and shoulders
Withdraw cash in Aqaba to pay for your tour since there's no ATM in the desert (obviously)
Make sure you bring an extra 5 JOD per person for the Wadi Rum Protected Area entrance fee. You'll pay this fee at the Wadi Rum Visitor's Center.
Other tours, activities and excursions to do in Jordan
If you are looking for activities and tours to do in Jordan, I recommend taking a look at GetYourGuide and Viator. On these sites you search and buy different tours and excursions with discounts and promotions. Check out!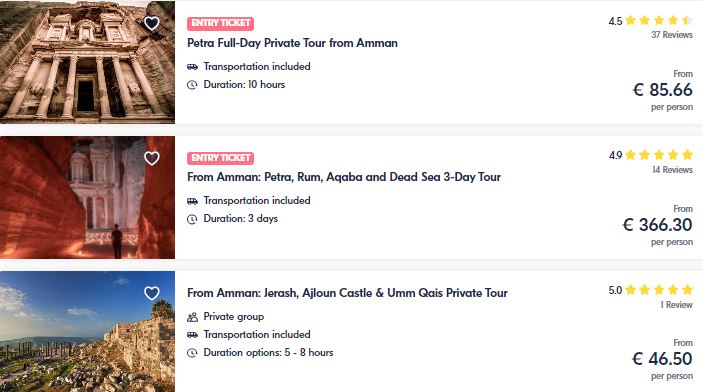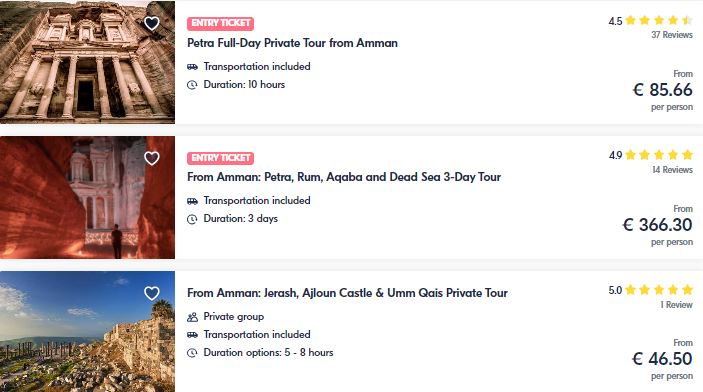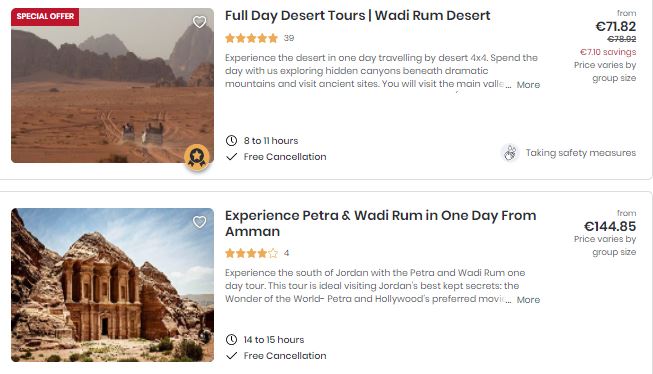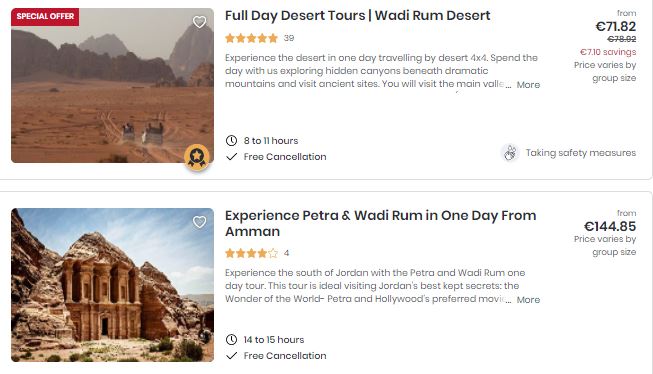 —
And that's all! Planning to visit the incredible Wadi Rum Desert yourself? Have any questions?
Let us know in the comments below and I will try to help!
Planning your next trip?
Then don't forget travel insurance! You don't want to get stuck paying a ton of money and ruining your trip if you get sick or have an accident without travel insurance. WorldNomads is ideal for adventurous travelers, backpackers, or anyone looking to be protected during their trip. They cover almost every single activity you can image! Plus, you can have a 5% discount with the coupon code comfort5.
Already reserved your hotel or hostel? If not, we recommend Booking.com. They have a huge selection of hotels and hostels all over the world. Plus, in most cases, you can cancel your reservation up to a few days before the check-in date without any costs!
Still haven't booked your plane ticket and want to save big? Take a look at Kayak and Momondo. They are flight aggregator that combine several other ticket search websites to make it easier for you to compare prices and make sure you are getting the best deal.
And finally, will you need to rent a car during your trip? Then check out Rentalcar.com to search and compare car rental companies from all over the world in a single website. Then, you can find the cheapest price for the best car!