Last Updated on by Editor
So, you're dreaming of Tibet. You want to climb the Tibetan mountains, explore the monasteries, pet some fluffy Tibetan mastiffs, and learn about the Tibetan people and culture. You're making a list of where you want to go and what you want to see.
But when you finally start planning how to get there, you realize you've hit a snag in your plan – it turns out, you can't actually visit Tibet without getting a permit from the Chinese government and organizing a tour or private guide through an agency. And, as you can probably imagine, this ends up being quite expensive (as in probably $100/day at MINIMUM).
Now, since this is a travel blog and not a political blog, I'm not even going to get in to the complicated relationship these two (China and Tibet) hold that necessitates you having to be part of a group tour to visit Tibet. Hopefully, if you are interested in visiting this area yourself, you've already done some research. Or, at the very least, you are interested in coming to see what you can learn.
Anyways, what if I told you could see all of the highlights of Tibet WITHOUT having to deal with a pesky permit and tour?
The place I'm about to recommend requires no permit or tour, has a population that is 80% Tibetan, is at an even higher altitude than Lhasa, has been the birthplace of several Dalai Llamas, and is arguably a more authentic and less touristic (after all, we saw a grand total of 2 other foreigners during our 4 day stay) Tibetan experience than entering into "Tibet" proper.
Interested?
Okay, the name of this place is… *drumroll please*…. Litang!
Read on to learn everything you need to know about Litang including where to stay, what to do, and how to get there.
Litang Travel Guide
Where to Stay in Litang
*Note* We have not received any sort of benefit/discount from the hostel we are about to recommend. Honestly, we just thought it was a great hostel with a wonderful owner.
We believe that, without a doubt, Peace Guesthouse is the best hostel in Litang. The owner, named Longlife, was just a great guy. He spoke excellent English, gave us recommendations, helped us rent a motorcycle, ordered us food, and even went with us to the bus station to help us ask about tickets.
Price: 120 RMB for a private room for 2 with a shared bathroom.
There are also dorms but I'm afraid I don't remember how much they are.
Location: If you come the same way we did from Shangri-La (as in the transportation section below), likely your shared car will drop you off right on the same street. If that's the case, just walk straight until you see the sign in the picture just below (or even show the picture to your driver if you aren't sure). It'll be just past the Potala Inn.
If you get dropped off at the bus station (which is just a few blocks away), exit the station and take a left onto the main street. Then, cross the avenue and take your first right. It'll be about 100 meters down the road on the left, just past the Potala Inn. Here's some photos so you can identify it: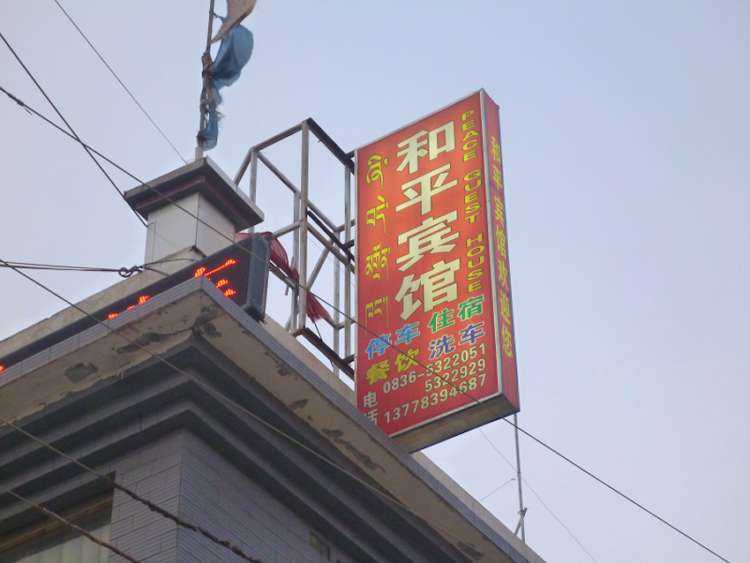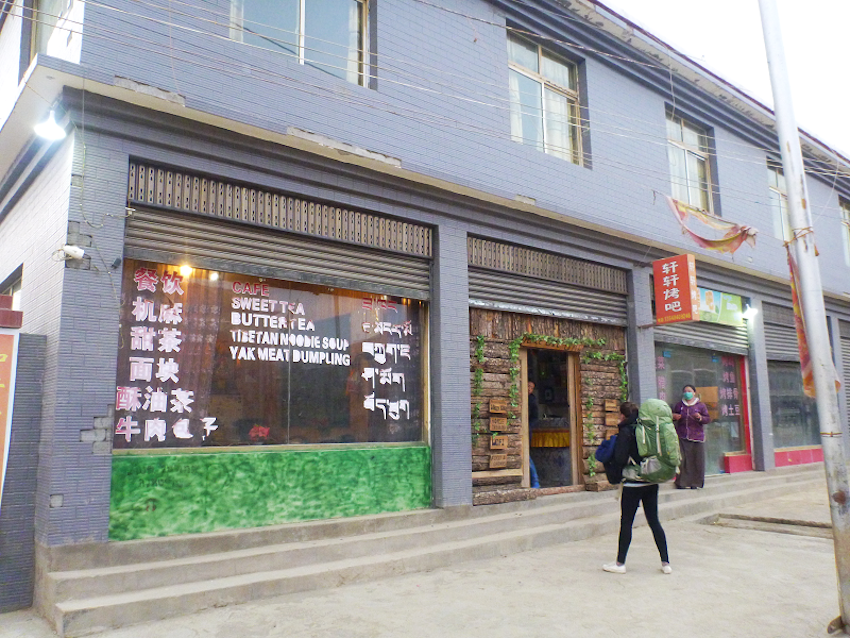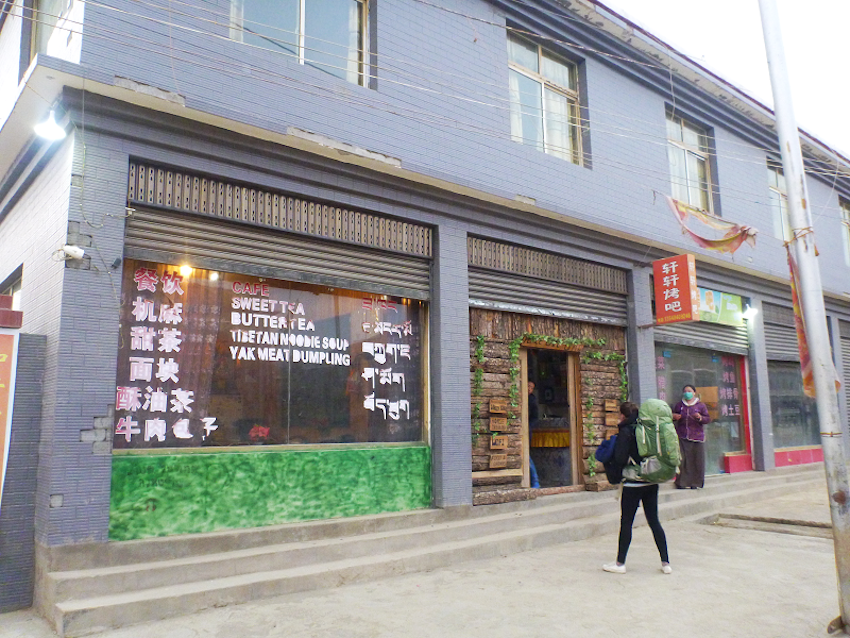 How to book: As far as I know, you're not going to find this guesthouse on any of the usual booking websites. You can try contacting Longlife either via this phone number or Skype here, or you can just show up the way we did. The hostel has quite a few rooms so I don't think you'll find it all booked out.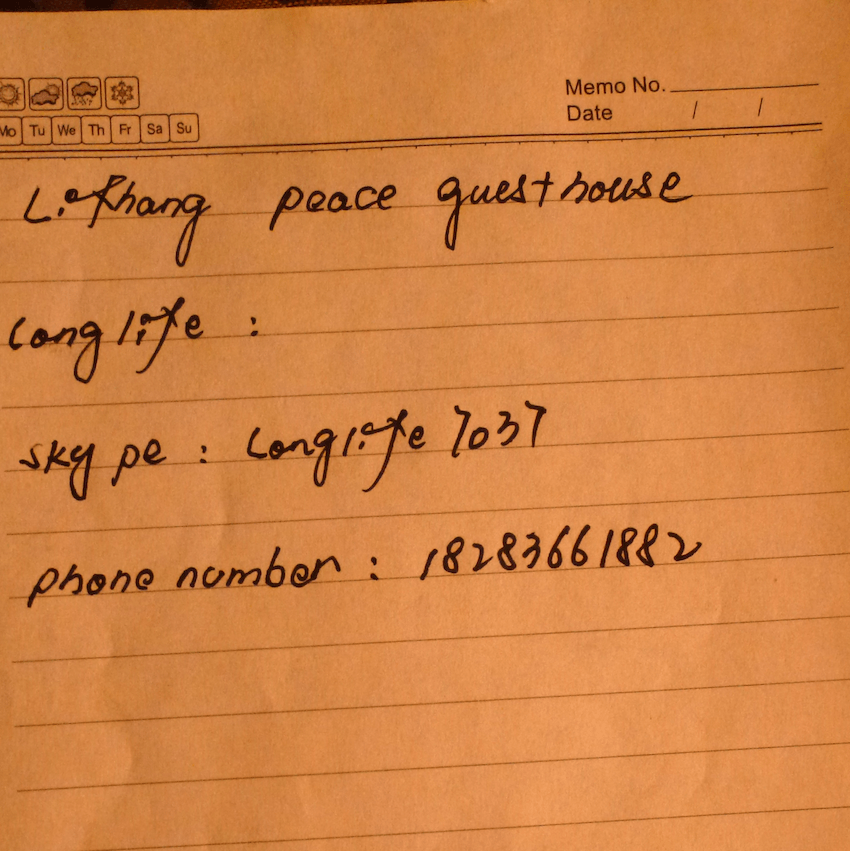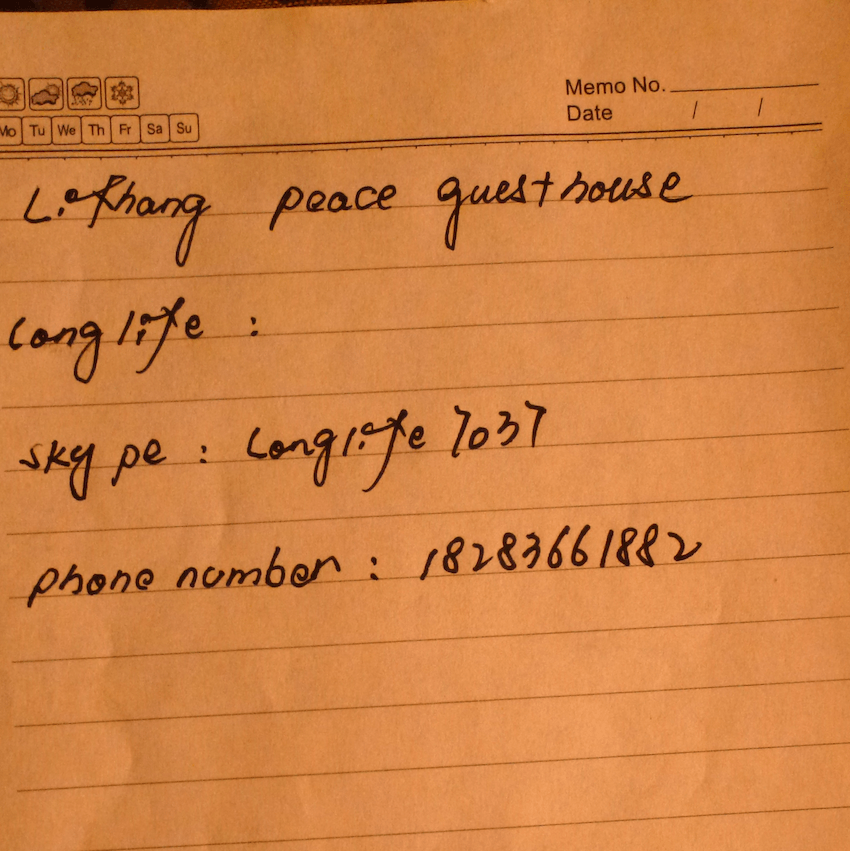 Other amenities: decent WiFi, restaurant (although it often wasn't open…. you can always ask Longlife to order you some food), help with arranging motorcycle rental/tours/bus tickets, hot showers, etc…

What to see and do in Litang
Litang is quite small so, honestly, it probably won't occupy you more than a few days (I think we stayed 3 or 4 nights?). We still thought it was absolutely worth the effort to get here, though. If you want some ideas, here are the things we did while we were there:
Visit Litang's Ganden Thubchen Choekhorling Monastery (pictured in the first photo of the article).
This monastery, a calm place nestled in the hills to the north of the city, is steeped in history; it was founded by the 3rd Dalai lama in 1580 and was bombed by the People's Liberation Army in 1956. It's definitely worth a visit for the views of the city and to meet some of its friendly resident monks.
The entrance wasn't obvious to us, but we were able to get in by gesturing to a monk just outside the monastery walls that we wanted to enter.
Rent a motorcycle and visit the Holy Mountain.
A short ride from Litang, you'll find a mountain, considered to be sacred by those of the Buddhist faith, wrapped in brightly-colored prayer flags.
We rented a motorcycle from our hostel and got directions to the mountain from Longlife. Remember to cover up… it tends to be very windy!
PS: If you're going to be renting a motorcycle, please don't forget your TRAVEL INSURANCE. Seriously, don't forget it. Read more in our article about the 3 best and cheapest options for travel insurance.
Hike up to the Tibetan Sky Burial Grounds.
Sky Burials are a funerary rite that involve a return of the deceased back to the earth. This is done via a methodical dismembering of the body and a subsequent offering of the corpse to the elements and the birds of prey circling above.
This practice does occur in Litang but, if you do witness it, be respectful and remember that this is NOT a tourist attraction for you to gawk and take selfies at.
A short trek from the center of town will bring you to the burial grounds (marked by large prayer flags).
Wander through the downtown area/pedestrian street.
Take note of the various shops and the mixture of Chinese and Tibetan culture.
Try a run through the nearby grasslands to see if you can handle the altitude.
Actually, this might be a really bad idea because we tried it and running at 4,000 + meters is actually quite painful!
Watch the Litang Horse Racing Festival (if you're there in August).
I know that this was cancelled for a few years after the 2008 Tibet riots, but as far as I know, it's back on. We were there in April (so we obviously haven't gone), but if you can make it there, it seems to be a pretty cool event.
Hire a local guide to learn more about the history.
Longlife's friend, Sky, can help you learn more about the area. Unfortunately, he wasn't available to show us around, but we did get a chance to meet him on one of our last nights. He seemed very friendly and had great English. To see more about his tours and try contacting him, you can see the paper below.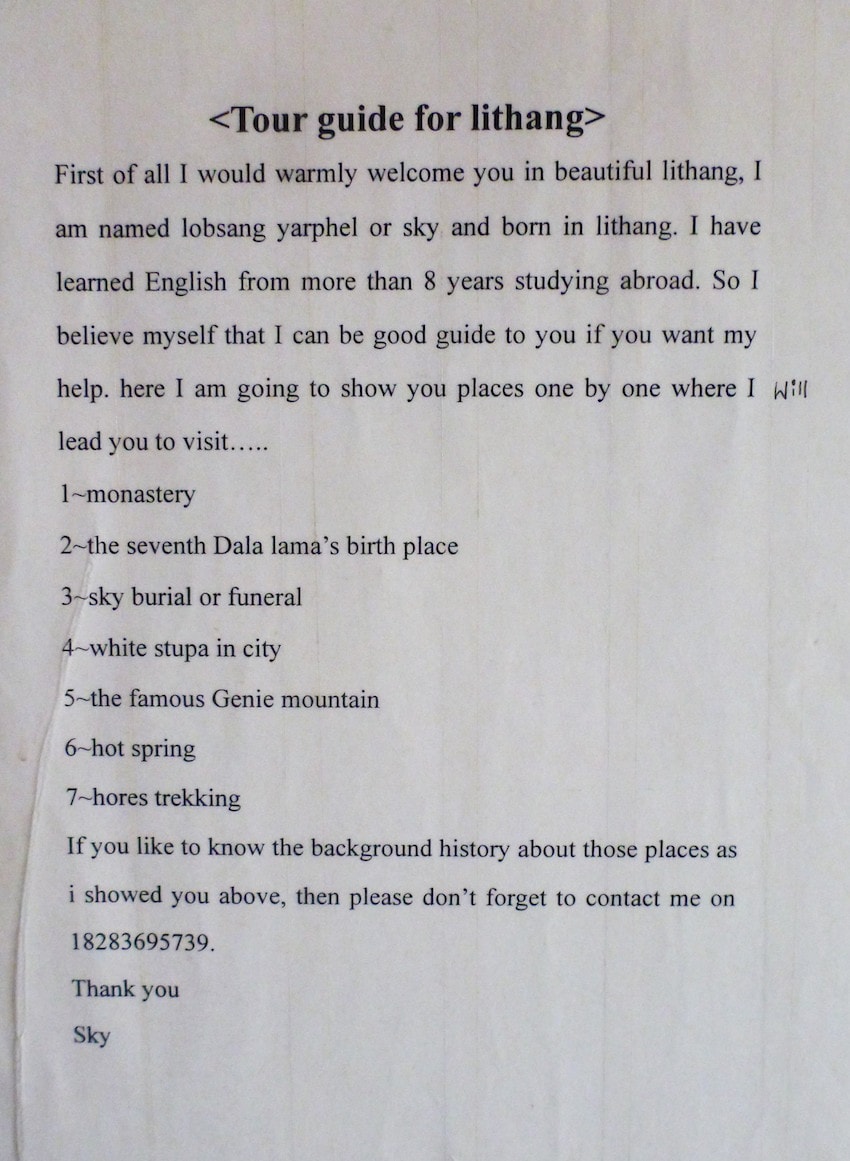 How to get to Litang
If you look on a map, you'll see that Litang is, well, quite far from everything. This does mean that it can be a bit time consuming to get there. But in this case, the transportation is just one part of the adventure!
Just be warned: no matter which direction you are coming from, you can expect several things…
**incredibly windy mountain roads (as in there are buckets in the aisles of the bus for those who get sick…. so please, bring something for motion sickness if you need it!)**
**long travel times with no bathroom breaks (or bathroom breaks that just involved peeing along the side of the road… which is much more challenging for a girl than a guy!)**
**minimal stops for food (so bring snacks… if the mountain roads don't make you lose your appetite)**
If coming from the south, you'll get the additional joy of hours spent on unpaved roads complete with sheer cliff drops and no railing to stop you from falling over…. at least you'll get some awesome views!
How to get to Litang from the south (Shangri-La) / How to get to Shangri-La from Litang
This route is a bit of a complicated process but it can be done in a day if you are short on time.
Read our article about How to Get from Shangri-La to Litang in 1 Day for all the details.
How to get to Litang from the north (Chengdu) / How to get to Chengdu from Litang
Fortunately, this was very easy! We weren't able to find this information beforehand (every website told us we would have change buses in Kangding or another city), but our hostel owner (Longlife) went with us to the bus station in Litang and found out that there was actually a direct bus between the two cities.
The direct bus from Chengdu to Litang
Time of departure: 8:00 AM (but can be earlier)
Duration: 14+ hours
Price: 85 RMB
Where: The bus station at the eastern end of town, near the crossroads of the Kangding and Xiangcheng bound roads
Chinese characters to help you buy your ticket: Litang – 高城镇
*We did not take this bus personally as we actually went to Chengdu from Litang. If a reader has completed this route the opposite direction, please let us know if our time and price are accurate.*
The direct bus from Litang to Chendgu
Time of departure: 8:00 AM
Duration: 14+ hours
Price: 85 RMB
Where: Litang bus station (if you are staying in Peace Guesthouse, just do the reverse of the directions I gave to arrive up above)
Chinese characters to help you buy your ticket: Chengdu – 成都
Some extra tips about visiting Litang
Greet people in Tibetan! Of course, use your best judgment (as there are some Han Chinese that live there as well), but as a whole you'll be better received if you give them a "tashi-delek" (Tibetan for "hello") as opposed to a "ni-hao" (Mandarin for "hello").

Remember that politically this is a very sensitive area and tensions run high. Likely, you will see a heavy police and military presence around the city (side note: these officers are definitely Chinese. So, if you so choose to greet them, ignore the above tip). Just be aware of this and take care when discussing these types of topics with locals. Longlife and his friends will probably be willing to discuss these sort of things with you if you are curious which hopefully you are…. after all, that's what travel is all about!

Along the lines of the above tip, if you plan on visiting Litang, it's better if you don't mention this on your visa application or to immigration officials. As the Chinese and the Tibetans have a complicated relationship, Chinese officials tend not to be thrilled to hear foreigners taking an interest in this area.

Be prepared for the cold. The city is very high and can be very windy, so make sure to bring lots of layers.

Be prepared for lots of dust.

Be prepared to eat lots of yak meat (yak dumplings, yak soup, etc.). It's better than you'd expect!
Some Final Pictures
So, what do you think? Are in interested in visiting Tibet without the permit? Have you visited Litang yourself? Ask us your questions and give us your thoughts below.
*This article was written by the website's contributing editor and author, Nikki Elliott. Nikki is an American who has several big backpacking trips under her belt and is currently teaching English in South Korea. If you wish to contact her about her article, please comment below.
See below some articles that may be of interest to you:
25 Things to Know Before Visiting China
How We Planned Our Super Budget 3 Month Trip Around Asia and Micronesia
7 Life Lessons I Learned While Teaching in China
How to Get from Beijing to Ulaanbaatar for Less than 45 USD – 2021
Planning your next trip?

Then don't forget travel insurance! You don't want to get stuck paying a ton of money and ruining your trip if you get sick or have an accident without travel insurance. WorldNomads is ideal for adventurous travelers, backpackers, or anyone looking to be protected during their trip. They cover almost every single activity you can image!

Already reserved your hotel or hostel? If not, we recommend Booking.com. They have a huge selection of hotels and hostels all over the world. Plus, in most cases, you can cancel your reservation without any costs up to a few days before the check-in date!

Still haven't booked your plane ticket and want to save big? Take a look at Momondo. It's a flight aggregator that combines several other ticket search websites to make it easier for you to compare prices and make sure you are getting the best deal.

And finally, will you need to rent a car during your trip? Then check out Rentalcar.com to search and compare car rental companies from all over the world in a single website. Then, you can find the cheapest price for the best car!
If you want to hear about new articles, check out our latest pictures, and read our newest updates, be sure to follow us here….
…..and subscribe to our newsletter below!