Last Updated on by Editor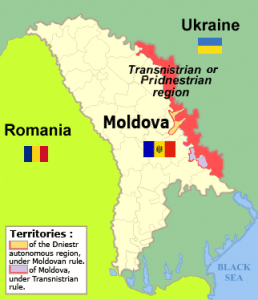 Transnistria (also known as Transdniestria or Trans-Dniester). Although it is independent, has its own currency, army, public institutions and even passports, much of the world has no idea it exists. It is a self-declared country, a breakaway state from Moldova that is not recognized by any other country in the world. According to the UN, Transnistria is an integral part of Moldova and is recognized by other countries as such. To understand how Transnistria came to be, we should go back in time to the period of the Soviet Union.
History
From the end of the Second World War to the beginning of the 90's, Moldova was part of the Soviet Empire. With the collapse of the Soviet Union in the early 90s, Moldova then became an independent country. Despite this, a great conflict remained in the new country as those to the east of the Dniestr river, the majority of whom were of Russian and Ukrainian descent, declared themselves independent from Moldova since they felt more allied to Russian interests. Because of this disagreement, there was a brief civil war in 1992. Thanks to the support of the 14th Russian Army, which was based inside Transnistria, the outcome of this war was that Transnistria would be allowed to maintain its independence from Moldova.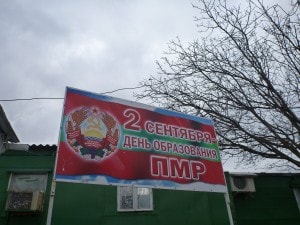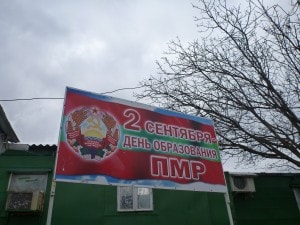 Since the end of the war and the creation of this peculiar "country", there have been rumors about all kinds of shady business within the territory like human trafficking and the commerce of organs, drugs and steroids. One of the most widely known stories (and possibly the only reason why some people have heard of Transnistria) is that of the famous arms dealer portrayed in the movie "Lord of War," Viktor Bout, who got most of his heavy weaponry from the 14th Russian Army in Transnistria. It has been stated that with the sudden collapse of the Soviet Union a lot of the control over its less sophisticated arsenal was lost or became very lax. Taking advantage of this situation, Bout allegedly used his influence as ex-Soviet Army officer to gain access to part of the Russian arsenal left in Transnistria.
It may seem weird that someone would like to visit a place like this, but since now I am a student of International Relations and an avid traveler, I thought that a trip like this would be a perfect field experience to understand a micro example of a geopolitical dispute.
Getting there
To accomplish this task I had to go to Moldova. This is probably the easiest way to enter Transnistria although it is also possible to go in through Ukraine.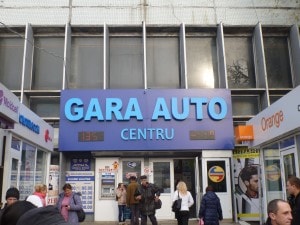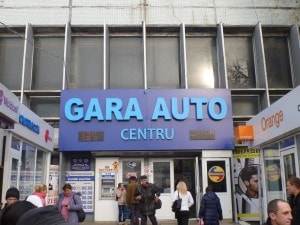 If you are staying in the capital of Moldova, Chisinau, you are probably close to Cathedral Square and the city's main avenue "Bulevardul Ștefan cel Mare." To go to Transnistria, you should go to the central bus station in Chisinau which is a 10 minutes' walk from Cathedral Square. Or you can take a local city bus which is only 2.00 Moldovan Leu (US$ 0.15)!!
When you arrive at the central bus station, just ask anyone for "Tiraspol" (this is the "capital" of Transnistria) and they will show you the correct marshrutka (kind of minivan). The ticket office is near the parked vans. I paid 36.5 Moldovan Leu (US$ 2.70) There are marshrutkas between the two capitals every 30 minutes.
The journey takes just over 1 hour with the boarding and the picking up of passengers throughout the route. Remember that you should carry the same passport you used to enter Moldova.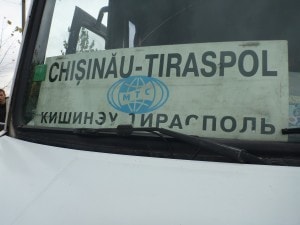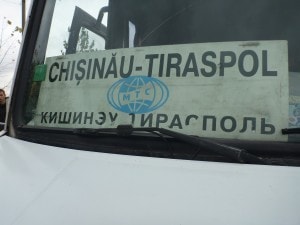 Immigration
After 40 minutes on the van you will start to get close to the "border." Since Moldova doesn't recognize this breakaway province, they also don't recognize that there is a border between them. Therefore, the last authorities on the Moldovan side are not border guards but "normal policeman.
After passing through Moldovan border control, you will see the Russian "peacekeepers" with their Kalashnikovs rifles and tanks. They wear blue berets and helmets like UN peacekeepers, but without the UN emblem. Their real status is disputed since they are not part of any UN mission. They are not under UN mandate and, according to most Western countries; they are there in violation of Moldavian sovereignty. On the other hand, Russia claims that its presence there is part of a 1992 cease-fire agreement between Moldova and Transnistria, stating that they are there to prevent a conflict between both sides. This is a wistful illusion as in the event of conflict, the barrels of the blue helmets' guns would most likely only point in one direction.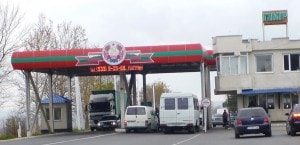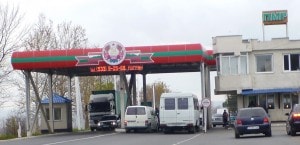 After driving past the "peacekeepers" and their tanks, you will arrive at the border control of Transnistria where everyone has to get out the van to have their documents checked. Outside, everything is controlled by the serious eyes of the police while the inside of the immigration office is chaotic with people pushing in line to get their entry papers ready. You will need to ask the officer at this second immigration office for a piece of paper to fill out with your basic information.
If you are staying less than 10 hours in Transnistria, the procedure is simple. You will have to be a little pushy to be able to deliver the paper and your passport to the agent. He will ask you how long you will stay there and then he will give back to you the other half of the paper that you filled out. Do not worry, your passport will not be stamped, only this entry paper. Do not lose this half; you will need it if someone asks your documents on the street and when you leave the "country." If you are staying more than 10 hours the processes is a little longer and once in Transnistria you will have to register yourself with the Minister of Interior.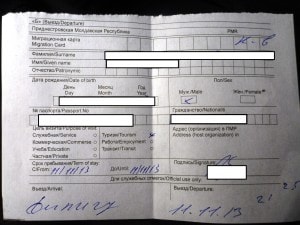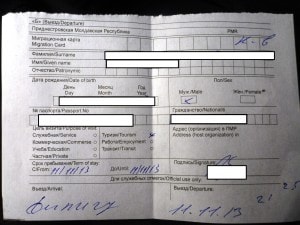 I've heard that some people have had to pay bribes to border guards of Transnistria. I personally have not seen any of that happening, but I would recommend having some small change in your pocket just in case.
Passing immigration, you will go back to your marshrutka and continue your journey. Shortly after, you will reach the main bridge crossing the Dniestr River. In 1992, this was the bridge where Russian tanks crossing into the Moldovan side could be seen during the war. Today, however, this is yet another check point manned by Russian troops.
Visiting Tiraspol
You can get off from the marshrutka any time after that, but I would advise you to stay on until the final stop at the train and "bus" station and then walk from there. This way you will know where to get the marshrutka back to Chisinau. You then have to walk around 15 minutes to reach the center and main avenue where the monuments are. To get there, an American guy I met at the hostel in Chisinau and I were asking everyone on the street about the "center." It took some time since almost no one speaks English but since I'm a very nice guy, I will prepare the route map for you.
You can get local money at any of the various ATMs or currency exchange places around the city.
Once in the center of Tiraspol, you will see the main avenue "25th October st." On one side there is the imposing statue of Lenin, who was the communist leader of the Soviet Union, with his clenched fist. On the other side, there is an old Soviet tank with the classic letters CCCP which is the Russian Cyrillic abbreviation for the USSR, on the side. Continuing down the avenue there is the memorial to victims of the 1992 conflict as well as other nationalist symbols such as flags and communist red stars. Everything seems almost deserted, without many people, stores, and less cars than you would expect for such a large avenue. You should be careful when taking pictures, especially of Lenin's statue. While I was trying to take a picture a soldier came out from the building behind it and made a clear gesture for me to stop. I found this attitude from the soldier to be quite understandable as there are no other tourists around and they are not used to people photographing monuments. Therefore, anyone taking pictures may be thought of as Moldavian spy.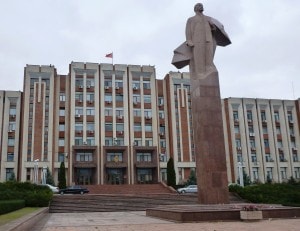 I tried to strike up some conversation with the locals on the street although most of them don't speak English. It is a little bit easier to have some interaction with the youngsters who are usually very curious to know more about foreigners. The ones I could talk to always asked me what I was doing there since they are not used to seeing outsiders. I was also told that everyone in Transnistria held dual citizenship, usually from Russia, Ukraine or Moldova since otherwise they would be a stateless person, with a passport that is not recognized around the world. Furthermore, I learned that such an unrecognized county can only survive because it has full economic and military support from Russia, which was obvious by all the Russian products and brands I saw on stores around Tiraspol.
Accommodation
I didn't sleep in Transnistria but finding accommodation there is like looking for hostels in any other part of the world. Just check out my page with the 6 best and cheapest travel websites to search and book your accommodation and you will be fine. Just remember when looking for hostels in Transnistria to put the country as Moldova and then the city you want, usually Tiraspol. Same works for Couchsurfing.
Going back home
The last marshrutka back to Chisinau leaves around 6:30 PM so make sure to return to the "bus terminal" before that. If you arrive at the last minute, you are probably going to have to stand up for the ride since the van is usually full. You can buy the return ticket on the left side of the train stations. The tickets cost about 44 Moldovan Leu (US$ 3.27) or the equivalent in local currency.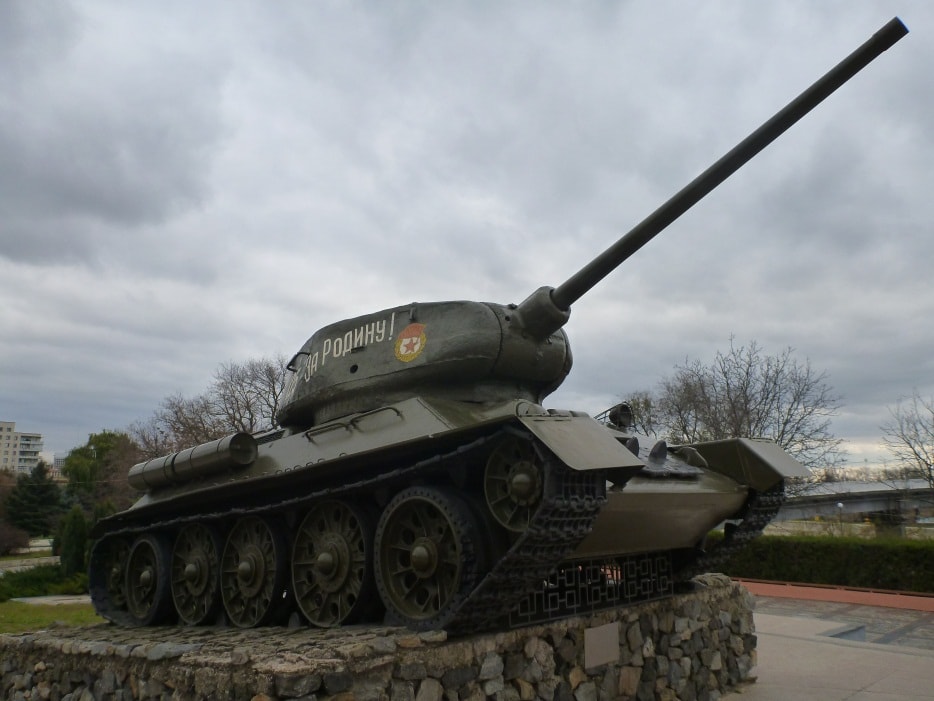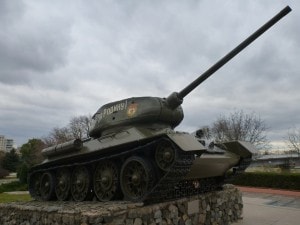 Crossing the "border" on the way back is very quick. You don't even need to disembark, they just ask for your passport and the half of that white form that you received back from your entrance.
Leaving this self-declared country at the end of the day, I wondered how long this bizarre situation would last. In November 2013, Moldova signed an association agreement with the EU which usually represents the first steps for a future full membership with the European Union. However, Transnistria has said it has no interest in the EU and prefers an association with Russia. This same led to civil unrest we are seeing in Ukraine. We can only hope the same situation doesn't happen in the "border" between Moldova and Transnistria because, unlike Ukraine, there are more weapons available and the consequences would be dire.
Transnistria tours, activities and excursions
If you are looking for activities and tours to do in Transnistria, I recommend looking at GetYourGuide and Viator. These sites have great tours at fair prices, and tours ranging from a few hours to a few days.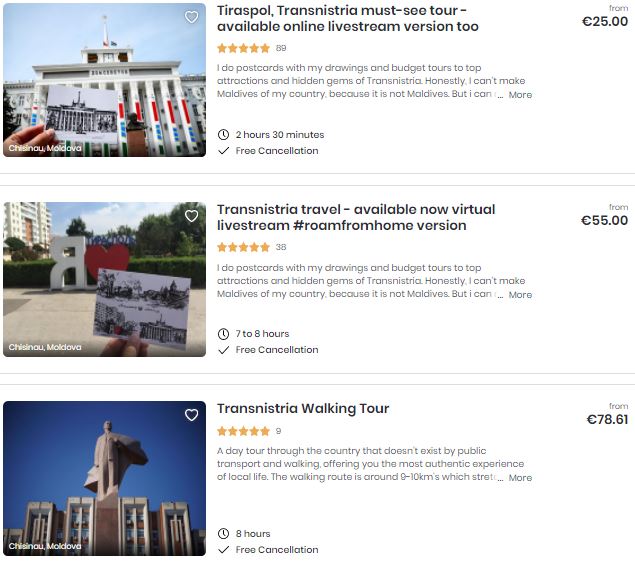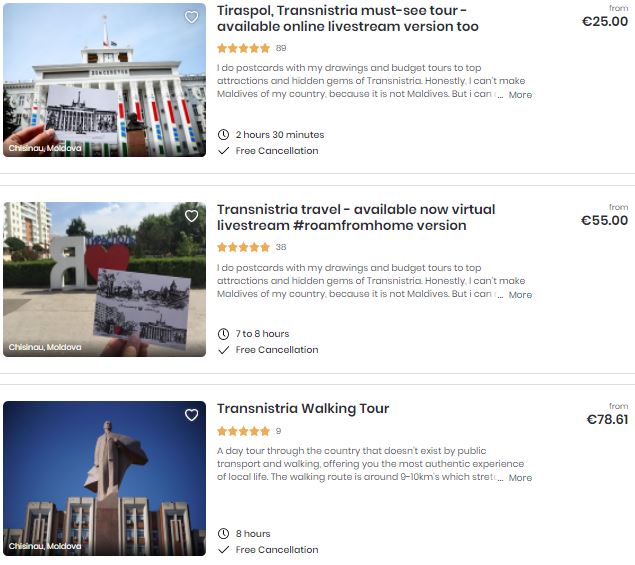 Please write to me if you have any questions about the article or Transnistria or if you would like to provide some feedback to improve it.
Happy travels!!
Planning your next trip?

Then don't forget travel insurance! You don't want to get stuck paying a ton of money and ruining your trip if you get sick or have an accident without travel insurance. WorldNomads is ideal for adventurous travelers, backpackers, or anyone looking to be protected during their trip. They cover almost every single activity you can image!

Already reserved your hotel or hostel? If not, we recommend Booking.com. They have a huge selection of hotels and hostels all over the world. Plus, in most cases, you can cancel your reservation without any costs up to a few days before the check-in date!

Still haven't booked your plane ticket and want to save big? Take a look at Momondo. It's a flight aggregator that combines several other ticket search websites to make it easier for you to compare prices and make sure you are getting the best deal.

And finally, will you need to rent a car during your trip? Then check out Rentalcar.com to search and compare car rental companies from all over the world in a single website. Then, you can find the cheapest price for the best car!
If you want to hear about new articles, check out our latest pictures, and read our newest updates, be sure to follow us here….
…..and subscribe to our newsletter below!