Need a break from the routine of work, studies, and staying in one place? Want to escape from the "sameness," expand your horizons, and live without borders? Then this article is for you! Here you'll learn all you need to know to work in hostels to travel and get free accommodation around the world.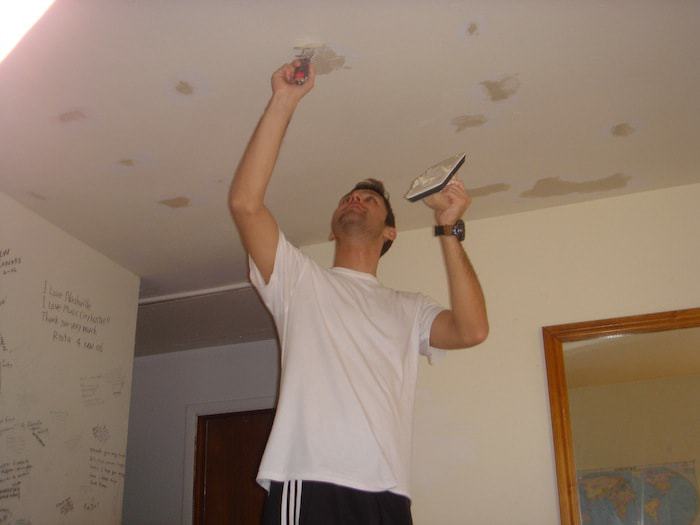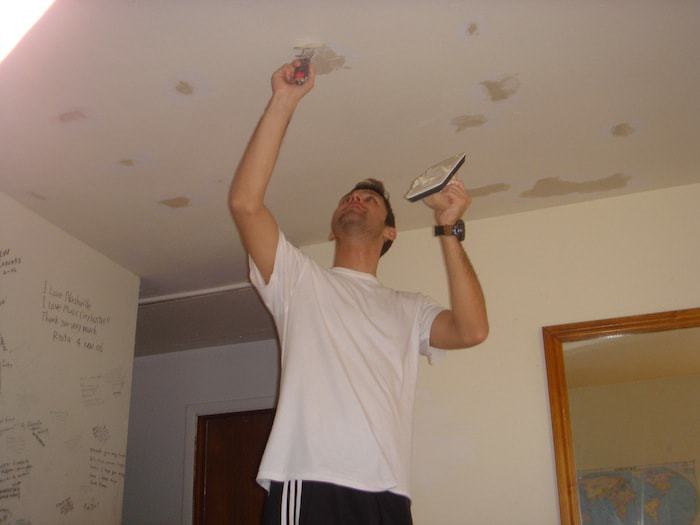 Why travel the world working in hostels?
For starters…working in a hostel generally means you get free accommodation (plus the chance to meet lots of great people!) as you travel.
But there's a bit more to it.
Because each year, more and more people are suffering from burnout. Many have an exhausting routine of excessive hours at work, taking care of the house, paying bills, commuting…
We've been taught to follow this lifestyle, which is judged by many to be the "correct" or perhaps the "only" way to live. But with such a big world out there…is this truly the only way?
The answer is…most certainly not! Alongside the increased dissatisfaction that many people feel with their daily lives is the increase of new possibilities for work, travel, and lifestyle.
One possibility that has grown a lot over the past years is to live traveling around the world by working and volunteering in hostels.
There are a number of platforms out there that let you exchange your work for free accommodation…but I'll talk more about this later in the article.
It's also possible to get this type of arrangement outside of a platform simply by asking at a hostel, though it's a bit riskier to do it this way. But it can still work out!
This is exactly what I did to get a job working at a hostel in the United States. I was passing through the city of Nashville, decided I liked it and wanted to stay awhile, then asked if they needed any help…and it worked out! 🙂
Of course, it can be a challenge for some people to "let go" of all they have back home (car, furniture, house, etc.) for this type of lifestyle…but not having all those "things" can also be very freeing!
Can I travel and work in hostels in my home country?
Basically, this will work in any country in the world that accepts tourists. So if you're not sure yet if you want to extend this lifestyle overseas…you might want to start by trying it domestically!
Even if you don't travel very far yourself, you'll still surely meet people from all over the world who come to stay.
How much can I get paid to work in a hostel? Do I need a work visa to work in a hostel? How many hours do I need to work each day?
Unless you're legally allowed to work in the country you're in, what you'll do will likely be more of a "volunteer" thing than a job.
In other words, you probably won't be paid any money…but you will get free accommodation (and sometimes food).
Because of this, you probably won't be working a full 40 hours a week. After all, it's unlikely that your accommodation costs a 40-hour-per-week salary.
The actual hours you work will depend on the hostel, but it's usually a few hours a day (4 or 5 hours tends to be the standard…if it's more than this, just make sure you aren't being taken advantage of!).
What types of work will I do at a hostel? (And my personal experience working in a hostel)
Of course, the work you'll have to do depends on the hostel. But usually, it'll be some combination of reception, cleaning, and potentially serving in the bar/restaurant if the hostel has one.
Beyond free accommodation, many hostels also offer at least one meal a day for their volunteers. Very few offer any payment at all (normally these are in less popular European countries like Austria).
During my experience at the hostel in Nashville, Tennessee in the United States, I did a bit of everything. I did the hostel's daily cleaning, a bit of maintenance, and manned the reception to check in guests/backpackers. Normally, I worked 4-5 hours a day 5 days a week.
In exchange, I received free accommodation and two meals a day. I didn't receive any payment since I was just in the US on a tourist visa and didn't want to risk working illegally. However, as I said above, there are some hostels around the world that will pay you on top of giving you a free stay.
There's other types of work you can do in exchange for free accommodation, as well. For example, I once volunteered on a farm in Mongolia. In exchange for accommodation and 3 meals a day, myself and 12 other people from around the world did all kinds of typical farm work. Shepherding the cattle, herding and shearing the sheet, cleaning up animal sh*t…it was quite the experience!
And once Nikki spent a week giving free English conversation classes in a beautiful lodge in the Polish countryside. In exchange, she got free accommodation and three gourmet meals a day!
How can I find hostels to work at in Brazil and around the world?
(best online platforms for finding volunteer positions in hostels)
Interested in doing something like this, but still not sure how you can actually find hostels, guesthouses, or even hotels to work in around the world? Well, here are the 3 best platforms for finding work in exchange for accommodation!
One note: when you sign up to any one of these platforms, it's important to have a complete and up-to-date profile. This includes a photo, a description about you, what you like, your interests, your skills, languages you speak, etc.
All this is very important so a host can get to know you better and see if the work they need is something you can help with.
Once you've filled out your profile, take a look at the available positions (there's a lot of them!) and reach out to hosts through the platforms for the ones that you are interested in.
Work & Accommodation Exchange Platform #1: Worldpackers

Nobody better to explain the organization's philosophy than themselves: "Worldpackers is a community based on collaboration and honest relationships, which make the act of travel more accessible to those who seek deep cultural experiences." Incredible, isn't it?
The community was founded by two friends. Riq Lima, an economist that left his job as an investor to travel the world for 4 years with "little money and a creative mind." And Eric Faria, a certified accountant that traveled to the United States to learn English, and ended up staying for 4 years by exchanging his skills for accommodation.
Of all the platforms that connect hosts with travelers, Worldpackers is the largest and has the best structure.
On the first page, you choose the continent you're looking for. Then, you'll be directed to a page where you can put in filters like country, type of program (exchange skills/work/volunteering for accommodation in NGOs, schools or social projects/ecovillas, farms and permaculture projects), travel objectives, your skills, and how you can help.
You don't necessarily have to offer cleaning services if that's not your thing. If you work with communication or photography, for example, you could help with social media. You could also learn about or pitch in with construction, gardening, guest entertainment, giving classes, etc.
You can volunteer for weeks or months, depending on your availability. Normally, before the volunteer period ends, volunteers already begin looking for opportunities in other cities/countries they'd like to visit.
Of course, this incredible service isn't free (although it's pretty reasonable for what you get). Currently, to become a "Solo" member (in other words, you travel alone), it costs $49 USD. If you plan to travel with others, there's a shared plan for $59 USD. These fees are valid for a 18-month membership.
If you want to get a feel for the positions available, you can search without paying. You just won't be able to contact hosts until you're a paying member.
One other interesting thing about Worldpackers is Worldpackers Academy…or a virtual environment with many online courses. As they call it, "the travel school made by travelers."
In the academy, you'll find courses in categories like "traveling with Worldpackers," "planning and budgeting travel," and "make a living while traveling as a lifestyle."
You can access these courses alongside your Worldpackers membership for $99 USD.
Using discount code OUT10, you get $10 off and 3 extra months on any Wordpackers plan.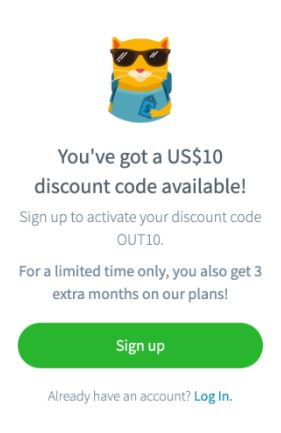 Work & Accommodation Exchange Platform #2: WorkAway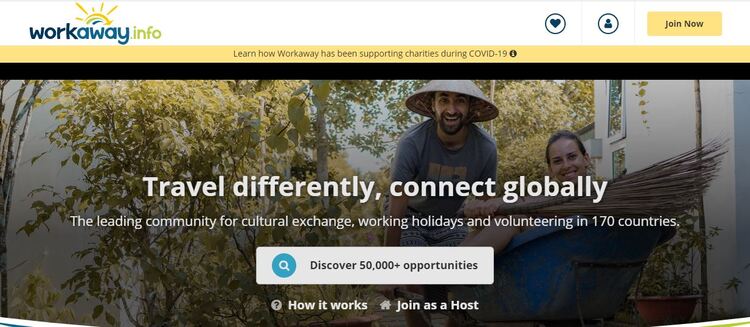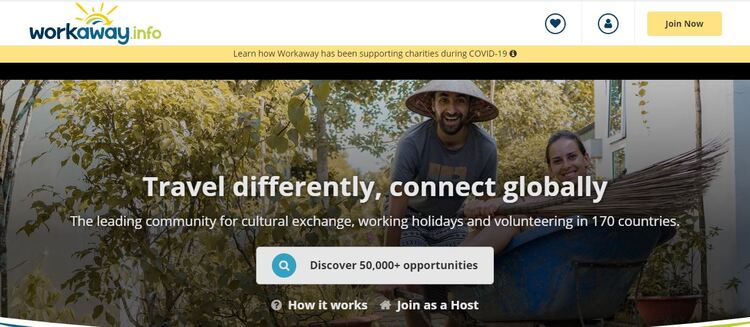 WorkAway's mission is to "create a shared community of global travelers who want to see the world while contributing to the places they visit."
And it seems that they succeed in this mission daily. On their website, they say they have never actively advertised their services. And yet, there are thousands of users there every day.
They founders first created the community after seeing travelers spend thousands of dollars to volunteer or work in another country… despite the majority of the profit going to the volunteer company and not to the local community that really needed the help.
And so, with the power of the internet, they created a platform that lets volunteers have the autonomy to choose and organize their own stay without the expensive fees.
The site is quite simple and intuitive to use like Worldpackers. You start by using the magnifying glass to search for the name of the country you'd like to go to.
Once you choose a specific host you're interested in, you'll be redirected to another page with more information about the position and the hosts themselves (including their likes, customs, habits, interests, etc.). You can also find information about what type of work you'll be doing or what you'll need to learn.
The Solo Plan costs $44 USD for a 1-year membership. A partner plan is $56 , costing less than half the Solo Plan per person.
Work & Accommodation Exchange Platform #3: Helpx


Created in 2001, this pioneer in work-volunteer platforms was created by Rob Prince, a young traveller who spent several years traveling and exchanging work for accommodation in different countries.
But at the time, there was no way to find hostels to work in online, so he was stuck asking hostels in person or looking for paper job postings.
But with the growth of the internet, Rob took an "Internet Technology" course. And with his diploma in hand, he created the website Helpx to make things easier for anyone in search of work/volunteer openings anywhere in the world.
Helpx works like the other platforms. You create a profile, search for openings that interest you, and reach out to the host.
On Helpx, you can sometimes find interesting accommodation options that you might not find on other platforms, such as sailboats.
Helpx is the cheapest of the platforms with a membership fee of just 20 Euros for for a 2-year subscription. Although the website may seem quite basic, you can find everything you need to know about your position and can find a place to stay all over the world.
Neither HostelWorld nor Booking.com are platforms where you can find work-accommodation exchanges directly…however, you CAN use them to see hostels all over the world and find ones that you might be interested in working at that aren't listed on the platforms above.
And if you find one you like? Book a stay there and then ask if they need help once you arrive…or find their contact and reach out yourself!
How do I sustain myself while traveling and working in hostels?
If you're going to be working at hostels in exchange for accommodation (and most likely not getting paid for it), you're probably wondering how you'll sustain yourself.
After all, even if you don't have to pay for accommodation…you do still need to pay for basic living expenses, food, etc.
So for you to realistically be able to leave behind everything and work in hostels overseas, it'll probably take some planning. For me, it took six months of planning and saving as much money as I could before I left.
The amount of money you need to save before you go will depend on where you're going. Naturally, if you're going to Europe, you'll need to have good savings to account for visa costs, flights, travel insurance, etc.
On the other hand, Latin America will require you to have less money saved upfront. But you still probably won't get paid, so you do need to take this into account.
Another option to sustain yourself while traveling is to seek out freelance work online like a "digital nomad".
Your volunteer work is normally just a few hours a day, leaving you time to get in some paid work if you need to as well as explore your new home.
So if your current profession allows online work, this is a good option. Another option is to look for jobs in restaurants, bars, or local clubs. Many of those who choose to work in hostels also pick up work in places like these since they tend to be touristic and thus like to vary the nationality of their employees.
What do I need to know before I leave to volunteer/work in hostels around the world?
Well, unless you're a rich businessperson that's already achieved all that they've ever wanted in life and have now decided to become a full-on nomad hippie…you probably have some doubts about leaving everything behind.
For anyone who has stayed in a hostel before, you'll know that you have neither luxury nor fancy amentities. Sharing your room with at least 4 other people will be your reality, and shared bathrooms aren't always that clean.
And you know how it feels to have your own little corner of private space? Well, you won't have that either.
It's up to you to decide if the benefits outweigh the negatives (in my case, yes. But for someone like Nikki who is an introvert and really needs her own space and alone time, this would be harder and she couldn't do it for months without a private room!

)
And above all us, you'll need to be friendly, have an open mind, and respectful. Because when you work in hostels around the world, you'll meet people from all types of cultures with all types of values. So it's important that even though you're a volunteer…you still need to give your work your all because the host is counting on you!
One final tip: the most you save, the longer you can extend your adventure…
And now, one last (very important) detail that may be difficult for some, but not for others. When you choose this lifestyle of working in hostels overseas with nothing but a backpack and no guarantee of a monthly salary, you'll need to save some money.
So even if you want to go out for that weekend dinner, to that club, or out for drinks…keep in mind that every single cent needs to be carefully considered. Because the more money you have saved before your trip, the longer you'll be able to travel.
And that's it!
Do you feel ready to take on the world and work in hostels around the world? And join in on the challenge of living a simpler life…but one filled with experiences and culture?
Let me know in the comments area below which country you plan to go to first! If I've already been there, I'll give you some tips! 🙂
(And of course, feel free to comment if you have any other questions about working or hostels or living abroad in general!).
Planning your next trip?

Then don't forget travel insurance! You don't want to get stuck paying a ton of money and ruining your trip if you get sick or have an accident without travel insurance. WorldNomads is ideal for adventurous travelers, backpackers, or anyone looking to be protected during their trip. They cover almost every single activity you can image!

Already reserved your hotel or hostel? If not, we recommend Booking.com. They have a huge selection of hotels and hostels all over the world. Plus, in most cases, you can cancel your reservation without any costs up to a few days before the check-in date!

Still haven't booked your plane ticket and want to save big? Take a look at Momondo. It's a flight aggregator that combines several other ticket search websites to make it easier for you to compare prices and make sure you are getting the best deal.

And finally, will you need to rent a car during your trip? Then check out Rentalcar.com to search and compare car rental companies from all over the world in a single website. Then, you can find the cheapest price for the best car!
If you want to hear about new articles, check out our latest pictures, and read our newest updates, be sure to follow us here….
…..and subscribe to our newsletter below!