Last Updated on by Talita
Think itinerary planning for your trips is hard? Then let us show you how we do it! In this article, we'll give the step-by-step details of how we planned our 3 month trip around Asia and Micronesia. We'll reveal how we found our crazy flights, very cheap accommodation, the safest travel insurance, and what to do in every location visited.
Before we get started, I want to talk about the two reasons I'm writing this article today:
A.

To show people step-by-step how we planned our 3 month trip around Asia and Micronesia in a cheap way without sacrificing activities, discussing how we chose the itinerary, flights, accommodation, travel insurance, activities, and all of the items that you can find on my main page The Art of Backpacking. I will explain point by point how we will spend 3 months traveling in Palau, Guam, China, and Mongolia for a much lower cost than most people would imagine.
B.

To respond to the growing number of people who have messaged me or made comments in thinking that I have a money tree growing in my backyard because that's the only way to do a trip like this. One thing I am certain about (from personal experience), is that as soon as I start posting travel photos and articles on Facebook, Instagram, or our blog, I am sure that many people will begin to say "with this economy, how could he manage to travel so much, "where did he get money to go to Palau!", "how can he possibly travel for 3 months without working" or, my personal favorite…. "oh, someone must be giving him money to travel." Well, you want to know how we do it (and no, it's not because someone is giving us money)? Just keep reading….
To begin, I'll add a map with our itinerary here so you guys can have an idea of what we'll be doing for our trip: South Korea – Palau – Guam – China –surprise destination (TBA later) – China – Mongolia – China – United States.
However, if you are looking for an itinerary in Southeast Asia, check out this great article with a 3 month Southeast Asia itinerary.
P.S.: The surprise destination was North Korea!! And we explain everything you need to know to visit it on a budget here.
How we chose which countries to go to and our itinerary
This is the most important part of all of the planning so I will break it up into different parts.
China:
Our first objective in visiting China was that we needed to go there first in order to get to a specific location. Now, to be honest, for now, this location is secret but it will be revealed after we've visited it and you can see the photos and stories. Trust me, it's worth the wait!
And since we had to go to China anyways, we figured we may as well spend some time there to explore. Thus, China became added on to our itinerary.
POST-TRIP UPDATE: Read our list of 25 Things to Know Before Going to China
Mongolia:
As Mongolia is just north of China and we knew that we couldn't spend 3 months directly in China (thanks to the visas), we decided to visit Mongolia too as it's a fascinating place with attractions such as the Gobi Desert and the nomadic tribes that live in gers.
POST-TRIP UPDATE: Find out how we got from China (Beijing) to Mongolia (Ulaanbaatar) for $45 USD
Palau:
Ok, we already knew that from South Korea (where we are at the moment) we would go to China and Mongolia. While searching for flights, I saw that the United Airlines mileage program asked 15,000 miles (which is a serious bargain) to get from South Korea to anywhere in Asia, including Micronesian islands like Guam, The Mariana Islands, and Palau.
By chance, I happened to go to a travel fair here in Korea and I had the chance to learn more about Palau and its unique Jellyfish Lake (where you can even swim). So, we decided that instead of going straight to China for 15,000 miles, we would first go to Palau for 15,000 miles and then from there to China for another 15,000 miles (30,000 miles altogether). That way, we would be able to see a little paradise (Palau) for just 15,000 miles, a trip that would normally cost more than $1,000 USD if we paid for it!
To learn more about miles and how you can get them, check here.
Guam:
Guam is a small little island in the Pacific and is an overseas territory of the United States. We decided to visit Guam basically because the opportunity presented itself. When I was looking for flights with miles for United Airlines between Palau and China, there were several options. Between them, there was one that had a 12-hour connection in Guam! And as Guam is relatively small, we decided that we could just rent and car and explore most of the island during the time of our connection. Perfect! Visiting a new place without any extra flight cost.
To know more about our trip to Guam, read our article 12 Hours/1 Day Itinerary in Guam!
Okay, so the total flight will have 2 additional connections and take more than 41 hours…. most people would run away from a flight like that, but since we like flying and airports, it's all part of the fun!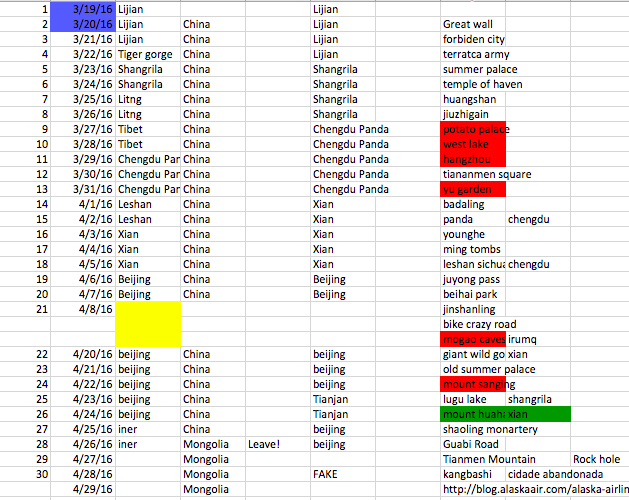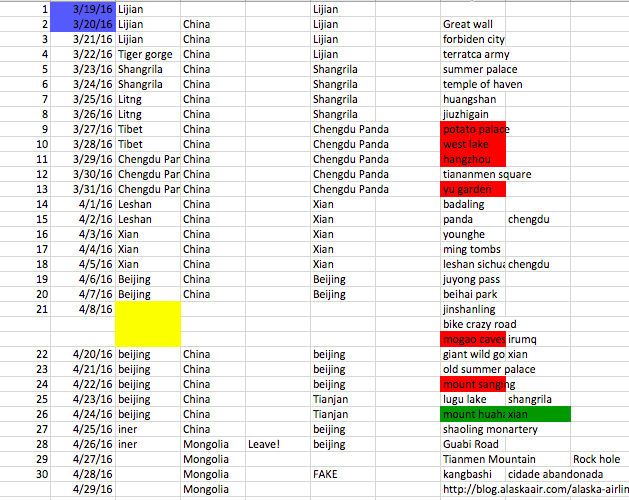 How we saved on buying plane tickets
Over the course of the three months, we'll have three flights. One from Seoul to Palau, one from Palau to China (with a stopover in Guam), and one from China taking us back to the US. Since we already talked about the first flight to Palau above, I'll just say a bit about the second two here.
Getting to China:
Well, I already talked about the 15,000 miles…. but the interesting thing is that this number of miles is the same if you are going to Beijing (boring) or another more distant place in China. So, in order to maximize the use of our miles and since we wanted to explore as much of China as possible, we tried to see where we could fly with those miles.
First, we wanted to go to Lhasa in Tibet. But since it's a "disputed" territory, the Chinese government won't let you visit it without being a part of an organized excursion. And since those excursions are expensive and burdensome on our pride, we looked for an alternative.
If we couldn't go to Tibet, we'd try to arrive as close to the region as we legally could. From there came the idea to fly into Lijiang, the entrance to the Yunnan region which is the territory that inspired James Milton's "Lost Horizon" and the mystical city of Shangri-La…. a place that actually exists and we plan to visit! While this city is not located in the part of Tibet controlled by the Chinese government, it is still full of Tibetan people and Tibetan culture. From there, we'll cross overland bit by bit exploring until we reach Beijing.
POST-TRIP UPDATE: We found an awesome way to visit Tibet without a tour or a permit. Read more in our article How to Visit Tibet Without the Chinese Permit.
Leaving back to the United States:
Our first idea was to go overland from China to Mongolia and from Mongolia fly with Delta Airlines miles (the only company where we still have miles to spend) back to the United States, thus ending our trip. However, when searching with Delta it seemed there weren't any available flights for miles between Mongolia and The United States. At first, came the frustration. Damn, we'll have to return to Beijing to get back to The United States (and we don't usually like to backtrack). But after taking at a look at a map of Asia and thinking for about 10 minutes, a lightbulb went on: are there flights for miles from the Northeast of China (the mostly Muslim province of Xinjiang) back to the US? And there they were, leaving from a city called Urumqi!
Even better, the flight this way would be nicer than the one leaving from Beijing! Instead of doing a unexciting flight with Delta from Beijing straight to the US, we were going to fly with Korean Air (one of Delta's partners) from Urumqi, China to Seoul, South Korea where we'd have a long connection (during which we plan to do a free tour of Seoul offered by the government) and then return to the USA in the new 747-800 by Korean Air! There is nothing better than this (sorry, I like planes).
To arrive in Urumqi, we'll enter Mongolia in the East and across the country until West where we'll cross the border into China (which is basically in the middle of nowhere).
So, basically we didn't spend a dime (besides the taxes) on our flights to get from South Korea (just 15,000 miles per person), from Palau to China with a long layover in Guam (just 15,000 miles per person), and from the Northwest of China to the United States (35,000 miles per person)! Respect your miles, they can be worth a LOT of money.
In case you don't have miles and would like to read about 17 tips to save on flights, take a look here: https://outofyourcomfortzone.net/how-to-find-cheap-flights/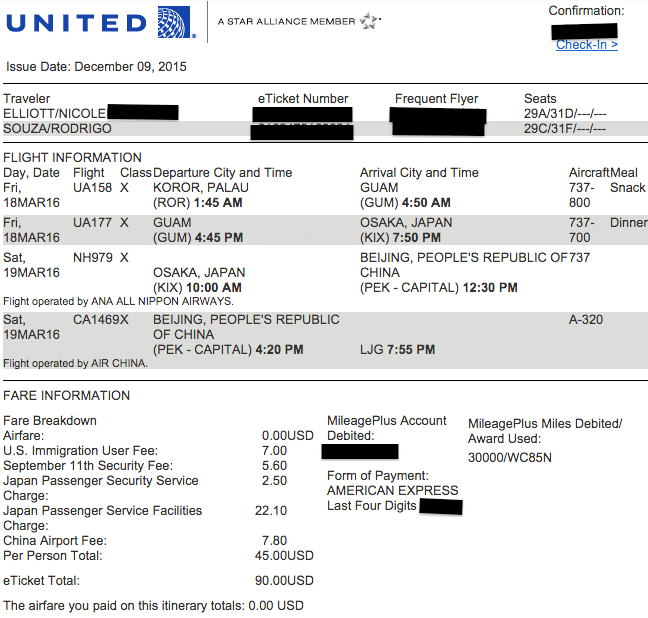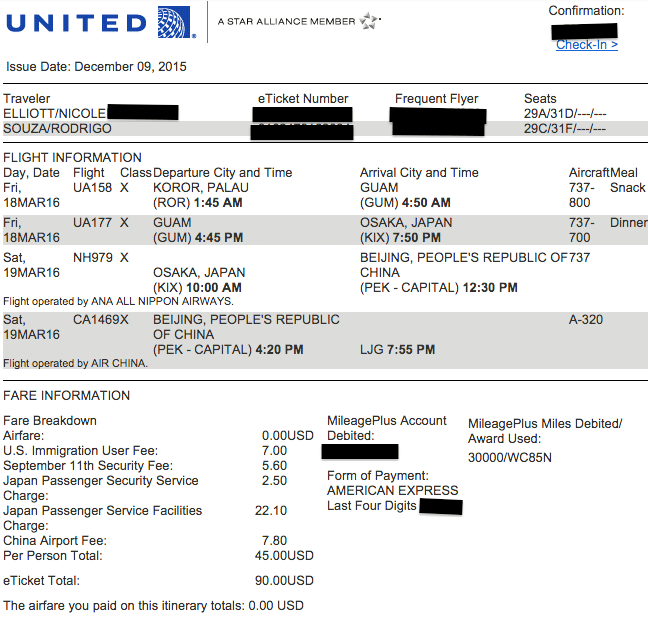 How we plan to save on accommodation
This is very easy in China and Mongolia and we haven't had to do much planning ahead for those two places. There are lots of cheap options for accommodation that you can find through Booking.com or Hostelworld. To have an idea, we've found dorms in Lijiang for US $3.00!!! Yes, that's really 3 American dollars per night!!! And as it's important for us to spend more on activities and not accommodation where we'll only stay a short time, these prices sound wonderful!
Now, our problem was Palau! Since it's a small island in the middle of the Pacific and is a little paradise full of rich tourists, we knew that things wouldn't be so cheap. To have an idea, all visitors have to pay a $50.00 fee just to arrive at the airport and the government permit needed to visit Jellyfish Lake is $100.00. And that's not even counting the cost of the excursion you need to get there or the boats to other islands.
Besides this, finding cheap accommodation was tough! At least there's very few options. The cheapest (and only) hostel on the island is $35.00 per person! And as we were to have the costs above, we wanted to save as much as we could. So, our savior was Airbnb!

We found some "rooms" for two that cost around $25.00 on the main island and $18.00 on the other islands. That's less than half the price! Okay, well, I do have to admit that the quality of these lodgings are pushing our limits a little bit, but it's a sacrifice for a short period of time that'll allow us to take advantage of the real highlights of Palau: what's under the water!

POST-TRIP UPDATE: See how else we managed to save money during our trip to Palau in our Palau Budget Travel Guide
On top of this, I also had a $20.00 free credit to use from Airbnb. If you'd like this credit as well, just use this link.
To read a bit more about Booking.com, Hostelworld, and 4 other websites to search find and book your accommodation, take a look at my page with the best website to book your travel accommodation.
How we prepared our bags and backpacks
Well, we basically did what we always do. Since we'll be traveling for 3 months, each one of us will bring a big backpack to carry on our backs and a small backpack on our fronts with our more valuable belongings and to use when we are out and about each day.
The difficult thing about this trip is that we will be going from the beach to cold mountains so we'll have to bring clothing for various temperatures. And since it'll be 3 months, we'll have to economize on the number of jackets and pants (the big items) and instead increase the number of t-shirts, socks, and underwear.
Besides this, we plan to do a lot of hiking and activities, so we'll need at least two pairs of shoes.
To know more about how to prepare your bags or backpacks, item by item, this page has all of the details.
One more detail. It's impressive how the number of electronics and cords increase with each new trip I do!
How we plan to deal with money during our trip
Since Palau and Guam use American dollars, we'll first change our currency here in Korea because the exchange rates are pretty good. Whatever we have leftover, we'll just use in the United States. We will also exchange some Korean won for Chinese Yuan in Korea so that way we'll land with cash in hand. And with the dollars that we have, we'll change them bit by bit in China so we won't end the trip with too much money left over foreign currency.
In Mongolia, we will try to change some of our dollars for Tugrik (Mongolia's currency) while we are in China beforehand so we don't arrive with empty hands. But once in Mongolia, we will also use a debit card to withdraw local currency.
And to finish, in all of the countries that we are going to, we will try to use Nikki's credit cards whenever we can (I promise I'll pay her back!). This is not only because her cards don't charge international fees, but also because she'll earn miles with every use. So using them is usually much better, more practical, and economical than always exchanging money. Sorry, but I'm afraid all the good credit cards can only be had if you are American. If you aren't American but want to drool over these credit cards or if you are American and are interested in learning more, here's an article Nikki wrote about them here.
And to know more about how to deal with money during your trip, take a look at my article on money and traveling explaining everything.
How we chose our travel insurance
To be specific, I didn't just need travel insurance for our 3 months in Asia. I also needed travel insurance for the 40 days that I'll spend in the United States afterward.
The problem is that the price of travel insurance will be much more expensive if you include the United States in your coverage. So, instead of buying travel insurance for 4 months and a half months that would cover me in the United States as well (which would have been very expensive!), I first bought travel insurance for the 3 months I'll be in Asia without having coverage for the United States. Then, I bought my travel insurance including the United States coverage for the 45 days afterward. This way, everything was much cheaper.
If you want to know more about the 3 best and cheapest travel insurances on the market, just read this article from beginning to end. The time that you'll spend reading this will be offset by the money you'll save when buying your travel insurance.
How we plan to save on transportation
Taking out the part of air transportation that we already mentioned above, all of the rest of our trip will be done by either sea or ground travel. In China and Mongolia, we will use local buses and trains to get around…. even on those really long distances…. so we've brought plenty of reading/blog work to pass the time.
In Guam, as mentioned, we have already rented a car making our way around the island. We've reserved our car with Priceline and we'll only be spending about $25 for the car for a day plus money for gas. It was the best option and will give us lots of flexibility.
If you want to save as well on your next car rental, take a look at one of our latest articles The 5 Best and Cheapest Websites to Compare and Rent Cars Around the World.
Once again, the difficult part was Palau. Just from the airport to the city is US$15.00 per person and there's no public transportation! So, what we will do is rent a car from the airport for US$40.00 per day. It's not Guam prices, but it is a good update from the US$30.00 we'd have to pay for the 2 of us anyway and then we'll have the car for a day to explore. We couldn't find good prices online like we could for Guam, so we had to do a little bit of extra work and contact Palau's tourism bureau to give us the contact of some car rental places on the island and then contact them directly.
The even more challenging thing was to find public transportation between to islands to avoid paying an absurd amount for private boats. After lots of internet searching without finding any information, we once again called Palau's Tourism Bureau and they emailed us a table with all of the times and days of the public boats, which cost about 10% of the private boats.
To help you guys out, I've added that table here so everyone can have access to that information.
To find out how we rented such cheap cars and how we usually save on overland transportation, take a look at this page.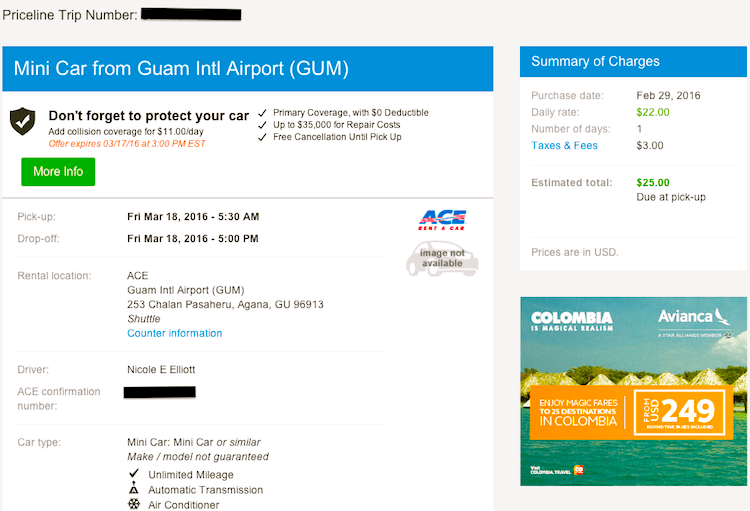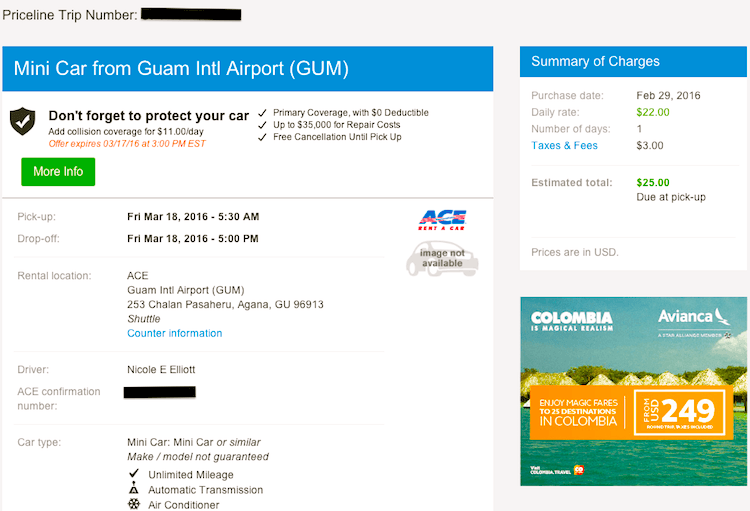 How we decided/will decide what activities we will do
This is the easiest and most enjoyable part. Just search online! We usually use guides like Lonely Planet or a free guide online like Wikitravel.
Besides this, we were also lucky that CNN did this article about one of our destinations a month before our trip. And as always, we also plan to do Free Walking Tours whenever we can.
To finish, something that we really wanted to do was spend some time seeing the nomad life in Mongolia. So we searched for opportunities on Workaway.info (WorldPackers works the same way, with the OUT10 discount coupon you get $10 off and 3 extra months on any subscription) and, hopefully, have organized to spend 2 weeks working with a family in Mongolia that lives in a ger in exchange for food and a bed.
In other words, these two weeks will give us the authentic experience we want while saving money at the same time!
To learn more about how you can be a volunteer for free around the world in exchange for food and accommodation, just take a look at item 10 on this page.
And to check out more ideas of what you can do on your trip, just take a look at this article.
How we plan to save on food and drink during our trip
In Palau, where everything is expensive, we'll try to buy food in the supermarket and cook in the kitchen of our accommodation to save. During the day, we'll carry around snacks.
In China and Mongolia, street food is so cheap that it's not even worth cooking. Also, your can't travel to China and not try the famous street food there. If you plan to go to China, check out the list of Must-Try Street Food in Hong Kong here; I am sure it will be useful.
And to my displeasure, I'll have to buy water for all three months because we won't be able to drink tap water in any of our destinations. And since I drink an absurd amount of water every day, this will hurt my wallet…..nooooooooooooooooooo!!
For more tips on how to save on food and drink during your trip, take a look at this page.
How we saved on international calls
We don't think that we'll have to make international calls on our trip. However, to organize a trip like this, we've already had to make a few calls…. even to an isolated island like Palau! To do this, the best option is to use Skype. You can read all about it here.
INTERNET IN CHINA!! Remember that while traveling in China, you can't access most of the big social media websites such as Facebook, Youtube, Twitter, Google (Gmail), etc… So if you are going to China, you will definitely need a VPN! To know more, check out our article with the 4 Best VPNs for Travelers.
How we plan to stay safe
To be honest, none of the countries that we are going to are all that dangerous. I think our biggest concern is that we have to travel with laptops to work during our trip and we'll have to find a safe place to leave them during the day. Besides that, we'll just use these basic tips and common sense.
All of this planning that we've described has taken several months! Sometimes we'd pass an entire Saturday or Sunday in front of the computer planning the itinerary or learning about the destinations besides attempting to find the best flights, accommodation, transportation, how to get visas, etc…. well, it's better than wasting time watching television!

And here's one last very important category…
How we've earned and saved the money to do this trip
Well, you've seen already that this trip is NOT as expensive as it looks. So, we really didn't have to have an excessive amount of money to go in the first place. But no matter what, there is a cost and for this, we've had to save some money.
Nikki worked like a horse here in Korea teaching English classes while I was balancing university and the blog at the same time. Besides this, we'll still have to work during our trip! She will be doing editing and translating online and I will be working on the blog (as will Nikki), kind of like digital nomads, something that is becoming a new trend (it basically just means traveling and working online at the same time!).
To save money for this trip ahead of time, while those around us were going out to eat every weekend, we were cooking ourselves. While others moved by taxi, we took public bus or bicycle (even knowing that people may have gotten annoyed by this sometimes). While others stopped to pick up Starbucks on the street, we brought our lunch in our backpacks for the day.
With these and other sacrifices, we were able to save enough to do this trip. And by doing these things, we by no means felt that we were "spoiling" our lives here in Korea. We mostly spent our time in Korea doing as we like and traveled a LOT within the country (especially because South Korea is so small

).
If you'd like some more ideas, this article gives 17 tips on how I save money to be able to travel so much!
So, there you go! Our secret isn't magic…. but just remember that no lunch is free! It's not possible to travel 3 months without saving and without sacrificing.
And if you still think only the rich (considering wealth as relative) can travel the world for 3 months? Just explore all of the links on this page and around the blog and learn how to do the same!
P.S.: Don't forget to follow us to see all of our new updates, pictures, and articles during our trip…. including the unveiling of our secret location discussed in number 1 that we will be visiting in April!
P.P.S.: This is the first time that I've shared my trip plans with friends and family BEFORE the trip. What I mean to say is, normally I just talk about the details of my trip after I've finished it and I know exactly what's happened. If you have ever traveled before, you'll know that problems can happen and our initial trip plans will invariably change. However, I hope that everything goes well with this itinerary and that we end up visiting all that we plan to. On the other hand, if it doesn't all work out and we have to change our plans…. well, it's a shame. But this is just a part of any long trip…. and we'll certainly post whatever happens here

Check out other articles that may be of interest to you:
25 Things to Know Before Visiting China
25 Interesting Things I Learned While Traveling in Mongolia
The Ultimate Guide to Budget Travel in Palau
Planning your next trip?

Then don't forget travel insurance! You don't want to get stuck paying a ton of money and ruining your trip if you get sick or have an accident without travel insurance. WorldNomads is ideal for adventurous travelers, backpackers, or anyone looking to be protected during their trip. They cover almost every single activity you can image!

Already reserved your hotel or hostel? If not, we recommend Booking.com. They have a huge selection of hotels and hostels all over the world. Plus, in most cases, you can cancel your reservation without any costs up to a few days before the check-in date!

Still haven't booked your plane ticket and want to save big? Take a look at Momondo. It's a flight aggregator that combines several other ticket search websites to make it easier for you to compare prices and make sure you are getting the best deal.
And finally, will you need to rent a car during your trip? Then check out Rentalcar.com to search and compare car rental companies from all over the world in a single website. Then, you can find the cheapest price for the best car!
If you want to hear about new articles, check out our latest pictures, and read our newest updates, be sure to follow us here….
…..and subscribe to our newsletter below!