Last Updated on by Rodrigo @ OutofYourComfortZone
As a self-employed builder or handyman, you may need to upgrade from a standard-size car or small van to a bigger, more robust van, like a Luton van. Whether you are in a position to buy or you are just looking to rent a Luton van will give you more space to enhance and grow your business. Opening up more business opportunities.
There are, of course, other options when it comes to vans, and depending on what your job is, you may find these better suited. But when looking to grow a successful business having a large van can benefit you in more ways than just the space.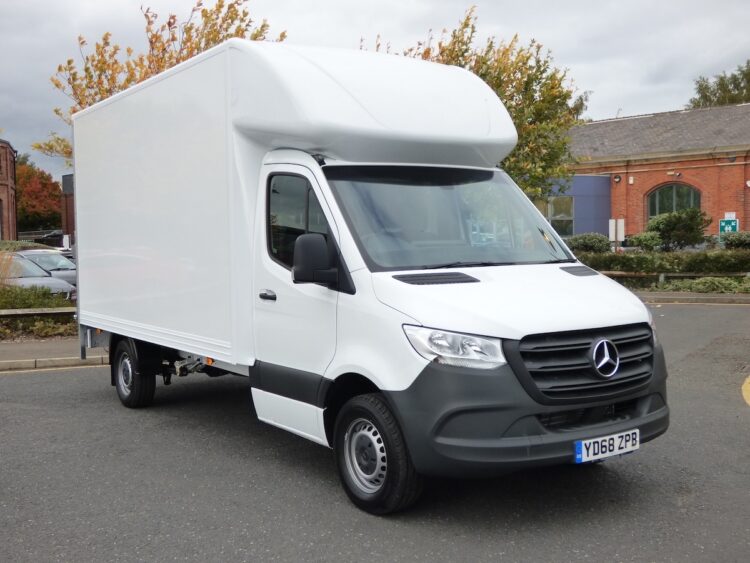 Why a Luton Van?
You may be asking yourself why you would want a Luton van, not just a transit van. Transit vans are fantastic if you are just moving around a couple of work tools and not carrying many parts for repairs.
However, if you are a painting and decorating business or looking into starting a removals service or house move service, a Luton Van will have the space to fit everything you need, and you will make fewer trips making your business more economical.
You may think that a transit van will be a good place to start, and you would save money by getting a transit and eventually upgrading when needed. Did you know it may be better financially to take the plunge and get a Luton Van before a transit?
Another fantastic bonus to a Luton Van over a transit van is that of the tail lift. A Luton van comes equipt with a tail life, allowing you to lift items without having to put a strain on your back. With a job as a full-time mover and handler, you may find that having the tail lift to help will save you from many aches and pains.
Where is best to buy?
There are several places you will find Luton Vans for sale. However, if you want to rent or buy a van of good quality and for a fair price, you want to look at Bobs Luton Vans. Not only offering vans for sale but for hire too, a fantastic range of vans for a good price, allowing you to find out if a Luton van would work for you.
When looking at the size of the Luton van, you would require it is a good idea to ask yourself how big you want to go. Do you want to offer a removals service or house move service but only for flats or small houses? Or do you want to go bigger and be able to move anyone with a 7.5-tonne van?
The options are endless when you think of the options you will have for your business and how quickly you will be able to grow. Whether it is just a small moving business or delivery business that just needs more space or you are looking into a removals company start-up.
If you go smaller with a transit van or a standard van, you may find yourself needing to pay more for an upgrade or to pay fees when leaving a lease.
Why buy?
Of course, you do not have to buy a van; you could lease or apply for a lease purchase or finance lease, giving your more opportunity to discover if this is the van for you. Buying outright will always be the cheaper way to purchase a van or car of any kind and gives you no limitations.
When we look at leasing options, you will often find over a long time, you will be capped with your mileage and potentially have a limit for insurance or damages. Whereas, when you purchase the van, you own it, so you will not have a cap on your mileage.
Of course, you can negotiate with the company you lease from. Most companies will offer a free chat or consultation about any purchase you plan to make and help you come to the best decision for yourself.
If you want to discover if a Luton van is indeed the van for you, then leasing first would be a fantastic option. Many leasing options also allow you to buy the vehicle yourself when this contract is over.
Is it worth it?
It is easy to ask yourself if it is worth it in the current economic climate to make a large purchase or start up your own business. With so much uncertainty, it can be easy to put things off until another day.
But the only question you have to ask yourself when making this decision is, do I want this? If you want to start your own business or grow your business and branch out to do more, and you decide that you want to do that. Why limit yourself?
With the economy as it is, you may find more of a need for removal services or house move services. Even if it is just removing unwanted items from someone's home and taking them to a recycling center or a new home. You will find yourself with business and the opportunity to get your name known.
Summary…
Whether you are looking for Luton vans for sale or you are looking to lease part-time, or you do not want a Luton van and just want to see what options are available for you and your business. Do not limit yourself by thinking small. Look at where you want your company to grow
Speak to the dealerships selling the vehicles and anyone involved in your business and look at how getting a bigger and better van will benefit you and everyone involved in your company.
If you are just starting up and looking at starting a simple removal company, moving furniture or unwanted items from one place to another. Buying a bigger van will allow you more space to offer your customers. Allowing you to do more work and build a bigger customer base. Do not risk turning down space by thinking too small.
Planning your next trip?

Then don't forget travel insurance! You don't want to get stuck paying a ton of money and ruining your trip if you get sick or have an accident without travel insurance. WorldNomads is ideal for adventurous travelers, backpackers, or anyone looking to be protected during their trip. They cover almost every single activity you can image! Plus, you can have a 5% discount with the coupon code comfort5.

Already reserved your hotel or hostel? If not, we recommend Booking.com. They have a huge selection of hotels and hostels all over the world. Plus, in most cases, you can cancel your reservation without any costs up to a few days before the check-in date!

Still haven't booked your plane ticket and want to save big? Take a look at Momondo. It's a flight aggregator that combines several other ticket search websites to make it easier for you to compare prices and make sure you are getting the best deal.

And finally, will you need to rent a car during your trip? Then check out Rentalcar.com to search and compare car rental companies from all over the world in a single website. Then, you can find the cheapest price for the best car!