Last Updated on by Rodrigo @ OutofYourComfortZone
Ever thought about visiting Portugal during the winter? If so…then you should go! 
Although winter is considered to be low season in Europe, a good number of tourists still come to the continent. And usually, it's the tourists who want to travel more cheaply, avoid the summer crowds, and enjoy the best of the season: snow! 
Portugal is often a common destination in the winter, both for people who live in Europe as well as those who live outside. But does Portugal have snow? Does it rain a lot in Portugal during the winter? What is there to do during the Portuguese winter? What are the best cities to visit in Portugal during the winter? 
In this article, I'll tell you everything you need to know about visiting Portugal during the winter and give you 5 great destinations to add to your itinerary. Let's get to it!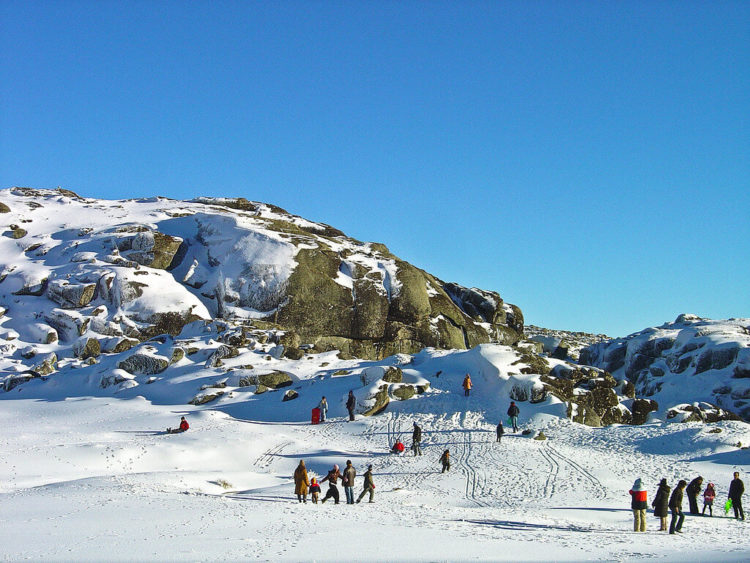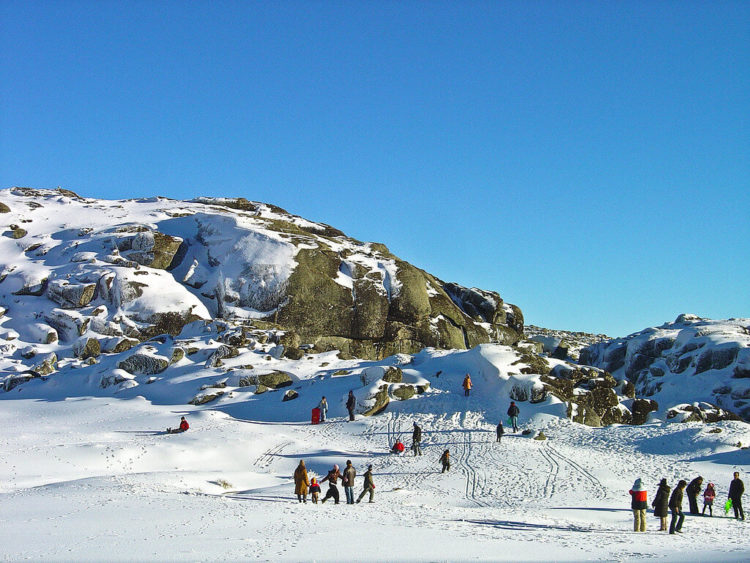 How to prepare for a winter trip to Portugal: what to know before you go 
I've included 3 points for you to know before heading out on your trip to Portugal in the winter so you know exactly what to expect! 
What is Portugal's weather like in the winter? Is Portugal warm or cold in the winter? 
Generally, Portuguese winters are very mild. In other words, it's not nearly as intense as in other countries in Europe and you can travel quite easily (and with fewer layers of clothing!). 
In Paris, for example, the average temperature in the winter is from 0ºC to 4ºC. And Berlin is worse, with an average temperature of-3ºC to 4ºC. 
But in Lisbon, the average winter temperature is a comfortable 8ºC to 12ºC. The only downside is the winter months are the rainiest.
In sum, Portugal's winter climate is marked by pleasant temperatures for Europen countries…although lots of rain. But this doesn't mean you won't also have sunny days as well! 
Does Portugal snow in the winter? Where and when can I see snow in Portugal? 
But what about snow? Does it snow in Portugal? 
Honestly, you won't find snow in the main cities in Portugal like Lisbon and Porto. However, there is a region of Portugal known for its colder climate, beautiful landscapes, and, of course, its snow! 
It's the Serra da Estrela mountain range – home to the tallest peak in continental Portugal and a major attraction in the winter! 
So, if you want to see snow in Portugal, your chances will be highest if you schedule your trip in January or February. Sometimes, Serra da Estrela turns white as early as December, but not always. 
What to do in Portugal during the winter 
If there's only one area that snows in Portugal, what else is there to do? Well luckily, snow isn't the only attraction in Portugal during the winter! Since winter in Portugal is often much cheaper, this is a great time to visit…and even avoid the uncomfortable summer heat! 
Hotels will also be less likely to sell out and have more reasonable prices. In other words, it's a perfect time to visit Portuguese classics like Lisbon or Porto. 
However, I also recommend tacking on the destinations to your itinerary below so you can make the most of your trip to spend relaxed days in typical Portuguese houses, feel the warmth of a fireplace, and taste local wine in some of the best wineries in the Douro Valley. A great destination (and season) for couples and families! 
And, of course, if you're looking for adventure, don't miss Serra da Estrela! We'll talk more about this (and other places to visit) and what to do there below. 
Portugal Winter Itinerary: 5 Destinations to Visit 
Wondering what to do in Portugal during the winter? Then here's the part you've been waiting for!  
Below, you'll find more details about 5 Portuguese winter destinations, what makes them different, what you can do, and how to get to them. 
Here is a map of where the cities are located (which you can zoom in on and click to move around):

As you'll see, they are all quite close together…so you can easily visit them all on a single trip! 
Portugal winter destination #1: Sortelha

 
I'll begin our list with the tiny town of Sortelha.
Sortelha is a historic Portuguese village located in the Sabugal municipality that is home to just 500 inhabitants. Yes, I said 500! But what makes Sortelha really stand out is its climate and medieval architecture. And although there aren't many inhabitants, the number of tourists to Sortelha has increased significantly over the years. 
Here, you'll find the beautiful Sortelha Castle, constructed in the mid 13th century, and an ancient wall that encircles the city. By walking along the wall, you'll be charmed by the town's beauty and stone houses. This village truly looks like a scene out of an old movie. 
A day trip to Sortelha is a great option. But if you'd like to stay more time, the village is also home to plenty of wonderful guesthouses and restaurants. 
How to get to Sortelha: 
If you're coming from Lisbon or Porto, the trip takes about 2 hours by car down the A1 and A28 highways. 
It's also possible to get to the city by bus. To get to Sortelha by bus, you'll first need to get a bus to Sabugal. And from there, you can catch a bus to Sortelha.  
If you happen to be in the Guarda or Castelo Branco region, the trip is quite simple and quick.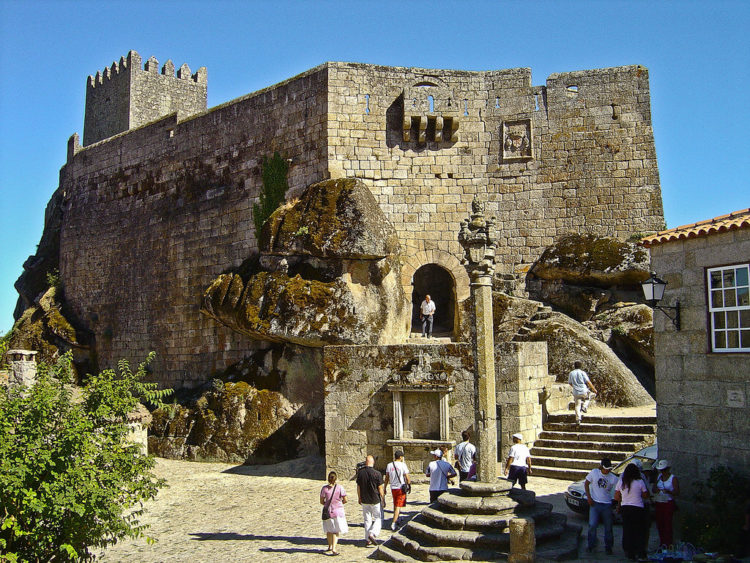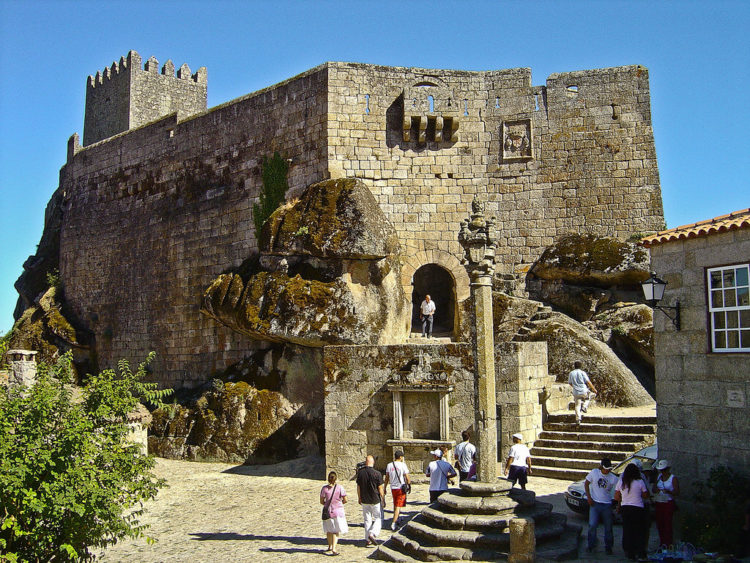 Portugal winter destination #2: Monsanto
Another historic city in Portugal is Monsanto, a cozy town located in the Idanha-A-Nova municipality. Stone houses also make up the landscape, and the town is known by their "single tile homes," where a single stone is used to create an entire roof.
The panorama of Monsanto during the winter is lovely and definitely worth a visit. It's possible to do a day trip, or you can enjoy the area's welcoming and cozy lodgings.
The main attractions in Monsanto are the castle, which was constructed in approximately 1160, the Necropolis of São Miguel, which still has well-preserved graves, and the "Praça dos Canhões" viewpoint. From here, you'll have a view of the region so breathtaking that you can almost forget about the icy wind. 
How to get to Monstanto in Portugal: 
Since Monsanto is located in the "Beira Interior" region, it's easiest to get here from Guarda and Castelo Branco. By car, this takes 1-1.5 hours. 
If you're coming from Lisbon or Porto, it's about 3 hours on the A1 and A23.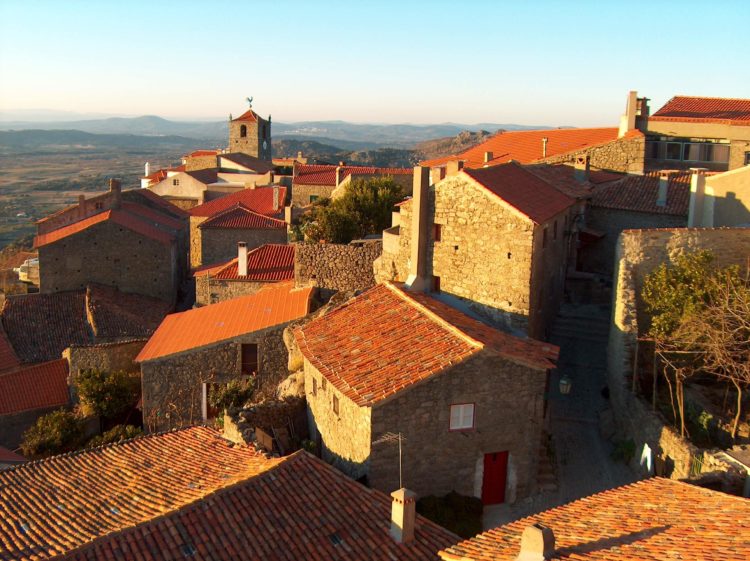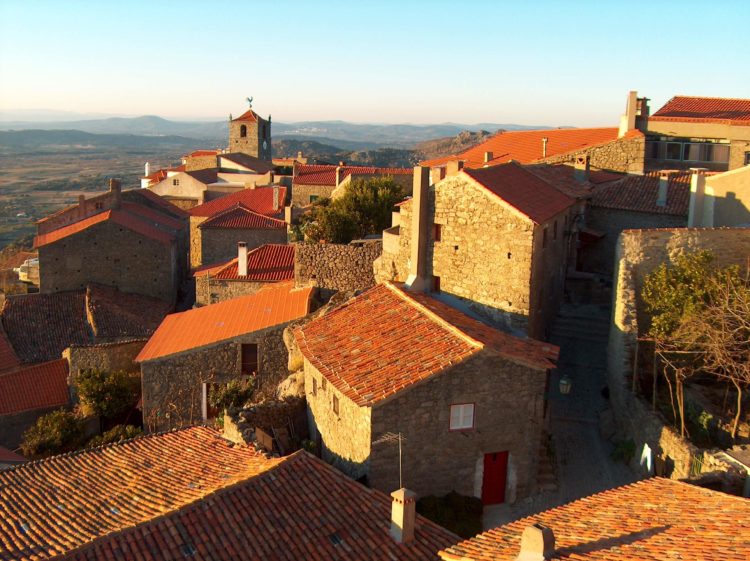 Portugal winter destination #3: Covilhã
There's a reason I put Covilhã before Serra da Estrela….the "city of snow," as it's also known, is the gate to the mountain! 
Another city located in the "Beira Interior" region in the Castelo Branco district, this is the largest city thus far on our list. 
Covilhã is famous in Portugal for its history in the textile industry and production. During the 1700s, the city was responsible for the uniforms of the Portuguese army. And at the end of the century, Covilhã became the largest wool production center in the country! 
This city is also home to many exchange students (particularly Brazilians) who come to study at UBI, Universidade da Beira Interior. During the winter, there are plenty of events – from traditional Christmas celebrations to the installation of ice rinks. 
Many tourists who come to visit Serra da Estrela National Park stay in Covilhã, thanks to the city's convenient location, food and lodging options, and reasonable prices. 
How to get to Covilhã: 
You can get to Covilhã by car, train, or bus. If you're leaving from Lisbon or Porto, it takes about 2.5-3 hours by car (taking the A1 and A23 from Lisbon and A25 from Porto). 
If you don't want to drive, buses are actually the cheapest and quickest option if leaving from Porto.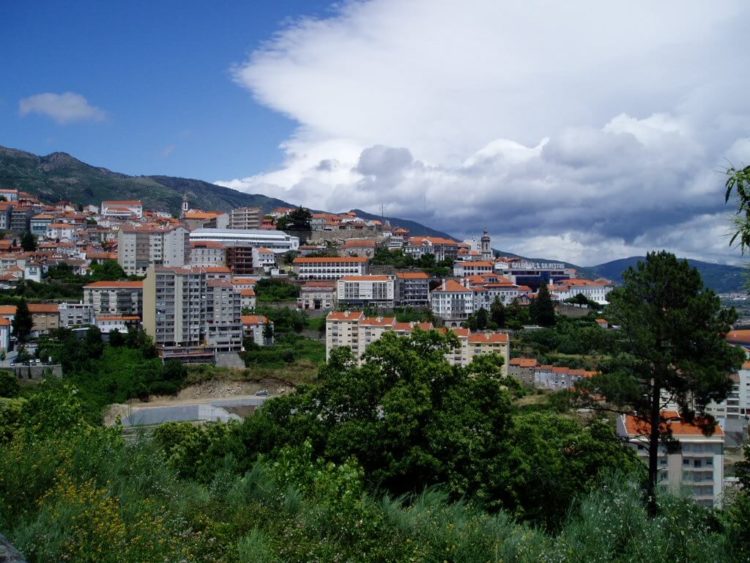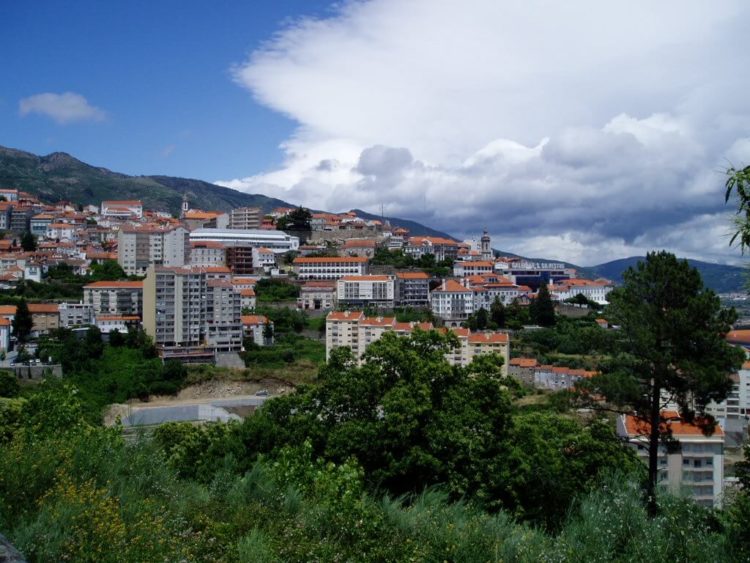 Portugal winter destination #4: Serra da Estrela 
If you want to see snow in Portugal, this is the destination for you! 
The Serra da Estrela mountain chain reaches 1993 meters in height and is the highest point in continental Portugal. During the winter, the ski resort is open to the public and is one of the area's main attractions. Serra da Estrela is quite famous as well for families to spend their new year holidays. 
The ski resort's website has more information about their service and prices. 
You can also have a ride on the gondola for 5 euros, walk and admire the natural beauties of the Serra da Estrela National Park, or hike with professional guides.  
How to get the Serra da Estrella National Park: 
Unfortunately, the only way to get to Serra da Estrella is by car. From Covilhã, it's just 30 minutes away.  
But if you don't have a car, no need to worry! 
In the surrounding regions, there are many companies that will bring you to the park, such as taxes that'll negotiate reasonable packages with tourists. Ask your hotel or guesthouse if they know of any of these services if you're interested.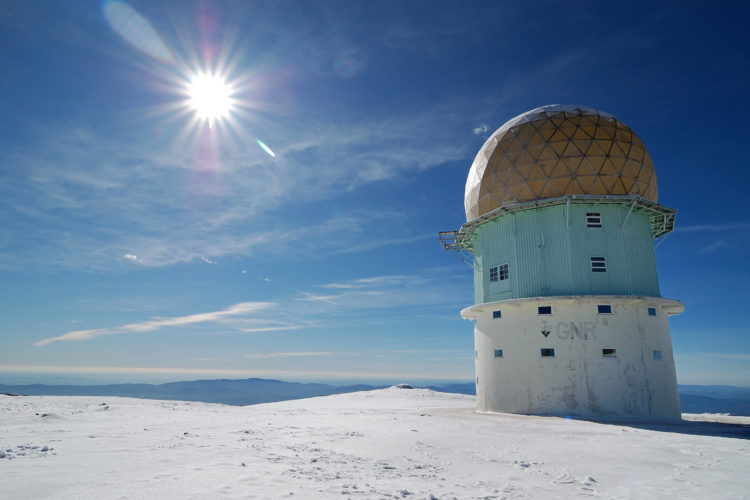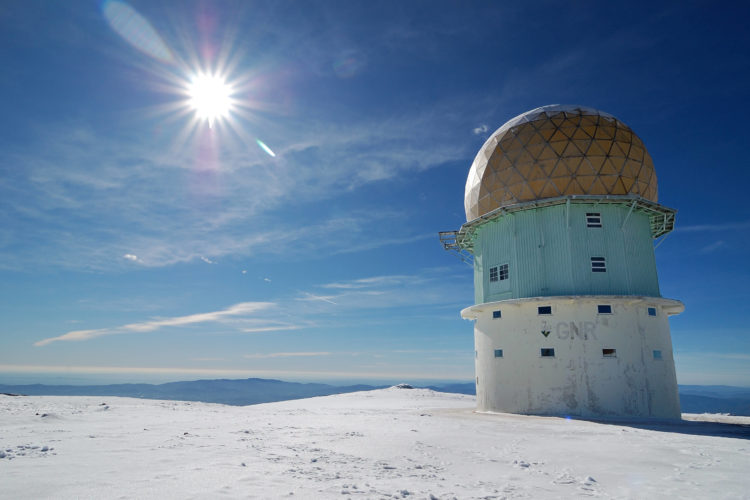 Portugal winter destination #5: Seia and Manteigas
My final recommendation for places to visit in Portugal during the winter comes in a pair as both cities are very close to Serra da Estrela: Seia and Manteigas. 
Seia is on the other side of the park from Covilhã and is another great option for anyone who wants to stay outside the mountains. Estimates say the city was first inhabited 2,400 years ago! It may be a small city, but has plenty to offer in the way of great lodging and restaurants, particularly during the winter. 
Manteigas, located right in the mountains themselves, is another great stop to add to your itinerary. Here, you'll found a snow-covered city with great Portuguese cuisine! (PS: for some reason, the name "Manteigas" means "butters" in English) 
How to get to Seia and Manteigas: 
Seia is approximately 40 minutes by car from Serra da Estrela. Manteigas is 20 minutes from Serra de Estrela and 40 minutes from Covilhã.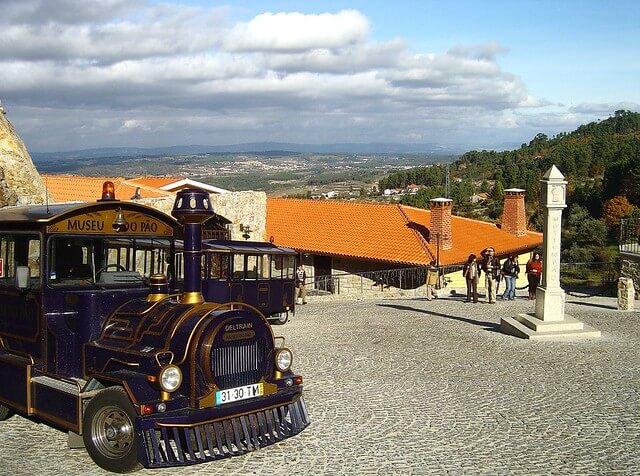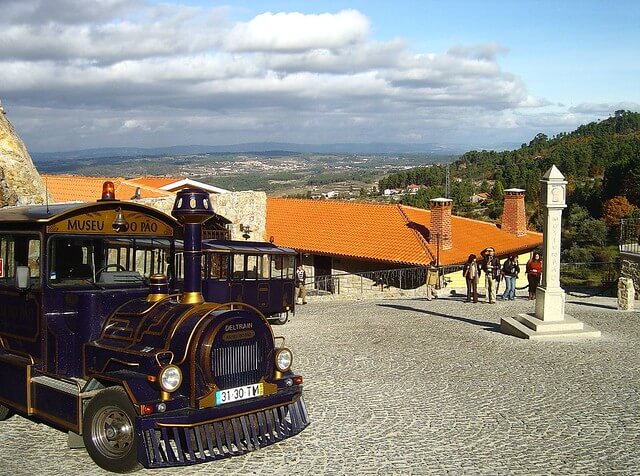 How to get between the destinations in this Portuguese winter itinerary
Luckily, as you can see, all the cities recommended on this itinerary are quite close to each other. Which means that you can see them all in one trip! 
But what is the best way to get between the destinations? I'll talk more about the most popular options below. 
Traveling in Portugal by car 
Without a doubt, your most comfortable option here is to travel by car. By renting a car in Portugal, you'll have the freedom to choose your own schedule and pick your own itinerary. 
However, if you're alone or in a couple, this may not be the cheapest option. And you'll also need to pay attention to other additional costs that may pop up and make your rental much more expensive than you think it will be, such as tolls. 
If you'd like to rent a car, take a look at my article with the 5 best & cheapest websites to rent cars in Portugal and 10 tips for renting a car in Portugal. 
Traveling in Portugal by Train 
Although train travel is very popular in Portugal, you still can't use trains to get to smaller cities….and the hours can be quite limited depending on when you want to go. And as I said, it's not possible to get to Serra da Estrela by train or by bus, just by car. 
However, trains can be a great option for longer trips within Portugal so you won't need to spend so much on tolls. To search for train tickets and get more information, you can look at the Portuguese train website (Comboios Portugal) directly here. 
And if you're thinking of buying a European train pass that includes Portugal, I recommend taking a look at my article with the 5 best European train passes. 
Traveling in Portugal by Bus 
Since buses tend to be very cheap and cover short routes, they're a great option if you don't want to drive but still want to be able to visit small cities. 
The most popular Portuguese bus company is Rede Expressos. You can buy tickets and get more information on their website here. This website is also very good to get bus tickets to Spain!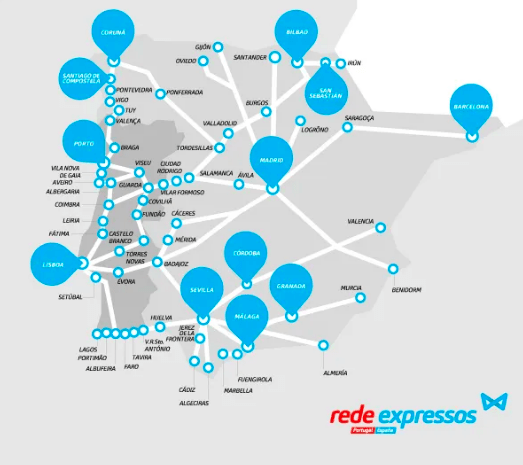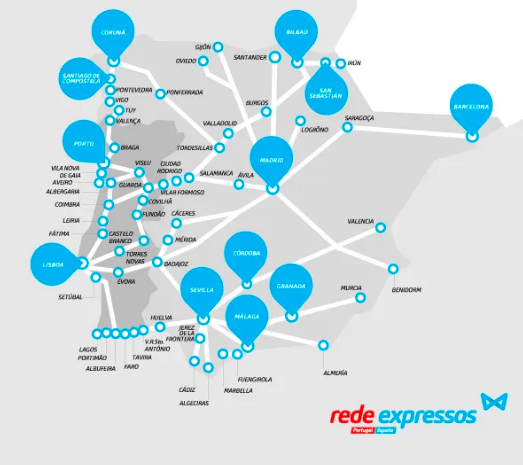 Using taxis or tours in Portugal 
Another common option, especially in the smaller cities, is to take taxis and tours offered by local tour companies in the region. 
Depending on the number of people that are with you, this option can be very cheap since these tour companies and taxi drivers usually charge per person and will decrease the rate more people you have. Not to mention, the more people you have, the easier it is to negotiate the price….so, never forget to negotiate the price before beginning your trip! 
Buying tickets for attractions, activities and tours in Portugal
If you are planning your itinerary and looking for activities and attractions in Portugal, I recommend the GetYourGuide and Civitatis website for research. They have a super complete list of activities to do in the country and you can book them directly on the website.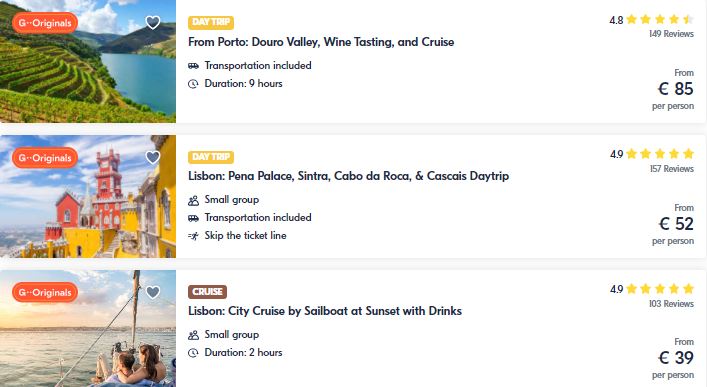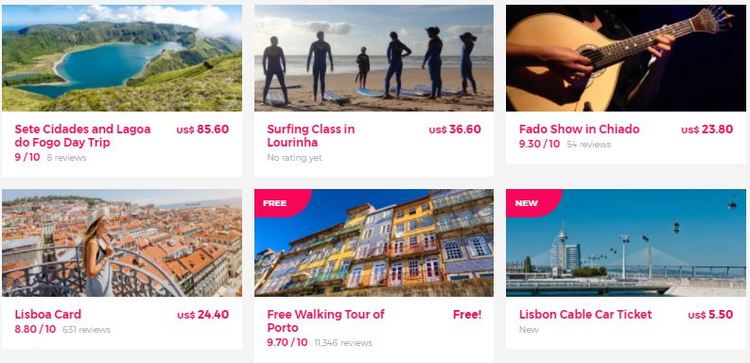 In summary…
5 cities to visit during a trip to Portugal in the winter: 
Sortelha

Monsanto

Covilhã

Serra da Estrela

Seia & Manteigas
In conclusion…
Overall, I'd recommend doing this trip by car, whether your own or a rental. Otherwise, just make sure you research the routes and prices carefully if you go by train or bus. 
And as you've seen, Portugal is a great place to visit even during the winter…and there are options whether you want an adventure or just to relax! 
What did you think of the suggestions above? Do you have any plans to visit Portugal in the winter? Or have any other questions? Let me know in the comments below and I'll get back to you!

Planning your next trip?
Then don't forget travel insurance! You don't want to get stuck paying a ton of money and ruining your trip if you get sick or have an accident without travel insurance. WorldNomads is ideal for adventurous travelers, backpackers, or anyone looking to be protected during their trip. They cover almost every single activity you can imagine! Plus, you can have a 5% discount with the coupon code comfort5.
Already reserved your hotel or hostel? If not, we recommend Booking.com. They have a huge selection of hotels and hostels all over the world. Plus, in most cases, you can cancel your reservation up to a few days before the check-in date without any costs! 
Still haven't booked your plane ticket and want to save big? Take a look at Kayak and Momondo. They are flight aggregators that combine several other ticket search websites to make it easier for you to compare prices and make sure you are getting the best deal. 
And finally, will you need to rent a car during your trip? Then check out Rentalcar.com to search and compare car rental companies from all over the world on a single website. Then, you can find the cheapest price for the best car!