Last Updated on by Rodrigo @ OutofYourComfortZone
Traveling can be an exciting experience, but when it involves our furry friends, it becomes a completely different story. With some essential preparation and proper precautions, long-distance travel with your pet can be less stressful and more enjoyable. Here are some practical tips and tricks to ensure a smooth journey.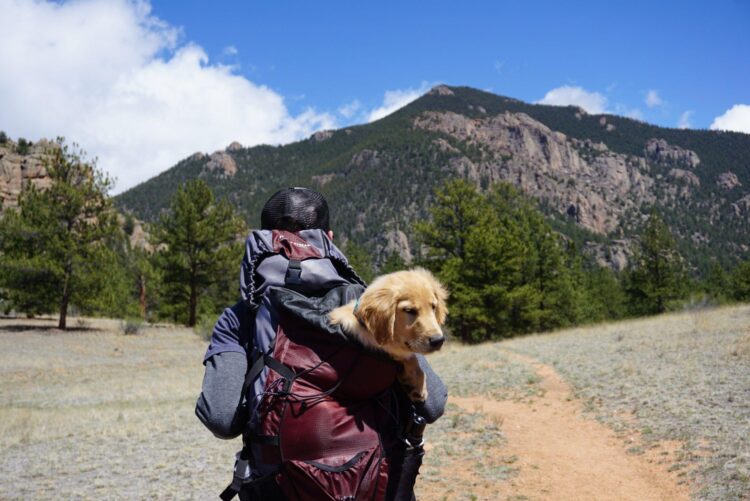 Familiarize Your Pet with the Mode of Transport
One of the most significant sources of anxiety for pets during long-distance travel is unfamiliarity with the mode of transport. Whether it's a car, train, or plane, the unfamiliar sounds, motions, and confined spaces can cause stress and fear in your pet.
Start by taking your pet on shorter trips in the car or local train. Familiarize them with the pet carrier they'll be using during the journey. You can do this by letting them sleep or play in it at home. Over time, your pet will become accustomed to these experiences, reducing their anxiety during the actual trip.
1. Consult with Your Veterinarian
Before embarking on a long-distance trip with your pet, it's vital to schedule a visit to your vet. They can conduct a full health check and update your pet's vaccinations, which might be a requirement for travel, especially if you're traveling internationally.
Your vet can also provide advice on how to handle any specific health concerns during your trip. They might recommend certain pet-friendly medications to manage travel anxiety or motion sickness.
2. Prepare a Pet Travel Kit
Similar to your travel essentials, your pet will also need their kit. This should include food, water, a leash, waste bags, grooming supplies, a favorite toy or blanket, and any necessary medications.
Ensure you bring more than enough pet food, as changing their diet suddenly during travel can cause digestive issues. Also, don't forget to pack a portable water bowl and bottle to keep your pet hydrated during the trip.
3. Update Your Pet's ID Tag and Microchip
A pet's ID tag and microchip are essential, especially during travel when the risk of getting separated is higher. Ensure your pet's tag includes your current cell phone number. If your pet is microchipped, remember to update your contact information with the microchip company.
4. Research Pet-Friendly Accommodations
When traveling long distances with your pet, chances are you'll need to stay overnight somewhere. Research pet-friendly accommodations ahead of time and make reservations. Be sure to understand the rules and regulations regarding pets at your chosen accommodation.
5. Plan Breaks During Your Trip
Long periods of travel can be taxing for your pet. They need time to stretch their legs, hydrate, and relieve themselves. Plan for regular stops if you're driving. If you're flying, opt for a non-stop flight if possible to minimize stress and confusion for your pet.
6. Understand Travel Rules and Regulations
If you're traveling across state or international borders, you need to understand the regulations for bringing pets. Each country or state may have its regulations regarding vaccinations, health certificates, and quarantine periods. Research this information well ahead of your travel date to ensure you can meet all the requirements.
7. Get a Comfortable Pet Carrier
Your pet's comfort is crucial during long-distance travel. Choose a carrier that's spacious enough for your pet to turn around and lie down comfortably. The carrier should be well-ventilated and secure. Line the bottom with a familiar blanket to provide comfort and soak up any accidents.
8. Familiarize Your Pet with the New Environment
Once you reach your destination, give your pet some time to familiarize themselves with the new environment. Keep familiar items like toys and blankets around to comfort them. Provide plenty of affection and reassurance to help them adjust.
9. Utilizing Training Solutions and Technology for Safe Pet Travel
In the modern world, technology and training solutions have become invaluable aids in ensuring pet safety during travel. Their application can go a long way in providing additional security and peace of mind during your long-distance adventure.
10. Training Your Pet for Travel
Prior to the journey, consider investing time in some travel-specific training for your pet. This can include crate training, basic obedience commands, and socialization exercises. Crate training, in particular, helps your pet see their crate or carrier as a safe space, reducing anxiety during transport. Similarly, obedience commands like "stay" or "quiet" can help manage your pet's behavior during pit stops or when interacting with unfamiliar faces.
11. GPS Pet Trackers
GPS pet trackers are technological marvels that can help ensure your pet's safety during travel. These devices attach to your pet's collar and allow you to monitor their location in real time through an app on your phone. Some devices even offer geofencing features, alerting you if your pet wanders beyond a set boundary. This can be especially helpful in unfamiliar environments where there's a risk of your pet getting lost.
In addition to GPS trackers, portable invisible fences designed for dog travel can be a game-changer. These fences work by creating a safe perimeter for your pet, which can be particularly helpful when you're staying in pet-friendly accommodations that may not have secure physical fencing.
12. Pet Training Apps
There are several pet training apps available that can aid you in reinforcing training commands and managing your pet's behavior during travel. These apps offer a variety of training guides and techniques based on your pet's breed, age, and size, and they can be a valuable resource when preparing your pet for the journey.
13. Health Monitoring Devices
Technology has also made its way into pet health management. Wearable health monitors for pets can track vital signs and behaviors, alerting you to potential health issues. While they're not a replacement for vet visits, these devices can provide useful data about your pet's health during travel, such as heart rate changes or unusual activity levels that might indicate stress or discomfort.
14. Smart Pet Carriers
Smart pet carriers, equipped with features like climate control, auto-locking mechanisms, and built-in water dispensers, are a more recent development. While more expensive than traditional carriers, they provide additional comfort and security for your pet, making them a worthwhile investment for regular travelers.
Using these training solutions and technologies, you can ensure your pet is not only ready for long-distance travel but also safeguarded throughout the journey. With careful preparation, patience, and the right tools, you and your pet are set to enjoy a safe and memorable adventure together.
15. A Successful Long-Distance Journey
Long-distance travel with your pet requires careful preparation and a lot of patience. By considering your pet's comfort and safety, understanding travel rules, and packing the right essentials, you can make the journey less stressful for both you and your pet.
Concluding…
Keep in mind, the key to a successful trip with your pet is planning, preparation, and patience. With these tips and tricks, you're ready for your adventure together!
Planning your next trip?

Then don't forget travel insurance! You don't want to get stuck paying a ton of money and ruining your trip if you get sick or have an accident without travel insurance. WorldNomads is ideal for adventurous travelers, backpackers, or anyone looking to be protected during their trip. They cover almost every single activity you can image! Plus, you can have a 5% discount with the coupon code comfort5.

Already reserved your hotel or hostel? If not, we recommend Booking.com. They have a huge selection of hotels and hostels all over the world. Plus, in most cases, you can cancel your reservation without any costs up to a few days before the check-in date!

Still haven't booked your plane ticket and want to save big? Take a look at Momondo. It's a flight aggregator that combines several other ticket search websites to make it easier for you to compare prices and make sure you are getting the best deal.

And finally, will you need to rent a car during your trip? Then check out Rentalcar.com to search and compare car rental companies from all over the world in a single website. Then, you can find the cheapest price for the best car!