Last Updated on by Talita
If you're from Europe, then you probably picture Cyprus as a potential destination for your next beach holiday.
And if you're from outside of Europe, then you might not know much about this lovely, strangely-divided island at all!
And yet, there's much more to Cyprus than meets the eye.
Yes, Cyprus is home to pristine beaches, turquoise-emerald waters, and a gorgeous rocky coastline.
But beyond that? A visit to Cyprus also gives you the chance to….
Explore ruins from ancient Greece or one of the many imposing "crusader" castles and forts scattered throughout the country

Transition from laying on the beach to hiking a mountain in a single day

See the blend of Greek & Turkish cultures as you visit both halves of the island and stroll through the world's last "divided" capital, Nicosia
In other words, there's a lot of things to do in Cyprus! So, we put together this guide to tell you all you need to know before you visit and give you a few sample itineraries to help plan out your trip.
Note before we begin: unfortunately, most of the pictures we took in Cyprus were lost (it's a long story). So, the pictures we had left and put in this article don't quite reflect the island's beauty as much as they should. That said, we did occasionally include pictures from other sources to compensate.
Cyprus Fast Facts
1.1 Where and what is Cyprus?
Cyprus is an island located in the Mediterranean. Although it's technically a part of Europe (in fact, it's a member of the European Union), it's geographically closer to the Middle East.
1.2 What's the difference between north and south Cyprus?
In the interest of avoiding politics here, here are simply the basic facts about each side.
South Cyprus (The Republic of Cyprus)
Considered to be the "Greek" side of the island (since they speak Greek and are culturally/ethnically Greek)

Recognizes the entire island (including Northern Cyprus) as their territory, calling the island as a whole "The Republic of Cyprus"

Is a part of the European Union
Turkish Republic of Northern Cyprus
Considered to be the "Turkish" side of the island (since the people who live here are usually Turkish, this side receives a lot of financial aid from Turkey, and has a strong presence from the Turkish military)

Doesn't recognize the entire island as their territory, but does consider the northern part to be an independent country called the "Turkish Republic of Northern Cyprus" TRNC (Turkey is currently the only country in the world that recognizes this status)

Fun fact: alcohol is much cheaper and gambling is legal so many Turks come from the mainland to Northern Cyprus to party
1.3 Why is Cyprus divided in two?
This situation is complex and the answer will vary significantly based on who you ask. Even when we were there and while trying to do research before, we found it hard to get a straight, unbiased answer about what actually happened.
That said, these two articles below should give you a better overview than I can.
Cyprus: Why One of the World's Most Intractable Conflicts Continues – The New York Times
Searching for Cyprus: Cyprus has been divided in 2 for 40 years, do its people still have anything in common? – Slate
1.4 Can I visit both north and south Cyprus as a tourist?
Yes, absolutely and easily!
Just a few years ago, it wasn't possible since you weren't able to cross the border as a tourist. It's always been easy to get a flight to the south, but to get to the north, you would have needed to fly or get a ferry from mainland Turkey.
But today, it's possible and very easy to visit both sides on the same trip (you can even cross the border by foot). Just make sure you read my "how to get to Cyprus" section below for more details.
1.5 Why do all the cities in Cyprus have two names?
Most of the cities in Cyprus have a Greek name and a Turkish name. When I give place names below, I'll designate which it is by (Gr) or (Tk).
This should be common sense…but when you're in the south, make a point to use the Greek names. And when you're in the north, make a point to use the Turkish.
1.6 Is it safe to visit Northern Cyprus?
Again, yes. Both sides of the island are very safe and you should have no problems.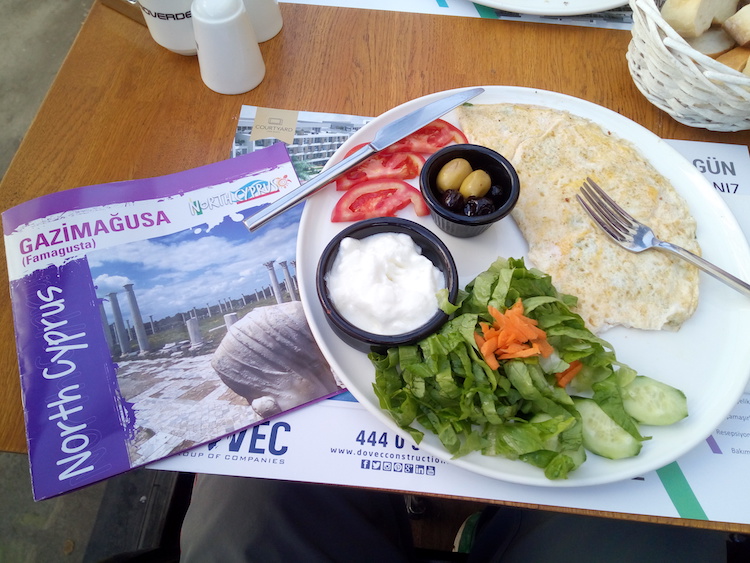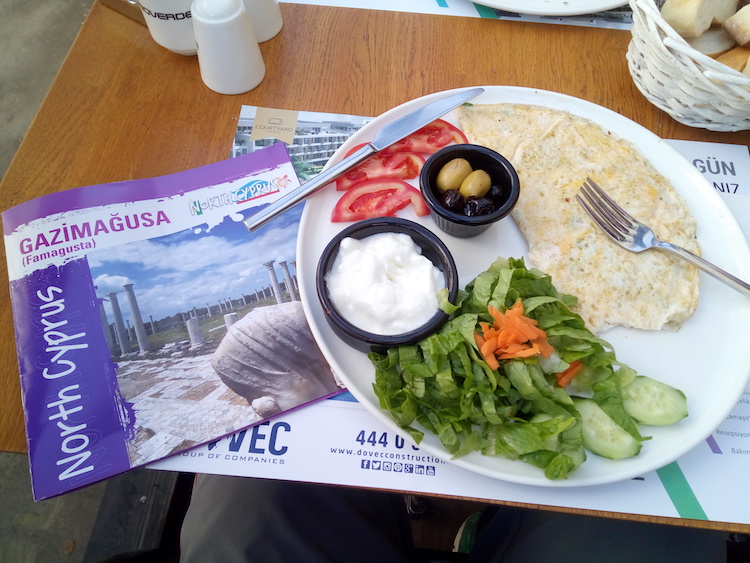 How to Get to Cyprus
Since Cyprus is a member of the European Union and has very close ties to Europe, you can quite easily get cheap flights to Cyprus from all over Europe.
As you'll see in the "how to get to Northern Cyprus" section just below, you'll probably want to begin your trip by flying into Larnaca International Airport on the south side of the island.
To find your cheap flight to Cyprus, check out our article with 16 tips to find cheap flights.
2.1 How to get to Northern Cyprus
It's also quite easy to get to Northern Cyprus, but there are still some things you should know.
Perhaps the most important thing to know is that if you fly into Northern Cyprus, you won't be able to cross into the south side since the south won't recognize you as having come into the country through a legal border of entry. There have been stories of foreigners being deported when entering in the north and trying to cross to the south, so keep this in mind.
Luckily, if you fly into southern Cyprus (via the Larnaca airport), there's no problem if you cross into the north and then cross back to the south for your flight home.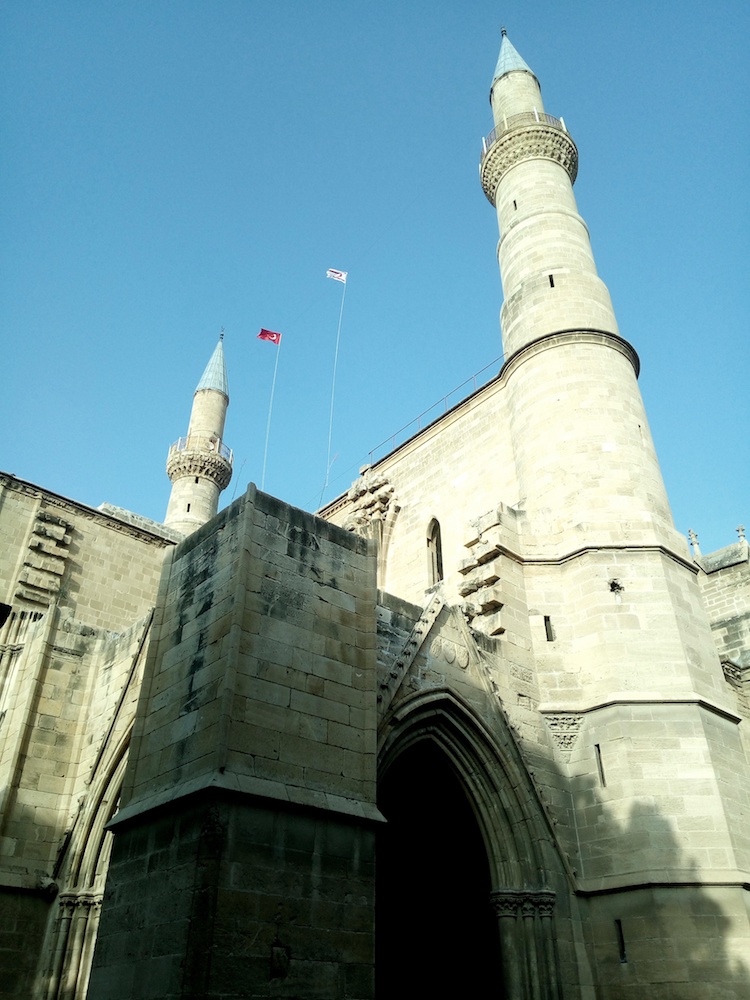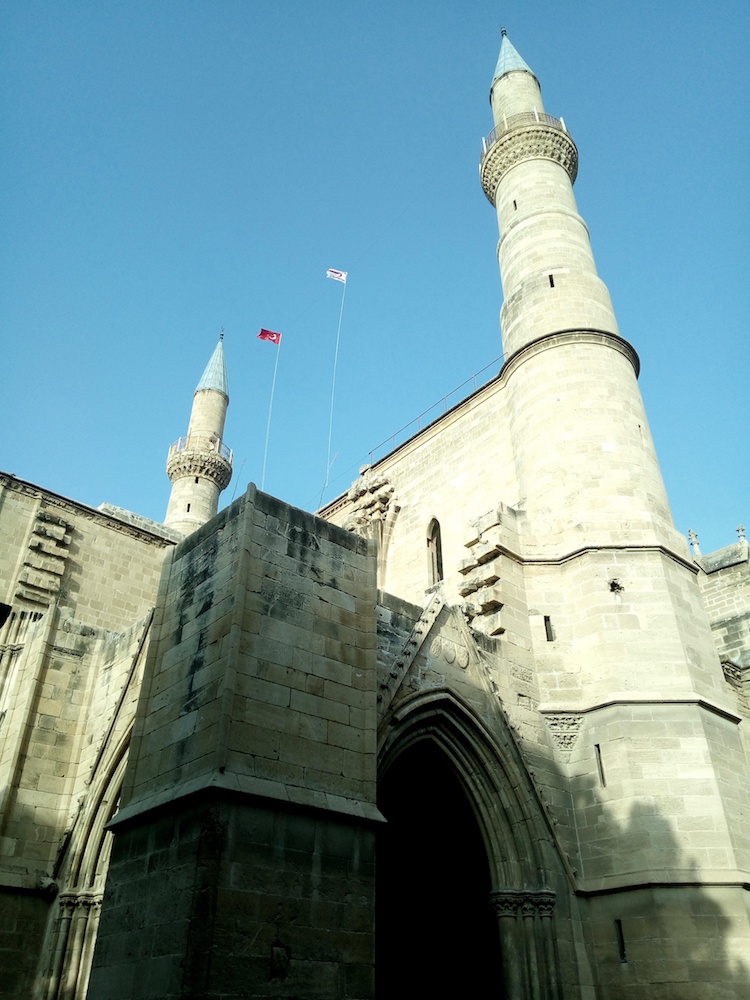 See below for different options to cross from south to north Cyprus.
2.2 How to get to Northern Cyprus by bus
As of now, there are no buses that cross the south/north Cyprus border. So if you want to go by bus, you'll have to take a bus from one side to the border, walk across the border, then take a bus on the other side.
There are no legal issues with doing this, but it can be tricky making sure the bus times match and don't leave you stranded.
For this reason, we highly recommend you rent a car for your trip in Cyprus. Then, you can simply drive across the border with no problems.
2.3 How to get to Northern Cyprus by rental car
Can I drive a rental car from south Cyprus to Northern Cyprus?
Technically, no.
But in reality? This happens all the time and the rental car companies know this.
Of course, we aren't saying 100% that you should do this – especially if you don't feel comfortable with the risks. For example, although it's not illegal, if your car breaks down or anything like that in Northern Cyprus, your rental car company will definitely not come and help you.
We just want to let you know that is an option that we personally chose with no issues.
If you'd rather, you could try to rent a car on the south side and then rent again on the north. But if you do, you will need to find alternative transportation to the border which isn't always that easy.
If you want to rent a car to drive from south to north Cyprus, then make sure you read our next 2 sections below for some important tips.
2.4 How to rent a car in Cyprus
Like I said above, since you'll want to fly into south Cyprus (Larnaca airport), you'll want to rent your car in the south and then drive it to the north (while returning to the south when you fly home).
It's usually easier if you rent your car directly from Larnaca International Airport when you arrive.
All the major car rental companies are right there at the airport, and you can rent a car quite cheaply.
To begin your search for car rentals in Cyprus, head to our article with the 5 Best Websites to Find Cheap Rental Cars in Cyprus.
2.5 How to cross the south/north Cyprus border by rental car
There are 7 border crossings in Cyprus and 5 of those can be passed by car.
For all our itineraries below, we recommend you cross south to north on the Strovilia/Akyar crossing and then north to south on the Agios Dometios crossing (near Nicosia).
The border crossing is easy – just show your passport on the south side, drive through the border, show it again on the north side, and you'll be on your way.
Same deal when going north to south (although in our case, the Greek authorities didn't even stop us to look at our passports). We have heard that officials on the Greek side occasionally stop tourists and give them a hard time about why they were visiting Northern Cyprus, but we haven't been able to personally verify any of these stories.
Important note about crossing south/north Cyprus border by rental car: the insurance you have for your rental car from the south will NOT be valid in the north.
So, when you cross the border, you are required to get a car insurance that works in the north. The cost of the insurance is 30€ for 7 days (which is the shortest "plan" you can choose). You can buy it right from a stand right at the border crossing.
We aren't 100% sure if this is true, but some places have said that these insurance offices at the border close at 5 PM (even though the border is open 24 hours a day). So, when we crossed from south to north Cyprus, we made a point to drive through early enough that this wasn't a problem. Just in case, you may want to do the same.
2.6 How to cross the south/north Cyprus border in Nicosia/Lefkoşa by foot
Nicosia (GR)/Lefkoşa (TK), as the capital of both south & north Cyprus, is the only divided capital in the world. And, with just your passport in hand, you can simply walk across the pedestrian border in the city center. It's located at the end of Ledra Street, and you really can't miss it.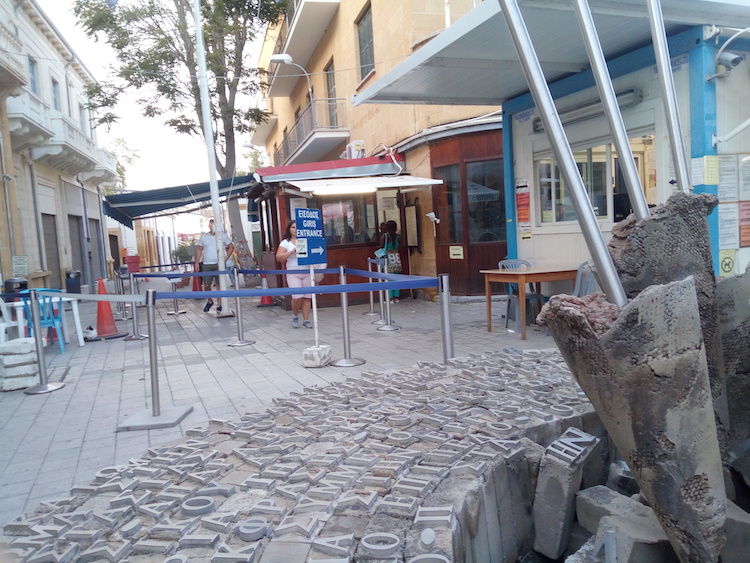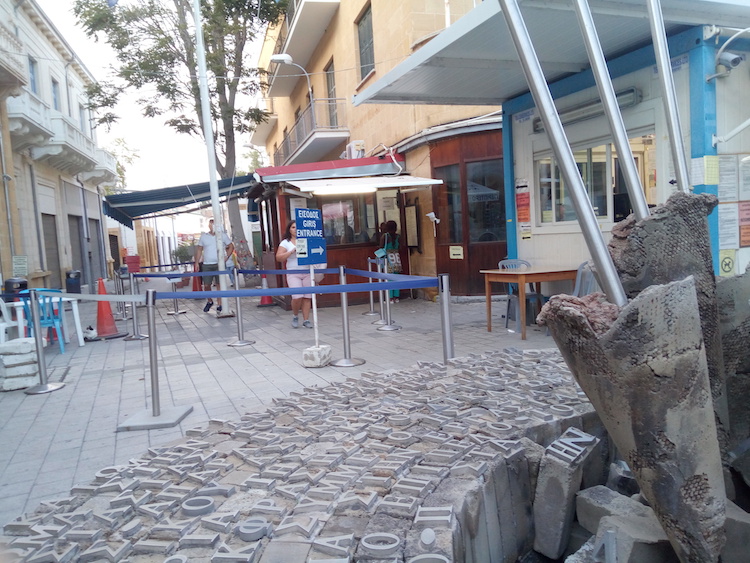 One thing to keep in mind: if you're following our itineraries below and you want to walk across the border, you'll need to do it from south to north (and can walk back to the south to pick up your car later).
As we found out the hard way, if you entered Northern Cyprus by car, then you also have to leave by car and thus can't take the pedestrian crossing.
2.7 How to get around in Cyprus
For our itineraries below, all transportation will be done either via rental car or by foot.
A similar itinerary may be done by public transportation, but it will take quite a bit longer and some areas of the island are quite hard (or impossible) to get to by public buses.
How long to stay in Cyprus
Well, there really is a lot to do here! Especially if you want to visit both sides of the island.
A week or more is best if you can, but we personally only had 5 full days and were still able to get around quite well (although we were certainly a bit tired by the end!).
When to visit Cyprus
Cyprus, particularly south Cyprus, can get quite busy during the European summer with European holidaymakers. So, if you want to avoid the crowds, then you probably want to skip the summer.
Otherwise, any other time of the year is good since the weather is pleasant all year round.
Where to stay in Cyprus (Cyprus accommodation)
Since our itineraries below are roadtrip style, you'll likely be staying somewhere different each night rather than having a base.
We usually stayed in Airbnbs or guesthouses, although a few hostels in the main tourist areas and plenty of nicer hotels also exist.
In the itineraries below, we'll make specific accommodation recommendations for each stop.
What to do in Cyprus (our roadtrip itinerary for 5/7/10 days in Cyprus by car)
A few notes about these itineraries before I begin…
#1) You'll see 2 names for all cities in Northern Cyprus – 1 is in Greek, the other is in Turkish. I'll designate which is which with (GR) and (TK). Take care to use the right one based on the side you are on.
#2) Since we are outdoorsy people and love to hike, our itinerary is quite active. If this isn't really your style, we'll also offer lots of alternatives in the 7 and 10-day itineraries which you can substitute in.
#3) All of the places in this itinerary are labeled on the map below. You can click on the map to zoom in and then check/uncheck options to see things on the left.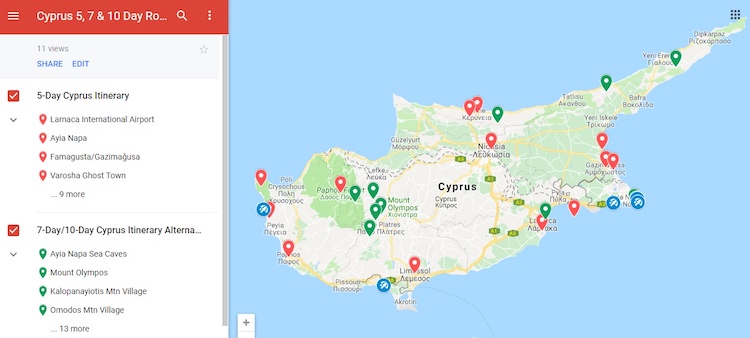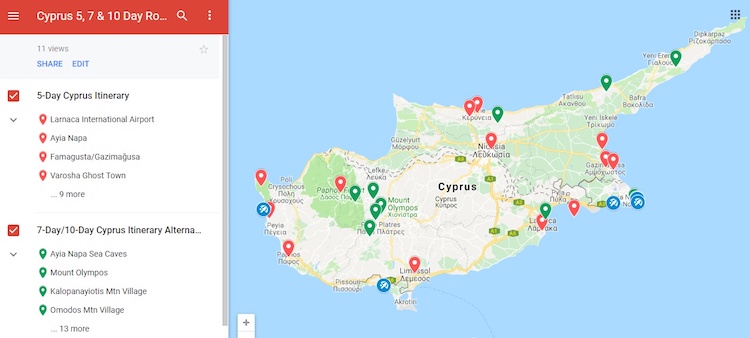 5-Day Cyprus Itinerary by Car
Day 1: Arrive in Larnaca, visit Larnaca, stop in Ayia Napa, drive to Northern Cyprus city of Famagusta (GR)/Gazimağusa (TK), explore Gazimagusa city walls & old town by night
What to do in Larnaca
We arrived quite late in Cyprus (as do many flights coming from Europe), so we decided to stay somewhere near the airport in Larnaca.
The next day, we took advantage of this to walk through Larnaca in the morning before heading out. Honestly, there's not too much to do in Larnaca, but there is a nice pedestrian path that goes along the coast to an old fort.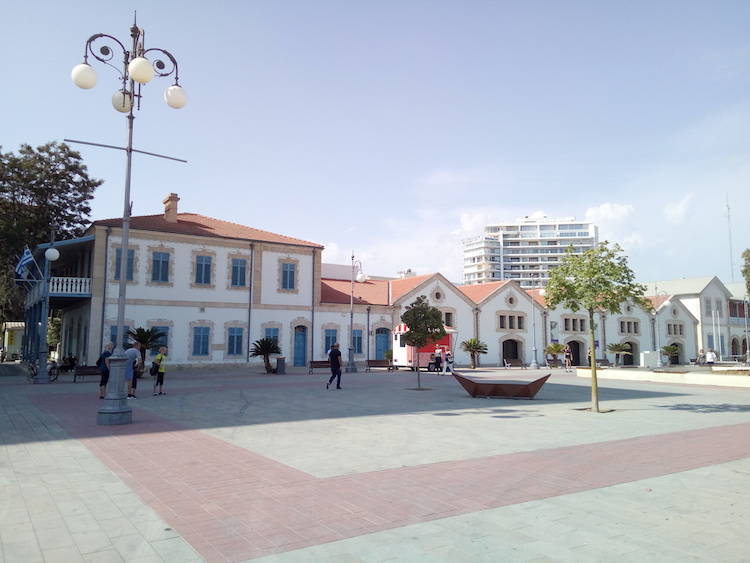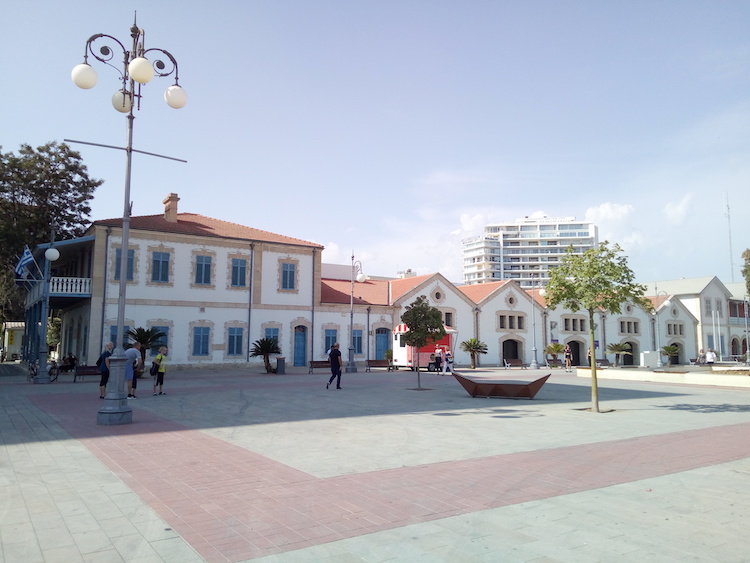 Otherwise, if you're feeling adventurous, there is also a nice wreck dive you can do nearby called Zenobia. Rodrigo did it and enjoyed it, but he regretted doing it on just 2 hours of sleep!
Driving from Larnaca to Famagusta/Gazimagusa with a stop in Ayia Napa
We left Larnaca around noon for the 2-hour drive across the border to the northern Cypriot city of Gazimagusa.
We took the road along the coast hoping there would be some views, but unfortunately, there wasn't much of interest.
If you get an earlier start than us, you may want to drive up the peninsula before crossing the border to have a stop in the beach town of Ayia Napa and then the nearby sea caves.
Since we were a bit worried about the insurance stand at the border closing (see the section on renting a car above) and left a bit late in the morning since we didn't get to sleep until 5 AM the night before, we didn't have time to make this stop. It does look to be quite nice if you have time, though!
Crossing the border between South Cyprus and Northern Cyprus
See section above for more details on this.
What to do in Famagusta/Gazimagusa day 1: city walls and old town by night
There was still a bit of light by the time we arrived in the city, so took a wander through the old town center, walked the walls (which happen to be an old Venetian fortification from the 1500s), and saw the city ruins by dusk. The center is small and can be visited on foot.
These websites here and here have a bit more about the history of the city and what to see as you're walking through.
Where to stay in Famagusta/Gazimagusa
Budget option


Mid-range option


Day 2: Re-visit Famagusta/Gazimagusa during the day, explore Varosha Ghost Town & Salamis Ancient City, drive to Kyrenia (GR)/Girne (TK)
What to do in Famagusta/Gazimagusa day 2
We had already seen most of the old town center the previous night but decided to do a quick stop here again to see things in the daylight. See links under "Gazimagusa day 1" for specific things to visit here.
From here, we head out for the two stops I was really excited for: Varosha Ghost Town and Salamis Ancient City.
How to visit Varosha Ghost Town, Famagusta/Gazimagusa
From Famagusta/Gazimagusa, we drove a few kilometers to the north part of the city to see Varosha Ghost Town: a huge stretch of beach resorts that were once frequented by celebrities and an entire city that have been abandoned since 1974.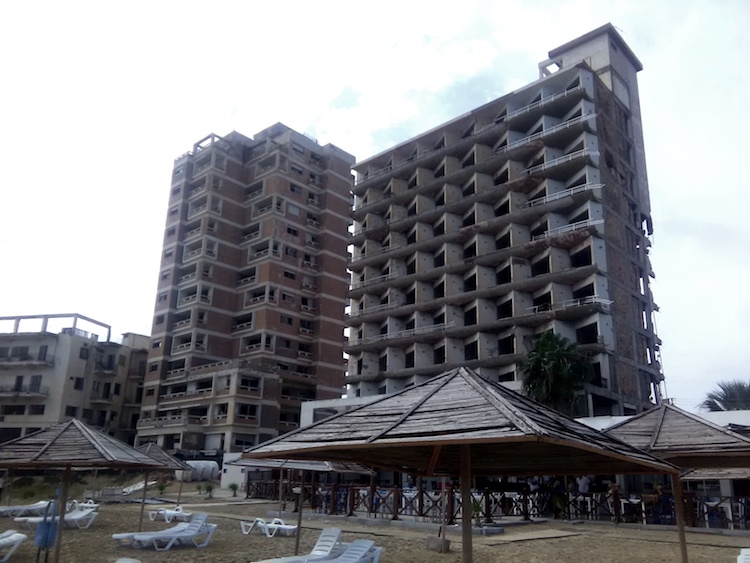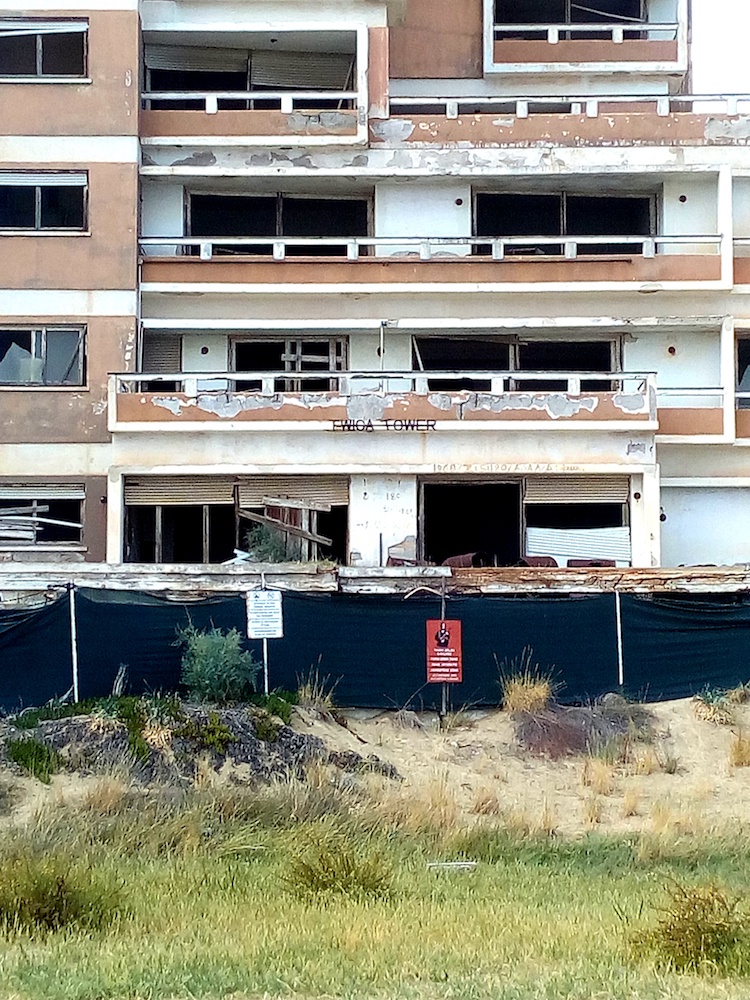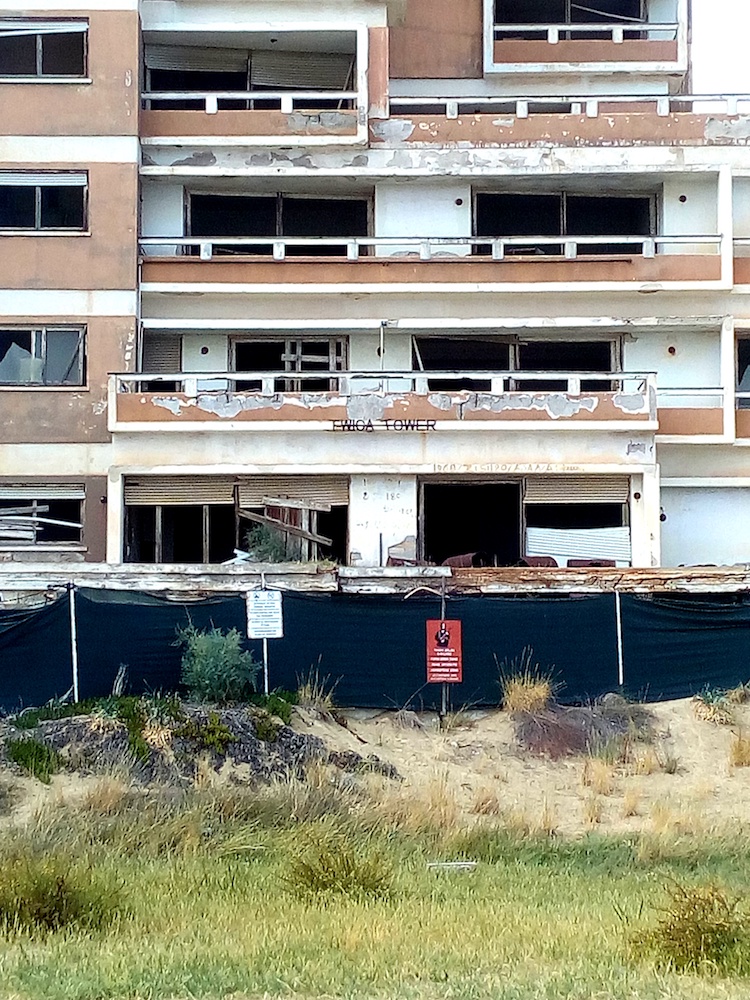 As you might imagine, the history behind this area and why it's abandoned is messy and not something I want to get into. We also found it quite difficult to get an unbiased account of what happened from the perspective of both sides. But although they might be a bit dated, this article here and this one here seem to be a good place to start to learn more. But basically, during the Turkish assault in 1974, the Greek Cypriots living in that area were expelled and no one has lived in the area since.
To see the ghost town for yourself, begin by driving to "Arkin Palm Beach Hotel" (you can put it right into Google maps) and park in one of the parking lots nearby. From there, you can walk along the beach (the part that is still in use, that is), to the "viewpoint" of the massive stretch of abandoned resorts, blocked off by a chain-link fence.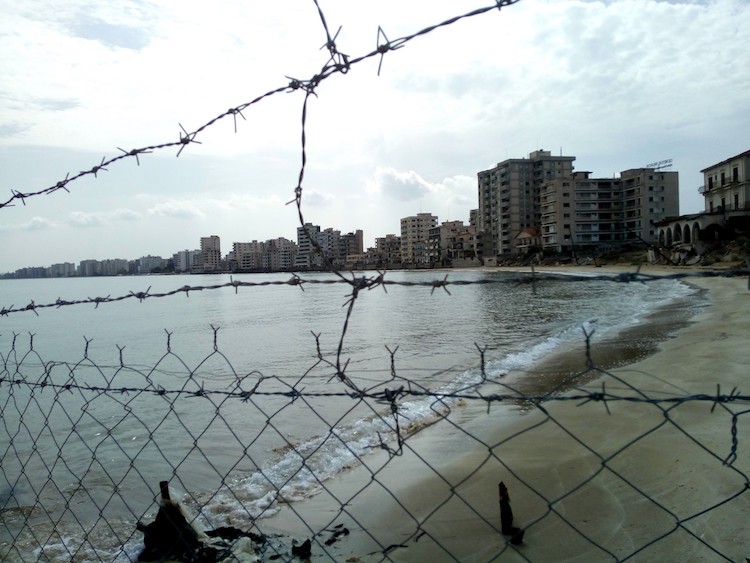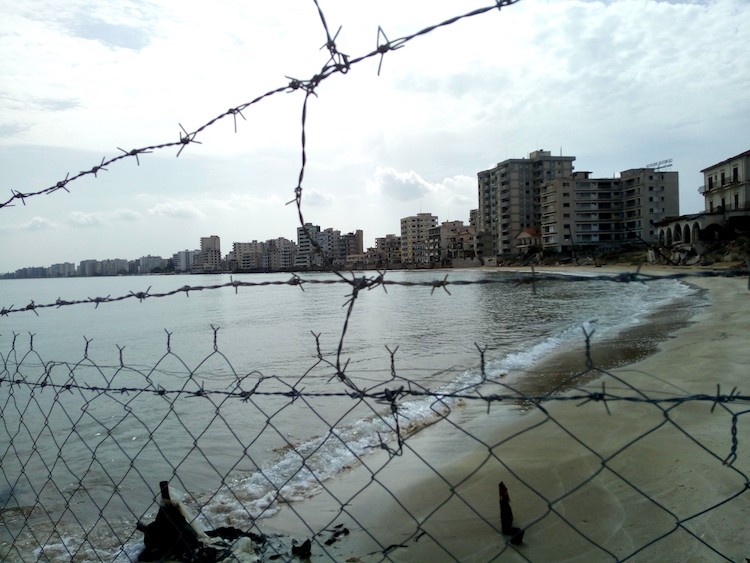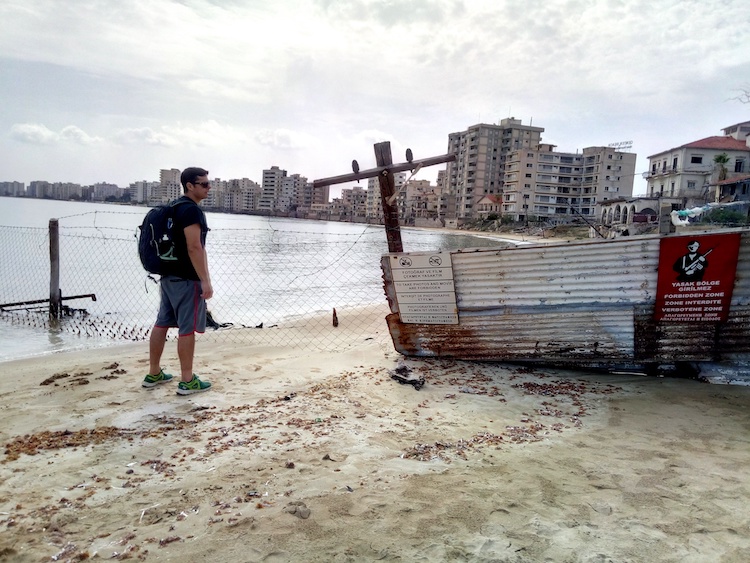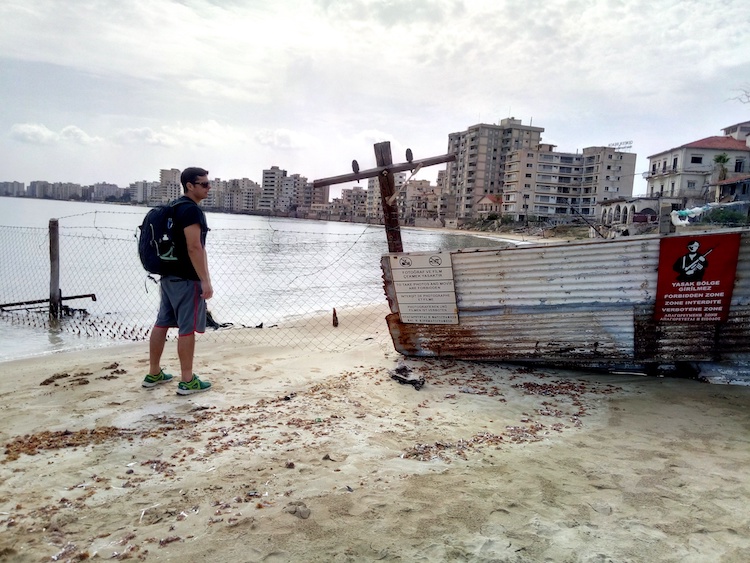 Technically, you're not supposed to take pictures (and there are Turkish military keeping guard to make sure you don't do just that). But as long as you're not super obvious, they don't seem to care that much.
From there, we went back to our car and went on an "adventure" to drive along the "border" fence for as long as we could. It was incredible to see that the fenced-off city literally went on for miles and miles, revealing completely abandoned churches, high-rise apartments, homes, and schools, and more being reclaimed by the land.
Eventually, we hit a military checkpoint and had to turn back. But otherwise, it's quite easy to drive on the outskirts – just continue following the original fence you saw from the beach.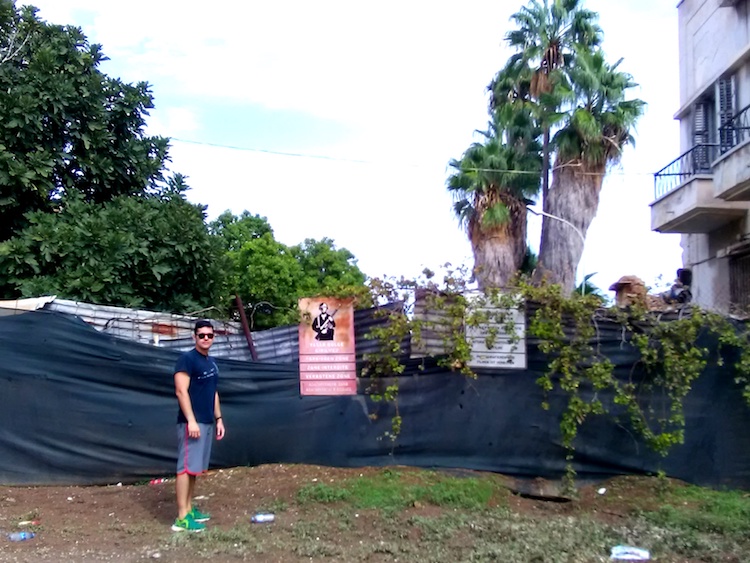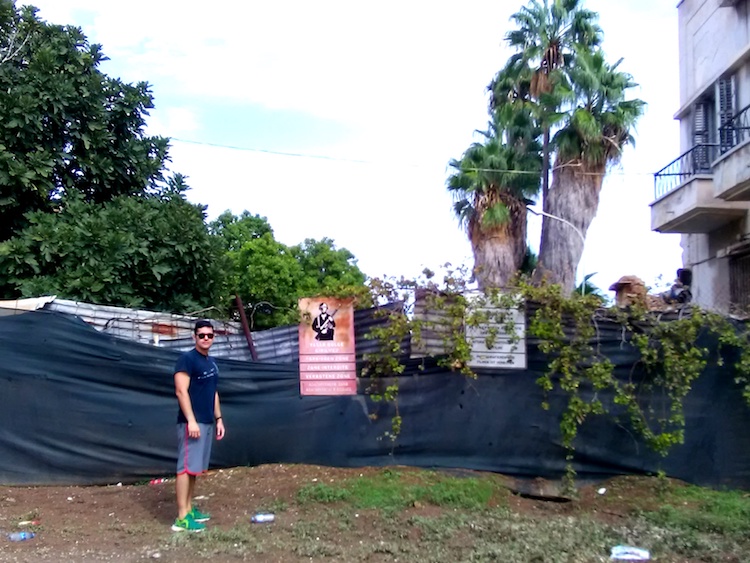 How to visit Salamis Ancient City
About 20 minutes north, you'll find a wonderfully-preserved complex of ruins (that once made up a Greek city-state and the old capital of Cyprus!) called Salamis Ancient City.
Beyond the ruins, your visit offers great coastal views. And perhaps best of all, the complex is big enough (and there are few enough visitors) that you can feel like you have the place all to yourself.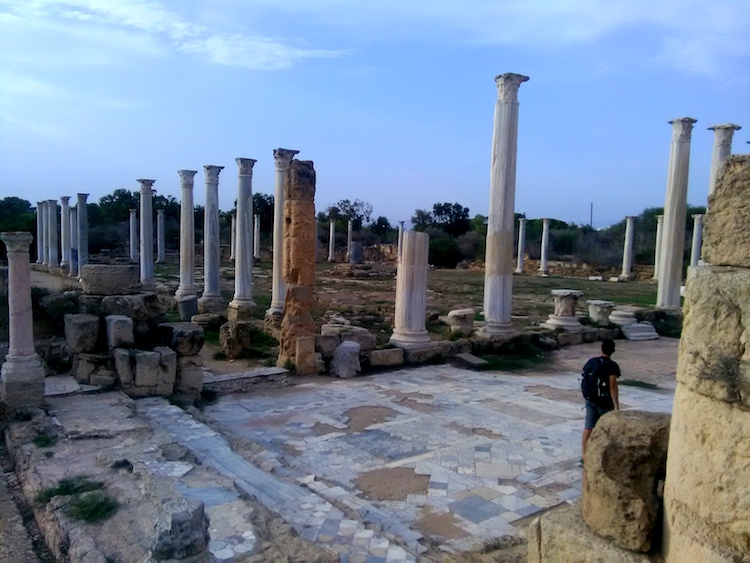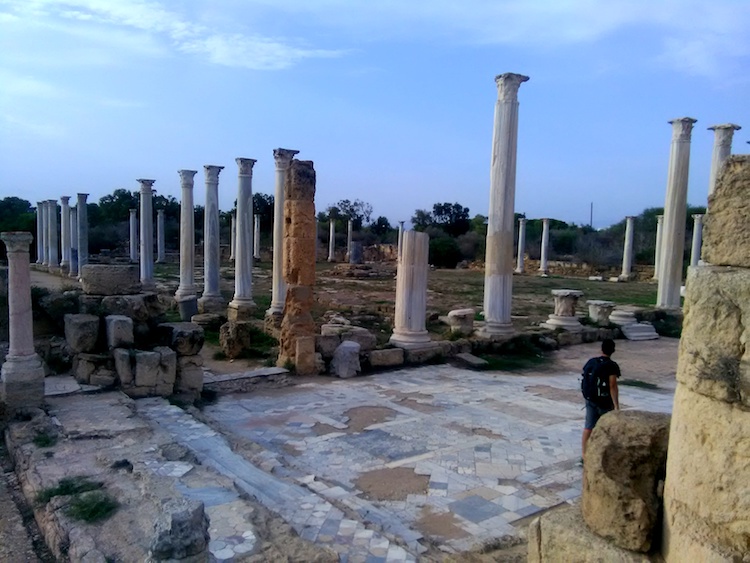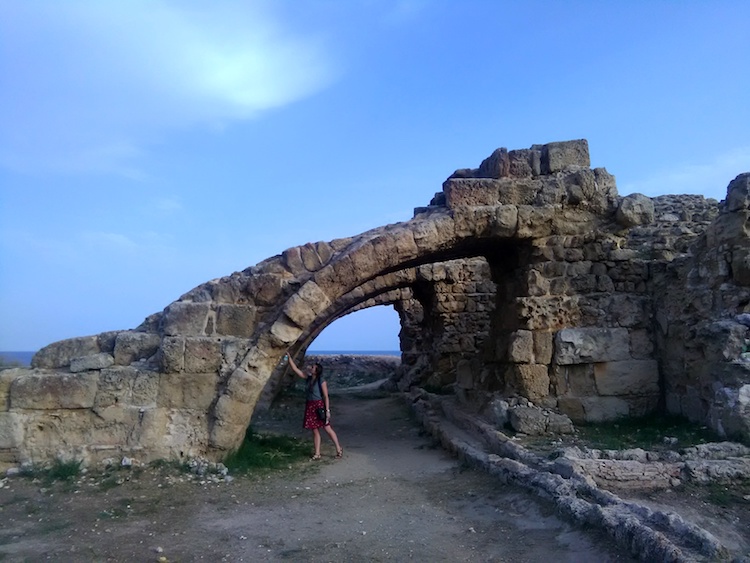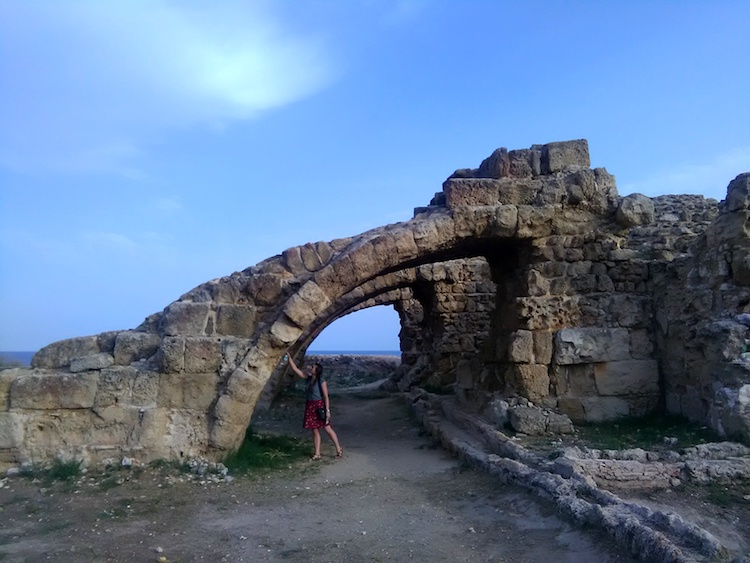 Get a map at the entrance gate and give yourself a few hours to explore. It's a bit of a long walk away from the main entrance ruins, but make sure you visit the remnants of the Kampanopetra Basilica for a view of some impressive ruins and mosaics, the sea, and a modern city in the background all at once.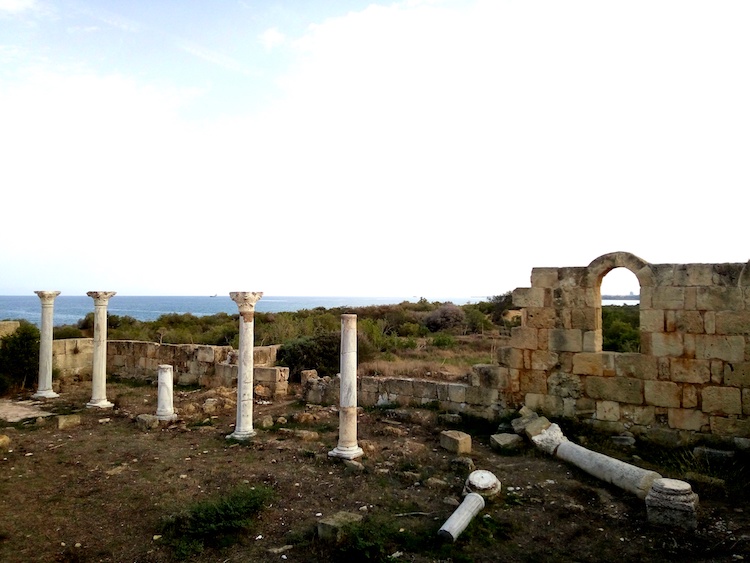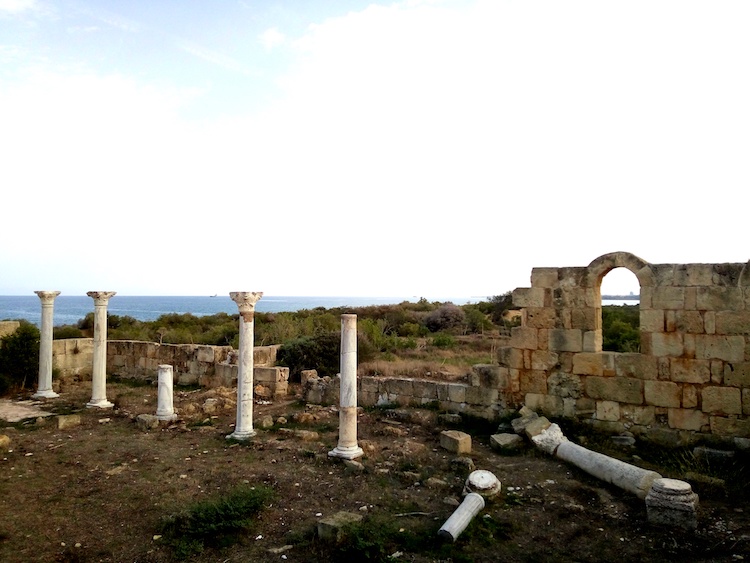 Drive from Famagusta/Gazimagusa to Kyrenia/Girne
You'll end your day with a 1-hour drive from Famagusta/Gazimagusa to Kyrenia/Girne, your 2nd city in Northern Cyprus.
By this point, you've already had a long day and will likely arrive quite late. Meaning you'll probably just want to get some dinner and perhaps take a short walk through the harbor area (since it's quite lovely at night).
One thing to keep in mind: the drive between the two cities is actually quite nice since it goes through the mountains and along the coast. So you may want to try to do it during the daylight if you have time.
Where to stay in Girne/Kyrenia:
Budget option


Mid-range option


Day 3: Walk through Kyrenia/Girne Harbor, climb up Hilarion Castle, drive from Kyrenia/Girne to Nicosia, wander through Nicosia, drive to Troodos Mountains
As you can tell by the description, this was a long day!
If you have more time, we'd highly recommend spending the night in Nicosia to break it up a bit.
What to do in Kyrenia/Girne
Frankly, Kyrenia/Girne is quite small and there's not much to do (we only stayed for an hour or so in the morning before heading out). That said, it's still worth a visit since it is quite picturesque and is very close to the capital city of Nicosia.
As for things to do, I recommend a morning stroll through the small, pleasant old town followed by a stroll along the coast to the harbor and the fortress.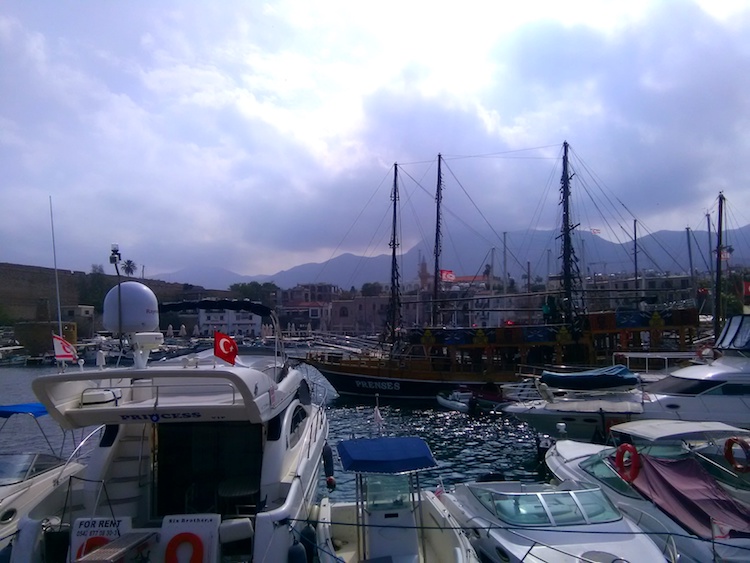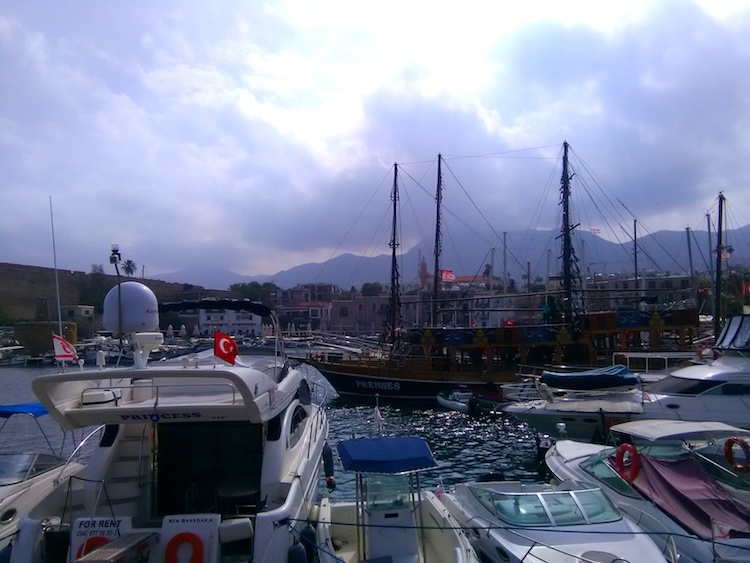 After your morning walk, you'll begin the short (just 30 minutes!) drive to Nicosia, the divided capital city shared between south & north Cyprus. But first, a stop at the impressive Saint Hilarion Castle.
How to visit Saint Hilarion Castle
Luckily, the Saint Hilarion Castle is exactly on your way to Nicosia. I've marked it on the map at the start of the itinerary, but you'll also see signs along the way and really can't miss it.
So, if you have a bit of time and don't mind the uphill climb, it's certainly worth going to for the impressive views!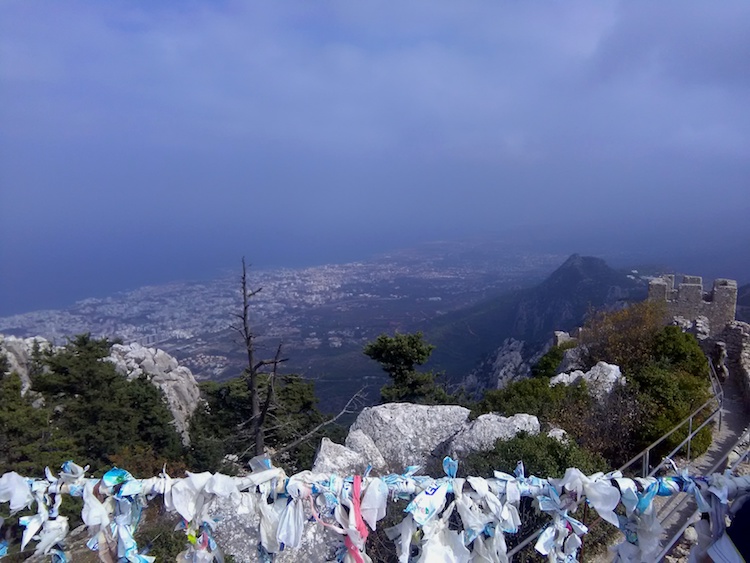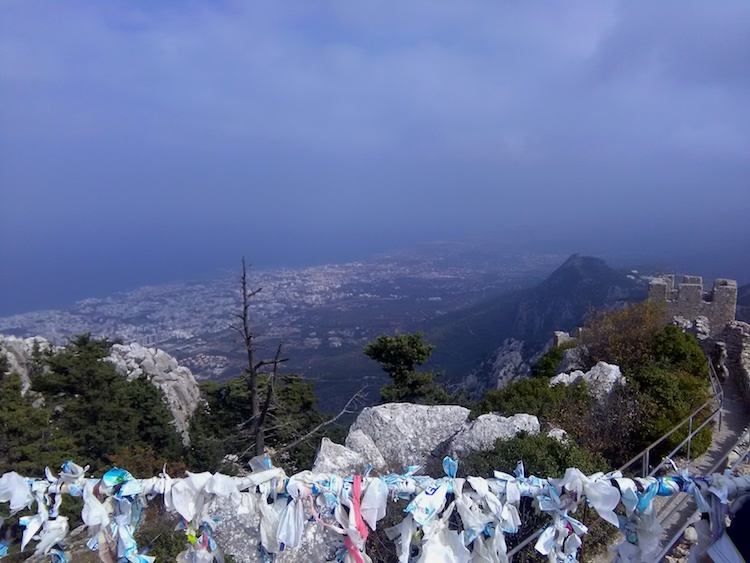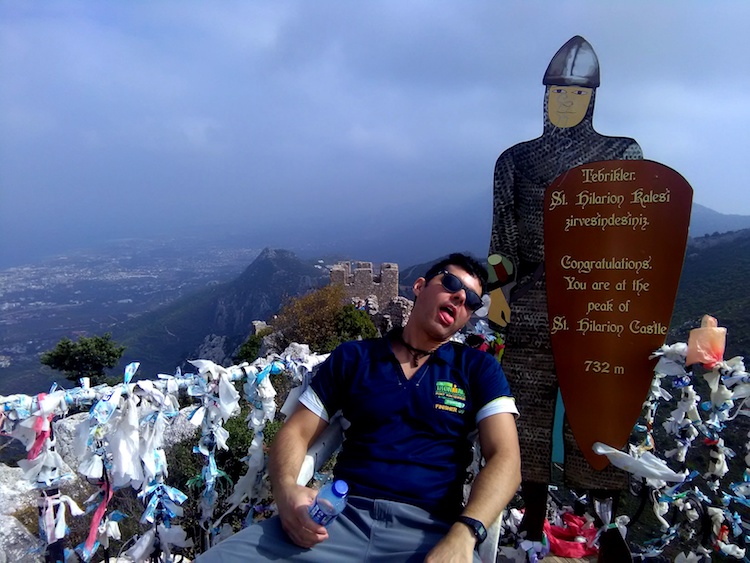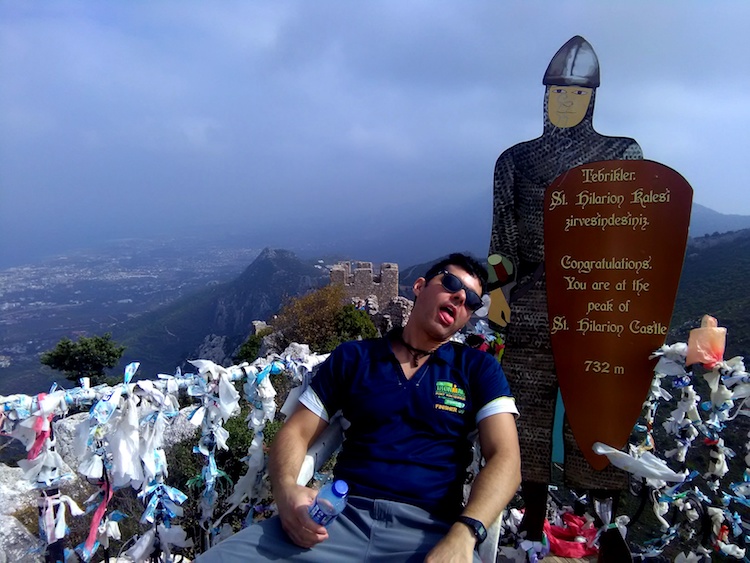 Beyond Saint Hilarion Castle, there's also quite a few other castles and fortresses dotting the mountains in the area. So if you have more time, you may want to add them to your itinerary as well.
We probably spent about 2 hours or so at the castle, so we were still able to arrive in Nicosia early in the afternoon and have the rest of the day to explore.
What do to do in Nicosia
Since we were already on the north Turkish side and also wanted to save some time on the drive, we began by exploring the Turkish side of the capital.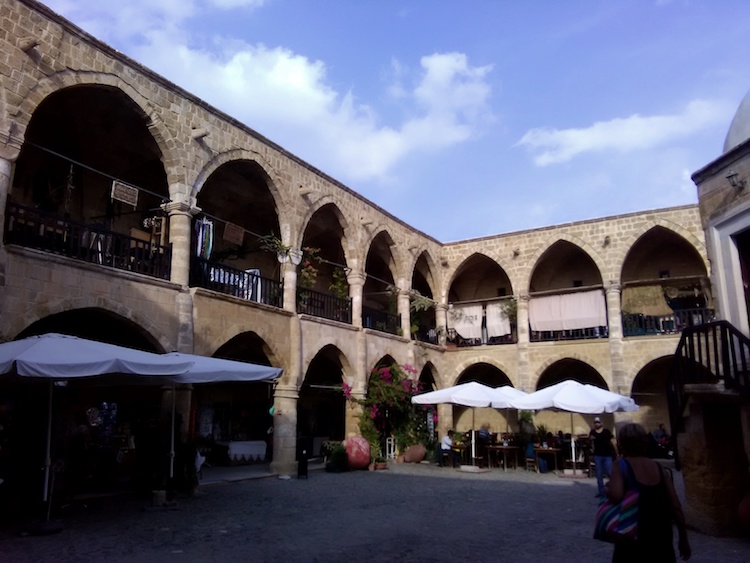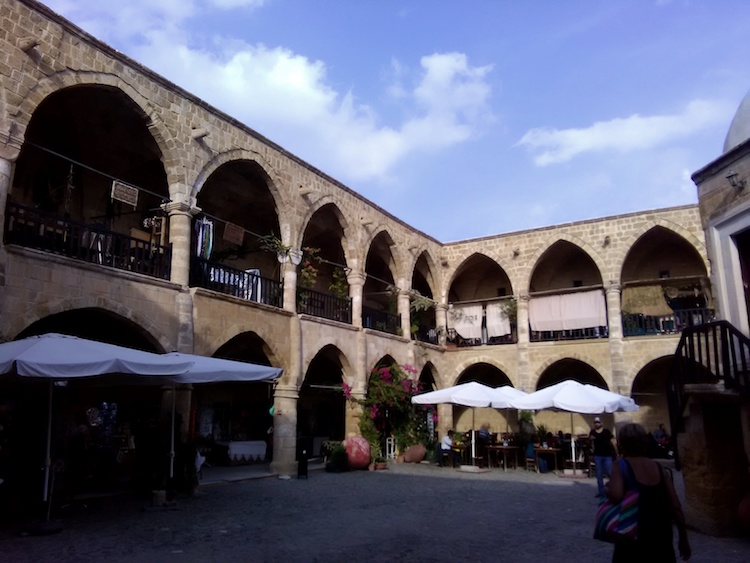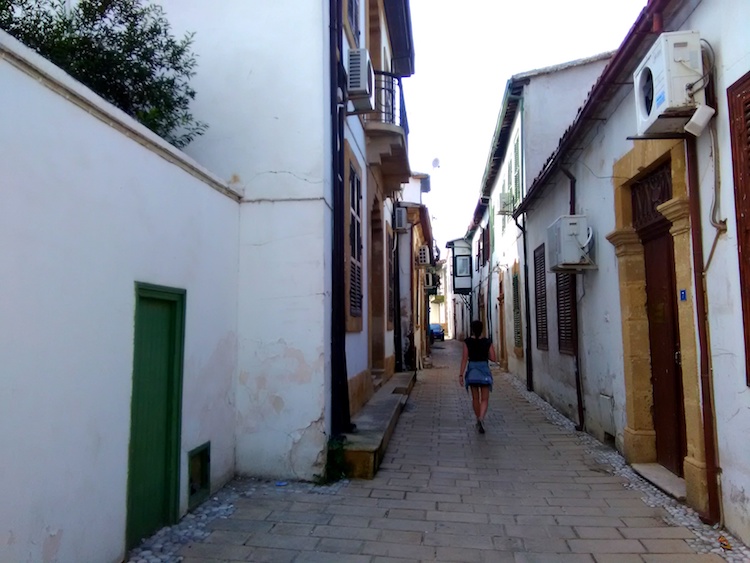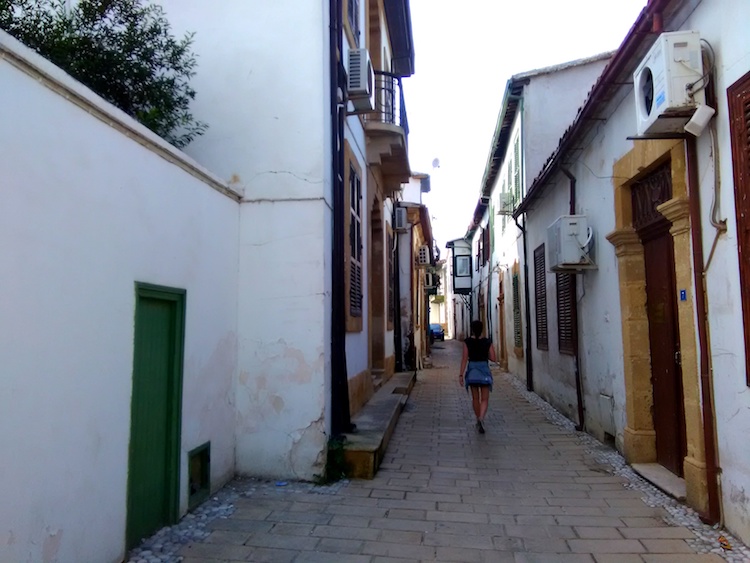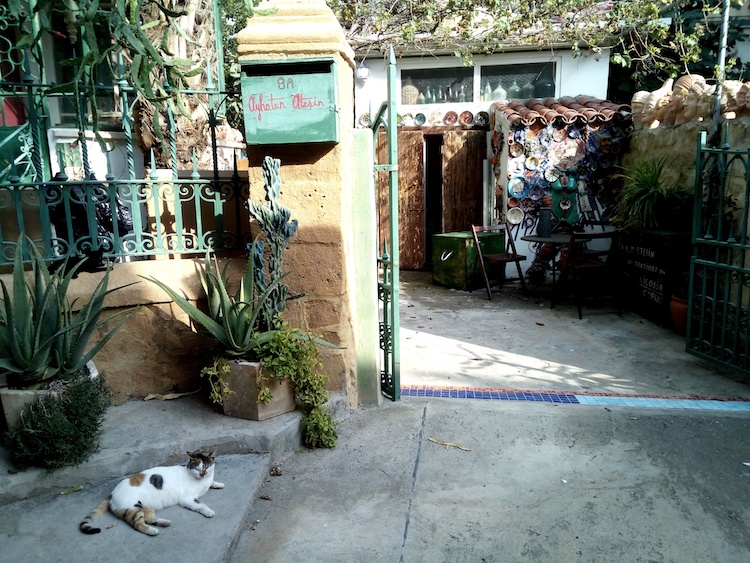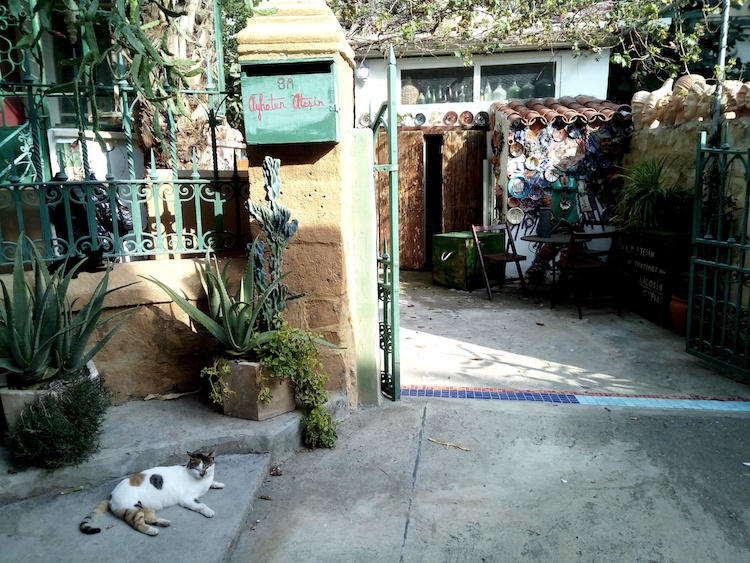 Our plan was to then walk across the border from the north to the south side, explore the south side of the city, then walk back across the border again to pick up our car and continue our trip.
But when we tried to cross, Northern Cyprus officials told us (very nicely!) that we couldn't cross the pedestrian border since we entered Northern Cyprus by car and thus had to leave by car. So, we then had to go back and pick up our car, drive to the south side, then explore from there.
So if you're set on doing the pedestrian border crossing, then you may want to begin by parking your car on the south side.
Frankly, there are already a lot of articles out there about visiting Nicosia and what to do on both sides of their border, so I'll refer you to them. Here is a good write up of what you can do on the south side of Nicosia, and here is a good write up of what you can do on the north side of Nicosia.
Both centers are very small and compact and can be visited on foot.
Personally, what we found most interesting was following the infamous "green line" through the city center: AKA the north/south border and the buffer zone that is currently only inhabited by UN peacekeepers.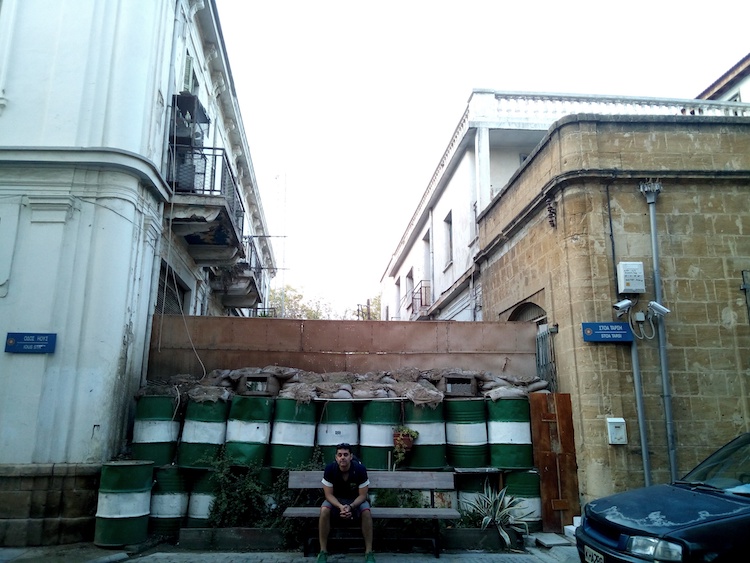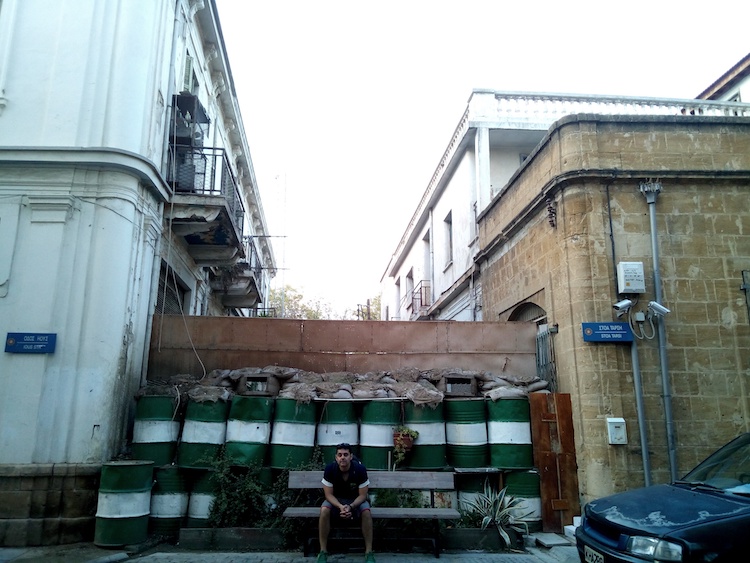 It was quite clear that the border wall was made haphazardly with whatever materials were around – sandbags, old barrels, chairs, random fences, etc. – which gives it quite a unique contrast to the otherwise-lovely city center.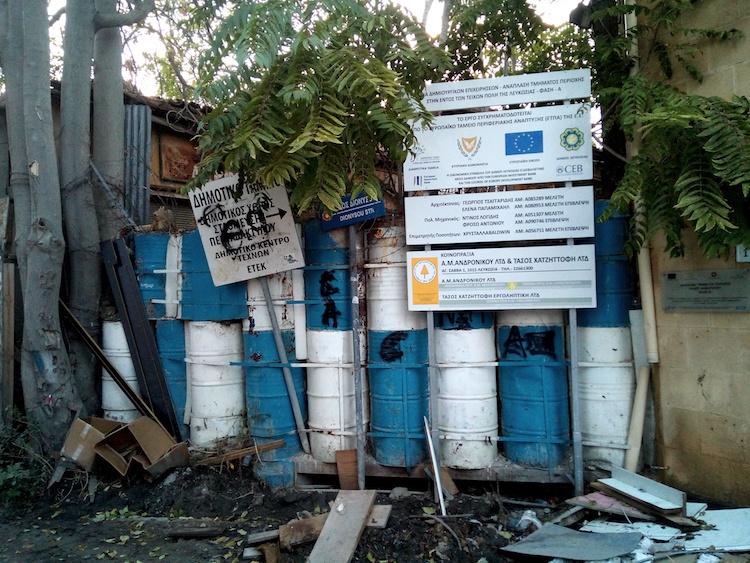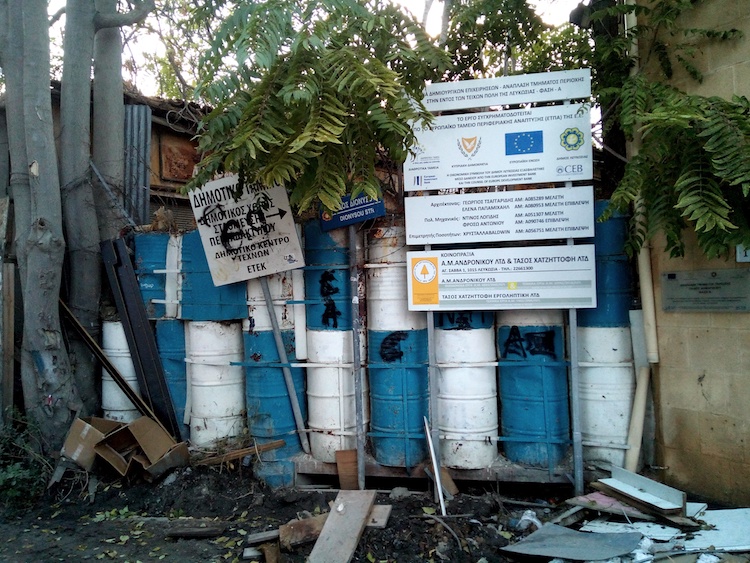 If you're interested in this as well, make sure to visit the Sınır Parkı (Yiğitler Burcu Parkı) on the north side for a look at the "no go" area and to spot an abandoned UN watchtower.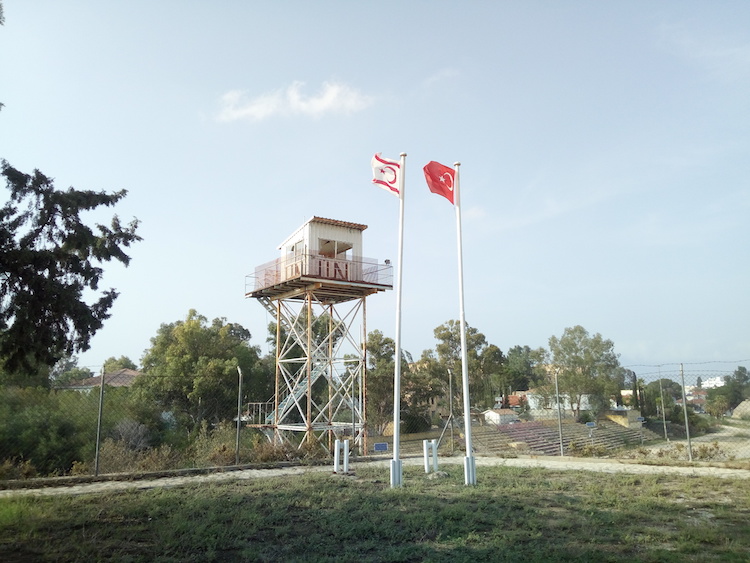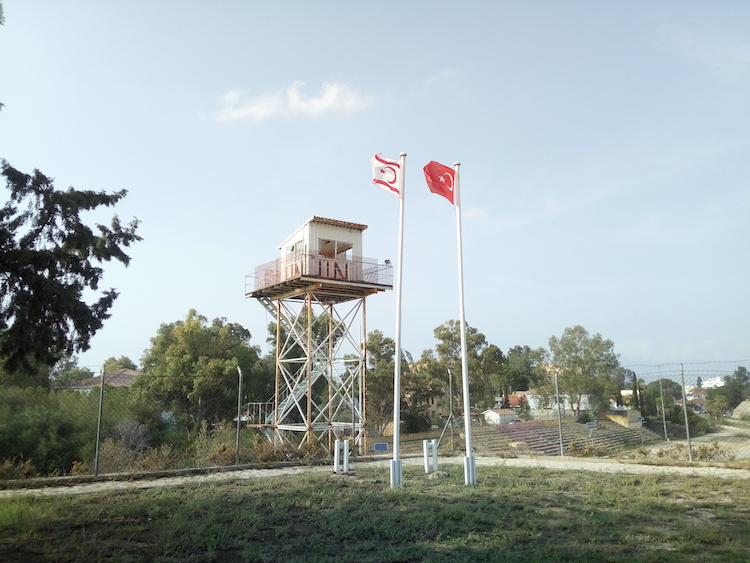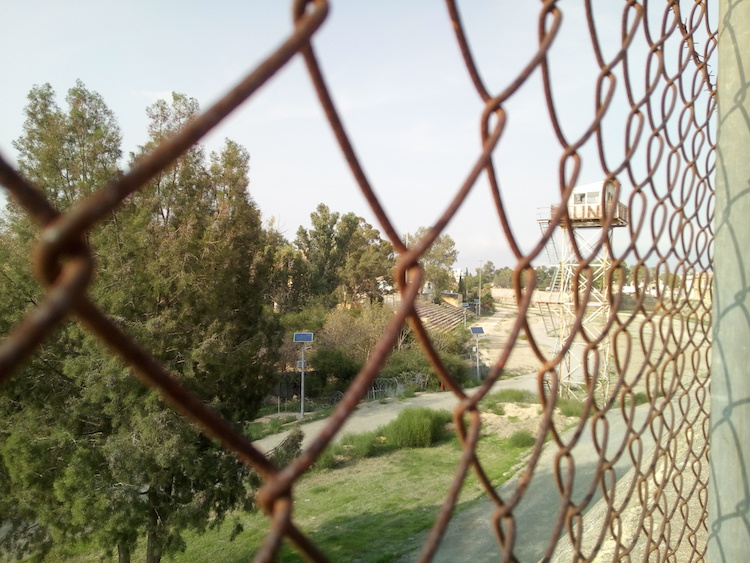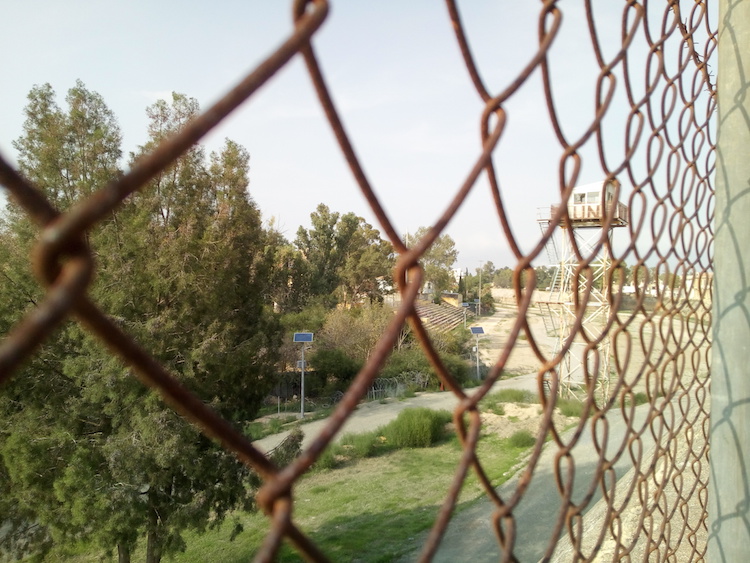 Drive to Troodos Mountains/Paphos Forest
I told you this was a long day! We ultimately decided not to spend a night in Nicosia because we wanted to do some hiking the next day and preferred to wake up in the mountains.
If we had another day, we probably would have preferred to spend the night.
That said, we head off for the Troodos Mountains in the Paphos Forest, home of the famed "Mount Olympus"!
Where to stay in the Troodos Mountains/Paphos Forest
Budget option


Mid-range option


Day 4: Roadtrip through the Troodos Mountains and the Paphos Forest, hike in Akamas Peninsula National Park, drive to Paphos
What do see/do in the Troodos Mountains
Although the Troodos mountains are peppered with numerous painted monasteries and small villages, we, unfortunately, didn't have the time to stop and see many of them beyond a driveby. However, the mountain drive did have some wonderful views!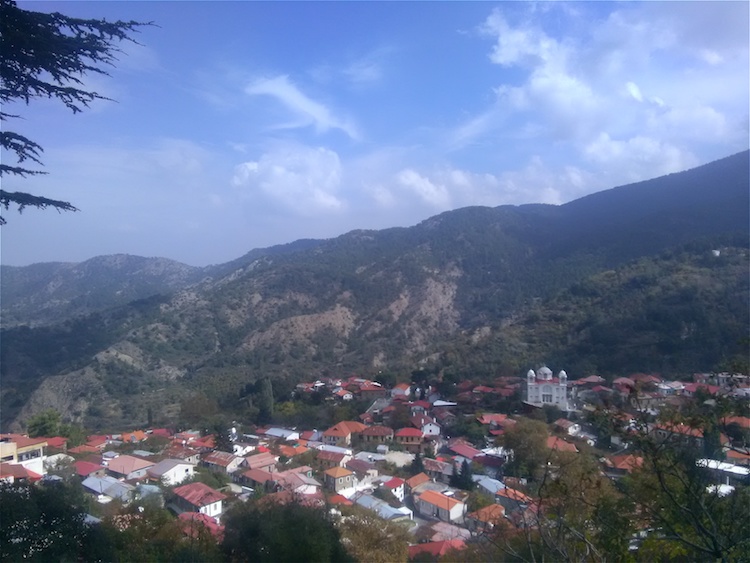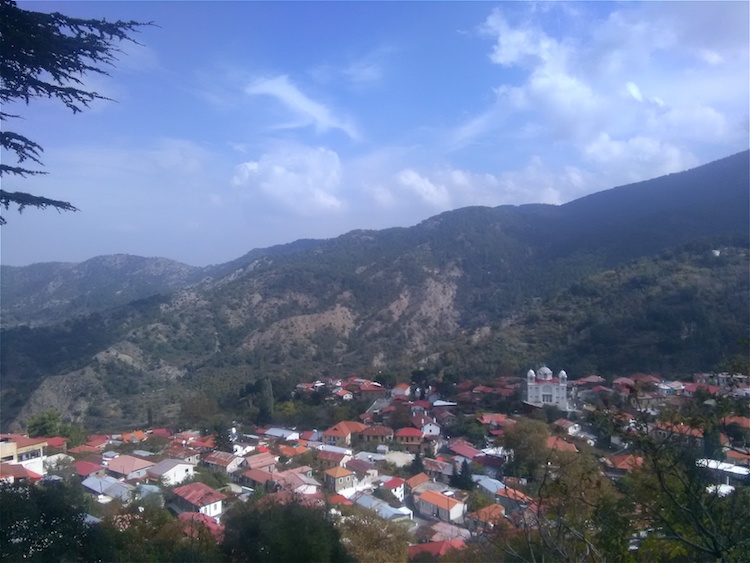 If you're not interested in hiking, then it makes sense to instead spend your day here exploring these UNESCO-claimed monasteries. You can learn more about the monasteries and see their locations here.
Our real destination, however, was the Akamas Peninsula, where we wanted to do some hiking along the rocky coastal mountains.
How to hike in the Akamas Peninsula
The Akamas Peninsula is simply stunning and there are quite a few different paths you can do. We chose the Aphrodite Trail and I think it may just be one of the best hiking trails in all of Cyprus (or at least the best trail in the Akamas Peninsula National Park!)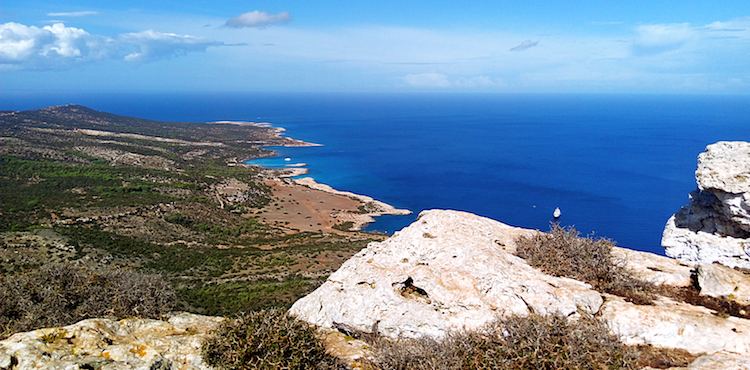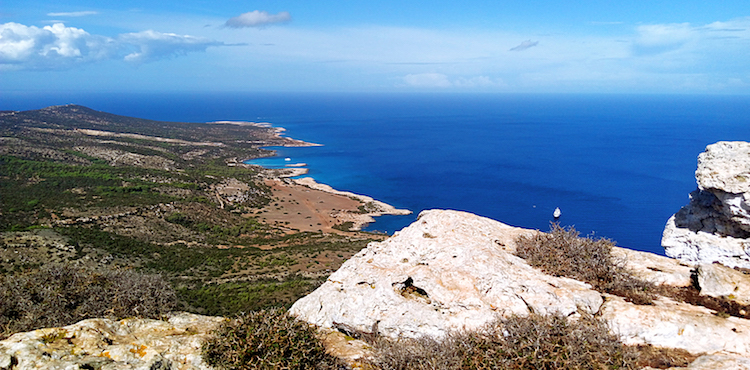 One thing to keep in mind is that the trails aren't super well marked. So, you may want to download the map below or make sure you set aside some extra time to get a bit lost

Here's a satellite map of the trail.
The hike itself isn't that long nor that strenuous (2 hours or so?), so it gives you the chance to take your time when driving through the mountains that morning or to stop and take a swim at any of the nearby beaches.
No matter what trail you choose, you'll likely begin at the parking lot by the Baths of Aphrodite.
Drive from Akamas Peninsula to Paphos
After the hike, we drove to the beach town of Paphos about 45 minutes away.
What to do in Paphos: day 1
We arrived in Paphos quite late, so we just took it easy with a walk along the lively waterfront where some of the best restaurants in Paphos are.
Where to stay in Paphos
Budget option


Mid-range option


Day 5: Wander through Paphos, visit Avakas Gorge, drive to Larnaca (with a stop in Limassol)
What to do in Paphos day 2
Very well known as a party destination, the beaches in Paphos are quite famous and beautiful. And, if anyone has heard anything about Cyprus, they probably know this city by name.
Beyond that, Paphos also has a lot of historical and cultural attractions like the Tomb of the Kings and the Paphos Castle.
But frankly, we weren't all that interested in beach things nor seeing some more ruins (especially since we had already seen such impressive ruins in Salamis a few days before), so we made a last-minute decision to visit the Avakas Gorge and its wild coastline.
How to visit Avakas Gorge
The gorge, just 40 minutes from Paphos, was a major unexpected treasure. Between the imposing walls of the gorge itself and the drive there along the incredible, isolated coastline, we were really glad we decided to make a visit.
Unfortunately, we had to backtrack towards the Akamas Peninsula to visit the gorge. So if we did things differently, we may have tried to sleep somewhere closer to the Akamas Peninsula (where we hiked the day before), then visited the gorge on our way to wherever was next.
The gorge itself is quite easy to get to. Just put the name into your GPS…and you're there! Upon arrival, just drive down the dirt road into the park until you hit the little parking lot.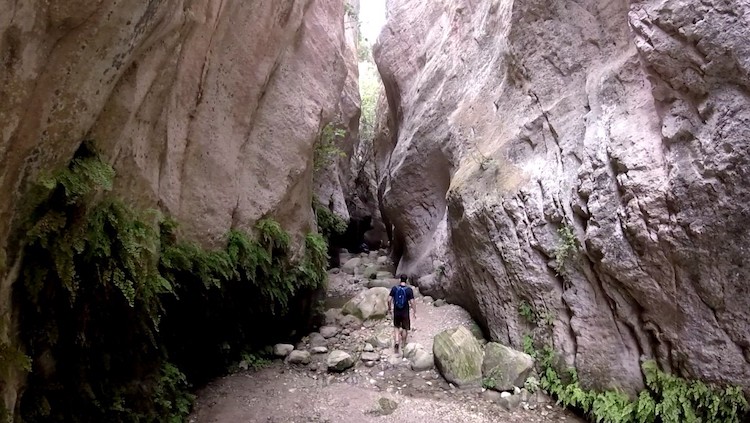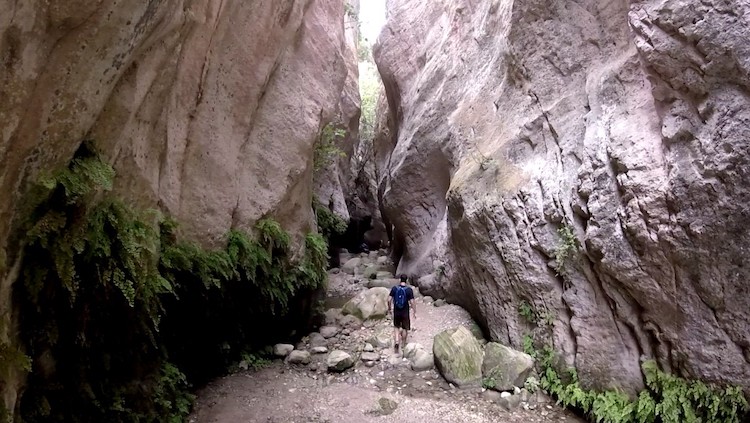 And luckily, since it's a gorge, you really can't get lost while you're out walking.
If you have the time, be sure to drive for a bit along the dirt roads hugging the coast nearby. The coastline and the waves are pretty awe-inspiring.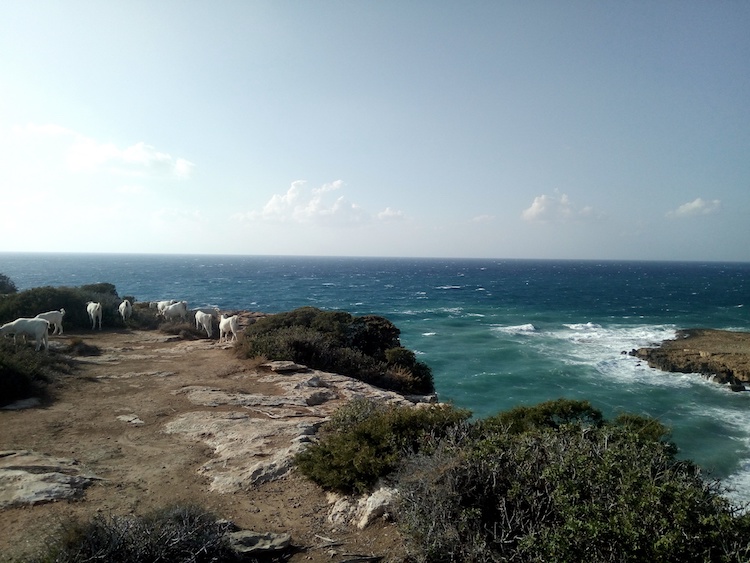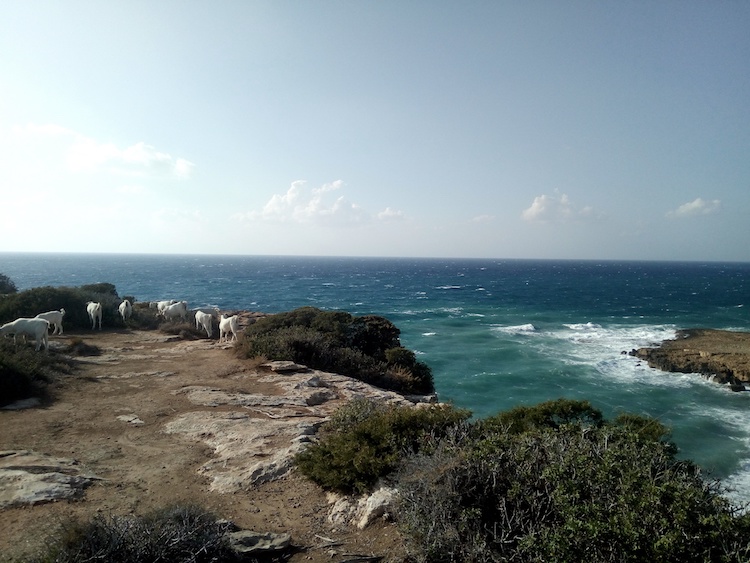 From the gorge, we began our drive back to Larnaca, where we'd be catching our flight the next morning. But before then: a quick stop in Limassol, Cyprus's 2nd biggest city.
What to do in Limassol
Unfortunately, by the time we arrived in Limassol, we didn't have many hours of daylight left. However, we did spend some time walking along the city's coastal "Molo promenade," the new marina, and then the old town.
You can read more about things to do in Limassol here.
It really did seem like a nice city and we would have considered a night here if we had more time.
Drive to Larnaca
Since you'll be flying out of Larnaca the next day, you'll probably want to play it safe and spend the night somewhere in the city.
Where to stay in Larnaca
Budget option


Mid-range option


7-Day Cyprus Itinerary/10-Day Cyprus Itinerary by Car
For the longer itineraries, begin with the 5-day itinerary above as a base. Then, do a mix-and-match of the different stops which you could easily sub in or remove based on your interests and how much time you have.
On the map given above (and right here), these alternatives will be marked in green.
Option #1: City of Ayia Napa & the Sea Caves (add to day #1 in the 5-day itinerary)
Between Larnaca and the north Turkish town of Famagusta/Gazimagusa, you'll find Ayia Napa.
The city is known as Cyprus' premier nightlife destination, and is also famous for its beaches and sea caves.
You can learn more about the stop and what to do in Ayia Napa here.
Option #2: Painted monasteries in Troodos Mountains & Mountain Olympus (add to day #3 in the 5-day itinerary)
As I mentioned in day #3 of the itineraries above, the Troodos Mountains are full of monasteries and local villages to visit. Plus, you can also drive (well, almost drive) to the highest point on the island: Mount Olympus.
The mountains are located quite centrally, so you can easily visit between Nicosia, Paphos, and many other south Cyprus destinations.
You can learn more about the stop and what to do in the Troodos Mountains here.
Option #3: Karpaz Peninsula in Northern Cyprus (add to day #2 in the 5-day itinerary)
If you'd like to add another stop in Northern Cyprus between Famagusta/Gazimagusa and Kyrenia/Girne, then this is your best bet.
This isolated peninsula is famed for its flora and fauna (including the unexpected wild donkeys!) and its unspoiled nature and beaches.
Learn more about the stop and what to do in the Karpaz Peninsula here.
Option #4: The Great Crusader Castles in the Kyrenia Mountain Range (add to day #3 in the 5-day itinerary)
As I mentioned on day #3 when visiting Hilarion Castle, there are many additional castles and fortresses you can visit in the area.
So if you have some extra time, you could spend an extra night in Kyrenia and spend more time exploring the surrounding mountains.
The most famous of these are, beyond the Saint Hilarion Castle, the Kantara Castle and Buffavento Castle.
Learn more about Buffavento Castle here and Kantara Castle here.
Option #5: Zenobia wreck diving in Larnaca (add to day #1 in the 5-day itinerary)
The Zenobia is said to be one of the best wreck dives in the world. Rodrigo did this dive and really enjoy it (minus the night of not sleeping before). Remember to not leave diving for the last day since you shouldn't fly just after diving.
Option #6: Beach day (add to any day you like)
And, of course, if you have some extra time you can also visit what Cyprus is famous for: the beach.
You can find a list of the best beaches in Cyprus here.
Other tours, activities and attractions in Cyprus
GetYourGuide and Civitatis are tools to search for tours that I use a lot. There you can find tours from the cheapest to the most luxurious as well as excursions of a few hours and even a few days. Before embarking on your trip, take a look at the tours that are available: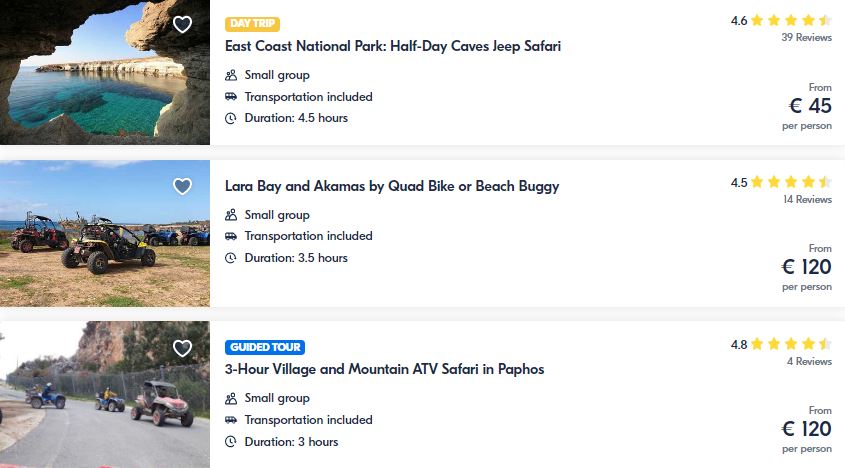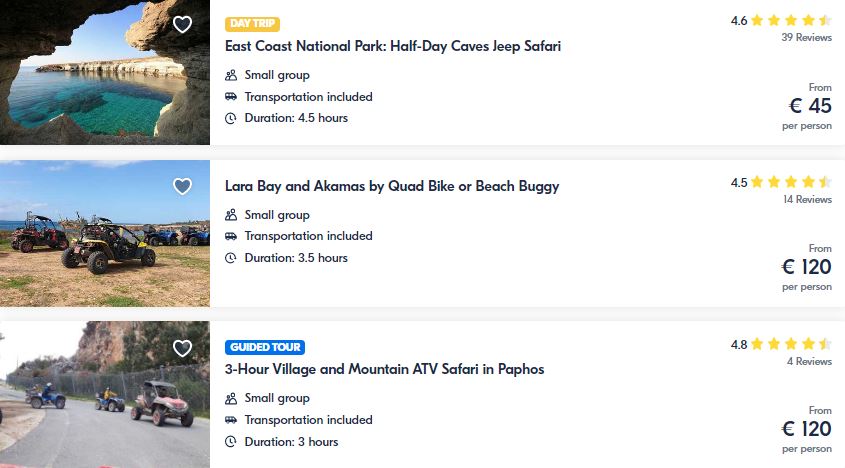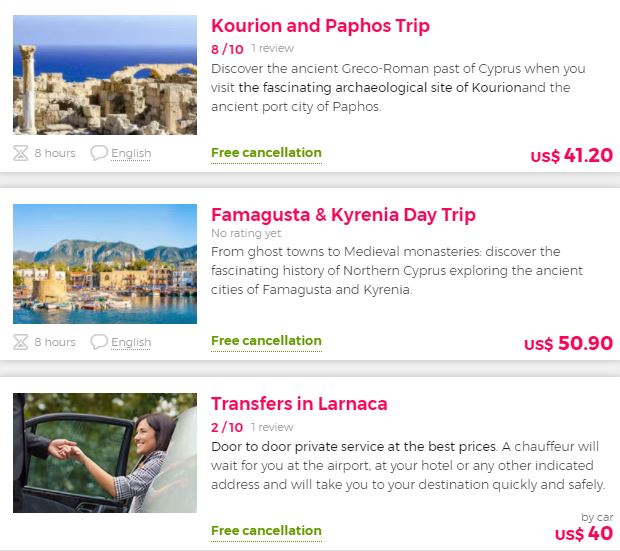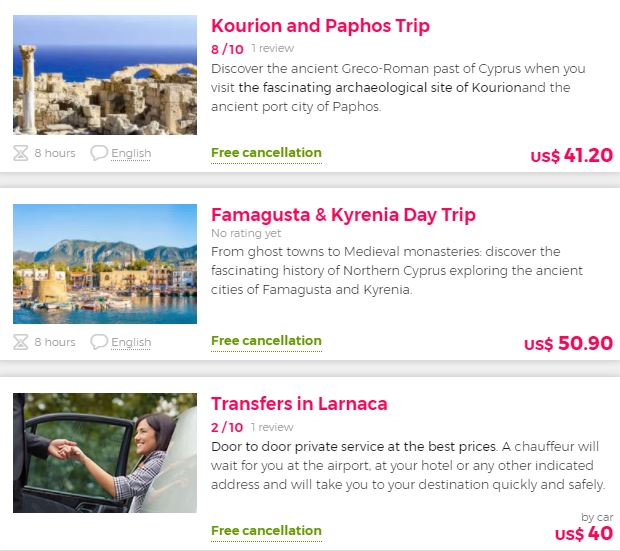 —
And that's it!
Have upcoming plans to go to Cyprus? Have any questions that weren't answered here? Let me know in the comments below and I'll be happy to help

Planning your next trip?
Then don't forget travel insurance! You don't want to get stuck paying a ton of money and ruining your trip if you get sick or have an accident without travel insurance. WorldNomads is ideal for adventurous travelers, backpackers, or anyone looking to be protected during their trip. They cover almost every single activity you can image! Plus, you can have a 5% discount with the coupon code comfort5.
Already reserved your hotel or hostel? If not, we recommend Booking.com. They have a huge selection of hotels and hostels all over the world. Plus, in most cases, you can cancel your reservation up to a few days before the check-in date without any costs!
Still haven't booked your plane ticket and want to save big? Take a look at Kayak and Momondo. They are flight aggregator that combine several other ticket search websites to make it easier for you to compare prices and make sure you are getting the best deal.
And finally, will you need to rent a car during your trip? Then check out Rentalcar.com to search and compare car rental companies from all over the world in a single website. Then, you can find the cheapest price for the best car!