Ahhh, nothing better than traveling to practice a sport or take on an adventure activity. Seeing a new country and getting that adrenaline rush from at the same time is just the best!
But with sports and activities, there come risks. Which means this type of trip is one you need to be prepared for. So, an international travel insurance that covers adventure is essential.
It's worth mentioning that travel insurance is also very important for normal trips. Which means that it's practically obligatory on a trip where you'll do adventurous activities or sports since they only make the trip riskier. So, having travel insurance is more than just important.
If you are just looking for a normal travel insurance, I recommend my article with the 3 Best and Cheapest International Travel Insurance in 2020!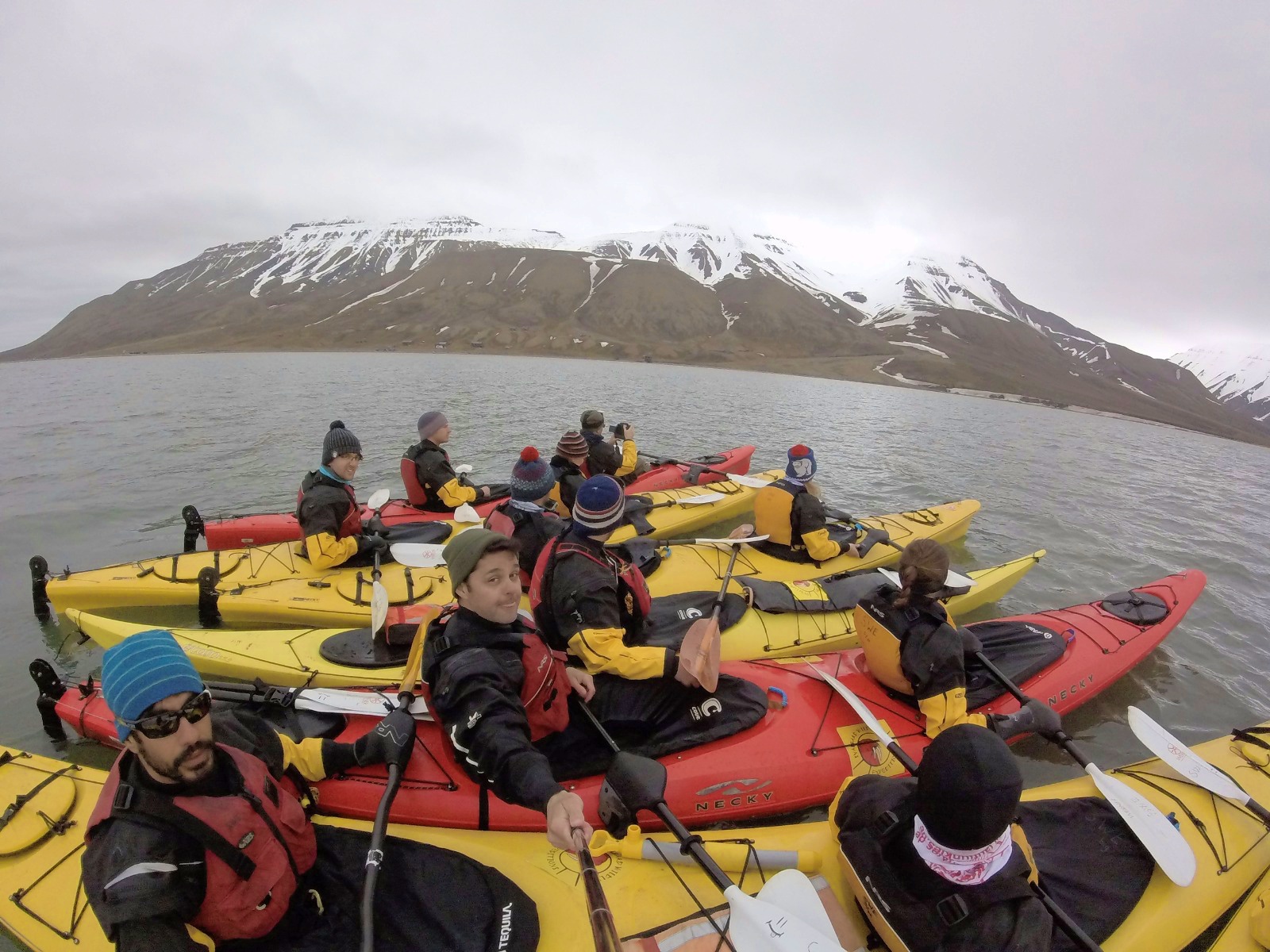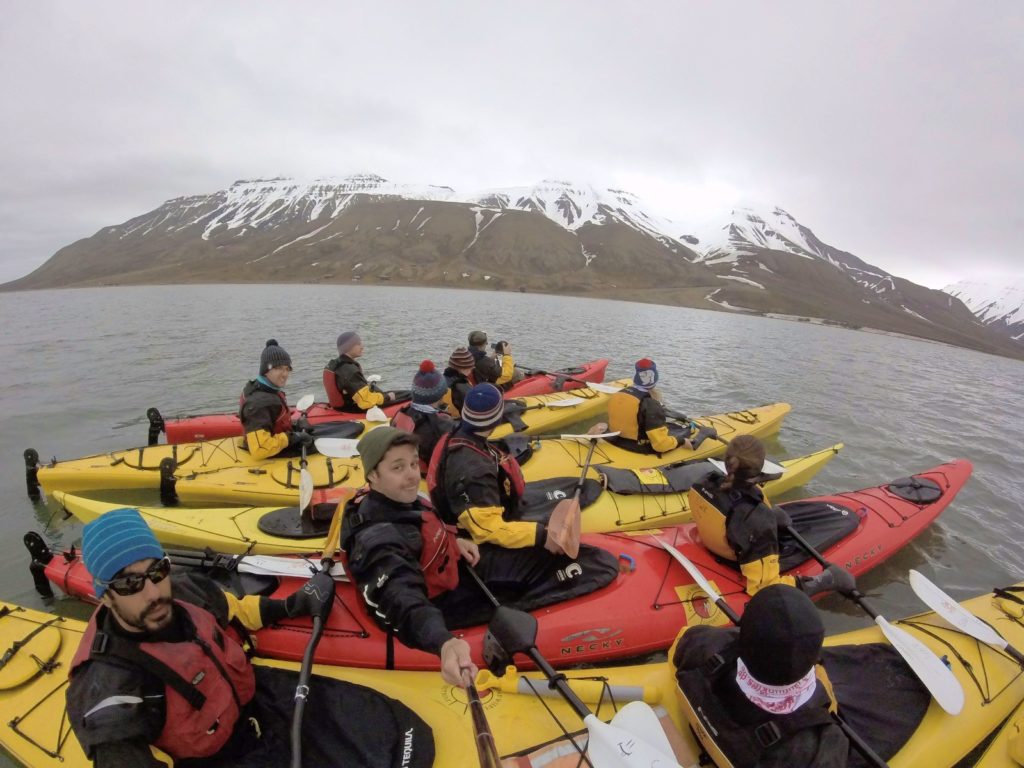 Why do I need special travel insurance for extreme sports and adventurous activities?
Not all insurance companies cover all types of activities.
In other words, if you buy a type of travel insurance that doesn't cover snowboarding and you get hurt snowboarding, your insurance won't help you.
Basic travel insurance plans cover basic activities (like "safe" sports, fishing, hiking, snorkeling, etc.). But if you plan to do more extreme sports or adventurous activities such as surfing, diving, skiing, snowboarding, etc…, there's a good chance you'll have to add on a supplement to your plan to make sure your specific activity is covered.
I'll get more into that below

What do I mean by adventurous activities and extreme sports?
These are the types of sports and activities that normal types of travel insurance (or at least the basic plans) often don't cover. This will vary from insurance company to insurance company.
For example, skydiving is an activity that will never be covered by a basic travel insurance plan. However, canyoning may be covered by some plans, but not by others.
When I talk about the 7 best companies below, you'll see screenshots with what activities are considered adventurous activities or sports (and thus will know what type of plan will cover you).
By the way, if you like to play sports and stay in shape during your travels, check out my article with 9 Tips to Stay Fit During Your Travels.
How to choose the best international travel insurance for extreme sports and adventure activities?
To choose the right plan for you, you'll need to consider a few factors. From the coverage amount to the activities and sports covered.
First, it's important that you pay attention to the requirements for your destination (in Europe, for example, you need to have coverage of 30,000 US dollars at the minimum in the Schengen area).
And remember that the cost-benefit may be more important than the simple price of travel insurance coverage. This is because a difference in value can reflect greater coverage (for more sports/activities) and benefits which make it worth more than a cheaper plan.
Besides this, make sure to read the insurance policies and pay attention to the conditions, exclusions, and service instructions. So you can avoid unpleasant surprises when an emergency strikes, and make sure that your sport/activity will be covered.
The 4 Best Travel Insurances for Extreme Sports and Adventure Activities
A sport/adventure travel insurance is much more specific than one for a leisurely trip and it can be very stressful to spend hours searching the 'net to find the right insurance.
Plus, it's much better to know that the insurance you buy won't let you down.
With that in mind and to help you choose the best insurance for adventures and extreme activities, I made a list below comparing the 4 best travel insurances available.
At the end of the post, you'll find a table comparing the activities and sports covered, as well as the coverage amounts from each insurance company.
TIP: As always I recommend you get a quick quote online on all the companies I list below. You will only lose a few minutes and you could end up saving a lot just with good research.
1) World Nomads (Standard or Explorer Plans)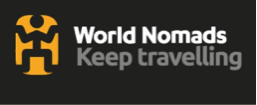 (5% discount coupon comfort5)
World Nomads is a respected and well-known company focused on adventure travel insurance and lots of sports! It's even the insurance recommended by the largest travel guide in the world, Lonely Planet.
Their coverage is guaranteed and provided together with Bupa, AIG, and Nationwide insurers, depending on which country you are from. It includes emergency service in many languages 24/7.
There are two possible plans offered by World Nomads: Standard and Explorer.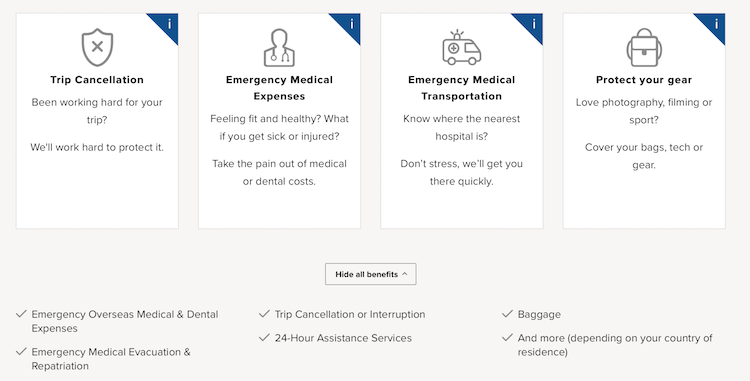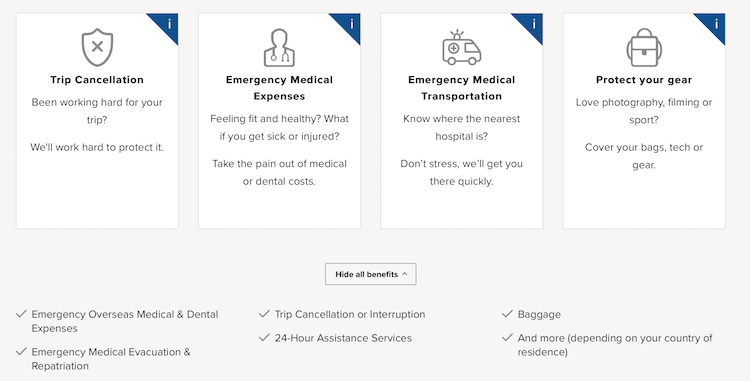 As you can see from the table, the coverage amounts vary greatly. But the same is not true of the price you pay. And both plans cover more than 150 activities!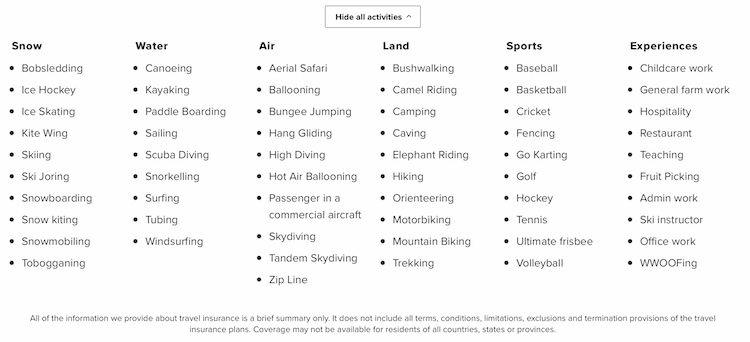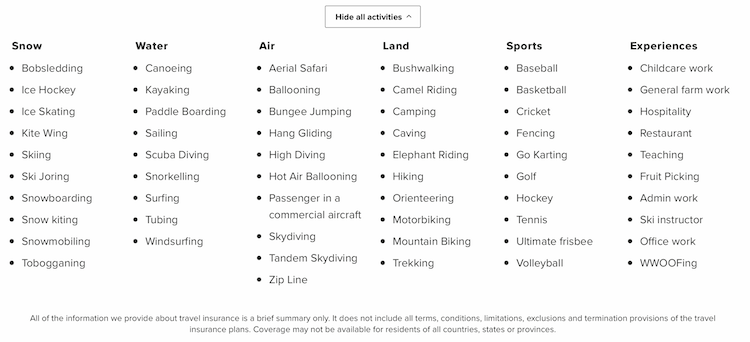 There are, however, a few activities that are only covered by the Explorer plan (make sure you check for your specific sport/activity before you buy).
Since there are so many activities (even with just the Standard plan), it's a great option for adventurous travelers who practice lots of types of sports and might need emergency medical coverage.
The price, when you consider all it covers, is really worth it. Just to help you have an idea, I got a hypothetical quote for two weeks in Switzerland, a destination known worldwide for its skiing:


You can get a quote and purchase directly from the World Nomads website.
One of its biggest attractions is the amount of coverage which can be greater than many other insurance providers depending on your country of residency. It usually goes from US$ 100,000.00 to unlimited!!
And considering the pricey costs of sports accidents, if you practice sports (that are included on the list above), World Nomads is a safe choice.
By clicking on this link here and using the coupon code comfort5, you will get a 5% discount on your World Nomads travel insurance plan.
SafetyWing is a new travel insurance that is really similar to WorldNomads and focuses on covering travelers who practice all kinds of sports.
They are partners of HCC (that I mentioned above) and they are underwritten at LLOYD's. In other words, it's a pretty trustworthy company.
Plus, like the other insurances mentioned above, SafetyWing covers people from all over the world!!
One great thing about them is that they have a precise list of all the sports and extreme activities they cover on their website.
I will post this list here plus the sport activities they DON'T cover. It is important to highlight that this is a non-exhaustive list. And keep in mind that these activities are only covered if they are practiced recreationally. They are not covered for organized athletics* or professional sports:
List of Included sports covered by SafetyWing travel insurance
| | | | |
| --- | --- | --- | --- |
| Angling | Archery | Badminton | Ballooning |
| Baseball | Biking – includes touring and organised tours | Bowling | Bungee jumping |
| Bushwalking up to 4,500 meters | Camel riding / trekking | Camping under 4,500 meters | Canoeing |
| Capoeira dancing | Canyoning | Clay pigeon shooting | Cricket |
| Cycling under 4,500 meters | Deep sea fishing | Dirt boarding (skate on unpaved land, offroad) | Dog sledding (not racing or competing) |
| Elephant riding / trekking (ethically complicate!) | Fell running / walking (kind of trail running) | Fencing | Fishing |
| Flying as a passenger | Glacier walking up to 4,500 meters | Golf | Gymnastics (only as exercise or for fun; not competitive or organized) |
| Hiking up to 4,500 meters | Horse riding | Hot air ballooning as a passenger | Hunting (excluding big game) |
| Ice skating (indoor or outdoor) | Ice climbing up to 4,500 meters | Jet boating (like those in New Zealand that goes really fast in the middle of the canyon) | Jet skiing |
| Kayaking | Land surfing (kind of skating with a long skate) | Moped biking except as excluded below | Motor biking except as excluded below |
| Mountain biking up to 4,500 meters | Netball | Orienteering | Outdoor endurance except as excluded below |
| Paintballing | Rambling (kind of a light hiking) | Rap jumping (kind of a sport involving rapel) | Rifle range shooting |
| Rollerblading | Roller skating | Rowing / sculling | Safari tours |
| Sailing | Sand Boarding | Sand Skiing | Scuba diving (sub Aqua Pursuits involving underwater breathing apparatus) as long as you are PADI/NAUI certified, or if you are not certified you are covered for up to 10 meters when accompanied by a certified instructor. |
| Sea canoeing | Sea kayaking | Skateboarding | Skiing (only covered for recreational skiing. No cover provided while skiing away from prepared and marked in-bound territories (off piste) and/or against the advice of the local ski school or local authoritative body) |
| Sleigh rides (like sledding pulled by horses) | Sledding | Snorkelling except as excluded below | Snow rafting (I didn't know that was a sport!!) |
| Snowboarding (only covered for recreational snowboarding skiing. No cover provided while skiing away from prepared and marked in-bound territories (off piste) and/or against the advice of the local ski school or local authoritative body) | Speed boating | Squash | Stand up paddle surfing |
| Stilt walking | Surfing except as excluded below | Swimming | Table tennis |
| Ten pin bowling | Tennis | Trail bike riding | Tubing on snow |
| Ultimate frisbee | Trekking up to 4,500 meters | Tubing | Via ferrata up to 4,500 meters |
| Wakeskating | Wakeboarding | Water skiing | Yoga (in class or alone) |
| Walking | Weightlifting, cardio and classes at the gym (note that training for or attending a powerlifting competition is excluded.) | Yachting (coastal waters only) | Yachting (outside coastal waters) |
| Windsurfing | Volleyball | Zip line | Zorbing |
*You are not covered if the activity is organized athletics involving regular or scheduled practice and/or games, or the activity is performed in a professional capacity or for any wage, reward, or profit.
You must ensure the activity is adequately supervised and that appropriate safety equipment (such as protective headwear, life jackets etc.) are worn at all times.
Sports that are excluded from coverage by SafetyWing travel insurance
| | | | |
| --- | --- | --- | --- |
| All-Terrain Vehicles | American Football | Aussie Rules Football | Aviation (except when traveling solely as a passenger in a commercial aircraft) |
| Base Jumping | Big Game Hunting | Bobsleigh | Boxing |
| Cave Diving | Football (Soccer) | Heli-gliding | Hot Air Ballooning as a Pilot |
| Ice Hockey | Kite-Surfing | Martial Arts | Luge |
| Motorized Dirt Bikes | Mountaineering at elevations of 4,500 meters or higher | Outdoor Endurance Events | Parachuting |
| Parasailing | Powerlifting (lifting at max weight with the intention of attending a competition) | Quad Biking | Racing by any Animal, Motorized Vehicle, or BMX, and Speed Trials and Speedway |
| Rugby | Running with the Bulls | Skiing off piste (outside prepared and marked in-bound territories) and/or against or against the advice of the local ski school or local authoritative body | Skeleton |
| Snowboarding off piste (outside prepared and marked in-bound territories)and/or against or against the advice of the local ski school or local authoritative body | Sky Surfing | Snowmobile (moto de neve) | Soccer (Football) |
| Spelunking | Sub Aqua Pursuits involving underwater breathing apparatus (unless accompanied by a certified instructor at depths less than 10m, or PADI/NAUI certified) | Tractors | Whitewater Rafting |
3) IMG Global (Patriot Medical with Adventure Sports Rider)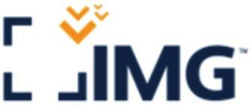 IMG Global is another well-known company that's been around since 1990.
They offer several different plans, including insurance options for exchange students and insurance for expats (foreigners who live in other countries).
The best international insurance for adventure travel from IMG Global is their Patriot Travel Medical Insurance, which you can get for trips as short as 5 days and as long as 12 months.
With this plan, the coverage limit can be up to 2 million USD. But for the specific coverage for adventure sports accidents, the limit decreases considerably.
Plus, the company still uses age to define coverage maximums:

The coverage for sports is extra. So, you'll need to choose the "Aventure Sports Rider" when getting a quote.

IMG Global's "Adventure Sports Rider" includes 33 adventure sports and is only available for those under 65: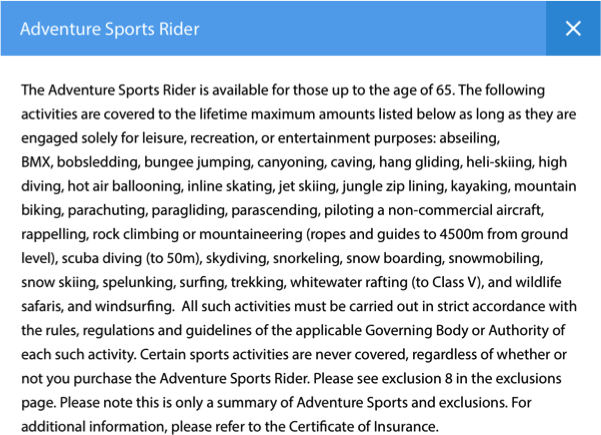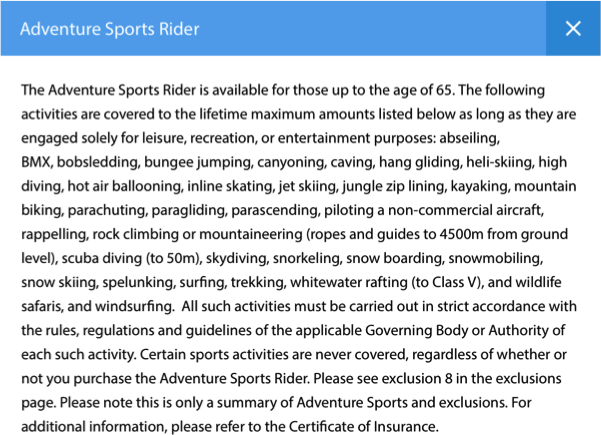 Still, the plan has potential since it covers activities that aren't covered by World Nomads' Standard Plan, like bungee jumping and skydiving (although these are covered in World Nomads' Explorer Plan). So IMG can be a good alternative if you plan to do these activities during your trip.
Not to mention that the prices are a bit more attractive. Getting that same hypothetical quote, two weeks in Switzerland, with the coverage of adventure sports adds up to the following:

So, although it doesn't cover as many activities overall and the coverage is less than World Nomads, it's worth seeing if your sport/activity is on the list I gave above.
You can get a quote directly on their website. They also have multilingual customer service either by phone or live chat on their website.
4) HCC Medical Insurance (Atlas International)

HCC Medical Insurance is an American insurance company that was purchased in 2015 by Tokyo Marine, another well-known insurance company.
One of the most interesting differences in HCC is that it offers specialized travel insurance options with coverage ranging from leisure trips to missionary trips to exchange students.
The insurance is offered in partnership with Atlas Travel, with a maximum coverage of up to 2 million USD.
The two plans HCC offers for travel insurance are Atlas International and Atlas International Premium.
The first plan has a maximum coverage of up to $1 million USD (and thus is cheaper), while the second has up to $2 million USD.
Between these two plans, there is no difference in the sports/activities covered.
The values are pretty good in that, if you consider the maximum coverage, this is the travel insurance option with the best cost-benefit among the 4 listed.
With the same hypothetical, here's the cost of my two weeks in Switzerland with HCC: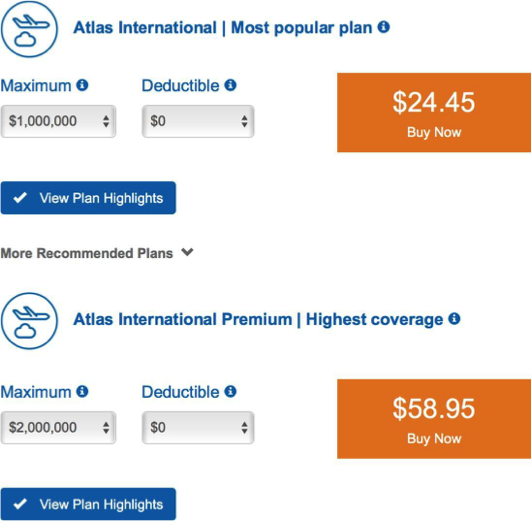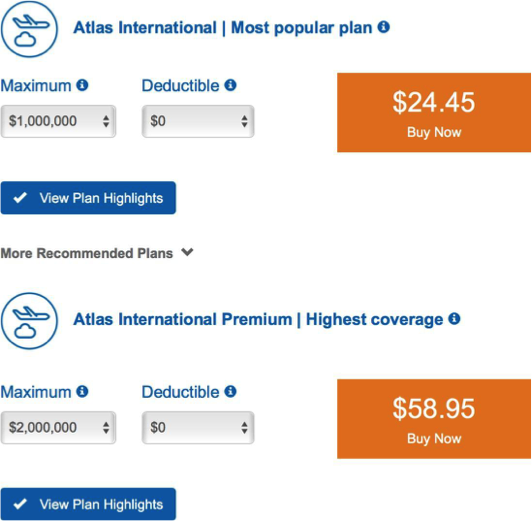 Both plans include adventure activities without additional cost. The list of covered sports and activities are given by exclusion. In other words, all the adventure sports that are not expressly excluded in the insurance policy are covered.
For your activities to be covered by HCCMI, you must meet these standards.


And with the above precautions, the following activities are included: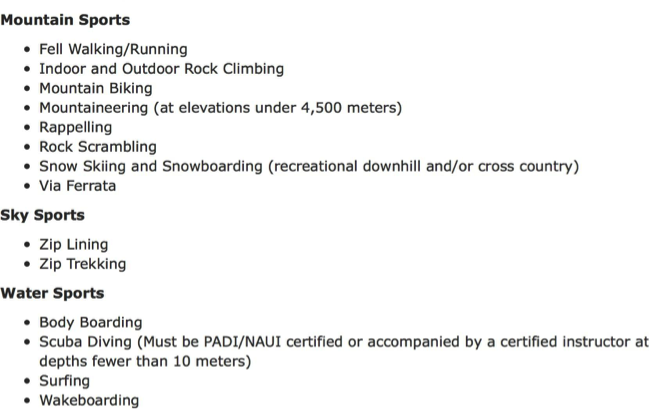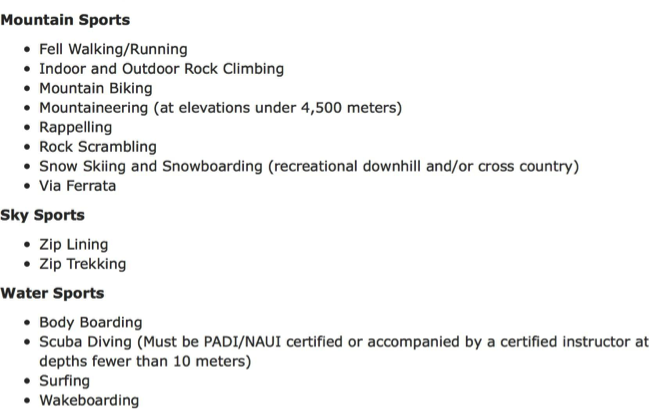 These are the sport/activities which are NOT covered by the Atlas Travel plans: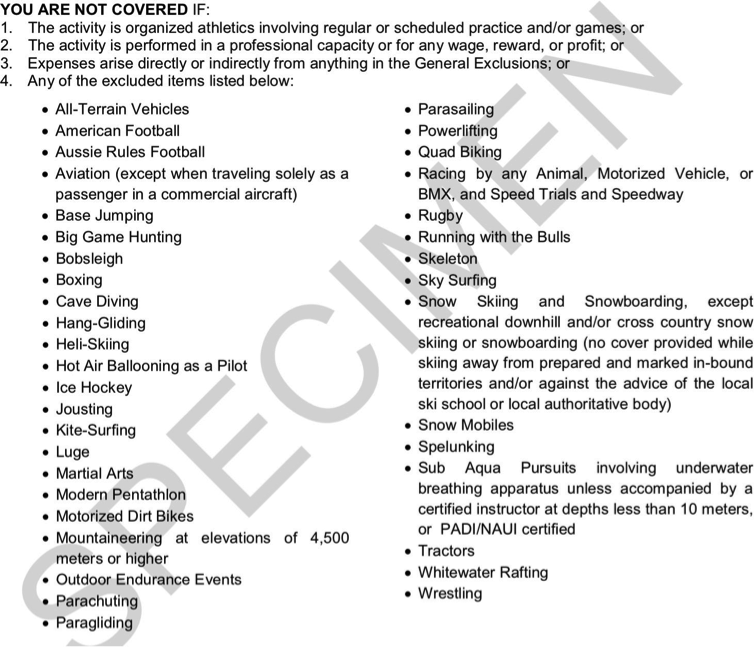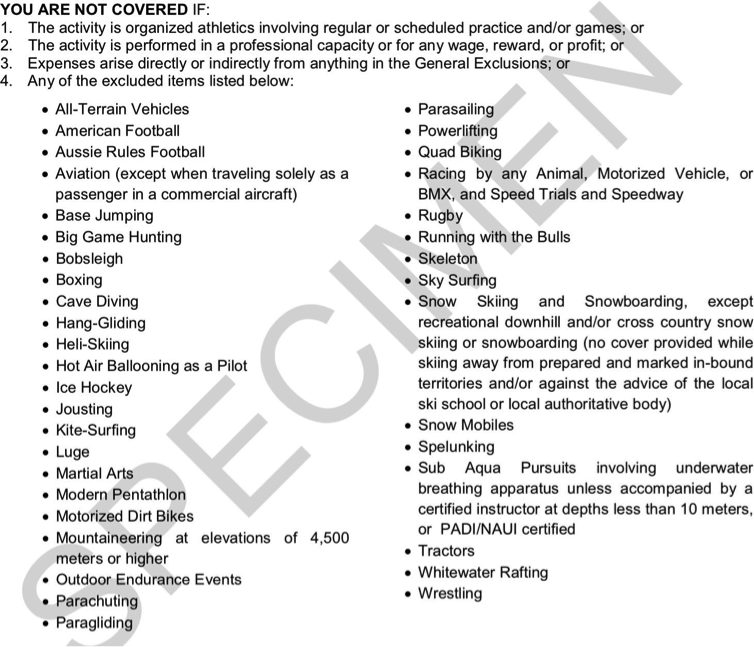 All of the activities that are not on the list of excluded items are covered by the insurance.
One other useful difference is that, before you buy a plan, you can find a list of local HCCMI partners where you can be treated simply by presenting your insurance ID card. Meaning you can avoid the big headache of trying to get reimbursed by your insurance plan.
Table comparing the 4 best travel insurances for extreme sports and adventure activities
Now that you've seen the pros and cons for these 4 insurance companies, take a look at the comparative table to help you choose the right insurance for you:
Medical Coverage

From US$ 100,000

to

Unlimited!

Up to 64 years

US$ 250.000,00

65 to 69 years

US$ 100.000,00

US$ 50.000,00

(expenses arising from adventure sports)

US$ 1 million

(Atlas International)

US$ 2 million (Atlas International Premium)

Atividades cobertas

180+ activities
All activities

minus the 37 expressly excluded from the policy

33 activities

(including bungee jumping and skydiving)

All activities

minus the 38 expressely excluded from the policy

Activities Covered

24/7 Multilingual
Only in English
24/7 Multilingual
24/7 Multilingual
It's worth mentioning that all 4 insurance companies here are excellent and have a good reputation in their market. So you're sure to be well-protected if you take out a plan with any of them.
Other options for searching travel insurance for extreme sports and adventures
If you're still unsure which travel insurance is right for you, take a look at this list of online travel insurance search aggregators. All on this list are great-to-plan and insurance comparison tools.
When searching for the best insurance for you, do not forget to mention that you intend to carry out and physical activities during the trip, in this way, they will present them as the most suitable options for these cases.

Travel Insurance is a travel insurance research aggregator website, that is, it works as an online comparison of different plans and companies.
This is one of the most practical ways to find the ideal travel insurance for you, as instead of going through countless websites and comparing them, you can simply add what you are looking for in an insurance policy. After that, the site will compare services, taking into account customer ratings and price range.
One of the main advantages of using Travel Insurance is that it is possible to find insurance for the most varied profiles. If you are looking to carry out radical and extreme activities during your trip, you are a digital nomad and travel the world working, you are an expatriate starting a new life in another country… There are countless possibilities.
VisitorsCoverage provides an extensive range of insurance policies, catering to various needs, including specialized coverage for students and business travelers.
A notable advantage of VisitorsCoverage is their exceptional customer service, which operates seven days a week. Additionally, they offer coverage to citizens from over 175 countries.
Their website allows users to apply filters to explore policy options specifically related to Covid-19. This feature proves particularly beneficial as insurance coverage for this condition can vary among different providers.
Here are the pros and cons of comparing travel insurance with VisitorsCoverage:
Wide selection of plans available.

Ability to apply specific filters, such as Covid-19 coverage, to streamline your search.

Excellent customer service.
Currently, there are no identified cons associated with comparing travel insurance with VisitorsCoverage.

AARDY works similarly to Travel Insurance, it is a travel insurance aggregator and aims to help its customers choose the ideal insurance for their profile.
One of AARDY's areas of focus is customer service, so they boast an exemplary TrustPilot score above any other travel insurer in the US.
Unlike most online insurance companies, this company bets on online self-service and on phone and email service with brokers, thus forming a hybrid system for customers to choose the way they like best.
Another feature of AARDY is the way your quotes are made, in addition to being fast, they also show the information that may interest you the most and compare in a very effective way the plans and companies most suitable for your profile.
Interesting information is that this institution converts 10% of its annual earnings into donations to institutions that help children of soldiers killed in action who need financial help.

Another great insurance aggregator option that can facilitate your choice and taking out insurance is InsureMyTrip.
By entering this company's portal, it is super easy to make budgets and comparisons between the best companies and plans for your trip.
One of the biggest advantages of using InsureMyTrip is that this portal has a super strict classification rule. If an insurer receives a bad rating, it will be automatically excluded from the site to avoid complications with future customers.
One of the disadvantages of InsureMyTrip is that they do not provide insurance for expatriates and international students. If that's the case for you, check out my article 5 Best & Cheapest Health Insurances for International Students & Studying Abroad or 7 Cheapest International Health Insurance Plans for Immigrants & Expats. I'm sure it will be useful!
Conclusion…
Even after this very complete list comparing the four adventure insurances, it's still important to take some time to read the policies for each of them.
This is because choosing the right travel insurance is highly subjective. Especially if you're practicing a specific sport or activity (and need to make sure it's covered by your policy).
The important thing is that you make sure to get travel insurance. Like I said, if travel insurance is important for normal travel, it's essential for adventure travel.
Your trip will definitely be better if you can travel with peace of mind, knowing that if something happens, you'll have the help of a reliable insurance company.
And remember, after purchasing your policy, don't forget to print it out or save it to your phone, as well as the 24-hour "help" phone number.
Planning your next trip?
Already reserved your hotel or hostel? If not, we recommend Booking.com. They have a huge selection of hotels and hostels all over the world. Plus, in most cases, you can cancel your reservation without any costs up to a few days before the check-in date!
Still haven't booked your plane ticket and want to save big? Take a look at KAYAK. and Momondo. They are flight aggregators that combine several other ticket search websites to make it easier for you to compare prices and make sure you are getting the best deal.
And finally, will you need to rent a car during your trip? Then check out Rentalcar.com to search and compare car rental companies from all over the world on a single website. Then, you can find the cheapest price for the best car!