Last Updated on by Rodrigo @ OutofYourComfortZone
Do you dream of traveling but don't know how to do it and keep an income? Do you want to change your profession and have a freer lifestyle? Learn here some tips on how to become a digital nomad, an area that grows more and more among dreamers.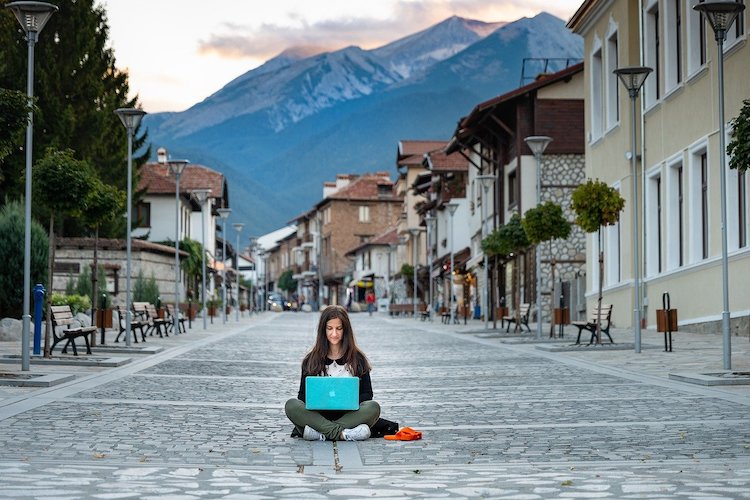 Note: today's article is brought to you by Daniela McVicker, a professional blogger with a background in education. Currently, she's collaborating with educational websites like Ratedbystudents, which provide useful services and information for students. Daniela enjoys sharing her experience with fellow bloggers and traveling through the rural USA.
As digital nomads ourselves (myself with this website and a few others, and Nikki as a copywriter with her own clients), we think today's topic is very important, and we're happy to help others make the transition to this lifestyle. So if you have any questions about the skills below or living as a digital nomad, please don't hesitate to reach out in the comments area at the bottom of the article!
The world we live in is big and beautiful, and we should use each and every opportunity to explore it.
This might mean working 9-to-5 and traveling on weekends and holidays. Or perhaps choosing the digital nomad lifestyle and visiting new places every day. And trust me, there are several Cities in the World to be a Digital Nomad.
If you're interested in life as a digital nomad, below we'll talk about 20 useful skills you can learn today to get started.
   

1. Programming skills
Are you interested in making big money and traveling the world? Then learning popular programming languages like HTML/CSS, JavaScript, and jQuery will get one step closer to your goal.
The world is going digital, and demand for skilled web and app developers is growing. So by excelling in this niche, you'll be rewarded with a high steady income.
It may take a few months to a few years to learn a new programming language, so prepare yourself for the challenge and immerse yourself studying as soon as you can.
 

  2. Writing skills
Do you have strong writing skills? With a bit of training, you can take them and adapt to become a copywriter, academic writer, blogger, content creator, or UX writer. You can work remotely with your personal clients or for writing companies like Ultius, and enjoy your nomadic life to the fullest.
Some types of writing work pay better than others. But with a bit of patience and determination, you can certainly earn enough money as a writer to cover all your travel expenses.
   3. Photography skills
Do you know how to use a professional camera and take beautiful pictures? Or are you willing to learn? If so, you can make big money online.
You can create content for brands, sell stock photos, or create content for your own blog and monetize it. If you already have experience in this field, you could even design your very own online course and sell it online through platforms like Udemy or Skillshare (SkillShare discount code: annual30aff or annual40aff).
If you want to learn photography but can't afford a professional camera, many smartphones take high-quality photos that rival the professionals. Smartphone photography is a new trend, and you can benefit from learning about it.
 

 4. Digital marketing skills
Becoming a digital marketer is one of the best ways to be able to work from any place in the world. With your skills, you can help companies create a powerful brand identity, design engaging ad campaigns, increase sales, and optimize Google and Facebook ad targeting.
If you're new to marketing, try out a free course Fundamentals of digital marketing on Google. If you want to level up your knowledge, enroll in an online course through Udemy, such as their The Complete Digital Marketing Course – 12 Courses in 1 (currently on sale for just $20 USD).
   

5. Graphic design skills
Graphic design is another great niche for digital nomads. If you use Photoshop, Illustrator, and InDesign like a pro and are familiar with HTML, you can find your first graphic design job with ease. If you also know the basics of UI/UX design, that will be a plus.
With these skills, you can work remotely for advertising agencies, multimedia companies, brand agencies, and even book, magazine, and newspaper publishers.
 

 6. Creative skills
The vast majority of freelance and remote jobs require some level of creativity. Whether you are a web developer, writer, or photographer, you'll need to use your creative skills and imagination to deliver great results to your clients.
However, some freelance jobs are all about creativity. For instance, if you think outside the box, you can work as an expert in business naming and tagline writing.
 

 7. Proofreading and editing skills
If you take pride in your grammar skills, then becoming a freelance editor and proofreader could be a great option. You can then get paid to edit blog posts, books, reports, and other writing. Many talented authors look for proofreading assistance online, so it will be easy for you to find the first job once you can prove your skills.
Many students also need help with proofreading essays and research papers, which could be a good market to look into. Check out the top 10 essay writing websites that are popular with Brazilian and international students, and you will see that the demand for such services is very high.
   8. Communication skills
Most people believe that communication skills are not essential for remote work since you'll be working from behind a screen. However, this is simply not true! To land new clients and discuss projects effectively, you need to communicate your thoughts clearly.
Especially since you may work with people from different backgrounds who may not know the professional jargon you use. So when you write emails and participate in video calls, you should try to present complex ideas using simple language.
If you genuinely want to become a digital nomad, you should improve your verbal and written communication skills. It will help you enhance communication with your clients and the people you will meet while visiting new places.
   

9. Architecture-related skills
Do you have a background or interest in architecture or interior design? If so, you can work remotely as an interior designer, architect, landscape designer, floor plan designer, or an expert in visualization.
If you know how to use AutoCAD, ArchiCAD, SketchUp, Rhino 3D, and similar software, you'll be well on your way to finding a well-paid job online and maintain your nomad lifestyle.
 

 10. Organizational and planning skills
Organizational skills are a must for freelancers. No matter what niche you work in, you should be able to complete all your tasks independently and effectively organize your work process.
If you don't have organizational skills, it will be a challenge for you to combine long-term travel and work. Without them, you'll probably find yourself in one of two situations: either you fail to complete your projects on time, or you'll get stuck working days and nights without having an opportunity to explore your new city.
 

 11. Foreign language skills
To make out the most of your digital nomad life, I'd highly recommend developing your foreign language skills. There's not a need to become fluent unless you want to, but learning the basics so you can communicate with the locals wherever you're living will be a big help.
Today, you can learn literally ANY language. There are so many books, online courses, and other resources available on the web – just pick one and get to work studying. If you need some help from native speakers, you can also get it online – Skype lessons are very popular among foreign language learners.
(Note from Nikki: I'm personally a big fan of Italki or Verbling for private language lessons on Skype – we talk more about them in #7 on our article about online courses here).
   

12. Legal Skills
Most people who have a law background wrongly believe that they can't find a freelancing job that will match their work experience. But the truth is that there are many jobs available for digital nomads with legal skills.
If you know how to write patent applications and trademark reviews, or know how to get a formal manufacturing agreement, There are more remote options out there than you might think. Many modern companies are looking for legal help online, so the demand for experts in this field is pretty high.
   

13. Dedication and enthusiasm
These two items aren't exactly skills, but they are still important to develop if you want to be a digital nomad!
Are you a dedicated to your goals? Are you enthusiastic about your work? If so, you'll likely succeed freelancing as a digital nomad.
When you become a freelancer, keep in mind that you won't have a boss to monitor your work and motivate you to perform your best. As a digital nomad, you'll be the only person responsible for getting the job done. Your dedication and enthusiasm will help you keep your work process on track and achieve your goals.
But obviously, dedication is not the skill that you can learn online. So the best recommendation I have is to find a freelancing job that your passionate about and that resonates with you on a deep level. This is the best way to automatically boost your dedication and your enthusiasm automatically!
   

14. Time-management skills
Time is your most valuable asset, and you should use it wisely. Particularly as a digital nomad. Life will be much easier if you schedule your days and weeks in advance to ensure that you complete everything on time while taking advantage of your travels.
Just imagine the following situation: you're staying in a beautiful surf camp in Bali. You have two weeks to design a website for a client and to practice surfing. How many hours will you spend on both activities? Will you work in the morning and practice "catching waves" in the afternoon? Or will you choose another schedule?
If you have poor time-management skills, the chances are you will neither finish the website design nor master the art of surfing. But if you have excellent time-management skills, you may accomplish both goals successfully.
    15. Storytelling skills
Do you know how to spin a narrative? Can you call yourself a storyteller? Storytellers have plenty of opportunities in the freelancing world. They can work as screenwriters, book writers, bloggers, branding experts, content marketers, and video game writers.
Storytelling can be somewhat of a tricky skill to develop. So if you'd like some help, then look to storytelling courses on places like Udemy, Coursera, and edX.
 

  16. Conflict-resolution skills
The digital nomad lifestyle is all about being in peace with everyone who surrounds you. If you want to travel far and enjoy each day, it may help to develop skills that allow you to manage conflicts and avoid unpleasant situations.
Because during long trips, anything can happen. You'll meet different people along the way, and you should know how to navigate and get along with any type of crowd.
To develop your conflict-resolution skills, I highly suggest you dive into a book on the topic. The Peace Maker by Ken Sande and The Anatomy of Peace by The Arbinger Institute are great books for a start.
17. Research skills
Not only will research skills come in handy for most kinds of remote job positions, but they'll also come in handy as you're planning your digital nomad travels.
After all, you'll want to know the answer to questions like: What attitudes do locals hold toward foreign visitors? What kind of food do they eat? And what kind of behavior do they see as normal and abnormal?
Also, you should always research safety concerns in the neighborhood and locations you're planning to stay in.
   

18. Risk-management skills
Digital nomad life has may just be the opposite of stability. Each day and each new place will bring you a new set of experiences and challenges that you have to be ready to meet.
With strong risk-management skills, it will be easier for you to deal with any unexpected situations or "road bumps" along the way. Whether you get robbed on the bus or stung by a huge jellyfish while swimming, you'll have the skills needed to resolve the situation.
   

19. Social skills
Good social skills are incredibly important when you embark on digital nomad life.
Since you'll be far away from all your relatives and friends, you need these skills to find others to connect with and share an understanding with in a foreign place. Your social skills will help you make new friends, which can help abate the common issue of loneliness that so many digital nomads experience.
   20. Adaptability skills
Digital nomads don't stay in one place for long, and they often move to a new city every few weeks or months. Are you ready to change places so often and adapt to new conditions that quickly?
As a digital nomad, adaptability skills are crucial. If you can get used to living in a new place in a short period of time, you won't feel like a stranger in strange land.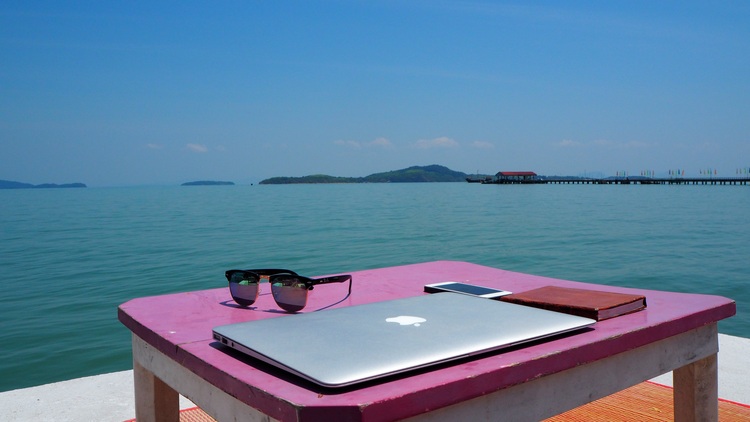 How to learn digital nomad skills
To help you find out where to go to learn your new digital nomad skill, Rodrigo and Nikki have created a megalist with the 13 best places to take online courses (both free and paid).
From professional certifications to tech bootcamps to cheap courses in just about any subject, you'll be able to find exactly what you're looking for no matter the skill you choose!
The 5 Best International Health Insurance for Digital Nomads
If you are planning to become a digital nomad and enjoy the freedom that this lifestyle can give you, know that there are some necessary care and planning.
One is to obtain international health insurance for expatriates and immigrants that works for digital nomads. This insurance covers any medical expenses you may have while living in other countries. Many destinations require proof that you have health insurance before approving your visa or work permit.
Some insurances I recommend are Cigna, IMG,  Safety Wing, Foyer Global Health e o Seven Corners Liaison Majestic.
In my article with the 5 Best International Health Insurances for Expats & Immigrants, you will find more details about what it is for, how to choose, and how to use international health insurance for expatriates.
In conclusion…
The more skills you have, the easier it will be for you to become a digital nomad.
So if you really want to change your life and choose a nomadic lifestyle, focus on acquiring new skills and improving skills you already possess.
Start studying intensively today, and you'll be well on your way to making your dreams come true!
Planning your next trip?

Then don't forget travel insurance! You don't want to get stuck paying a ton of money and ruining your trip if you get sick or have an accident without travel insurance. WorldNomads is ideal for adventurous travelers, backpackers, or anyone looking to be protected during their trip. They cover almost every single activity you can image!

Already reserved your hotel or hostel? If not, we recommend Booking.com. They have a huge selection of hotels and hostels all over the world. Plus, in most cases, you can cancel your reservation without any costs up to a few days before the check-in date! 

Still haven't booked your plane ticket and want to save big? Take a look at Momondo. It's a flight aggregator that combines several other ticket search websites to make it easier for you to compare prices and make sure you are getting the best deal. 

And finally, will you need to rent a car during your trip? Then check out Rentalcar.com to search and compare car rental companies from all over the world on a single website. Then, you can find the lowest price for the best car!
If you want to hear about new articles, check out our latest pictures, and read our newest updates, be sure to follow us here….
…..and subscribe to our newsletter below!