Last Updated on by Talita
Got a trip planned to Johannesburg or Pretoria? But wondering how you can make the most of your time in South Africa & see some wildlife? Then read on for the best & cheapest game drive & safari near Johannesburg or Pretoria.
While South Africa's cities certainly have a lot to offer, the truth is that many people also make the trip to see the amazing wildlife the country has to offer. Lions, hippos, giraffes, zebras…
Many people come to Johannesburg with plans to make the 5-hour trip from Johannesburg to Kruger National Park for safaris. But what if you don't have the time or budget to do so yourself, but still want to catch some amazing wildlife during your stay in South Africa?

Well, I've got you covered 🙂

You see, during a recent trip to Johannesburg, we got lucky when I came across a brochure at the airport for a place that caught my eye: Bothongo Rhino & Lion Reserve.
We took a closer look at Bothongo and realized it was:
So, we added Bothongo to our itinerary. And though we went in with relatively low expectations…we walked away SUPER impressed!
Perhaps we just got lucky with the time of day we were there, the weather conditions, or some other factor, so we obviously can't guarantee your experience will be exactly the same.
But what I can say is that the sheer abundance of animals we saw and the closeness with which we could see them – despite the massive size of the reserve – was unmatched.
The animals we encountered weren't specks in the distance you could only see with binoculars. It was truly an up close and personal experience!
Read on for more details about the animals you can spot, your options for safaris at Bothongo, how to get to Bothongo from Johannesburg or Pretoria, what else you can do in the Cradle of Humankind area, and more.
What animals can you see at Bothongo Rhino & Lion Reserve?
As I said above, I of course can't guarantee that your wildlife-viewing experience at Bothongo will be the same as ours.
But to give you an idea of both the animals as well as how close they were, I can share some of the animals we saw. (Sorry in advance for the terrible phone pictures. I kept shots of the car in there so you could see just how close the animals were to us!)
All from the comfort of our car, we saw white tigers and lions (one of which actually CHASED our car)…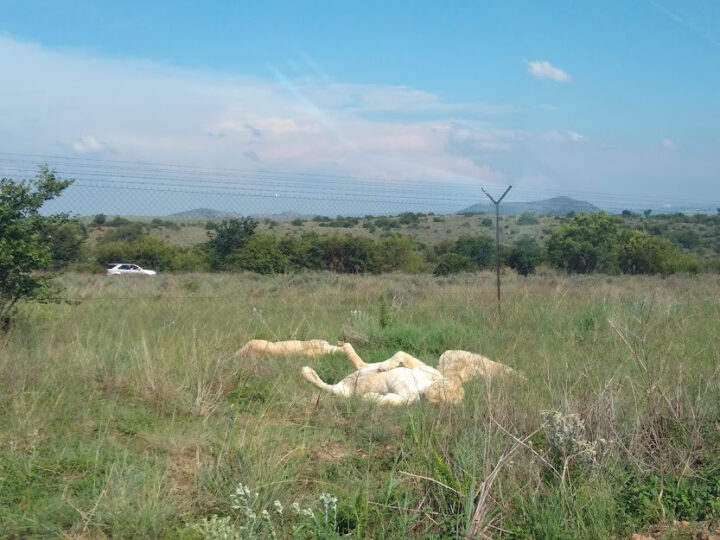 African Wild Dogs….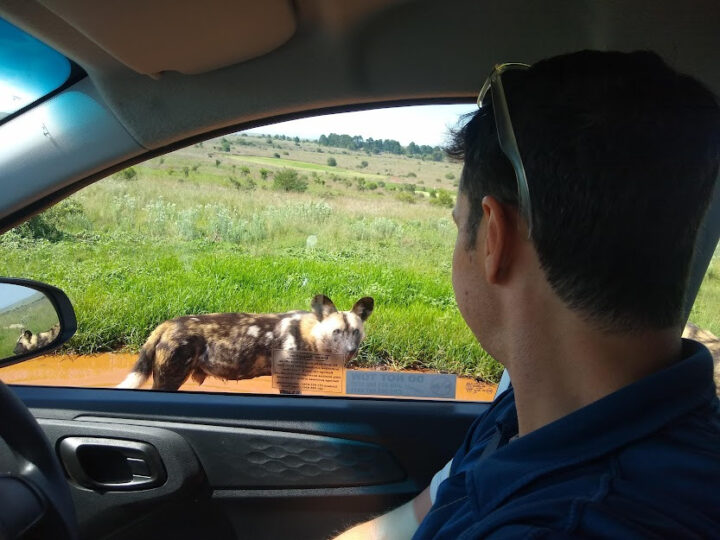 Wildebeest…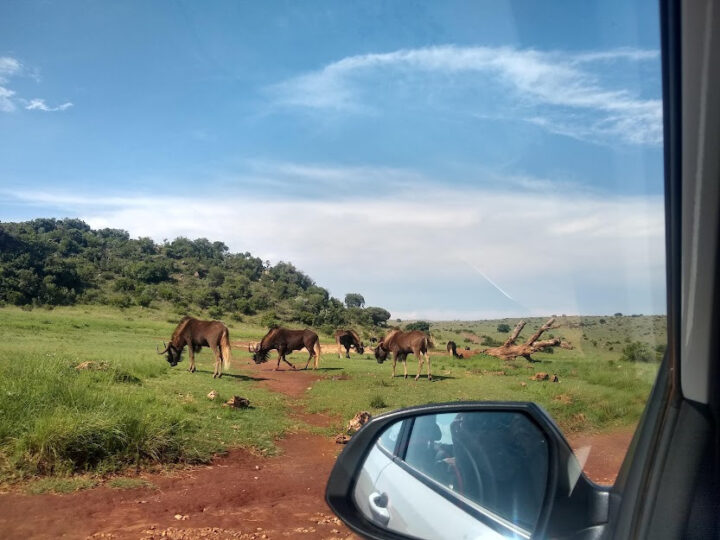 Zebras and ostriches…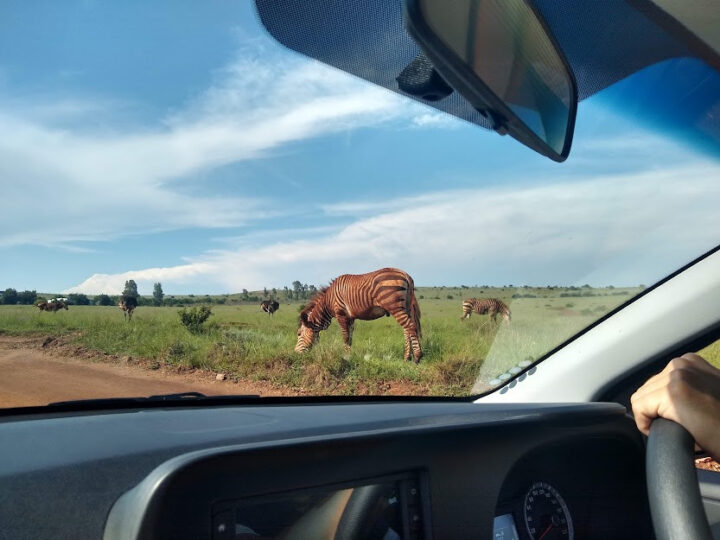 And far more variations of hooved species than we could name…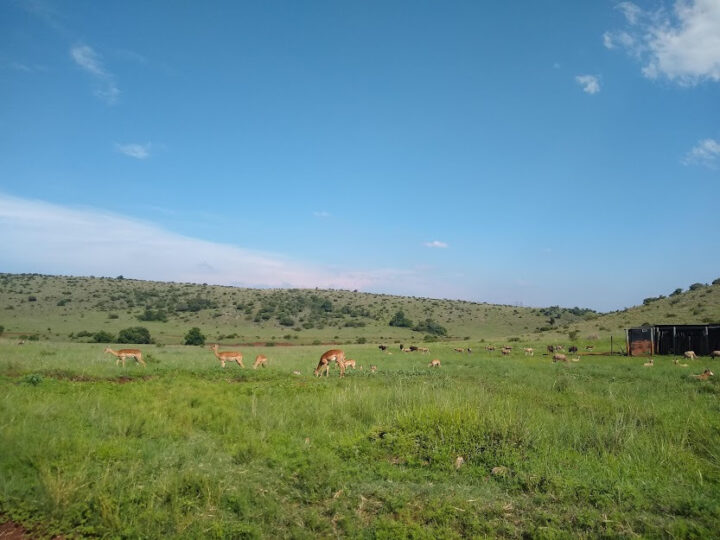 Then on a river walk, we spotted a hippo breaching.
We fed giraffes at the chalet.
And we got up close and personal with all my favorite felines in their impressive big cats area.
There was also a reptile house and a vulture sanctuary, which we didn't get the chance to check out.
(And before you ask, no, we didn't spot any rhinos despite the name. Though they claim they have them, though 🙂
How do game drives work at Bothongo? Is it better to go with your own car or with a guide?
You have two options for game drives at Bothongo.
The first is a self-drive, where you take your own car into the reserve. Personally, we had a GREAT time with this option.
It was only $10 USD per person (sooooo much cheaper than your average game drive). And as you can see from the photos above, the animals were so close that we felt like we didn't miss anything by not having a guide.
Any type of car (even small, low-to-the-road cars) can do the self drive. And the roads are clearly marked, so you really can't get lost.
The only negative I can see for this option is that there were a few 4×4 only roads that we couldn't go on. But again, we didn't feel like we missed out because of this.
Alternatively, if you don't feel like driving or want to be absolutely sure you see animals, you still book a 2-hour guided game drive for much cheaper than most safaris (roughly $24 USD per person, as of March 2023).
However, unlike the self drives the guided game drives DO sell out. So make sure you book in advance here!
What else can you do at Bothongo Nature Reserve?
We unfortunately only had the time to do a day trip in Bothongo as part of a day trip to the Cradle of Humankind. So, we didn't have time to get to everything that Bothongo had to offer.
But beyond animals, Bothongo also has:
A pool

A BMX bike park

4X4 adventure tour

The "WonderCave"

Chalets and lodges where you can spend the night right in the reserve (we heard you can hear the lions roar from them!)
To book yourself in for any of these activities, take a look at Bothongo's website here.

What else to do in Cradle of Humankind
Take a look at #2 in our article about The 3 Best Day Trips from Johannesburg for a full breakdown of what else to do in the area.
How to get to Bothongo from Johannesburg (AKA the best & cheapest safari day trip from Johannesburg)
As I said above, Bothongo is only 1 hour from Johannesburg, making it very easy to get here by rental car. (As a bonus, then you can do the self-drive tour if you like.)
Otherwise, there aren't really any public transportation options that can get you here.
If you don't want to drive, I recommend taking a look at the tours from Viator or GetYourGuide. Most of the tours that go to Bothongo will also include stops at the other top attractions in the Cradle of Humankind:
How to get to Bothongo from Pretoria (AKA the best & cheapest safari day trip from Pretoria)

As with getting to Bothongo from Johannesburg, the easiest way to get to Bothongo from Pretoria is also by rental car since it's just a 50-minute drive.
Alternatively, you can look into tours that go from Pretoria to Bothongo from Viator or GetYourGuide.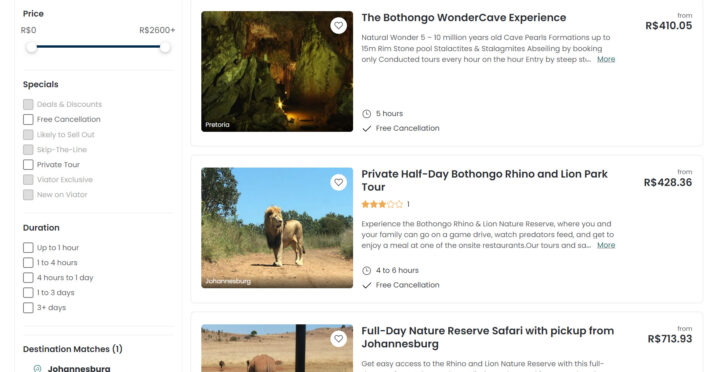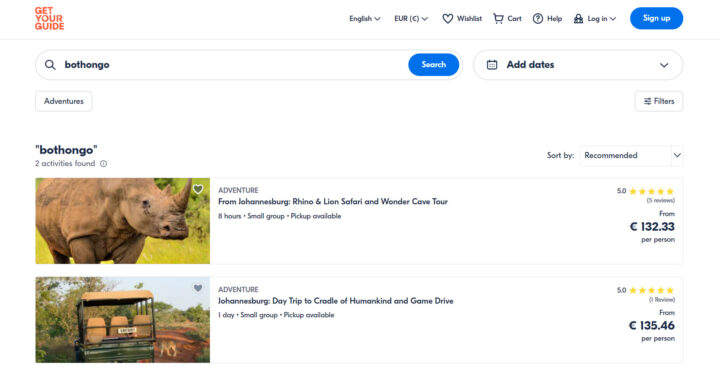 In sum…
The best and cheapest safari day trip we found from Johannesburg or Pretoria is Bothongo Lion & Rhino Reserve, located just 1 hour by car away from either city.
In conclusion…
If you're visiting Joburg or Pretoria and want to see some animals but don't have the time/budget to go all the way to Kruger…Bothongo Lion & Rhino Reserve is a great alternative!
Planning your next trip?