Last Updated on by Rodrigo @ OutofYourComfortZone
Ever seen pictures of people on a beach with an airplane passing just meters above their heads?
Well, that's Maho Beach on St Maarten/St Martin, which planes fly over before landing on the island's main airport!
From Maho Beach, you'll have an incredible view of these planes since the beginning of the landing strip is right next to the beach. Just take a look at the photos!!!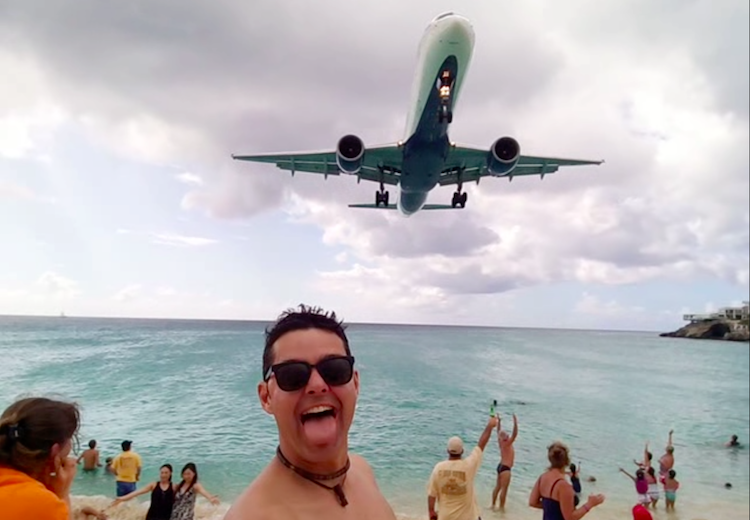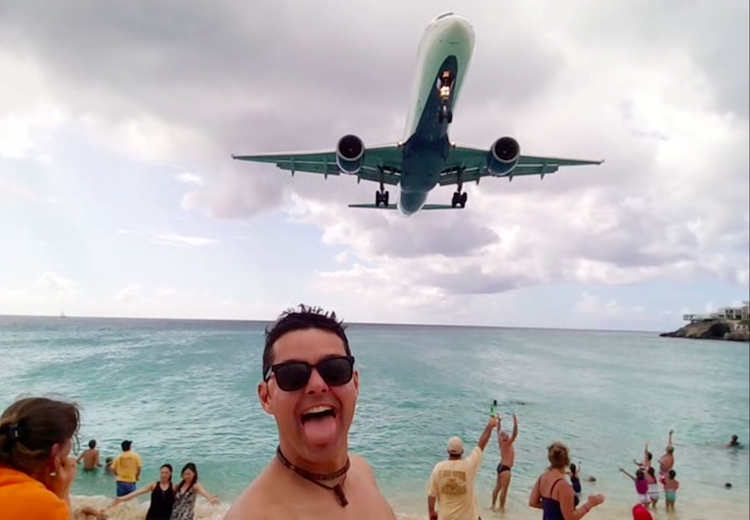 So whether you're spending some time in the Caribbean visiting the island of St Maarten/St Martin, or are just visiting for the day on a cruise, you'll definitely want to stop by this beach.
The directions below were written especially for people who have just 1 day in St Maarten/St Martin because they are on a cruise stop. But the directions below also work if you just want to visit Maho Beach on your own or want to know how to get from Phillipsburg to Maho Beach!
How to get from the Saint Maarten/St Martin cruise port (Phillipsburg) to Maho Beach?
It's easy!
Basically, you have 4 options:
Private taxi

Group van leaving from the cruise port

Renting a car

Catching the bus/public van from Phillipsburg straight to Maho Beach
For the first two options, I don't even need to explain to them because they are very easy….but also expensive. About $20-30 per person.
Another option is to rent a car in Phillipsburg and drive to Maho Beach. But as you'll read below, I don't think it's necessary to rent a car in St Marteen just to go to Maho Beach. But if you plan to visit other spots on the island as well, then it's definitely worth doing.
My article here gives you the 5 best websites to rent cars in St Marteen and around the world.
But since you're reading this article, I'm going to guess it's because you want to save some money on your trip from the cruise port to Maho Beach on St Maarten/St Martin, right?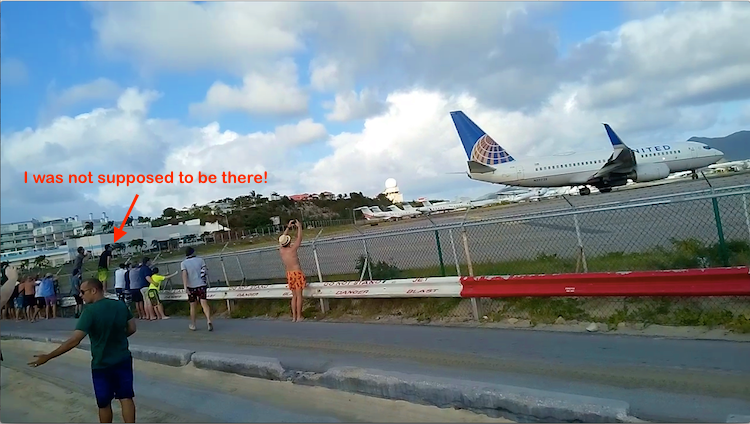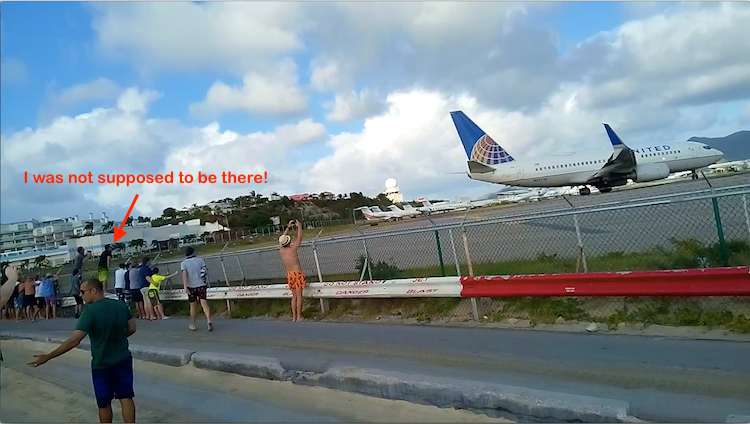 So why I recommend using public transportation to get from the cruise terminal in St Maarten/Saint Martin to Maho Beach?
There are 3 main reasons why I recommend you use public transportation from the St Maarten Port (Philipsburg) to Maho Beach:
   1. It's a local experience.
Using public transportation lets you have a real local experience since this is the exact way the locals use to get around the island themselves. You'll understand a bit better what real life looks like on Saint Martin, and not just feel like a tourist watching the world go by in an air-conditioned van.
   2. For an adventure!
Like the first reason, you never know what'll happen when you travel alongside locals! Maybe you get to know one of them, begin to chat, and learn more about their lives on the island. And don't worry – local transportation on Saint Martin is super safe! I've already used it for this route at least 5 times.
   3. To save money!
This one is obvious. By paying just $2.50 per person to get from Philipsburg to Maho Beach and then $2.50 to return, you won't find a cheaper option from your cruise to Maho Beach.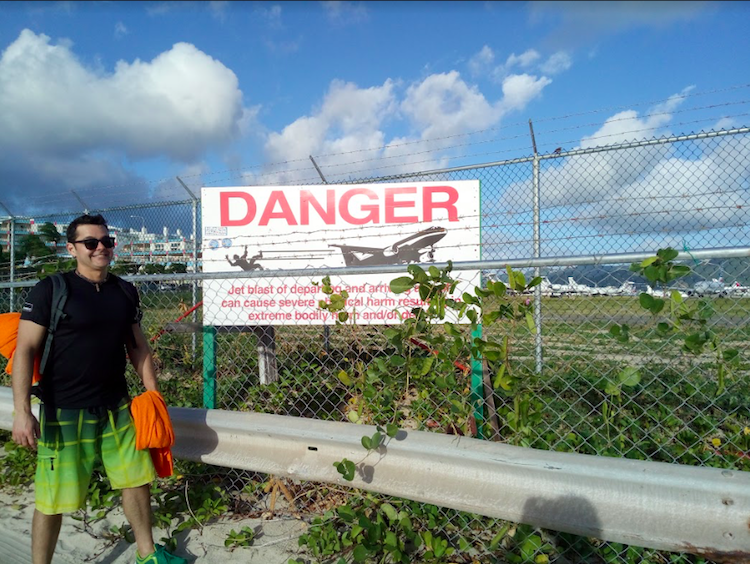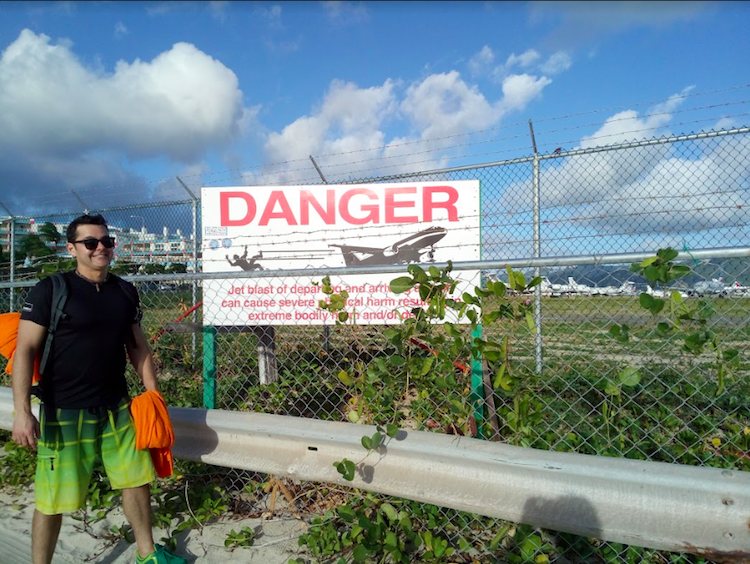 And how to get from the port in St Maarten/Saint Martin (Philipsburg) to Maho Beach with public transportation?
If you've read my article about How to Visit Anguilla for a day on a Saint Martin Cruise Stop, then you'll already know this process. But I'll re-explain it here:
Disembark as early as possible from your cruise so you'll have more time to explore and enjoy Maho Beach before the other crowds of tourists arrive.

Walk for about 10 minutes from the Philipsburg cruise terminal to the center of the city to take a local minibus to Maho Beach. The bus has a sign on the front windshield that says "Maho Beach." A map with the bus's location will be below. There are vans passing often, so you won't have to wait long.
To return from Maho Beach to Philipsburg, just follow the same route but instead catch the minibus that passes by with the "Philipsburg" sign.

After about 30 minutes, you'll be in Philipsburg and can simply walk back to the cruise terminal (and if you have time, you can explore a bit of Philipsburg since it's quite nice).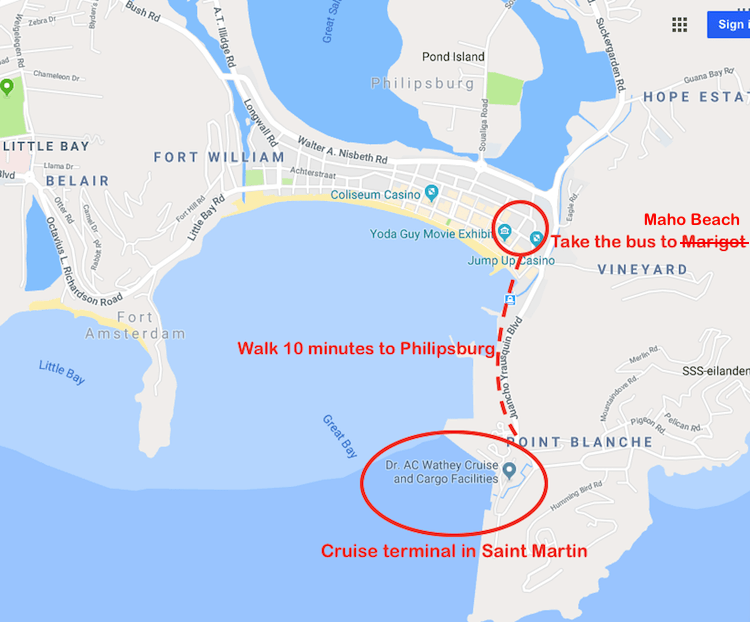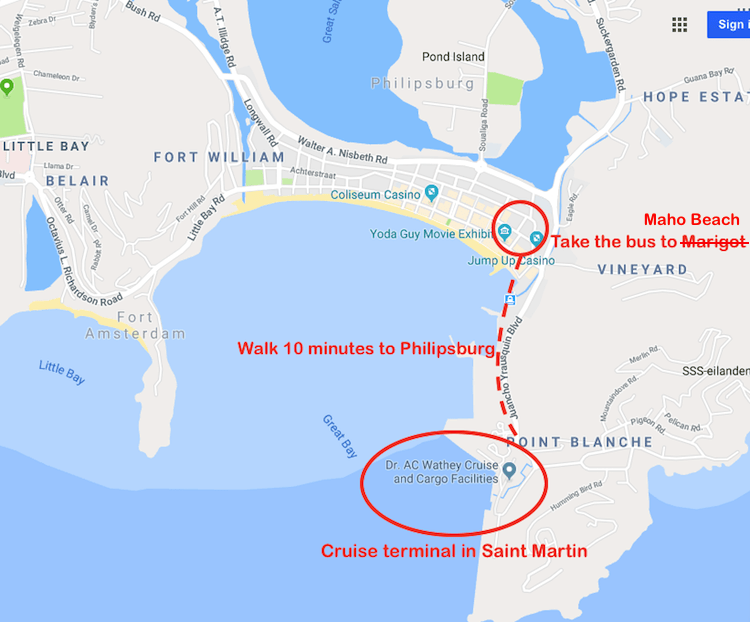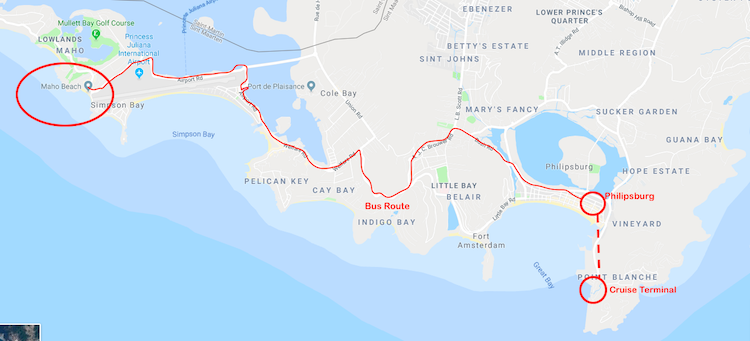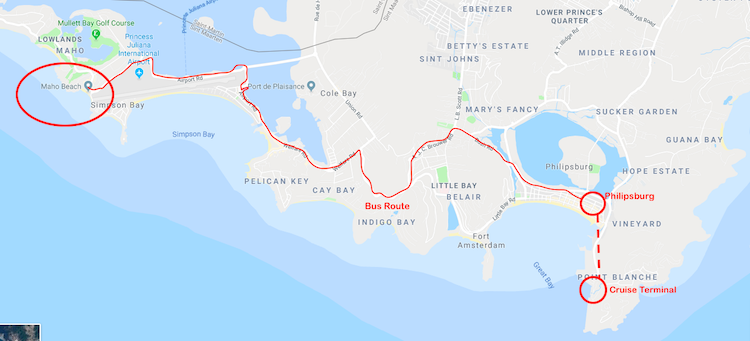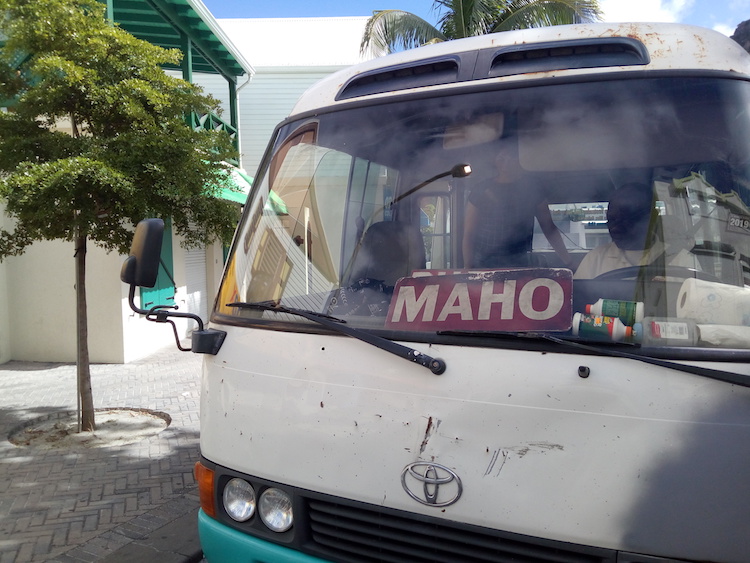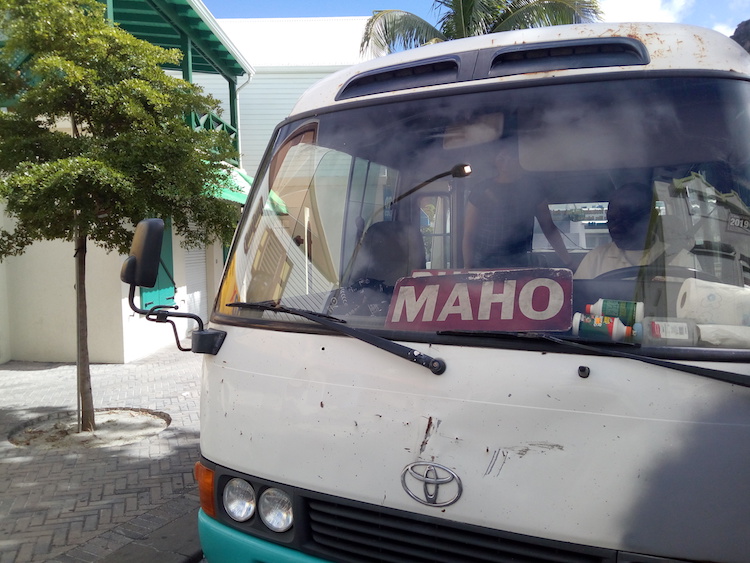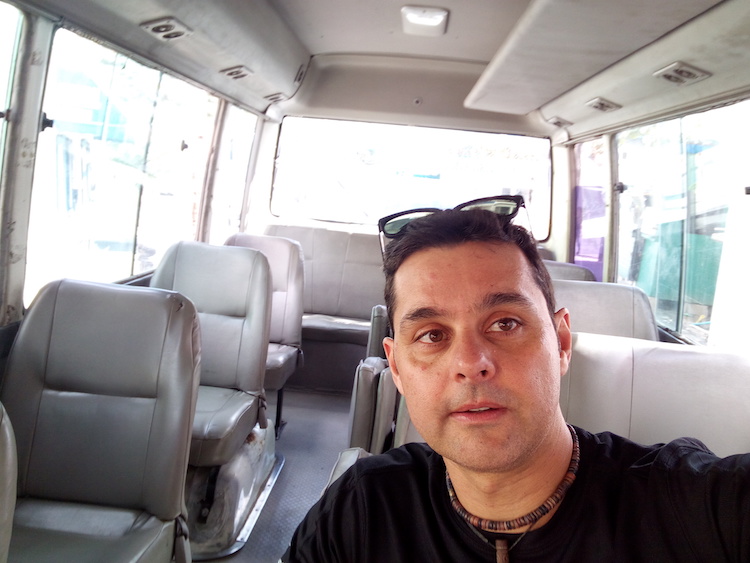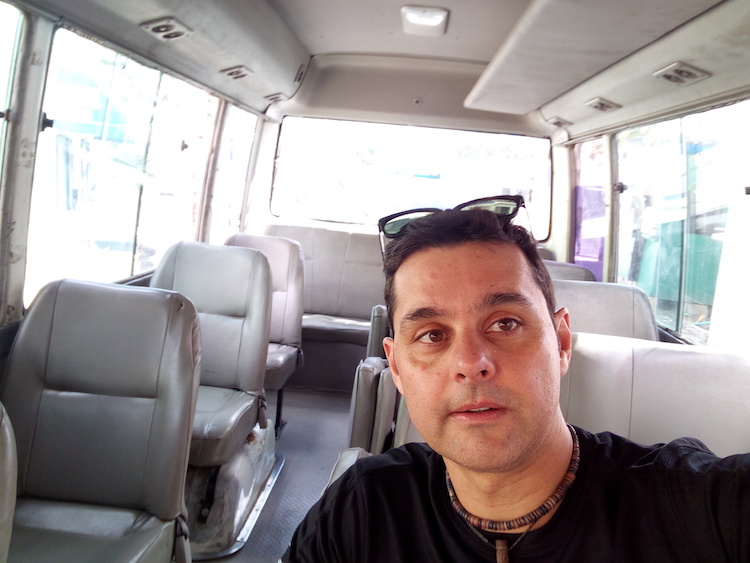 If you're exploring Philipsburg in Sint Maarten, don't miss the "Yoda Guy Movie Exhibit" – an exhibit created by the makeup artist and creature builder who made Yoda (not to mention a lot of other creatures from StarWars), Superman, Highlander & more.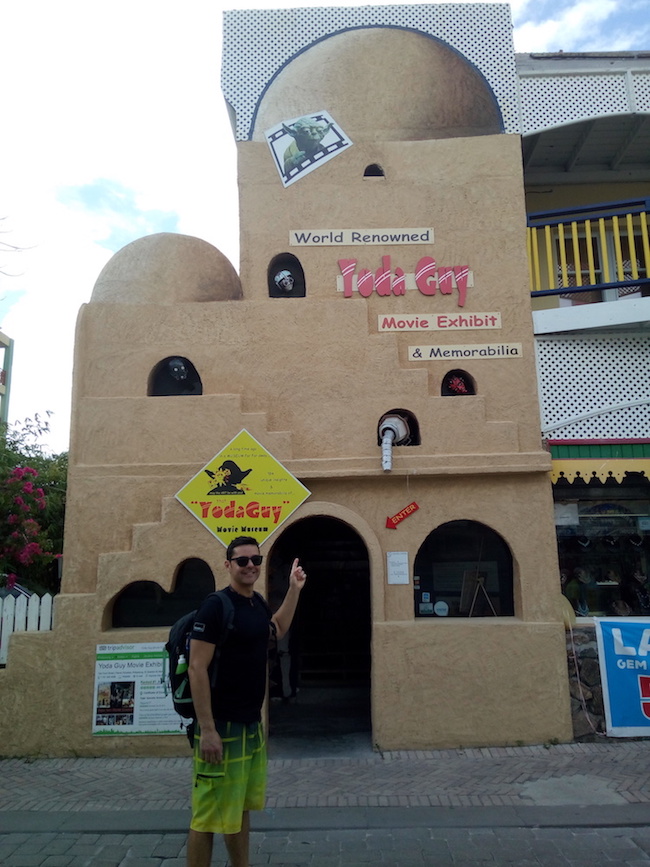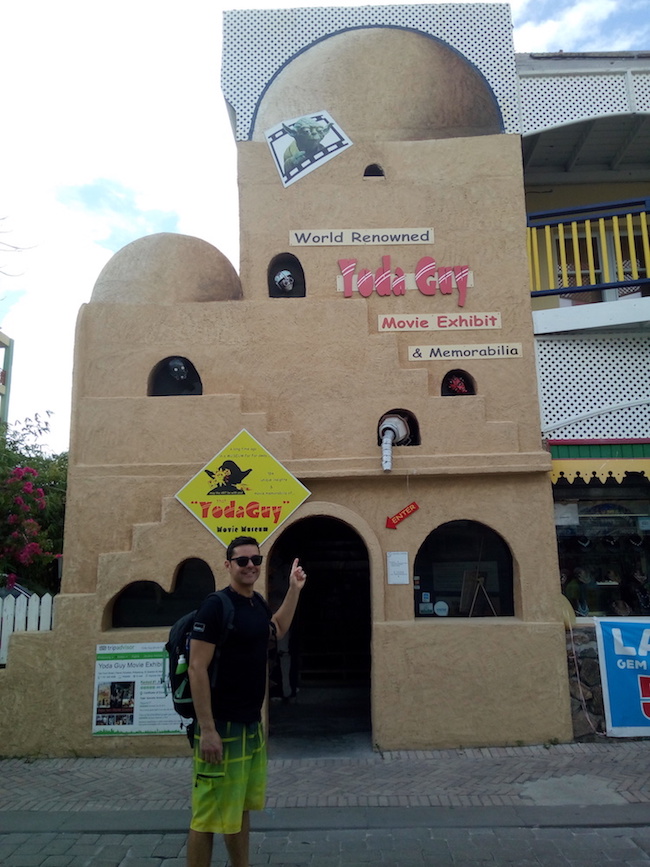 Total cost to go and come back from the Sint Maarten cruise terminal (Philipsburg) to "airplane beach" (Maho Beach): $5.00 USD
Total time: approximately 30 minutes to go and 30 minutes to return
FINAL TIP: Just make sure you return with lots of time before your ship leaves! Since you're using public transportation and there's only one major road between the main areas of the island, you might get stuck in heavy traffic that could make you miss your cruise! And it'd be a nightmare and enormous cost to have to buy a plane ticket and fly to your cruise's next destination.
With that in mind, leave Maho Beach at least 2.5 hours before the official departure time of your cruise. And remember, that you'll have to wait 15 minutes or so until the van/minibus stops again in Maho Beach to bring you to Philipsburg.
And as I mentioned about, if you're interested in visiting Anguilla using public transportation (buses and ferries)during your visit to St Maarten/St Martin, just check out my article here.
That's it – if you have any questions, just let me know! Write to me in the comments area below and I promise I'll get back to you!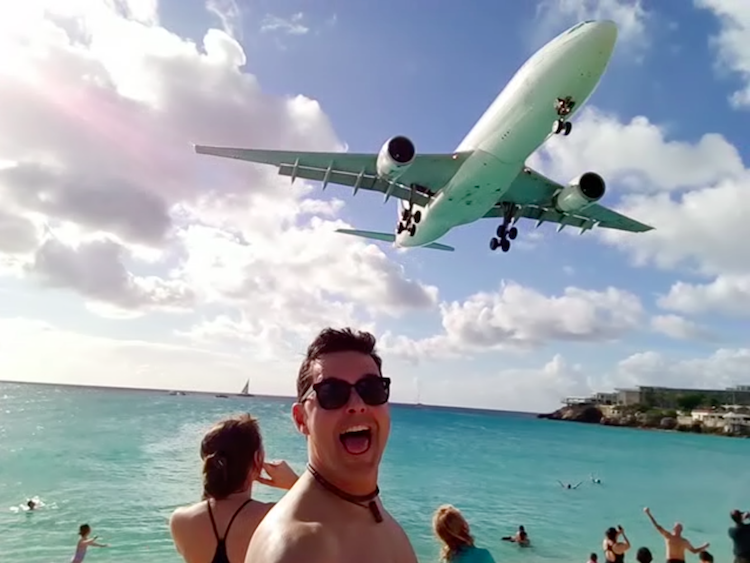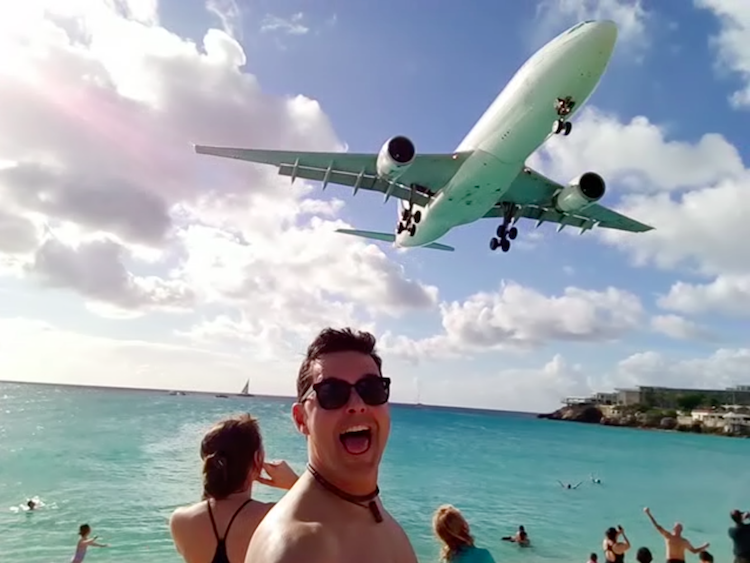 Other activities to do in St Maarten / St Martin without paying for the cruise tours
We all know that tours booked with the cruise lines tend to be really expensive. And you also know that you can usually get cheaper deals for the same tour once you disembark. But at the same time, you want to be sure that you will find a tour that you like for a price you can pay.
So, I recommend booking your tour for St Maarten / Saint Martin in advance using Viator. It's a tour booking website that belongs to TripAdvisor and offers a bunch of tours and ticket options for every budget. 
In addition to Viator, I also recommend Get Your Guide and Civitatis to find and select the best attractions and tours for you on your next trip. They all have filter options that make it easy to choose the best trip for you!
Below I talk a little more about them.
You just need to go to their website, search for "saint martin" or any other city in the world you are going to be visiting, and Viator will give all the tour options that you can book online. 
Pretty easy. Just compare the price of a similar tour with one offered by the cruise line and you will see how much you are saving. I'm putting some St Maarten / Saint Martin tour options sold by Viator here below.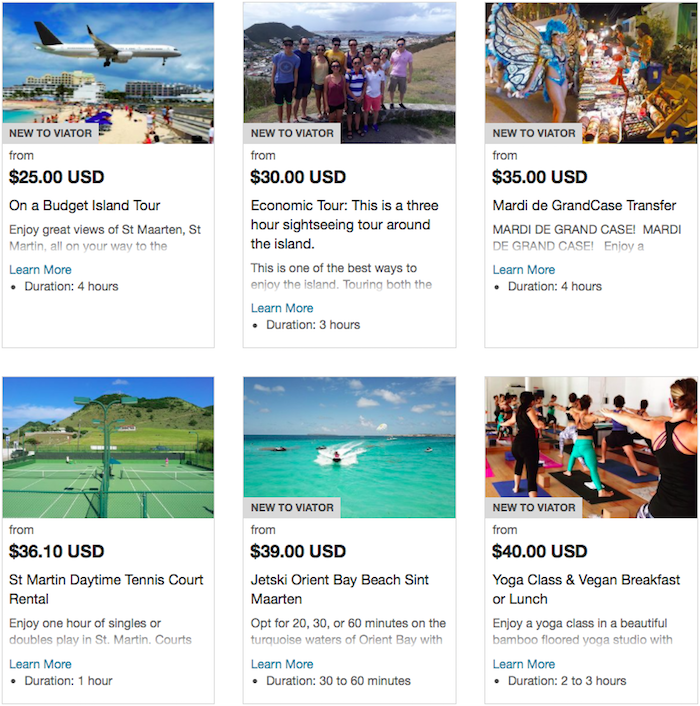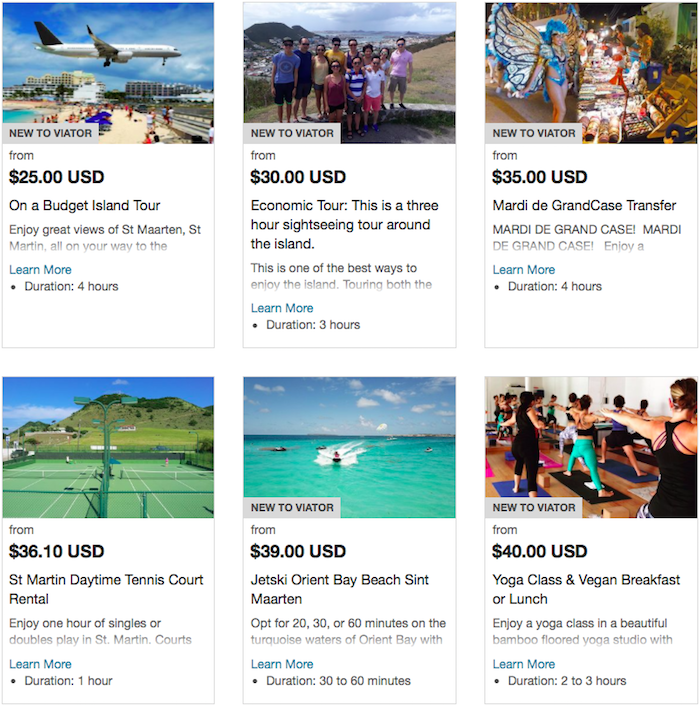 This platform allows you to select the destination and shows different attractions, tours or activities to do there. Some last just a few hours and others all day or even more than a day!
Get Your Guide also has filters to facilitate the search for the ideal activity for you, considering price, trip duration and other specifications.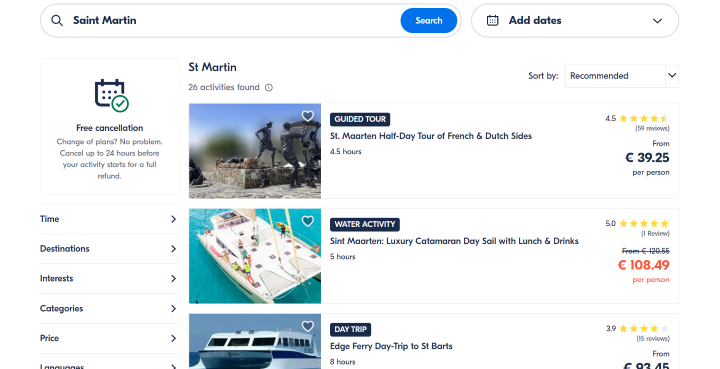 Civitatis also has a variety of options for tours to take in the desired destination, in addition to providing information on the languages in which the tour is offered and the option to add activities to your favorites and even the option to change how activities are ordered to improve your overview.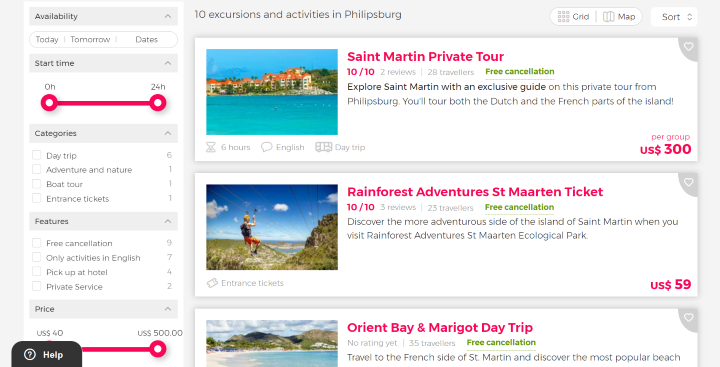 Planning your next trip?
Then don't forget travel insurance! You don't want to get stuck paying a ton of money and ruining your trip if you get sick or have an accident without travel insurance. WorldNomads is ideal for adventurous travelers, backpackers, or anyone looking to be protected during their trip. They cover almost every single activity you can image! Plus, you can have a 5% discount with the coupon code comfort5.
Already reserved your hotel or hostel? If not, we recommend Booking.com. They have a huge selection of hotels and hostels all over the world. Plus, in most cases, you can cancel your reservation up to a few days before the check-in date without any costs! 
Still haven't booked your plane ticket and want to save big? Take a look at Kayak and Momondo. They are flight aggregator that combine several other ticket search websites to make it easier for you to compare prices and make sure you are getting the best deal. 
And finally, will you need to rent a car during your trip? Then check out Rentalcar.com to search and compare car rental companies from all over the world in a single website. Then, you can find the cheapest price for the best car!