Last Updated on by Rodrigo @ OutofYourComfortZone
Hello all!
I'm here to tell you about the cheapest way to get from Lviv, Ukraine to Poland. I specifically went to Krakow, but I'm certain you could use the beginning part of this trek to get to other places in Poland, too… I just can't guarantee which.
So, while this is perhaps not the fastest of ways to do it (it took me right around 8 hours in total), if you're open-minded, it ought to be a rather fun way to meet locals (most likely, you'll be the only foreigner taking this route). Plus, it's CHEAP. Altogether, it cost me 15.85 USD. Your other options, taking either an overnight bus or train, would set you back 30.30 USD and 53.90 USD, respectively. Plus, overnight transportation sucks. So, if you have an extra day to spare and feel like doing something adventurous, then read on!!
That's a summary of the itinerary:
Lviv to Schegyni

Schegyni to Przemysl

Przemysl to any city in Poland…
1) Bus from Lviv, Ukraine to Schegyni, Ukraine
If you stand facing the main entrance to the Lviv Train Station (any local or your accommodation should be able to direct you here), you'll find the bus "station" (which is basically just an unorganized cluster of buses parked in something resembling lines) immediately to the right. As I was unable to figure out any sort of organizational pattern for the buses, you'll probably have to ask someone for the bus to "Schegyni." You can try to find it yourself but, since the buses are labelled in Cyrillic, you might have a hard time if you don't read Cyrillic. Here's what "Lviv-Schegyni" looks like in Cyrillic, by the way: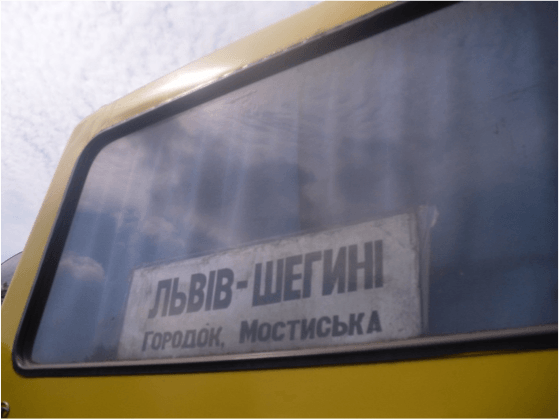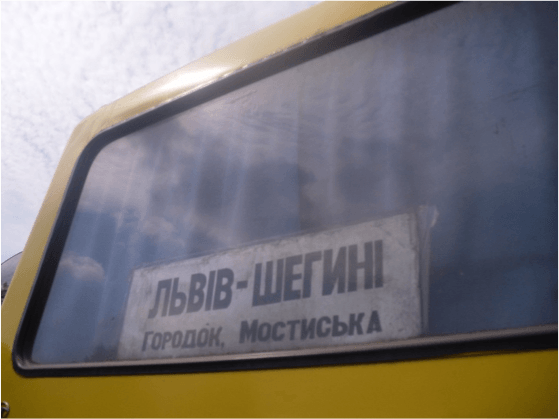 If you write this down, you can either use it to try to identify the bus on your own or show it to a local.
Once you've found the bus, pray that you're not there in the middle of the summer because the bus is small and likely crowded (full of both people and luggage… I'll mention why all the luggage later on) and therefore very very HOT. Be mentally prepared for this. You'll then enter the bus, pay the driver, and go on your merry way. Ideally, I'd recommend trying to befriend an amicable and English speaking local… I promise it'll make your life many times easier to have an ally who speaks the local language as you continue on.
Price: 28 Ukrainian Hyrvnia ≈ US$ 1.85
Time: about 2 hours
Schedule: It was hard to get a definite answer on this, but I think it leaves every hour from 6:00 until 19:30. The bus that I caught ended up leaving at around 13:10, but I wouldn't recommend taking a bus much later than that as you have a long journey ahead of you.
2) Walking across the Ukraine/Poland Border
Once getting off the bus, my biggest recommendation is to follow the crowd. I don't think Schegyni is a place that anyone goes to unless they are going to be crossing the border, so you can safely assume that following them will get you to where you want to go. Plus, there's really only one road so it's hard to get lost. Just keep walking down this "main" road until you see what appears to be the border crossing for cars and you ought to see a path surrounded by fences leading to the pedestrian crossing on your right.
If you're uncertain, just ask someone for "Pol'scha" (Poland in Ukrainian) and look confused. Likely, they will take pity on you and help you.
EXTRA TIP: Whatever you do, do NOT exchange your remaining Ukranian Hryvnia here for Polish Zloty. The rates are horrendous and I promise you'll be better off exchanging on the Polish side.
Chances are, you won't have any trouble with this border crossing. The customs official will ask you if you are bringing any alcohol or cigarettes with you. As these items are significantly cheaper in Ukraine than Poland, many people buy them in the former to sell in the latter (this would explain all of the luggage I was mentioning before). I've heard that, because of this, there are often absurdly long lines to cross the border. However, maybe we were just there on a slow day or something, but we had almost no wait. I've heard that, in the case of a line, if you're a tourist you might be able skip the line if you either "befriend" the guard or claim you have a flight to catch.
Price: FREE
Time: <20 minutes (I can't guarantee what it's like if there's a line, though)
Schedule: Anytime!!
3) Catch the minibus to Przemysl, Poland
After you walk the border, just keep going straight until you see what resembles the main street of a small "village" alongside as a parking lot. Here, you should also see a place where you can exchange your money for much better rates.
When I arrived, the bus to Przemysl was already there waiting for us. Likely, this'll be the only bus around but you can always check with the driver to make sure he really is going to Przemysl.
It's also likely that, here, once safe from the eyes of the customs officials, you'll see packets of cigarettes and bottles of booze magically reappearing from all sorts of weird places (shoes, bras, hidden jacket linings, etc.) as the Ukrainians try to smuggle more than the allowed amount into Poland to sell. To be honest, it's rather entertaining to watch.
Price: 2 Polish Zloty ≈ US$ 0.60
Time: about 15 minutes if you don't have to wait for a bus
Schedule: fairly regularly, but there's no set schedule… the buses just go when they fill up. I did hear that they stop at around 18:00, though.
4) Catch the train from Przemysl to Krakow (or the Polish city of your choice)
In Przemysl, you will be dropped off right at the train station. From here, you should be able to go inside the train station and buy your ticket to Krakow.
Price: 45 Polish Zloty ≈ US$ 13.40
Time: 5-7 hours depending on the train that you take
Schedule: Roughly every hour or so. I took the train from 15:45-21:02.
If you'd like to go to a different city in Poland, you can check the schedules at the website above, as well.
5) Relish in all the money that you just saved and then spend it all on pierogies and vodka
TOTALS:
Total price: ≈ US$ 15.85
Total time: about 8 hours
Schedule: Kind of whenever, but the early you can start, the better.
NEW OPTION!!
We just found out that there is a new direct option to go from Lviv to Krakow. It's pretty much the same price (about 16 Euros) but much faster (04:30)….and a bit more boring.

It's a direct bus route from FlixBus that goes from Ukraine to Poland, Slovakia, and Austria.
All buses have electricity sockets, WiFi, and toilets!
Just use their website below, put in your departure city and destination, and you can book your ticket online.
FlixBus – www.flixbus.com (you can also use them to travel by bus super cheaply all over Europe!)
I hope this article will help you if you are doing the traditional Ukraine-Poland route without having to take a flight. Please let me know if you have any further questions, if you have done this route, or if any of the details above have changed.
Happy travels!!
*This article was written by the website's contributing editor and author, Nikki Elliott. Nikki is an American who has several big backpacking trips under her belt and is currently teaching English in South Korea. If you wish to contact her about her article, please comment below.
Planning your next trip?

Then don't forget travel insurance! You don't want to get stuck paying a ton of money and ruining your trip if you get sick or have an accident without travel insurance. WorldNomads is ideal for adventurous travelers, backpackers, or anyone looking to be protected during their trip. They cover almost every single activity you can image!

Already reserved your hotel or hostel? If not, we recommend Booking.com. They have a huge selection of hotels and hostels all over the world. Plus, in most cases, you can cancel your reservation without any costs up to a few days before the check-in date!

Still haven't booked your plane ticket and want to save big? Take a look at Momondo. It's a flight aggregator that combines several other ticket search websites to make it easier for you to compare prices and make sure you are getting the best deal.

And finally, will you need to rent a car during your trip? Then check out Rentalcar.com to search and compare car rental companies from all over the world in a single website. Then, you can find the cheapest price for the best car!
If you want to hear about new articles, check out our latest pictures, and read our newest updates, be sure to follow us here….
…..and subscribe to our newsletter below!