Last Updated on by Lohanna Reis
Thinking of moving abroad? Well, according to a recent statistica report around 12.7% of the German population counts as a foreigner according to German law. This means that in places like Berlin, Hamburg or Munich, it's common to meet people from around the world.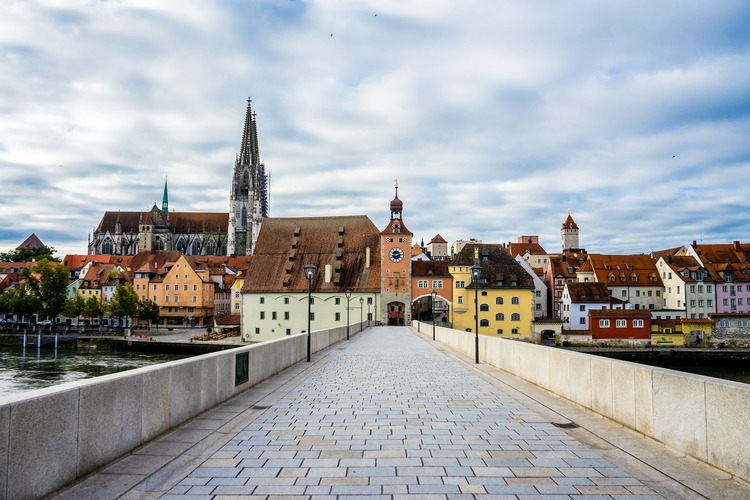 Why move to Germany?
Still, if you're not interested in wearing Lederhosen or singing bad Schlager songs (German genre of terrible music everyone listens to) with strangers during a drunken karaoke night, why would anyone want to move to Germany?
Well, Germany has an incredible education system with semester fees ranging from about €300 – €400 per semester. This is organized by AStA (Allgemeiner Studierendenausschuss) which is a student-led committee that advocates for the interests of students. Each university's AStA will negotiate with local transportation companies to get your semester ticket validated for a certain area.
For students studying at the University of Münster, this means you can travel to the Netherlands with your university card as often as you'd like. For students at the Free University of Berlin, you can travel for free within the ABC zones (which includes going to Potsdam, a nearby city).
Don't want to study? Germany's business sector is growing!
Have you heard of ResearchGate? How about Babbel? Maybe HelloFresh? These are all companies founded in Germany and have international teams. Many companies in Germany also speak English as a common language, so when you look at job listings online, you'll see that German isn't a requirement to be hired.
You'll notice when looking at the career pages of many companies that they list how many nations they have overall which can range from 50 to around 100 depending on the size of the company. In cities like Berlin, it's common to ask someone where they're from because you'll always get a different answer.
Did someone say digital nomad?
If you're used to the digital nomad lifestyle, then you've probably already heard that Germany is an excellent place to stay for a month or two since Frankfurt, Munich and Berlin airports are some of the biggest in Europe.
If you want to spend a week in another country, but can't decide where, Skyscanner has a function that allows you to search anywhere in the world during an entire month for the cheapest flights. Just while writing the article, we can see that for December 2021, it would only cost €11 for a roundtrip to Finland or €14 to the United Kingdom: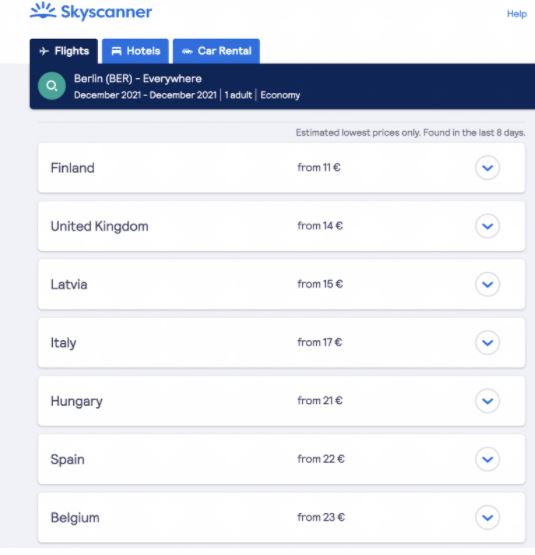 How do I plan my move to Germany?
You'll first need to consider which visa you need and how that fits into your timeline for moving. If you're already from Europe, you don't have anything to worry about besides registering your EHIC or getting public insurance if you've gotten a job.
For others, you'll either need to apply for a visa at the closest embassy or consulate in your country or come on a tourist visa with enough determination to get you through the treacherous German bureaucracy. Some admire German efficiency, but the expats here know that it's all just marketing hype. There is nothing more kafkaesque than German bureaucracy and getting refunds or finding new connections with the Deutsche Bahn (the German railway system).
What is getting a visa to live in Germany like?
Step One: Pick your visa
Before moving to Germany, you'll need to decide which visa you'll choose. If it's a student visa, you'll need your acceptance letter before entering the country or get a type D visa depending on where you're from.
For work, it could be a similar situation, so it's best to decide first which visa you'll be applying for, so you can go through customs without any problems.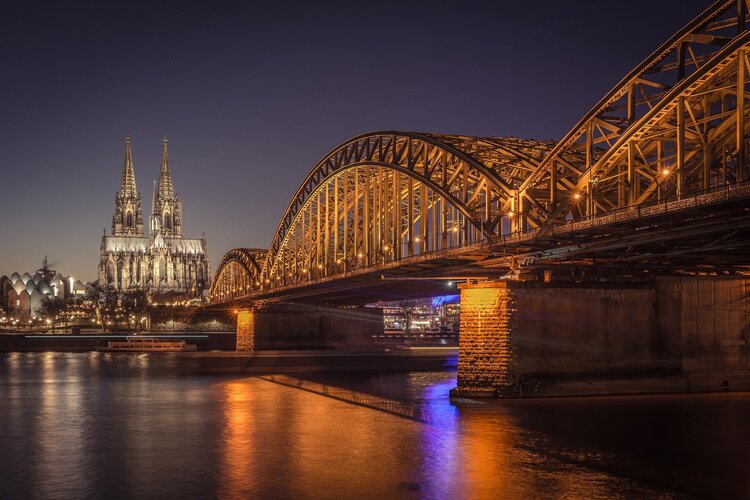 Step Two: Bank account
This will be the most difficult step for most because to get an apartment, you need a bank account. To get a bank account, you either need a visa or an Anmeldung (registration), to get the visa and registration, you need to have an apartment.
As unfair as this sounds, there are ways around this that other expats have learned from each other. For example, you can go to Deutsche Bank in your home country and set up a German account from home. This is a requirement for some students like those coming from China, but this information is helpful to everyone.
N26 also allows for digital sign-up, but you'll need to get another more "German" account since card readers in Germany sometimes do not accept N26 cards (this seems to depend on the age of the card reader. Germany almost only accepts cash, so if you have cash with you and only want an N26 account, it shouldn't be too big of a problem).
Step Three: Apartment
After setting up your bank account, you'll be able to prove your income to a potential landlord. This will either be through a regular scholarship or work. For international students, we highly recommend applying for student housing before coming to Germany as the waiting lists tend to be several semesters depending on the city. For universities like Kassel and Münster, they reserve housing spots for international students, but it does depend on your luck.
If you're not a student, try to get an apartment that allows for the Anmeldung (registration). This will allow you to get your visa before finding a more permanent residence. Companies like Numa offer expensive temporary housing that allow for new arrivals to get the Anmeldung. While this is an expensive option, it's nice to keep in mind if you don't have much time to spare.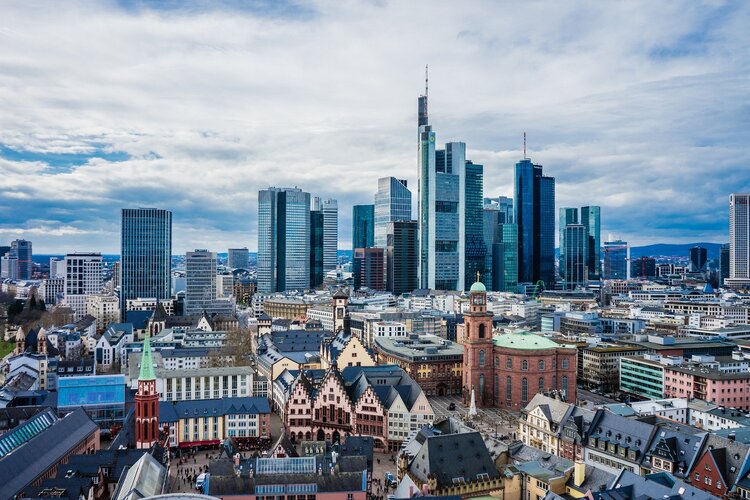 Step Four: Health Insurance
Health insurance might be the easiest one to get since you can register online and receive the card to your house. For this, we recommend going to our partner's website: Feather or take a look at our special article on German health insurance options
They offer different types of public health insurance, expat health insurance as well as private health insurance. Depending on your visa or age, you might not qualify for public health insurance which is why it's important to apply after you get an apartment and a bank account. Your documents are downloadable from your account after confirming your eligibility.
If you don't qualify yet for health insurance, you can get expat insurance and then upgrade to either private or public insurance when you do meet the qualifications.
Step Five: Visa
You should look for visa appointments before coming to Germany. As mentioned before, there is nothing more inefficient than German bureaucracy (maybe that's a bit harsh, but it's better to tell the truth than to realize you'll need to wait 18 hours in line, outside in the winter while it's raining with no shelter or toilets to potentially get an appointment).
While making your visa appointment, you'll see the required documents which generally include the following:
Passport

Bank statements

Proof of future financial support

Biometric photos

Letter from employer or university

Contract (if applying for a job visa)

Registration (

Anmeldung

)

Proof of insurance [This you can get online with Feather]

Depending on the visa you're applying to, there may be more requirements than this. These will be stated when you try to make an appointment.
During corona, you can sometimes email the Foreigner's Office (Ausländerbehörde) with an appointment request. From stories I've heard from others, if you email them with the same email every Tuesday morning, they will reply to you and request that you send your documents to another email.
Send the documents every Tuesday until you get an appointment allotted to you. Otherwise, when your visa is close to expiring, you will need to wait in line. Many of the Foreigner's Offices in Germany have bouncers — they tend to hide extra appointments behind the entrance for those who are kind to them.
Planning your next trip?