In 2019, The United Arab Emirates (UAE) welcomed 16.73 million tourists from all around the globe, up from 16.93 million in 2018.
With burgeoning attractions and world-class destinations, Dubai is currently listed as one of the 10 most visited cities in the world.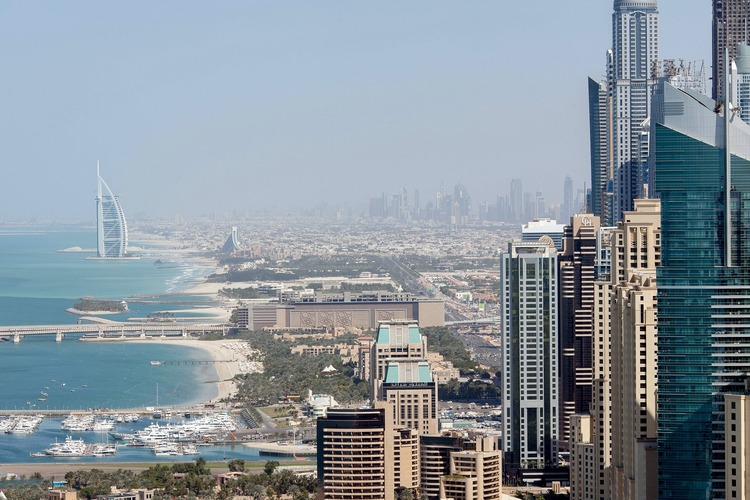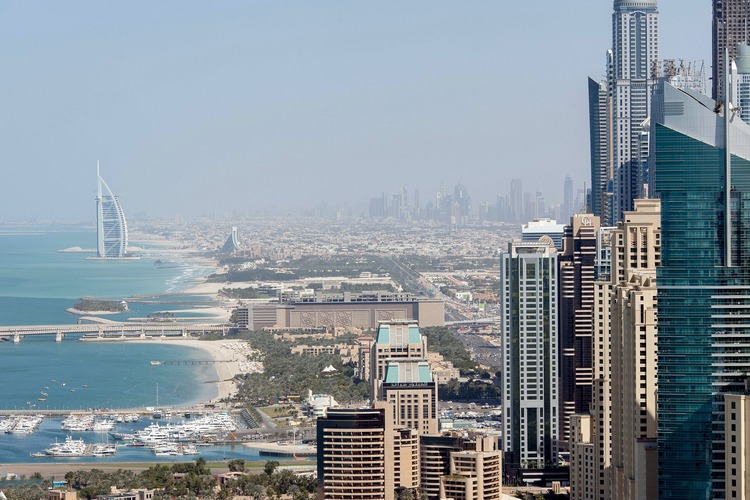 But all that comes with a price. If you ever hear about the rumors claiming UAE is an expensive destination, that's true. The average daily rate of hotel rooms in Dubai is $134. And if you're looking for a luxurious stay, expect to pay as high as $24,000 a night!
Well, the good news is you can have a memorable stay in UAE without breaking your bank. Most of all, there are ways to explore the best of the country even when you have a limited time. All you need is a little bit of planning and this guide.
Here are tips for getting the most out of your UAE trip!
Planning Your Trip to the United Arab Emirates (UAE)
The best out-of-the-country trips are those that are carefully planned. 🙂
1. Best time to visit the United Arab Emirates (UAE)
In Dubai, it's always hot. To make sure the scourging sunlight doesn't prevent you from exploring the great outdoors, schedule your trip between November and April when the weather is milder. Expect clear blue skies and perfect beach weather. Although these months are considered the "rainy season", rain showers in Dubai don't normally last long.
2. Booking flights and hotels in the UAE (especially Dubai)
January, November, and December are considered the "high season" in Dubai which means airfare and accommodation are expectedly high.
Consider booking flights in advance as many airlines to avail of discounts and promos from airline companies. Usually, the cheapest seats are released 6 months ahead of the departure date.
Same thing with hotels. Book your room as early as possible. You'll find some of the world's most expensive hotels in Dubai but you will also find affordable options. Some hotels offer promos too, especially for early booking.
A good alternative to traditional hotels is Airbnb rooms which can cost you about $35 or an entire apartment for $85. Always read reviews and research before you book. Sometimes, cheap accommodation also means cheap service.
3. Getting Around Dubai
Dubai has plenty of transportation options, from taxis to trains (Dubai Metro), and buses. If you're a fan of ride-hailing services, make sure to download Careem which is Dubai's version of Uber.
The cheapest way of getting around the city is through the Dubai Metro. And since most of its rails are above the ground, you get to enjoy the scenic views around the city, such as the most iconic buildings, during your ride.
6 Top Things to See in The United Arab Emirates
Dubai and the rest of the UAE offer plenty of things to see and do for all ages, including the most adventurous souls.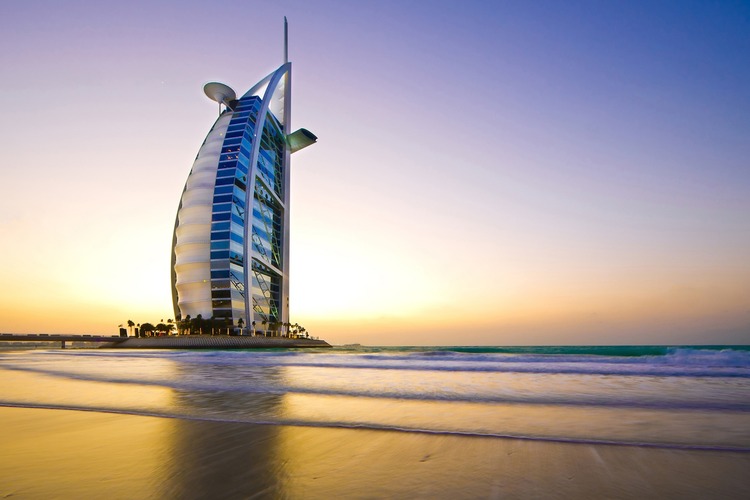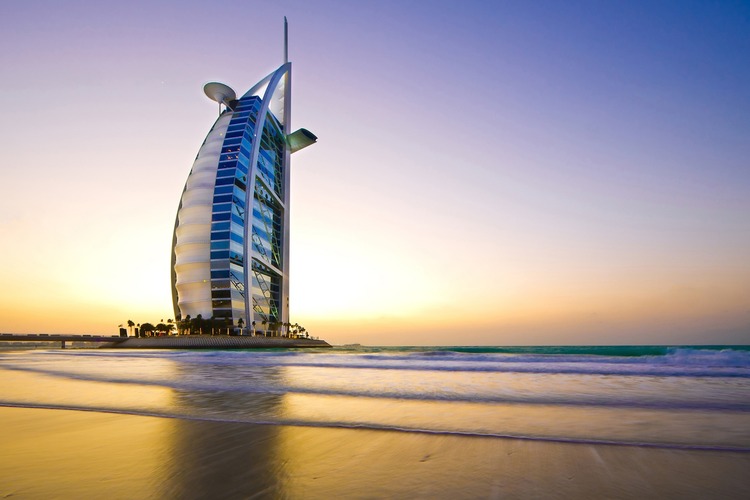 1. Burj Khalifa
The enormous size and amazing form of this mega skyscraper make it one of the top attractions in UAE. Did you know that it has the second-highest observation deck in the world? Being "at the top" of this tower gives you a 360-degree view of the entire city! How cool is that?
Burj Khalifa also houses some of the poshest restaurants in the city, as well as luxurious spas and wellness clubs.
2. Sheikh Zayed Mosque
Located in Abu Dhabi, Sheikh Zayed is the largest and grandest mosque in the country.
Unlike many tourist attractions in UAE, it's completely free to visit the mosque. There are also free guided tours which last about an hour. Be sure to cover up because they are very strict with the dress code. Also, do check the opening schedules on the website before you visit.
3. Hajar Mountains
Do you love hiking? Do you prefer natural landscapes over urbanscapes? Then you shouldn't skip going to the country's vast mountain range.
Attractions include the unique views of Sonnenberg (the third largest canyon in the world), Wadi As-Shab and Wadi Bani Khalid for trekking and swimming, Golden Tulip (very relaxed beach), and Jabreen Castle.
4. Louvre Abu Dhabi
This art and civilization museum spans 24,000 square meters and boasts 8,000 square meters of galleries. It's the largest art museum in the Arabian Peninsula.
Check out artworks from the world's greatest artists like Da Vinci, Matisse, and Picasso, or get a closer view of the historical treasures of UAE.
It also has a Children's Museum where your little ones can develop an interest in art and culture.
5. Dubai's Water Parks
Water parks are a lot of fun for families. Luckily, Dubai has plenty of them. Check out the Wild Wadi Water Park to experience the tallest and fastest free-fall water slide outside America, Aquaventure Water Park for the world's longest water slide, or the Yas Waterworld which is hailed as one of the best water parks in the world.
The country also has the LEGOLAND Water Park which offers tons of fun for children.
6. Dubai Food And Nightlife
UAE hosts some of the most popular nightclubs in the world. Dubai is undoubtedly one of the richest cities in the world. You'll find an array of restaurants, cafes, and boutiques alongside the beautiful views.
And if you're the "food is life" type, it's the perfect place for you. With millions of tourists from all corners of the world, the city boasts of premium restos that offer international cuisines. Of course, you shouldn't miss trying local dishes, such as the Samboosa, Chebab, stuffed camel (yes that's right), and Luqaimat.
4 Best places for Shopping in Dubai
The city is a paradise for shopaholics. You'll find everything you need, from premium-quality home decor Dubai to clothing and apparel items.
Here are the best places to shop in Dubai: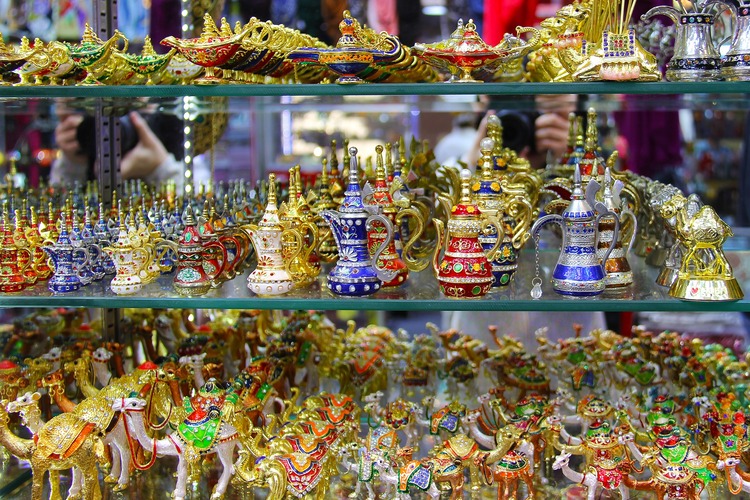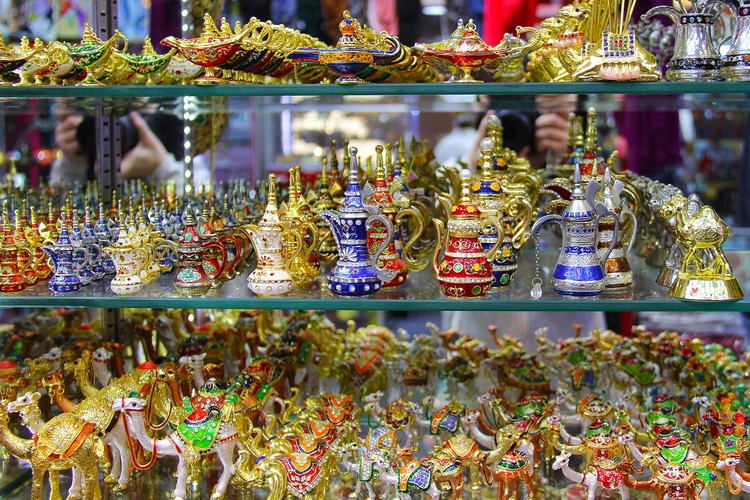 1. The Dubai Mall
The largest mall in the world. Dubai mall boasts of over 1,200 shops, 22 cinema screens, over a hundred restaurants, a luxury hotel, and world-class entertainment areas.
2. Wafi Mall
The best place for shopping for handicrafts and décor. Its artistic interior design will make you feel like you're stepping foot in a museum.
3. Mall of the Emirates
Find a wide range of shops for luxury, high-fashion, electronics, and more.
4. Bur Dubai Souk
Here you'll find the widest selections of textile products, from UAE rugs to fabrics and pillows.
5. Visiting the UAE During Ramadan
During Holy Month, recreation areas, theme parks, and other entertainment places are completely empty as Muslims head off to cooler shores and fast.
However, since many non-Muslim tourists visit the country, many shops remain open. Just make sure to double-check the opening hours since working hours are typically reduced by two hours during Ramadan.
6. Other Money-Saving Tips for traveling around the UAE
You can eat, drink, get entertained, and explore UAE without going bankrupt. But you may need these two:
Read the The Entertainer magazine to find offers
The Entertainer is a magazine and app offering discounts and special promos such as "buy one, take one free" on hotels, restaurants, fitness, and leisure around UAE.
Use Groupon to find travel deals in Dubai and the rest of the UAE
Get exclusive deals on goods, food, and activities. In Groupon Dubai, you'll find 2-for-1 specials and discounted rates, especially in restaurants.
Concluding…
That's it. With so many things to see and do in UAE, you'll definitely have an amazing time vacationing there. Keep in mind these tips to have a fun, enjoyable, and money-saving trip!
If you have any questions or comments about traveling to the UAE, just let me know in the comments area below. I will always answer you! 🙂
Planning your next trip?
Then don't forget travel insurance! You don't want to get stuck paying a ton of money and ruining your trip if you get sick or have an accident without travel insurance. WorldNomads is ideal for adventurous travelers, backpackers, or anyone looking to be protected during their trip. They cover almost every single activity you can image!
Already reserved your hotel or hostel? If not, we recommend Booking.com. They have a huge selection of hotels and hostels all over the world. Plus, in most cases, you can cancel your reservation without any costs up to a few days before the check-in date!
Still haven't booked your plane ticket and want to save big? Take a look at Kayak and Momondo. They are flight aggregators that combine several other ticket search websites to make it easier for you to compare prices and make sure you are getting the best deal.
And finally, will you need to rent a car during your trip? Then check out Rentalcar.com to search and compare car rental companies from all over the world on a single website. Then, you can find the cheapest price for the best car!