Last Updated on by Rodrigo @ OutofYourComfortZone
How does TourRadar offer guided group tours around the world by different operators?
Today I want to share with you about a good tour-search option: TourRadar. If you are like me, passionate about travel and adventure, you will love to know all the amazing tour options they offer to explore the world. I always like to travel and try new things, but sometimes it can be difficult to find the best options and organize everything on your own. That's where TourRadar comes into play!
The first thing that caught my attention on TourRadar was the amount of options available. They have the largest selection of packaged guided tours from around the world, all bookable in one place. They have options for all types of travelers, from trekking in Machu Picchu to wine tasting in Tuscany. With over 200 countries and thousands of curated tour operators, you're sure to find an adventure that suits you.
Another aspect of TourRadar is the support team that is available 24/7. They are available to help you before, while, and after you book your trip. It made me feel much more at ease, knowing that I can count on their assistance whenever I need it.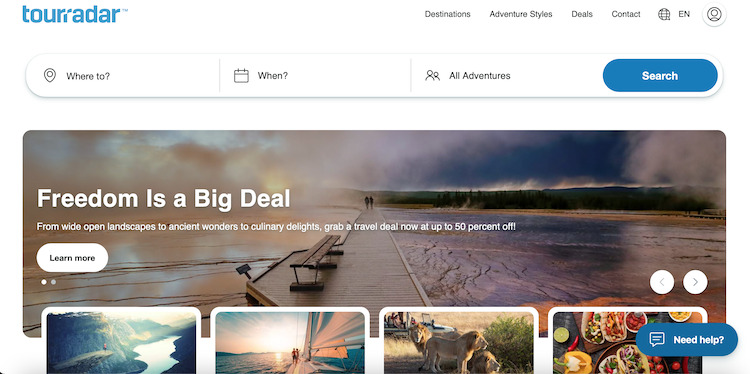 What types of deals does TourRadar offer?
So I'm going to talk a bit about the benefits of booking with TourRadar. One of the biggest highlights is the incredible deals and discounts they regularly offer. Who doesn't love saving money, right? They have promotions like early booking discounts, last minute deals and flash sales.
These deals can really make a significant difference to your travel budget. In addition, they also partner with many tour operators to offer exclusive discounts that you won't find anywhere else. It's an incredible opportunity to travel more and spend less.
Discounts: Book with Economy
One of the biggest benefits of booking with TourRadar is the deals and discounts available. They understand that everyone loves to save money, especially when it comes to travel. That's why they regularly offer promotions that can make your budget smile.
From early-booking discounts that reward travelers who plan ahead, to last-minute deals for those looking for last-minute adventures, TourRadar has options for every style of traveler.
Flash Sales: Seize Opportunities
In addition to regular discounts, TourRadar also offers flash sales that are great savings. These sales offer good opportunities to enjoy discounted adventures.
Whether it's exploring a specific region, participating in an exciting activity or embarking on a dream journey, TourRadar's flash sales are a fantastic way to make the most of your money and fulfill your travel aspirations.
How to use filters to search tours on TourRadar?
When using TourRadar, you can also take advantage of the search filters to find the ideal tour for you. They have a wide range of filters that help you refine your search and find exactly what you're looking for. You can filter by destination, activity level, duration, accommodation type and much more. This is especially helpful for travelers like me who have specific preferences and requirements.
Destination: Find Your Dream Location
One of the most important filters offered by TourRadar is the destination filter. With it, you can select the specific country, region, or even city you want to explore. Whether you have a destination in mind or are looking for inspiration, this filter will allow you to zero in on options that suit your travel desires.
Activity Level: Choose your Adventure Intensity
Every traveler has a preferred activity level. Some crave more relaxing activities, while others are looking for action-packed adventures. On TourRadar, you can adjust the activity level filter to find tours that suit your style. Whether it's a leisurely hike through the mountains or an exhilarating challenge, you can find the perfect activity to suit your energy and mood.
Duration: Set the Length of your Adventure
Whether you're looking for a weekend getaway or a multi-week expedition, TourRadar's duration filter is a must. Select the time period that best fits your schedule and explore the available options. From short getaways to epic journeys, you'll find tours that are just the right length for your travel needs.
Accommodation Type: Find Your Ideal Getaway
For many travelers, the type of accommodation is an essential part of the experience. With TourRadar's accommodation type filter, you can choose from different options such as hotels, hostels, campsites and much more. Whether you're after luxury or prefer a more rustic experience, this filter lets you find the perfect retreat to relax and recharge during your adventure.
And Much More: Custom Filters for Your Preferences
In addition to the mentioned filters, TourRadar offers many other options to customize your search. You can filter by activity type, travel style, price range and even tour operator. This feature allows you to find exactly what you're looking for, whether it's a bike ride, cultural immersion or luxury cruise.
What types of Adventure Style tours do they offer?
Another point I like is that TourRadar offers a wide variety of adventure styles, from budget backpacking trips to luxury tours. Some of the adventure styles available include:
In addition to these aforementioned styles of adventure, TourRadar also offers a variety of other options such as diving expeditions, surfing trips, kayaking trips, skiing and snowboarding trips, national park adventures and much more. Whatever your passion or interest, there's an option for you.
Now get ready to explore the world in your unique way, creating unforgettable memories along the way.
Traveling alone or in a group? Pros and cons
Traveling is something I just love! It is an enriching and transforming experience. But the question always arises: is it better to travel alone or in a group? Well, I believe that both options have their pros and cons, and the choice depends on my preferences and personality.
Travel alone
When I travel alone, one of the things I appreciate most is the freedom and flexibility. I can plan my itinerary according to my own desires and interests, exploring destinations at my own pace. Also, traveling alone allows me to disconnect from my usual environment and focus on myself. It's an incredible opportunity to discover myself and become more independent.
Oh, and I can't forget to mention that I meet new people along the way, making friends with fellow travelers and locals alike. Of course, it is important to remember that traveling alone requires extra responsibility and care, as I am solely responsible for all decisions and face challenges without the help of a group.
Group travel
On the other hand, traveling in a group also has its charms. Having company throughout the trip is comforting and a lot of fun. Sharing experiences with fellow travelers creates lasting memories and strengthens bonds of friendship. Also, traveling in a group brings an added sense of security, especially in unfamiliar or challenging destinations.
Groups are usually accompanied by experienced guides, who provide us with local knowledge, assistance and support throughout the journey. However, it's important to remember that traveling in a group can limit flexibility a bit and require me to adapt to the group's preferences and schedules. There may also be differences in personality and interests within the group, which can occasionally lead to compromises or misunderstandings.
In the end, the decision to travel alone or in a group will always depend on what I value most and the specific circumstances of each trip. Both options offer unique advantages and provide valuable experiences. And that's where TourRadar comes into play!
With their wide selection of group tours, they are a great choice for anyone wanting to share adventures with other travelers while enjoying the support and convenience they offer. It's a wonderful way to explore the world, create amazing memories and expand my horizons.
How does the booking process work with TourRadar?
Booking with TourRadar is a simple process. Once you've found the perfect tour, you can reserve your spot with a deposit, with the rest of the payment due closer to your departure date. You can also easily manage your booking through the online platform where you can view your itinerary, make changes and communicate with the tour operator.
After booking, you will receive all the necessary information via email, including details of meeting points, times and any special requirements. TourRadar is committed to ensuring you have a smooth experience from the moment you book until the end of your adventure.
If additional questions or needs arise, TourRadar's customer support team is available 24/7 to assist you every step of the way, ensuring you are fully prepared and excited for your dream trip.
What is TourRadar Customer Support like?
TourRadar prides itself on providing excellent customer support. Their team of travel experts are available 24/7 to answer any questions you may have, help you plan your trip and resolve any issues that may arise during your tour. Plus, TourRadar has a comprehensive cancellation policy that gives you peace of mind in case of unexpected events or changes to your plans.
One of the most important things about TourRadar is the comprehensive cancellation policy. They understand that unforeseen events can happen and are committed to ensuring my satisfaction and peace of mind should my plans change.
If the need arises to make changes to my booking or if I experience a setback during my trip, I know I can count on the customer support team to find the best solution for me. They really go out of their way to provide personalized, attentive and efficient service, ensuring that my experience with TourRadar is exceptional in every way.
Actual Reviews from TourRadar Clientes
The last thing I appreciate about TourRadar is the amount of real reviews available. They show thousands of reviews from real travelers, which helps me make more informed decisions and find the right adventure for my needs. It's nice to be able to read other people's experiences and get an idea of what to expect.
Some examples are:
"TourRadar is a search tool for different tour companies, but it is not a tour company per se (they don't offer tours). I used Intrepid once when I went to a region I had no idea about and had no time to research, it was good – I met a lot of amazing people on my tour – but it was definitely not value for money."
"I'm pretty sure TourRadar is an aggregator/reseller. This means their tours are operated by Intrepid, G Adventures, Gecko, etc. Check prices on TourRadar and these other sites – I think the TR is sometimes a bit cheaper."
"Anyway, I've taken two trips with Intrepid and they've been great (Guatemala/Belize/Mexico for two weeks a few years ago and Ecuador for a little over a week this year), Most people were in their mid-20s and early 30s, with some active participants in their 50s and older. Slightly more women than men. Great experiences both times, and the next time I'm ready for a trip but can't find anyone to go with me, I'll do it again without hesitate. There are plenty of opportunities to do whatever you want in terms of activities, but the guide gives recommendations and takes care of accommodation and transport."
"If I were you, I would carefully read through all of TourRadar's terms and conditions, which I just found on their website. The important sections begin with the heading 'Booking and financial terms for travelers', please read that and the sections that follow. quick look, it looks like they don't take responsibility for a lot of things and shift the responsibility to you and the tour operator, and it looks like they'll keep your deposit in case of cancellations in certain situations."
Searching for terms and conditions can be tedious, I know, but it's important. – http://www.tourradar.com/terms-conditions
Conclusion
Booking a multi-day adventure tour can be a daunting task, but with TourRadar, you can make it easy and convenient.
With a wide range of filters, adventure styles and offers, you can find the perfect tour that suits your interests and budget.
So if you're ready to embark on a new adventure and see new places, be sure to check out TourRadar. I'm sure you'll find your dream trip and have an unforgettable experience. Enjoy and have a good trip!
Planning your next trip?

Then don't forget travel insurance! You don't want to get stuck paying a ton of money and ruining your trip if you get sick or have an accident without travel insurance. WorldNomads is ideal for adventurous travelers, backpackers, or anyone looking to be protected during their trip. They cover almost every single activity you can image! Plus, you can have a 5% discount with the coupon code comfort5.

Already reserved your hotel or hostel? If not, we recommend Booking.com. They have a huge selection of hotels and hostels all over the world. Plus, in most cases, you can cancel your reservation without any costs up to a few days before the check-in date!

Still haven't booked your plane ticket and want to save big? Take a look at Momondo. It's a flight aggregator that combines several other ticket search websites to make it easier for you to compare prices and make sure you are getting the best deal.

And finally, will you need to rent a car during your trip? Then check out Rentalcar.com to search and compare car rental companies from all over the world in a single website. Then, you can find the cheapest price for the best car!