Last Updated on by Editor
Want to learn a little more about one of Portugal's most touristic regions and its incredible beaches? Then join me on this itinerary through the Algarve! 
Located in the southernmost part of Portugal, the Algarve is a region known for its beautiful beaches, lovely landscapes, and attraction-filled cities. But despite all this fame, many people don't know exactly what to do on their visit.
It's with that thought in mind that I put together today's 7-day Algarve itinerary. 
I'll tell you a bit about the main touristic spots, places to visit, and how much time you need to enjoy each of them. Ready to dive in? 
But first…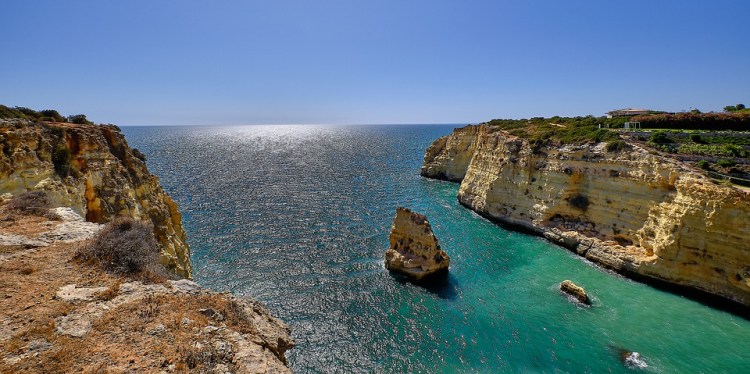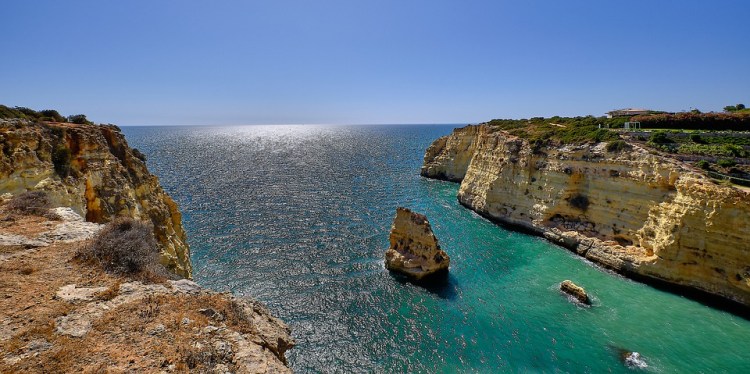 Why visit the Portuguese Algarve? 
Most people who want to visit the Algarve region are attracted by the beauty of its beaches and its excellent climate. But there's far more to the region to draw you in. And so, I want to give you a few more reasons to include the Algarve in your travel plans like:
The welcoming locals 

The delicious food 

The historical sites 
I'll talk a bit more about each of these points below to help you see that there are plenty of reasons to visit the Algarve beyond the beaches. 
The welcoming people of the Algarve 
The Portuguese are, in general, very friendly with tourists no matter where you're from. 
But it's impossible to talk about the Algarve without mentioning how extra receptive the locals are to tourists. It's something that's almost in the DNA of the area since tourism has always played a major role in helping it develop.  
So, if you're looking to visit somewhere with friendly locals who want to help and treat tourists well, the Algarve should be added to your list. 
Of course, as with anywhere in the world, there are exceptions. But I'd see any rude people you encounter along the way as an exception to the rule. 
The delicious food of the Algarve 
Portuguese gastronomy is, generally, excellent. I think everything I've ever eaten in Portugal has been delicious. And in the Algarve, you can find plenty of meals typical of the region that are worth trying. 
It should come as no surprise that many typical dishes include fish and seafood. 
If you'd like to eat something unique that you won't be able to find anywhere else, I recommend going to a typical restaurant and trying a plate of feijoada de marisco ("seafood bean stew"), massada de peixe ("fish pasta"), atum estufado à algarvia ("Algarve-style grilled tuna"), and, of course, the famous bacalhau à algarvia ("Algarve-style codfish").
You'll also find plenty of pork and even vegetarian dishes in restaurants…confirming that the Algarve has food for everyone. 
Ah, and don't forget to try some of the region's deserts. Perhaps the most famous of these is the "Dom Rodrigo," a sweet n' simple mixture of eggs and sugar. It's a typical sweet from the city of Lagos, which will be day 6 of our itinerary down below. 
Historical sites in the Algarve 
If you're looking for a reason to visit the Algarve beyond the beaches and landscape, their historical roots may be what's missing. 
This region of Portugal is extremely abundant in history, given that it's been occupied by the Romans, the barbarians, and the moors. Each of these groups left their mark in some way or another and helped the Algarve develop into the cultural-rich area it is today. 
Depending on when you visit, you may get the chance to explore the Feira Medieval de Silves ("Silves Medieval Fair"), the largest fair of its type in this region and one that will transport you to a small village from the medieval times. 
Another great historical attraction is the Fortaleza de Sagres ("Sagres Fort"), which also offers an incredible view. It truly looks straight out of a movie set! 
How to get around the Algarve 
To get between the major cities below, there are buses and trains you can take. 
However, I'd highly recommend renting a car in Portugal as this will allow you to travel on your own schedule and reach some of the off-the-beaten-path beaches and attractions where public transportation is limited or even nonexistent.  
If you'd like to rent a car in Portugal for your Algarve trip, then here are two of my articles that may help: 
What to do in the Algarve: 7-Day Algarve, Portugal Itinerary 
There's much to do in the Algarve, from relaxing on a beach with a stunning backdrop to exploring historical forts. And that's why the itinerary that follows is a full week and covers the best towns in the Algarve. I think that 1 week is the right amount of time to do the region justice! 
Algarve Itinerary Day #1: Faro 
I'll begin with the city of Faro for several reasons. The first is that it's where the only airport in the region is located, so it's likely the place where you'll arrive by plane from the capital (actually, I recommend spend at least 3 days in Lisbon).  It's also one of the largest cities in the Algarve, thus giving you lots to do.  
I recommend dedicating your morning to visiting the city center. It's a lovely place to take a stroll and will also give you the chance to see many historical sites like the Igreja da Misericórdia ("Mercy Church"), Sé Catedral de Faro ("Faro Cathedral"), and Porta Árabe ("Arab Gate"), which used to be one of the city's main entrances. 
After getting to know the city, you can grab some lunch and try any one of the tasty dishes I mentioned above. And for the afternoon, we'll get to the good stuff: the beaches! 
Faro may have a LOT of beaches, but not all of them are easy to access (and the best ones are the hardest to get to). However, there are some means of transportation that can get you there. 
For your first day, I recommend visiting Faro Beach. Located on Faro Island, you can get there by rental car, by bus, or even by boat (there are several private companies you can go with). 
This is the largest and most well-known beach in the city. Given that the sea here is often quite calm, it's common to see people sailing or canoeing. And since it's such a large beach, it's also great for people who want to avoid the crowds.
If you'd like to spend the rest of the day here, you'll find everything you need – restaurants, bars, and other services! 
Algarve Itinerary Day #2 & 3: Faro Beaches 
As I said above, Faro is one of the main tourist stops in the Algarve. So I think it's worth spending a few days here to really explore. 
Some of the most beautiful beaches in the area include Praia do Farol ("Lightouse Beach"), Praia da Quinta do Lago ("Quinta of the Lake Beach"), and farther-flung beaches like Praia da Ilha Culatra ("Culatra Island Beach") and the beach of Ilha Deserta ("Deserted Island"). 
It's not hard to find companies offering boat service to get you to these more distant beaches. Just be sure you carefully research the prices and packages of each company before making your decision so you can find a good deal. 
Algarve Itinerary Day #4: Albufeira 
Albufeira was once just a small fishing village. But today, it's a major tourist destination in the Algarve. It's also home to the famous Praia da Marinha ("Marinha Beach"), one of the most beautiful in all of Portugal! 
It's located just 40 minutes by car or by train from Faro, so you won't need to use too much of your day to get here. 
Like Faro, I also recommend you begin your time here by exploring the cultural and historical sites in the city center. This center is full of some of the most charming squares I've ever seen in Portugal, all of which are full of great restaurant and bar options. You can do that by walking or renting a bike in Albufeira. 
If you like history, the Albufeira Archeological Museum is a great stop to add to your itinerary. Another major historical attraction in the area is the ruins of the 12th- and 13th-century Islamic houses.
Ah, and don't forget to wander through Rua 5 de Outubro ("5th of October Street"), a perfect stop for anyone who wants to buy local souvenirs. Even if you don't plan to buy anything, I recommend strolling through this charming street and seeing what's on offer in the many stalls. 
After you've finished visiting the city, be sure to take a walk on one on the area's gorgeous beaches, like Praia da Marinha in the picture below!  
Algarve Itinerary Day #5 – Zoomarine Oceanographic Park or Aquashow Water & Theme Park  
Today, you'll have the option to choose between the two largest amusement parks in Portugal. These are some of the most famous attractions to enjoy in Portugal with kids.
Aquashow, for example, is a waterpark that is home to the only roller coaster in Portugal. Aquashow is about 30 minutes by car from Albufeira, and I'd definitely recommend spending an entire day there since you'll find activities for all ages – from adrenaline-inducing rides to family-friendly entertainment. 
The park is also has a hotel, and entrance fees are 26.10 euros for adults and 18.90 euros for kids. 
Zoomarine is quite different from Aquashow. The major attraction here are many aquatic shows they have with dolphins, seals, sea lions, and birds. They also have other attractions, such as an artificial beach. But given that you are already in the Algarve and have plenty of real beaches to choose from, I'd spend your time checking out Zoomarine's other attractions. 
Beyond entertaining guests, the goal of the park is to educate and raise environmental awareness. Definitely worth a visit!
The cost of an entrance ticket to Zoomarine is 29 euros for adults and 21 euros for children. Try to buy your tickets online ahead of time, because tickets at the ticket office can cost up to 40 euros. There are also options for group tickets or multi-day tickets. 
You can buy your Zoomarine ticket ahead of time on Get Your Guide, or by clicking on the image below.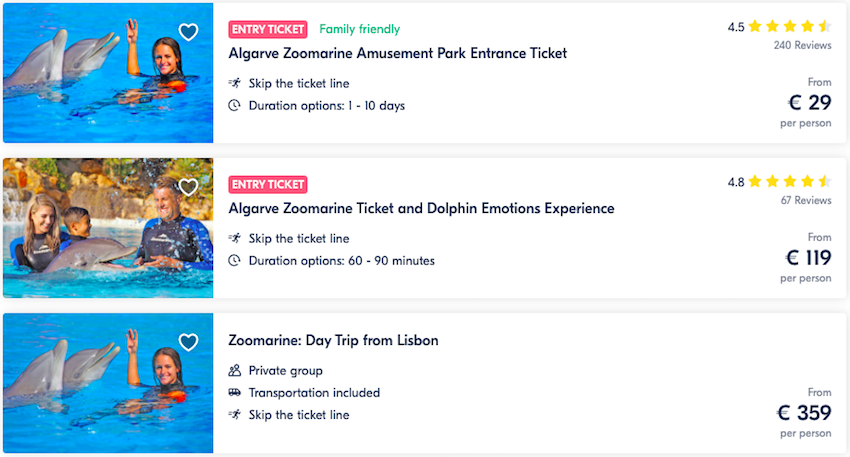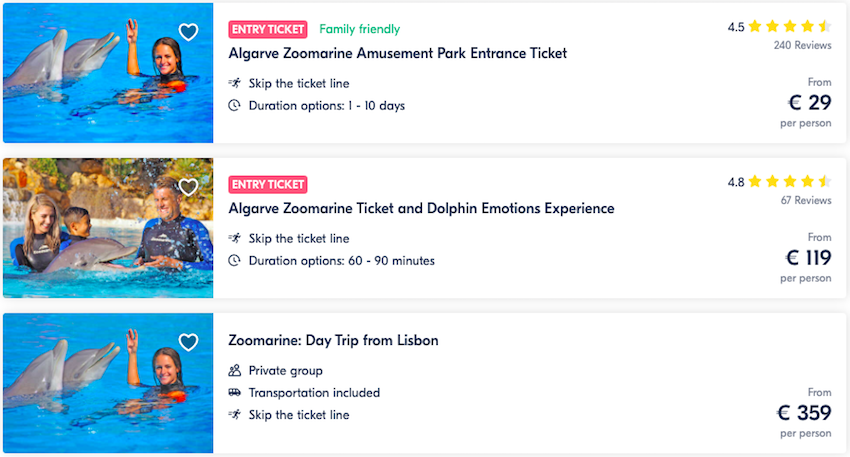 Algarve Itinerary Day #6: Lagos, Sagres Fortress & Benagil Caves 
Lagos is another major destination in the Algarve, and is located 45 minutes by car or 70 minutes by train from Albufeira. This enchanting city is full of history and is an essential stop during your visit to the Algarve. 
To make the most of your time in Lagos, I'd again recommend you begin exploring the city center and then spend the rest of the day enjoying the beaches! 
Some of the best places to visit in the Lagos area include the beaches of Camilo, Dona Ana, and Pinhão. All 3 of these feature stunning landscapes and warm water in the summer, which is hard to find in Portugal! 
And if you're looking for more than beaches, you also have the option to visit Sagres Fortress, a gigantic 15th-century military monument that served as the country's main point of defense when it was built. 
Beyond its historical significance, visiting the fortress will also give you an incredible view of the "end" of the Atlantic Ocean.  
After the fortress, you should definitely visit the amazing Benagil Caves. There are several Benagil Cave tours you can choose.     
And if you're into surfing, next to the fortress you'll find Tonel and Beliche beaches, which are known as some of the best surf beaches in the Algarve alongside Arrifana and Amado. 
If you plan to surf during your Algarve trip, don't forget to get a travel insurance plan that covers surfing. My article here with the 3 best travel insurance for adventure & sports may help. 
Algarve Itinerary Day #7: Your choice! 
I usually leave the last day of my itinerary open so I can fill in whatever I didn't have the chance to do.
So perhaps that means you use your final day to visit some other beaches you haven't been able to get to yet, or you spend the day exploring the city of Lagos a bit more. 
After all, this Algarve itinerary is just a suggestion to help you make the most of your time in the region. In other words, you're free to make alterations, additions, and subtractions however you like! 
In sum…
My recommended 7-day Algarve itinerary is as follows: 
Day 1 – Faro 

Days 2-3 – Faro beaches 

Day 4 – Albufeira 

Day 5 – Zoomarine or Aquashow 

Day 6 – Lags and Sagres Fortress 

Day 7 –

your choice!

 
Other articles about Portugal
10 Tips for Renting a Car in Portugal 
Portugal Winter Itinerary: 5 Stunning Places to Visit 
How to Live in Portugal: 10 First Steps to Take 
In conclusion…
So, what do you think of this 7-day Algarve Itinerary? Would you add or subtract anything? If you want to add a contribution or ask any questions, just let me know in the comments area below, and I'll get back to you!
Planning your next trip?
Then don't forget travel insurance! You don't want to get stuck paying a ton of money and ruining your trip if you get sick or have an accident without travel insurance. WorldNomads is ideal for adventurous travelers, backpackers, or anyone looking to be protected during their trip. They cover almost every single activity you can image! Plus, you can have a 5% discount with the coupon code comfort5.
Already reserved your hotel or hostel? If not, we recommend Booking.com. They have a huge selection of hotels and hostels all over the world. Plus, in most cases, you can cancel your reservation without any costs up to a few days before the check-in date! 
Still haven't booked your plane ticket and want to save big? Take a look at Momondo and Kayak. They are flight aggregators that combine several other ticket search websites to make it easier for you to compare prices and make sure you are getting the best deal. 
And finally, will you need to rent a car during your trip? Then check out Rentalcar.com to search and compare car rental companies from all over the world in a single website. Then, you can find the cheapest price for the best car!