Last Updated on by Rodrigo @ OutofYourComfortZone
As a Spanish city located in Africa & surrounded by Morocco….Ceuta is kinda weird. But that's exactly why you should visit! Keep reading here to get an itinerary with all you need to know to visit Ceuta. Including maps, crossing the famed Strait of Gibraltar, accommodation, attractions, what to do…and more!
Fact: there is one part of Spain that shares a land border with Africa
Fun fact: the city is called Ceuta, it's Spanish yet located in Africa and surrounded by Morocco….and it's a pleasant & easy place to visit!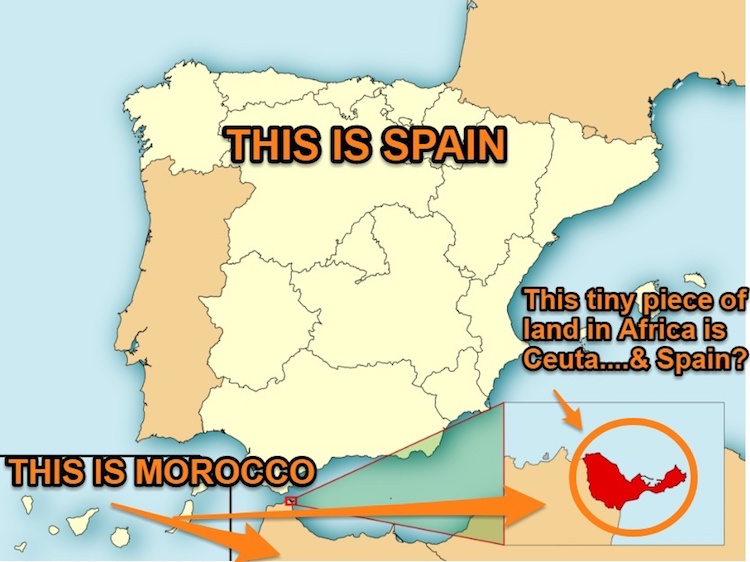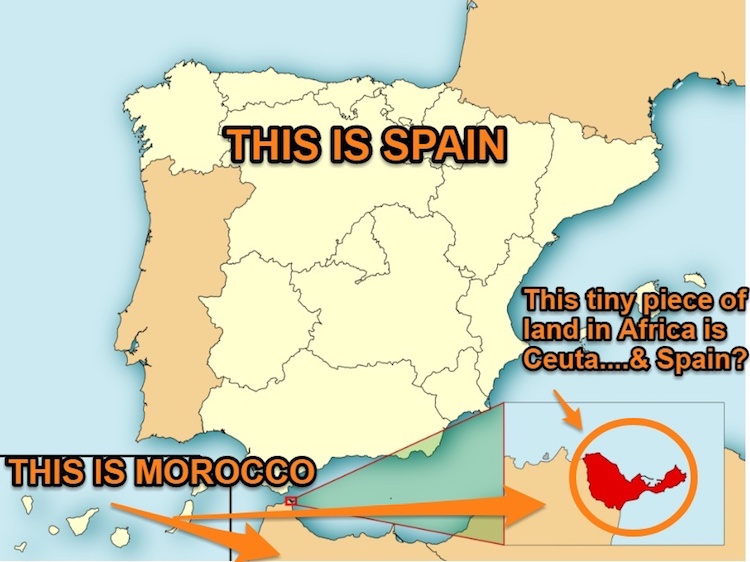 Besides visiting just for the weird geopolitical situation, a trip to Ceuta will also give you the chance to:
Take a ferry across the famed Strait of Gibraltar

Set foot on the "African" continent

Wander through the city's

1,000+ year old

city walls and fortresses

Experience a unique mix of Spanish & North African culture

And more!
How to use this Ceuta travel itinerary
As you'll see below, our detailed itinerary is just for 1 full day in Ceuta – beginning with us arriving the night before via ferry, staying a single night, spending the next day seeing the city, and then catching the ferry back to the Spanish mainland later that evening.
Technically, this could be done as a day trip from mainland Spain since the ferry is only about 90 minutes each way. But I'd vote spending the night if you can.
Beyond this short itinerary, we'll also give some alternatives for what to do if you're extending your stay in Ceuta or your trip overall by heading to nearby destinations (you'll find them at the bottom of the article).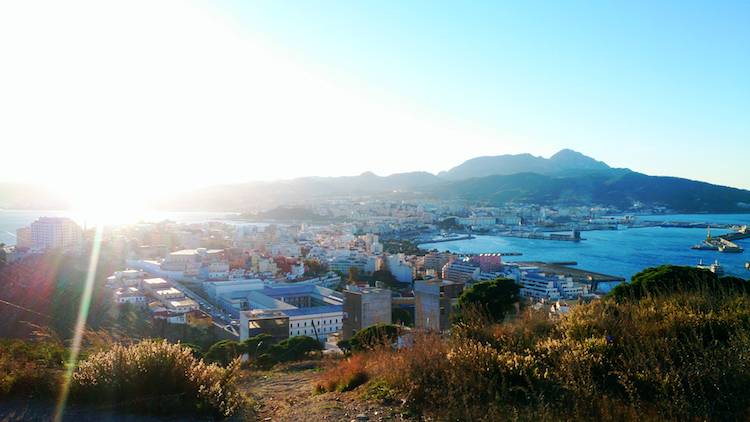 Table of contents
Ceuta Fast Facts
             1.5 So, is Ceuta….Spanish? Or Moroccan?
When to visit Ceuta

How long to stay in Ceuta

How to get to Ceuta

How to get around Ceuta

Where to stay the night in Ceuta

What to do in Ceuta (1 day Ceuta itinerary)

Have more time in Ceuta? Ceuta itinerary alternatives

Looking for your next stop? Where to go before or after Ceuta

Bonus tips for visiting Ceuta
Ceuta Fast Facts
The What and the Where: Ceuta is an autonomous Spanish city and enclave that's physically located on the African continent. It's situated on Morocco's Mediterranean coast and is just a short 8.7 miles (14 km) ferry ride away from the Spanish mainland.
How big is Ceuta? Pretty small! Just 7.14 square miles (18.5 square km) with a population of around 85,000.
What is Ceuta's currency? Ceuta is technically a part of Spain and thus uses the Euro, just as Spain does.
What language do people speak in Ceuta? Spanish, just as they do on the Spanish mainland.
1.5

So, is Ceuta….Spanish? Or Moroccan?
As you can imagine, this is a bit of a complex topic.
As far as political borders go, Ceuta is 100% a part of Spain. They speak Spanish, its citizens can move freely throughout Spain and the rest of the European Union, and there's only a loose border control for people crossing from Spain to Ceuta (or vice versa).
But as far as geographical location, Ceuta is very much in Morocco and northern Africa. Ceuta is not physically connected to Spain by land at all and the only thing it shares a border with (besides the sea) is Morocco (with a 5.2 mi/8.4 km line separating the two).
Some people call Ceuta "Spain's African Gibraltar" (Gibraltar is another strange geopolitical entity as a British territory physically located in Spain).
As you might expect, the city's borders are heavily fortified – consisting of 10-foot barbed wire fences ringed with searchlights, movement sensors, and guard towers. Which also means that cross-continent immigration is a sensitive topic….so be cautious if you bring it up to anyone during your trip.
As if Ceuta isn't unique enough on its own, there's one more city in this exact same geopolitical situation — the Spanish enclave of Melilla. Melilla, like Ceuta, is also located on Morocco's Mediterranean Coast. It's about a 4-5 hour ferry from Málaga.
Naturally, Ceuta and Melilla have a pretty interesting background. They've been under Spanish control for more than 400 years (there were under Portugal's before that), were once used as ports to fight piracy, and are where Spanish dictator Francisco Franco launched his civil war campaign in the 1930s.
Because of all this history, when Morocco became independent from France in 1956, Spain wouldn't give the cities up.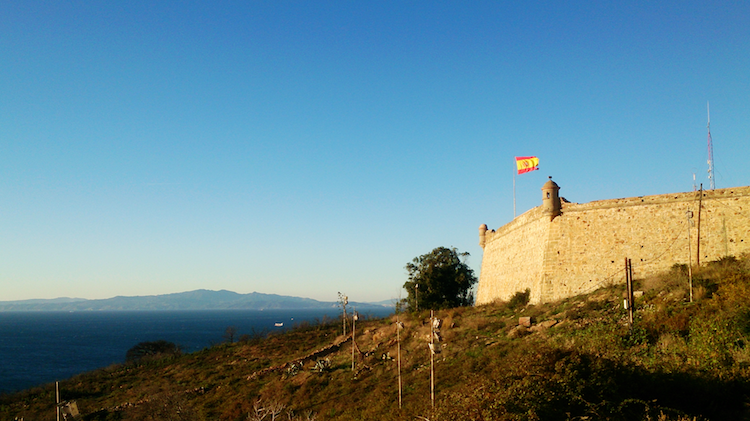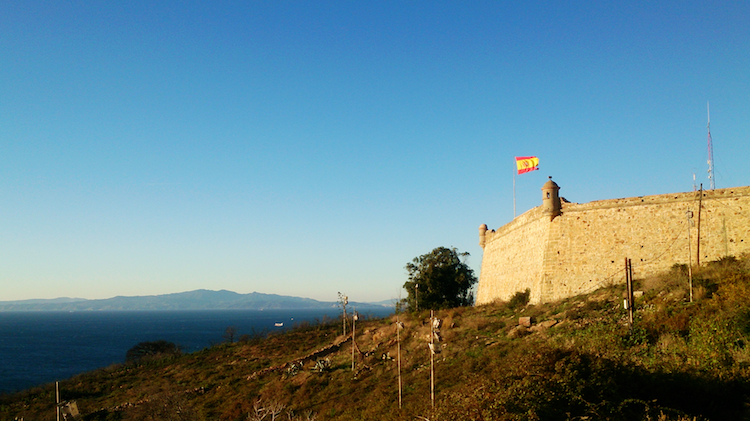 Obviously, there's debate from both sides. In an overly simplified way, Spain's argument is that the city has been Spanish since before Morocco was officially a country. And Morocco also makes territorial claims stating that Ceuta and Melilla are still colonies and thus should be returned.
Either way, it's a unique, slightly messy situation.
When to visit Ceuta
Ceuta has pretty nice weather all year round, but it can get pretty hot in the summer. We went in December and, though it got a little cold at night, it was a major upgrade from our Swedish winter.
How long to stay in Ceuta
We personally felt we were able to do most of what we wanted to do in Ceuta with just one day. But if you wanted to spend some more time hiking the nearby mountains, taking a day trip to Morocco, or spending time at the beach or pools (if you're there in the summer), you could easily extend your stay another day or two.
How to get to Ceuta
There are 3 ways you can get to Ceuta:
#1) Take the ferry from Algeciras, Spain to Ceuta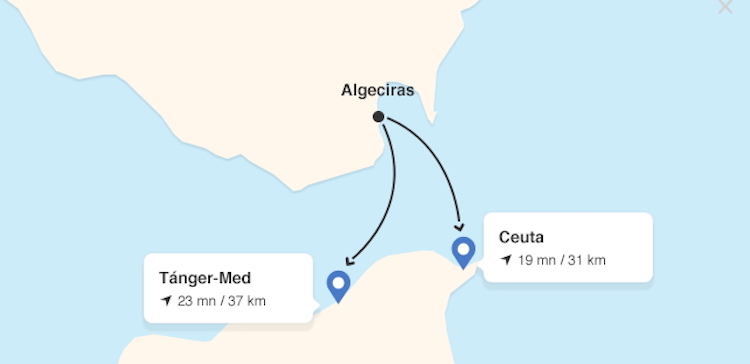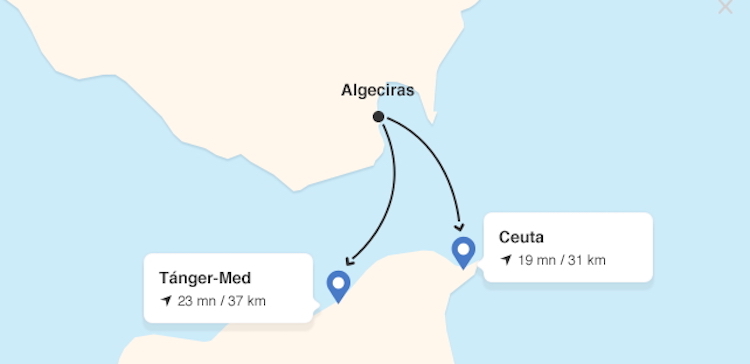 It costs about roughly 30 euros one way (or about 60 euros round trip) and takes 1 hour-90 min depending on which ferry you choose. Get your tickets from Baleária here.

Or, you can go directly to their website: https://www.balearia.com/en
Promotional code with 10% discount for Baleária: FLEX10
(PS: Keep an eye on our blog because soon we will post an article with a great Ceuta, Gibraltar, and Málaga itinerary you can use to plan your trip)
#2) Take a HELICOPTER from Algeciras to Ceuta (yes, really!)
For just over the cost of taking the ferry (35 euros one way), you can take a helicopter from Algeciras, Spain to Ceuta.  
Here's the schedule for the 35 euro price (it's 50+ euros all the other days):
From Algeciras to Ceuta — FRIDAY — 14:30-14:40 or 15:35-15:45
From Ceuta to Algeciras — SUNDAY — 19:30 – 19:40
Unfortunately, we found out about this option only after we'd already arrived. Otherwise, we definitely would have taken the helicopter one way and the ferry the other!
You can book the helicopter here: www.helity.es (click the upper right button to change the website's language to English)
#3) Cross overland through Morocco
We don't have any personal experience with this, unfortunately, but we know it can be done.  
How to get around Ceuta
The city is pretty compact so you can get to many places on foot. Within the center, there are also plentiful buses. For places outside the city center (like the San Isabel II overlook), you'll probably need to take a taxi.
We'll specify how to get to individual places in our itinerary below.
Where to stay the night in Ceuta
There isn't a ton of accommodation options listed online for Ceuta.
But since we knew we were going to be arriving late, we wanted to stay somewhere close to the ferry terminal (even if it was a bit far from the city center).
So, we stayed at Pension La Puntilla (which also ended up being the cheapest accommodation we could find) and paid about $40/night for a private double with a shared bathroom.


It was a pleasant enough place and likely your best option if you are on a budget. Plus, the owner was really nice and helpful!
If you want to stay somewhere a little bit nicer and closer to the center, Hostal Plaza Ruiz also looks to be a good choice.


Click either of the images above to get more info about the places or to book your room.
What to do in Ceuta (Ceuta 1 day itinerary)
Here's a peek at the map with our recommended 1 day itinerary with 7 stops in Ceuta (you'll need to click to zoom in and out on the map to see all the stops more closely):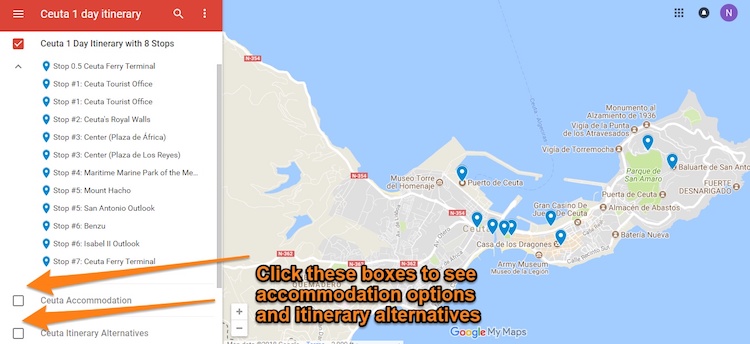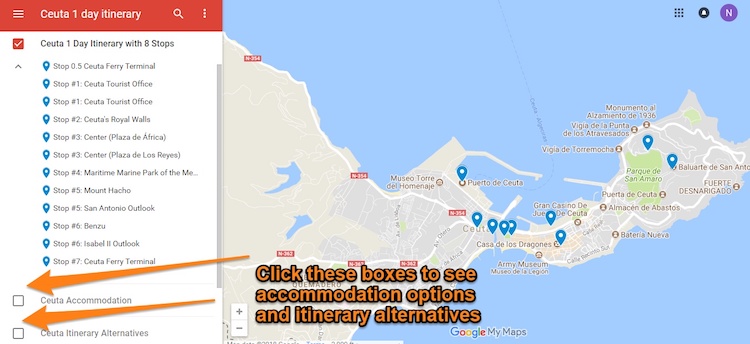 (Click the image above or here to see a live version of the map)
Stop #1: Visit Ceuta's tourist office
Your first stop of the day will likely be a tourist office so you can pick up a map and ask any questions you might have. There's one tourist office near Plaza de Africa and another near the port (you'll see signs for both of them, or you can check the map above).
Stop #2: Walk the Royal Walls
A short walk from either of the tourist offices is Ceuta's most famous landmark — their old city walls! They are completely free to visit, so explore as much as you like.
There's also a museum which you can visit for a small fee, and there are signs along the walls where you can read more as you go.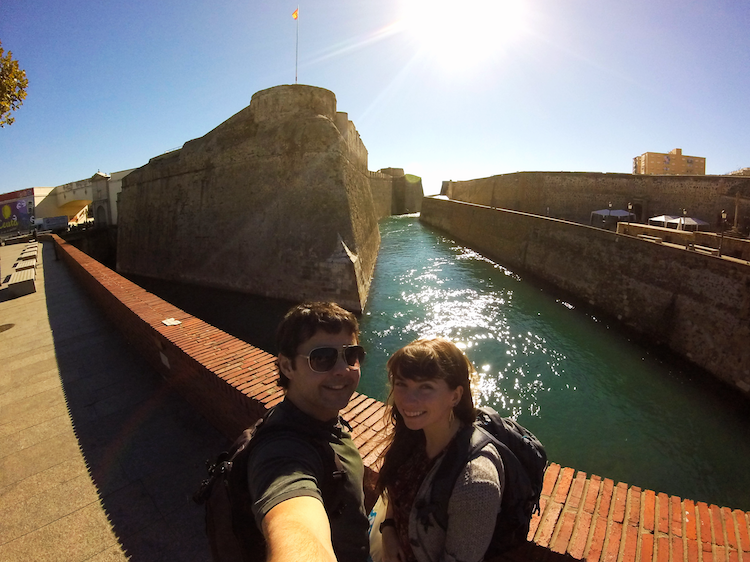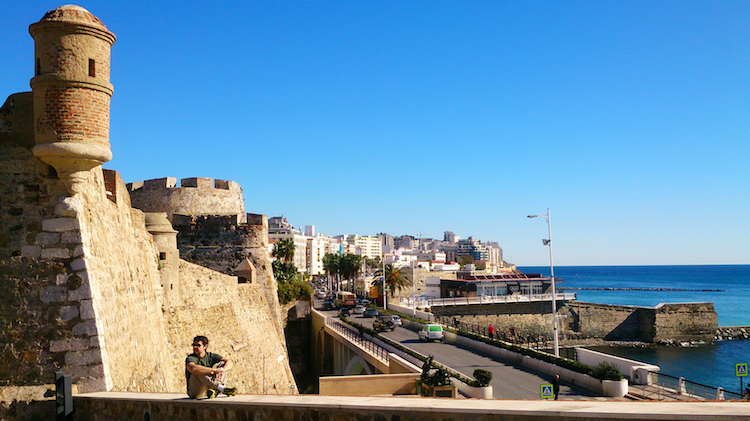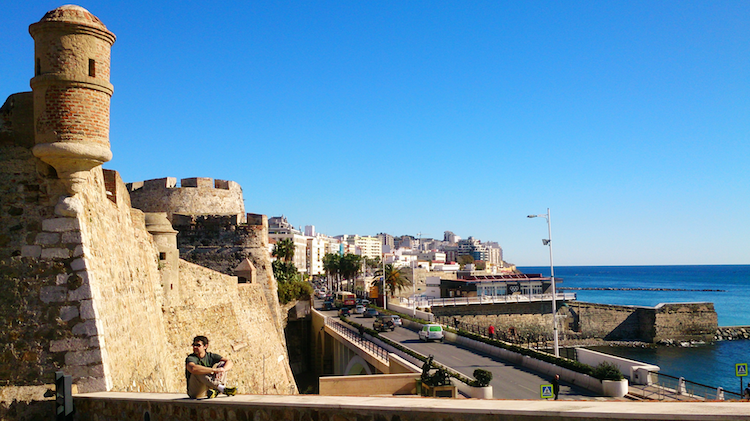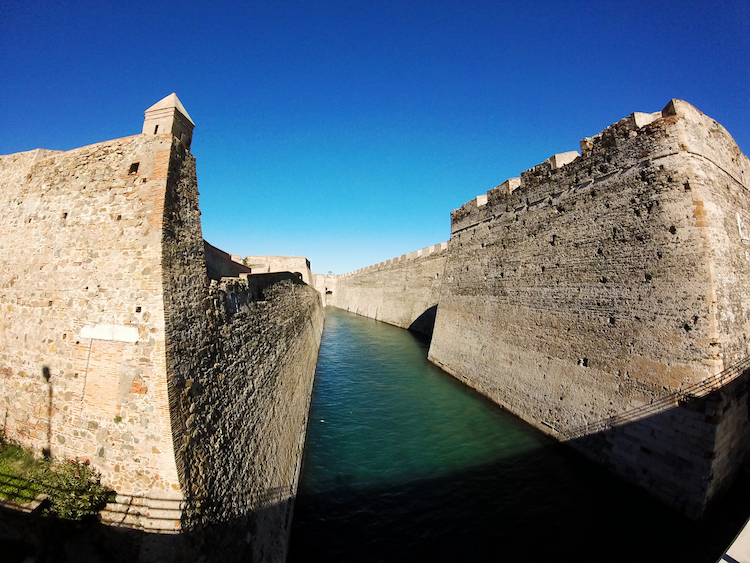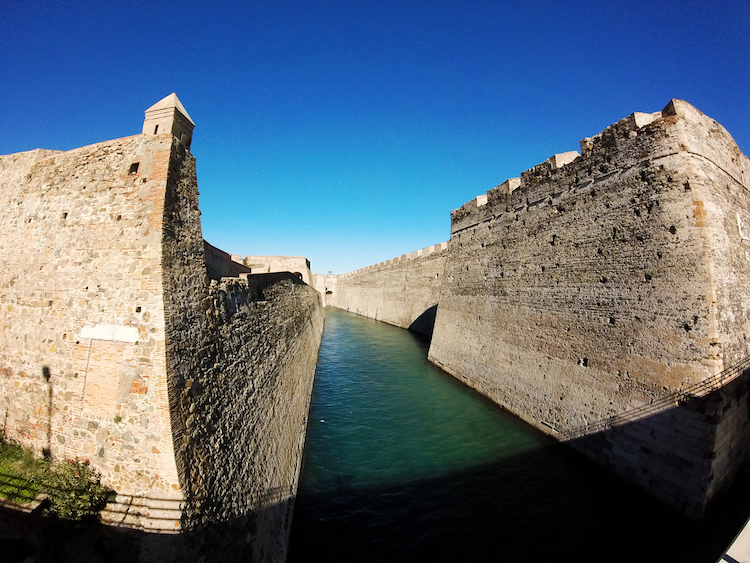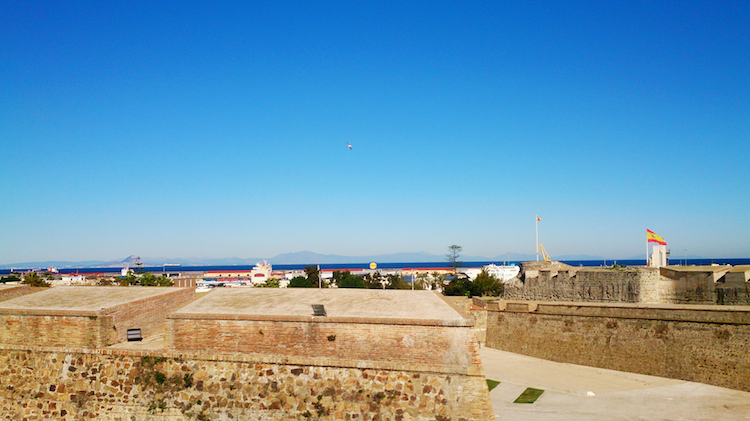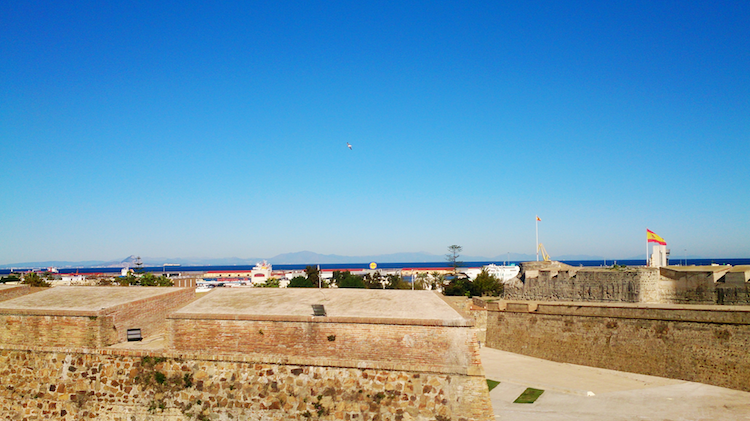 Stop #3: Wander through the center of Ceuta (from Plaza de Africa to Plaza de los Reyes)
Your next step will be to get yourself to Plaza de Africa (either ask around or follow the signs — it's just a few minutes on foot from the walls.)
From there, follow the main road ("Gran Via") which will be on your left if you're looking at the Plaza's cathedral.
After a few minutes down this bustling thoroughfare, you'll hit Plaza de la Constitución on your left. While here, feel free to pop into the central market if you like or take a selfie with the giant Hercules statue.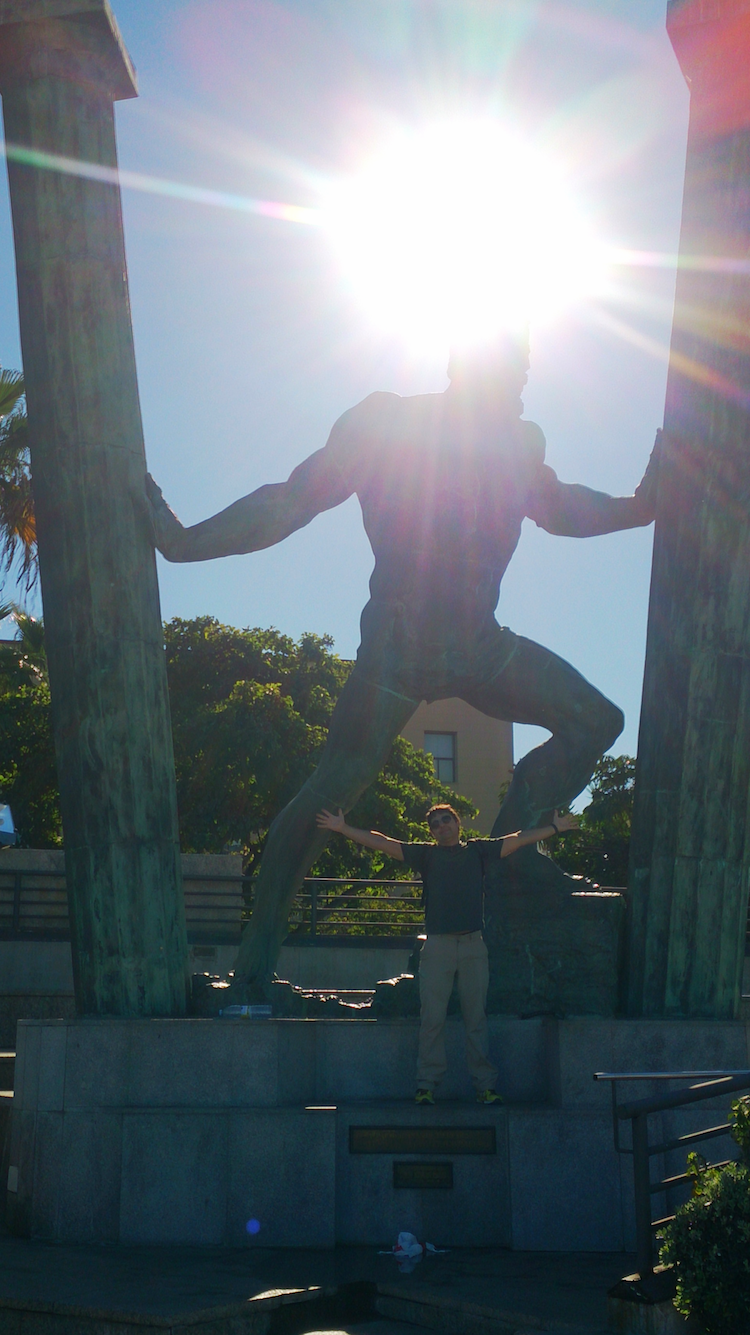 Continue down the same street as before (which has now turned into the pedestrian-only Paseo del Revellín), passing the "Dragon House" until you reach Plaza de los Reyes.
Stop #4: Soak up the sun in Parque Marítimo del Mediterráneo (Maritime Park of the Mediterranean)
If you turn left onto any of the roads off Plaza de los Reyes and head straight, you'll find yourself at this park of pristine saltwater swimming pools, abundant plant life, and other entertainment (including a restaurant and a casino).
If it's winter, a visit here might not be the best use of your time because the pools are all drained (although we still visited and had a good time strolling through the gardens). But if it's summer or warm enough, I think it'd be a great place to spend a hot day outdoors.
The entrance fee for us was nothing (probably because was winter so you couldn't swim anyway), but otherwise, I think the fee is about 5 euros for adults.  
Here's what the maritime park looks like with water:
Stop #5: See Europe from the San Antonio overlook and hike around Ceuta's fortress on Mount Hacho
For this stop, you'll first need to get to El Mirador de San Antonio (San Antonio overlook).
From Plaza de la Constitución, you can take bus #1 (right next to the taxi stand) to the end of the line. If you take the bus, just tell the bus driver "el Mirador de San Antonio" so he can show you when to get off. But even with the bus, you'll still have quite a lot of walking to do uphill to get to the overlook.
Unfortunately, we don't have more details about how this bus works since we didn't actually take it. We meant to, but after waiting at the stop for 20+ minutes without it coming, we decided to stop wasting time (especially with our ferry to catch) and just took a taxi from the taxi stand next door.
The taxi driver used the meter and it cost us 3.50 euros to get to the overlook.
Once you make it to the overlook, look straight across the water to see Europe and British Gibral:
Then turn around and take in the view over Ceuta (although your Ceuta views will get even better as your adventure continues):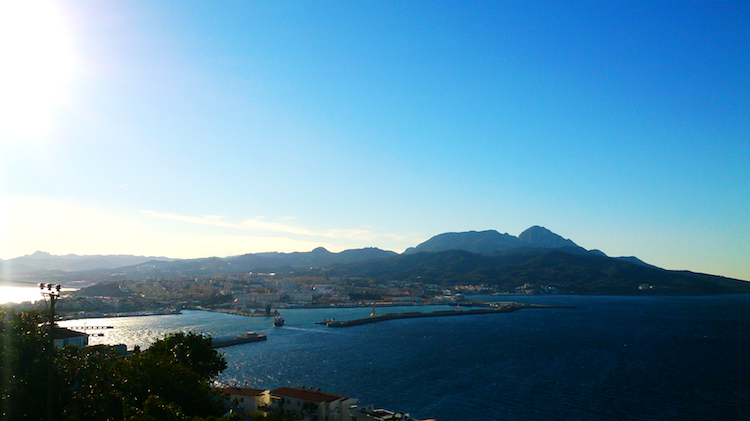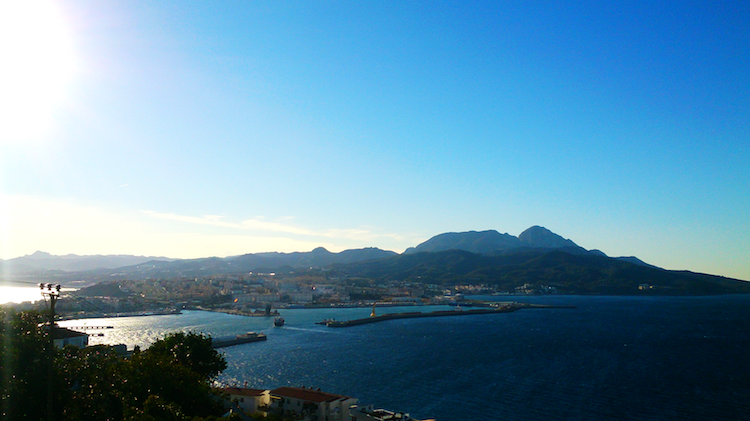 Now, it's time to get up to that fortress. Unfortunately, the fortress itself is an active military base so you can't go inside. But you certainly walk around the outside.
Once you exit the parking lot of the overlook, head left up towards the hill. After a few minutes walking, you will see a steep, narrow road on your left that heads toward something that looks like a cell phone tower.
Follow it up and up and up. Then, you'll find a trail hugging the fortress that looks something like this: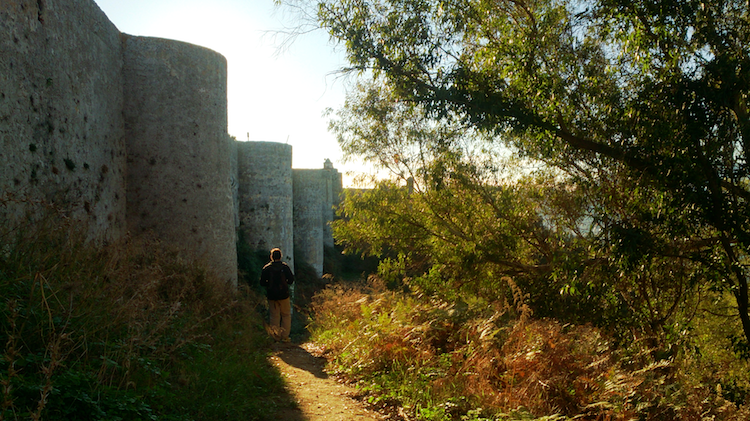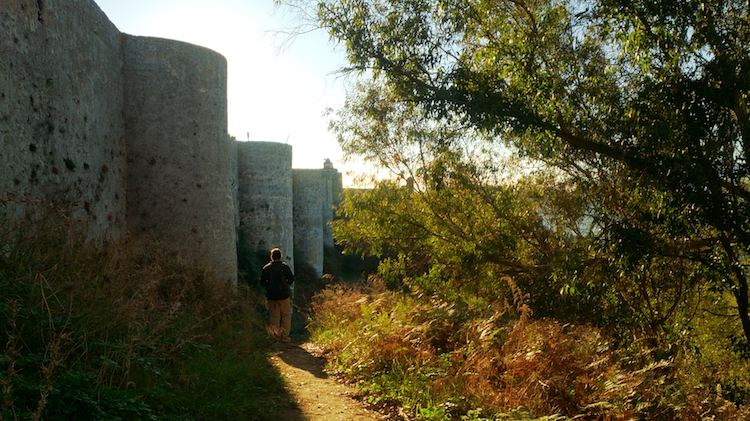 Make your way along fortress wall (accompanied by some wonderful views of Ceuta down below), until you find a paved road that starts heading back down.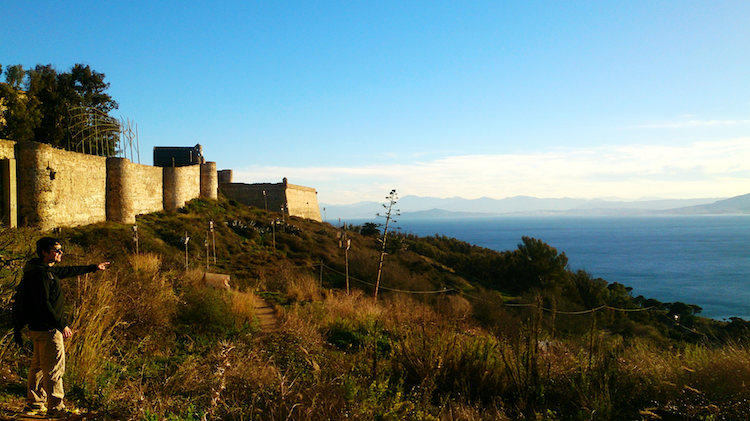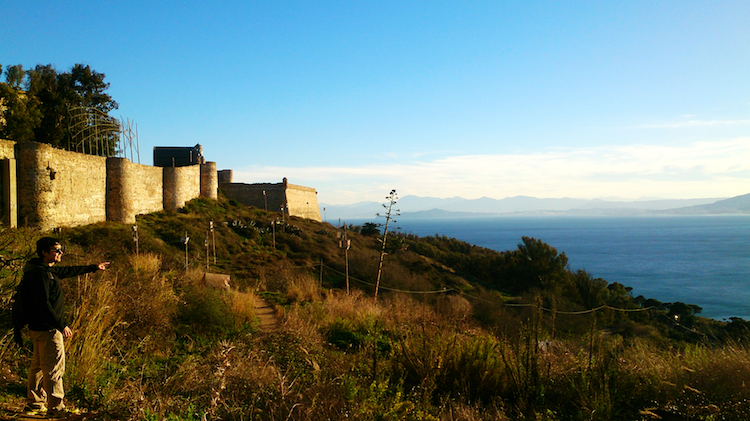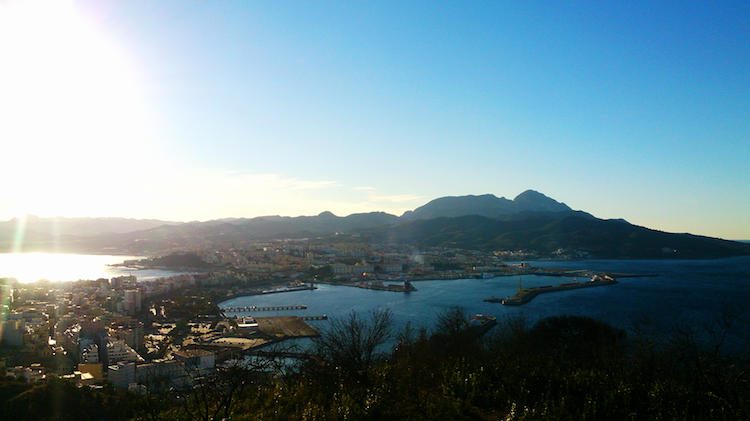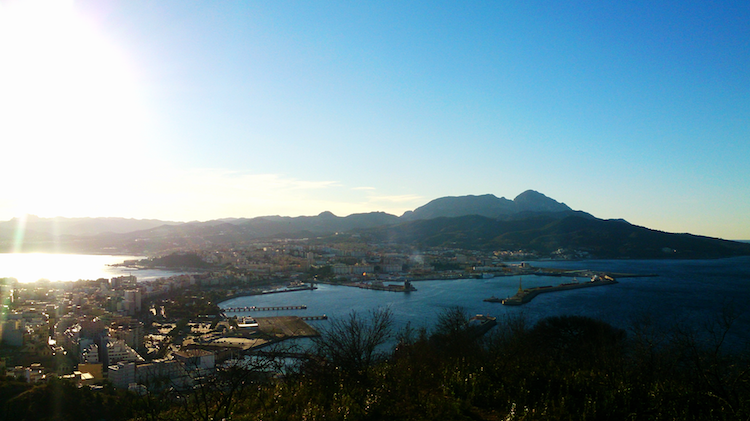 We followed this paved road (you'll see lots of turn offs — just keep walking down and you'll find your way) all the way to the coast opposite of the side of the city you came from (the road you want is called Calle Recinto Sur – you can find it plotted on the map). We followed Calle Recinto Sur all the way back to the center. There were some great coastal views on the walk (although it was a little long), but it looked like there were also bus stops for bus #1 all along the way.
Apparently, there's also a reasonably priced restaurant at the top of Mount Hacho, but we didn't see it.
On the other side of the mountain, there's also another fort (called Fort of El Desnarigado) that has a military museum. We aren't entirely sure how to get there or if it's worth going to, but if anyone out there has been, let us know!
Stop #6: Head to Benzu and San Isabel II Overlook (Mirador de Benzu/Mirador de San Isabel II)
The final places we wanted to visit while in Ceuta were the Benzu and San Isabel II Overlook.
Unfortunately, buses don't go out there so you'll need to take a taxi. We took a taxi from Plaza de Los Reyes and negotiated a rate of 20 euros for an hour driving with some "tour" info along the way.
Our taxi driver only spoke Spanish (which was fine for us because we both speak Spanish), but you may need to ask around or expect to pay slightly more if you need an English speaking driver.
Along the way, we asked our taxi driver plenty of questions about life in Ceuta and he gave us some history and background on things as we drove by.
If you don't speak Spanish but don't care about this extra info and just want to get to the overlooks, just tell your driver "Mirador de Benzu" and "Mirador de San Isabel II" (or show them on your map). He or she should know where to go and can maybe take you for a cheaper price.
Ideally, we would have liked to visit these overlooks during the day…but they were still quite lovely at night!
Stop #7: Pick up your bags & make your way to the port before you miss your ferry back to Europe!
Likely, you can ask the same taxi driver who brought you to the overlooks to just drop you off directly back at your accommodation without an extra fee (as long as you are still within the agreed-upon time limit).
From there, grab your bags and make your way to the port to catch your ferry (or take the helicopter!) back to Algeciras.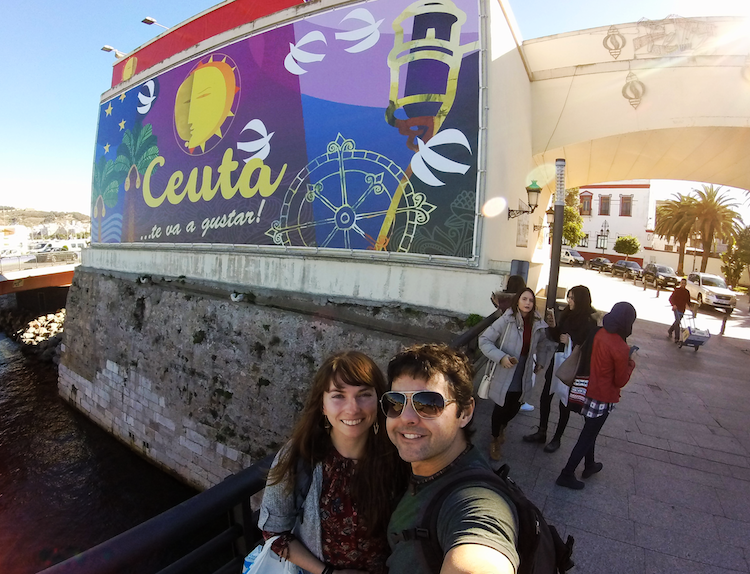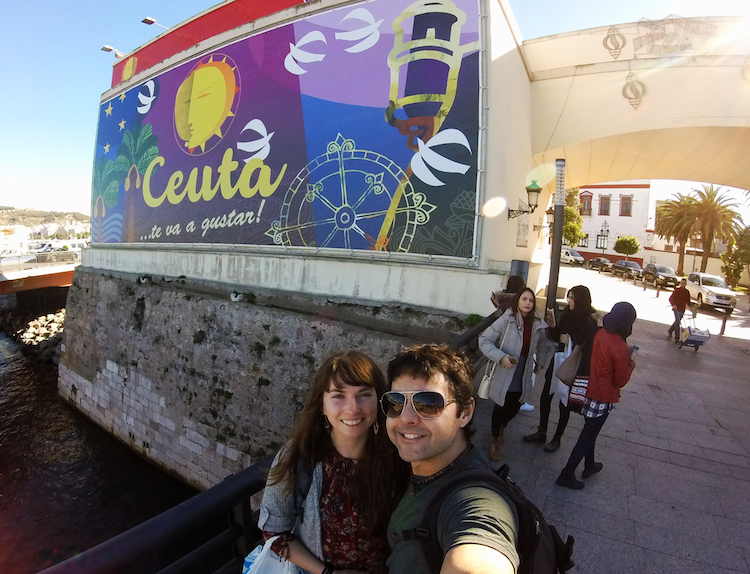 Have more time in Ceuta? Ceuta itinerary alternatives
If you have more time in Ceuta, you can add these alternatives to your itinerary. Or, feel free to change up our 1 day itinerary with some of the activities below.
Reminder: You can see exactly where all the alternatives are by marking the boxes in the live map at the top of the article.
Ceuta has 13+ miles (21 km) of coastline….which means there's plenty of beaches for you to visit!
Some of the best ones include: La Ribera, San Amaro, El Chorrillo, and Parque de San Amaro (this one is great if you want to go windsurfing).
Alternatively, you can also spend the day relaxing and swimming in the saltwater pools of Parque Marítimo del Mediterráneo (stop #4 in our itinerary above).
Get active on the García Aldave Mountain
On García Aldave Mountain (where the San Isabel the II overlook is located), there is an abundance of trails for hikers and mountain bikers.  
Since we visited the mountain at night, we weren't able to explore any of them ourselves. So, if you'd like to explore the trails yourself, your best bet is to get ask about them in the tourist office. This Lonely Planet link here also gives a bit more info about visiting the mountain.  
There aren't that many museums in Ceuta because the city isn't that big, but there are a few you can visit like The Revellín Museum (or the Ceuta City Museum), Military Museum of the Legion, or The Royal Walls Museum.
Looking for your next stop? Where to go before or after Ceuta
Obviously, Ceuta isn't super well-located for continued travel. The easiest places for you to go to/come from Ceuta would be Morocco or Spain.
Morocco — Tangier, Tetouan, or the blue city of Chefchaouen would be the closest cities of interest. From one of these, you could likely find transportation to your next stop in Morocco.
Spain — the only city in Spain connected by ferry to Ceuta is Algeciras. But from Algeciras, you can easily take a bus to Gibraltar or Málaga (and from Málaga, you can get basically anywhere else in southern Spain including the classic Andalusian cities of Granada, Seville, or Cordoba).  
Seville — if you are further exploring Spain's Andalusia region, you shouldn't miss a visit to Seville. You can even visit Seville in one day! 
Madrid — if you are passing by Madrid during your travels around Spain, check out this great article with 2 Days in Madrid Itinerary! 
We'd highly recommend our Ceuta, Gibraltar, and Málaga itinerary for a unique itinerary that'll have you visit 4 "cities", 2 "countries" and 2 "continents" in just 6 days. A few more weeks and it will be online. 

Bonus tips for visiting Ceuta
English isn't widely spoken, so it may be wise to brush up on your rusty high school Spanish. Otherwise, the people in the tourist office speak English and can surely help you with whatever you need.
Be a smart, safe traveler. We felt perfectly safe while in Ceuta, but we heard there were some places in Ceuta you wouldn't want to visit at night. Overall, Ceuta is poorer than the rest of Spain, so just be aware of your surroundings. Read more of our travel safety tips here.
Get your visa. Do you need a visa to visit Europe's Schengen area? Then you'll also need a visa to visit Ceuta.
Book your accommodation in advance. Like we said, there aren't a ton of options for accommodation in Ceuta. So, the best thing you can do is book in advance. Click here to check and compare prices and availability for

accommodation in Ceuta.

See our 6 Days Ceuta, Gibraltar, and Málaga itinerary. Seriously, it's a great itinerary and if you're in the area, you'll won't want to miss it!
Other Activities and tours to do in Ceuta
If you are looking for activities and tours in Ceuta, I recommend that you take a look at Civitatis. There you can find several tours of a few hours or even a few days to do in Ceuta.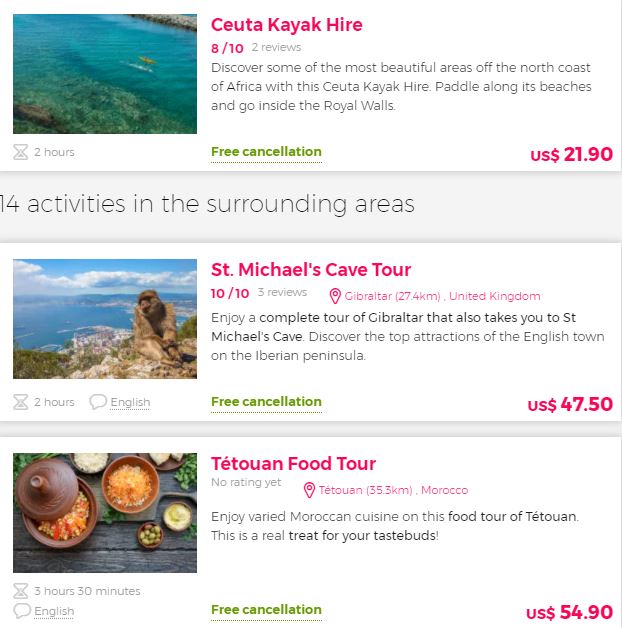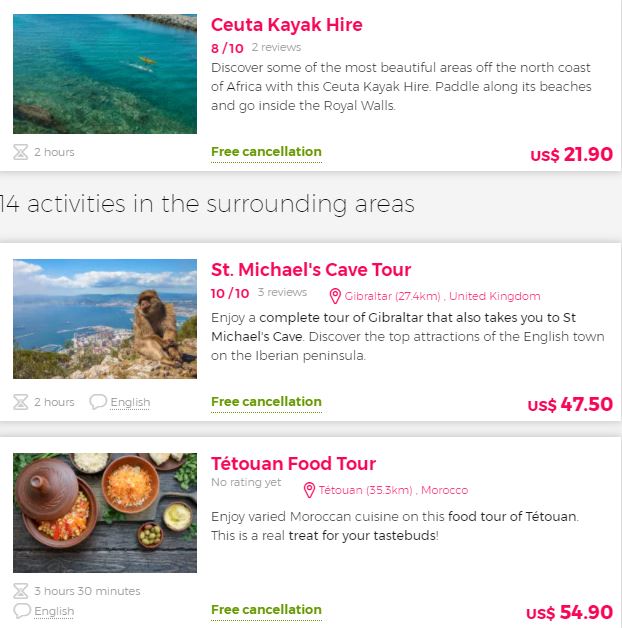 What do you think? Had you heard about this strange, Spanish city of Ceuta before? Would you like to visit? Let us know your thoughts or send us any questions you have in the comments area below!
Planning your next trip?

Then don't forget travel insurance! You don't want to get stuck paying a ton of money and ruining your trip if you get sick or have an accident without travel insurance. WorldNomads is ideal for adventurous travelers, backpackers, or anyone looking to be protected during their trip. They cover almost every single activity you can image!

Already reserved your hotel or hostel? If not, we recommend Booking.com. They have a huge selection of hotels and hostels all over the world. Plus, in most cases, you can cancel your reservation up to a few days before the check-in date without any costs! 

Still haven't booked your plane ticket and want to save big? Take a look at Momondo. It's a flight aggregator that combines several other ticket search websites to make it easier for you to compare prices and make sure you are getting the best deal. 

And finally, will you need to rent a car during your trip? Then check out Rentalcar.com to search and compare car rental companies from all over the world in a single website. Then, you can find the cheapest price for the best car!
If you want to hear about new articles, check out our latest pictures, and read our newest updates, be sure to follow us here….
…..and subscribe to our newsletter below!